Oahu Events in February
February Events
Evening Luau at Paradise Cove - Feb 2018
Paradise Cove is not just another luau, it's a full production with lots of activities and entertainment that some others tend to lack.  Kick off the afternoon with some Mai Tai's and join in the celebration and festivities!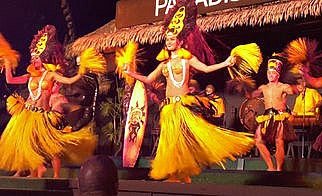 A Luau is a celebration for enjoying each other's company, play traditional Hawaiian games, watching a Kalua Pork Imu ceremony take place, participate in a hukilau of pulling in a large fishnet from the ocean, listening to live local music, and being entertained throughout the night with many Polynesian and Hula performances.
Location- Paradise Cove, Ewa Beach
Time – Pick up starts at 3:15 PM in Waikiki, Gates open at 5 PM
Cost – $85 to $170
---
First Friday Art Walk - Feb 2nd 2018
First Friday is an evening art walk that takes place in Chinatown Honolulu.  This is a popular fun event that takes place every 1st Friday of each month.  This First Friday will be have a Labor Day theme to it.  Surrounding merchants of art galleries, shops, restaurants and bars are known for opening up their doors, pouring wine and providing food to those stopping by. Most neighborhood shops will have maps of participating merchants.  The event ends at 9 PM, but the fun continues into the night with thousands of people flocking into the streets.
---
Punahou Carnival – Feb 2nd & 3rd, 2018
Rewind the Time:  The Punahou Journey is the theme for this year's annual carnival.  The Punahou Carnival is not just any other school carnival, but a more like a state fair or a theme park of its own.  Turn back into a kid and discover all the fun and more…lots of fun rides, great food (including hot malasadas), and live entertainment.  Parking is limited, so consider taking public transportation – Oahu bus #'s 4,5 & 18 will get you there.
Location Punahou High School
Time – 11 am to 11 pm
Cost – FREE
Learn more - www.punahou.edu
---
2nd Annual Lokahi Festival - Feb 3rd, 2018
Join the fun celebrating in a Waikiki street fair, and a bit of lokahi "harmony & balance".  Kalakaua Ave will be packed with thousands of folks strolling the closed streets to traffic.  There will be lots of entertainment, prizes, a keiki zone, and a food truck row selling some ono eats!  The main stage will be set up in front of the Moana Surfrider Hotel.
Location – Kalakaua Ave, Waikiki
Time – 4 PM to 10 PM
Cost - Free
Learn More: Lokahi Festival
---
7th Annual International Ukulele Contest & Hula Show - Feb 10th, 2018
Get ready for Hawaii's upcoming young tallent that's ready to show off their music tallent, jamming on the ukuele.  This will be a fun filled day with lot's of entertainment and performances.
Location - Royal Hawaiian Center Stage
Time - 10 AM to 2:30 PM
Cost - Free
Learn more:  Royal Hawaiian Center
---
Honolulu Night Market – Feb 10th 2018
The Honolulu Night Market is starting off 2018 with a big Pow Wow.  This will be will one big party with a ton of food trucks line up, and compete for some of the best creations of the night!  The action takes place in Kaka'ako if you haven't been before.  There will be good entertainment and big crowds so come early!

---
Vietnamese American Lunar New Year Festival – Feb 10th & 11th, 2018
Happy Lunar New Year!  Head down to Kapiolani Park for a weekend full of cultural entertainment & celebration, with lots of craft tables, games & bouncy houses, live music entertainment, and food booths to explore. 
Location – Kapiolani Park
Time – 9 AM to 4 PM
Cost – FREE
Learn more – 808-292-1313
---
10th Annual Ukulele Picnic - Feb 11th, 2018
If you want more of the Royal Hawaiian ukulele contest, then pack up a picnic with a date, and head to Kaka'ako Park to enjoy a Valentine's weekend in the sun, listening to the winner of the contest along with other great ukulele performances, performing on 2 different stages.  This event will benefit the Ukulele Museum.

Location - Kaka'ako Park Gateway Park
Time - 10 AM to 3:30 PM
Cost - Free 
Learn more - Ukulele Picnic Hawaii
---
Valentine's Day Dinner in Waimea Valley - Feb 14th, 2018
Spend a romantic Valentine's Day enjoying dinner in the Waimea Valley gardens at their Proud Peacock restaurant.  Kick of the evening with a complimentary glass of sparkling wine, followed with an appetizer and 5 course meal prepared by Ke Nui Kitchen.  Ron Artis II will liven up the evening with some smooth entertaining music.  Reserve your table now through the website.
Location - The Proud Peacock in Waimea Valley
Time - 6 PM to 9 PM
Cost - $85
Learn More - www.waimeavalley.net
---
Stars of Honolulu Valentine Sunset Cruise – Feb 14th, 2018
Looking for a unique and fun idea to celebrate Valentine's Day?  Take a romantic sunset cruise along the Waikiki skyline towards Diamond Head.  There are 3 different dinner & show cruise options to choose from that range with options with shows to live Jazz music.
---
Na Mele O Ko'olina – Feb 17th, 2018
Head to Ko'olina beach lagoon #3 for a day of Hawaiian music and local art display & sale!  Along the arching sidewalk you find close to 40 artist displaying their artwork for viewing and sale…perfect for special gifts!  There will also be Hawaiian slack-key guitarist and ukulele musicians playing during the duration of this event.
---
41st Annual Buffalo's Big Board Surfing Classic - Feb 17th - 25th, 2018
This is not your typical big wave surfing contest! The Buffalo Big Board Surfing Classic features 9 neat categories, including a two person beach boy style surfing, 250 pounds and over surfing, tandem surfing, and how about a canoe surfing division. It's safe to say that you will be entertained at the least. Come early and secure your perfect viewing spot for these fun and tallented divisions of surfing.
---
34th Annual Great Aloha Run - Feb 19th, 2018
Get ready for the Kaiser Permanente Great Aloha Run!  This 8-mile race starts off at the Aloha Tower and ends at the Aloha Stadium...and I'm sure you'll feel some Aloha along the way, with all the live entertainment along the way!  This run is a benifit to 150 non-profit heath and human service organizations.

Location - Aloha Tower Market Place
Time - Fun begins at 7:30 AM
Cost - $25 - $38 Individuals

Learn More - GreatAlohaRun.com
---
Eat the Street – Feb 23rd, 2018
Ready for a lot of chocolate!  Line up for chocolate dishes for this February event  Eat the Street is an organization that gets some of the best food trucks on the island to come together in a designated area, and create a party of its own.  Thousands of hungry folks seeking their next favorite dish attend each month!  Explore the different venues and taste some ono creations.  Live entertainment!!!

Location – 1011 Ala Moana Blvd
Time – 5 PM to 10 PM
Cost - FREE
More info:  Eat the Street
---
Art After Dark at Honolulu Museum – Feb 23rd, 2018
Art After Dark takes place at the Honolulu Museum on the last Friday of each month except Nov & Dec.  This is a really fun event that allows you to explore the art and grounds after hours to the groove of a spinning DJ, popup bars and yummy appetizers being served by StreetGrindz and Pig in the Lady.  Enjoy drinks made by Free Spirit Mobile Bartenders

---
Foam Glow 5K Race - Feb 24th, 2018
Get blasted by foam blasters while running through foam stations throughout the 5K race.  End the race with friends dancing the night away in the foam glow party!  This event is great for the whole family and benifits Children's Miracle Network.  Runners get an event T-shirt.
Location - Kalaeloa/Kapolei
Time - 6:30 PM Race Start
Cost - $20

Learn more - foamglow.com
---
Waikiki Arts Festival - Feb 24th & 25th 2018
Over 75 artist will be displaying all types of neat art creations in Kapiolani Park (across from the Honolulu Zoo).  Make a point to stop by this free entertaining event.  There will also be lots of food booths along with great Hawaiian music entertainment.
---
Wanderlust – March 1st – 4th, 2018
Get your yoga groove all day long for 4 days at Turtle Bay.  Lay down your yoga mat and secure a space early as these will be fun filled relaxing days, stretching in the sunshine, listening to live music and taking instruction from world respected yoga instructors.  There will also be lectures, water activates, camping and many other engaging activates to explore…not to mention being surrounded by the beauty of the resort!
Location – Turtle Bay Resort
Time – 7 PM to 4 PM
Cost – lots of activates to explore from $15 to $500
Learn more - www.wanderlust.com
---



Aloha & Enjoy!!