Top 10 Oahu Airport Things You Should Know
The Oahu airport is not only one of the busiest international airports in the US, but has some ongoing changes, including its name and many fascinating characteristics about it. Here are 10 things you should know before flying in or out of the Honolulu International Airport.
---
1. New Oahu Airport Name
---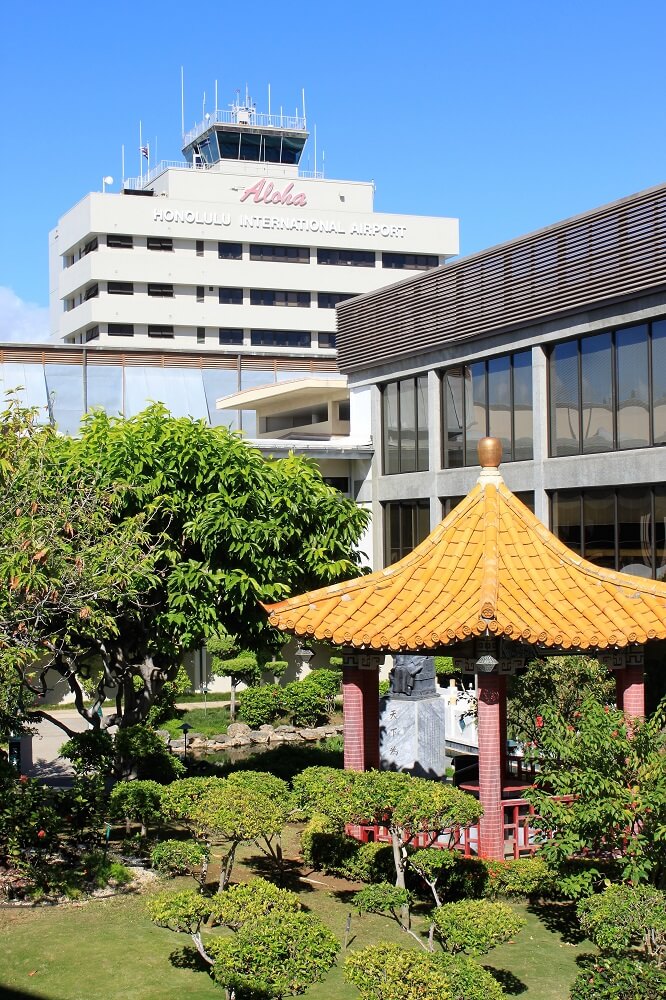 Formerly known as Honolulu International Airport, it was renamed the Daniel K. Inouye International Airport in 2017.
This is the fourth name the airport has had since it opened up as the John Rodgers Airport in 1927. After surviving the infamous Pearl Harbor attack it was rebranded as Honolulu Airport in 1947, with the 'International' designation being added four years later.
The main Oahu airport, it has been named after a much loved Hawaiian senator who was the US Senate's second longest serving member prior to his death in 2012.
As well as having a distinguished political career, Daniel was President Pro Tempore between 2010-12, which meant he was the third in line of presidential succession. Thus making him America's highest ever ranking public official with Asian lineage, at the time.
---
2. Oahu Airport High Humidity
---
One of the first things that will hit you when you arrive at the main Oahu airport is just how humid it is.
In fact humidity is often higher at the airport than any other place on the island — regularly reaching averages of 75%.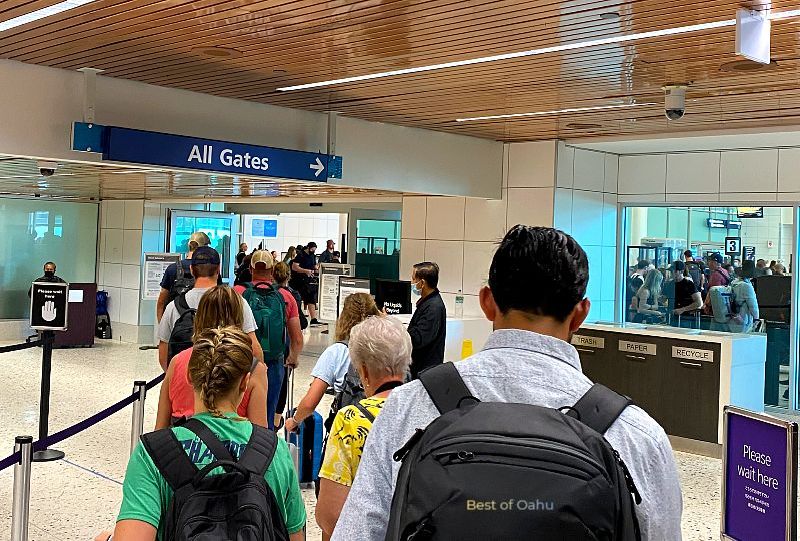 Wherever you are flying from, you are going to want to have a t-shirt and a pair of shorts in your carry-on luggage ready to put on as soon as you land.

This is especially true if you have come from colder climates like Alaska, Chicago, Minnesota, or North Dakota, which will make the sudden change of temperature feel even more extreme.
As soon as you land, be sure to start drinking plenty of water too, as dehydration can be a real issue for those who are not used to such temperatures.
---
3. A Billion Dollar Makeover
---
Covering some 4,220 acres, which incorporates about 1% of Oahu's total landmass, the airport is relatively small, given the number of passengers that use it.
To put this into context, in comparison to Orlando International Airport in Florida and Washington Dulles International Airport in Virginia, it is just a third of its size.
In previous years, getting in and out of the airport was often a slow and frustrating process. However, recently the state government invested $1 billion on a comprehensive refurbishment of the airport's layout and facilities.
Designed to provide passengers with a more seamless and enjoyable transit experience, this refurbishment included major projects like a car rental facility that cost $377 million, and the upgrading of the Mauka Concourse, which was priced at $270 million.
---
4. Wiki Wiki Shuttle
---
Overall the main Oahu airport has four runways, three terminals and 60 gates — which is a lot of ground for people to cover.
Thankfully, Daniel K. Inouye International Airport lays on free transportation for passengers to take them between the gates and terminals.

This is known as the Wiki Wiki shuttle and is very convenient, as you would otherwise be facing a long walk to get to where you need to be.
The buses run from 6 am to 10 pm and will take you between the three different terminals. You'll find signs designating the bus stops at ground level on the curbside.
---
5. New Rental Car Center
---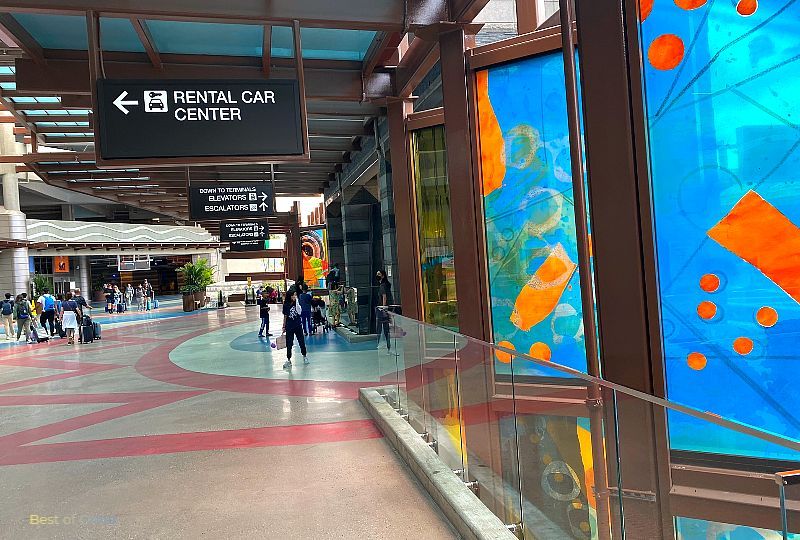 As previously mentioned, the airport now boasts a fantastic car rental facility, thanks to a $377 million renovation that took the best part of five years to complete.
Spread across five-stories which includes 4,600 stalls, this 1.8-million-square-foot facility has a rental vehicle staging and storage area, as well as a space for refueling and washing car rental vehicles.  It also boasts a ground transportation center for airport passengers as well.
If you want to hire a car from the airport, six car rental companies currently operate within this facility. These include Avis, Budget, Enterprise, Hertz, National, and Sixt Rent a Car, all of which offer plenty of vehicles for you to reserve online.
---
6. Oahu Airport Gardens
---
Some airports around the world are renowned for being dull and featureless.  But this is not an accusation you can level at Daniel K. Inouye Honolulu International Airport.
Offering passengers a lovely and tranquil space to explore and relax in during their transit, the airport boasts an impressive Japanese Garden arena.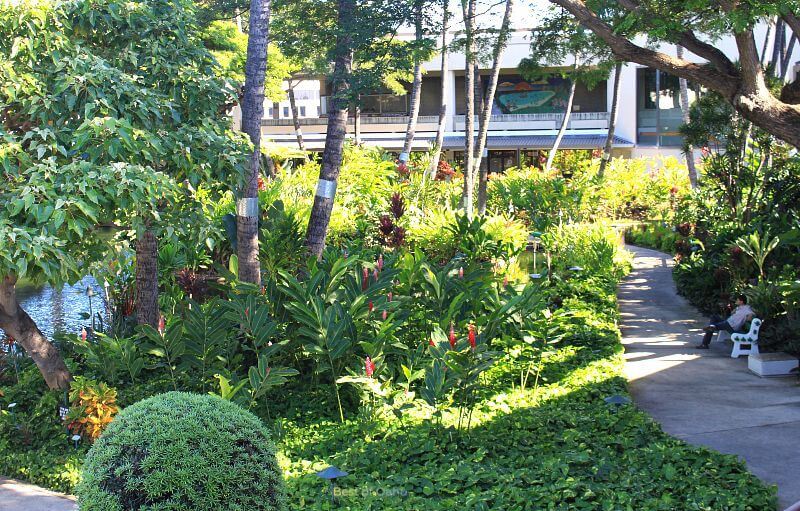 Designed by Richard C. Tongg in 1962, the gardens surround the ticketing lobby at Terminal 2, as well as the airport's 'E' Gates.

Showcasing the influence of Japanese, Hawaiian, and Chinese heritage upon 'island living' within the state of Hawaii, these impressive cultural gardens feature a stunning range of flora.
A series of bridges, stepping stones, and pathways connect the three gardens, which also accommodates waterways in the form of lakes and small ponds.  Some of which contain colorful carp fish that personify the overall serenity of the green space.
---
7. Visit Harriet's Lei Stand
---
A terrific way to start or end your Oahu vacation is with special leis from Harriet's Lei Stand.  This is not your common lei stand found inside the airport, but actually a little hidden behind the rental car center.
An institution at the Honolulu Airport, this charming retail outlet is a must visit.  Steeped in Hawaiian tradition, it offers a gorgeous selection of colorful and intricately made leis which you can buy for your special person.
The area around it is easy to get to from the new car rental center, is well signposted, and offers plenty of parking. So, if you have the chance, it is well worth stopping there.
---
8. Local Artworks Throughout the Oahu Airport
---
The Honolulu Airport can also lay claim to being a local art gallery too.  Throughout it, you will see some notable artworks, most prominently by Pegge Hopper.  A famous local artist whose paintings are renowned for depicting stunning and colorful images of Polynesian women.
You'll see two huge paintings of hers hanging at the airport.  These are the iconic 'Diamond Head Morning' and the wonderful 'Ewa Late Afternoon'. Both of which were created in 1986.
As well as these paintings, you may also see a stunning mosaic mural. Designed to commemorate Hawaii's 50th anniversary of being a state, the artwork is made up of 800 unique images. Many of which feature contributions from students across America.
---
9. Great Last Minute Souvenirs
When it's time to fly back home, its ok to give yourself extra arrival time to the Oahu airport, as you can take the opportunity to do a bit of last minute shopping with great gifts and souvenirs to be found.
This includes clothing stores like Burberry, Polo Ralph Lauren, Take Home The Aloha, and the University of Hawaii Warriors Shop, as well as luxury accessory stores like Prada, Salvatore Ferragamo, Michael Kors, Marc Jacobs, and Kate Spade.

You'll also be able to pick up quality jewelry at Maui Divers, surf gear at Rip Curl, gift items at Tropical Blue and newspapers, books, and magazines at Newstand and Pages and Pages.
---
10. Oahu Airport Local Restaurants
While you are waiting for your flight you should also take the opportunity to have one last fabulous meal in Oahu.
The island overall is known for the excellent quality of its food and this is also represented at the airport too.
Whatever you feel like eating, there will be an option for you. So have a look at what's on offer at the likes of Californian Pizza, Jose Cuervo Tequilera, Chow Mein Express, The Local at NHL, and Samurai Sushi and Bento and enjoy a top notch feed.
Alternatively, head to the Lahaina Chicken Company for the choice of delicious roast or fried chicken, as well as pasta, pizza, steaks, and roast pork.
If you are looking for something to satisfy your sweet tooth, make your way over to Lani Moo's Tropical Treats or Cold Stone Creamery for a delicious ice cream.  Or go to Pinkberry to enjoy a nonfat frozen yogurt.
Those wanting a coffee can grab a cup at Starbucks, while beers and other alcoholic beverages can be ordered from the likes of the Kona Brewery and Atrium Bar, Island Brews, and Torn Basil.
---
Aloha & Enjoy!

Subscribe to receive Best of Oahu updates on events, updates, and new articles.  It's the closest way to paradise while you are away...
We will never sell or spam your information, and we'll respect your email privacy.