Aloha from Oahu


Best of Oahu Newsletter
---
Hokulea Sails to Alaska
The Polynesian Voyaging Society has exciting news to share with the community. The famous Hokulea voyaging canoe is setting sail to Juneau Alaska before embarking on its four-year journey, and everyone is invited to bid it aloha

The event, called E Holo Haaheo, or Sail Proudly Hokulea, took place at the Marine Education Training Center on Sand Island, where the Hokulea is currently docked. The public was asked to bring well wishes and personal expressions of aloha for the Hokulea. Crew members were present to receive and place lei and hookupu on the voyaging canoe.

This voyage to Alaska marks a significant milestone for the Hokulea and the Polynesian Voyaging Society. The crew will be sailing approximately 43,000 nautical miles, through some of the world's most treacherous waters, testing their skills and knowledge.

The Hokulea will also be promoting the importance of ocean conservation and raising awareness about climate change during its voyage.
---
467 Whales Observed in Hawaii
Oahu Volunteers Observe Humpback Whales in Hawaii

Recently, hundreds of volunteers gathered across the Hawaiian islands to participate in the observation of humpback whales in Hawaiian waters. The whale counts were organized by the Hawaiian Islands Humpback Whale National Marine Sanctuary Ocean Count and the Pacific Whale Foundation.

A total of 320 volunteers participated in the counts, stationed at 42 different sites throughout Kauai, Oahu, Hawaii Island, and Maui. During the observation, volunteers tallied humpback whale sightings and documented the animals' surface behavior. On Oahu, 467 whales were observed during the day's count, while 313 were spotted on Maui, 273 on Kauai, and 68 on Hawaii Island. These counts take place three times during peak whale season annually on the last Saturday in January, February, and March.

In addition to observing whales, volunteers also documented other marine creatures such as honu (green sea turtles), naia (spinner dolphins), malolo (Hawaiian flying fish), and multiple bird species. It was a great opportunity for volunteers to learn more about the rich biodiversity of Hawaiian waters while contributing to the protection of marine life.

These events encourage the public to take an active role in preserving the beauty and diversity of Hawaii's marine environment. They serve as an important reminder that every individual can make a difference in protecting the ocean and its inhabitants.
---
Oahu April & May Events
Welcome 2023 with lots of festive events happening around the island.

There are some upcoming running events, night markets, Hawaiian band performances, and some fun seasonal events worth checking out.

There also lot's of other holiday events happening at Honolulu attractions, shopping centers, Farmers Markets, hotels, and other places...

oahu-events-in-april.html oahu-events-in-may.html
---
Hiker Rescued After Falling 100 FT
Hiker Rescued After Falling 100 Feet Off Kaneohe Hiking Trail

A hiker was rescued on Sunday after falling an estimated 100 feet while hiking on the Koolau Summit Trail in Kaneohe. The Honolulu Fire Department reported that the incident occurred after a group of nine people had been hiking for about two and a half hours.

The Honolulu Fire Department received the call for help around 9 a.m. and immediately sent a rescue team to the scene. The team arrived by air, and upon reaching the scene, they conducted a medical assessment and provided basic life support treatment to the 43-year-old hiker.

After stabilizing the hiker, he was airlifted to an awaiting ambulance. The hiker sustained injuries to his head, back, and arm, and was transported to the emergency room in serious condition.

This unfortunate incident highlights the importance of proper preparation and caution while hiking, especially on challenging trails. It is recommended to always hike with a group and carry a first aid kit, plenty of water, and a charged mobile phone.

In case of an emergency, hikers should call for help immediately and follow the instructions of rescue personnel. Hopefully the hiker makes a full recovery and we urge all hikers to prioritize safety while enjoying the beautiful trails of Oahu. Oahu-Hiking-Trails.html
---
Sustainable Airline Fuel
Hawaiian Airlines Commits to Purchase 50 Million Gallons of Sustainable Fuel

Hawaiian Airlines has recently made a commitment to purchase 50 million gallons of sustainable aviation fuel over the next five years. The agreement was made with biofuel company Gevo, which produces the fuel using corn.

According to Gevo, the fuel will be produced at a planned facility in the Midwest, with deliveries expected to begin to Hawaiian's gateway cities in California in 2029. This agreement is an essential step towards Hawaiian's goal of achieving net-zero carbon emissions by the year 2050.

The commitment to using sustainable fuel is an important move towards reducing the aviation industry's carbon footprint. Hawaiian Airlines is leading the way in promoting environmentally friendly practices in air travel, and the decision to use sustainable fuel is an excellent example of this commitment.

We hope that other airlines will follow Hawaiian's example and invest in sustainable aviation fuel to reduce carbon emissions in the industry. It is essential to prioritize environmental sustainability as we move forward and build a greener future for generations to come.
---
Cirque de Soleil Coming to Oahu
Exciting news for Oahu residents and visitors alike! A major new attraction is coming to Hawaii, and it's not just for a few weekends. On Monday, Mayor Rick Blangiardi announced that Cirque de Soleil is taking over the 20,000-square-foot theatre at the Waikiki Beachcomber by Outrigger, formerly the showroom for the Magic of Polynesia show.

The hotel is currently remodeling the 800-seat theatre to host the famous Cirque de Soleil show for a years-long run, with plans to open the theatre by the 2024 holiday season. This is a major investment in Hawaii's entertainment industry and is sure to attract both locals and tourists alike.

Jeff Wagoner, CEO of the Outrigger Hospitality Group, stated that bringing world-class entertainment to Hawaii has been in the works for years, and the theatre has been vacant since the beginning of the pandemic. With the announcement of this new partnership with Cirque de Soleil, the Waikiki Beachcomber by Outrigger is set to become a premier destination for entertainment in Hawaii.

Cirque de Soleil is known worldwide for their breathtaking acrobatics, stunning visuals, and innovative storytelling. This collaboration with the Waikiki Beachcomber by Outrigger promises to be a must-see attraction for anyone visiting Oahu. The partnership also provides a much-needed boost to Hawaii's tourism industry, which has been hit hard by the pandemic.

As the theatre is being remodeled, more details about the show and ticket sales will be announced in the coming months. We can't wait to see what Cirque de Soleil has in store for Oahu and look forward to experiencing this incredible new attraction for years to come.
---
Proposed Ban on Tour Buses
The city is proposing new limits on tour buses to reduce crowds at parks and beaches. Under Bill 19, parks would be off-limits to unpermitted vehicles with 12 or more people. And those that are permitted would not be allowed at parks on weekends and holidays, except at Hanauma Bay and the Halona Blowhole.

The proposed bill aims to address the overcrowding issues at Oahu's popular parks and beaches, which have become increasingly congested with tour buses and other large vehicles. By limiting the number of tour buses at these locations, the city hopes to alleviate traffic and parking problems, as well as reduce the environmental impact of these vehicles.

Additionally, the bill would eliminate the grace period for buses to linger, which has been a source of frustration for many locals who have seen tour buses hogging parking spots and causing traffic backups.
---
Awareness of Drowning Dangers
As we approach the summer season, it's essential to keep in mind the dangers of drowning in Hawaii. According to the Hawaii Department of Health, drowning is the leading cause of injury-related deaths for non-residents, comprising 53% of all drowning victims in the state.

The most common activity associated with drowning is snorkeling, which accounts for 42% of drowning incidents among non-residents and 27% of all ocean drownings.

These statistics emphasize the importance of taking safety measures when participating in water activities, including wearing appropriate safety gear and understanding ocean conditions.

Additionally, it's crucial to keep a close eye on young children as drowning is the most common fatal injury for children under 5. Make safety a top priority to prevent these devastating incidents and keep everyone safe while enjoying Hawaii's beautiful waters.
---
Signs of Aloha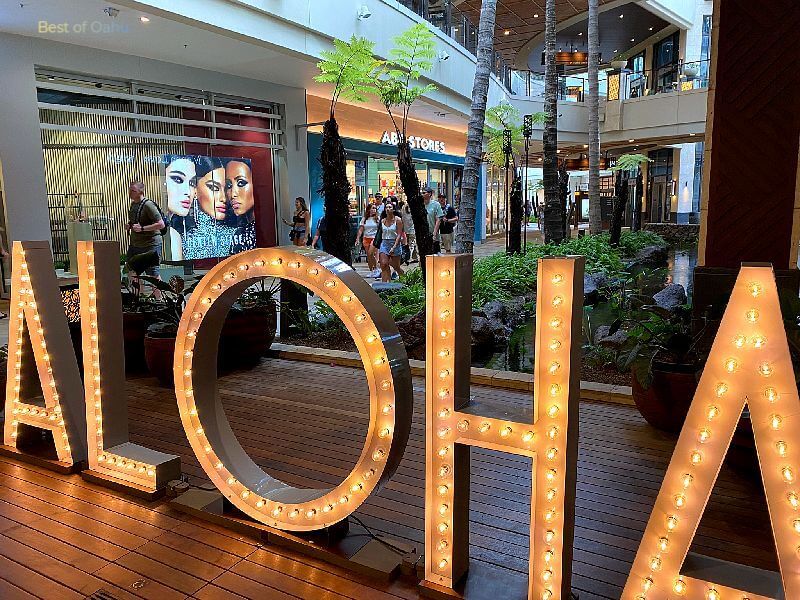 Look around and you're bound to find signs of aloha everywhere. Aloha is the most popular Hawaiian word used in the islands and lands far beyond. It's an infectious word and has many meanings including hello, goodbye, and love. The spirit of aloha is also a wonderful feeling that is commonly expressed through thoughtfulness, compassion, and caring.

Checkout our latest page we launched, and see where we have discovered signs of aloha... signs-of-aloha.html
---
Best Hawaiian Poke on Oahu
Hawaiian Poke has become one of the defining elements that characterizes Hawaii's culture. It is no longer an acquired taste, but now a well sought after island treat!

New Oahu based eateries such as Ono Seafood, Da Hawaiian Poke Co, and Fresh Catch push the limits and continue to amaze us with their innovating ahi tuna creations!

We have highlighted 6 of the best spots pleasing crowds that line up each day for this Hawaiian treat. hawaiian-poke.html
---
Oahu Popular Shows
Check out new shows & concerts popping up around Oahu.

Booking for new Oahu Shows and concerts have taken off for Blue Note Waikiki, Slack Key Lounge, Kana Ka Pila Grille, Waikiki Shell, Blaisdell Center, Hawaii Theatre and many hotel live music and entertainment venues. oahu-shows.html
---