Oahu Shows
There are some noteworthy Oahu shows in Waikiki, Downtown Honolulu, up in the North Shore, and around the island that you should check out.  From traditional Hawaiian luaus to ongoing shows such as Rock a Hula Show and Magic Polynesia, will have you on the edge of your seat.  Book a night or day show and create a memorable experience.
---
Hawaii Tours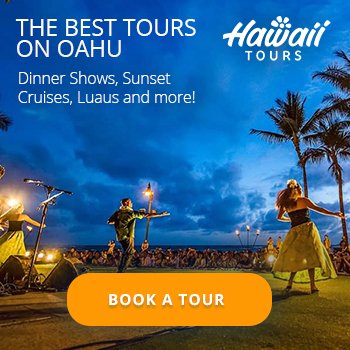 Hawaii Tours provides full-service concierge and access to some of the best shows and sunset cruises on Oahu...and at no extra cost. Go on a sunset dinner cruise with incredible views, or sign up for a tour that includes great shows and luaus.

Experience the Chief's Luau featuring a world-champion fire knife dancer, delicious food, live music, and hula dancing. Rock-A-Hula is also an incredible dinner show option that is an extravaganza of epic proportions.  -sponsored
---
Exploring Oahu Shows & Events
Most noteworthy Oahu shows come with a price of admission, but well worth the ticket price as they are short of being Broadway productions.  And there are also some great free shows that you should explore, including a beachside hula show and art exhibitions.
Also take time to review upcoming Oahu events! We only feature the best island activities, including craft fairs, music festivals, sporting activities, special cultural events, and more.
Ongoing Oahu Shows
---
Kuhio Beach Hawaiian Hula Show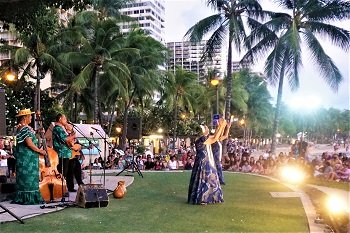 Tuesday, Thursday, Saturday & Sunday evenings (weather permitting) hula halaus are invited from around the island and other locations to perform their Oahu shows under the big banyan tree at Kuhio Beach in Waikiki.  The evening starts off with fun tiki torch lighting ceremony at 6pm.  

Live Hawaiian music and hula performances go on for 1 hour.  Seating is limited and tends to get crowded, so come early plan to lay down a towel or beach chair to sit on, and get a good view of the performance.  Call 808-843-8002 for more information.

---
Art on the Fence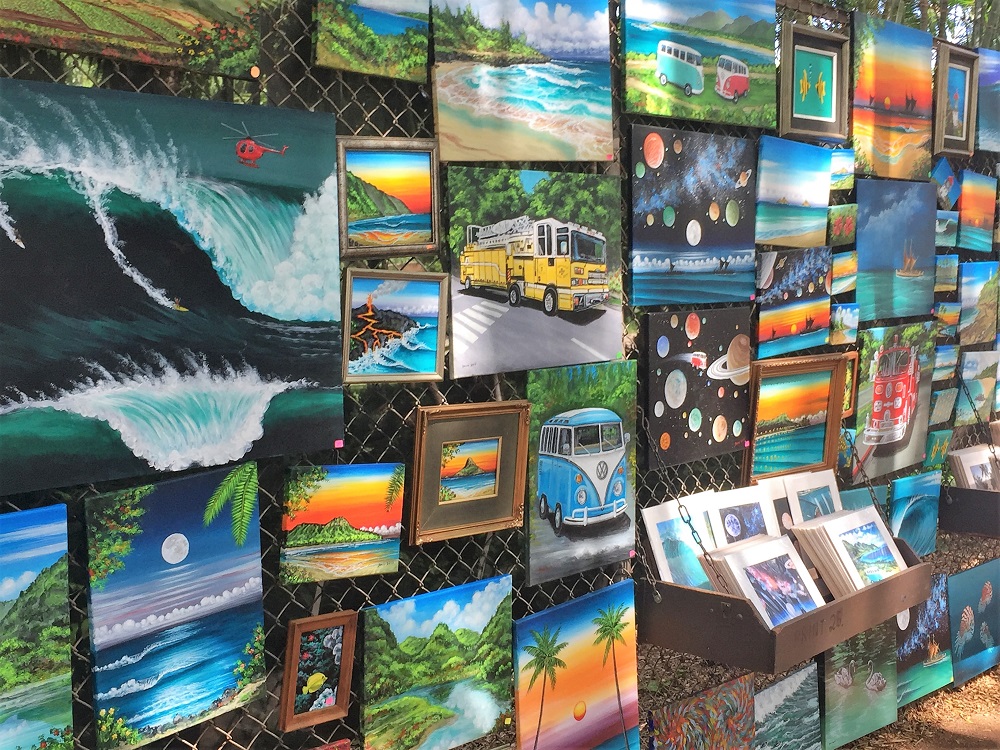 Every weekend artist post up there artworks on the south end Honolulu Zoo fence, which is across from Kapiolani Park.  Art on the Fence takes place 9 AM to 4 PM every Sat & Sun.

 
This is always a fun free weekend activity, giving you an opportunity to casually stroll Monsarrat Ave and check out various works of art from local artist.
See original artwork including paintings, Photos, creations and other mediums of art.
---
First Friday
First Friday is a neighborhood event to promote the art galleries, stores and restaurants in the Chinatown area.
Join thousands of spectators and supporting this community.  Drinks, food and live entertainment takes place throughout participating storefronts. 

First Friday of each month takes place in Chinatown from July thru December, 5 PM to 9PM.  Call 808-521-2903 for more information.
---
Evening Luau at Paradise Cove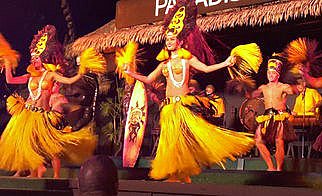 Paradise Cove is not just another luau, it's a full production with lots of activities and entertainment that some others tend to lack.  Kick off the afternoon with some Mai Tai's and join in the celebration and festivities!

A Luau is a celebration for enjoying each other's company, play traditional Hawaiian games, watching a Kalua Pork Imu ceremony take place, participate in a hukilau of pulling in a large fishnet from the ocean, listening to live local music, and being entertained throughout the night with many Polynesian and Hula performances.
Location- Paradise Cove, Ewa Beach

Time – Pick up starts at 3:15 PM in Waikiki, Gates open at 5 PM

Cost – $112 to $223
---
Magic of Polynesia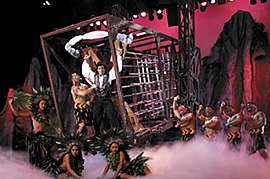 Ready to be amazed by some mind blowing illusions and magic tricks with a Polynesian twist?  Master John Hirokawa is known to have more than just a few tricks up his sleeves…in fact he is an award winning illusionist!
The Magic of Polynesia is a complete 2 ½ hour show that integrates Hula & Polynesian performances, along with some death defying tricks and a wild fire knife act to make this production unique and energetic.
Location – Holiday Inn Waikiki, transportation available

Time – 6 PM dinner option, 7 PM show begins

Cost – Show only $42/child & $63/adult up to Deluxe Meal w/ Show $83 child & $158 adult, age 3 & under are free
---
Rock-A-Hula Show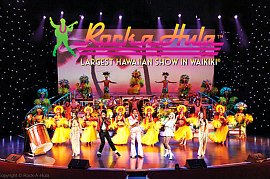 A memorable Las Vegas type production here in Waikiki, Hawaii!  This Rock-A-Hula show in a tribute with a Hawaiian twist to music legends such as Elvis Presley, Michael Jackson, and the beautiful voice of Celine Dion. 

Listen to these familiar sounds and more, synced to Hawaiian music with Polynesian entertainment, including a popular fire dance.

These Oahu shows begins 8 PM each evening at the Royal Hawaiian Center Theater.  General tickets start at $63 (lower price children tickets available), with larger options that includes transportation, VIP treatment, and dinner. 
Location – Royal Hawaiian Shopping Center, 4th Floor

Time – Pre-show options start at 6 PM, Show starts at 8 PM

Cost –

ticket options
---
Sunset Cruise with Hawaiian Show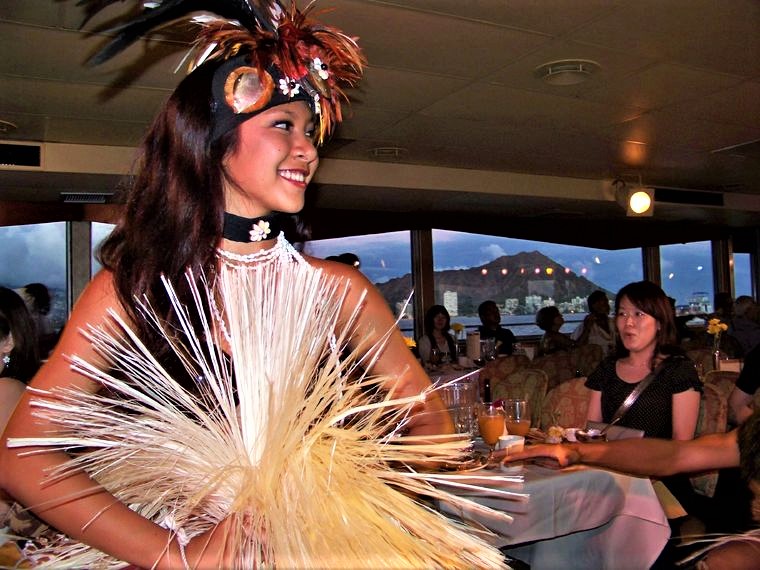 A memorable entertaining Oahu show is a special one that takes place out at sea.
Sign up for a Star of Honolulu sunset cruise that provides beautiful captivating views of the coastline while the sun melts into the ocean.
But if that's not enough, this 2 hour boat ride will keep you entertained with a "60 Years of Aloha" Hawaiian cultural show that features hula and Polynesian dance performances and live music. 
Enjoy this special evening with a steak & seafood or vegetarian dinner.  Friday night guest will also be treated to a fireworks display (permitting weather conditions) being launched in front of the Hawaiian Hilton Village.
This sunset cruise boat leaves and returns to port close to Waikiki.  Transportation options to and from are available.  Book ahead of desired cruise date as before it sells out.
---
Polynesian Cultural Center – Oahu Shows & Entertainment
Spend a day & evening watching some of the best entertaining shows and performances on the island.  The Polynesian Cultural Center is a special thyme park made up of many representations of Polynesia cultures in the Pacific.
To top it off, there is a phenomenal Hawaiian Luau and 90 minute evening show worth seeing!  Secure tickets early as they will sell out!
Location – Leie, North Shore

Time – Starts at Noon, Closed on Sunday's

Cost – starts at $71/Child, $88/Adult to $252 Super Ambassador package

Learn more –

review different tickets & packages
---
Special Concerts & Oahu Shows
Most Oahu Concerts and Shows are on hold right now do to the state mandate of no gatherings larger than 10 people.  Stay tuned for further developments...
---
Andy Bumatai and Frank De Lima - Jan 23rd, 2020
Spend a night in laughter with Hawaii's renowned comedians Andy Bumatai and Frank de Lima.
Location - Blue Note Hawaii
Time - 7 PM
Cost - $35 to $45
Learn More - Blue Note Hawaii
---
Willie K at Blue Note - Jan 28th, Feb 18th, March 3rd & April 21st, 2020
Hawaiian legend Willie K will be performing a couple performances this evening. Willie has a beautiful way of incorporating some many different genres blends in his Hawaiian music.  It's a treat to watch him perform!
Location – Blue Note Hawaii

Time - 5:30 & 9 PM Concerts

Cost - $25 to $45

Learn more -

BlueNote.com
---
Henry Kapono & Friends - Feb 11th, 2020
Henry Kapono Presents "Back in the Day" with popular songs from C&K.  This is a Artist 2 Artist concerts featuring special guests like Sean Na'auao, Blayne Asing,  Jerry Santos, and Alx Kawakami.  Can't go wrong with this lineup! 
Location - Blue Note Hawaii
Time - 7 PM
Cost - $25 to $45
Learn more - HenryKapono.com
---
Ukulele Picnic at Blue Note - Feb 17th, 2020
Continue the Kakaako Ukulele Picnic into the night with ukulele virtuoso Taimane, Iron Mango and Sekiguchi Band.
---
Hapa - Feb 22nd & 23rd, 2020
Keli'i Kaneali'i and Barry Flanagan reunite by demand for a holiday melody.  Along with their famous tunes, they have some popular holiday songs perfect for the season. This is a treat if you're in town and you'll need to compete with local fans for tickets!
Location - Blue Note in the Outrigger Waikiki Beach Resort
Time - 6:00 PM & 8:30 PM Showings
Cost - $25 to $45
Learn More - BlueNoteHawaii.com
---
Jake Shimabukuro at Blue Note - March 6th, 2020
Jake Shimabukuro the notorious ukulele player will be playing at Blue Note 3 nights.  This Hawaiian musician star will have you on the edge of your seat, watching his fingers jam magical tunes.  It's a treat to watch and listen to Jake, and he makes it seem so simple!

Location – Blue Note Hawaii
Time - 6:30 & 9 PM Concerts
Cost - $35 to $45
Learn more - Blue Note
---
Kool & the Gang, March 26th, 27th & 28th 2020
Join Kool & the Gang for 3 nights in Hawaii singing their classics into the night!
Location – Blue Note Hawaii

Time - 6:30 & 9 PM Concerts

Cost - $85 to $150

Learn more -

BlueNote.com
---



Aloha & Enjoy!!