Oahu Nightlife!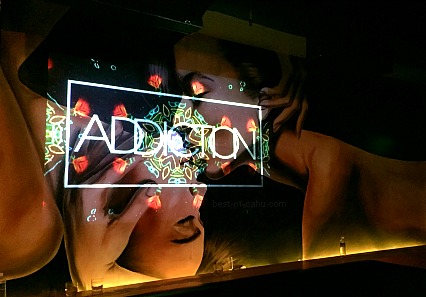 After the sun melts into the Pacific, the stars come out, and the Oahu nightlife comes to life!  It's really all about the Honolulu nightlife & Waikiki for the most part.  Whether you are seeking the Best Honolulu nightclubs & Honolulu bars, or maybe something a little more special, it's hard not to find good entertainment somewhere in this island's nightlife!
---
Oahu Nightlife - Honolulu
---
Best 5 Honolulu Bars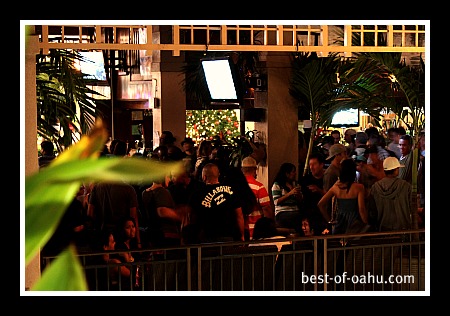 Mai Tai's Bar – Rockin' open-air bar on top of the Ala Moana Mall – very lively and popular with the locals!  Note - recently took over the Mai Tai Bar.


Buho Cantina – One of Waikiki's latest roof top restaurant & bar with great views of Waikiki action!  It's the hip bar and lounging area that makes this spot so inviting!


Bar 35 – Fun vibe downtown bar with enough beers being represented to keep you busy all night.  The DJ keeps the dance floor busy!


Lewers Lounge - Looking for an upscale bar with a beautiful Interior?  Located in the Halekulani Hotel, Lewers Lounge is a perfect setting to "lounge" and enjoy a special Mai Tai.


The Beach House – open-air bar and restaurant at the Aloha Tower Market, that comes with live music and award winning micro beer.

---
Party Bike Bar Tour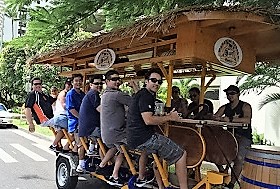 Bar hop in Honolulu's new hip Kaka'ako area, traveling on a  15-passenger party bike.  That's right, get a little exercise while partying with friends on a one of a kind bike, peddling together to get from bar to bar!

The party bike will make 3 bar stops at popular watering holes such as Honolulu Beerworks and the Hibiscus Club, that reside just outside of Waikiki.  Sign up now as space is limited and make this a highlight of your trip!  Reserve your space

---
Most Popular Honolulu Nightclubs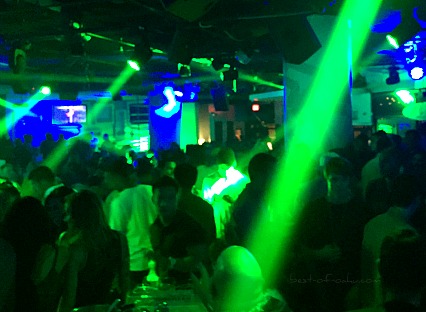 District -  A clean new loungy look, with some cool features, such as a lined wall with speakers behind the bar!  23+ is the new age to get in...  Go-go girls and bottle service awaits you!

Sky Waikiki – Waikiki's newest hip party spot to see and be seen on top of the Waikiki Business Plaza roof! It's a wonderful spot for happy hour, dinner, and after hours dancing on the roof all night!  There's even a BackBar Speak Easy area, if you know how to get in...check Instagram for the password.
 The Republic – Nightly concert venue on Kapiolani Blvd (Across from Ala Moana Shopping Center).  A nice way to change up the DJ club scene once in awhile!
Manifest – located in Chinatown, amongst young hip artsy pub crawl, is one of Honolulu's jumping club scenes that's worth the experience!
---
Oahu Nightlife  - Chinatown Honolulu
---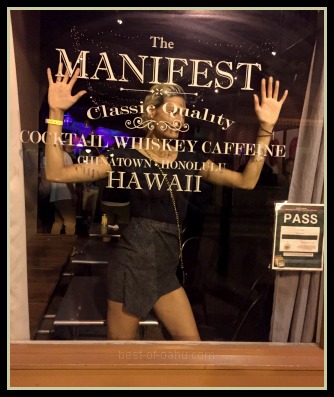 Chinatown is hip, it's raw, and is a lively part of the Honolulu nightlife!
Blending into the red light district are some of Hawaii's top art galleries, new upcoming culinary delights, the Hawaiian flower lei community, and a good handful of old & new Honolulu Bars.
Visiting this downtown area during the daytime is one thing, but I recommend jumping in the lively action at night.  Better yet, show up for a fun relaxing happy hour and take it into dinner and right into the night!
Most of the action can be found from Bethel to Mauakea St, between King and Beretania St, or about 8 square blocks.
---
Noteworthy Bars & Nightclubs in Chinatown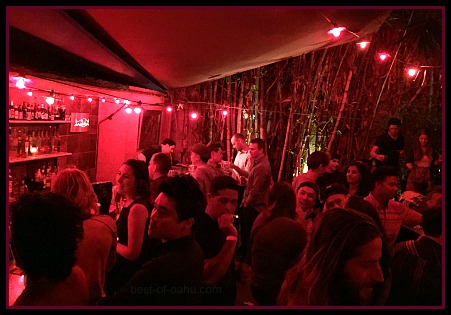 Manifest – hip artsy coffee shop by day, jumping bar/club by night!  Manifest is easily one of the most popular venues in the downtown arena.
Bar Leather Apron - voted as one of the top 10 bars in the nation by Playboy!  Drinks are amazing!  Show up early as there is room for only about two dozen.
Bar 35 – voted best bar with 150 beers, gourmet pizza.  Their DJ spins lively tunes into the night, and steps up this bar to be one of the best dancing clubs as well!

Nextdoor – anchoring the downtown strip, this Honolulu club is large enough to hold concert venues, or simply spin with a DJ all night long.  Dance to their supersized show screen on the wall.

Scarlet Bar & Dance Club - Chinatown's newest bar & dance club just opened its doors with a spacious dance floor and seductive doll house theme.  Scarlet Bar is the first gay dance club launched in Hawaii.

 Hanks & Dragon Upstairs – old school flavor with a sense of mystery.  Good spot to catch some live entertainment.


The Beach House – open-air bar and restaurant at the Aloha Tower Market, that comes with live music and award winning micro beer.
---
 TIP:  1st Friday of each month is a big night in Chinatown Honolulu.  Most of the Galleries stay open late, and host with music, free drinks and pupus (appetizers).
It's a really fun time, and worth checking out if you're around!
---
Best 5 Tiki Bars on Oahu
---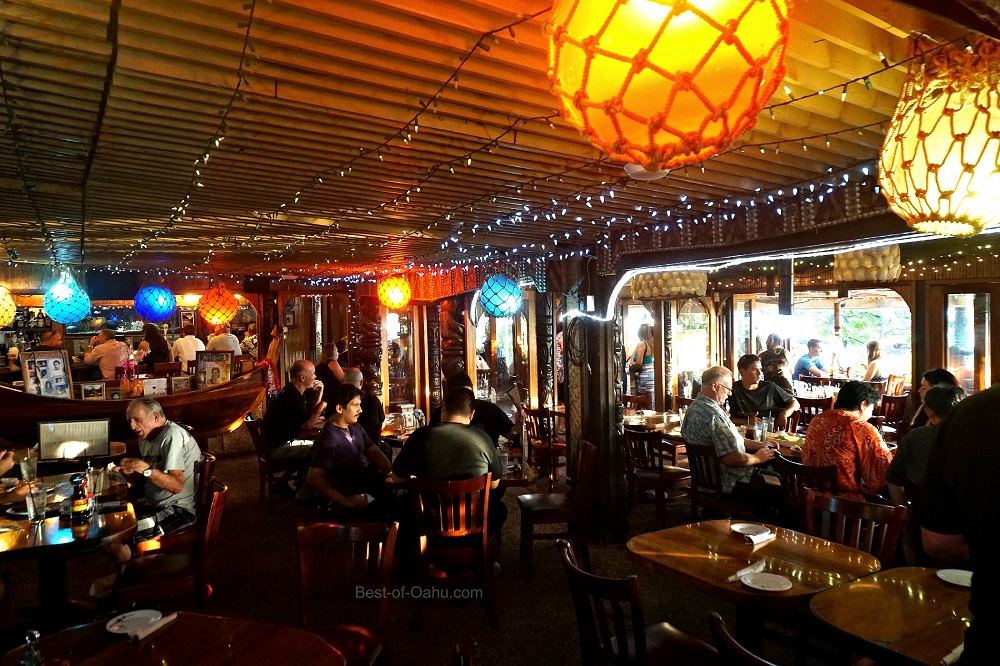 La Mariana Sailing Club – Hands down the most classic tiki bar on Oahu and Hawaii for that matter.  La Mariana is a step back into time, and sits by itself in the shipyard on Sand Island.  This is the place to see and be seen, as it's been featured on many TV shows, and if you're lucky there are famous stars popping in from time to time.  Enjoy a zombie mai tai and take it all in!


Tiki's Grill & Bar – more popular known as Tiki's, is where the party's at in Waikiki.  You will be surrounded by life size tikis. This popular tiki bar resides on the 2nd floor of the Aston Waikiki Beach Hotel, and is one of the best spots to enjoy the sunset.


Rum Fire – when the sun sets and the nightlife begins, head to Rum Fire.  Centered in the middle of Waikiki in the Sheraton Hotel is one of the more modern tiki bars, with vibrant red colors and flame featured lighting, and tropical rattan furniture.


Chart House – one of Waikiki's longest running steak house establishments located next to the Iliki Hotel since 1969. There's a tiki bar feel to it with wooden sculptures on the wall, sailor décor, and large open air window overlooking the harbor.  They are known for their tall mai tai's…stop by and have one!


Arnold's Beach Bar – one of Waikiki's small hidden tiki bars with lots of character!  The Beach Bar is a fun watering hole to park it with a great tiki décor!  Statues, preserved puffer fish, sea nets and glass balls hanging from the ceiling for starters…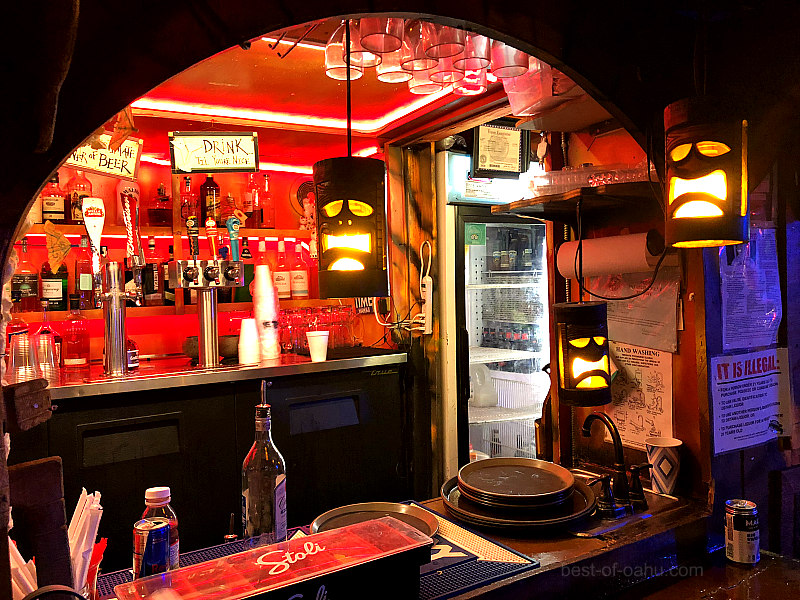 Also check out notable Lava Tube & Cuckoo Coconut in the center of Waikiki.  These tiki bars are decorated to a 'tiki' tee with fun unique features at every turn!
---
Oahu Shows & Entertainment
---
There are also some great ongoing shows and productions taking place both in and around Waikiki.  If you're looking for some fun energetic Broadway type shows to take in the evening, make sure to review your Oahu show options.
With options that include Beatles tribute, rock n roll hula, Polynesia style magic, and luaus, there is something for everyone! 

Check out some of the best ongoing Oahu shows, Hawaiian Luaus, and concerts taking place in and around Waikiki!

---
Hilton Hawaiian Village Friday Fireworks


Take a Friday sunset stroll along Duke Kahanamoku Beach, in front of the Hilton Hawaiian Village Resort, and catch a 20 minute amazing firework show.
It beautifully lights up the sky and beach lagoon below.  the firework display takes place ever Friday night as soon as it's dark enough and pending weather conditions.
---
Waikiki Nightlife
---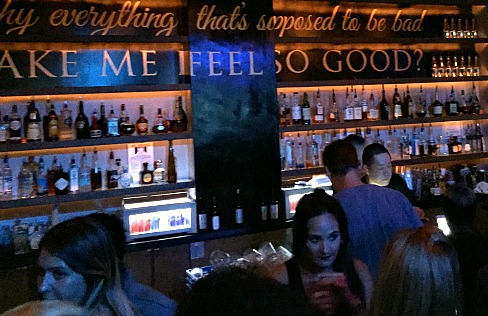 Waikiki is always the last city to go to sleep on the island, with its own share of Oahu nightlife.  Hawaiian bars, clubs and lively entertainment keep the Waikiki nightlife rolling on.
Consider signing up for a fun Waikiki Historic Pub Crawl, where you can enjoy a beer (at each establishment), and learn some interesting history and trivia at a unique selection of bars that have made there mark in this town.
---
Wild Waikiki Nightlife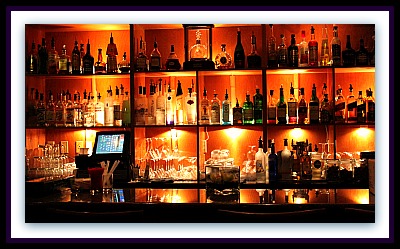 Duke's Canoe Club - This popular beachfront restaurant and club located in the Outrigger Waikiki was recently renovated.  There's always a lively crowd at Duke's where the tropical drinks are liberally consumed to keep the fun and action going.
Mai Tai Bar - There is no better place in Waikiki to enjoy a good Mai Tai then at this classic beachside bar located at the Royal Hawaiian Hotel.  You might have to wait patiently in line for a table with hotel pink colored matching chairs.  It's an iconic spot where you listen to live music, watch the sunset and sip on a reputable Mai Tai.


Play Bar -  Jamming Waikiki nightclub that's open all night.  It's smaller in size but has a colorful lit up dance floor.  If you're up for club hopping all night, you can hit this nightspot after hours.


Sky Waikiki Raw & Bar -  One of Waikiki's newest and not to be missed night clubs...that is if you're looking for something different, memorable and addictive!  Take the elevator to the top floor and step into the lively rooftop party scene.



Rumfire - located oceanside at the top of the Sheraton Waikiki is one big party every night!  Wild atmosphere, spinning DJ's, and good drinks!
---
Best Hideaway Bar
A true treasure find that almost requires a map to find this place!  But for those who discover it will be rewarded with a true Waikiki gem bar! 

Suzie Wong's Hideaway is a fun dive bar that is off the grid, and yet still close enough to walk from the Ilikai Hotel & the Hilton Hawaiian Village. It's filled with fun eclectic signs, memorabilia, tv sport screens, surf boards, and a few novelties that will get a good laugh out of you. 
Get there early enough and you can take a seat on the horse saddle bar stool.
1913 Dudoit Ln, Honolulu, HI 96815  (808) 945-2337  Open Daily 11 AM to Midnight
---
More Oahu Nightlife fun!
---

Live Jazz at the Kahala Hotel and Resort


I might not be able to afford staying at this elegant resort, but we love dropping by for a few hours in the evening, ordering some drinks and enjoy listening to the live jazz music that takes place in their beautiful open-air atrium.

---
Sunset Boat Cruises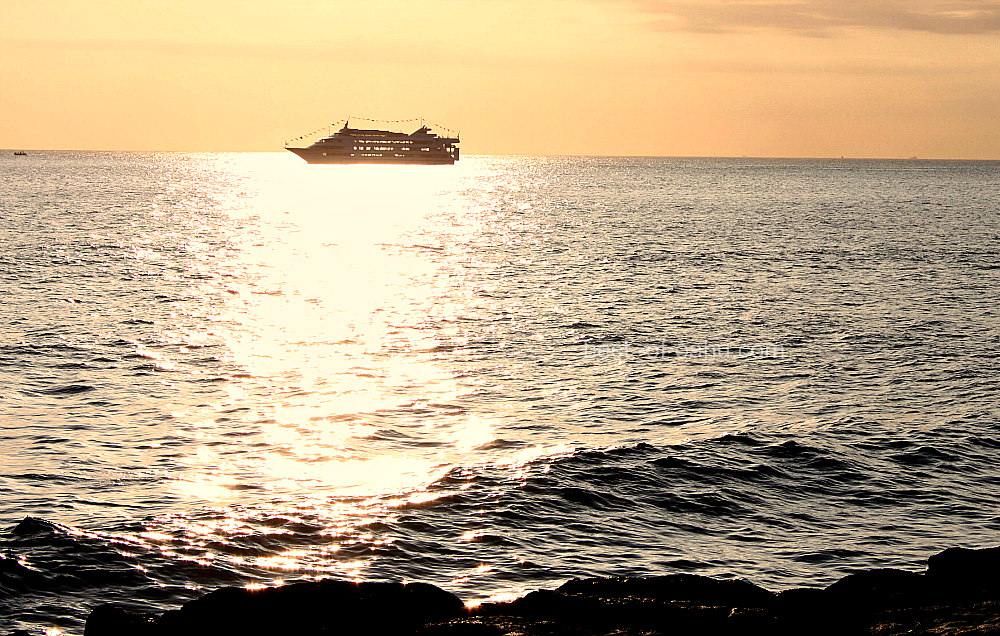 Breathtaking views of the Waikiki skyline and Diamond Head, a sunset on the water, an ono dinner, Polynesian dancers, and boogieing into the night with the DJ – that should be enough fun for one night!
Reserve ahead for a Sunset Dinner Cruise!
---
Hawaiian Luau

Attending a Hawaiian luau is a grand Oahu attraction in itself, and there are a handful of outfits that put on the whole production.
It's a night of continuous entertainment, with torch lighting, hula dancer performances, Hawaiian rituals, flowing tropical drinks and of-coarse a huge luau spread including some Kalua Pork & Poi!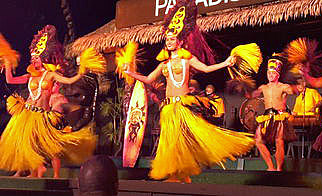 The Paradise Cove Luau, or Germaines Luau, and the Polynesian Cultural Center, are the 3 most popular luaus on the island.
---
Hawaiian Live Music Performances


It's a special treat if you can catch a local performance during your stay. 
During the day, you can catch some free performances at the Ala Moana Mall stage and Kapiolani Park Bandstand.  But the Oahu nightlife steps it up with local live music that can be found at select Honolulu bars, restaurants and hotels mentioned above.

I would also advise checking out bluenotehawaii.com that is located in the middle of Waikiki, 

and 

dukeswaikiki.com and staradvertiser.com for scheduled upcoming concerts and entertainment venues.
Revive The Live and The Slackkey Lounge are both close to the Ala Moana Center and offer good local venues most nights.

---
Sunset on the Beach, Movie Night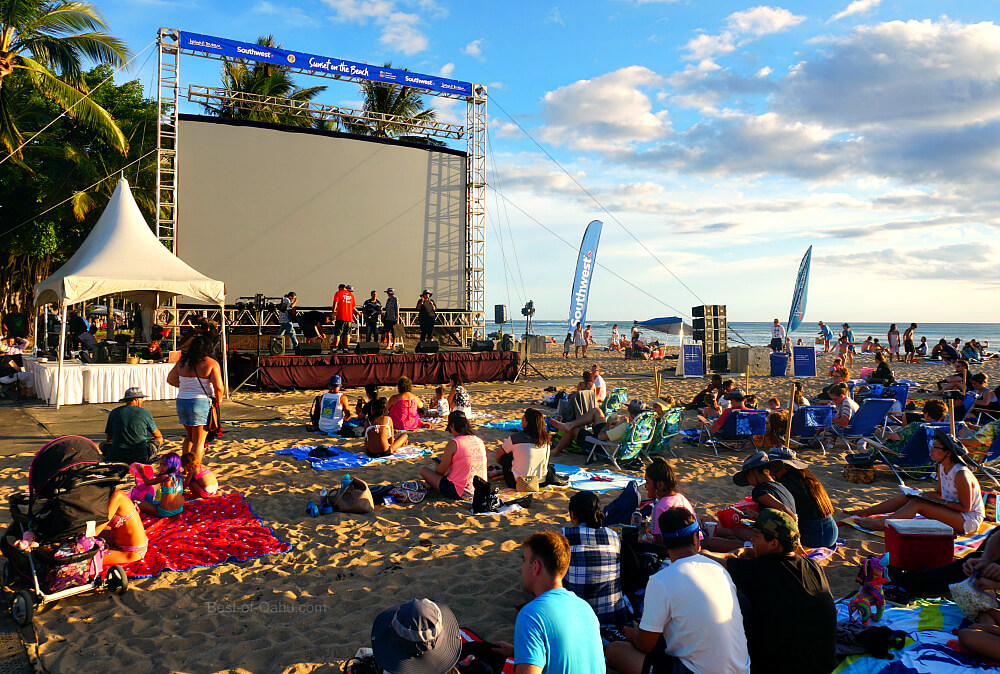 Take part in some Waikiki nightlife, burying your feet in the sand and watching a movie on the beach for free on a 30 ft movie screen!

Sunset on the Beach, is all part of a big production, that includes live entertainment beforehand, and ono food kiosk stations cooking up dinner and selling all types of snacks.
They used to show movies every weekend, but unfortunately are now shown more infrequently.  So take advantage if you're around for one.

---
Aloha & Enjoy!

Subscribe to receive Best of Oahu updates on events, updates, and new articles.  It's the closest way to paradise while you are away...
We will never sell or spam your information, and we'll respect your email privacy.