Best Oahu Resorts
There are really only 6 Oahu resorts that have the extensive grounds, full facilities, and prestige worthy of the title "true resorts on Oahu".  The Hawaiian Hilton Village, Turtle Bay Resort, Marriott Ko Olina Beach Club, Disney Aulani Hotel, Four Seasons, and the Kahala Hotel and Resort are your 6 one stop island destinations that rise above the rest!
---
Grand Oahu Resorts
Unique settings, onsite golf courses, tropical lagoon beaches, exquisite man-made waterfalls, popular luaus, star attractions such as dolphins and sting rays swimming about, spa centers, boutique shops, fine dining restaurants, top notch rooms & suites, and front row beach real estate are some of the outstanding all-in-one features you will find at these luxury Oahu resorts.
These comprehensive and luxurious amenities are hard to find anywhere else.

---
Travel to the tip of the North Shore countryside, and you will find the welcoming gate that leads you inside this fabulous  880 acres of the Turtle Bay Resort.  
This resort captures the true meaning of the word peaceful!  Although it's only a short ride to Haleiwa Town, you are truly isolated from much of civilization.  
The beautiful rustic grounds include not one but two championship Oahu golf courses, a dozen tennis courts, 2 separate pools, an outdoor spa, a fitness center, 6 restaurant dining options, an extensive collection of hotel rooms and suites,  and that's in addition to the beach cottages & resort villas available to those who have a need for more space and privacy.
Staying at Turtle Bay Oahu can be a little pricey, but if you are searching for peace and tranquility, it might be worth it!  Take a horseback ride or feel free to wander on the 5-mile stretch of undisturbed North Shore sandy beach coast.
Checkout Best Rates for Turtle Bay Resort
---
At the top of Waikiki, you can't have a more grand entrance than one that leads into the Hilton Hawaiian Village.  Las Vegas would be proud to have this Oahu resort in its line up of eye candy.
So what makes each of these Oahu resorts grand?  Let the Hilton Hawaii Village set the standard with…an elaborate waterfall entrance, 6 hotel towers, close to 100 boutique shops to satiate any urge to loosen the purse strings, 2 dozen restaurants and bars, the only outdoor Waikiki luau, a world conference center, a manmade swimming lagoon, huge park-like grounds, 10 swimming pools, and prime Waikiki beach real estate.  Oh…did I mention this place is home to the legendary Don Ho?
It's no doubt that the Hawaiian Hilton Village is a first class Oahu resort, but also an endless oasis of entertainment and fun!
Check out Best Rates for Hilton Hawaiian Village
---
3 Major Oahu Resorts in Ko'Olina
Ko'olina is a newly developed resort area that has attracted 3 major hotel leaders to the area, including the Marriott Resort & Beach Club, the Disney Aulani, and the Four Seasons.  Known for its magical calm ocean lagoons, elite golf course, and best rated restaurants, Ko'olina is a magical oasis in the making.

---
About 45 minutes North of Waikiki is a fairly new secluded resort on the Leeward (west side) side of Oahu, known as the Marriott Ko Olina Beach Club.
The 650-acre gated Marriott Ko Olina properties currently consist of 2 hotels each with its own crescent-shaped beach lagoon.  The 3rd and 4th identical lagoons are set to also have their own hotels to be built in the near future.  
This expansive beach club also  includes an 18-hole championship golf course, award winning Roy's Restaurant, the Paradise Cove Luau production, tropical pools to splash around, and prime beachfront setting to enjoy the perfect Hawaiian sunsets.
The Ko Olina resort hotel rooms and multi-roomed villas are spacious and tastefully decorated with a modern and luxurious island plantation feel.
But it's really the manicured garden surroundings, and the 4 individual magical crescent moon beach lagoons that separate this getaway from other Oahu resorts.  The Ko Olina beaches rank as some of the best on the island, and happens to be one of my favorites to visit!
Checkout Best Rates for Marriott Ko'olina
---
The Disney Aulani Resort is the latest addition to join the short list of amazing Oahu resorts.
It's located about 30 minutes north of Waikiki, next to the Marriott Resort & Beach Club.  If you haven't been to Ko'Olina yet, it's a tropical oasis, that's away from everything and has these 4 pristine moon-shaped ocean lagoons.
Walt Disney's team worked hand in hand with the Hawaiian community to create a flowing symmetry of Hawaiian & Polynesian culture throughout the resort and it's premises, and mixing in the Disney magic we've come to love over the years. The Aulani opened its doors to the public in 2011, and has already expanded their capacity to over 800 rooms, suites, and villas in 2013.
The Ko'Olina beach lagoons are a highlight, but you'll find many guests enjoying the extensive water park at the Aulani grounds.
Checkout Best Rates for Disney Aulani Resort & Spa
---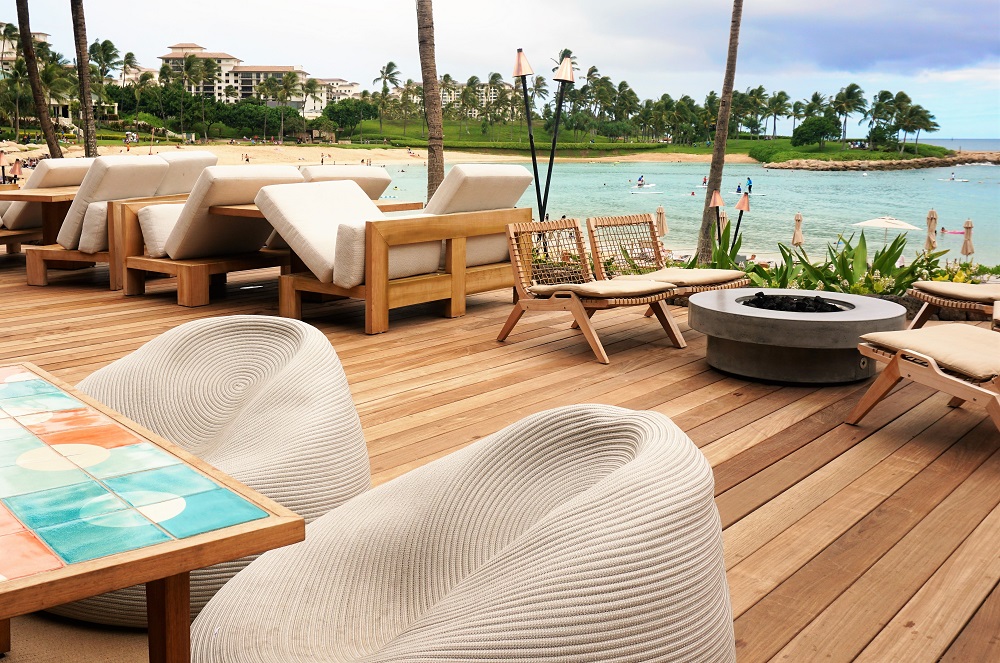 The recently renovated Four Seasons in Ko'olina Lagoons is a vacation dream!  Here you will find a nice balance of peaceful settings and fun activities surrounding the resort.  A common theme you'll find throughout the Four Seasons is luxury -- in finishes, furnishings, and services provided.
Coupled with multiple noteworthy restaurants, inviting pools, and a 35,000 square foot luxury spa…that's right, with 20 treatment rooms and "healing hales", the Four Seasons has covered many bases to help define vacation paradise!

Explore the grounds and you'll discover a fairy tale cathedral surrounded by water gardens, and used for special weddings and events.  Aside from the man-made lagoon, there's also a natural hidden beach on the north side of the Four Seasons hotel. 

My favorite feature of this Oahu resort are the many beautiful lounging areas sprinkled throughout the resort, which were specifically designed for privacy and relaxation.  Can you say ahhhh....

When you're done with whatever activities you chose to enjoy around the resort, don't miss one of the best happy hours in Ko'olina at the Waterman Bar & Grill, where you can enjoy the sunset with tasty appetizers and specialty cocktails at happy hour prices!

Checkout Best Rates for Four Seasons
---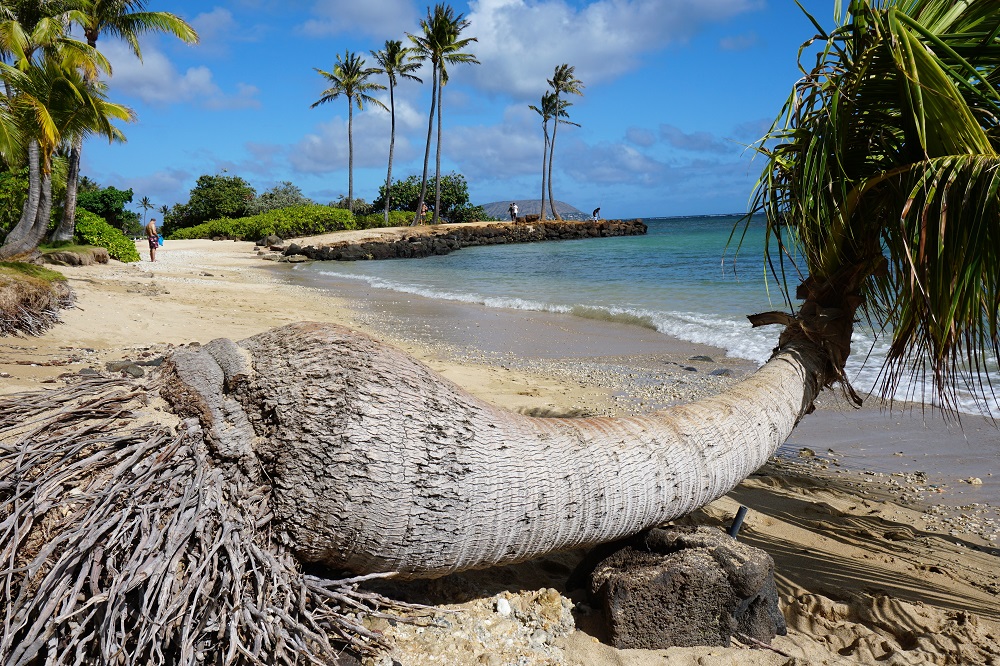 A legendary Oahu resort secretly tucked in the back side of Diamond Head, away from Waikiki...  Think world class and the Kahala Hotel & Resort should come to mind.  This is where you come to feel like the rich and famous or hang out with them –such sightings are quite common, but you have to come see for yourself!
Checkout Best Rates for Kahala Hotel & Resort
Residing on only 6.5 acres of prime real estate, the Kahala Hotel might seem a little small compared to the other Oahu Resorts, but not in terms of class, beauty, and entertainment!  No details were spared in this classic luxury getaway!
Features not to be missed include an extensive spa and fitness center, a private long stretch of beach with calm ocean waters, a 22,000 sq ft lagoon, that winds through botanical gardens, and it's home to bottlenose dolphins, sting rays, sea turtles and a school of tropical fish. 
The Kahala Resort is also home to an award winning restaurant known as Hoku…one of 5 dining spots  onsite.
My favorite pastime at the Kahala Hotel & Resort is hanging out in their open air lounge, where you can enjoy cocktails from the bar and listen to the live jazz music on the weekends.
---
Best Oahu Hotels in Waikiki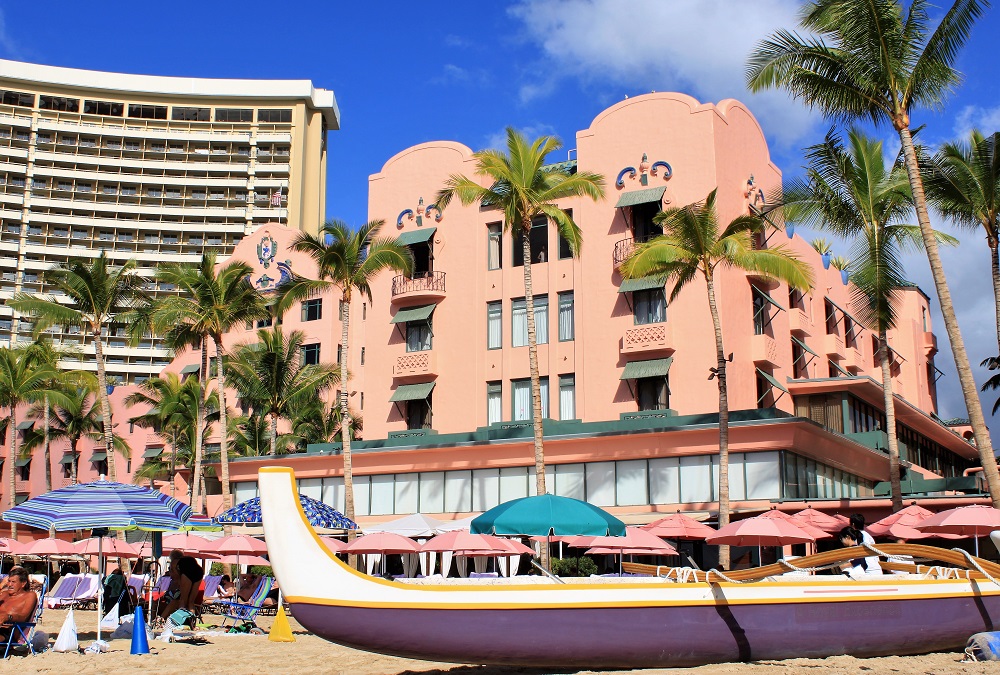 Besides the 6 grand Oahu resorts listed above, you will not be disappointed with some of the best Oahu hotels for more grand stays in Hawaii!  Don't miss the classic hotels on the island, including the Royal Hawaiian, the Moana Surfrider, and the Ilikai Hotel, and many others worth taking a look ...

---
Waikiki Hotels & Resorts Map


Return to Best of Oahu Homepage
Aloha & Enjoy!

Subscribe to receive Best of Oahu updates on events, updates, and new articles.  It's the closest way to paradise while you are away...
We will never sell or spam your information, and we'll respect your email privacy.