Oahu Events 2023
There are hundreds of Oahu events to explore each month, and we would like to highlight some of the best.  While much of the activity takes place within Honolulu, we here at Best of Oahu will do our best to recognize worthy events and activities that are also taking place in the North Shore and other unique spots around the island.
Kailua Farmers Market
Exploring Oahu Events & Shows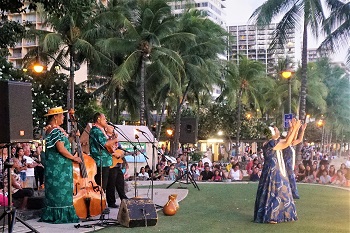 Some Oahu events take place on a regular basis such as First Friday in Chinatown.  This is a fun wine and art walk in the downtown Honolulu area. 
Other Honolulu events are seasonal and only come once a year, like the Waikiki Spam Jam, that is a huge festival evolving around the islands love for Spam!
Make a point to check out the best Oahu activities, events, and festivities…and we look forward to seeing you out there!

Also take time to check out some of the best ongoing Oahu shows, Hawaiian Luaus, and concerts taking place in and around Waikiki!

Paradise Cove Luau
Paradise Cove is not just another luau, it's a full production with lots of activities and entertainment that some others tend to lack.  Kick off the afternoon with some Mai Tai's and join in the celebration and festivities!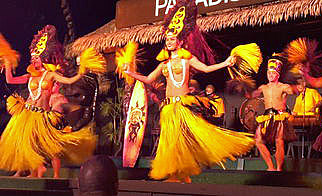 A Luau is a celebration for enjoying each other's company, play traditional Hawaiian games, watching a Kalua Pork Imu ceremony take place, participate in a hukilau of pulling in a large fishnet from the ocean, listening to live local music, and being entertained throughout the night with many Polynesian and Hula performances.
Location- Paradise Cove, Ewa Beach
Time – Pick up starts at 3:15 PM in Waikiki, Gates open at 5 PM
Cost – $100 and up
---
Upcoming Hawaii Bridal Expos
---
If you have an upcoming wedding and would like to see what's going on around Oahu for special venues, check out upcoming Hawaii bridal expos and events.
These bridal expos usually take place at surrounding hotels and event centers, and feature everything from flower arrangements to bridal gowns, and many resources that you will need for your special day!
---
January Events
Da Hui Backdoor Shootout – it's wintertime and the waves tend to be big up in the north shore!  Watch an intense shootout from the edge of the shoreline that takes place at the famous Bonzi Pipeline.  Pro surfers show up to test the limits, take some hairy drops and get buried deep into the tubes.
Pacific Islands Arts Festival – close to 100 of Hawaii's local artists take over Kapiolani Park and show off their beautiful creations and creativity.  This is a special and fun festival to kick off the New Year.
Sony Open – one of the biggest golf tournaments takes place here in Oahu at the Waialae Country Club, with some of the biggest PGA pros looking to start the New Year with a big win!
See Full List of January Events
---
February Events
Punahou Carnival – This is not your average high school carnival, but one of the biggest festival productions on the island, that got started back in 1932.  This is a wonderful family fun event that takes place every year during this time.
Ukulele Picnic – visualize a beautiful day in Kaka'ako Park with hundreds of ukuleles filling the air with magical tunes.  More than 5000 people turnout to listen to some of the best ukulele player jam!
Buffalo Bills Big Board Contest – ask any surfer around which is the most entertaining surf contest to watch, and Buffalo Bills competition in Makaha will certainly be in the running. Do not miss the SUPsquatch competition!  If you're not familiar, this is where 5 guys pile onto an oversized board and ride a big wave to shore!  The competition is meant to be fun, and there are lots of fun divisions including the tandem performers!
Great Aloha Run – this is one of the largest races on Oahu to start off the year.  Over 12,000 runners turnout to compete in different divisions from kekei to elites to wheelchair.  The Great Aloha Run is a fundraiser that generates $11 Million for over a 150 non-profit organizations.
See Full List of February Events
---
March Events
Honolulu Festival – celebrating the cultures that make up our island, this grand festival that takes place over 2 days in multiple locations.  There will be close to 100 performances taking place, along with cultural educational awareness stations and talks happening throughout.
Waikiki Aquarium – Every year the Waikiki Aquarium celebrates their century old institution.  It's a day to bring out the whole family and celebrate with the aquarium.  They usually host activates planned for the kekeis.
Rubber Duckie Race – imagen 40,000 yellow rubber duckies racing down the Ala Wai Canal, and you will know why you'll want to watch it!  Claim a prize if your duckie come within the top 50…if not, the picture alone will be worth it!
---
April Events
Kawaii Kon – we're all familiar with Comic Con, and Hawaii's version is called Kawaii Kon.  Join hundreds of comic book fans dressing up as their favorite character, and taking in 3 days of endless fun activities, films, creations, workshops, and social events. 
Honolulu Aids Walk – 3000 folks show up for a great cause, walking a 5k around Kapiolani Park and raising over $2.5 million dollars.  Walk in solidarity and help raise awareness!
Duke Kahanamoku Challenge – each year a day is devoted to waterman sports at Duke Kahanamoku Beach. Watch outrigger canoe races, SUP board races, and some ancient Hawaiian Makahiki Games on the beach, including a competitive tug-of-war.

Spam Jam – this very well could be the most popular festival in Hawaii.  Spam Jam Hawaii takes over Waikiki for a day with multiple stages of entertainment and endless booths serving up unique Spam dishes.
---
May Events
May Day Lei Day – May Day is Lei Day in Hawaii.  This is a special day full of celebration around the islands with multiple scheduled events.  Don't miss the annual tradition of decorating the statue of King Kamehameha with beautiful long strands of leis.  It's a special site to see! 
50th Hawaii State Fair – The month long Hawaii State Fair starts in May and goes well into June.  There will be lots of fun games, rides, food, a petting zoo, and even a circus to explore.

Shinnyo Lantern Floating Hawaii – an evening of remembrance, reflection, and gratitude!  Tens of thousands of people show up to Ala Moana Beach Park to watch or partake in lighting a Japanese  lantern and floating it into the ocean in remembrance of loved ones who have passed on while bringing hope and courage for those in the present. It's breathtaking to watch thousands of glowing lanterns floating together into the sunset. This is a must see and experience!
---
June Events
Pan Pacific Festival – get ready for the largest block party of the summer.  The Pan Pacific Festival is a 3 day party that rocks Waikiki from the day into the night!  You'll find ongoing hula performances, live entertainment, and great food booths throughout Kalakaua Ave. 
King Kamehameha Celebration – the celebrations starts off in the morning with a special Kamehameha parade that travels from downtown Honolulu and ends up at Kapiolani Park.  The celebrations continues into the park with lots of live music, hula performances, and food & art booth to explore.
Summer Concert Series – special summer Hawaiian music concerts start this month for many popular Oahu attractions.  Take a look at schedules for Waikiki Aquarium, Honolulu Zoo, Waimea Valley, and Sea Life Park.
---
July Events
4th of July Celebrations – Hawaii has its share of 4th of July celebrations and amazing displays of fireworks, including Ala Moana Beach Park & Kailua Beach.
Haleiwa Arts Festival – Haleiwa is known for being an art community, but once a year there is a special weekend where close to 150 local artist come together to show off their creations in this north shore art festival.
Ukulele Festival – the ukulele is extremely popular in Hawaii, and there are a few dedicated concerts and festivals throughout the year that celebrate it.  But Ukulele Festival in Kapiolani Park is one of the largest, drawing over 10,000 folks!  Spend a wonderful day full of performances, demonstrations, and giveaways.
---
August Events
Korean Festival & Greek Festival – A great way to wrap up a fun summer are with some exciting parties, and both the Korean & Greek Festivals are two of the largest of the summer!  Each exemplifying their best in music performances, games, arts & crafts, and foods that we enjoy and love! 
Duke's Ocean Festival – Get ready Waikiki for a weeklong of waterman sports and fun beach games!  The days will be filled with surfing competitions, standup paddle Board races, canoe races, and more!
Hawaiian Slack Key Festival – Hawaiian music lover are in for a treat with 6 long hours of non-stop slack key guitar jams!  There will be solo performances along with large group gathering on stage…
See Full List of August Events
---
September Events
Okinawan Festival – If you are looking for a weekend full of fun and engaging activities, then head to Kapiolani Park for the Okinawan Festival.  Explore this beautiful culture in their dance, costumes, artwork, music, and food.
Waikiki Rough Water Swim – have you ever walked Waikiki Beach end to end?  Now image swimming it!  Hundreds of novice and recreational swimmers jump into the water channel off of San Souci Beach, and swim out past the buoy before turning towards Duke Kahanamoku Beach and the race is on…
Aloha Festival, Annual Floral Parade & Waikiki Haulaulea – This is month long celebration of Hawaii's royal monarchy.  It's a treat to watch the introduction of Hawaiian Royal Court and the parade that march in.  The festivities continue with a block party that shuts down Waikiki as thousands celebrate into the streets.
See Full List of September Events
---
October Events
Slack Key Guitar Festival – Hawaiian music is large part of Hawaii's community and life, and while there are great music concerts performed throughout the year, slack key festivals take it to another level.  October sparks a popular Slack Key Guitar Festival in the north shore.
HIC Pro Sunset Beach – when the large waves roll into the north shore late fall, so do the popular big wave contest.  The HIC Pro surf contest at Sunset Beach is a prelude to what's to come for the Triple Crown of Surfing.
Hawaii Food & Wine Festival – this is not just one festival, but a long series of food events at popular hotels and restaurants, being hosted throughout the month of October.  Take a look at the schedule and decide where you would like to indulge.
See Full List of October Events
---
November Events
Wahiawa Lions Veteran's Day Parade – it's worth a trip to the north shore to watch this special Veteran's Day Parade, where over 80 military units march in uniform.  Join the celebration and remembrance of our vets.
Van's Triple Crown of Surfing – and so let the big wave competitions begin.  The Triple Crown of Surfing are 3 individual contests held at Sunset Beach, Waimea Bay, and the notorious Banzai Pipeline.  It's a treat to watch pro surfers from around the world and riding these wave like artwork.
Waikiki Holiday Parade – the holidays are upon us and so let the parades begin. This Waikiki Holiday Parade travels throughout the city, and commemorates the Pearl Harbor Survivors and Polynesian Culture.
See Full List of November Events
---
December Events
Honolulu City Lights – one of the best holiday events on Oahu!  Don't miss the lighting of a 50 ft Christmas tree, an amazing electric parade of lights, and fun holiday festivities that go into the night.
Honolulu Marathon – end the year with a challenge and partake in a race.  The Honolulu Marathon is one of the largest marathon in the nation, and folks travel from all over to run in it.
Billabong Pipeline Masters – the most popular and anticipated surf contest in the world!  It's a rush to stand on the shoreline and watch the pro surfers shoot out of the barreling waves that are ever so close to shore!
See Full List of December Events
---
Aloha & Enjoy!

Subscribe to receive Best of Oahu updates on events, updates, and new articles.  It's the closest way to paradise while you are away...
We will never sell or spam your information, and we'll respect your email privacy.