Home  /  Oahu Events in December

Oahu Events in December
---
December Events
Holiday Luau - Dec 1st - 31st, 2018
Kick off the holidays with a special luau that will be going on all month long!  Paradise Cove is not just another luau, it's a full production with lots of activities and entertainment that some others tend to lack.  Kick off the afternoon with some Mai Tai's and join in the celebration and festivities!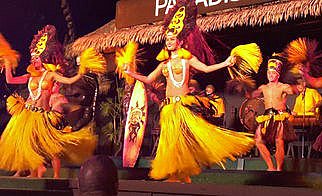 A Luau is a celebration for enjoying each other's company, play traditional Hawaiian games, watching a Kalua Pork Imu ceremony take place, participate in a hukilau of pulling in a large fishnet from the ocean, listening to live local music, and being entertained throughout the night with many Polynesian and Hula performances.
Location- Paradise Cove, Ewa Beach
Time – Pick up starts at 3:15 PM in Waikiki, Gates open at 5 PM
Cost – $85 to $170
---
Vans Triple Crown of Surfing at Sunset Beach – Nov 24th – Dec 6th 2018
This is the second leg of the Triple Crown of Surfing that takes places at big waves Sunset Beach.  Watch hundreds of top surfer who travel from around the world to compete in 3 of these contests and beat each other out to be crowned the best surfer in the world.
---
Chinatown Winter Walk – Dec 1st – Dec 31st, 2018
Make a point to take a stroll through the downtown Chinatown district and see the holiday transformation!  Over 40 merchants will be dressing up their windows and shops for the whole month of December!  Walking maps will be posted though out the area from King St to Hotel St to Pauahi to Bethal St, to Nuuanu to Smith St.
Location – 9 block radius within the Downtown Chinatown district
Cost - FREE
Learn more - HCAD's Facebook (@discoverchinatown) and Instagram (@discoverchinatownhi)
---
76th Pearl Harbor Anniversary Events – Dec 1st – 10th, 2017
Commemorating the 76th anniversary and memory of Pearl Harbor, there will be a number of events happening each day from December 2nd thru the 10th.
Included in the ongoing celebration will be live Jazz & Blues band performances, outdoor movie nights on Waikiki Beach, reef laying ceremonies, An opening gala and block party, night at the museum, honoring dinners, ceremonial memorial services, a parade, and finishing off with a Honolulu Marathon honoring the past and celebrating the future.  Check out more in the Pearl Harbor special 76th schedule link below.
---
34th Annual Honolulu City Lights – Dec 1st thru Jan 1st 2018
 Whether or not you're feeling the holiday spirit, the downtown Honolulu City lights, also know as Honolulu Hale, is an amazing spectacle to see.  The festivities start off with the lighting of the 50 ft Christmas tree followed by an electric parade of lights.  This is a must see for the whole family.  There will be food booths, games and rides for the keiki's.

---
10th Anniversary Opening Gala at the Pearl Harbor Pacific Aviation Museum – Dec 2nd, 2017
Join the 10th anniversary celebration for the Pearl Harbor Pacific Aviation Museum.  Participates will be in for a special treat as they dine in the museum surrounding by some of the classic restored aircrafts.  This Gala includes dinner, live music/entertainment, and an auction that benefits the restoration of these planes and educational programs.
Location - Pearl Harbor Pacific Aviation Museum
Time – 6 PM to 10 PM
Cost - Carol Greene at 808-441-1006 or Carol.Greene@PacificAviationMuseum.org
Learn more – www.pacificaviationmuseum.org
---
First Friday Art Walk - Dec 7th, 2018
First Friday is an evening art walk that takes place in Chinatown Honolulu.  This is a popular fun event that takes place every 1st Friday of each month.  This First Friday will be have a holiday theme to it.  Surrounding merchants of art galleries, shops, restaurants and bars are known for opening up their doors, pouring wine and providing food to those stopping by. Most neighborhood shops will have maps of participating merchants.  The event ends at 9 PM, but the fun continues into the night with thousands of people flocking into the streets.
Location - Surrounding Chinatown area
Time - 5 PM to 9 PM
Cost - Free
---
Kalakaua Merrie Mile – Dec 8th, 2018
If you're not ready for a 26 mile marathon, maybe a 1 mile fun down Kalakaua Ave might be suitable!  Throw in a beach party at the end, on Waikiki Beach, and it's hard not to join in all the fun!  All running and walking folks are encouraged to participate.  There will be different starting waves of runners/walkers, depending on your ability.  Entries includes race shirt and finishing medal.
---
Christmas Biathlon - Dec 8th, 2018
Here's a fun entry level biathlon taking place in an ideal setting. Run 5 miles through out Ala Moana Beach Park and finishing the race with a 1 mile swim along the beach.
Location - Ala Moana Beach Park
Time - 6:15 am check-in, race at 7:30 am
Cost - $30 to $150
Learn more - active.com
---
Billabong Pipe Masters – Dec 8th thru Dec 20th, 2018
Here's your grand finale of the Triple Crown of Surfing contest.  Come watch the men being separated from the boys as they take on some impressive winter size barrels at the famous Banzai Pipeline!  This is a fun leg of the contest to watch as the action is front row, with massive waves break on the reef close to shore!  You'll have to get up early for this contest if you want to make it to the North Shore, and find a spot on the beach to watch!
---
47th Annual Honolulu Marathon – Dec 9th, 2018
Sign up, train and run in one of the most popular marathons not only to Hawaii, but an event which athletes and participants travel from around the world to partake in.  The run will start along Ala Moana Beach Park, travel through Waikiki, Diamond Head, out to Hawaii Kai & back, and end in Kapiolani Park.  Note that services will be available from 5 am to 2 pm.
Location – Start near Ala Moana Beach Park & ends in Kapiolani Park
Time – 7 AM to 1 PM
Cost - $225 - $325
Learn more – www.honolulumarathon.org
---
2nd Annual Mele Kalikimaka Marketplace – Dec 9th & 10th, 2017
Come early and join in the fun with ongoing festivities, and tone of great holiday shopping booths with creative and unique gifts for purchase.  There will be a fun keiki Christmas Carnival & Winter Wonderland to explore, and make sure to get a pic Santa and meet Rudolph!
---
CHRISTMAS IN POLYNESIA  - Dec 9th - Dec 22nd 2017
The Polynesian Cultural Center gets festive with holiday activities and decor.  Take a ride in their Christmas Lagoon Canoe Ride that travels along a special path set up with live reenactments that celebrate the "birth of the savior".  Bring the kids out for holiday train rides and a free scavenger hunt.  These special holiday events take place after the main park activates finish, and the evening events begin.
Don't miss Winter Wonderland, playing in the snow on Dec 16th & 17th, 6:30 at the Hukilau Marketplace
---
Vino & Vinyasa at the Moana Surfrider - Dec 13th, 2018
Can you think of a better way to relax then mixing up some yoga with a little wine after?  That's right, work on your flexibility and continue relaxing your state with some organic wines. There will be also be some special local vendor exhibits to check out.
Location - Moana Surfrider, Diamond Head Lawn
Time - 6:00 PM to 7:00 PM
Cost - Yoga is free, wine is $5
Learn more - Monana-Surfrider.com
---
7th Annual Makahiki 5K Challenge – Dec 15th 2018
The Makahiki Challenge is a 5K obstacle mud race that is carrying on the tradition of past Hawaii where war was Kapu (outlawed) for a period of 3 or 4 months, and festivals with athletic competitions took place.  This annual mud run cosists of 12 obstacles, including a 12 ft climbing wall, an ice bath, and of course a giant mud pit that you will need to travel through.  Lot's of goodies included and the run finishes with a live concert!
---
Na Mele O Ko'olina – Dec 15th, 2018
Head to Ko'olina beach lagoon #3 for a day of Hawaiian music and local art display & sale!  Along the arching sidewalk you find close to 40 artist displaying their artwork for viewing and sale…perfect for special gifts!  There will also be Hawaiian slack-key guitarist and ukulele musicians playing during the duration of this event.
---
SEVEN DAYS TILL CHRISTMAS WITH ISLAND MUSIC AND HULA                         Dec 19th - Dec 25th 2018
Stroll over to the Waikiki Beach Walk during sunset hour and watch an entertaining outdoor 1 hour hula show with live Hawaiian music performances by different groups each evening.
Location - Waikiki Beach Walk
Time - 6 PM to 7 PM each day
Cost - FREE
Learn more - WaikikiBeachWalk.com
---
Christmas at the Hukilau Marketplace – December 21st & 22nd, 2017
The Christmas holiday celebration is another great reason to head to the Polynesian Cultural Center!  It will be a weekend full of full of holiday festivities and wonderful displays of lights and decorations.  Activites include special presentations & entertainment, special guests, and tons of snow on Sunday.
Location:  Hukilau Marketplace at the Polynesian Cultural Center
Time: 3 PM to 7 PM
Cost:  FREE
Learn more:  HukilauMarketplace.com
---
Christmas Eve Brunch at Waimea Valley - Dec 23rd, 2017
Head to the North Shore and enjoy a Christmas Eve celebration special brunch in the botanical gardens of Waimea Valley.  Special live local music performances by Jerry Santos, Mailani Makaianai, and Paula Fuga.
Event fee includes admission to the park, including the popular Waimea Waterfall.
Location - Waimea Valley
Time - 10 AM and 2 PM

Cost - $29.95 Kids, $49.95 Adults
Reservations - (808) 638-5864
---
Eat the Street – Dec 28th 2018
Eat Drink and Be Merry! Get ready for a great end of year concert and party!  Special holiday drinks at the bar including a festive Egg Nog.  Eat the Street is an organization that gets some of the best food trucks on the island to come together in a designated area, and create a party of its own.  Thousands of hungry folks seeking their next favorite dish attend each month!  Explore the different venues and taste some ono creations.  Live entertainment!!!

Location – 1011 Ala Moana Blvd
Time – 5 PM to 10 PM
Cost - FREE
More info:  Eat the Street
---
Halekulani Masterworks: Ode to Joy – Dec 28th & 29th, 2018
An annual symphony tradition, welcoming the new year with "Ode to Joy".  You don't have to be a classical music lover to enjoy this production!  The Honolulu Symphony Organization will pair up with the Oahu Choral Society for this special Beethoven's Symphony masterpiece.
Location – Blaisdell Concert Hall
Time – 7:30 PM to 9:30 PM
Cost – $30 to $300

Learn more – www.hisymphony.org
---
Oahu New Year's Eve Events
---
New Year's Eve Moonlight Cruise - Dec 31st 2018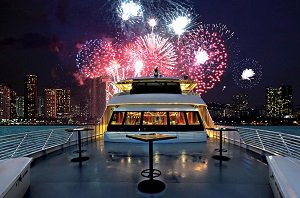 Ring in the New Year a little different this year, and jump on board a special night cruise that's setting sail New Year's Eve.  Look forward to a gourmet buffet, live music, and drinking champagne with some fantastic views of fireworks set to go off in the magic hour.  This will be a fun night!
Make sure you secure your tickets early as this New Year's Eve Cruise will sell out!
Location – Departs from Aloha Tower Market, Pier 8
Time – 10:00 to 1:00 am

Cost - $178 per person
Learn more - New Year's Eve Cruise
---
New Year's Eve Special – Legends in Concert - Dec 31st, 2018
Secure your tickets to a 'Rockin Eve' grand experience into the New Year!  That's right, celebrate 2017 with some familiar sounds and performances from the likes of Elton John, Lady Gaga, Michael Jackson, and the King…Elvis!  And while this will be a special celebratory show with complimentary party favors, party hats, and noise makers, there are some great ticket options that includes a memorable 4-course dinner, live music, and champagne!  

This show will sell out!  Secure tickets early…review more details and purchase tickets!
Location – Royal Hawaiian Center
Time – 6:30 PM pre-party dinner & drinks, 8:15 PM Show Starts
Cost - $58/Child & $98.99/Adult - Show only, up to $214.99/Adult - King's VIP Ticket
Learn more – New Year's Eve Special
---
NEW YEAR'S EVE GALA 2018 "Monte Carlo Casino Night"                                      Dec 31st, 2018
Party into the new year with a rolling 1920's decadence thyme along the waterfront.  From hors d'oeuvres to signature cocktails to decor, it's all served up prohibition style!  There will be a bourbon bar, cigar lounge, food stations, and complimentary champagne toast...along with 3 drinks with your admission. 
Location - 53 By the Sea
Time 9 PM to 1 AM
Cost - $150 Single to $1800 VIP Room
Learn more - 53 by the Sea
---
Aloha Tower New Year's Party – December 31st, 2018
Looking for a New Year's celebration party?  Aloha Tower will be hosting their annual New Year's bash, with over 30 live bands and DJ performances on 7 different stages.  There will also be ono eats on site provided by Eat the Street Food truck venders, and an awesome fireworks display to ring in the New Year!  Consider upgrading to a VIP pass that gives you access to the upper level Sky Lounge, exclusive food tastings by Gordon Biersch, and a premier viewing spot for the fireworks.
Location:  Aloha Tower Marketplace
Time: 7 PM to 2 AM
Cost:  $45 +
Learn more:  NYEHawaii.com
---
New Year's Eve Fireworks - Dec 31st, 2018
You don't need big plans on New Years Eve to stroll Waikiki Beach close to mid-night and view an extravagant fireworks display, with more than 1800 shells to be fired into the sky.  Tune into 105 KINE FM to listen to choreographed music to the fireworks.
Location Waikiki Beach
Time - 11:55 PM
Cost - FREE
Learn more - (808) 923-1094
Here are some other firework displays that will be happening around the island on New Year's Eve
Location: Aloha Tower Marketplace
Time: 9 p.m., 10 p.m., 11 p.m., and 12 Midnight
Location: Barge off of Kahala Avenue
Time: 10:30 p.m.
Location: Hilton Hawaiian Village Waikiki Beach Resort Lagoon
Time: 11:45 p.m.
Location: The Kahala Hotel & Resort
Time: 12 Midnight
Location: Four Seasons Resort at Ko Olina, Coves 1 & 2
Time: 12 Midnight
Location: Turtle Bay Resort
Time: 11:59 p.m.



Aloha & Enjoy!!
Also check out Ongoing Oahu Shows & Entertainment.