Home  /  Hawaiian Wedding

Oahu Hawaiian Wedding Planning Ideas
Planning a Hawaiian Wedding?  Oahu is one of the most popular destinations for tropical weddings.  There are some great venues for Oahu weddings to explore, so take the time to review your best options.  You could easily go with some of the Oahu wedding packages that are readily available, customize the different components to your special day, or find the right combination that works for you.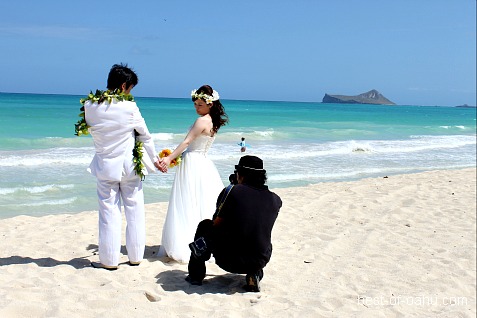 ---
Planning a Hawaiian Wedding on Oahu
---
Planning a Hawaii wedding can be a big undertaking, but here at Best of Oahu we hope to break down some of the different components and identify some of the best choices on the island.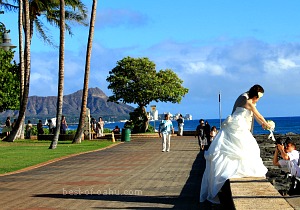 Some of the different components of your Oahu wedding venues that you might want to think about...

include are tropical wedding flowers, best island locations to take photos, fun bachelor & bachelor party choices, wedding party outings and dinners, best Oahu hotels and honey moon sweets, and of course the wedding itself!
Upcoming Oahu Bridal Wedding Expos
Catch all the latest trends, styles, and ideas for your upcoming wedding. These Wedding Expos offer a large array of vendors who specialize in different sectors of the industry, from stunning wedding dresses to beautiful flower creations that help create the magic to your special day, you will find it all at these types of events!
See upcoming Hawaii Bridal Expos...
---
Best spots to take wedding pictures
A big part of the memories are the pictures taken during the trip, not just on the wedding day.  Oahu is a picture perfect island, so you won't have to wonder far to capture some great Hawaiian wedding photos.

Waikiki Skyline - Start with the grand skyline view of Waikiki with Diamond Head in the background.  There are a couple spots that will frame this view better than any others.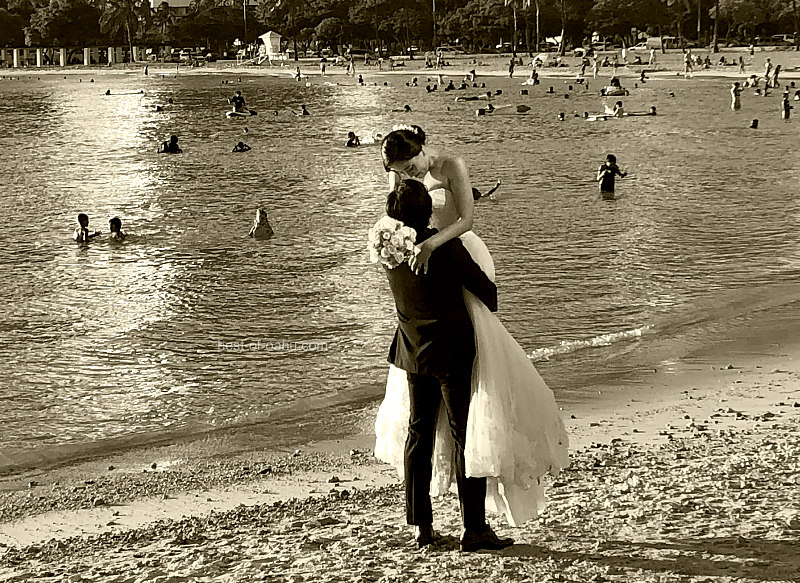 Kaka'ako Park and Magic Island in Ala Moana Beach Park both have jetting peninsulas that provide these amazing views.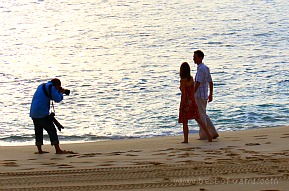 Perfect Oahu Beaches - Waikiki Beach is a bit crowded for taking wedding pictures, but most other Oahu beaches are not.

And then there are a few beaches that are exceptional for taking good beach wedding photos including Waimanalo Bay, secluded Yokohama Bay, and even many sections of Diamond Head Beach.
Hire a professional photographer for a 1 hour beach photo section. Take advantage and capture some memorable beach photos and some surrounding icon backgrounds... Learn more details
Iconic Places - Also consider taking some pictures in front of some of the stunning monuments and iconic places around the island, including the Iolani Palace, the Waikiki War Memorial, and Pali Lookout.  These bold dramatic backgrounds will frame your picture backgrounds nicely.

---
Oahu Hawaiian Wedding Party Activities & Events
---
Getting married on Oahu is not only an experience for the bride and groom, but for family and friends who chose to join you on this celebratory vacation.
Take time and plan a couple events that lead up to the big day, and create some fun vacation memories along with your Hawaiian wedding. Choose activities that are both fun and conducive to keep your group together.

---
Day at the Beach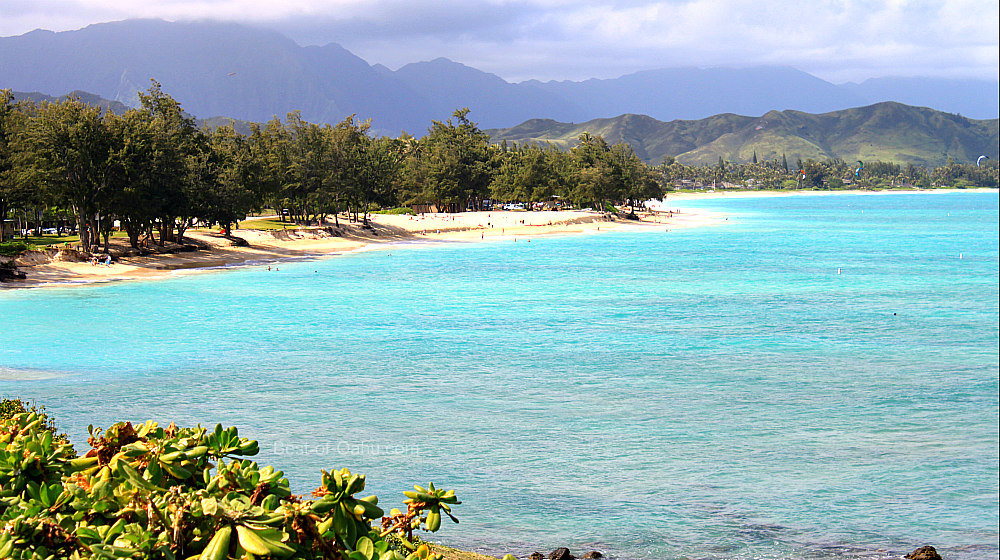 Plan a group day at the beach.  Set up camp at Kailua Beach on the Windward side, or stay in town and head to Ala Moana Beach Park, where there are lots of picnic tables, expansive green lawns to run around and play games, and friendly ocean waters to jump into.

---
Sunset Cruise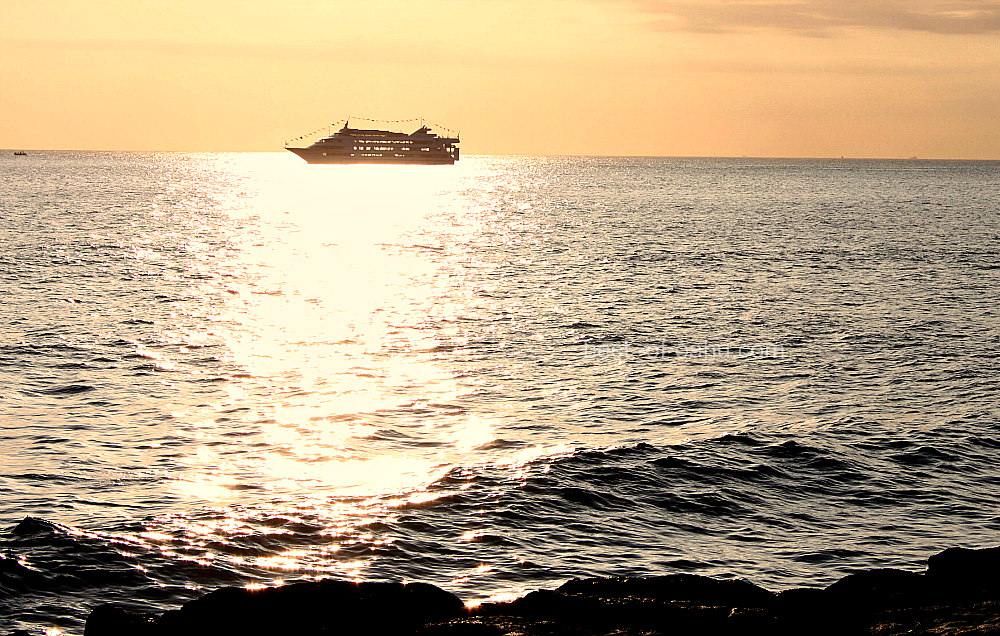 Consider bringing the party to a party…on a sunset boat cruise!  There are some fun catamaran cruises that can host up to a two hundred party goers.  Most of the popular cruises sail out of Ala Moana Kewalo Basin that is located just outside of Waikiki.

There are daytime and sunset cruises that follow the Waikiki skyline towards Diamond Head.
Get tickets for a 2 hr Dinner Sunset Cruise!

---
Attend a Evening Luau


Taking your party to a luau is an easy fun-filled evening that creates great memories for sure.  Live Hawaiian music, hula performances, lighting of the tiki torches, Kalua Pork, eating poi, flowing Mai Tai's, and much more takes place as you dine outdoors under the stars.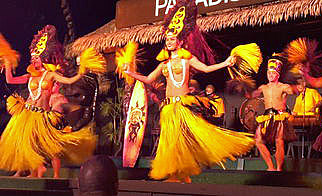 Germaine's Luau and Paradise Cove are the two most popular and long running luaus that are located in Ewa Beach.  Also consider attending a well run luau hosted by Polynesian Cultural Center.  And if that not enough…there is also a night show that takes place after the luau called Ha, "Breath of Life."  Some say it is not to be missed…!

---
Hawaiian wedding flowers
---
You're here for a Hawaiian wedding, so consider going with the theme and use the islands natural resources…tropical flowers.  There are some special made leis for the bride and her bridesmaids.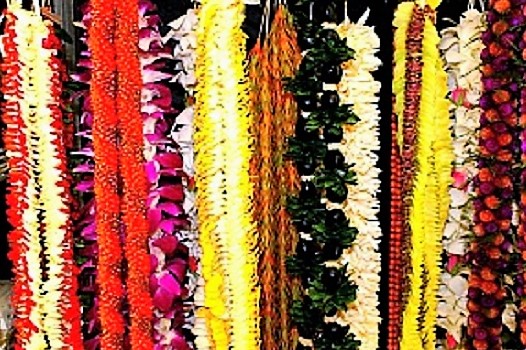 Hawaiian Wedding flowers should be easy to find since you're on a fertile island with a good variety to choose from!  The tough decision lies ahead on just what to choose!

---
The Groom
Let's start with the groom, because he's the easiest to take care of!  Whether he chooses to wear a tuxedo with a boutonniere or a nice Hawaiian aloha shirt, the groom should consider wearing a green Maile ti leaf lei.

It's considered traditional in Hawaiian culture, and a symbol of respect, admiration, appreciation, and good luck.

Kukui Nut Lei's are these dark round hard nut shells that are stranded together.  They can make a good choice for the groomsmen.

---
The Bride
Flowers for the bride – The bride has some decisions to make for her bouquet and possible haku lei (head lei).  Some of the local flowers used have sweet aromas such as Hawaiian ginger, plumeria, pikake, and tuberose, rose buds and pukinikini.

Others are just aesthetically beautiful including many types of orchids, He'e Berries, and cigar flower.  The nicer Hawaiian wedding type leis range from $40 to $100 and tend to display a combination of different flower types, exotic nuts, and even shells.

Bridesmaids can wear a single or double stranded lei along with a handheld flower bouquet.
There are lot's of flower shops located outside of Waikiki that can better help you choose and coordinate your flower selections, including many of the flower shops located in Chinatown Honolulu.
---
Oahu Wedding Rehearsal Dinner
---
With hundreds of  to choose from around the island, where to you begin to look for good food, large enough venues to host your party, and an enticing atmospheres.  It might seem a tall order to find all these elements in a restaurant setting, but they do exist.
You're going to also want to make it easy for your guests, and keep your Hawaiian wedding rehearsal dinner close to town.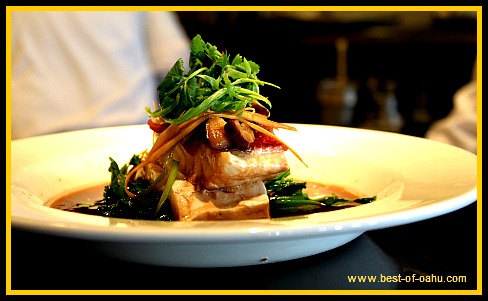 There are some great choices both in and outside of Waikiki.  Consider fun, romantic, and memorable choices such as the Chart House, Side Street Inn, Moku, and 12th Ave Grill.
Most places in Waikiki are fun, but don't have the space for larger parties.  Consider the Chart House that lies at the bottom of the Ilikai Hotel.
This iconic steak house is set in a romantic setting, looks out into the boat harbor, and will leave an impressionable good memory on your guest.  Chart House has 2 private rooms.  One that holds up to 90 people!  Forget rehearsal dinner…you could have your Hawaiian wedding reception here!
The Side Street Inn is a local Asian fusion restaurant that serves large family style portions, and the entrees are ono!  Don't miss their signature tropical drinks coming from the bar.  They have large space venues available for 15 people or more.

If you're looking for an intimate upscale dinner, head to the 12th Ave Grill just outside of Waikiki in Waialei.  This eatery features some delicious classic comfort foods with a little bit of island flavor.  The nice part about the 12th Ave Grill is that they have a private room you can reserve for your party.

---
Bachelor & Bachelorette Parties & Activities
---
Looking to spending a day at the spa with the ladies, maybe some golfing or surfing with the men, and then celebrating into the night?  It's nice to know that Oahu offers a variety of activates for everyone!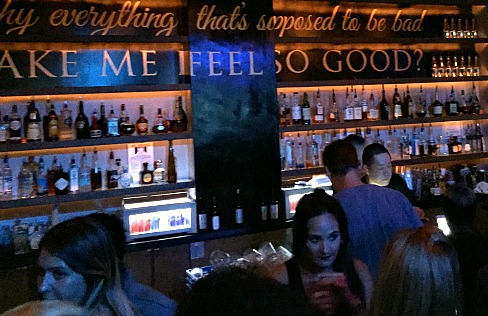 Day at the spa - get outside of Waikiki and head to one of Oahu's large resorts.  Oahu Resorts like the Kahala Resort, Turtle Bay, the Marriott's Ko'olina Beach Club, and the new Aulani Disney Resort, all have expansive facilities to feature nice spa centers worth relaxing in.
Golfing & Surfing - explore some of Oahu's best golf courses and book early for discounts.  I would recommend sticking with some of the larger courses that feature nicer club houses and also rent golf clubs if needed.  Turtle Bay, Prince Kuhio, and Ko'olina are some good choice worth considering.
Exploring Oahu nightlife - You won't have to go far outside of or around Waikiki to discover the best Oahu nightlife, because that's where all the action is at!  Start off at some cool rooftop open air bars in Waikiki.  Tiki's Bar & Grill is a modern tiki bar serving tall tropical drinks.  Buho is a new, hip and  great spot to hang out for drinks with your gang, and make sure to check out the latest "Skybar" that is the place to be with stunning views!
Chinatown Honolulu – bar hopping & club dancing in this 2 square block radius is a perfect venue for a bachelor & bachelorette party!  There are about a dozen bars all within walking distance of each other, and many of them featuring DJ's and dance floors.  Just make sure you guys take cabs or public transportation back to your hotels in the end.
---
Party Bike Bar Tour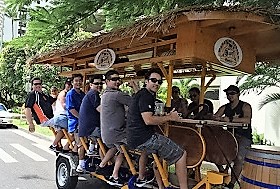 Pedal your way to the bars!  Sign up a dozen party goers in your group pedal away on a 15 seater party bike.  Your pub bike crawl takes place in the new Kaka'ako area, just outside Waikiki, visiting 3 popular local bars, including popular spots like Hibiscus Club and Honolulu Beerworks.  

The joint bike ride itself is worth the experience itself!  Sign up and get ready for a memorable experience!  Reserve your spot!

---
Oahu Wedding Locations
Without a wedding venue…you have no Hawaii wedding!  Okay, you can go down to Honolulu's downtown city hall and get hitched, but you don't need us to tell you about that.  Like restaurants to choose from, there are hundreds of venues that are available around the island.  Check out the best Oahu wedding locations.

Explore classic hotels, beautiful beach settings, stunning landmark churches, Hawaiian wedding gardens, museum settings, and storybook wedding halls…learn more!

---
Oahu Honeymoon Options
---
Whether you're getting married on Oahu or just headed here for your Honeymoon, there are some great romantic getaways that await you!
Head far into the North Shore and discover the Turtle Bay Resort.  Surrounded by endless acres of rustic undisturbed coastline, this resort seems like it was designed for Hawaii honeymoons!  Check out their beach cottages…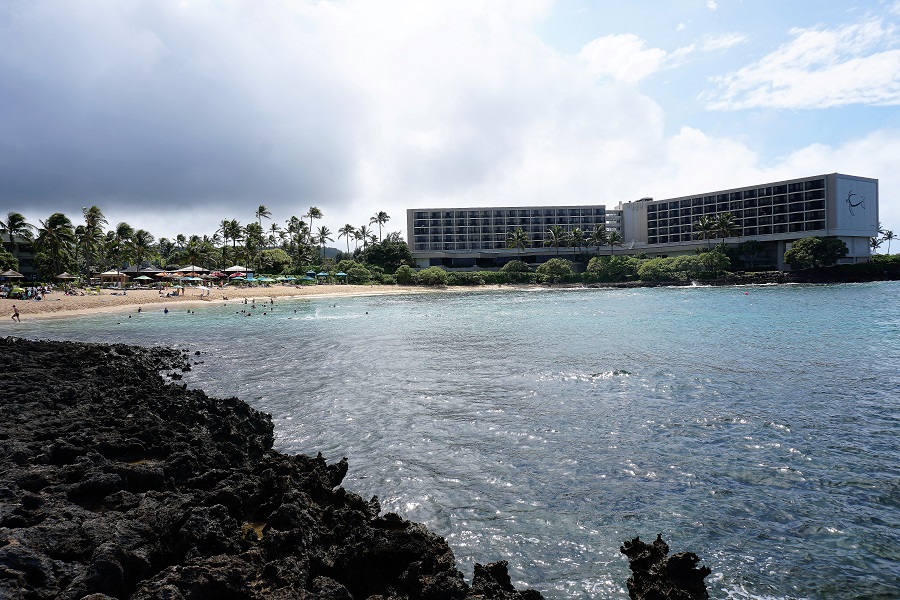 The classy Kahala Resort, located on the south side of Diamond Head, is another great choice to relax and enjoy your Hawaiian honeymoon.  Spend time lounging in their open air atrium, or hanging out with their private dolphins residents.
Reserve your stay in Wedding at the exclusive Halekulani.  This hotel will feel much more like a resort as no expenses were spared in the design.  You will feel like a queen & king throughout your stay.  The rooms, lounging area, pool, and restaurants are all top notch and set the bar for neighboring hotels!
Forget hotels and resorts and enjoy your honeymoon in a personal vacation rental.  Services such as air bnb and Vrbo have created hundreds of new options to rent someone's home in areas where there are no hotels available.
---
Wedding Gift Ideas
Here's some of our unique picks
Aloha & Enjoy!

Subscribe to receive Best of Oahu updates on events, updates, and new articles.  It's the closest way to paradise while you are away...
We will never sell or spam your information, and we'll respect your email privacy.