Exploring Germaine's Luau: An Unforgettable Hawaiian Luau Experience
Germaine's Luau is a perfect places on Oahu to immerse yourself in rich Hawaiian culture with local live music, hula & Polynesian dance performances, Kalua Pork and a delicious luau spread, and surprises throughout the evening.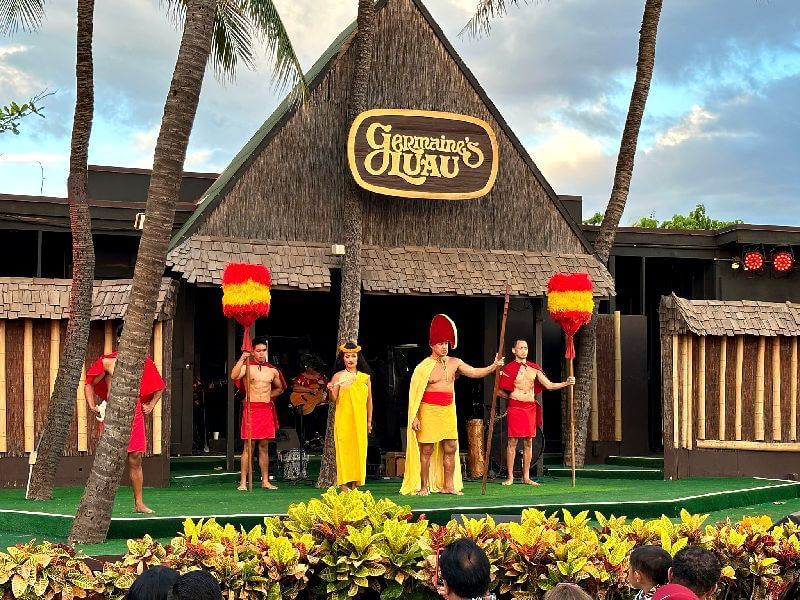 Germaine's Luau Royal Court
Aloha! Are you ready to experience an unforgettable backyard-style Hawaiian Luau in a true paradise setting?  After our visit, we concluded that Germaine's Luau is one of the perfect places in Oahu to immerse yourself in the rich cultural heritage of Hawaii and the Pacific.
With its stunning beachfront location, authentic atmosphere, and traditional luau feast, Germaine's Luau offers a one-of-a-kind experience that will make your visit to Oahu truly memorable.  Let's dive in to discover what makes Germaine's luau stand out from the rest!

---
Short Luau Summary
---
Discover Germaine's Luau for an unforgettable Hawaiian luau experience!
Enjoy the traditional Hawaiian atmosphere and amazing beachfront views with two packages.
Savor delicious food, tropical drinks, and captivating cultural performances, book now to make magical memories!
---
Discovering the Backyard-Style Hawaiian Luau
---
Germaine's Luau offers a unique backyard-style Hawaiian luau experience that welcomes guests with open arms and a warm, family-friendly atmosphere. This enchanting event showcases the vibrant culture and traditions of Hawaii and the Pacific, providing an unforgettable journey through the essence of Polynesia. Are you ready to embark on this extraordinary adventure that will leave you mesmerized?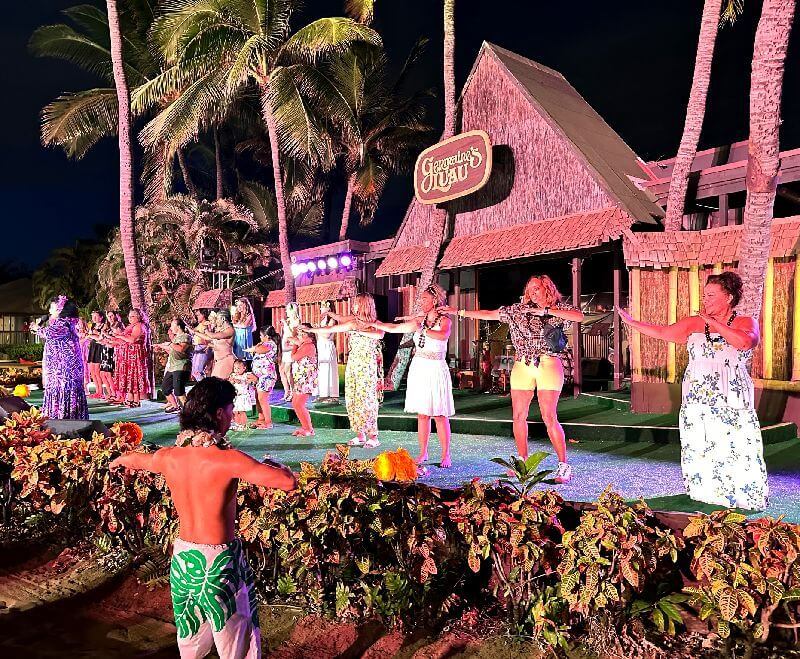 Germaines Luau Guest Hula Performance
Nestled on the picturesque leeward coast of Oahu's western shore, Germaine's Luau boasts a breathtaking beachfront location that sets the perfect backdrop for a magical evening under the stars. The rhythmic sound of crashing waves and swaying palm trees create an idyllic ambiance that transports you to the world of ancient Hawaii.
Imagine indulging in delicious traditional Hawaiian food while being serenaded by the soothing sounds of the ocean, swaying palms, and exciting Polynesian entertainment. Sounds heavenly, doesn't it?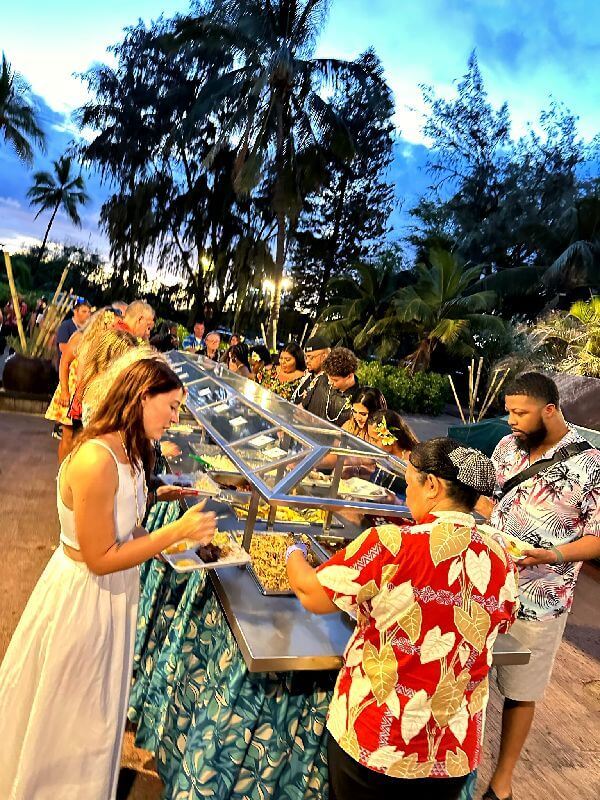 Germaine's Luau Buffet Spread
As a matter of fact, while we were there taking photos of the beautiful sunset at the beach, we witnessed a man get on the sand on his knees to propose to his fiancée right before the luau started. The romantic setting clearly inspires such special moments!  They were later cheered and toasted by the entire crowd when the engagement was announced later in the evening.
---
Traditional Hawaiian Atmosphere
---
The moment we set foot on the sandy shores of Germaine's Luau, we were immediately greeted with a genuine Hawaiian lei and welcomed into the world of traditional Hawaii.  The 'Ohana feeling was truly palpable, with friendly staff and a family-oriented atmosphere that made us feel right at home. 
It's no surprise since this Oahu Show is known for its authenticity, offering guests a true taste of Hawaii's rich cultural heritage.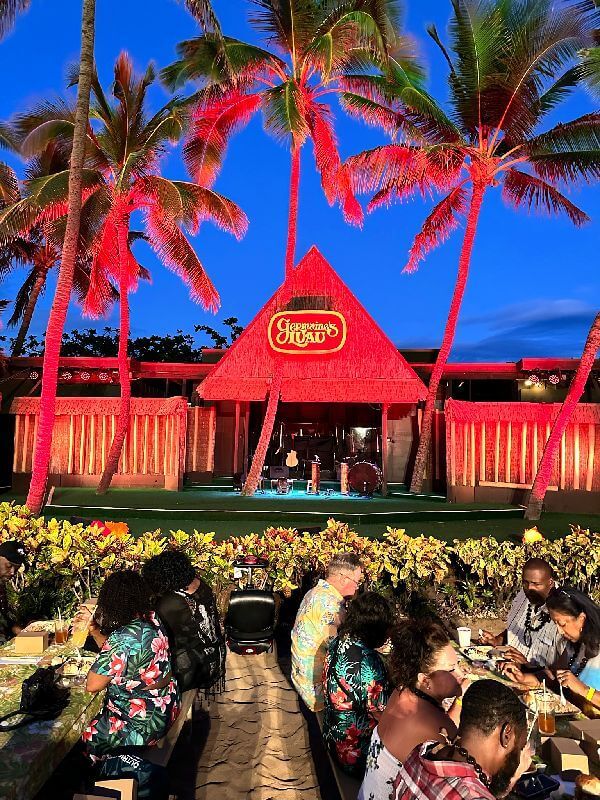 Germaines Luau Seating Area
As the sun set and the evening's festivities began, we were treated to a diverse array of exciting entertainment that perfectly encapsulated the essence of the Hawaii islands.  From traditional Hawaiian music and mesmerizing hula dancing to the heart-pounding fire knife show, Germaine's Luau presented a captivating performance that left us spellbound.
As we sat back and enjoyed the show, it became easy to understand why Germaine's Luau is considered a must-visit destination for an unforgettable Hawaiian experience.
---
Beachfront Location
---
Germaine's Luau Beach Sunset
Located not far from Ko'olina Lagoons, and near the Barber's Point lighthouse in Kapolei, Germaine's Luau offers an awe-inspiring beachfront setting that is simply unrivaled. With stunning views of the ocean and Oahu's east coast, this picturesque location provides the ultimate backdrop for a night of enchanting entertainment and delicious food.
---
Germaine's Luau Packages
---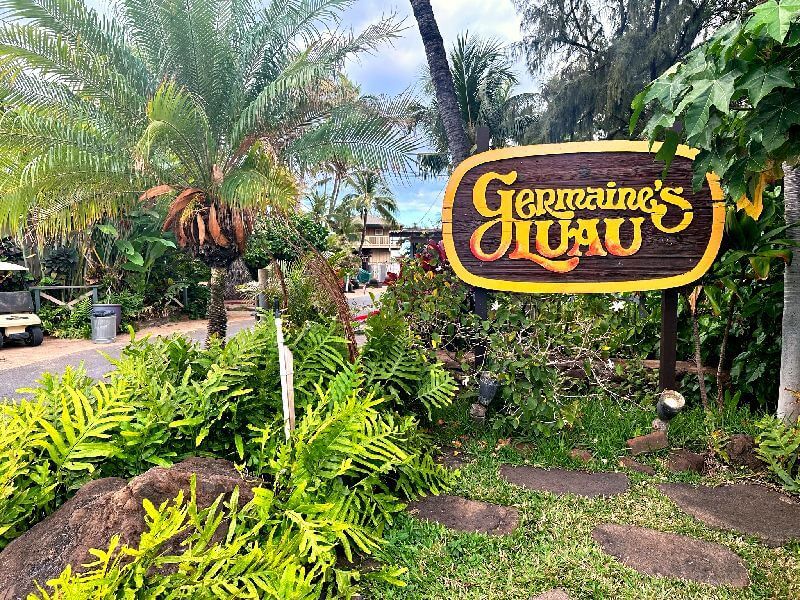 To cater to the diverse preferences of its guests, Germaine's Luau offers two packages: the Original Package and the Plumeria Package.  Each package provides a unique experience with different inclusions and perks to ensure that your evening at Germaine's Luau is truly unforgettable.
---
---
Germaines Luau Performer
The Original Package is designed for guests who want to enjoy a comfortable and immersive luau experience without breaking the bank.
This package includes a mouth-watering buffet dinner, refreshing drinks, and standard seating arrangements. The buffet features an array of traditional Hawaiian dishes and continental fare, ensuring that you'll find something to tantalize your taste buds.
The Original Package is priced at an affordable rate and offers a fantastic introduction to the world of traditional Hawaiian luaus.
With the delicious food, lively entertainment, and warm 'Ohana feeling, the Original Package is guaranteed to provide an unforgettable experience for first-timers and seasoned luau-goers alike.
Review and purchase tickets now...
---
---
Germaines Luau Rainbow Plumerias
This is the package we chose. It was a little bit more expensive, but for those seeking an upgraded luau experience, the Plumeria Package is the perfect choice. This premium package offers a variety of exclusive inclusions and perks, such as:
A flower or kukui nut lei greeting
Delightful table service with unlimited refills at the buffet area
Three specialty drink tickets
Various pre-dinner and pre-show entertainment and activities
The Plumeria Package also provides premium seating, ensuring that you'll have the best view of the spectacular Polynesian show. By opting for the Plumeria Package, we were able to enjoy the show in the middle section in front of the stage.
---
Savoring Traditional Hawaiian Food
---
Germaines Luau Kalua Pig Imu
At Germaine's Luau, you'll have the opportunity to sample a variety of traditional Hawaiian dishes that showcase the unique flavors of the Hawaiian islands. The feast at Germaine's Luau includes these highlights:
Succulent Kahlua Pig - undoubtedly the star of the show at Germaine's Luau! This traditional Hawaiian dish is cooked in an underground oven called an imu for hours, resulting in a tender and flavorful dish that is simply divine. As you watch the skilled luau attendants (who are also engaging entertainers) unearth the succulent pig from its subterranean oven, the savory aroma will tantalize your senses and whet your appetite for the feast to come. One bite of this delectable dish, and you'll understand why the Kalua Pig is such a beloved staple of Hawaiian cuisine.
Tangy poi - a starch dish made of pounded, boiled taro root mashed with water. For most people, poi is an acquired taste. We saw many plates with nothing left but a small portion of poi, but at least they tried it!
Lomi lomi salmon - a side dish of salted salmon, diced tomatoes, onions, and green onions -all mixed together. Most people mistake it for salsa because it looks a bit like it.
Coconut haupia - a delicious, sweet treat similar to a coconut pudding served in small squares.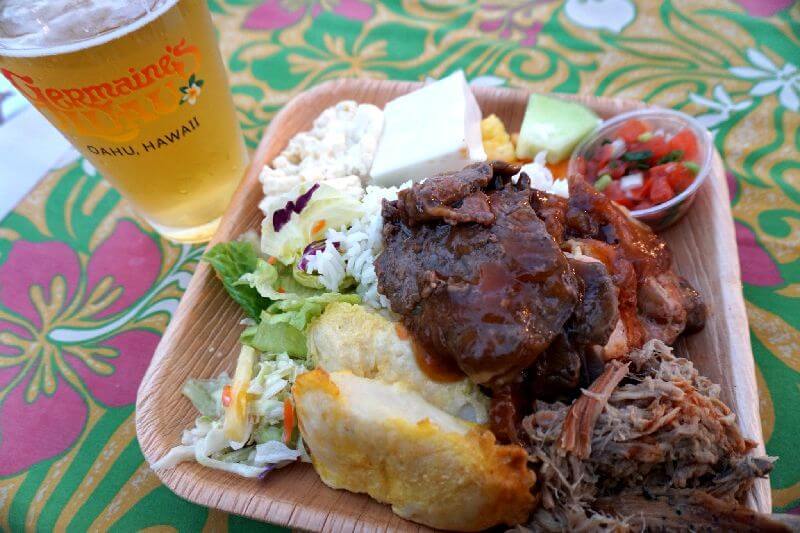 Germaines Luau Hawaiian Dinner Plate
The luau feast is delightful and plentiful! After all the people have filled up their dinner plates from the buffet line, those hungry for more can go back for seconds after the announcement is made.
---
What drinks are available at the luau?
---
To complement the mouth-watering food, Germaine's Luau offers soft drinks and other beverages throughout the evening, including both alcoholic and non-alcoholic options. We received 3 drink tickets each when we checked in. Some of the drink selections were:
Mai Tai, Blue Hawaii, Pina Colada
Sodas
Wine and beer
We were given pint glasses with the Germaine's Luau logo on them as gifts when we arrived, and we were told to use them for our drinks from the bar.
---
Experiencing the Spectacular Polynesian Show
---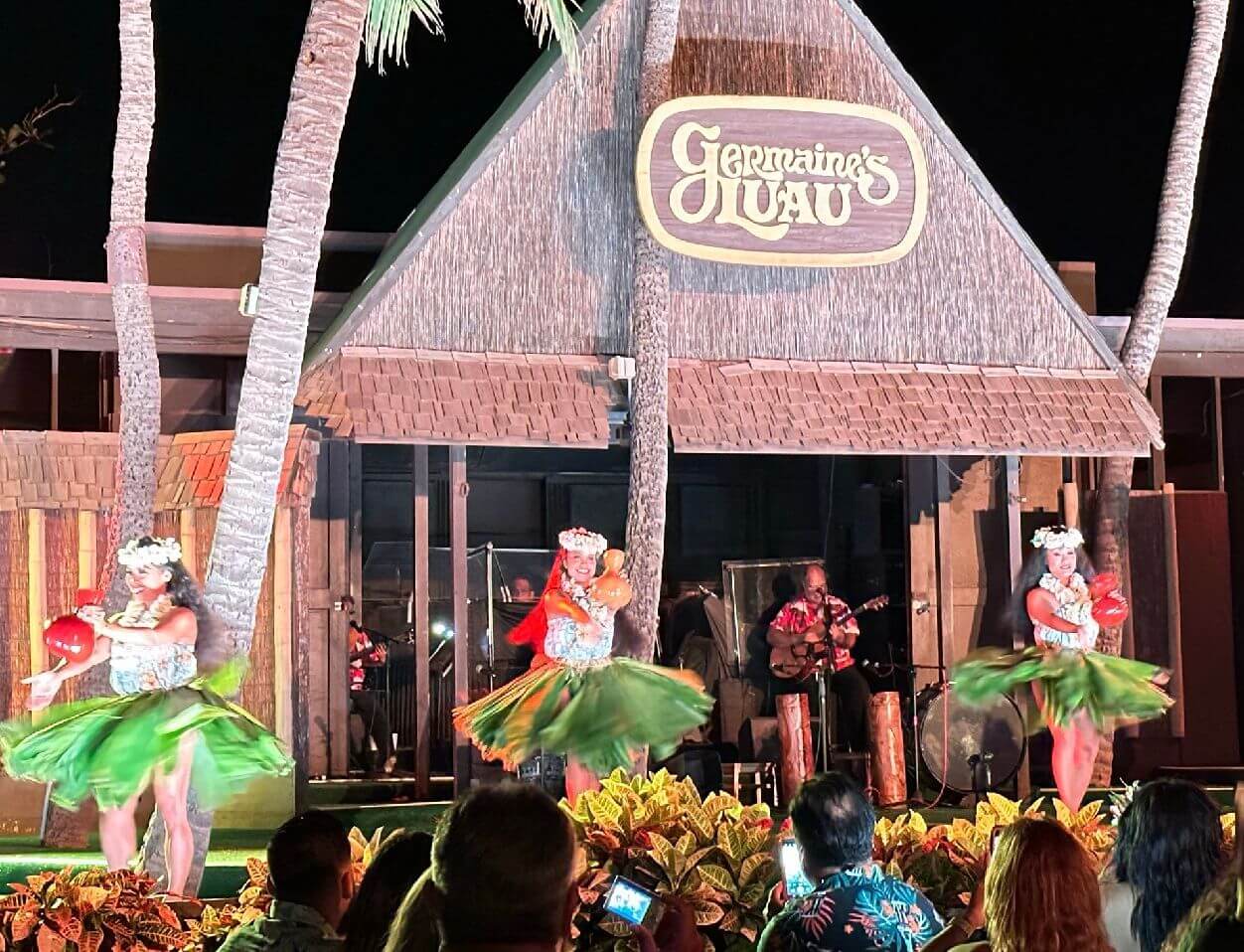 Germaine's Luau Hula Performance
The spectacular Polynesian show at Germaine's Luau is an absolute treat for the senses, featuring a dazzling array of traditional dances from the islands of:
Samoa
Tahiti
New Zealand
Hawaii
Fiji
The mesmerizing performances showcased the rich cultural diversity of the Pacific region, providing a captivating glimpse into the enchanting world of Polynesia.
We were swept off our feet by the vibrant colors, hypnotic rhythms, and spellbinding performances that made the Polynesian show an unforgettable highlight of our Germaine's Luau experience.
---
Dances of the Pacific - Samoa, Tahiti, New Zealand, Fiji, and Hawaii 
---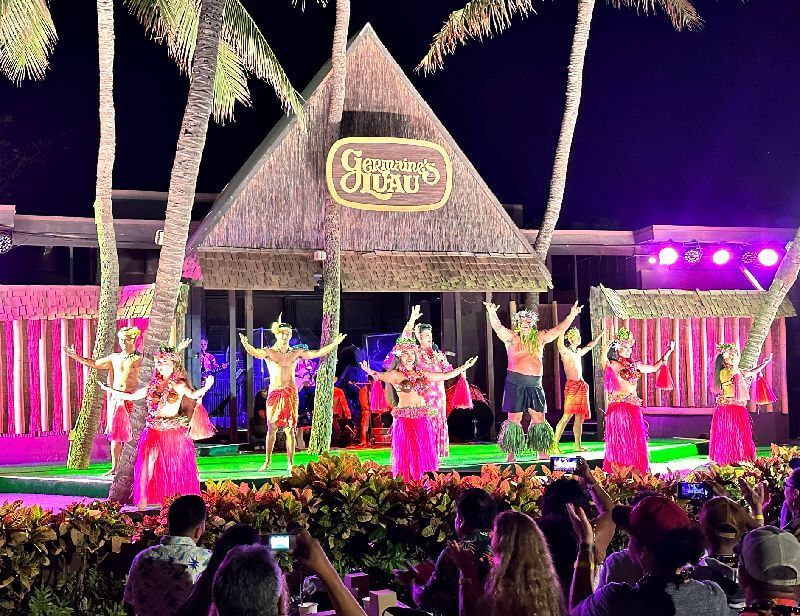 Germaine's Luau Tahitian Dance
The Polynesian show at Germaine's Luau features an array of traditional dances that celebrate the rich cultural heritage of the Pacific islands.
From the graceful hula of Hawaii to the powerful Maori haka of New Zealand, each dance offers a unique insight into the customs and traditions of the respective island cultures. The captivating performances are an exquisite blend of storytelling, athleticism, and artistry, transporting you on a mesmerizing journey through the diverse tapestry of the Pacific.
---
Fire Knife Show
---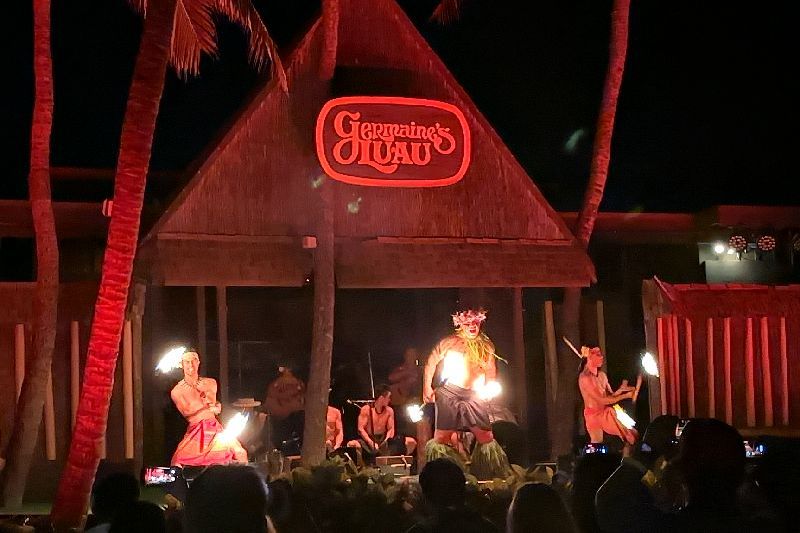 Germaine's Luau Fire Knife Dance
One of the most thrilling spectacles of the Polynesian show is the fire-knife dance, a traditional Samoan performance that showcases incredible skill and athleticism. The daring fire-knife dancers wield flaming knives with breathtaking precision, performing jaw-dropping feats that will leave you on the edge of your seat.
The combination of traditional dances and the exhilarating fire-knife show make for a truly unforgettable experience that captures the essence of Polynesia.
---
Rich Cultural Heritage at Germaine's Luau
---
Germaines Luau Flower Lei Making
At Germaine's Luau, you'll have the unique opportunity to immerse yourself in the rich cultural heritage of Hawaii and the Pacific.
From the traditional lei greetings and delectable Hawaiian cuisine to the captivating cultural performances, every aspect of Germaine's Luau has been carefully curated to provide an authentic and unforgettable experience.
By participating in various arts and crafts and activities like lei making, hula dancing, you'll gain a deeper appreciation for the vibrant history, customs, and traditions that make the Hawaiian Islands and the Pacific region truly extraordinary.
---
Germaine's Luau vs. Polynesian Cultural Center Luau
---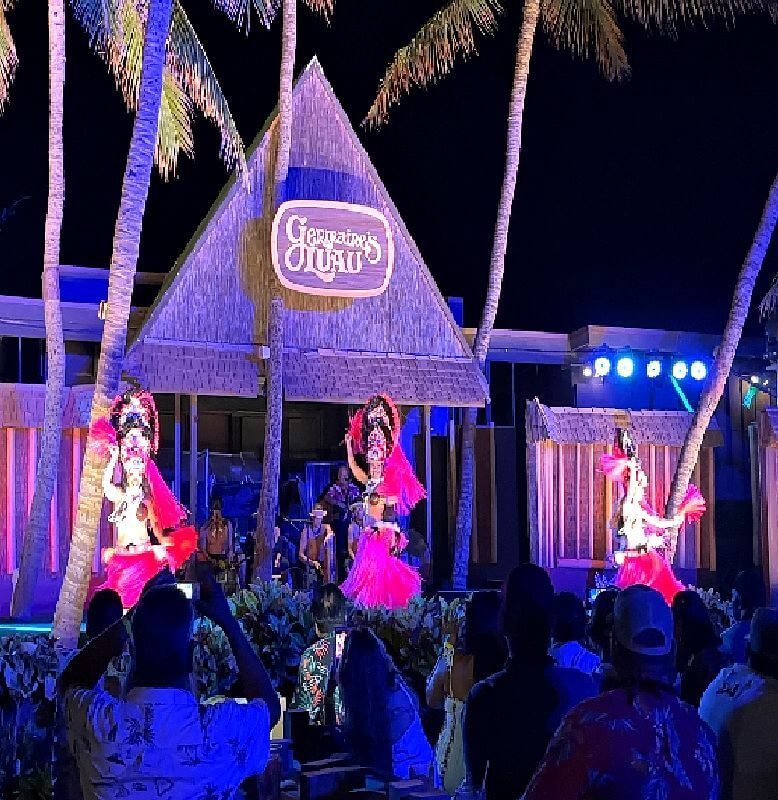 Germaine's Luau Polynesian Performance
While both Germaine's Luau and the Polynesian Cultural Center Luau offer a glimpse into the rich cultural heritage of the Pacific, Germaine's Luau stands out for its intimate and authentic atmosphere.
In contrast to the larger and more commercialized Polynesian Cultural Center Luau, Germaine's provides a more personal and immersive experience, allowing you to truly connect with the 'Ohana spirit and the essence of traditional Hawaiian culture.
With its stunning beachfront location and genuine warmth, the Germaines Luau is the perfect choice for those seeking an unforgettable and genuine Hawaiian luau experience.
---
Guest Reviews and Experiences
---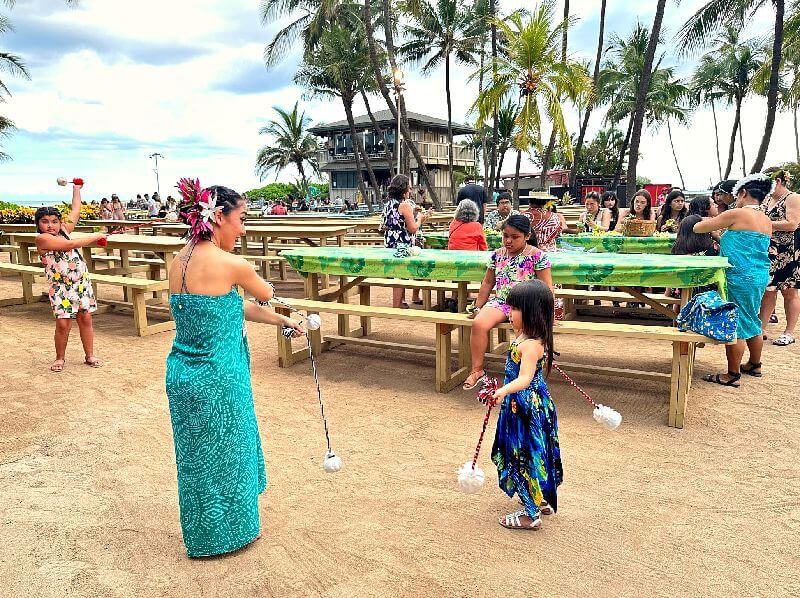 Germaines Luau Activities
Guest reviews and experiences paint a vivid picture of what to expect at Germaine's Luau. Many guests rave about the beachfront atmosphere, the delicious food, and the captivating entertainment, describing the event as the highlight of their family vacation.
They also appreciate the warm Ohana feeling and the genuine connection they feel with the staff and performers, making their experience at Germaine's Luau truly unforgettable.
However, some guests have expressed concerns about certain aspects of the event, such as the crowded seating arrangements and the limited variety of food options for vegetarians.  While these issues may not detract from the overall experience, they serve as a reminder that no event is perfect and that individual preferences may vary.
A majority of guests leave Germaine's Luau with fond memories and a newfound appreciation for the rich cultural heritage of Hawaii and the Pacific.
---
---
To secure your spot at Germaine's Luau and embark on an unforgettable evening of Hawaiian culture, food, and entertainment, it is recommended to book your experience in advance. You can easily reserve your tickets by calling their reservation specialists at 1 (800) 367-5655, who will be more than happy to assist you.
Don't miss out on this incredible opportunity to immerse yourself in the enchanting world of ancient Hawaii and create memories that will last a lifetime.
Book your Germaine's Luau experience today and prepare for an evening that will leave you with memories to cherish forever.
Review and purchase tickets now...
---
Frequently Asked Questions

---
What time is the Germaine's luau show?
Join Germaine's Luau for a spectacular show starting at 6:00 p.m. and ending at 8:45 p.m.

Don't forget to factor in transportation costs when planning your visit.
---
How do I Reserve Tickets
Luaus tend to get busy on weekends and during high tourist season.  It would be wise to purchase your tickets early to reserve better seating and avoid sellout nights.  Review and purchase tickets now...
---
How do I get to Germaine's luau?
From Waikiki hop on the H-1 Freeway West and follow signs to Waianae. Take Exit #1 (Campbell Industrial Park) and proceed down Kalaeloa Blvd. until you turn right onto Olai Street - you're almost there!
You'll end up in Germaine's Luau Parking Lot - let the luau fun begin!
---
How do you dress for Germaine's luau?
Bring a light jacket, comfortable shoes, and casual Aloha attire such as an Aloha shirt and jeans or shorts.
For the ladies, you can wear a summer dress, or casual pants and tops, and bring a light sweater in case it cools down from the ocean breeze after the sun goes down.
---
Is a luau in Oahu worth it?
A visit to Oahu is not complete without attending a luau! Experience Hawaiian culture through exciting dances and delicious cuisine - it's an experience you won't forget!
At a luau, you can watch traditional Hawaiian hula and fire knife dances, and sample traditional Hawaiian dishes like kalua pork, poi, and more.
---
What is the difference between the Original Package and the Plumeria Package?
Experience an upgraded celebration with the Plumeria Package – table service, premium seating, and a souvenir photo!
Enjoy a buffet dinner, drinks, and standard seating with the Original Package.
---
Aloha & Enjoy!

Subscribe to receive Best of Oahu updates on events, updates, and new articles.  It's the closest way to paradise while you are away...
We will never sell or spam your information, and we'll respect your email privacy.