Home  /  Waikiki Restaurants
Top Waikiki Restaurants - Worth the Experience
Food is our passion…and Waikiki has its share of hole-in-the-wall local spots along with 5 Star Waikiki restaurants that are some of Oahu's best, and worth considering when looking for a moment of satisfaction!Looking for the best restaurants in Waikiki that would satisfy your hungry tummy without venturing too far out of the area?  There are so many to choose from but  no matter your budget or craving, we've assembled a nice sampling of local favorites to whet your appetite...
---
Waikiki Restaurants - Near the Beach!
---
Duke's Waikiki – $$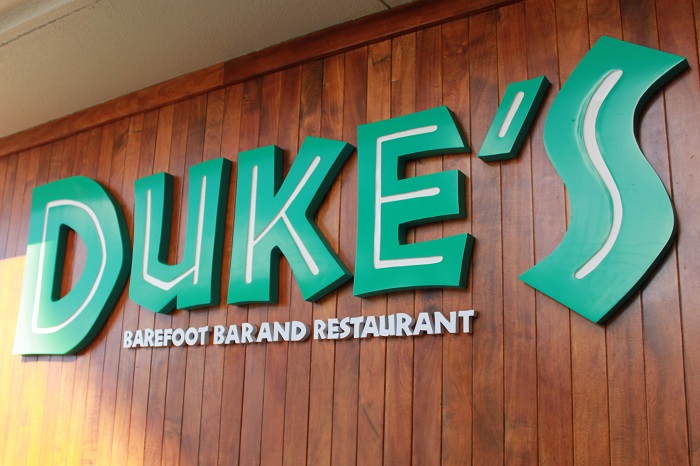 Very popular for its barefoot bar, where you check your shoes at the door and sink your feet into the sand and order a mai tai at the bar!

Duke's Waikiki is also worth dropping by for a romantic dinner with ono menu choices such as Coconut Shrimp with a Spicy Lilikoi Sauce, or Huli Huli Chicken or Macadamia Nut Sauce with the fresh catch of the day!  Don't miss the Hula Pie for desert…it's the best ever!

Serves  Breakfast, Lunch & Dinner.  Duke's is one of few Waikiki restaurants that sit right on the beach, and worth the visit!  

Breakfast 7am to 10:30am , Lunch 11:00 to 3pm, Dinner 4:45pm to 10pm
Location:  2335 Kalakaua St, Suite 116, Waikiki, HI - Phone (808) 922-2268

Check out more at DukesWaikiki.com
---
---
Roy's Restaurant – $$$$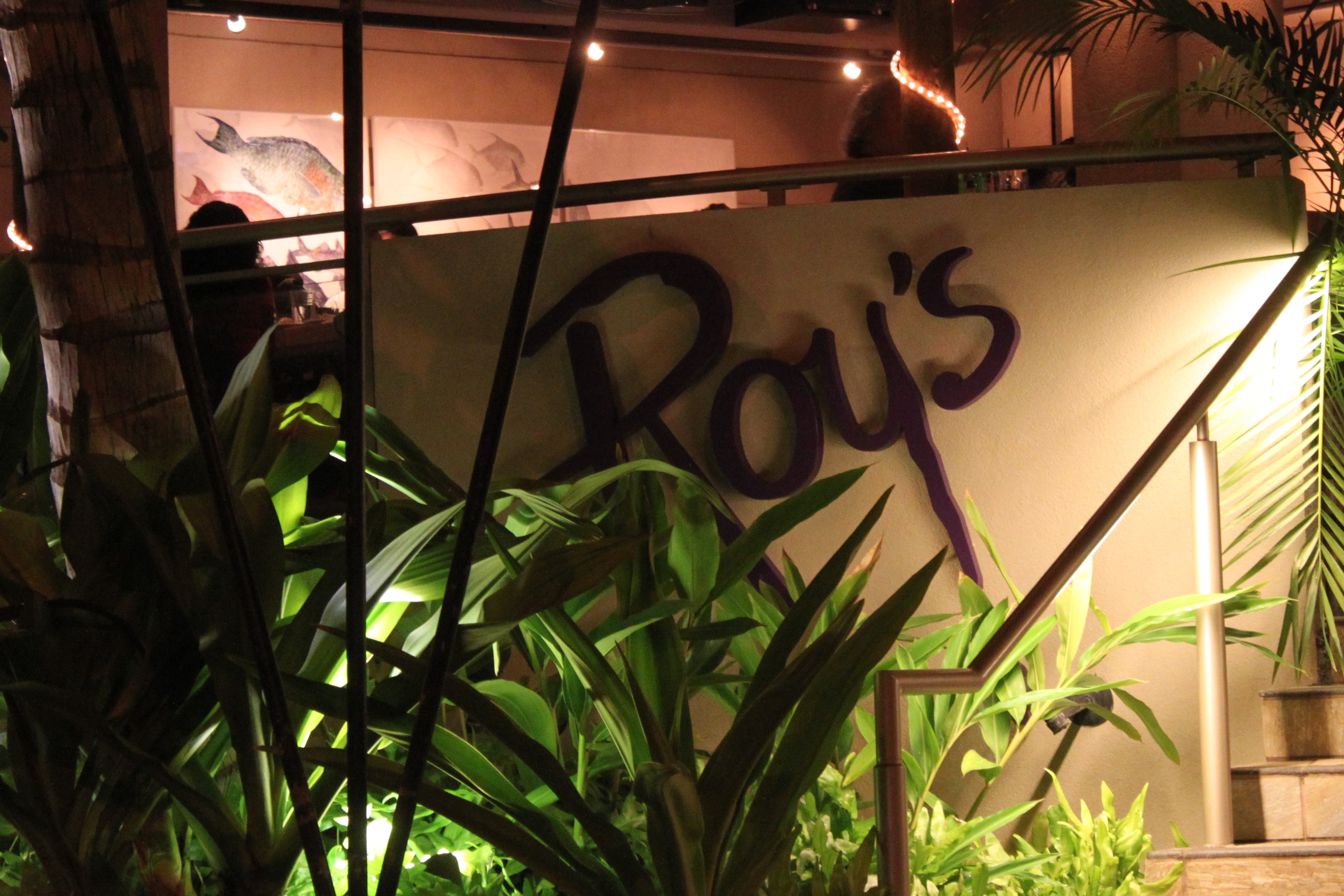 One of Hawaii's most renowned chefs is Roy Yamaguchi.  Treat yourself to some of Roy's best fusion island cuisine that Hawaii is known for.

You can't go wrong ordering almost anything on his menu, including the Chocolate Molten Lava Cake for dessert. Anyone who's had it will tell you it's a must!  Roy's Restaurant now exists in the heart of Waikiki.

Pupus 11am to 5pm -  Dinner 5pm to 10pm

Location:  226 Lewers St, Waikiki, HI - Phone (808) 923-7697

Check out more at Roy'sRestaurant.com

---
Hula Grill Waikiki – $$$
Great spot to sit in an open-air dining room and watch the surfers paddle out for a morning session in the waves, while sipping on some fresh Hawaiian roast coffee.  This restaurant sits right in the heart of Waikiki beach.

The breakfast menu includes some tasty unconventional choices, such as the Loco Moco, Portuguese sausage eggs Benedict & Maui pineapple & coconut pancakes.  Popular with the Waikiki crowd.  Ono! Located in the Outrigger Waikiki Hotel.

Breakfast 6:30am to 11:30pm; Dinner 4:45pm to 10pm

Location:  2335 Kalakaua St, Suite 203, Waikiki, HI - Phone (808) 923-4852
Check out more at HulaGrillWaikiki.com
---
Michel's at the Colony Surf - $$$$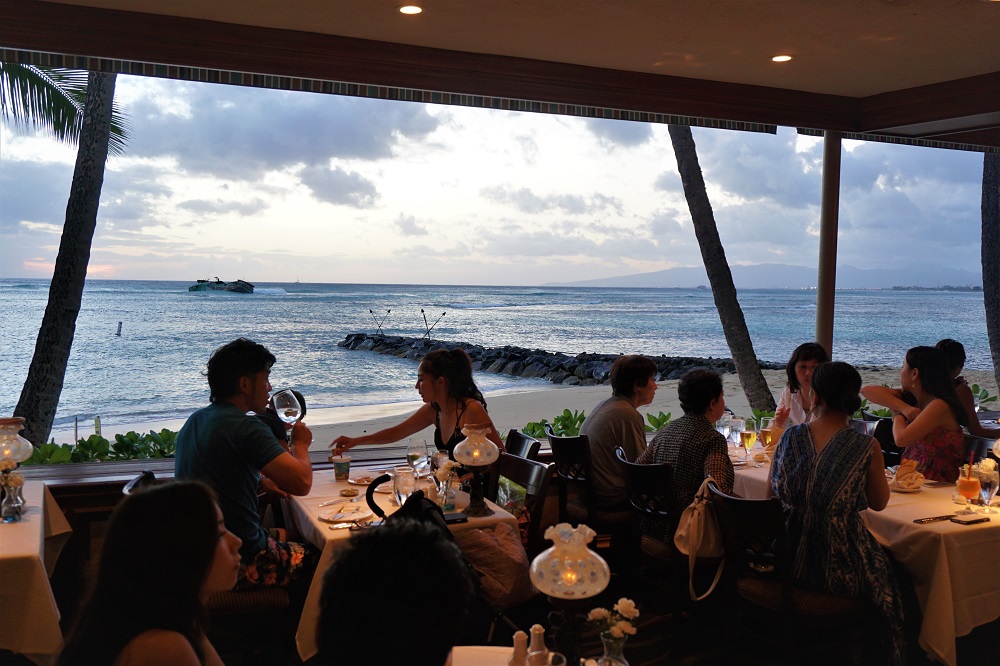 Michel's is one of the longest running establishments on Oahu, and consistently rated one of the best beach-side restaurants on the island!  From a beautiful beach-side location in front of a semi-private beach to an award winning French island fresh seafood menu, it's no wonder why they've been in business since 1962!
The menu changes with the rolling tides and seasonal catch... I'm sure you find equally temping choices such as Michel's Lobster Bisque, Island Seafood Cioppino, and Michel's Ocean Bounty that includes a large assortment of the daily catch!
Not to fear as there is a delicious New York steak option as well.  Save room for the Hawaiian Apple-Banana Flambe & Cherries Jubilee for dessert!  

Dinner 5:30 PM
Location:  2895 Kalakaua Ave - Phone (808) 923 6552
Check out more at www.michelshawaii.com

---
Hard Rock Cafe Honolulu - $$
Save on a nice prix-fixe menu at the legendary Honolulu Hard Rock Café!  It's located in the popular Waikiki Beach Walk in an open air setting on the second floor.

Enjoy your 2 to 3 course meal while looking at some of the rock nostalgia on the walls, or the rainbow arch of guitars on the ceiling!

Location:  280 Beach Walk, Waikiki, HI - Phone (808) 955-7383

Check out more for Hard Rock Cafe
---
Morimoto Asia $$
---
Iron Chef Morimoto continues to innovate with new concept including his casual ramen eatery Momosan, and his new Asian fusion restaurant located right above it, with killer views of Kuhio Beach.

Dive into creative appetizers like Tuna Pizza, Spicy Tuna served on crispy rice, or Hamachi Tacos which are my favorite.
Go big on the entrees… Angry Lobster with a red curry sauce, Crispy Whole Fish w/ tobanjan chili sauce, Roasted Duck with an apricot sweet chili and hoisin miso, and an A5 Wagyu Steak selection!
2490 Kalakaua Avenue, Waikiki  (808) 922-0022‬  Hours Fri – Sun 5 PM to 9 PM
Learn more Morimoto Asia
---
Chart House $$$
The Chart House one of the Waikiki restaurants that have maintained itself as an old classic seaside steakhouse that still holds much of its charm today!  The menu is somewhat simple, with a nice selection of steaks, shellfish, and other classic entrees to choose from.

They strive for quality, which holds up their reputation and guarantees a return visit from you!  Leave room if you can for their signature Mud Pie desert! It's yuuummmy!
Dinner only 4:30pm to 12:30apm
Location:  6600 Kalanianaole Hwy, Hawaii Kai, HI - Phone (808) 396-7697
Check out more at charthousehonolulu.com
---
Ono Eats in Waikiki
---
Marukame Udon - $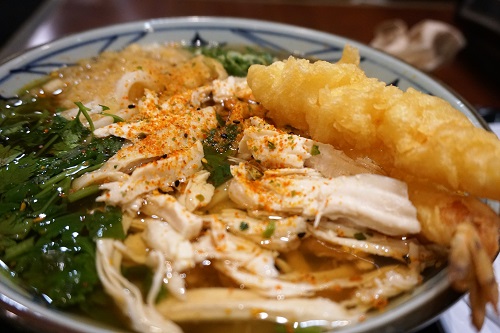 This is not your everyday noodle shop.  And the consistent long lines that run out into the street attest to something magical going on at Marukame Udon.  Most ramen shops are usually rated by their broth.  What folks don't know until they get a good taste is that the noodles are made to perfection.

Marukame starts well ahead on the cooking process, by carefully selected ingredients and partakes in a time consuming Sanuki hand rolling process.  The boiling time matters here!
There are 7 different styles of udon to order from, including a rich curry based, bukkame or cold udon, Kake with light fish broth, to a sweet Niku based udon.  Make sure to order a side of tempura and spam musubi.

Location - 2310 Kuhio Avenue, Suite 124, Waikiki  Phone - (808) 931-6000
Breakfast - Dinner Daily 7am - 10pm

Discover more - Marukame Udon
---
Hys Steakhouse - $$$$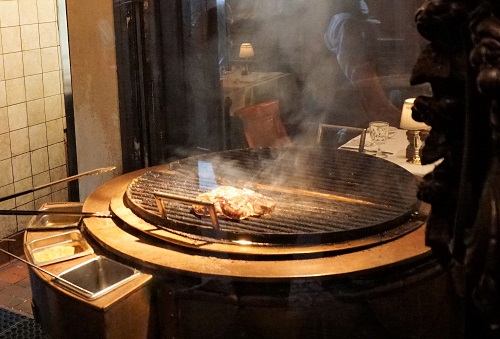 There's a good handful of good steakhouses on Oahu, but none that stand up to Hy's Steakhouse, located in Waikiki.  With 40 years under their belt, they are growing their reputation and becoming a classic on the island!

All your favorite cuts are represented with a special kiawe wood grilled touch, including New York, Fillet Mignon, and Rib Eye.  If that's not enough, there are 5 signature sauces available to dip into!

Personally, I would lean towards ordering the classic 15 ounce Slow Roasted Prime Rib!  Hy's has an impressive shellfish section on their menu, and a few surf & turf options for those who want both.

Try hard not to load up on the delicious cheese bread, and consider ordering a table side prepared house Cesar salad to start, and a Banana Fosters for dessert, or a Cherries Jubilee, or "best voted" Chocolate Lovers…too many yummy choices to choose from!
Open Daily 5 PM to 9:30 PM
Location:  2440 Kuhio Avenue, (808) 922-5555
Learn more:  www.hyswaikiki.com
---
Basalt $$ to $$$
Located in Dukes Lane Market & Eatery in Waikiki, Basalt is a contemporary restaurant with a modern venue and an international menu.
Chef Kong grew up traveling the world which exposed him to a diverse world of food that he has incorporated here. Stop by for their amazing daily brunch.
Don't miss out on the tasty Charcoal Pancakes with guava sauce, Pork Belly Fried Rice, and a Loco Moco served with mushroom gravy and bacon fried rice…or just skip straight to the Basalt Prime Rib Melt Sandwich on grilled sourdough.

Come back for dinner and you're in for a treat! They feature a nice selection of steaks including a nice 12oz Ribeye, and seafood dishes including Miso Black Cod, Seafood Paella with lobster, shrimp, scallops and the catch of the day, and a Macadamia Nut Crusted Local Fish.
There is a happy hour where you can enjoy drinks from a full bar, and discounted appetizers like Adobo Chicken Wings, Chard Tako (octopus), and Duck Empanadas. You can even ask the bartender to make an off-the-menu drink just for you.
Open Daily - Weekdays 8 AM to 9:30 PM & Weekends 7 AM to 9:30 PM
2255 Kuhio Ave, Waikiki / Phone (808) 923-5689
Learn more at Basalt

---
Aloha Table - $$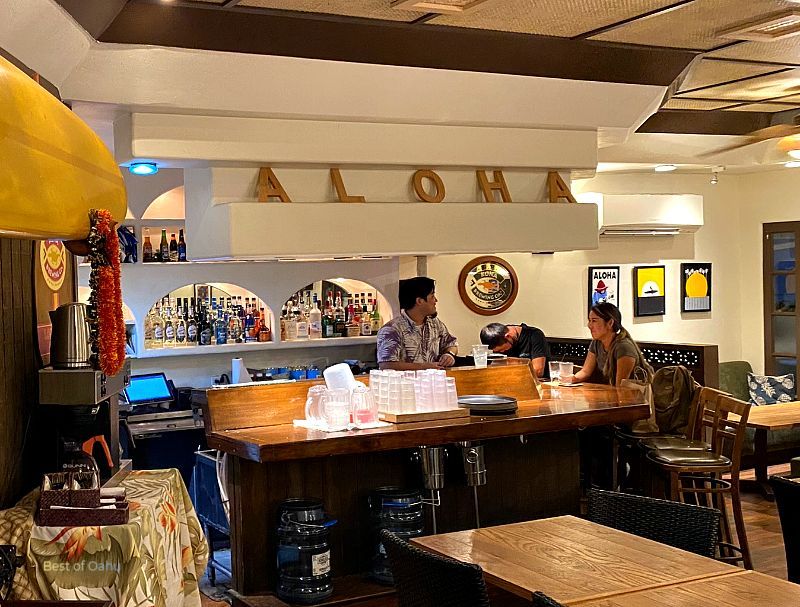 Tucked away on a side street, you would probably walk right past it if it wasn't for their cute little sign out front, leading you up the stairs to an enlightened French colonial restaurant with tropical ceiling fans, dark woven chairs, and sun umbrellas, & tiki torches peering off the lanai.

Aloha Table has elevated the simple Hawaiian plate lunch with some twists.  Beyond some classics, you'll find Kalua Pork Curry, Kobe-Style Beef Bolognese, Loco Moco or Mahi Mahi Katsu Burger, Tofu & Sea Asparagus Poke, Hawaiian Ginger Sirloin Steak on the menu.  They are best known for their signature Kobe beef & demi-glace loco moco...a must try!
Aloha Table also features some classic tropical cocktails including Lava Flow, Blue Hawaii, and how about a Pina Colada served out of the whole pineapple.
2238 Lauula St #2F, Waikiki / Phone (808) 922-2221
Open Daily 11:30 AM to 2 PM & 4 PM to 11 PM
Learn more at Aloha Table
Building a Poke Bowl is the way to go.  It's as simple as choosing your fish selection (Tuna, Salmon, Shrimp, or Marlin), White or Brown rice as a base, and add some yummy topping.  Choose enhancing items like avocado, spicy mayo & maybe a drizzle of teriyaki sauce.
Maguro Spot also has some specialty bowl creations to choose from including a Curry Bowl, Veggie Bowl, and an Ikura Bowl (Red Caviar), or yummy combinations.  Or just go for some straight up poke for your order.
2441 Kuhio Ave, Waikiki / Phone (808) 924-7653
Open Daily (except closed on Sundays) 10 AM to 8:30 PM
See more Maguro info and reviews
---
Doraku - $$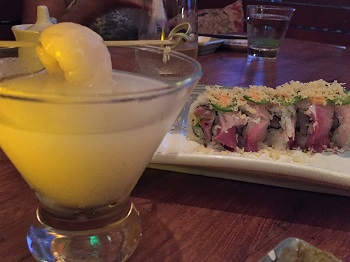 When it comes to the art of sushi creations, Doraku steps up to the plate! This is the spot to post some pictures of your amazing looking dishes on Facebook, and make all your friends jealous!

There is much tradition that takes place in the sushi preparation at Doraku, with a Latin inspiration.  You'll find such fusions in some of their specialty rolls and small dishes!
This Honolulu Restaurant is also known for having the largest displays of sake which goes hand in hand with the food!  Doraku is modeled after a Japanese gastropub, and meant to be a gather place for friends sharing food.
There are 2 Oahu locations
Waikiki Location - Daily lunch 12pm to 5pm, Dinner 5pm to 10pm +
Location:  2233 Kalakaua Ave, Suite 304, Honolulu - phone (808) 922-3323
Kaka'ako Location (near Ala Moana Center) - $$ - Open Daily for Lunch 11am to 4pm, Dinner 4pm to 12am +  Location:  1009 Ala Moana Blvd, Honolulu - phone (808) 591-0101

Discover more at www.dorakusushi.com
---
Zigu - $$
Zigu is a contemporary hip indoor/outdoor Japanese restaurant located not far from the main strip towards the Ala Wai Canal. They stress using only cooking with fresh ingredients to make a big impact on the flavors of their dishes.
The menu is extensive with lots of choices from traditional sushi entrees to some inspiring noodle dishes to ono creative entrées that might stump you when ordering.
Start with tempting appetizers like Sautéed Kona Abalone and Agedashi Aloha Tofu with a ginger sauce. And don't pass up on their Local Tuna Sashimi Poke and specialty sushi rolls. Main dishes include entrée's like Grilled Sweetened Miso Salmon, Sirloin Steak with Shiso Ponzu Sauce, or the house favorite served in nice size portions...their Hawaiian Tuna Cutlet.

Don't miss the happy hour (4-6 PM, 9-11 PM) where selected appetizers and drinks are nicely discounted. Inquire about their Frozen Local Pineapple Chu-Hi ShoChu drink.
413 Seaside Ave, 1F, Waikiki / Phone (808) 212-9252
Open Daily 4 PM to 11 PM, Closes 12PM on Fri & Sat
Learn more at Zigu
---
International Market Place
The recently transformed International Market Place located in the center of Waikiki not only features 75 new retailers, but a dozen excellent restaurants as well.  You'll find a mix of casual and high-end eateries that reside on the 3rd level that happens to be the open air top level.
You're challenge is to only choose one spot to eat, but there will be many good reasons to return! Explore your choices from sushi to gourmet pizza, to Asian fusion, and much more!  And while there are no bad choices, here are a few worth a mention…

---
Herringbone Waikiki - $$$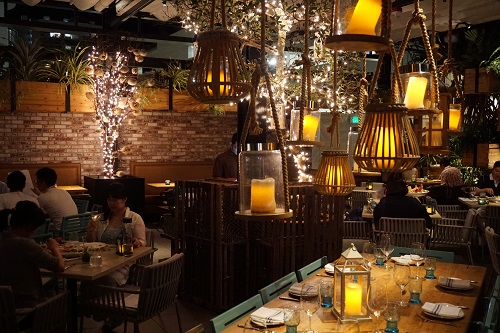 Hands down one of the most interesting and stunning restaurants in the International Market and all of Waikiki.
Decorated with glowing pufferfish, a living wall, and a whales skeleton hanging above the bar, there's lots of exciting décor throughout the restaurant!

Herringbone is known for their fresh seafood, with temping entrees like Mussels Tikka Spice, Whole Fish Ceviche, Sake & Ginger Beurre Blanc King Salmon, and some sizable Seafood Platters.
The menu also includes great options for those non-seafood lovers.  Save room for the Banana Cream Pie in a Jar, and come early to take advantage of their 4 PM to 6 PM happy hour.  
Open Fri - Sun Brunch 10:30 AM to 2:30 PM, Dinner 5 to 10 PM & up to 11 pm on Fri - Sun
Location - 2330 Kalakaua Avenue, 3rd Level, Waikiki Suite 330 / Phone (808) 797-2435
Learn more at - Herringbone Waikiki
---
Stripsteak Waikiki - $$$$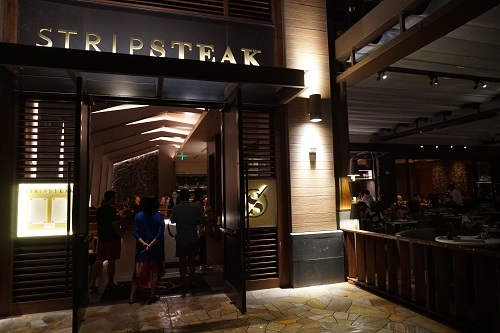 Waikiki gets its own Michael Mina signature restaurant located here in the new market place.  Stripsteak goes beyond your basic prime cuts of steak, and offers a nice 45-day aged Porterhouse Steak, a Tomahawk Steak for two, and a tasty Waygu Grade A5 Striploin Steak.
And if you're thinking of going big, consider ordering the Kona Lobster Pot Pie while in season!
You will have fun exploring some starters, side dishes and salads, including "Instant Bacon" (which includes pork belly, tempura oyster, and a black pepper soy glaze), Lobster Tacos, Black Truffle Mac & Cheese, and a B-L-T Wedge Salad.  There's also a tempting preset menu that includes a Rib-eye Steak as your entrée.
Open Daily 5 to 10 PM
Location - 2330 Kalakaua Avenue, 3rd Level, Waikiki / (808) 800-3094
Learn more at Stripsteak Waikiki
---
Eating House 1849, Waikiki - $$$
Roy Yamaguchi has led a successful growing chain of Roy's Restaurants for decades, and now has launched his new more casual dinning venture called Eating House 1849.  If you like Roy's Asian fusion style of cooking, then you will definitely enjoy a similar menu here.

Whether you're leaning towards a Portuguese Sausage, Beef, Wild Boar & Bacon Hamburger, or a Ginger & Carrot Vinaigrette Misoyaki Butterfish, you'll find interesting fusion creations on the menu.  Consider their Kiawe Smoked Szechuan Baby Back Ribs for a starter, a Garlic Ahi Salad, and Samjang Grilled Prawns with Roasted Mushroom Risotto!
Open Daily - Lunch 11 AM to 3 PM, Dinner 5 PM to 10 PM
Location - 2330 Kalakaua Avenue, Suite 322, Waikiki / Phone (808) 924-1849
Check out more at Eating House 1849
---
Moani Waikiki - $$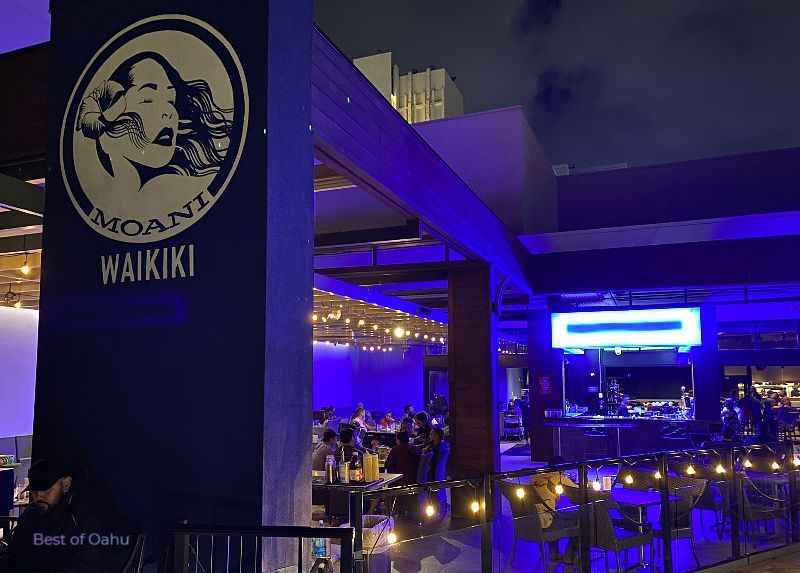 The newest restaurant to join the International Market Place is the Moani Waikiki, and it's rising to the top in popularity as it's a great spot to meet up with friend for special drinks & pupu's (appetizers), and more.
They provide a fun indoor/outdoor party atmosphere that is lite up in energetic neon blue light at night.  There is an entertainment stage for a lineup of live music and performances, and large TV screen for upcoming sporting events.
The Moani menu features a nice pupu selection for sharing, and a good selection of entrees from including Asian Style Crab Caesar, Guava BBQ "Beer Can" Chicken, Tender Braised Pork Shank, or a Whole Fried Kohala Mountain Sunfish...the great choices don't end here!

Make sure to check out Moani's cocktails if you're in the mood. There are some interesting twists on the classics like Passion (lilikoi) Mule vs a Moscow Mule or a Peach flavored Chi-Chi.
Open Daily -  Dinner 5 PM to 11 PM, Closes 12 PM on Fri & Sat
Location - 2330 Kalakaua Avenue, Suite 312, Waikiki / Phone (808) 466-2629
Check out more at Moani Waikiki
---
Liliha Bakery - $$
Founded in the 1950s, Liliha Bakery is a local favorite restaurant when it comes to breakfast and comfort food.  Now you can experience a local favorite as they have expanded with a location in the International Market Place. 
As you enter the bakery, you'll be greeted with the smell of freshly baked goods.  The menu is filled with traditional dishes but comes with unique twists like Ultimate Berry & Nut Pancakes or Chicken Karage & Waffles. You can never go wrong when ordering their New York Steak & Eggs, Pork Belly Loco Moco, or Kimchee Fried Rice.
For dinner, Liliha Bakery offers some familiar hearty comfort meals like Prime Rib and Lobster, Fried Chicken, and Grilled Mahi Mahi.  Consider take out as well especially with their baked goods. They are famous for their fluffy variety of Coco Puffs.
Open Daily - Lunch 7 AM to 10 PM
Location - 2330 Kalakaua Avenue, Suite 322, Waikiki / Phone (808) 922-2488
Learn more at Liliha Bakery
---
Kona Coffee Purveyors & b. Patisserie - $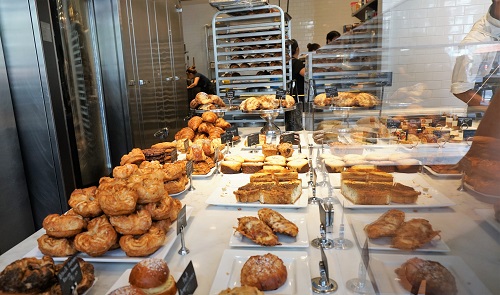 Located on the 1st level on the backside of the International Market (off of Kalakaua Ave) is one of the best treats in Waikiki.  Wake up and indulge in a signature cup of Artisan Roasted Kona coffee and freshly baked pastries that will have you melting for more!

San Francisco pastry chef & owner, Balinda Leung, has expanded her popular creations here on Oahu, and shares a space with Kona Coffee Pureyors.  Her perfectly flaky, sweet and buttery Kouign Amann treats could easily be added to your Hawaiian vacation bucket list of things to try!
b. Patisserie Waikiki features island-inspired fruit flavors like guava, passion fruit, and coconut.  The menu changes with the seasons, but some staples remain the same, like their yummy Banana Chocolate Croissant & Smoke Honey Ham & Gruyere Croissants.
Open Daily 7 AM to 11 PM
Location - 2330 Kalakaua Ave, 1st Level, Waikiki / (808) 845-1700
Learn more at Kona Coffee Pureyors
---
Kuhio Ave Food Hall - $
The once Michael Mina's "The Street" has transformed into the new Kuhio Food Hall offering a variety of similar on-the-go comfort eats.  You'll find the Food Hall is located on the ground level of the International Market Place off of Kalakaua Ave.

The atmosphere alone is an inviting modern environment with a casual dining courtyard made up of about 10 enticing restaurant concepts, including the La Pina Cantina, Banzai Burger, Aloha Pizzeria, CheeHoo B-B-Q, Hashi & Spoon, and a fun island Tipsy Tiki bar.  Needless to say, The Kuhio Ave Food Hall is a family pleaser with something for everyone.
Open Daily 11 AM to 9 PM
Location - 2330 Kalakaua Avenue, 1st Level, Waikiki / Phone (808) 377-4402
Learn more at Kuhio Ave Food Hall
---
Prepare to be transported to a world of Polynesian enchantment in the heart of Waikiki.  While many of Oahu's luaus are locate far outside Waikiki, the captivating Queens Waikiki Luau, is conveniently nestled on the great lawn in Waikiki's iconic International 

Market Place. Immerse yourself in Hawaiian traditions with mesmerizing hula performances, and indulge in the mouthwatering Kalua Pork that is just part of the luau spread.
This is a great way to enjoy the traditions of a luau experience and create a memorable experience without the inconvenience of leaving Waikiki.  Reserve your spot as seating is limited.
---
Waikiki Cheap Eats
---
Musubi Cafe $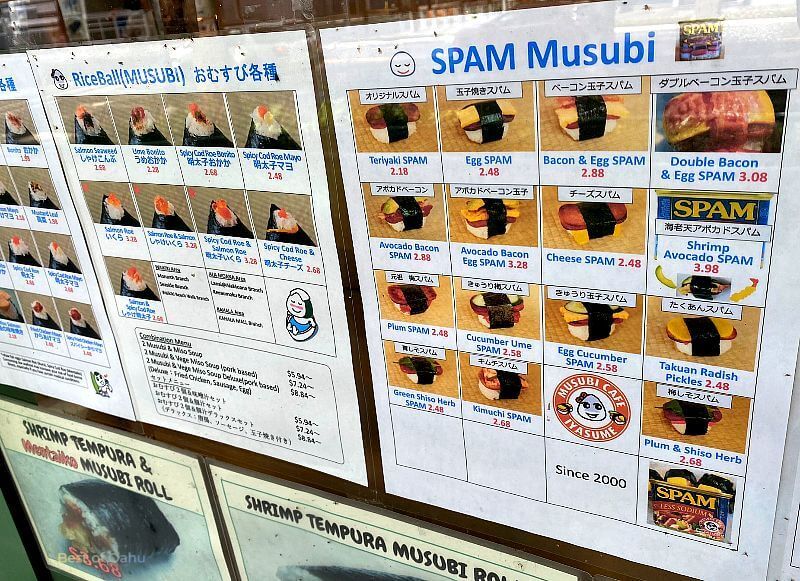 Looking for mouthwatering cheap eats? Musubi Café will do the trick. Whether you're on the go, look for something to hold you over, headed to the beach, or simple in love with musubi island treats, you have to try these more-than bite size ono rice savory treats.

The original musubi is a slice of fried Spam on a small packed block of rice, wrapped up with some salty dry roasted seaweed. Today, the Musubi Café have come up with about a 100 different creations of this Hawaiian staple, and folks are lining up to try the many different flavors that they offer.

There are lots of basics like Teriyaki Spam, Bacon Avacado Egg Spam, and KimMuchi (Kim Chee) Spam. I like their Musubi Rolls that include Shrimp Tempura, Fried Chicken Rolls, and BBQ Eel. Order a variety so yo can try a few and discover some favorites.
Lucky for you Musubi Café has 3 strategic Waikiki locations for you…in between ABC Stores –lol.  2 in Ala Moana as well.
Beach Boardwalk - 227 Lewers St - Open 7 AM to 9 PM - (808) 383-3442
Pacific Monarch Hotel - 2427 Kūhiō Ave - Open 7 AM to 8 PM - (808) 921-0168
Seaside Waikiki - 334 Seaside Ave - Open 7 AM to 3 PM
---
Maguro Spot $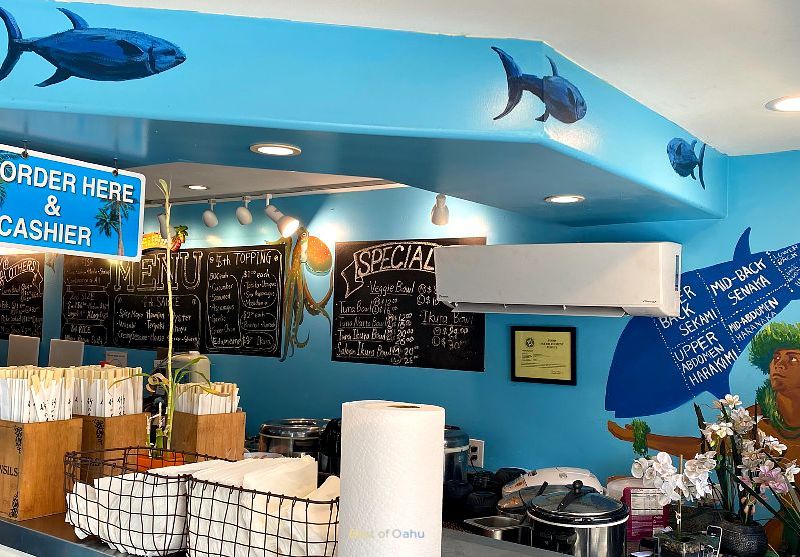 You don't need to leave Waikiki to get your poke fix on. Just find Maguro Spot located on a small corner spot on Kuhio Ave.  Space is limited so consider getting an order to go before moving onto another restaurant…it's worth it!

---
Momosan $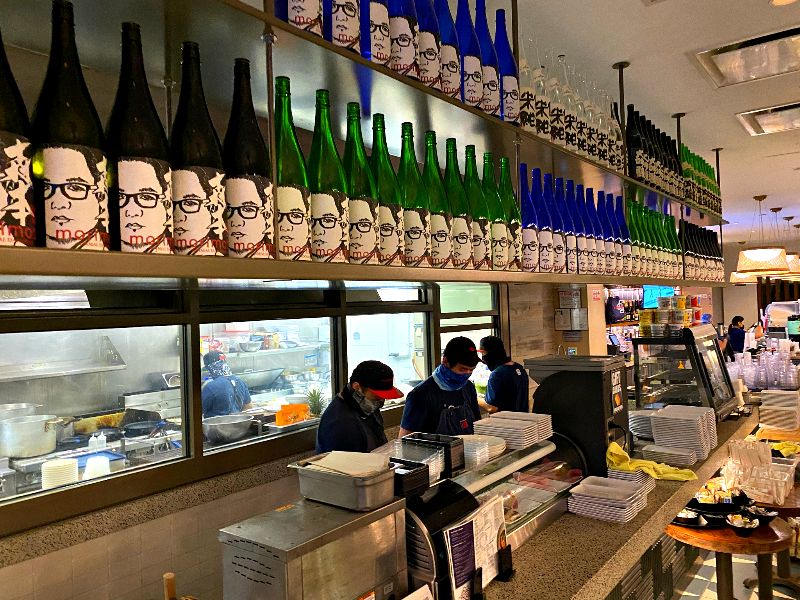 Waikiki has its share of good ramen houses, and Momosan provides the best atmosphere to experience it in.
Their menu features a classic pork Tonkotsu Ramen that measures up to the best on the island.
I challenge you to try their spicy dan-dan ramen that sits in a brothless sesame red chili oil.  The beauty in the presentation of this dish matches the fiery taste.  Momosan only features 5 different types of ramen, but manages to make each one exciting.
Also make sure not to pass up on their appetizers and sushi rolls that are exceptional as well.  Garlic Shrimp, Twice Cooked Pork Ribs, and Chicken Karrage…good luck choosing.  Poke lovers will be happy to find a few types of poke bowls served with crispy garlic, avocado, chili oil, and a house poke sauce to bring it all together.
2490 Kalakaua Avenue - Phone (808) 922-0011  Open Daily 9 AM to 9 PM
Learn more - Momosan Waikiki
---
Waikiki Sweets & Treats
---
Penny's Malasadas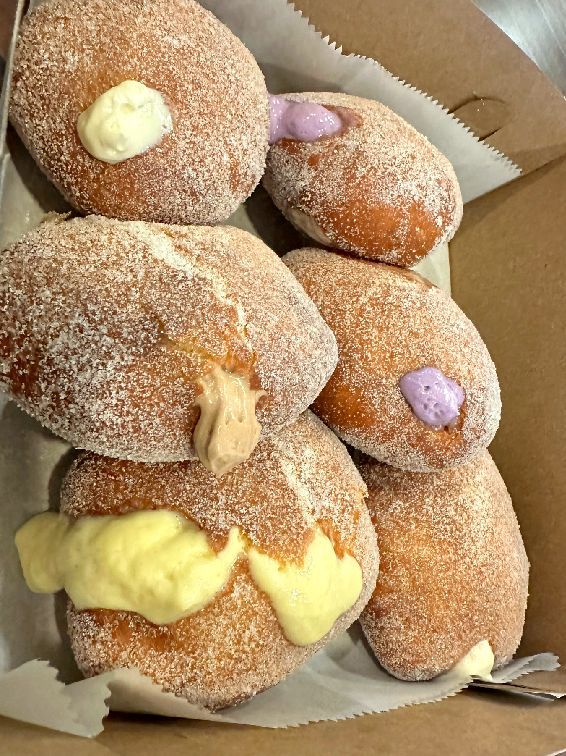 They are as delicious as they look!  I'm not saying they are better than the famous Leonard's Bakery, but you can save yourself a trip out of Waikiki to get them.
Penny's Malasadas are a light airy Portuguese style donut that are made fresh to order.  The cream filled malasadas are my favorite, including Ube (purple yam), Nutella, and Coconut.
Royal Hawaiian Shopping Center 2nd floor Food Court - (808) 744-0422 - Open Daily 6 AM to 9 PM
---
---
Kapahulu Restaurant Row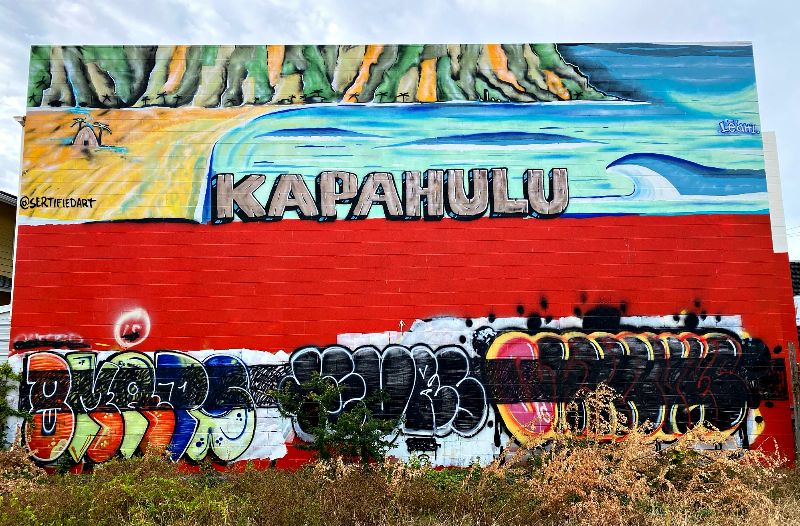 Just a heart beat outside of Waikiki on Kapahulu Ave heading towards the H-1 Highway, you have choices galore with so many incredible local eats!

From some of the best Hawaiian plate lunches like Hawaiian Drive Inn to worth fusion grinds at Uncle Bo's & Side Street Inn, to mouth watering poke at Ono's Seafood, to the best hot malasada on Earth at Leonard's Bakery, and more discoveries along the way.  Make sure to check out some of the best Kapahulu Restaurants...

---
---
Return to Best of Oahu Home Page
Aloha & Enjoy!

Subscribe to receive Best of Oahu updates on events, updates, and new articles.  It's the closest way to paradise while you are away...
We will never sell or spam your information, and we'll respect your email privacy.