Oahu's Magical Ko Olina Lagoons 
Beautiful Ko Olina Lagoons was a vision that started in the mid 80's and started to take shape around the millennium and continues to take shape today.  This Best of Oahu Beach is located in the sunnier and drier part of Oahu on the western leeward side of the island.  Ko Olina's main attraction are the four magical man-made beach coves. These pristine crescent-shaped swimming holes are tucked away in the Marriott Ko Olina beachfront property. This is a "do not miss" when you visit Oahu.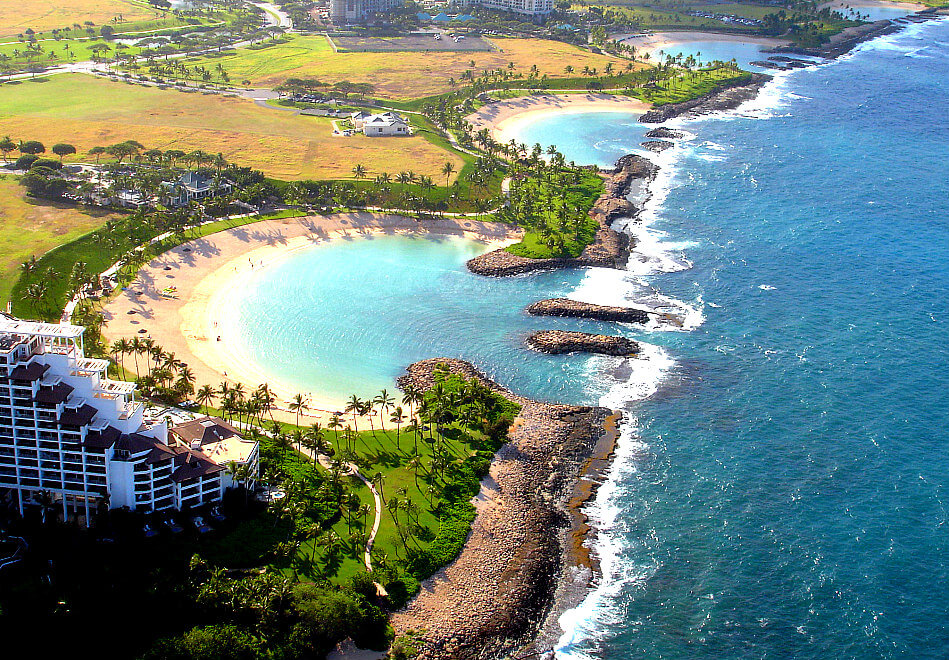 The Four Seasons Hotel, as seen in the picture above, was renovated in 2016.  The 500 million dollar renovation gave this Oahu resort a nice face lift and a few added features, including some great open-air restaurants, a tennis club, a new spa, and even a beautiful wedding chapel!  
Atlantis Resorts & Marina has announced that it will also be joining the Ko Olina Lagoons resort area.  It will feature a 800 room hotel, life size aquarium, and water park & spa.

---
Marriott Ko Olina Lagoons
---
The four Ko Olina Lagoons are but a small stroll between each other.  The soft powder sand that runs between your toes was imported from Lanai, one of the neighboring Hawaiian islands.  And the rock levies that act as sea walls help encase the lagoons, allowing ocean water to enter the protected swimming area while keeping out the turbulent waves.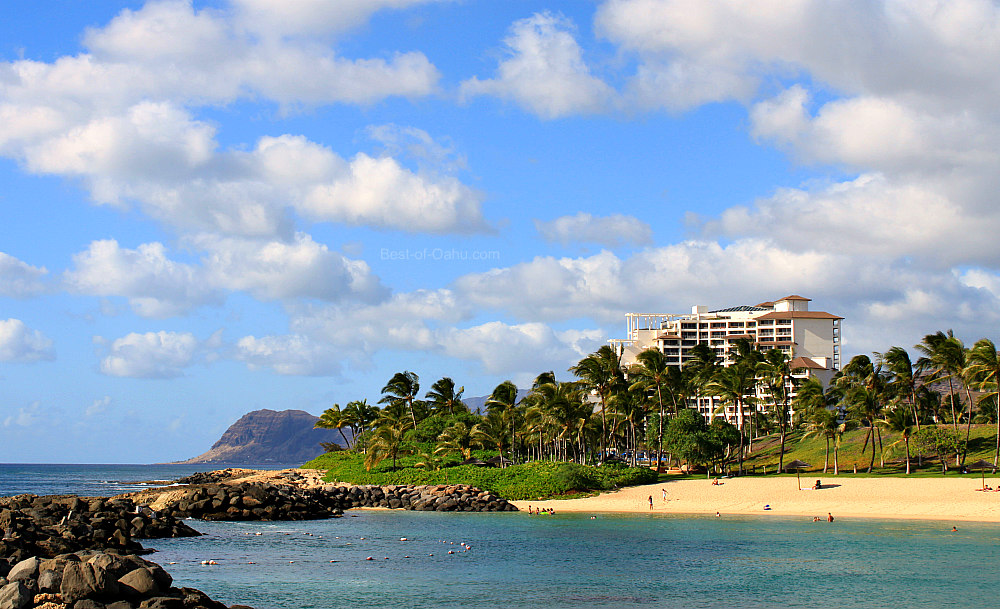 Also known as the J.W. Marriott Ihilani Resort and Spa, this Oahu beach resort is one of the newest and best luxury resorts on the island.

The grounds are beautiful and worth of checking out, even if you are not a registered guest.

There is a casual outdoor bar up the stairs from the beach area where you can order drinks and listen to live music later in the evenings.  Wander higher up the pathway and stairs for more spectacular views.

Keep an eye out for a large waterfall feature that empties into an ocean pool with sting rays and hammer head sharks swimming around.

The Marriott is one of the first Ko Olina resorts that were built outside of the bustling hotel strip of Waikiki and it is definitely worth a visit.  

I usually stay away from large resorts, opting for the smaller boutique hotels, but the Marriott Ko Olina's grounds are so beautiful and the lagoons are so perfect for a relaxing dip in the ocean, that it is now touted as one of the best places for beach time on the island.  It has been ranked as one of the top 3 Oahu beaches on the island.
Ko Olina Lagoons is far and away from the hustle and bustle of Waikiki so that you feel just isolated enough to enjoy a truly relaxing resort-style vacation.
---
Movie Night
Both the Marriott and Aulani feature outdoor movie nights.  Bring the family and arrive early for a choice spot on the lawn.  You can bring your beach towels or use the lawn mats if available.

With some free popcorn and a beautiful sunset in the background, you'll almost guaranteed a great memory in the making!
---
Fia Fia Polynesian Dinner Show


Catch a Hawaiian luau out front on the Marriott lawn.  This ongoing Fia Fia Marriott Dinner Show takes place each week on Tuesday evenings.  If you're looking for a simple yet entertaining hula show, it's a great way to enjoy a relaxing Hawaiian luau.  If you are looking for a more grand experience with lots of activities, consider the Paradise Cove Luau located next door.
---
Aulani Disney Resort
---
The Disney Aulani Resort, also known as " The Aulani" is finally open, and is the newest addition to the Ko Olina Lagoons resort area.  The Aulani is a beautiful, spacious resort that resides in front of the first beach lagoon.

The Aulani lagoon area mirrors the other beautiful Ko olina Lagoons, and sometimes features a soft water pad 20 yards out into the water  that you can swim to, climb onto, and dive off of.

The Aulani also has their own mini catamaran that sails in and out of the lagoon, giving rides to Mickey's Clubhouse Members - if you are staying there, you are considered a member!  Whether or not you have kids, this Hawaiian Disney resort might be the magical place for you to stay when visiting Oahu.

The only problem with booking a reservation here is that you might never make it to the Ko Olina lagoons, with all the surrounding entertainment and many resort features the Aulani has to offer. 

Step outside your hotel room and enter the tropical grounds with an impressive endless water park that runs through it...not to mention a few side attractions along the way. 

The gigantic Wailani Pool takes up most of the resort grounds and has many adventurous twists and curves, including a few impressive waterfalls to swim under, an active volcano, and a lazy river called Waikolohe Stream where you can sit back and float down in a tube into the Waikolohe Pool.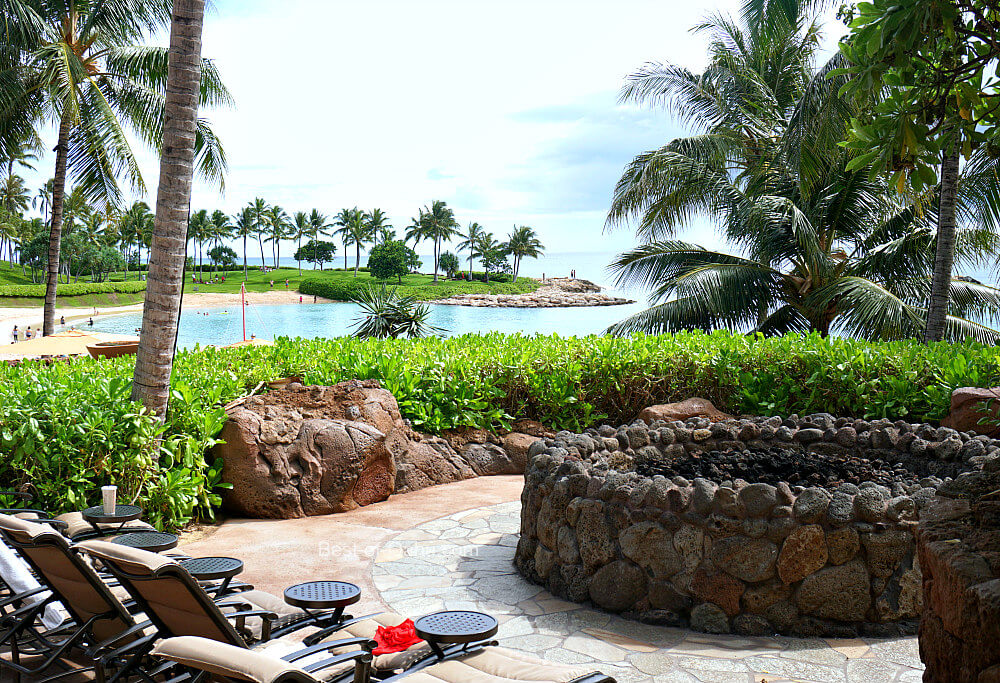 After enjoying a beautiful Hawaiian sunset o Ko'Olina beach, stroll back up to the fire pit area where you can hangout and enjoy a beautiful end to your day as you head  into the night!

---
Fun Offsite Excursions 
---
Experience Ko Olina Lagoons from above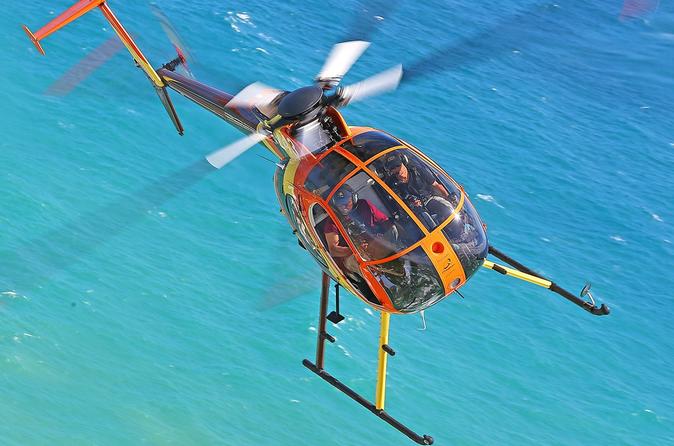 One of the most amazing experiences is taking it all in from the sky!  Words can't explain flying just a few hundred feet in an open-door helicopter above the coastline taking in panoramic views of the lagoons below, Pearl Harbor, Downtown Honolulu, Punchbowl Crater, Waikiki, Diamond Head, and much more.

Explore a once in a life time experience from the sky...
---
3.5 hour Catamaran Snorkeling Cruise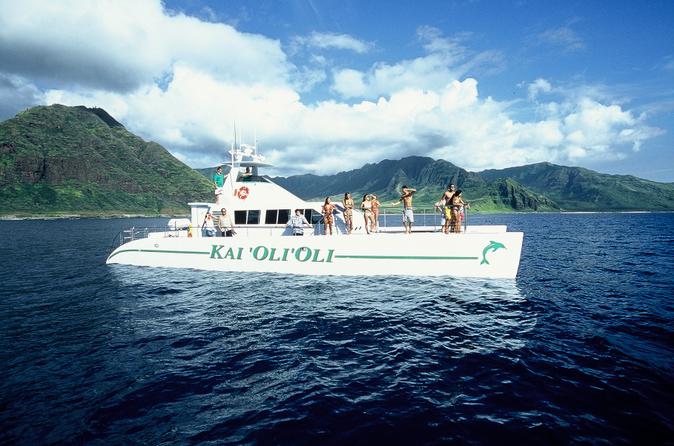 Enjoy a 3 & 1/2 hour catamaran tour that travels right out of the Ko Olina Marina.  You'll travel the surrounding coast searching for passing whales and dolphins along with other marine life.  You'll also get an opportunity to snorkel a secluded reef and enjoy a Hawaiian buffet on board! 

---
Whale Watching Tour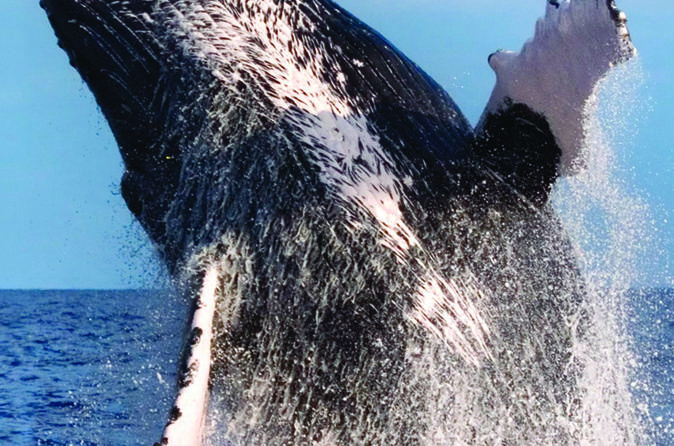 If you're visiting during whale migrating months (late Dec – early May) you might be fortunate to see humpback whales surfacing along the south and western coastline.

Ride a catamaran or monohull boat with a small group tour from Waikiki (through the Kewalo Basin Harbor) or from Ko Olina (through the Waianae Harbor), to get a closer look at these magnificent sea mammals.
If you're lucky, you're get to watch the whales breaching the water and splash around, along with other surprises from local marine life, including dolphins and sea turtles.  Book your Whale Watching Tour now...

Ko Olina Golf Course
---
The Ko Olina lagoons are not the only attraction on this side of Oahu.  If you are looking to do something other than beach hopping,  the Ko Olina Golf Course is a great alternative.
This impeccably maintained par 72 course does not disappoint with its impressive club house, rolling hills, and cascading waterfalls.

Roy's Restaurant:  for a real treat, check out Roy's Restaurant which is located at the Ko Olina Golf Club.  It's one of the favorite fancier Oahu restaurants on the island.  Roy's is a small chain on the island, with the Ko Olina location serving lunch and dinner.

---
Beach Facilities
---
The Ko Olina Lagoons beach areas are nicely equipped with accommodating facilities for beachgoers.

Bathroom facilities located at each lagoon are clean
Beach rinse off showers
Free Parking lots at each beach spot
Wheelchair access
Grass sitting areas w/ partial shade
Friendly swimming areas with calm waters
Note:  No Lifeguard on duty
Outdoor restaurant and bar area at the Marriott Ko Olina Resorts
---
Ko'olina Hidden Lagoon


There is one more lagoon that is hidden off to the side of the Four Seasons Hotel.  Unlike the man made lagoons with protective sea walls, this beach is more rustic with natural beauty.
You're almost guaranteed to have this beach to yourself.  It's fun to lay a beach towel down and enjoy the sound of the wave washing ashore, but water tend to rough in this cove and is not recommend for swimming.
---
Ko Olina Restaurants
---
Roy's Restaurant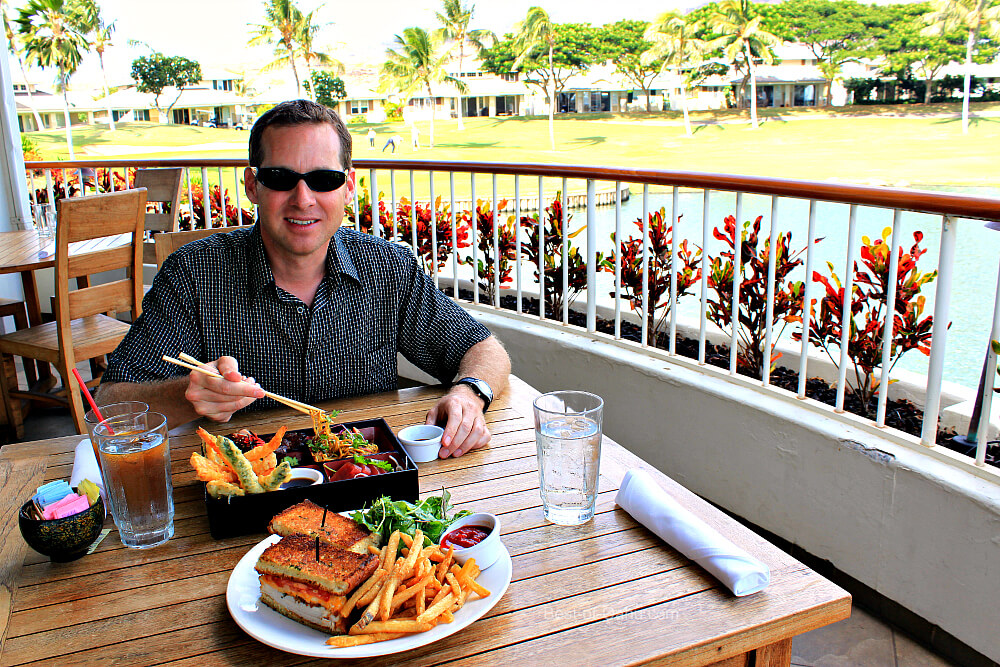 The Ko Olina Golf Course boasts one of the best Oahu restaurants – Roy's Restaurant, serving Hawaiian fusion cuisine by famous chef, Roy Yamaguchi.  It is kid friendly and the wait staff was attentive and helpful when we ate there.

The food is tasty and the drinks are great (tried the pineapple martini and the sparkling sake).  The views of the golf course are beautiful from the restaurant.

---
Monkeypod Kitchen by Merriman


Most happening spot in Ko'olina! The food is delicious and consider the drinks as dessert!  And that would be a signature Mai Mai with a Lilikoi Foam…and more temping drinks on the menu! 

Monkeypod Kitchen is an open air restaurant with a fun tiki bar feel to it.  The walls are lined with surf boards and the ceiling anchored with shipping ropes and creative lighting.
The menu is friendly with lots of familiar items with an island twist of course.  Consider the Crispy Wonton Poke Tacos and Rosemary & Tzatziki Sauce Chicken Wings as an appetizer…they are so yummy!  Enjoy a Big Island Lobster Wood Fired Pizza to share, or some Mahi Mahi Fish & Chips, or go all in for Monkeypod's Ribeye CAP or a Kiawe Wood Grilled Ahi Tuna Steak.
Take advantage of their daily happy from 3:30 PM to 5 PM.  Discounted drinks, appetizers and gourmet pizzas!

Location:   92-1048 Olani St, Kapolei / Phone – (808) 380-4086   Open Daily 11 AM to 11 PM
---
Ko Olina Hawaiian Bar B Que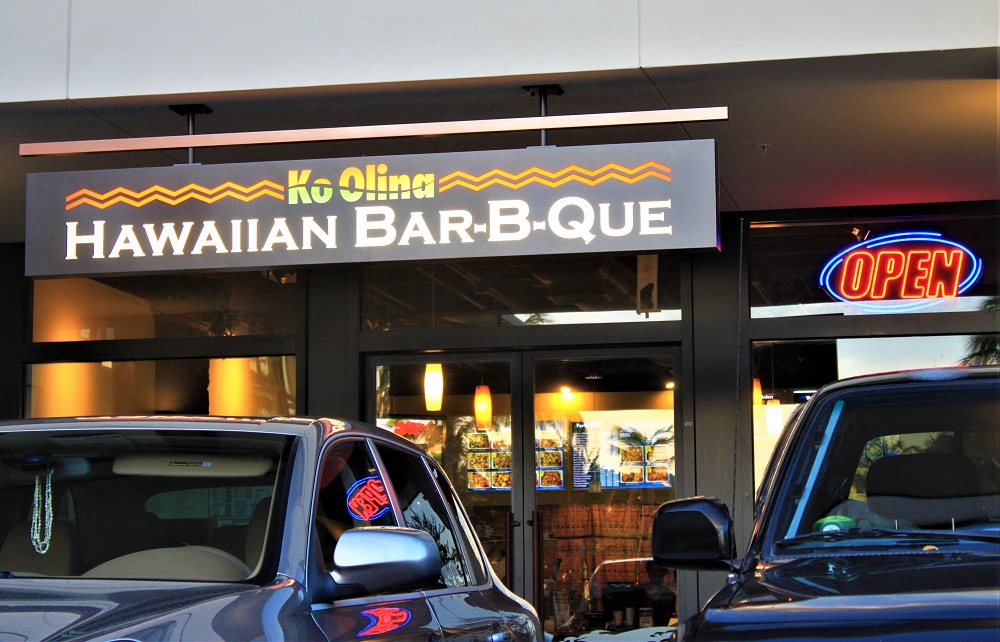 While there are no food concession stands on the beaches, there are a few casual restaurants near by, including a Mexican and Hawaiian BBQ restaurant, and even an ice cream shop.

You will discover these and other shops located just beyond the main entrance gate.  I would also recommend packing up some food and drinks to bring along with you to the beach.

---
Ko Olina Marriott Hotel

You also have the choice of dining at one of the four restaurants available at the Ko Olina Marriott Hotel, or the many new restaurants and food stands located at the new Disney Aulani Resort.

If you're looking to keep it casual and fun, check out the Marriott Naupaka Terrace and outdoor seating near the poolside that overlooks the Pacific Ocean.

The food is good and affordable.  Some days during the sun setting hour, they host live music.  I've been known to wander up after a nice day at the beach and enjoy the sunset with a Mai Tai in hand!

---
---
Roy's Restaurant:  As mentioned above, for a real treat, check out Roy's Restaurant which is locatedt at the Ko Olina Golf Club, which you will see as you pass the check in gate.  It's one of my favorite fancier Oahu restaurants to visit.
Dinner can average $45 an entree, but lunch is a steal!  Roy's is a small chain on the island, with Ko Olina being the only location that features lunch –don't miss it!

---
3 More Action Beaches
Here are 3 additional Oahu Beaches that are beautiful, full of action, and worth visiting after this one...
---
Visiting Tips
---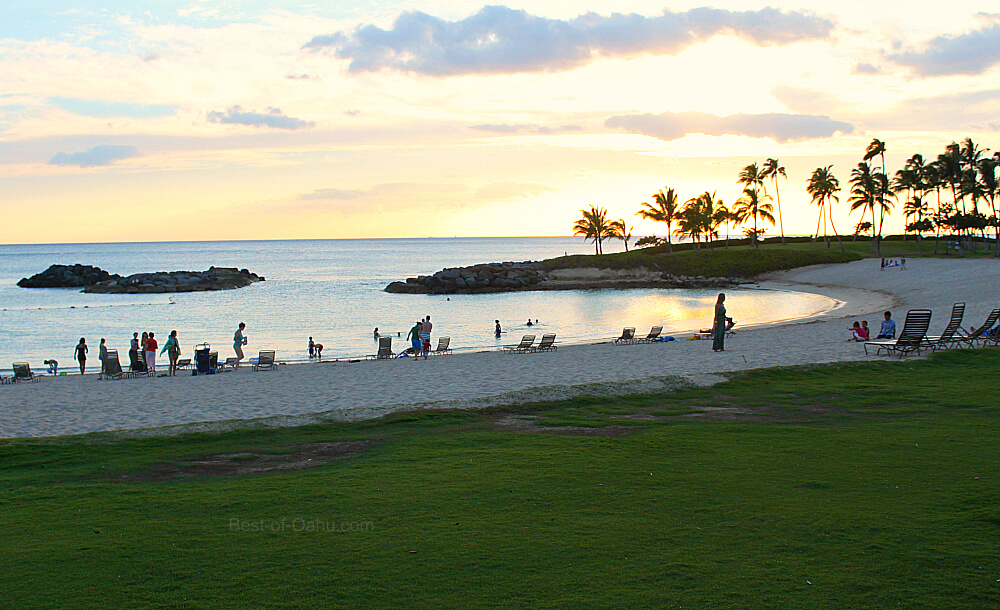 Catch a sunset:  The sun sets in the west, and really can't get much more west than on this western tip.  You have a choice of capturing it from one of the magical Ko Olina lagoons or from the outdoor bar side with live music at the Marriott Ko Olina Hotel.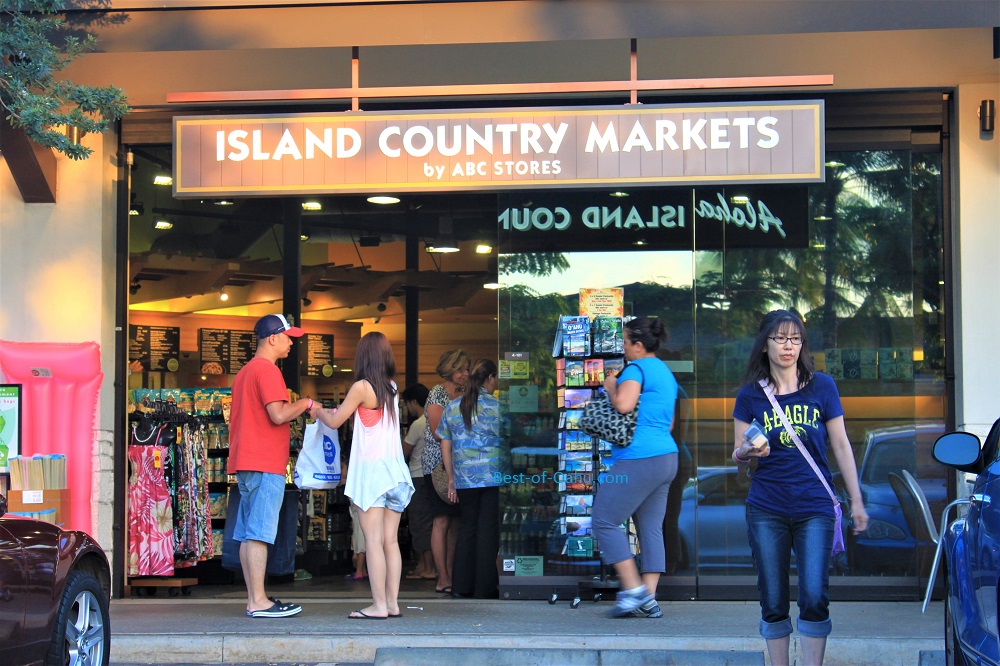 Local stores:  There are now a handful of restaurants, and a small but nice grocery market open for business on the Ko Olina Oahu grounds.  I'm sure there are many more shops and restaurants that will open as this area continues to be developed and built out.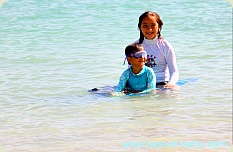 Oahu for Kids:  The Ko Olina Lagoons beach areas could be viewed as 4 gigantic salt water pools for beach going kids.  They will have a blast playing in the enclosed lagoons, which provide a shallow calm swimming area.  Adult supervision is still necessary, and unfortunately there is no lifeguard on duty.

---
Getting to Ko Olina Lagoons
---
Ko Olina Resorts and beaches are located just beyond the Ewa Beach area on the south western tip of Oahu.  It will take you a good 45 to 60 minutes if you drive from Waikiki.  Even with the limited available parking, driving your own vehicle will be one of your best options.

Ko Olina Lagoons Oahu Map:


---
Driving directions:


From Waikiki, take the H-1 (located above Waikiki towards the back Mountain ridge)
Stay on the H-1 for about 25 miles
Continue on as the H-1 turns into the Farrington Hwy
Take the Ko Olina Oahu Exit
Drive up to the security gate, where you will need to check in (announce where you are headed on the Ko Olina Marriott grounds) before proceeding down to the beach.
Follow Aliinui Dr to the left, and look for the posted signs for the different Ko Olina Lagoons.  They will be numbered 1 thru 4.

---
Limited Parking at Ko Olina Lagoons
The limited parking that is available for each Ko Olina beach, helps keep the beach crowds down, and allows you enjoy the lagoons in peace.  There are literally less than 20 parking spots available for each Ko Olina Beach, with no outside parking available for miles. 
It doesn't hurt to arrive early to secure a spot, but unless it's a weekend or holiday, I've always found that people are coming and going, so parking spots do free up fairly quickly.  Sometimes you will need to be patient and wait in a shady spot for someone to leave.
 
If you are not planning on staying at the lugubrious Marriott Ko Olina resorts, which would give you prime access to the Ko Olina beach areas without any hardship, then I would highly recommend driving to this series of four beautifully replicated Oahu Beaches with your handy Oahu rent a car.
Ko Olina Oahu can be reached by taking the bus from other parts of the island, but not without taking a few bus transfers.

---
Oahu Bus:


It will take a little patience, but you can make the trek out to the Ko Olina Resorts taking the local Oahu Bus.  From Waikiki, take the #20 bus from Kuhio St, out of Waikiki and past Downtown Honolulu.  You will need to change to bus #40 or #40A on the lower level of the Nimitz Hwy.
The bus drivers can help direct you where to get off and make the bus transfers.  Finally, make a 3rd bus transfer at the Kapolei Transit Center to a Special Kapolei bus, which will take you into the Ko Olina Marriott Grounds.

---
In the Area
---
Paradise Cove Luau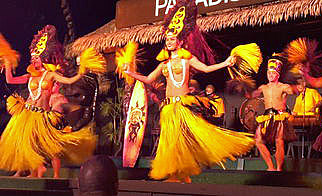 If you are interested shaking your hips and attending a Hawaiian Luau with some Hula performances and entertainment, you might want to stick around after a day at the beach and hop next door to the Paradise Cove Luau.

It's far from the real deal if you must know, but I have heard nothing but good things about this event. 

The luau takes place nightly starting at 5pm.  And yes…there's lots of Kalua Pork and Poi to be had, so don't hesitate if you're thinking about it.

---
Pearl Harbor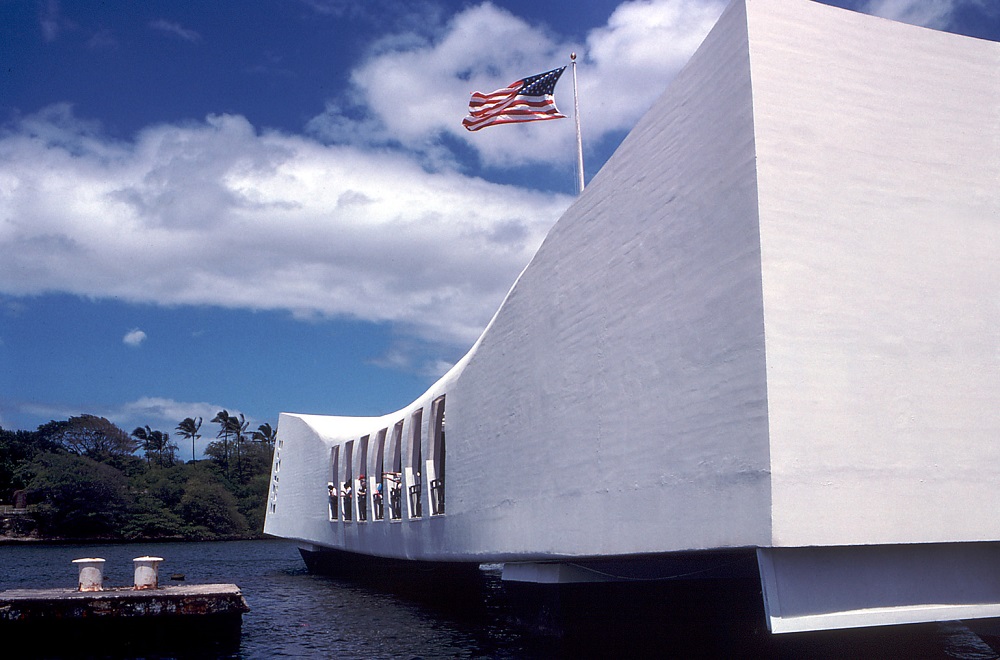 The Pearl Harbor Visitors Center is just 20 minutes away.  Take a ferry ride across the bay to view the Arizona Memorial, or take a shuttle bus across the Pearl Island Bridge to climb aboard the Battleship Missouri.

The popular USS Bowfin Submarine, and the Pacific Aviation Museum are also available for viewing. 
Sign up for the Pearl Harbor Remembrance Tour that includes transportation from Ko'olina.

---
Shop at the Waikele Outlets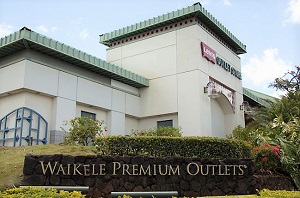 Just 15 minutes away are the Waikele Outlets!  Have fun exploring discounted merchandise from over 50 name brand stores spread out over 5 sections within the outlet center.  Included in the lineup you will find Armani, Coach, Ralph Lauren, Converse, Kate Spade, and Saks Fifth Ave.
Explore more at the Waikele Center across the street!  Check out More details here…
---
Ko Olina Golf Course


Ko Olina Golf Course:  This is one of the best featured public golf courses on Oahu.  Nothing short of manicured greens, open fairways and unforgettable ocean views.  Take sometime if you can to golf this 18-hole championship Ted Robinson golf course.

Location:  92-1220 Aliinui Dr, Kapolei, Oahu HI
Book your Tee Time Now! of call the club house (808) 676-5300
---
Return to Best of Oahu Home Page
Aloha & Enjoy!

Subscribe to receive Best of Oahu updates on events, updates, and new articles.  It's the closest way to paradise while you are away...
We will never sell or spam your information, and we'll respect your email privacy.