Best Hotels in Oahu

Searching for the best hotels in Oahu for an upcoming vacation?  You'll find that a majority of the choice hotels are in Waikiki, with a few exceptional Oahu resorts located just outside this bustling Oahu lodging.  Royal Hawaiian, Moana Surfrider, Ilikai Hotel, and Sheraton Waikiki are some of your classics stays on the island. Whether you are looking for the best Oahu luxury hotels or searching for some of alternatively cheap Waikiki Hotels, there is a great selection for everyone!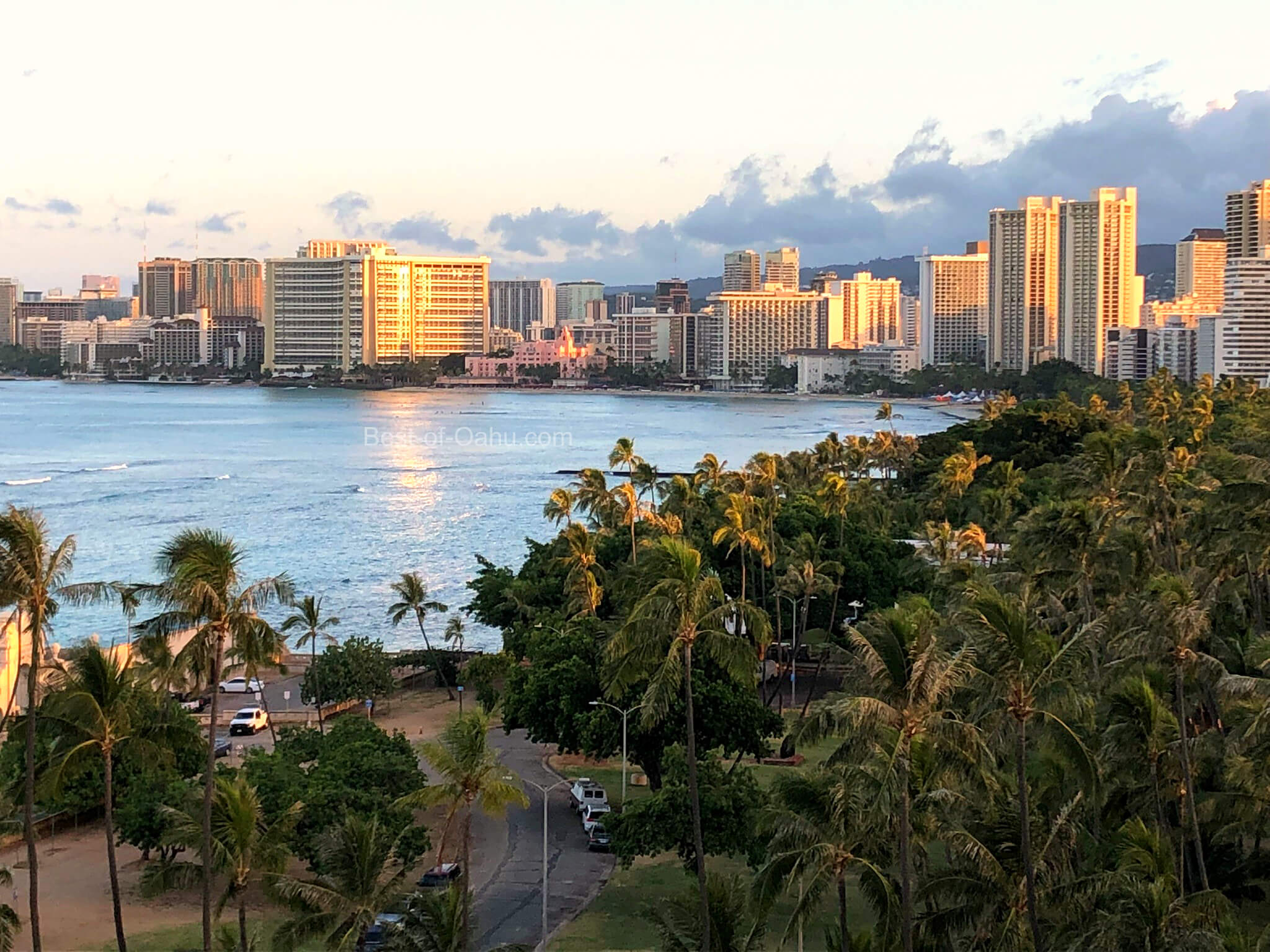 ---
Classic Waikiki Hotels in Oahu

3 of the original Waikiki beach hotels that still remain standing today, still outshine the typical hotels in Oahu, with their old school charm, style, and exquisite details.  Consider classic luxury hotels in Oahu such as the Sheraton Moana Surfrider Hotel, The Pink Palace Royal Hawaiian and the Ilikai Hotel.
Honolulu Hotel Deals! SAVE when you check rates with TripAdvisor.
---
Moana Surfrider Hotel


Often referred as the "First lady of Waikiki", the Moana Surfrider hasn't skipped a beat since she was built in 1901.  Take a journey back into history, and walk the same elegant hallways that legendary Shirley Temple, Bing Crosby, Frank Sinatra and others once did.
This historic landmark Oahu Hotel is also well known for the banyan tree that was planted during the construction of the original Moana Hotel.
Today it towers 75 feet above the outdoor courtyard and extends her branches 150 feet across.

Find the best deals for the Moana Surfrider Resort
---
Royal Hawaiian Hotel


This luxury Oahu Hotel was built in 1927 with a beautiful Spanish Moorish style and architecture that holds a strong presence today.
Commonly referred as the "Pink Palace of the Pacific", because of its pink salmon colored walls, stand out from all other neighboring hotels in Waikiki.
The Royal Hawaiian Hotel has 528 room, 2 pools, beachfront, and hosts its own weekly Luau.

Find the best deals for The Royal Hawaiian
---
Ilikai Hotel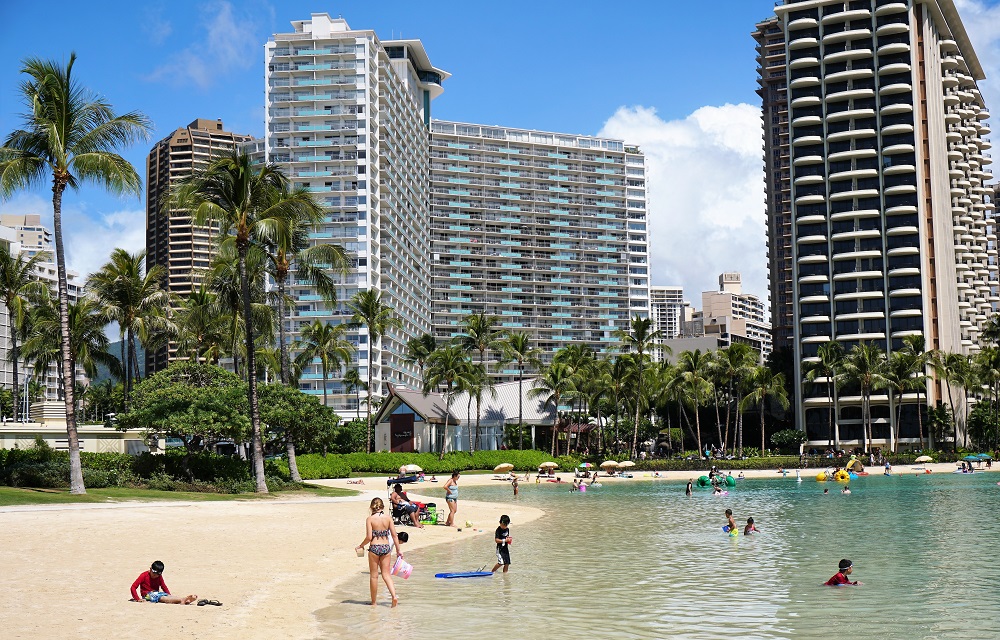 A classic 1960's Oahu hotel that presents a timeless contemporary look and feel. 

The Ilikai Hotel was a marvel built in 1964 that scrapes the skies 30 floors high with a restaurant that sits on top and a glass elevator that takes you there.  The Ikikai Hotel is also well known for its huge poolside lanai, where the party feels like it never ends.
Check out Cinnamon's for breakfast!  They have the best guava chiffon pancakes on the island.  The locals have to drive over to Kailua to get a taste of these...you have access to them downstairs in the lobby!
Find the best deals for the Ilikai Hotel
---
Unique Hotels in Oahu
---
They are not Hawaii's classics, but these unique hotels in Oahu are well on their way to making there on mark on this island!

---
Halekulani


Ranking at the top of its class for modern hotels in Oahu with a nice balance of Hawaiian island style finishes, the Halekulani is a stunning sight to see!
No details were spared in this Oahu Hotel, including the restaurant settings, the hibiscus flower infinity pool, and the elegant Lewer lounge.
The only irony is the location, in front of Gray's Beach, which displays the least amount of sand in Waikiki.  But you can make up for it sitting in Le Mar, which is one of Waikiki's best fine dining restaurants with romantic views!

Find the best deals for the Halekulani Hotel
---
Hokulani Hotel by Hilton Grand Hotels in Oahu
Another gem hotel oasis in paradise!  Take an escalator from the famous Waikiki Beach Walk and be transported into a beautiful relaxing paradise.
The Hokulani Hotel features an inviting lounge area with lots of semi-private sitting area to relax and enjoy a surrounding water feature with cascading waterfalls.  The roof deck offers surrounding views of Waikiki with a lab pool and a few day beds, and an outdoor bar to serve you while enjoying your time up there.
The rooms are tastefully done with mahogany hardwood floors,  modern furnishings, upscale amenities, and spa-looking bathrooms.  Check in one of Hokulani's 143 rooms and you might forego seeing the rest of the island…
---
Modern Honolulu


Located at the top of Waikiki next to the classic Ilakai Hotel is the Honolulu Modern.  Usually referred to as "The Modern", this place is hip, clean, and modern throughout.  Beyond spacious linear rooms, there are 2 inviting poos, including the Sunset pool where live music and DJ play in the afternoons.
Make sure to make a reservation at the Grove that is on site.  And finish off the night dancing at the Addition, one of Oahu's most popular nightclubs, located on the ground level.

Guests who stay here, don't simply drop off their luggage and head to the beach.  This is more like a resort, where you'll want to enjoy the rooms, and lounge in the common areas.  The Modern sets the bar for other upcoming hotels on Oahu!

Find the best deals for Modern Honolulu!
---
Sheraton Waikiki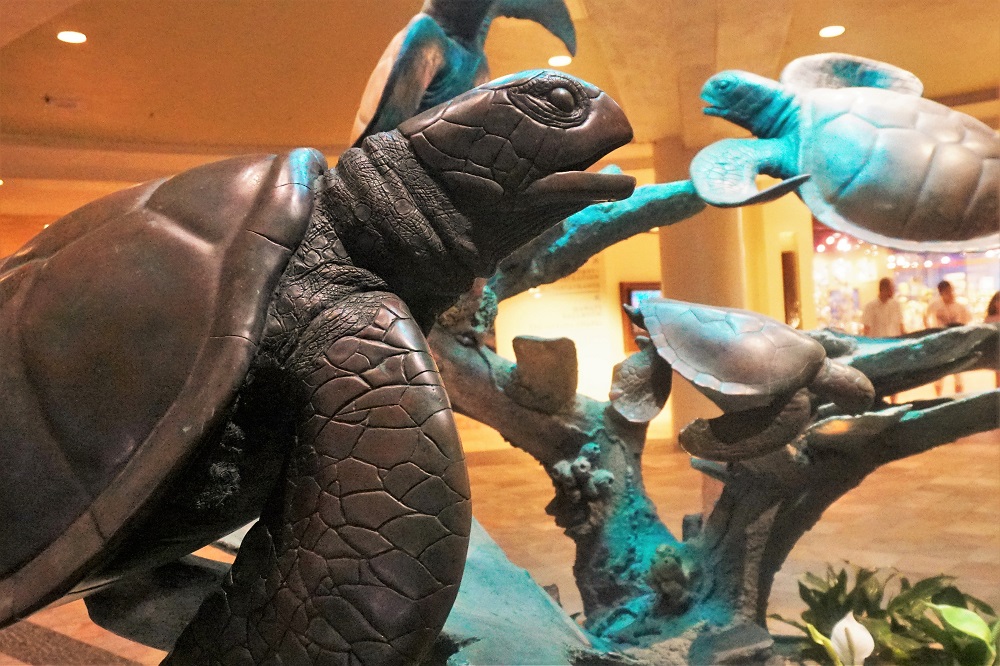 Centralized in Waikiki along the waterfront, next to the Royal Hawaiian Hotel and the Sheraton Waikiki Hotel, measures up on being one of the best hotels in Oahu.
With choices between an infinity pool that's elevated above the ocean, and a large tropical-oasis pool with a fun water slide feature…what is there not to love!

Don't wonder far into the night, as the Sheraton is host to the Rum Fire, one of Waikiki's best tiki bars.
Find the best deals for the Sheraton Waikiki!
---
Alohilani Resort
A recent $125 million renovation of the old Pacific Beach Hotel in 2018 has transformed this place into the new Alohilani Resort.
No expense was spared, and you'll experience it from the get go with a grand open air entrance with sky scraping columns allowing sunshine to illume the interior, and fresh air to circulate the beauty lobby inside.
If you're not familiar, there is a grand 2-story 280,000 gallon aquarium that is actually referred as an Oceanarium. It is filled with an array of Hawaiian fish and marine life including a handful of reef sharks. There's a peaceful presence about it and breath taking at the same time.  You'll find it just past the lobby with lots of seating and a bar.
The standard rooms are about 330 sq ft and the suites double that size. They have a very clean chic look to the rooms mirroring natural elements. And while not on the beach, the Alohilani is just a block away.
Spa and fitness center are a given, but also make sure to pay a visit to their pool oasis on the 5th floor. It is very spacious and filled with lots of luxurious sitting areas, private cabanas, fire pits, an attractive outdoor bar, and an inviting infinity pool.
At night a DJ plays music from 7 PM to 9 PM and a fun visual light show portraying island images towering hotel wall.
---
Waikiki Beach Marriott Hotel Spa & Resort


This Oahu Hotel lives up to large expectations like the other island resorts, with two 30 foot towers, 2 pools, 12 shops, 6 Oahu restaurants, and 14 conference rooms.  But it's not about business here at the Waikiki Beach Marriott, but more like pure Hawaiian entertainment and expansive open air lounge areas.
The Waikiki Beach Marriott has a huge 3-acre lani that is colorfully decorated with island flavor, including daily schedules of Hawaiian Cultural performances and workshops.  If Las Vegas developed a Waikiki themed hotel…this would be it!

Find the best deals for the Waikiki Beach Marriott Resort
---
Boutique Oahu Hotels
Today there are more and more cute boutique shabby chic hotels popping up around Waikiki, Oahu.  Here are a few worth checking out...
---
Surfjack Hotel & Swim Club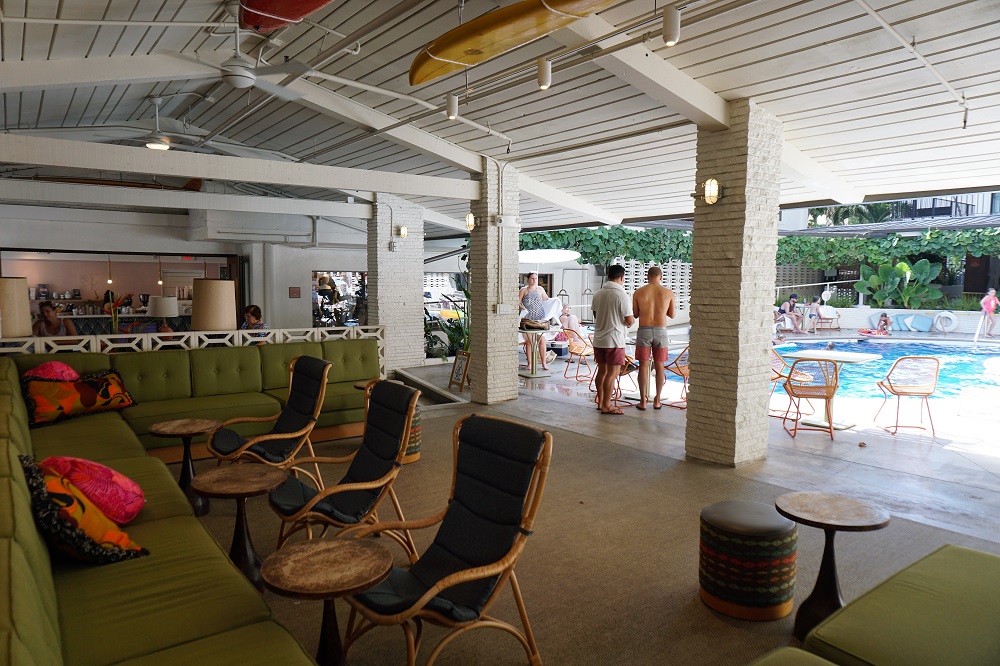 Located in the center of Waikiki you'll find this little oasis gem off Lewer's St.  The Surfjack has a pleasant modern feel and vibe to it that you'll experience, with the layout of the space, and fixtures & furniture used throughout.
And while most hotels in Oahu have pool policies that stress no diving, its encouraged here along with absurd cannonballs!  Stick around in the afternoons and you might be treated to some live music or a local dj spinning some hip lounge music!
Mahina & Sun's is not only a restaurant located on premises, but affordable and considered one of the best hidden gems in Waikiki!  This Waikiki Café has done a great job of offering local favorites along with new comfort food creations!
Find the best deals for the Surfjack Hotel
---
The Laylow


You would never know it walking past it on Kuhio Ave, with a 1960's retro sign and an elevator that takes you up a couple flights…to a little paradise oasis!
The Laylow is in the Autograph Collection of Marriott Boutique Hotels.  The common areas are as sheik as the rooms!  A nice balance of areas to congregate, yet peaceful & private…and zenful throughout!  The Laylow gives a true meaning of an upscale boutique hotel with a classic retro feel.
Spend time sitting at the outdoor bar with a fancy highball drink, glass fire pit area, or how about laying down in a half-submerged lounge chair in the pool.
Make sure to check out their activity list, and don't miss the complimentary shave ice happy hour after lunch!
Find the best deals for The Laylow
---
Coconut Waikiki Hotel


Not all great Waikiki hotels are found along the beach!  Some of the best boutique hotels are found not too far off the strip on side streets. 
The Coconut Waikiki Hotel is simple, quite, clean, and walking distance to the Beach Boardwalk shopping plaza and International Market Place.
The lounge is full of modern chic charm and opens up to a beautiful outdoor deck with an inviting plunge pool to dip into.  Here you can also enjoy your complimentary continental breakfasts or choose to cook-in dinner some nights and use their outdoor grill!
The Coconut Waikiki Hotel does not seem big from the outside, but actually has 81 cozy rooms, a workout gym, and parking garage available if you're renting a car.
Find the best deals for the Coconut Waikiki Hotel
---
---
Best Budget Waikiki Hotels in Oahu
I'm not sure "cheap" is the best word to describe these next few hotels, but definitely the best bang for the buck!

---
Hale Koa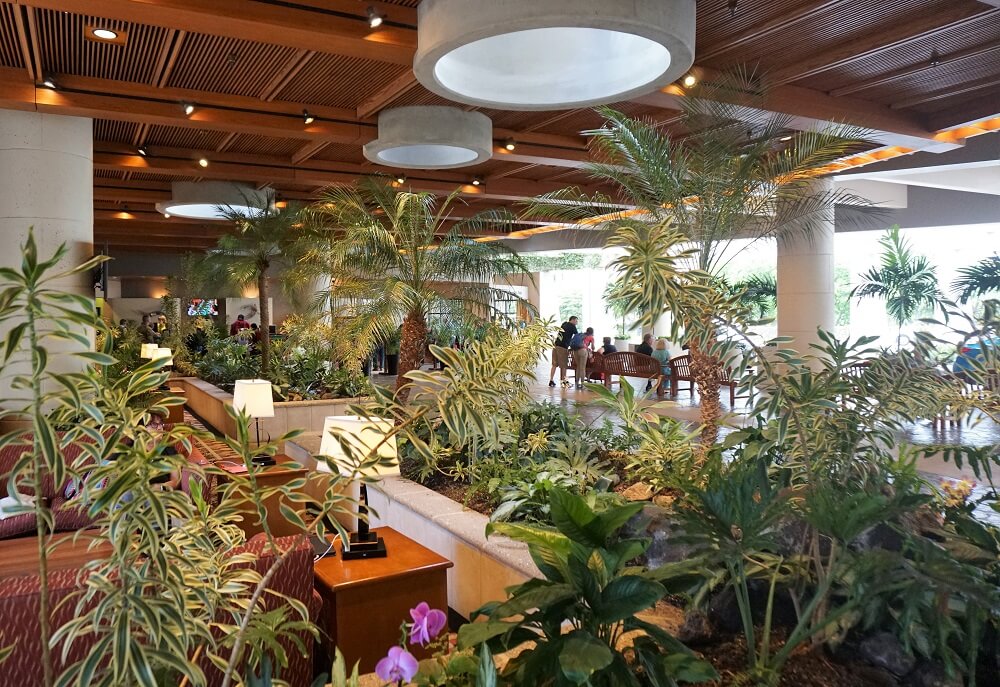 If you have served in the US military, don't think twice about where to stay on Oahu.  A recent $100 million renovation took place on the 817 room Hale Koa Hotel was built on the Fort DuRussy property to honor those who are serving, or who have served in the US military forces.  The subsidized rates are a steal that range from $91 on up.
There is a new 8000 square foot extravagant pool & water park attraction that now boarders the ocean side.  It's hard to miss, and you'll just might end up sliding down one of the twisting water tubes.
This is the only Oahu Hotel that is set in beautiful and lush tropical garden.  Even if you are not staying at the Hale Koa, it's worth a stroll through the 72 acre estate!

Find the best deals for the Hale koa Hotel
---
New Otani Kaimana Beach Hotel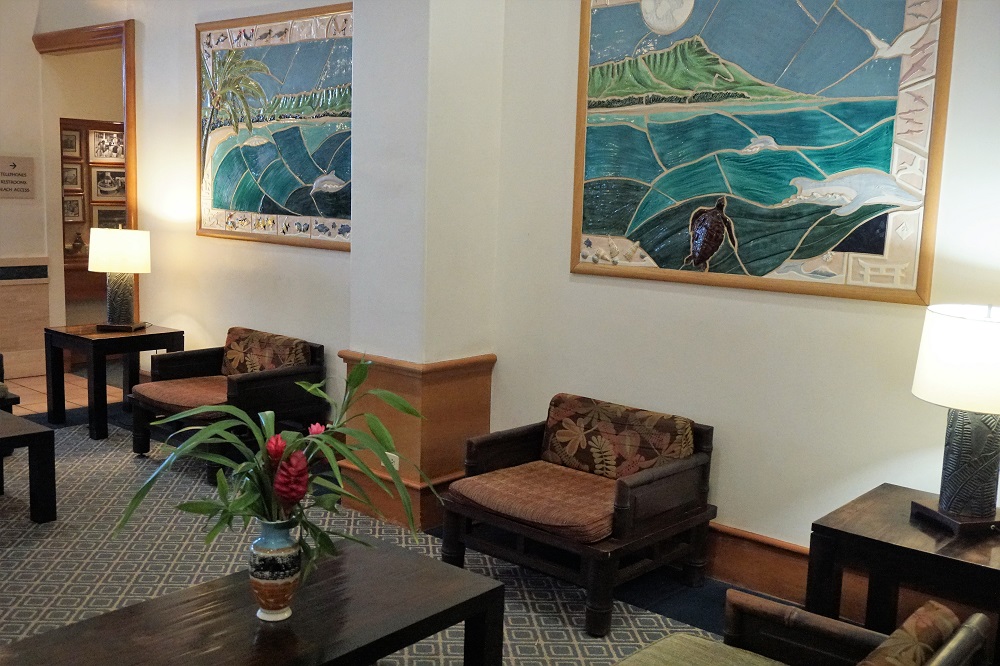 The New Otani is definitely a favorite Waikiki hotel for its simplicity, location and reasonable pricing!  Enjoy the exciting energy of Waikiki, but choose to stay in the surrounding peacefulness of Kapiolani Park.
You will find a small pocket of buildings, including the New Otani Kaimana Beach Hotel, located at the end of the park, at the base of Diamond Head.  This mid-size hotel also sits in front of one of the best sections of Waikiki sand, known as San Souci beach.

Find the best deals for the New Otani Hotel
---
Waikiki Resort Hotel


The friendly staff, recent renovations and deals on low priced stays makes up for the short walk you will need to take to get to the beach.  Some of the hotels in Waikiki, that do not have direct beach access must find ways to best compete against one another.
The Waikiki Resort Hotel does a great job of competing for your business.  There is no additional cost for parking, valet service, use of room safes, beach towels, beach chairs and other accommodations and needs you might like.

Find the best deals for the Waikiki Resort Hotel
---
Oahu Resorts
---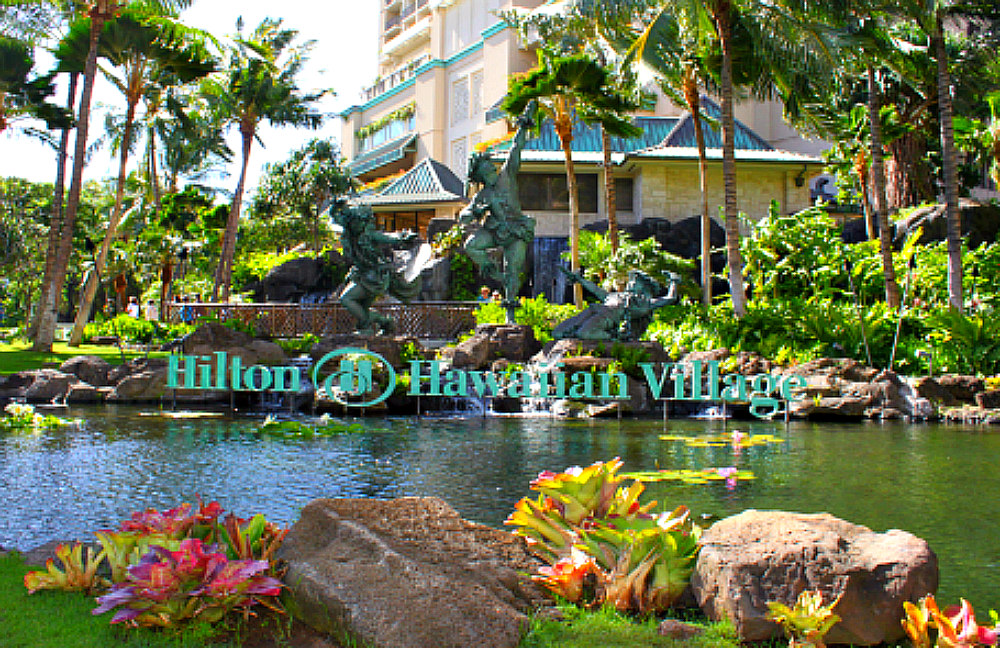 Beyond Waikiki hotels, also make sure to check out the 5 best Oahu resorts on the island!  They feature grand pools, relaxing spas, multiple restaurants, luaus, and lots more to explore!

Return to Best of Oahu Homepage
Aloha & Enjoy!

Subscribe to receive Best of Oahu updates on events, updates, and new articles.  It's the closest way to paradise while you are away...
We will never sell or spam your information, and we'll respect your email privacy.