Signs of Aloha
Look around and you're bound to find signs of aloha everywhere.  Aloha is the most popular Hawaiian word used in the islands and lands far beyond.  It's an infectious word and has many meanings including hello, goodbye, and love.  The spirit of aloha is also a wonderful feeling that is commonly expressed through thoughtfulness, compassion, and caring.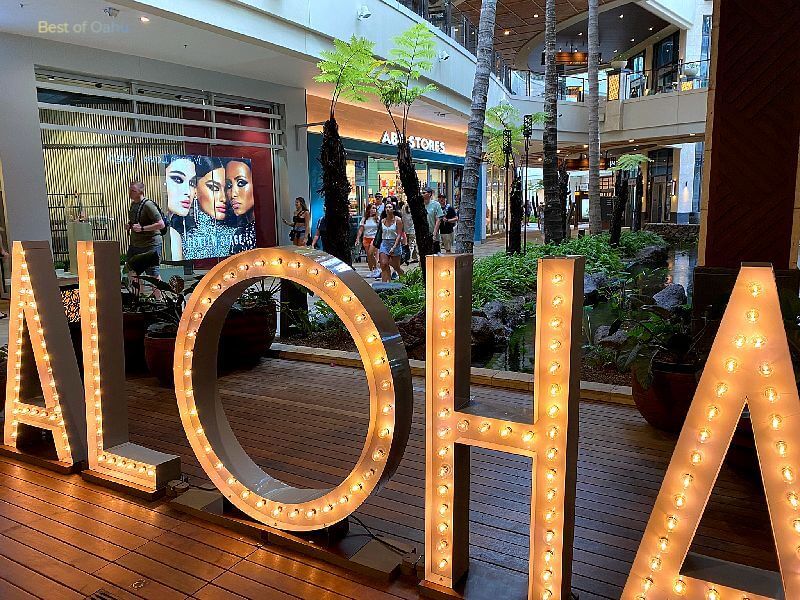 International Market Place
Aloha in Hawaii is a word that is loved and embraced by the community, and commonly expressed in names, signs, songs, and artwork.
Keep your eyes peeled when traveling about Hawaii and beyond, and you're most likely to find "Aloha" displayed in common and most unusual places.
Where have you found aloha displayed?  Share your pictures and stories and we'll do our best to post them. Here are some fun displays of the word that we've embraced so well.
---
Places with Aloha
---
Aloha Tower Marketplace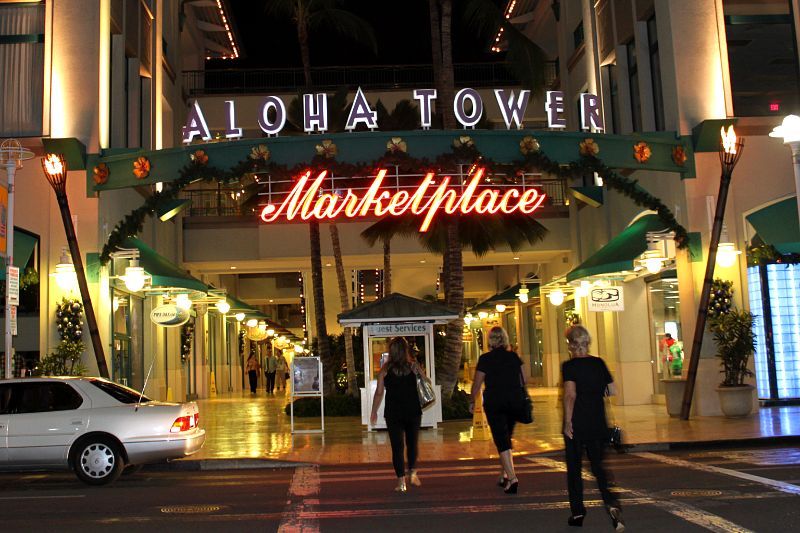 Aloha Tower Marketplace Sign at Night
The Aloha Tower Marketplace located below downtown Honolulu on the waterfront, was fully renovated in 1994 and again in 2012.  It's now a mix use for University of Hawaii housing and retail & restaurant space below. 
---
Aloha Beer Co.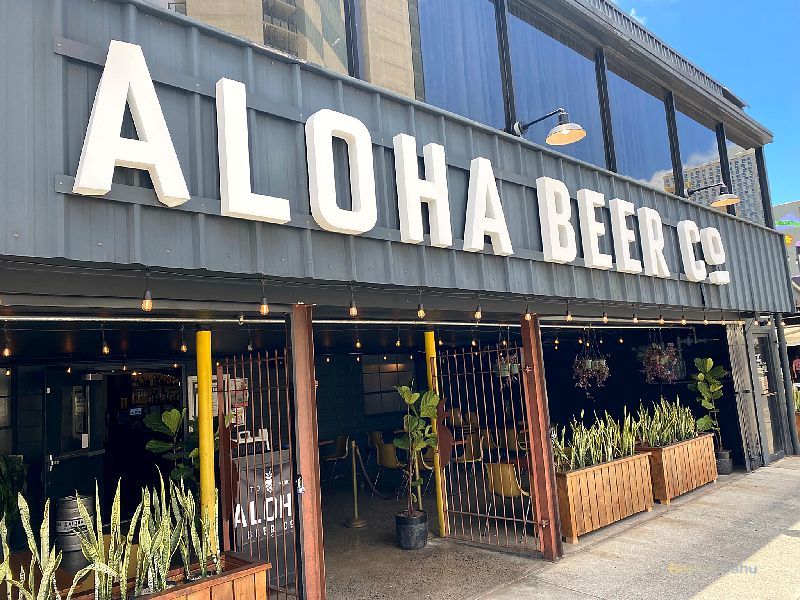 Aloha Beer Co
The Aloha Beer Co is a popular micro brewery that has a few locations on Oahu.  You'll find this featured location in the vibrant Kaka'ako district at 700 Queen St..  Check out more about the Aloha Beer Co on our Oahu Breweries page.

---
Aloha Stadium Swap Meet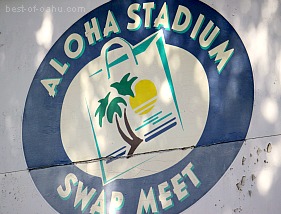 This sign was actually found at the popular Aloha Stadium Swap Meet, that usually takes place on the weekends outside of the Aloha Stadium in Salt Lake.  The stadium is currently being demoed and rebuilt.
---
Kai Aloha Hotel


How about staying at an Oahu hotel with some aloha...in the name. The Kai Aloha was actually an apartment hotel along the Fort Derussy Beach Park that is now permanently closed.  I guess aloha in this case means goodbye...
---
Aloha Artwork
---
Aloha at the Dole Plantation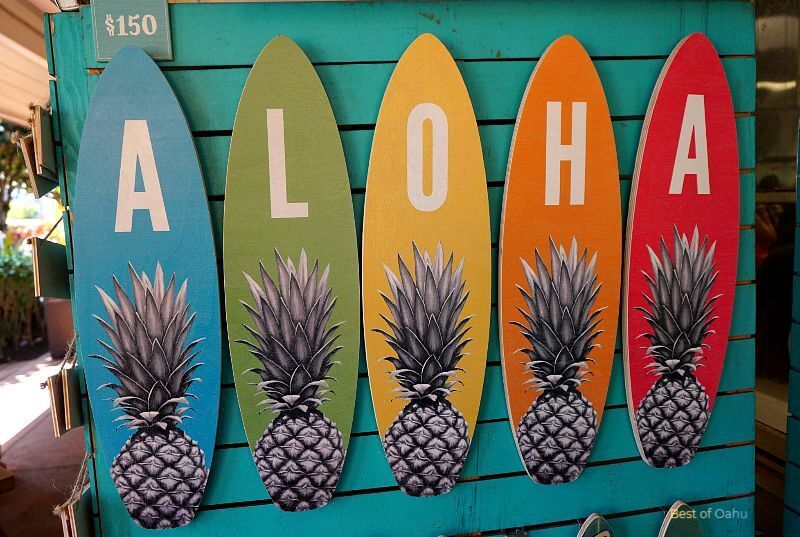 Here's a cool piece of artwork featured for sale at the Dole Plantation on the North Shore.  Aloha is spelled out on colorful surfboards, and may be a great way to greet guests at your beach house!
---
Kakaako Aloha Mural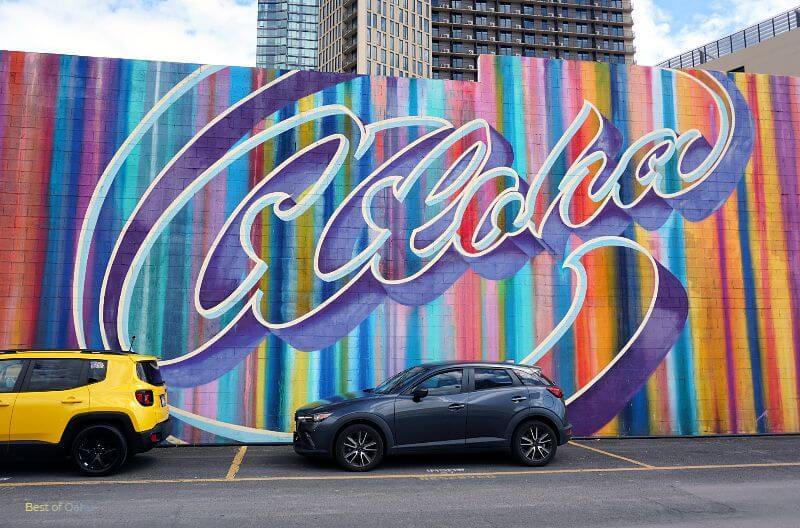 Kakaako Aloha Mural
The Kaka'ako district is covered with a plethora of captivating murals.  And what do you think the chances are that there is one that says "aloha"?
---
Beautiful Aloha Hula Art Pieces


Beautiful art pieces displayed in Waikiki shops, featuring abstract paintings of hula dancers in performance poses and "aloha" prominently written.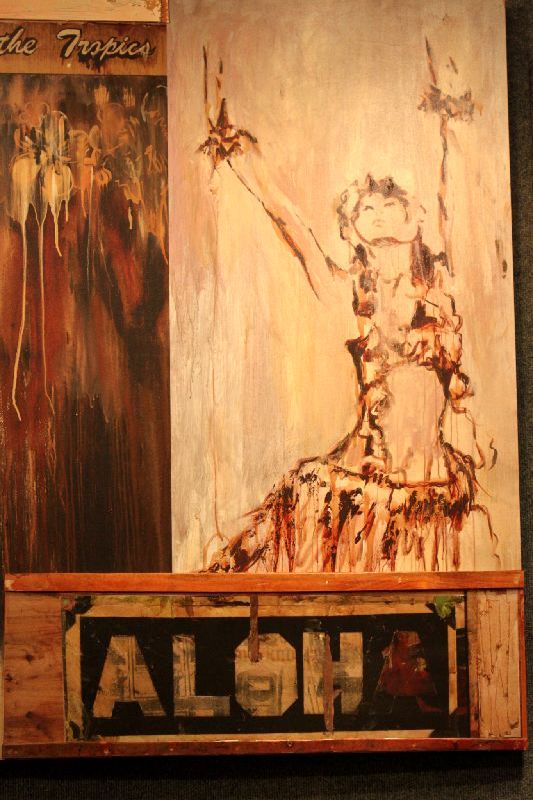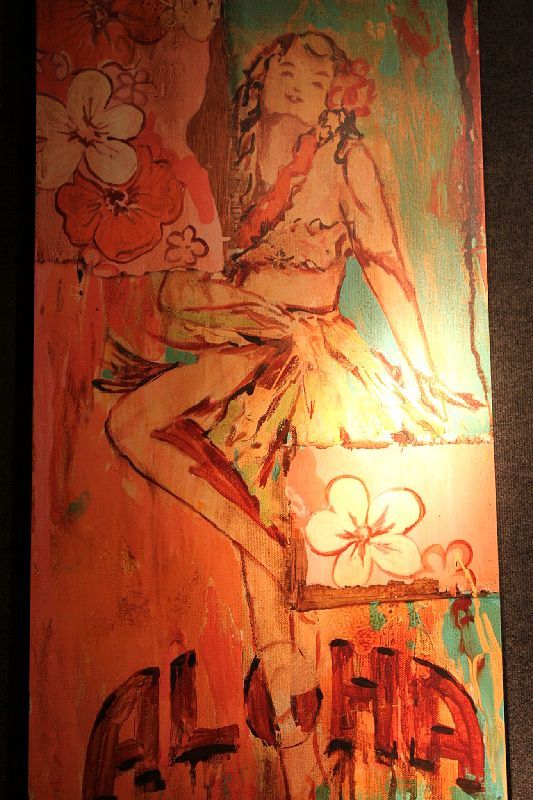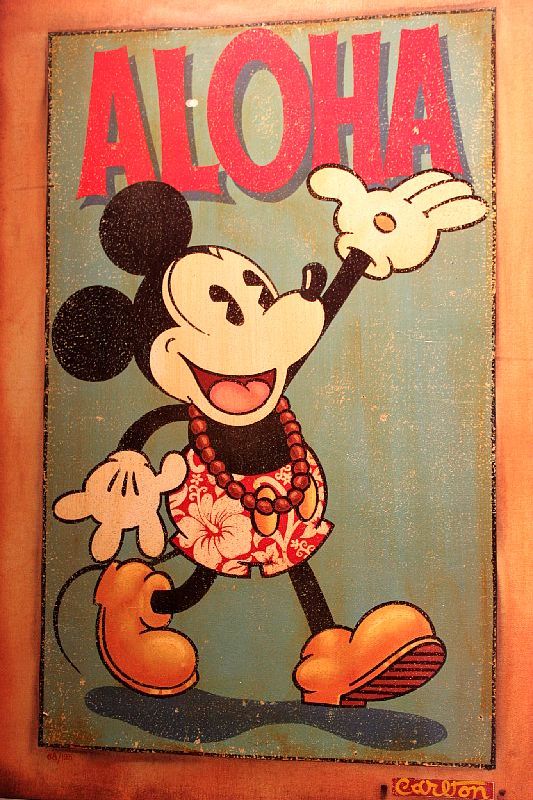 Below is a cool recreation of a vintage Matson Lines art board sign.
Vintage Aloha Matson Lines Sign
---
Endless Signs of Aloha
---
Aloha It's A Life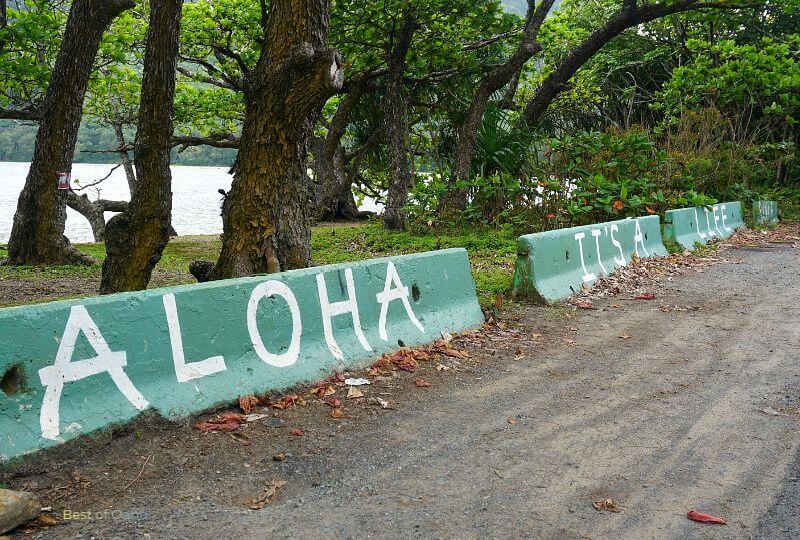 Graffiti is sometimes vandalism, and undesired, but how cool is this... cool enough to back up and take a picture!  "Aloha, it's a life" is what is displayed as you drive past while traveling northbound on the Kamehameha Hwy on the Windward side of the island.  Keep your eyes peeled as you wrap around Kaneohe Bay.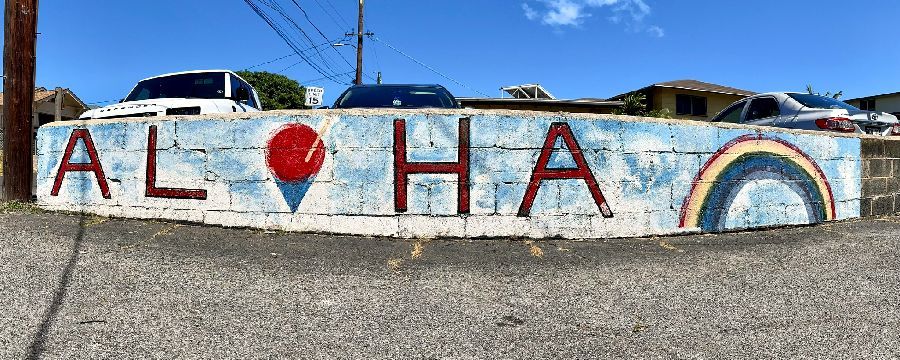 Waioloa Shave Ice Aloha Sign
Aloha expressed wide, clear, and beautiful. Visit Waioloa Shave Ice off of Kapahulu Ave and you're in for a double treat... one of the best shave ice on the island and this beautiful Aloha sign in the parking lot.
---
Waikiki Surf Racks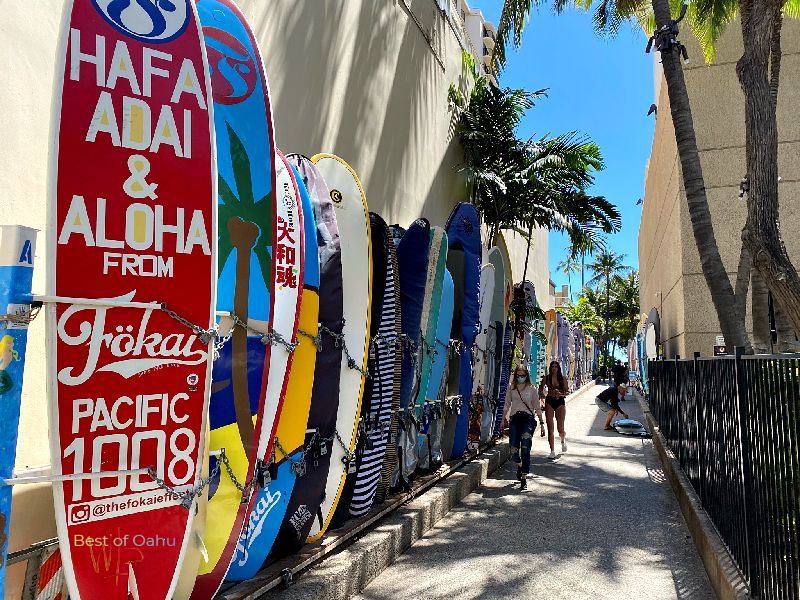 Waikiki Surf Racks
Adjacent to the Moana Surfrider is a famous Waikiki Surf Rack that is lined with surfboards along a beach access that takes you all the way out to the wide expanse of Waikiki Beach.  It's a fun walk where you can admire vintage and newer longboards.
---
Oahu Airport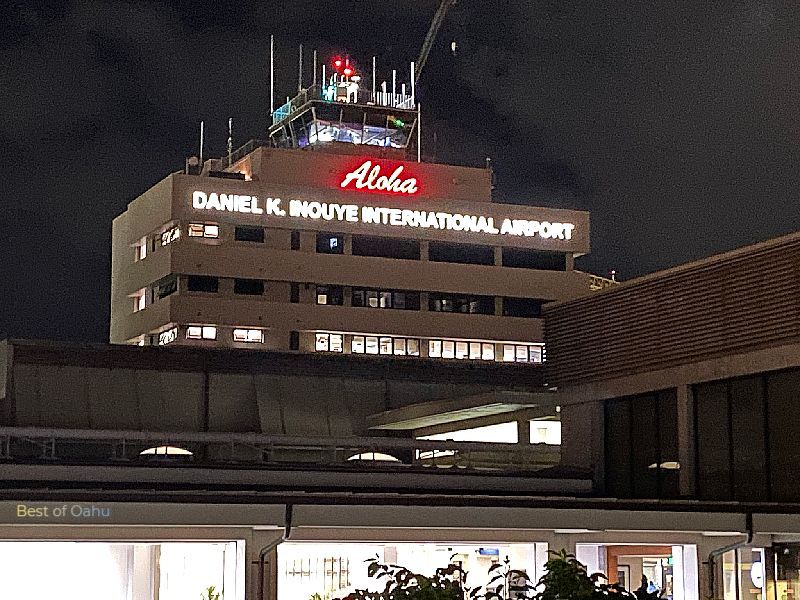 It might be the first thing you see getting off the plane at the Oahu Airport.  There are actually a few noticeable signs around the airport.  The the most notable one is when you go down the escalator to the baggage claim.  Just look up and be welcomed with a large sign of "Aloha".
---
Aloha Hale at the Polynesian Cultural Center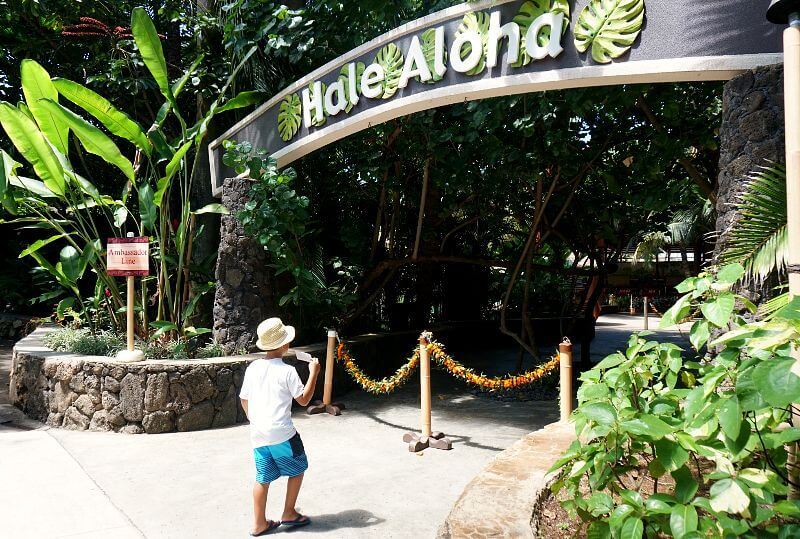 Polynesian Cultural Center Aloha Hale Luau
Hale is a common word used in Hawaii and it means "home" in Hawaiian.  You already know what aloha mean, so this is the "Home of Aloha" at the Polynesian Cultural Center.
If you're looking for a grand luau performance with the revealing of the  Kalua Pig from the imu (Hawaiian barbeque-stove) in the ground, than this we recommend signing up for the luau when visiting this Oahu attraction.
---
Aloha Wear
---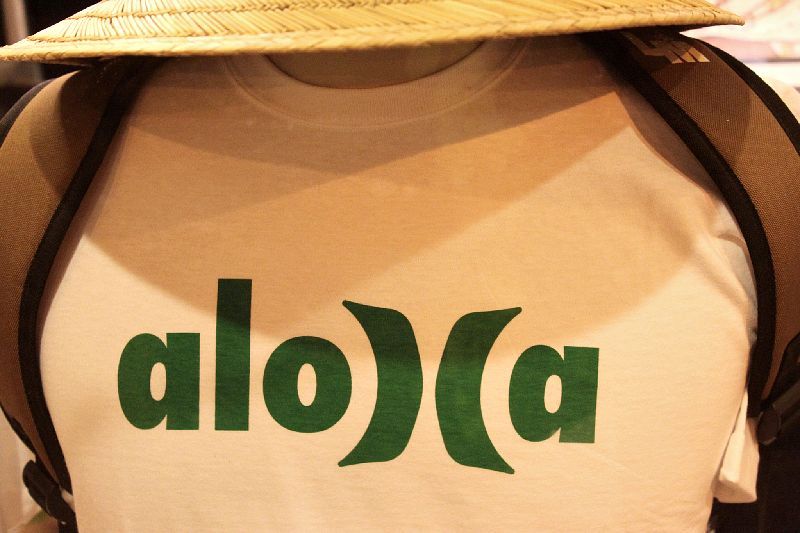 Aloha Tee Shirt Being Displayed
Walk into almost any clothing stores on Oahu and you're bound to find tee-shirts displaying a word that we've come to love and a word that means love..."Aloha"! 
---
Aloha & Enjoy!

Subscribe to receive Best of Oahu updates on events, updates, and new articles.  It's the closest way to paradise while you are away...
We will never sell or spam your information, and we'll respect your email privacy.