The Waikiki International Market Place
The Waikiki International Market Place has a new look and feel after a recent major renovation that created over a hundred new Oahu shops and restaurants throughout the market, added a public parking garage, and a huge lawn area for live entertainment performances, and nurtured an iconic banyan tree that is the heart and soul of this Waikiki shopping center.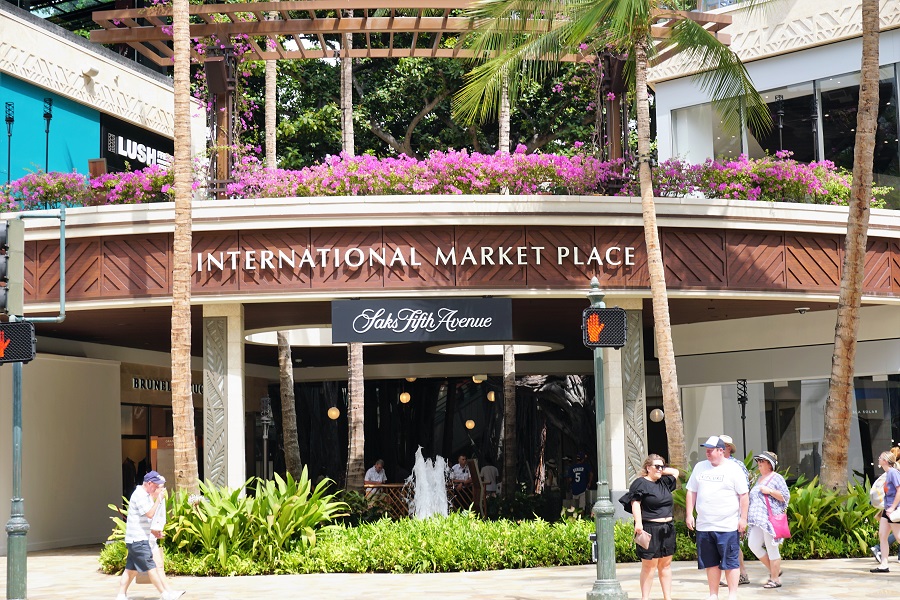 But this special place is really the story of 2 tales. The first being of the old classic market that offered a sense of adventure wandering through hundreds of unique kiosks, Hawaii props (like giant tikis on the walls, and life-size surfboard staged in a stationary barreling wave for a great picture with you on it), entertainers, and much more.
Today is the new chapter of the new Waikiki International Market Place that has a much cleaner look to it, with added waterfall features with running streams, huge lit-up 'Aloha' and 'Waikiki' selfie signs, and hearty rocking chairs on the 2nd & 3rd levels to relax and enjoy all the activity below.
---
About the Waikiki International Market Place
---
The International Market Place is a massive 3-story, open-air mall that runs from Kalakaua Blvd to Kuhio Ave.  The market is across from Waikiki Beach and the Moana Surfrider Hotel.
It is the central oasis of retail, entertainment, and dining destination that boasts around 90 stores and more than 12 eateries.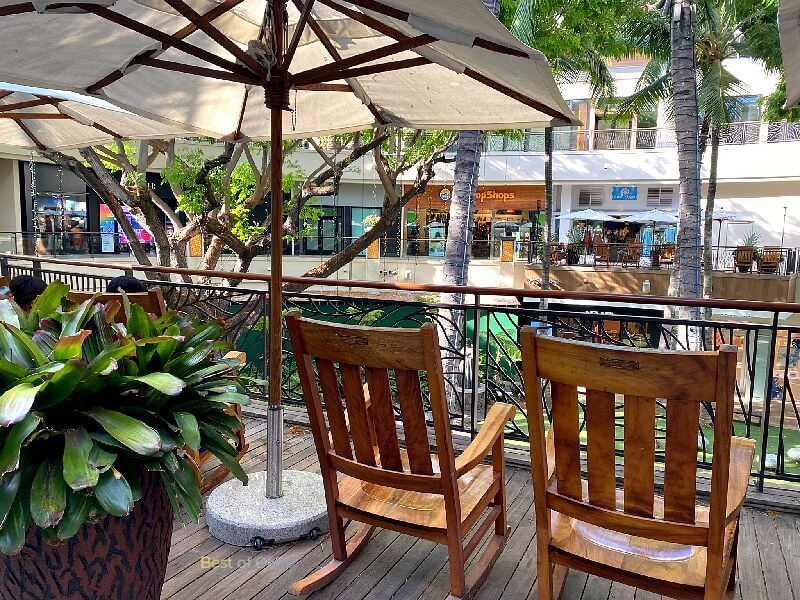 Striving to create a uniquely Hawaiian 'sense of place', the shopping center celebrates the culture and history of the island, and its people, via its landscaping, water features, information plaques, and general outdoor furnishings.

One of the first things you will notice about this recently renovated mall is its incredibly clean and well-maintained.
The first thing you should notice besides the large iconic sign out front is a gigantic old banyan tree that greets you when you enter. It was preserved and groomed during the renovation, which has significance as it provides a continuing link between the old market and the new shopping center.
---
Waikiki International Market Place History
---
Back in the day one of the best spots for entertainment, socializing, and shopping spots on Oahu was the old Waikiki International Market Place.
First opened in 1956, its composition was described by Honolulu Magazine just four years later as a place to 'browse through thatch-roofed shops for precious jade or seed necklaces, brocades or grass skirts, or an oil painting or postcard'.
At the time of its opening, the marketplace had a somewhat mysterious, captivating, and exotic vibe to it. Featuring dangling vines, footbridges that spanned dark pools, flowing cascades, tikis, and even the odd local quirk, like the clocks, which all ran on Hawaiian time - precisely seven minutes behind.

Even multiple tree houses were built in the giant banyan, one of which was a radio broadcasting studio and the other a private dining area.
Designed by Pete Wimberly, who enjoyed a reputation for being one of the world's foremost resort architects, and Donn Beach, who became the godfather of America's tiki craze, the marketplace included a number of little villages.
These villages represented different countries from around the world, including China, Korea, Japan, and the South Seas. They looked out onto a central bazaar, which had several dozen thatched stalls that vendors operated from, as well as a grassed courtyard area and an amphitheater where hula dancers performed.

While the layout sounds simple enough to traverse, in reality, it was actually a complicated labyrinth of interconnecting pathways, which were very easy to get lost in, particularly for tourists.
Once in it though, you were presented with an eclectic collection of the weird and wonderful, as vendors sold everything from rattlesnake canned meat, and the most divine cheeses from Europe to gold chains that you could buy by the foot, and the most beautiful artwork.

Catering predominantly to tourists were several other entrepreneurial types, who walked round with parrots or Macaws you could take photos with. There was even a surfboard on the first-floor level, which enabled you to have your picture taken while riding a perpetual wave.
There were plenty of good food options too, as well as magicians, musicians, and fortune tellers. All of which created a cherished and unique ambiance that most folks came to love over the decades.  You can still find the popular 'Bird Guy' who displayed his colorful birds in front of the market and allowed folks to take a picture with them.
That is until visitor numbers, especially from locals, and due care and attention from its vendors started to dwindle after the turn of the millennium.  To the point that in 2013, the market started to show its age, and the novelty started to wear off.
---
Waikiki International Market Place Renovation
---
Despite some opposition, which included an online petition, which was signed by over 2,500 people to 'stop the development of Saks Fifth Ave, the original Waikiki International Market Place closed for the last time at 8 pm on December 31, 2013.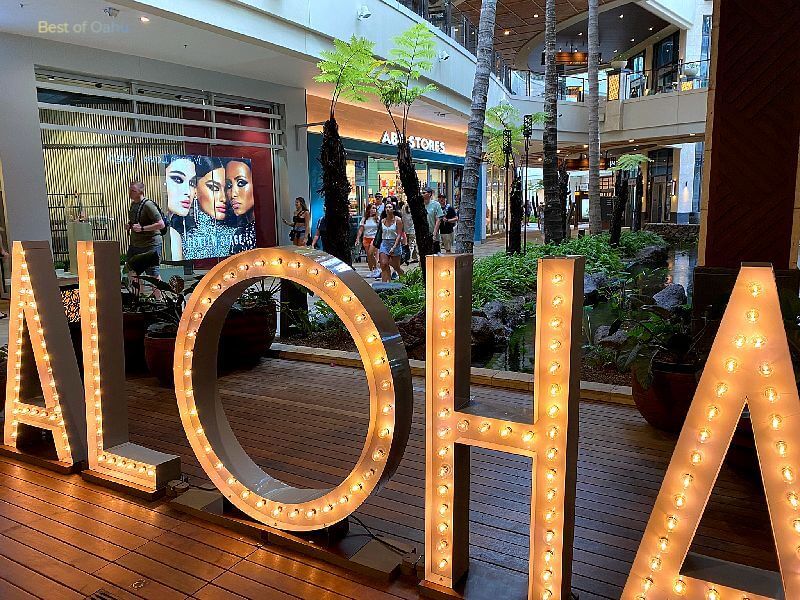 At this time, every shop, eatery, cart, kiosk, booth, and dive bar had been vacated, along with 180 tenants at the Miramar hotel and Waikiki Town Center were also displaced.

The entire six-acre site was then razed prior to construction beginning.  After a complete renovation that cost almost half a billion dollars and created some 2500 jobs, it reopened again as the main place for shopping on Oahu, on August 25, 2016.
Spread across 345,000 square feet of floor space, it now features upscale boutique shops along 2 levels, and several gourmet restaurants on the third level, as well as a parking structure that contains more than 750 spots.
---
The Marketplace Banyan Tree
---
Despite the major refurbishment, one thing that remained was the iconic Indian Banyan Tree that in many ways defined the marketplace.
Planted sometime around 1850, it offered shade for visitors for almost 6 decades, and was considered by many to be the heart and soul of the venue.
During the renovation, temporarily moving and then replanting the banyan tree was a mighty endeavor, which apparently involved mapping over 8 million points of data to ensure every leaf and root of the tree was respectfully preserved.

The tree now stands at the entrance of the Waikiki International Market Place, and according to the president and CEO of Taubman Centers, who was the developer, the whole shopping center was planned around the tree.
Make sure to take the escalator to the 2nd level where you can enjoy the grand presence of the tree from a different perspective and walk the pathway that travels around it and through the special tree house.
---
Waikiki International Market Place Shops
---
If you are looking for things to do in Waikiki, this is a must stop with 90 stores to explore.  For the last few years, it was anchored by Saks Fifth Avenue, which took up three levels and occupied around 80,000 square feet.
This however is in the middle of closing and is soon to be replaced by Target. But there are plenty of other stores to 'shop till you drop' at.
You can choose to add to your wardrobe at Abercrombie & Fitch, Banana Republic, Hurley, or Vince, while Billabong and HIC are great places to score some new local surf gear.

You can also buy Hawaiian jewelry from Pandora or Maui Divers, watches from Rolex, or even gifts and merchandise from Manoa Love.  Other shops worth exploring include ABC stores, CocoNene, Sunglasses Hut, DeRubeis Fine Art, and even Tesla.
---
International Market Place Restaurants
---
Throughout the Waikiki International Market Place you will find over a dozen eating establishments which range from upscale restaurants to quick poke bowls.
One of the new popular eateries is the Crackin' Kitchen, which offers a delicious menu of Cajun cuisine that has been doused with plenty of Hawaiian spirit.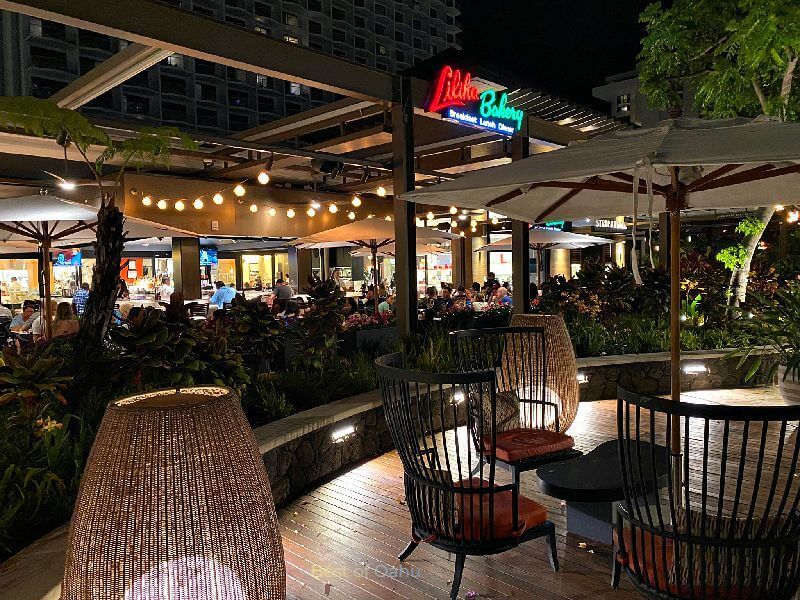 Eating House 1849 is another favorite, which presents haute cuisine that meets the vision of award-winning Chef Roy Yamaguchi, while the top-notch meat dishes and line-caught seafood on offer at Herringbone get rave reviews too.

Other excellent dining options include Moani Waikiki, which is an ohana-run restaurant that presents hearty comfort food which has been prepared from local Oahu recipes that have been passed down through the generations. The Kūhiō Ave. Food Hall is an excellent place for tasty burgers and delicious Mexican food.
Uncle Sharkie Poke Bar, STRIP STEAK Waikiki, and Skybox Taphouse provide you with other fabulous options, while your sweet tooth can be satisfied at b Patisserie, Magnolia Ice Cream & Treats Liliha Bakery. Good luck just trying one, as they are all exceptionally delicious!
---
Market Place Events
---
As well as shopping and eating, the mall is a major destination for events, too.
Throughout the year, it hosts many different venues from weekend concerts and themed holiday shows to cultural celebrations and even stargazing activities.
These events do tend to revolve and change regularly. However, some of them include the likes of 'Let's Play The Game', which is a YouTube inspired game show, as well as free fitness classes, that both take place at the Queen's Court.

Ongoing Events Include:
O Nā Lani Sunset Stories Hula Show

- Mon, Wed & Fri 7 PM (Mar - Aug), 6:30 PM (Sept - Feb)

Moani's Hawaiian Style Pāʻina (Live Entertainment & Hula)

- Every Mon 5 PM to 7 PM

Royal Hawaiian Band Performance - First Thursday 12 PM to 12:45 PM
Queens Waikiki Lu'au

- Tue, Thurs, Sat & Sun 5 PM to 8 PM  - Tickets Required
On any given night there are plenty of live music performances, a farmer's market, and even cocktail mixology parties.
See more for Market Place Events
---
Prepare to be transported to a world of Polynesian enchantment in the heart of Waikiki.  While many of Oahu's luaus are locate far outside Waikiki, the captivating Queens Waikiki Luau, is conveniently nestled on the great lawn in Waikiki's iconic International 

Market Place. Immerse yourself in Hawaiian traditions with mesmerizing hula performances, and indulge in the mouthwatering Kalua Pork that is just part of the luau spread.
This is a great way to enjoy the traditions of a luau experience and create a memorable experience without the inconvenience of leaving Waikiki.  Reserve your spot as seating is limited.
---
Interesting Facts
---
The land on which the shopping mall stands was once owned by King William Charles Lunalilo, who was the first elected king in Hawaiian history.
It is a little known fact that some of the revenues made from the Waikiki International Market Place in Oahu directly support The Queen's Medical Center.  If you miss the old marketplace how it used to be, don't worry. There is a cool replica of it in Las Vegas called the Hawaiian Marketplace.
---
Other Shopping Areas on Oahu 
---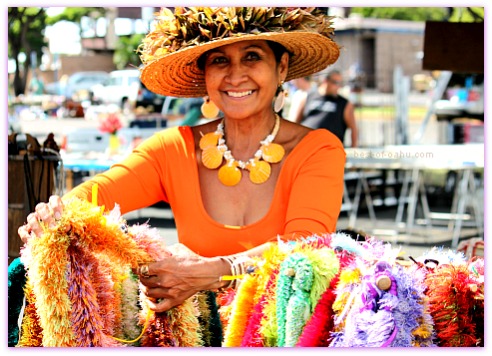 While the Waikiki International Market Place is one of the best shopping on Oahu experiences, you should also consider the Royal Hawaiian Shopping center, which is just across the street.  The Ala Moana Center by far is the biggest mall in Hawaii, but also consider a unique shopping experience at the Aloha Stadium Swap Meet.
---
Market Place Info
---
Return to Best of Oahu Home Page
Aloha & Enjoy!

Subscribe to receive Best of Oahu updates on events, updates, and new articles.  It's the closest way to paradise while you are away...
We will never sell or spam your information, and we'll respect your email privacy.