Aloha Stadium Swap Meet
The Aloha Stadium Swap Meet is best described as a Hawaiiana shopping extravaganza, that's both entertaining and overwhelming at the same time.  This Oahu shopping event is sometimes referred to as the Aloha Flea Market, and is a world all on its own.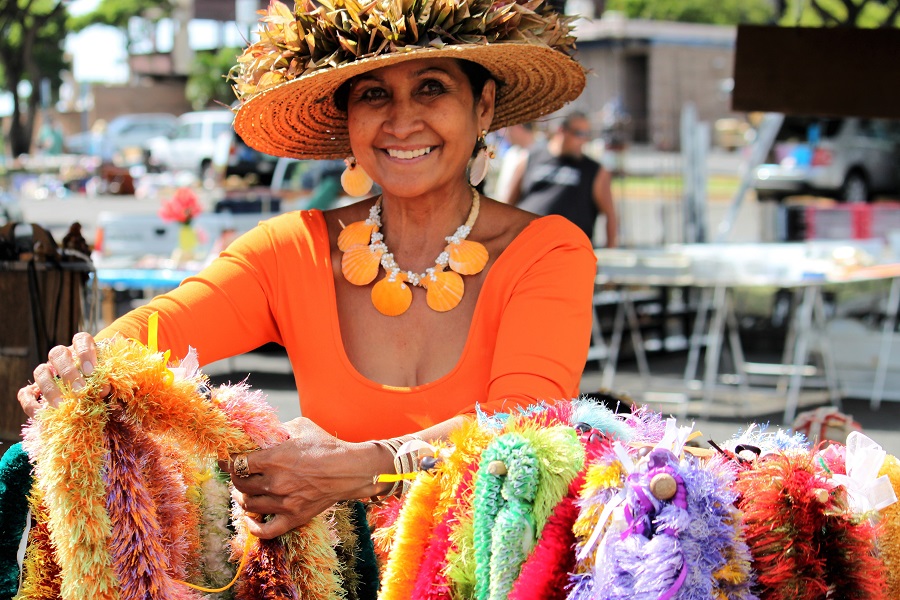 Every Wednesday, Saturday and Sunday, hundred of vendors start first thing in the morning setting up their booths in the dark around the stadium, encircling it multiple times to fit everyone in rows that are easily a mile long. It is an absolute  "Hawaiiana" bazaar where you can find anything and everything your heart desires.

---
A Journey Through the Swap Meet
---
My advice is to show up early and don't plan on conquering it all.  The booths will seem endless as you start your stroll into the Aloha Flea Market.
You will no doubt second guess yourself whether you've started off in the right direction, and in the right row for that matter…trust me everyone does!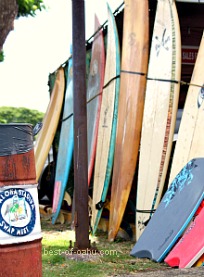 If you are only going to have one shopping extravaganza on Oahu, this might be the right choice.  You'll find just about everything here, from Aloha shirts to used surfboards, and everything in-between.  Take your time as I have found lots of good finds through out this marketplace.

---
What you'll find...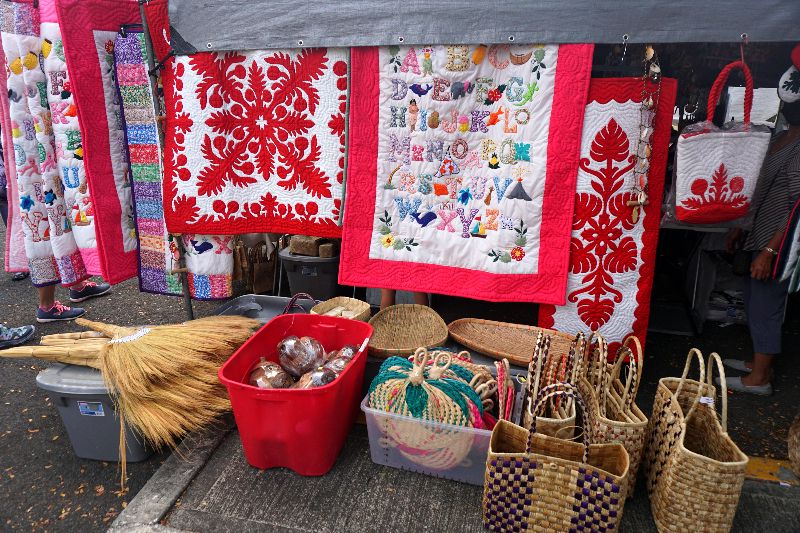 You'll also find a wide variety of Hawaiian jewelry, handbags, locally designed and designer knockoff cloths, martial art weapons, house hold items, local artwork, and just about EVERYTHING Hawaiiana.  


And let's not forget some hibiscus-printed luggage or bags to ship everything back in.  Good luck on trying to only choose one!

Discounts, discounts, and more discounts…without a doubt you're going to find some good discounts!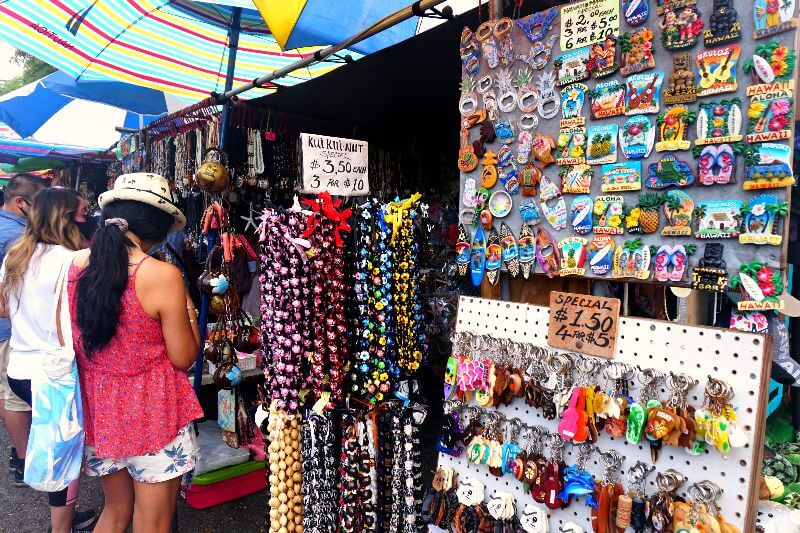 And I promise you that once you have purchased something, you will find it again in a different booth for a cheaper price, so it might be worth it to browse and take note of which booths you'll want to come back to after checking out multiple stalls that sell the same items. 
Stay patient and continue to shop around once you've found something that you like, or learn how to bargain!  Almost everything is negotiable!
And by the way, I always negotiate for a discount, and you should too if purchasing multiple items. You would be surprised at how willing the vendors are to give in to your haggling especially when it's nearing closing time.   But if you feel awkward trying to get a discount, you can at least feel good knowing you most definitely purchased your items at a cheaper price than what you'll find in Waikiki.  So it's all good!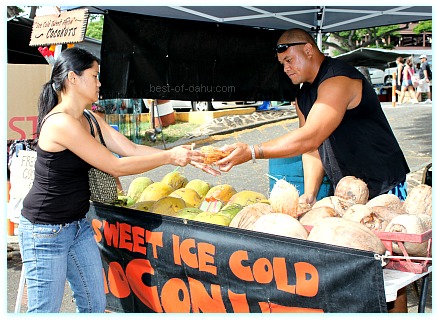 Did I mention there are some great local food booths as well, selling fresh local produce, flavorful island treats, and tempting lunch items.
And don't pass up on some refreshing coconut water that is cut open in front of you with a machete, and handed back over with a straw!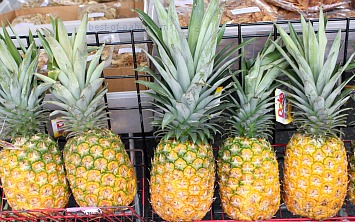 Treat yourself to a fresh mango, papaya, or some pineapple.  My favorite food vendors are the Crack Seed (dried fruit) and Japanese rice cracker (also known as Kakimochi) booths.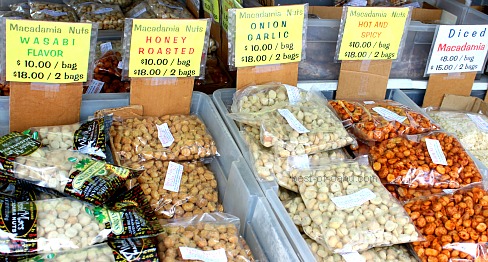 Kakimochi is so popular on Oahu that you'll sometimes find it mixed in with your popcorn at the movie theaters.  Crack seed can be an acquired taste.  There are different styles such as dried or pickled, and many different flavors to discover.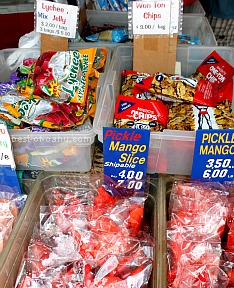 Consider taking some of these unusual local treats home to your family and friends to try.  Whether or not they'll like it, I'm sure it will make for a great conversation and memories.

---
Local Artwork on Display
This is also a special marketplace where you'll find local artists displaying their original artwork pieces in all different types of media.

Wood carvers, quilt weavers, painters, jewelry makers are just a few that make up diverse creativity that's on display.  If you're lucky, you'll get to see some of the crafters busy at work, bringing to life their next masterpiece.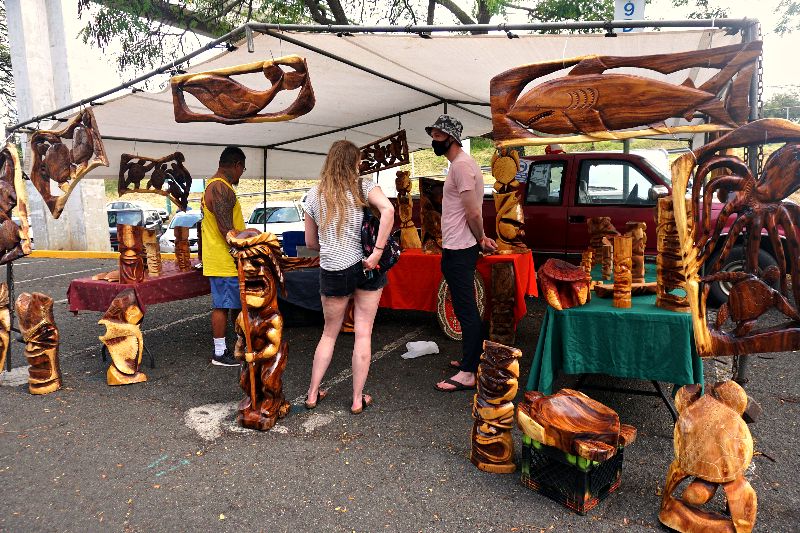 ---
The Aloha Stadium Swap Meet is such a fun experience with so much to offer! And it continues to evolve over the years.

Some folks come to discover the best deals to be found outside of Waikiki, while others are here to find that unique, special gift or Hawaii souvenirs that you just don't find anywhere.  Whatever draws you here, consider it one of the best Oahu shopping experiences on the island!

Days & Hours of Operations:  Wed, Sat & Sun – 8 am to 3 pm
Information:  (808) 468-6704
---
Getting to the Aloha Stadium Swap Meet
---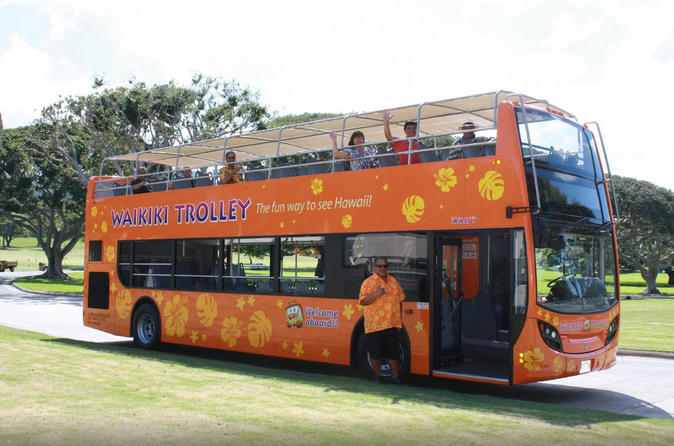 The Waikiki Trolley visits many Honolulu Attractions including ones surrounding Diamond Head, Waikiki, Ala Moana, Aloha Stadium and more. There are 4 different routes to explore: Scenic Tour, Historic Tour, Shopping Tour, and the Island Tour.
Tickets start around $30 for a child day pass, and go up to $55 - $75 for an Adult 7 day pass. 

---
Driving Directions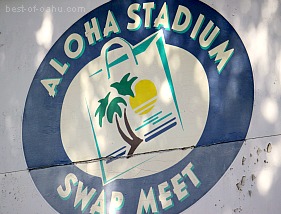 From Waikiki:  It will take about 20 minutes
Take the H-1 Freeway and head west
Take the H-201 Freeway towards the airport
Exit once you reach Salt Lake (about 10 minutes) at Kahuapaani (Exit 1D)
Continue on the Ulune extensionTurn Left on Kahuapaani St
Follow signs leading you into the Aloha Stadium parking lot

99-500 Salt Lake Boulevard, Honolulu, HI 96818

---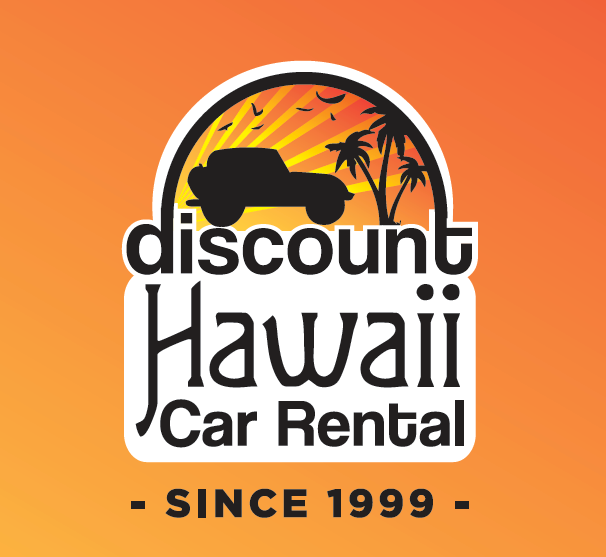 Need a good rental car option for the day?  Whether you would like to visit a beach, a popular Oahu attraction, or explore the island for just a day, consider these great, discounted rent-a-car rates with Discount Hawaii Car Rental.  They also have great packages for your entire trip...
---
By Oahu Bus
From Waikiki it will take about an hour on the Oahu Bus
Take the number 20 or 42 Honolulu Bus from Kuhio Ave
It will take you a little over an hour to get there
Ask the bus driver to notify you where to get off

---
Oahu Map to Aloha Stadium


---
Aloha Stadium Swap Meet Tips
---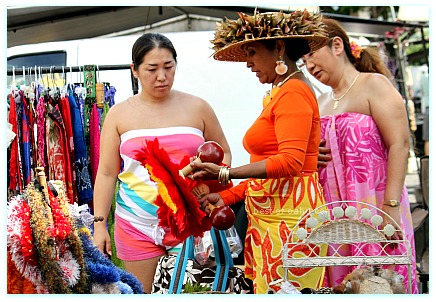 Start Early - I can't stress enough to arrive in the morning!  The sun tends to get hot around the stadium…maybe its do to all the surrounding concrete!  Whatever the reason…you'll feel the heat quickly if you arrive midday.
Bring a hat, sunscreen, water, and maybe some sunglasses…or plan on purchasing these items at the Aloha Flea Market.
Have an exit plan – don't plan on seeing it all…you'll regret it!  You'll find many good booths and deals in a short period of time.  Decide what time to leave before getting started, and stick to it!
Parking – remember where you parked!  Once you start walking around the stadium, your location and parking spot can become confusing.  Take a picture on your phone of the section where you parked.

---
In the Area
---
Enjoy up to a 5-hour shopping spree outside of Waikiki with transportation at the Waikele Premium Outlets & Shopping Center.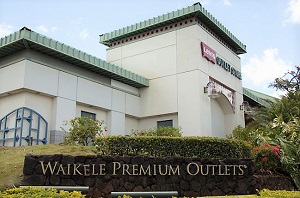 Explore discounted merchandise from over 50 name brand stores spread out over 5 sections within the outlet center.  Included in the lineup you will find Armani, Coach, Ralph Lauren, Converse, Kate Spade, and Saks OFF Fifth.  Learn More...
Continue your shopping on Oahu adventure and grab a bit to eat across the way at the Waikele Center. More details here…
---
Pearl Harbor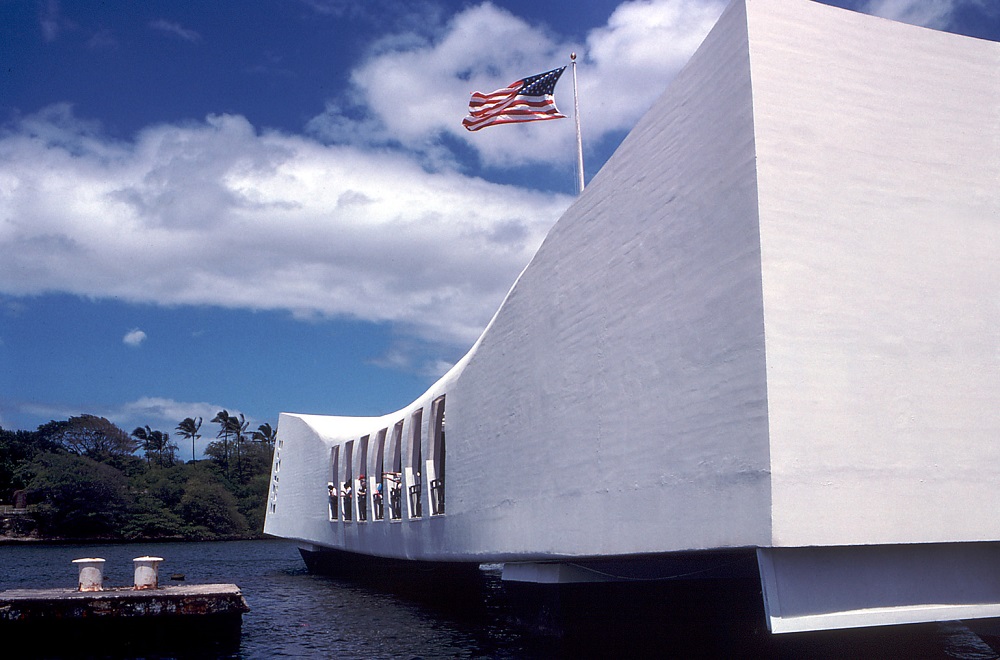 The Pearl Harbor Visitors Center is just 5 minutes down the road.  Take a ferry ride across the bay to view the Arizona Memorial, or take a shuttle bus across the Pearl Island Bridge to climb aboard the Battleship Missouri.  The popular USS Bowfin Submarine, and the Pacific Aviation Museum are also available for viewing.

---
Bishop Museum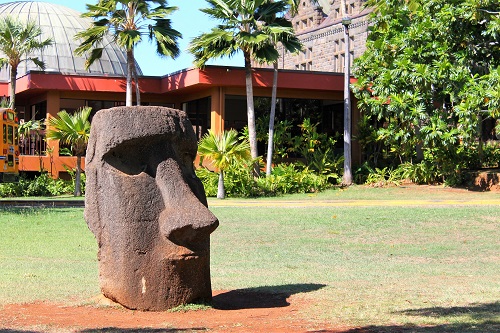 10 minutes away and the price of admission will transport you into Hawaii's past, culture, monarchy, and much much more.  I can't tell you how much of a treat the Bishop Museum is visiting.

The Hawaiian Hall and Kalihi Room are rich in Polynesian and Hawaiian artifacts that are not found collectively in many other places.

---
Chinatown Honolulu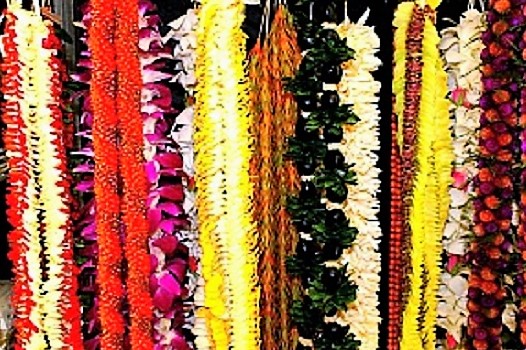 Downtown Chinatown is another fun eye opening shopping experience!  Get lost in the historic Chinatown district, and explore the art galleries, Asian gift shops, local produce stands, and the diverse restaurants, which surrounds it all.  Also don't miss the colorful lei shops that help gives Chinatown Honolulu its flare.

---
Return to Best of Oahu Home Page
Aloha & Enjoy!

Subscribe to receive Best of Oahu updates on events, updates, and new articles.  It's the closest way to paradise while you are away...
We will never sell or spam your information, and we'll respect your email privacy.