Best Hawaii Souvenirs to find on Oahu
Oahu is a magical place to visit, and some of the best memories are best preserved through Hawaii souvenirs. Hopefully, you'll have an opportunity to walk our beaches, visit some Honolulu attractions, see raw beauty around the island, taste a little aloha, and experience some culture through attending a Hawaiian luau or local performances. Take a little memory of Hawaii home with you, and hopefully it will help bring you back one day.

Delicious Chocolate Covered Macadamia Nuts, Elegant Hawaiian Jewelry, Good Luck Tiki Idols, and Dancing Hula Dolls are some favorites among the best Hawaii souvenirs you'll find on Oahu. You'll find these and more in places like ABC Stores, Longs Drugs, Walmart, and other gift shops around the island.
---
#1 Chocolate Covered Macadamia Nuts
---
Creamy and buttery, are the most common words used to describe the taste of the legendary macadamia nuts, the most expensive nuts in the world. They will take your taste buds to another planet in a marriage with chocolate. And no wonder why they are the #1 Hawaii Souvenir to take home. 
Did you know that the "macs" originally came from Australia? Yet they have become a symbol of Hawaii because Hawaiian entrepreneurs have the merit of having introduced the tree to the Aloha state, developed plantation production, and a renowned macadamia-based confectionery industry. 
ABC stores and other grocery and convenience stores carry the most iconic brands, like "Hawaiian Host" launched in 1960 by Mamoru Takitani and his wife Aiko, the first who experimented with dipping macadamias in chocolate. A secret recipe for the chocolate mix used by Takitani was the springboard of success. Today the company produces more than 250 types of sweet delicacies. 
Another classic of gourmet Hawaiian candies is "Ed & Don's", which has been making macadamia brittle and other gourmet macadamia treats since the late 1950s. They have recently added matcha, sea salt and pineapple flavors, and an original Aloha-shirt packaging that you can fold, origami-style, to create a miniature cardboard shirt with colorful printed motives. An excellent souvenir idea. 
Two more classic brands, "King of Hawaii" and "Island Princess", are also available and easy to find. With them, you can expand your macadamia experience with an award-winning Popcorn Crunch, the Mele Macs that coat the nuts in delicious toffee before covering them in chocolate, luxurious Royal Wholes wrapped in dark chocolate and much more.
---
#2 Hawaii Keychains
---
A keychain ring is the simplest of objects, but it's always with you, making it a great souvenir. Browsing all the fancy shapes and colors that decorate these useful trinkets is a favorite fun activity when visiting ABC Stores, Longs Drugs or even Walmart.
The typical Hawaiian icons you'll see are Honu sea turtles, pineapples, plumeria flowers, surfboards, dolphins, palms, flower sandals, and even slippers are all represented. You can get them in enameled metal, plexiglass, carved wood, studded with colorful rhinestones, engraved with the popular "Aloha", "Hawaii logo", and "Hang loose" tags.
Some new collections are even more original, like the mini Tiki idols and colorful minuscule leather purses. Key chains are inexpensive, so you can quickly start a collection.
---
#3 Water & Coffee Tumblers
---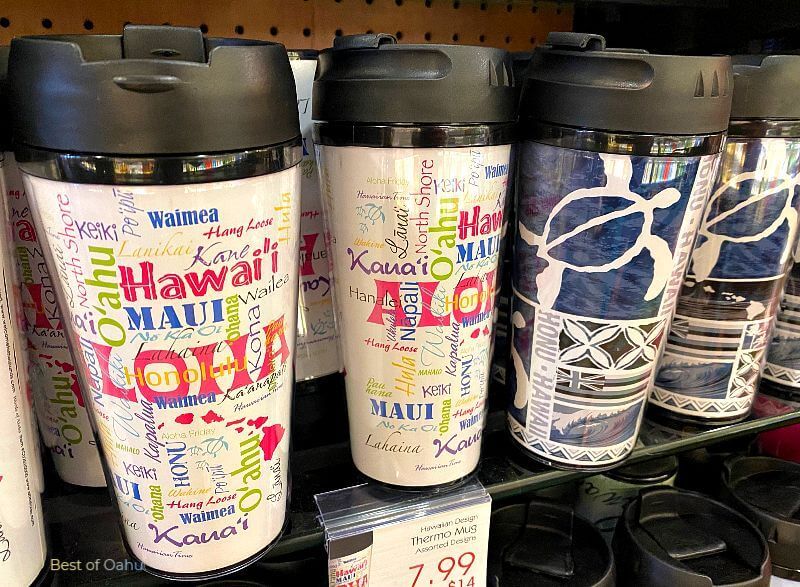 Useful, eye-catching, and reusable drinkware are a great purchase for traveling around the island, as well as great Hawaii souvenirs to give friends and family back home. Reusable tumblers, water bottles, and travel mugs are also a great choice to reduce the quantity of plastic waste from disposable cups and bottles.
Get yourself a thermal tumbler in BPA-free acrylic, and your Mai Tai will stay cold while out in the hot sun as the tumbler is double insulated, and the twist-on lid fits tight. Pick your favorite colorful designs among plumeria flowers, vintage maps, hula dancers, sea waves or popular Hawaiian words like "aloha".
Water bottles come in several collections of different dimensions and colors, these too decorated with island motives. Stainless steel is the material of choice. If you need a total thermic insulation, choose an Island Style Flask, double-walled and vacuum insulated: your beverages will stay cold or warm as you need them, for hours on end.
---
#4 Tiki Idols
---
The word "Tiki" comes from Māori mythology, describing the first human being and its wooden image. The Tiki Hawaii souvenirs you can purchase in ABC Stores or other gift shops are a tribute to this ancient part of Hawaiian culture and modern innovation.
Here is how the story goes: you will notice that they are labeled "hapa wood", which is not a tree but the creation of one more historic immigrant to Hawaii. The later Donald Gallacher, a former US marine and tuna boat captain, launched a souvenir business in the 1960s that became a favorite of tourist shopping in Oahu. "Coco Joe's" is the brand that made it famous.

Hapa wood is a mixture of sawdust and resins, similar to the mixture of pulverized lava and resins first invented by Gallacher. He produced enormous quantities of sculptures and other decorative objects inspired by Hawaiian mythology and history, molded with his two innovations.

"Coco Joe's" has gone out of business many years ago, but you can buy the modern remakes of iconic Tiki ancient gods, king Kamehameha and lovely hula girls in any ABC Store. They are made with poly resins that recreate the vintage effect of Gallacher's hapa wood and lava. Get a key chain version if the sculptures are too cumbersome for you.

Getting a poly resin Tiki will also keep you safe from the curse of the volcano goddess Pele: never take away lava rocks or sand from Hawaii, or you might endure bad luck!
---
#5 Hawaii Tee Shirts
---
When it comes to tee-shirts, ABC Stores have an edge in the balance between price, quality, and fun designs. They do not pretend to be high fashion, nor do you need that when shopping in Oahu. You can easily find luxury brands in specialized shops if you want them. On the other hand, you can find dirt cheap Hawaii design tee shirts in several places in Waikiki and if you visit the Aloha Stadium Swap Meet.
The average Hawaii souvenir tee shirt will cost well below the $20 threshold, even for cute embroidered models for ladies. Often you will run into offers that will let you have several pieces for the same price so that one could cost you as little as $5.

Affordable tee shirts are great if you have a large family and/or many friends (check out the collections for kids too) that you want to gift. Island designs are unique and affectionate... the thought is quite enough for a small gesture.
---
#6 Kona Coffee
---
Hawaiian coffee is considered one of the finest and most expensive in the world. The most famous brand is the Kona coffee, from the name of the specific coastal region on the slopes of the Mauna Loa and Hualalai volcanoes on the Big Island.
What is so special about Kona coffee? And why is it so expensive? The secret is in the fertile volcanic soil and the climate, mild but not too hot and with lots of afternoon rain.

Kona coffee is only grown about 60 square miles and is usually picked by hand. The coffee beans are found in "cherries" that must be bright red, i.e. fully ripe, to give the best aroma. So there is a lot of manual work involved, and also in the cleaning, drying, and roasting of the beans.

The smooth, fruity taste of Kona coffee is so special that true coffee lovers do not mind the high price. Note that the only content labeled 100% beans grown in the 700+ farms in the Kona belt has the right to be labeled "Kona coffee". While "Kona blends" must have at least 10% Kona in the mix.

ABC stores carry both pure 100% Kona and 10% Kona blends, and also "Hawaii blends": coffee is grown also on the other large islands, including Oahu. They have a much smaller number of farms than in Kona, but Maui coffee is famous too, and the largest of all the plantations are located on Kauai.

Find "Kauai Coffee" in ABC stores, along with classic Kona brands like "Royal Kona", "Lion", "Hualalai Estate". And more Hawaiian blends under the labels "Hawaiian Paradise – Pure Estate", "Mulvadi", "Aloha Aina", "Hawaiian Isles".
---
#7 Hawaii Coffee Mug Souvenirs
---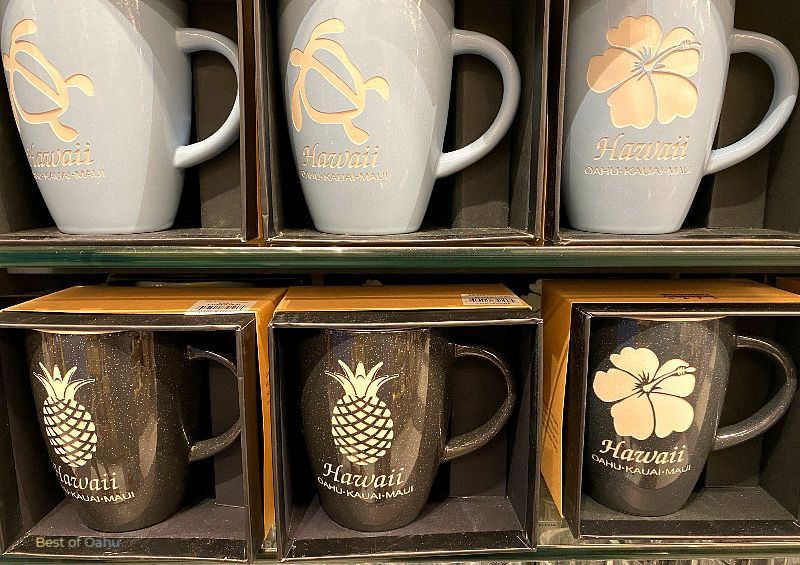 Hold a colorful painted ceramic mug full of fragrant Hawaiian coffee and let it warm your palms on a cold winter day... The bright colors of tropical flowers, swimming green turtles, graceful Hula dancers, pineapples, and surf boards will bring back island memories and make great Hawaii souvenirs.

Travel mugs are so handy when you are on the move, but there is nothing like ceramic mugs when you can enjoy the comfort of sitting quietly at home and taking your time to enjoy a warm drink. Decorated mugs are also fun to collect, and you'll find different designs inspired by the bountiful Hawaiian flora and fauna and Island lifestyle.
---
#8 Toy Ukuleles
---
Can you make music with the souvenir ukuleles sold in ABC stores? Most expert musicians will tell you that if you are serious on becoming a fine player, you will need to spend much more to get a high-quality instrument.
But to start training your fingers and get the knack of it, these inexpensive beginner's models will do their job. And look great hung on a wall after you finish practicing.

The lovely pink and blue ukuleles with flower decorations have long been a classic souvenir of the chain. They also make great Hawaii Souvenirs and gifts for children.
---
#9 Island Print Stickers
---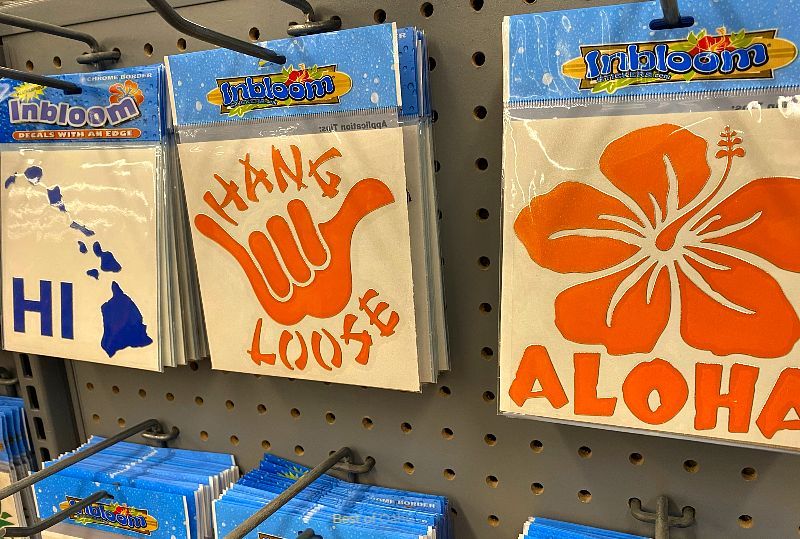 Do you want everyone to know that you have been to Hawaii? Personalize your car bumper, laptop cover, doors & walls, or whatever smooth surface you want to display an island print sticker. 
The Tiki Toes collections of stickers sold by ABC Stores are made of high-quality vinyl. This means that you can apply them also on outdoor surfaces (like a tiki bar), and they will keep perfectly for years, without fading, stretching or shrinking. They are also easy to remove, unlike paper stickers, once you get bored and want to change them. 
You'll find neat designs like the Hona turtle, a hibiscus flower, and a Shaka – "hang loose" hand sign.
---
#10 Tropical Pancake Mix
---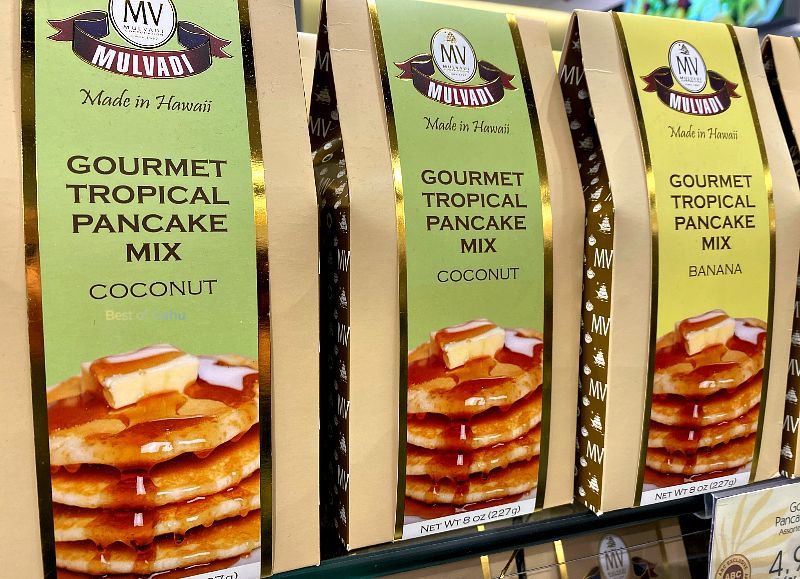 Have you fallen in love with the tropical pancake breakfast? Take the experience home with you as a tasty Hawaii souvenir. Pancake mixes are simple and cheap Hawaii souvenir that grants a lot of satisfaction. Just add water or milk to create the batter, cook it for a few minutes, then top the pancakes with butter and your favorite syrups or tropical fruit sauces.

ABC stores and Local Grocery Stores offer brands like "Hawaiian Sun" and "Aloha Aina", that give you an entire collection of tropical flavors. You can enjoy a different pancake mix every day of the week, from a Classic Buttermilk to a Tropical Banana, or yummy creations like Pineapple and Coconut, Chocolate and Macadamia Nut, Strawberry and Guava, Blueberry and Acai, Banana and Macadamia Nut or Lillikoi Passion Fruit.

Also lookout for the new Charcoal Pancakes. They are the brainchild of Keith Steel Kong, the chef of ABC's fine dining restaurant in Waikiki, called "Basalt" after the volcanic rock found on the Big Island.
---
#11 Hawaii Calendar
---
Island calendars are colorful, mesmerizing, and full of iconic places and all things representing Hawaii. They are popular gifts and make the list for best Hawaii souvenirs, as they deliver beautiful vacation memories all year long.

They make individual calendars featuring attractions for each of the islands: Oahu, the Big Island, Maui, Kauai, and the city of Waikiki too. Have you fallen in love with exotic Hawaiian flowers? There is a calendar for them too, portraying beauties such as Yellow Hibiscus, Purple Orchid, Dark Red Plumeria, and Heliconia.

And let's not forget the eye-catching swimsuit model and hula dancing calendars, which might be the most popular calendars sold.
---
#12 Dancing Hula Dolls
---
Love or hate them, make no doubt that these wiggly hula dancers are among the most successful Hawaiian trinkets for visiting tourists. So many drivers are happy to have them as traveling companions, gently swaying on their dashboard. 
Dancing Hula Girl Dolls are commonly found in gift shops like ABC Stores, and you can choose between different sizes, poses, accessories, and skirt colors of dancing hula dolls. There is even a handsome kane (male), dancer to represent the male Polynesian dancers as well. 
The latest innovation is the collection of solar-powered hula dolls. No need for batteries, as they have a tiny but perfectly functional solar panel under their feet to keep them dancing all day long.
---
#13 Hawaiian Jewelry 
---
Pearls, opals, crystals, gold & silver... make lovely inexpensive Hawaiian jewelry gifts. You can easily shop around Waikiki for island-style necklaces, earrings, and bracelets that feature beautiful plumeria flowers. The plumeria is the most commonly used ornament for pendants, or perhaps you will rather wear a starfish, sea turtle, or dolphin around your neck or wrist.

Choose freshwater pearls – white, black, pink - for a more classic look. Their shape is usually irregular, but they are typically inexpensive so that you can get several threads. For a more relaxed beach style, choose a fabric or wooden bead bracelets with ceramic plumerias or colorful enameled bangles engraved with flowers or turtles.
---
#14 Hawaiian Rum
---
Hawaii is known for producing some delicious local rums from local distillers like like Kōloa and KoHana. And they are best featured in Mai Tai cocktails as they are the main ingredient.  They embody the cultivation of the sugar cane that once shaped the destiny of Hawaii for nearly 200 years.
They are easy to find at local grocery and liquor stores and could make nice Hawaii souvenirs for the right friends. The list of local distilleries are growing, and the diversity of products too, beyond white and dark rum. You can find creations with added spices, tropical fruit flavors, chocolate, coffee, and even some ready-made cocktails.

---
#15 Shot Glass
Along with Hawaiian rum, shot glasses also make excellent collectibles and gifts too.  This is why ABC stores in particular, carry several different collections, from very stylish to cartoonish ones, all decorated with island-style characteristics and symbols like palm trees and the famous hang-loose sign. 
Choose your favorite material, from etched glass, to stainless steel, ceramic or bamboo.  Some have the decoration etched, while others are printed in polyresin.  Some have a metallic interior, and some are molded into Tiki idols. 
Hawaii design shot glasses are fun, useful, and inexpensive Hawaii souvenirs.
Aloha & Enjoy!

Subscribe to receive Best of Oahu updates on events, updates, and new articles.  It's the closest way to paradise while you are away...
We will never sell or spam your information, and we'll respect your email privacy.