Home  /  Hawaiian Surfing in Oahu
Best Surfing in Oahu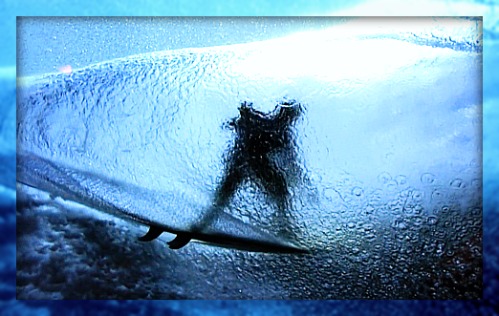 Hawaiian Surfing is just a way of life on Oahu.  With well over 100 named Oahu surf spots surrounding the island, there's lots to explore! Oahu surf spots offers something for all levels...from surfing Waikiki beach to surfing Pipeline -yes, the world famous Banzai Pipeline!
Everyone from the keikis to pro surfers, are either out playing around in the surf, or out watching Hawaiian surfers riding waves from some of the best of Oahu's surfing-spectator spots.

Whether you are looking for a good surf school for beginners, or in search of a good Oahu surf spot, or would like to join the spectators from the safe Oahu shores, we look forward to guiding you in the right direction.
---
Great Oahu Hawaiian Surfing for Spectators
---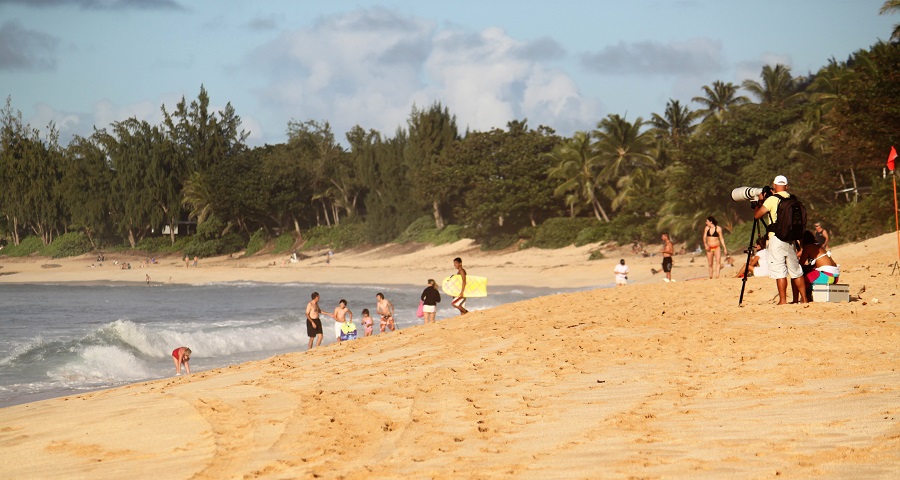 With endless Oahu surf spots named all along the the island's coastline, it's hard not to find a shoreline without any surf action happening out in the waves.  

But since a majority of the surf spots are located a half-mile out to sea, the Hawaiian surfers tend to look like tiny action figures without a pair of binoculars.

---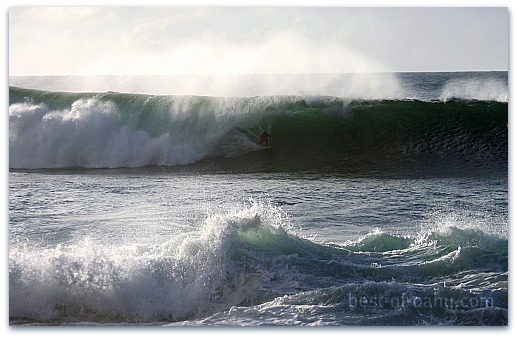 So take advantage of the Best surfing in Oahu viewing spots, including watching the big wave surfers at the North Shore's world famous Banzai Pipeline, and grand Waimea Bay, and classic Sunset Beach.

If you're looking for more, make sure to check out the Ultimate North Shore Surf Spots that includes your big wave beaches, but also identifies many lesser known local breaks, and just where to head to for smaller surf locations for the novice and intermediate surfer looking for a little fun.
---
Learn how to surf on Oahu

---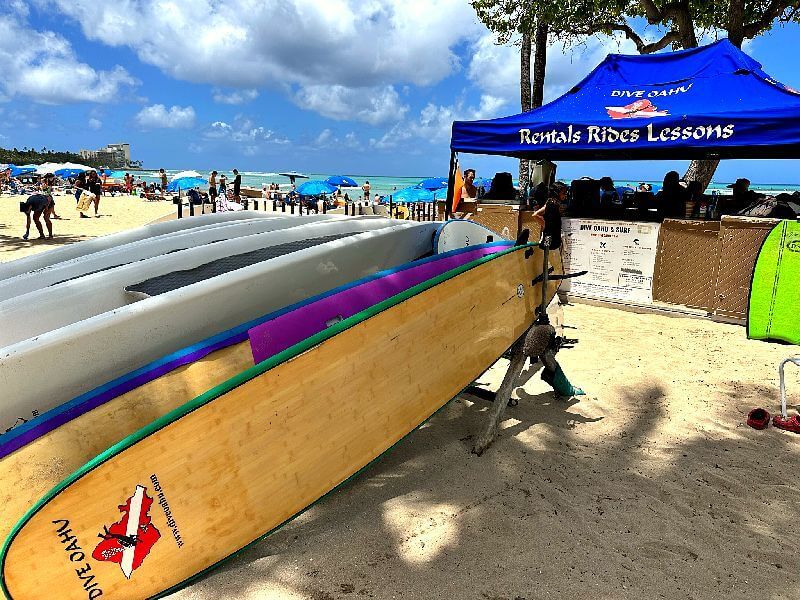 Waikiki Surf Lessons Booth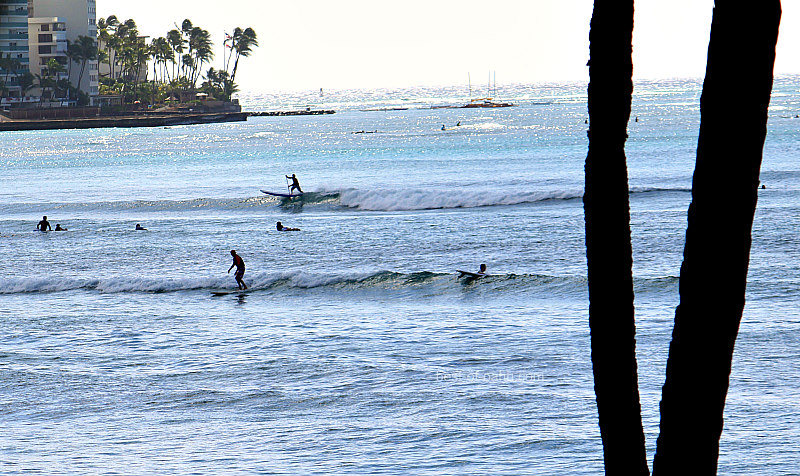 Canoes Waikiki
Thinking about signing up for a Hawaiian surfing school and experiencing surfing waves surrounding Waikiki Beach? 

Not to worry, there are a few surfing in Oahu for beginner spots around the island.
Some will say that life is not complete until you have stood up on a surfboard, and felt the free rolling motion below your feet, as you ride some rolling waves back to shore.

Surf lessons start on the shoreline, with instructions on how to paddle into a wave while balancing yourself.  Pop up with one leg forward and the other anchoring you on the board, arms out, eyes forward, and rolling with the energy of the wave.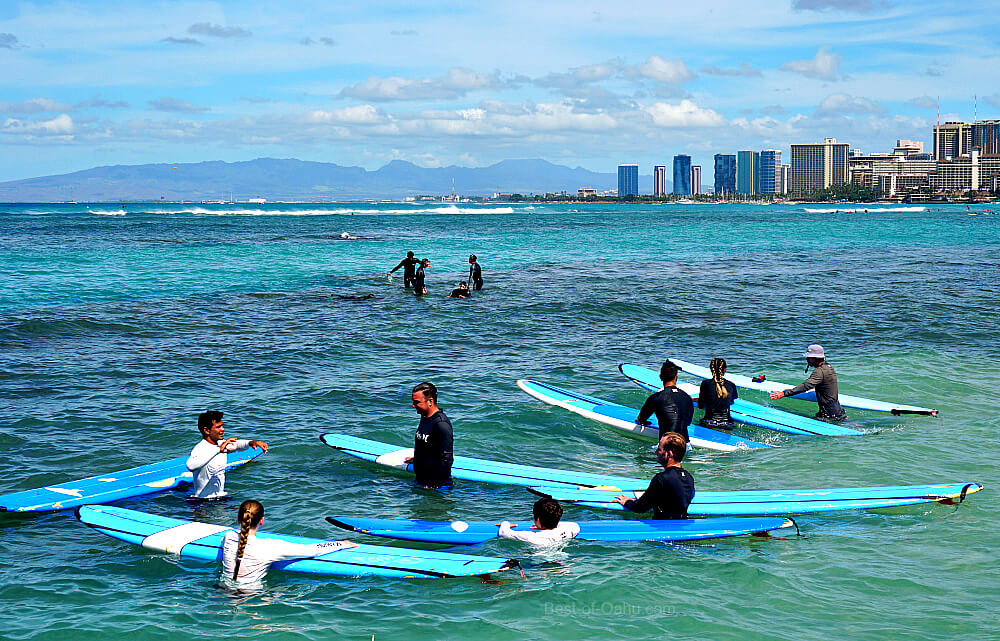 Surf lessons continue in the water with instructors leading you out to the surf and helping you into the waves.
---
Surfing Waikiki


Learning how to surf in Waikiki is like learning how to ride a bike.  With a little guidance and persistence you will be standing up surfing in no time.  Lessons start from shore, reviewing some of the mechanics and safety.  Now the fun begins as you paddle out on a longboard with you guide beside you in search of waves and riding them back to shore.
It's an amazing feeling hard to put into words!  Book a 2 hour private lesson or a group lesson
---
Diamond Head Beach is around the corner from Waikiki, and features some great beginner to intermediate Oahu surf spots along the coast.  The drone footage displayed from the video below captures the joy of riding waves even on smaller surf days.
As a surfer, I would say that there is a gratifying spiritual experience with the wave and ocean, as you get better at surfing and become a little more connected with the whole experience.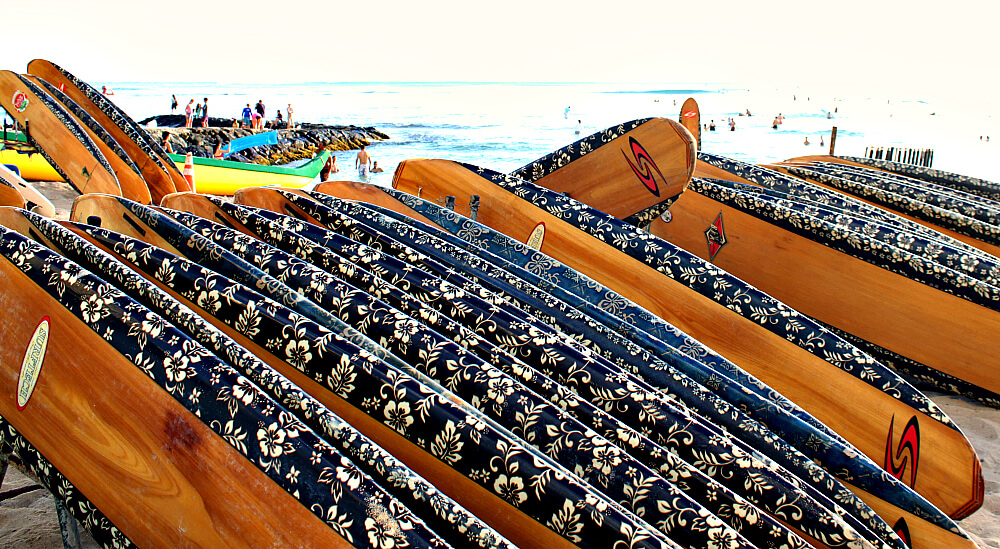 No matter how old you are, or what your ability is, you can achieve standing up on a long board surfing the rolling waves of Oahu's gentler surfing beaches…

One of the best experiences is surfing with the sunrise or sunset...depending on the tide and surf conditions.  But the lighting and feeling is usually always amazing!
---
Stand Up Paddle Boarding & Outrigger Canoe Surfing
---
If surfing isn't your thing, but gliding across the water still sounds like fun, take up paddle boarding.  It's easy to get started and a lot of fun!
Also consider signing up for a Hawaiian Outrigger Canoe ride. You simply paddle out to the breaks with friends, and surf waves back to shore.  It's a ride of a life time!
---
Intermediate Surfing on Oahu

---
Ala Moana Bowls
Are you an experienced surfer looking for some of the best surfing in Oahu?  You will be in for a treat my friend.  Before you venture out to the popular spots, don't forget to check your Oahu surf report for surf size and conditions. 
Hawaiian surfing is world renown, especially on Oahu, with some great spots worth checking out around the island.  Whether going north, south, east or west, each coastline is vastly different as the Oahu surf spots are themselves.
---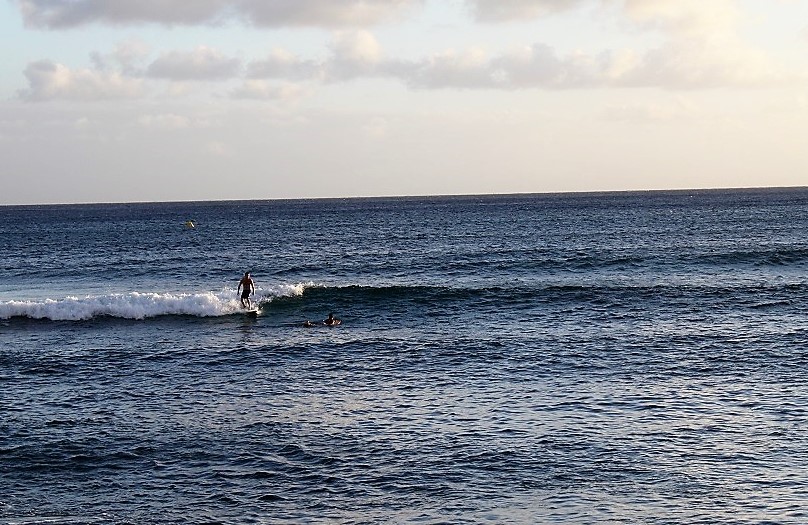 South shore popular spots with consistent waves includes Waikiki beach, and neighboring Ala Moana Beach Park, and Diamond Head -where the surf crank up in the summer time!

---
South Shore Oahu Surf Spots
Waikiki Surf Spots - Populars, Canoes and Queens Surf are most popular spots to surf in central Waikiki.  You also have Fours and Threes outside Fort Ruger, and Publics, Old Mans, Tongs and Rice Bowls on the south side towards Diamond Head.
North Waikiki Near the Ilikai Hotel - Kaisers, Rockpiles, and Ala Moana Bowls
Ala Moana Surf Spots - Concessions, Tennis Courts and Big Rights are your main surfing spots.  Baby Haleiwas and Bomboras tend to break near Magic Island when the surf is big.  Ala Moana usually has waves with consistency.  It takes a paddle and a short walk over light reef during low tide.
Diamond Head Surf Spots - Cliffs and Lighthouses are your to main spots with several breaks in-between.  The waves are fun, but tend to break all over the place sometimes.
---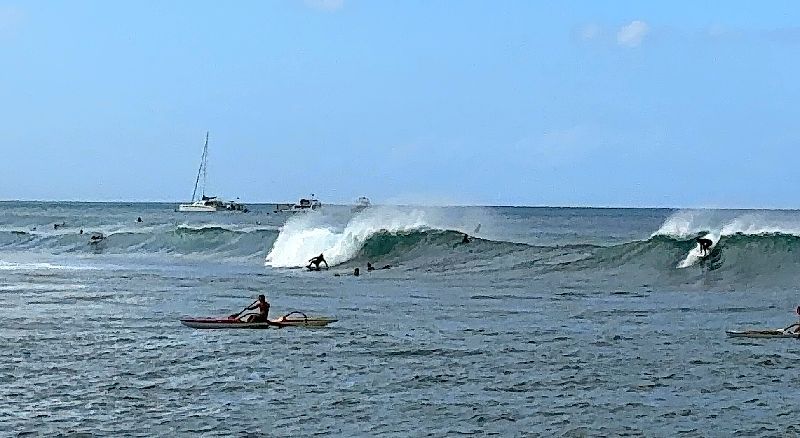 Ala Moana Bowls Surf
Not big enough?  Maybe the Western shoreline will turn it up a notch for ya!  Check out a favorite local West Side surfing spot known as Makaha Beach Park.  Makaha and surrounding areas catch some of the north swells and some summer swells too.  Still not big enough?
If it's wintertime and the island gods have aligned the swells, (and you're are one brave soul), you might want to head out to the North Shore.
Aside from the well known big wave Oahu surf spots  like Waiamea Bay, or Sunset  Beach, and the Banzai  Pipeline,  there are many other great surf spots waiting to be discovered.

---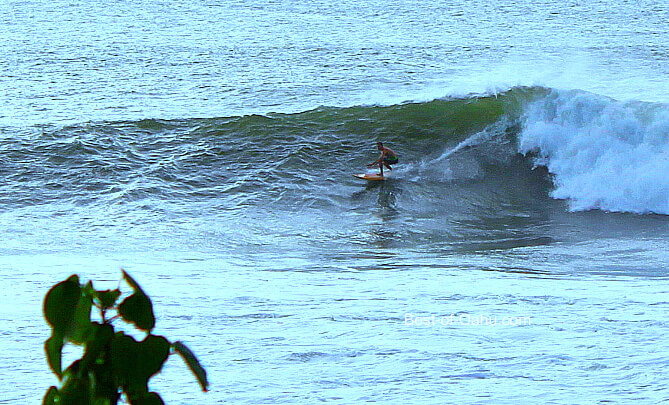 Take time to familiarize yourself with local surfing areas on the Oahu surf map below, as well as the popular surfing spots in Oahu, and make the most of your surfing adventure!

---
---
Oahu Surf Map
---
View Oahu Surf Breaks in a larger map

The above maps out some of the best Oahu surf spots.  With so many to choose from, and no matter what level of surfing experience you have, there is a perfect surf spot for you to enjoy some of the best surfing on the island!
Click here for the Oahu Surf Report
---
---
Return to Best of Oahu Homepage
Aloha & Enjoy!

Subscribe to receive Best of Oahu updates on events, updates, and new articles.  It's the closest way to paradise while you are away...
We will never sell or spam your information, and we'll respect your email privacy.