Famous North Shore Surf Spots
When referencing the best Oahu North Shore surf spots, big winter wave favorites like grand Waimea Bay, stunning Sunset Beach, and the notorious Banzai Pipeline (at Ehukai Beach Park) come to mind.  But the North Shore has so many other amazing surf spots worth considering including Haleiwa Beach, Rocky Point, Chun's Reef, and Turtle Bay.  And the list goes on if you venture a little further out to points like Kahuku or west to Mokuleia that's host to many breaks.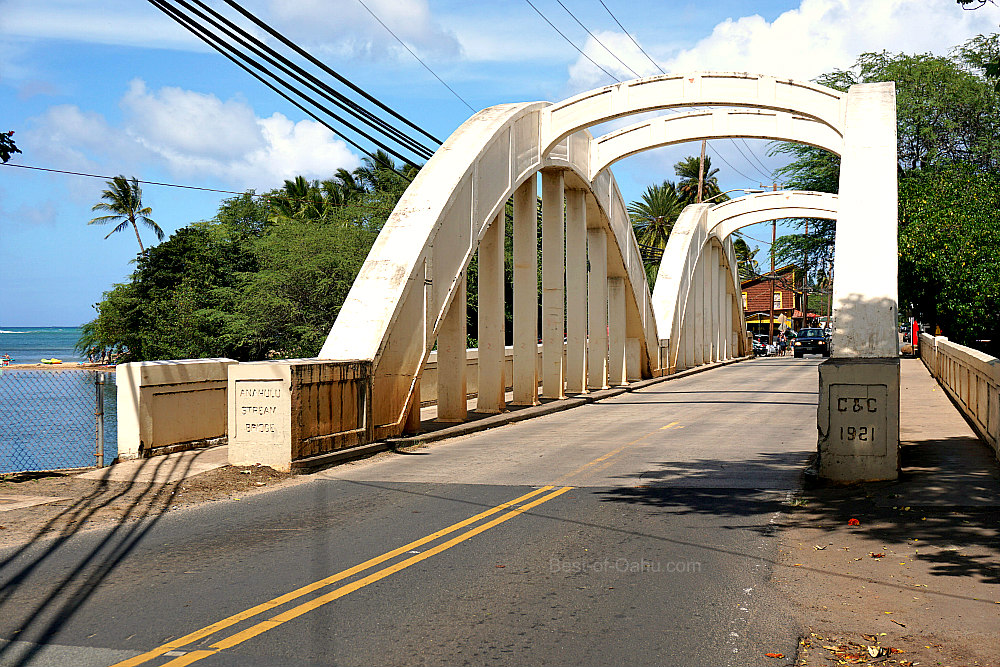 And then there's Kaena Point where it's sometimes deemed too large and unrideable at times.  Whether you just want to spectate from shore, search for a hidden gem wave breaks, or look for an easier spot to learn how to surf, there is something for everyone when heading to the North Shore of Oahu.
---
14 Ultimate North Shore Surf Spots Guide
---
Oahu's North Shore is no doubt the center of the world surfing. Each winter as large swells roll into the islands, the professional surfing community comes together to descend on the "Seven Mile Miracle", which is a stretch of wave-rich coastline on the North Shore.
The Surfing World Tour holds events at Pipeline, Sunset, and Haleiwa every winter. Beyond the regular but commendable local events, professional surfers from all over compete to catch the best rides of all time at Pipeline and in the Van's Triple Crown.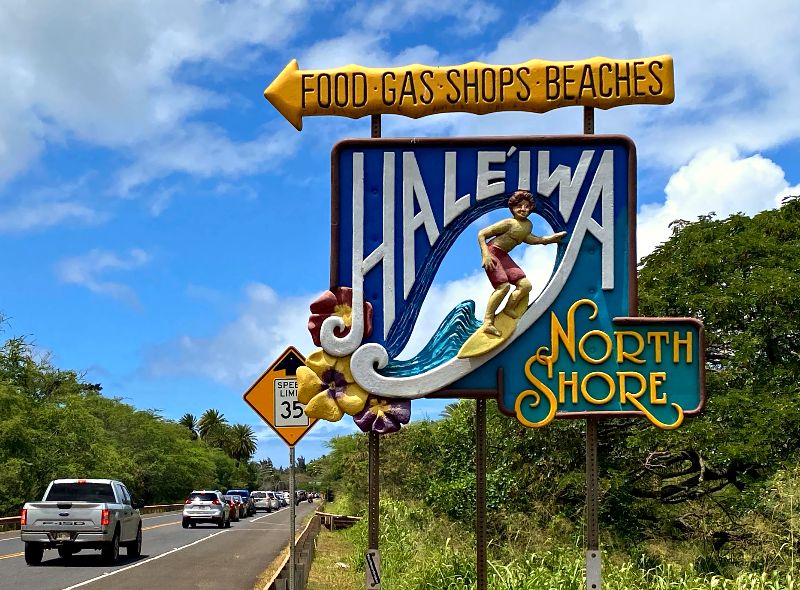 The North Shore is a wild countryside part of the island that is well worth exploring for surfers and non-surfers alike. Swell season on the North Shore begins in October and runs through March/ April, with waves peaking during the winter months.

The North Shore is home to some of the most formidable waves on the planet, but that doesn't mean the average surfer can't find a wave to suit their skill level. Dive into the Ultimate North Shore Surf Spots Guide to about the North Shore's most celebrated breaks, as well as a few intermediate-friendly options.

---
#1. Banzai Pipeline
---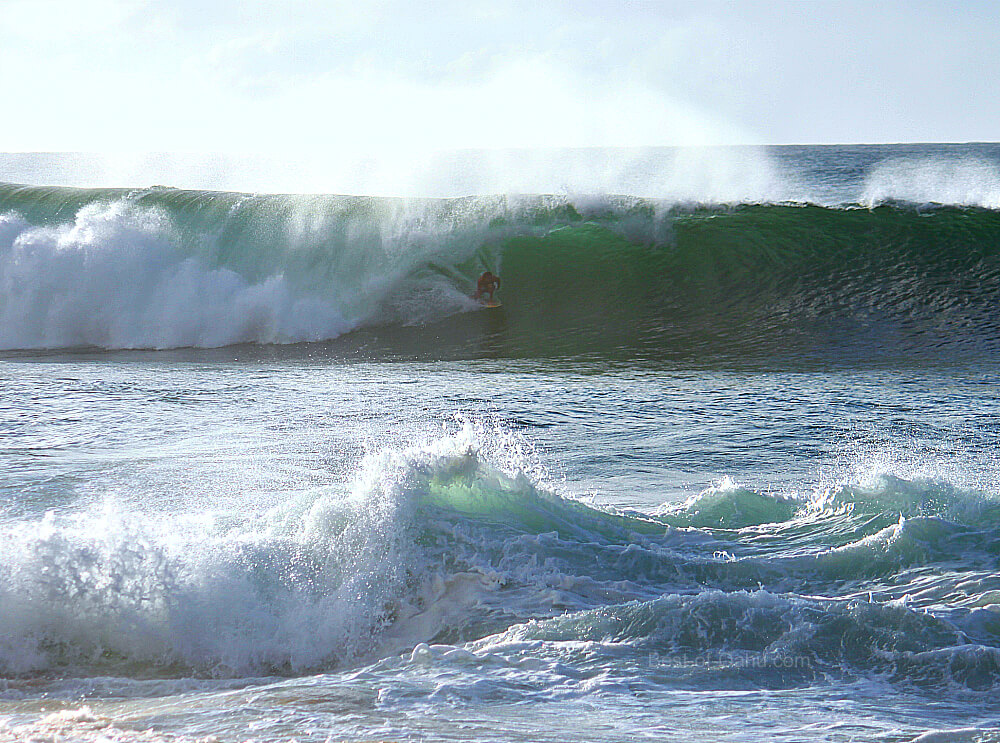 Pipeline is one of the most feared waves in surfing. It's home to the most picturesque left-hand barrel on earth. The Banzai Pipeline breaks close to shoe over a hazardous limestone reef, making it both dangerous and spectator friendly.
Powerful north swells hit the shallowest part of the reef and stuck up to form tapering walls and steep hollow barrels. Pipe holds serious size on the outer reefs and is by every definition an expert's only wave.
Pipeline is home to several pro contests, including the storied Pipe Masters and Pipeline Pro. First reef Pipe is the most recognizable and photogenic wave in the world.
Second reef begins to break when waves are double to triple overhead and offers roll-in entry that slingshot surfers into the steep hollow section over first reef. On rare XXL swells, third reef breaks far out to sea. 

---
#2. Backdoor
---
While west to northwest swells tend to work best for the left at Pipeline, north/ north-easterly swells are optimal for the adjacent right-hander, Backdoor.
The Banzai Pipeline became the central focus of surfing in the 1970s, but for much of that decade, Backdoor went unnoticed despite its proximate location. Unlike Pipeline, Backdoor doesn't have a clear channel, so exits off early set waves can be incredibly dangerous.
While Backdoor sees its fair share of world-class tubes, it can be more difficult to navigate than Pipe due to numerous closeouts. If you're visiting the North Shore during the winter and want to watch the best surfers in the world take on the most fearsome waves in existence, head to Haleiwa Beach Park and watch from the safety of the sand.

---
#3. Sunset
---
Sunset is known as the Watermen's Wave because it takes a certain amount of know-how and prowess to navigate on larger days. At Sunset Beach, surfers feel the full force of open ocean swells. Like Pipeline, Backdoor, and other powerful North Shore surf spots, Sunset is an expert-only wave.

The sheer force at Sunset forces surfers to abandon typical shortboards in favor of step-ups and big waves guns during large swells.
Sunset Beach consists of several peaks, each with its own name and distinct set characteristics. The first peak is known as Val's Reef. The next peak, the Inside Bowl, is a shifty bowl section that breaks 200 meters offshore and is chaotic and unpredictable.
Outside of Val's and the Inside Bowl, the West Peak picks up West/ Northwest swell energy and quickly stacks up to create a steep, wrapping face. The following peak down the reef is known as the Point.
The Point needs a northwest/ north-northwest swell direction to bend and run along the reef like a true point break. Beyond The Point is a section labeled Backyards, where waves break across a flat section of sharp lava reef.
In the right conditions, Backyards produces both excellent rights and lefts. If you're an experienced surfer visiting the North Shore and plan to surf Sunset, be ready to paddle.
---
---
North Shore Surf Contests Schedule
Womens Waimea Champ
Menehune Surfing Champ
Haleiwa Challenger
Sunset Beach Pro
Vans Pipe Masters
Eddie Big Wave Surf
Haleiwa Invitational Open
Da Hui Backdoor Shootout
Waimea Bay
Haleiwa Beach
Haleiwa Beach
Sunset Beach
Ehukai Beach
Waimea Bay
Haleiwa Beach
Ehukai Beach
Sept 5th - Dec 3rd, 2022
Oct 15th - Oct 23rd, 2022
Nov 26th - Dec 7th, 2022
Oct 28th - Feb 23rd, 2023
Dec 8th - Feb 10th, 2023
Dec 14th - Mar 13th, 2023
Dec 22nd - Jan 3rd, 2023
Jan 4th - Jan 15th, 2023
#4. Haleiwa
---
A little further east, lies Haleiwa, the esteemed wave that is, along with Sunset and Pipeline, is a part of the Van's Triple Crown of Surfing. Like these North Shore surf spots, Haleiwa dishes out serious punishment at size and is an expert-only wave.
The waves at Haleiwa breaks across a reef that has a nice V-shape to it, creating some powerful waves in the North Shore. Haleiwa forms a bowly right-hander with several sections that ends typically in a closeout wave…they call this phenomenon Toilet Bowls, which is quite fitting when you see it...hopefully not in it!
A strong current during swells will keep you paddling your entire session. Taking off on the first wave of a set or falling early can lead to a rough paddle out. On smaller days with more Northwest swell, Haleiwa can be mellow and playful.
---
#5. Off The Wall
---
Off the Wall is a long slab of reef just a stone's throw west from Pipeline and Backdoor. Off the Wall is an infrequent, wedge that produces a photogenic almond-shaped, right hand barrels in the right conditions. With frequent closeouts, the rare gem at Off the Wall is widely celebrated.
---
#6. Rocky Point
---
Rocky Point may be the most consistent of North Shore surf spots. Rocky's is divided into two sections, Rocky's Rights and Rocky's Lefts, but contains several peaks within both divisions.
On the west side, several right-hand peaks work well with north-northwest swells. Further east, several left peaks break that can stretch out the length of the reef. There's also a hollow shore break/ reform left on the inside.
---
#7. Gas Chambers
---
Gas Champers is a fast-breaking hollow wave that detonates over a shallow reef. Gas Chambers works well on west-northwest and northwest swells and produces quality lefts. This North Shore wave does not have a well-defined channel and can be very shallow in some areas.
---
#8. Log Cabins
---
Log Cabins breaks directly west of Rockpiles and stretches for 200 yards with a mix of sand and lava reef. Logs works best with more northerly swells and packs a serious punch.
The uneven mix of rocks, reef, and sand makes log cabins an expert-only wave. This unpredictable North Shore surf spot can present dreamy barrels one minute and deadly closeouts the next. On smaller days, Log Cabins can be a playful and cruisey wave.
---
#9. Rockpiles
---
Rockpiles is located between Log Cabins and Off the Wall and, as the name suggests, breaks in front of a pile of rocks. This North Shore surf spot churns out mighty left that works best on northwest to west-northwest swells. During large swells, Rockpiles will break bigger than any spot around.
---
#10. Waimea Bay
---
Waimea Bay introduced big wave surfing to the world and is the site of the Eddie Aikau Invitational. The Bay doesn't always break, but with a large enough swell, the bay comes to life and transforms into a theater for big wave surfing.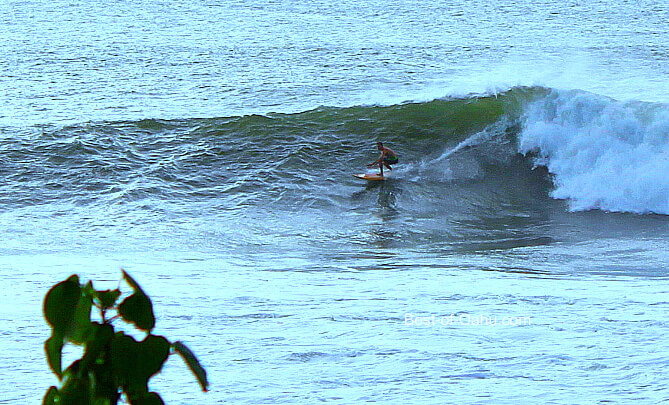 From the cliffs above, spectators watch as surfers dodge rogue sets and paddle into giants on their big waves. If you're visiting the North Shore during an XXL swell, head to the cliffs of Waimea Bay to watch the big wave hell men tackle the biggest waves amongst all the North Shore surf spots.

There also tend to be a mid and shore break when the surf is up. Body boarders and short boarders get a rush when these waves jack up and produce some fun rides.
---
#11. Turtle Bay
---
If you're not a pro surfer, the North Shore may seem like an intimidating place to catch waves. The soft peelers at Turtle Bay will offer some reprieve to those not looking to ride the most dangerous waves in Hawaii.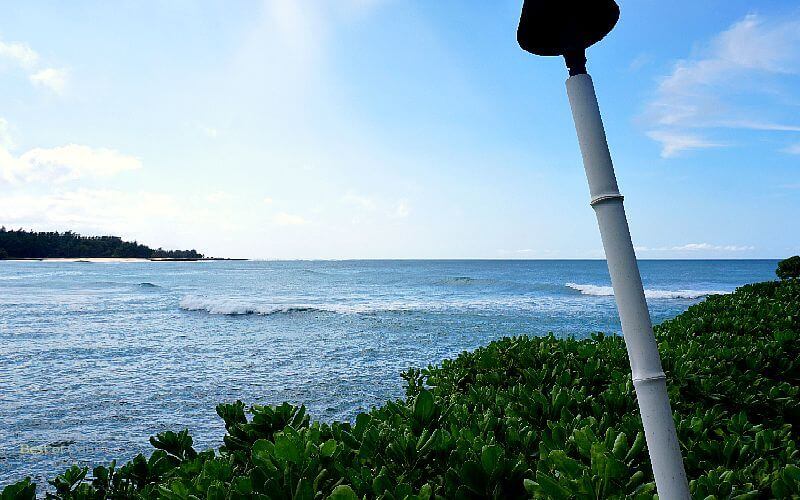 The point where the Turtle Bay Resort is perched splits the break at Turtle Bay is split into two. There are a few different peaks in the shadow of the Turtle Bay Resort, but the main wave is a right point that wraps around the rocks and peels gently towards the beach.

If you're looking for the best beginner wave on the North Shore, Turtle Bay is a safe bet. Jamie O'Brien Surf Experience, founded by the Pipeline legend himself, runs lessons and guided surf experiences around Turtle Bay.

---
#12. Laniakea
---
Laniakea, AKA Lani's, is an ideal spot for intermediate to advanced surfers. Laniakea Beach is also very popular because the Hawaiian Green Sea Turtles call it home and where they bask in the sun on the beach, to gawkers' delight.  Needless to say, they have become a popular tourist attraction on the North Shore!

Lani's is a righthand point located about two-and-a-half miles north of Haleiwa. This North Shore surf spot breaks far offshore and works well with more northerly swells.

Lanikea is not a beginner wave, as it breaks over a sharp lava reef. For intermediate surfers looking for a guided surf session at Lani's, JOB Surf Experience offers a guided North Shore Surf Experience.
---
#13. Chun's Reef
---
Chun's will have something for the intermediate surfer when other spots around the North Shore are breaking at a pro-level.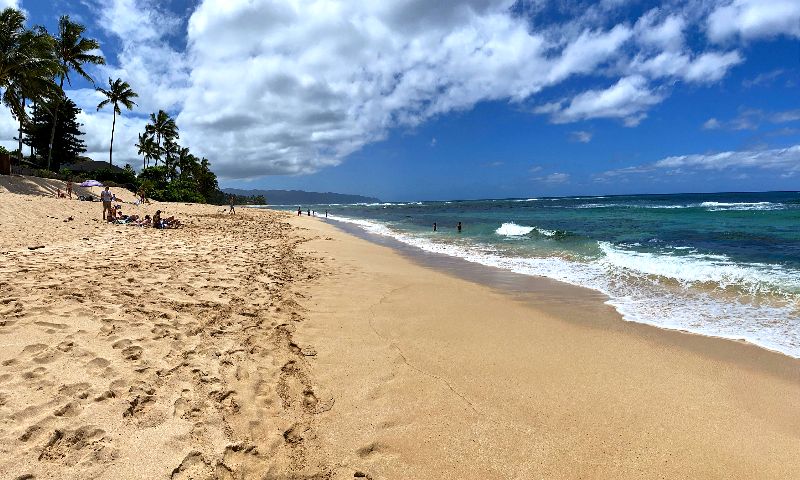 Located just North of Laniakea, Chun's offers both a left and right and breaks across a sharp reef. The left is a slower, softer wave since it breaks towards deeper water. The right is a steeper, speedier option for those looking for a more top-to-bottom wave.

---
#14. Velzyland
---
Northwest of Sunset, Velzyland, also known as V-land, breaks like a miniature version of its neighbor, the famed Sunset Beach.
Named after legendary California surfer/shaper Dale Velzy, this North Shore Surf Spot is one of the few intermediate spots on the North Shore. A popular training ground for North Shore groms (surfer), Velzyland attracts a mixed bag of intermediate and advanced surfers.
Phantom Reef, the big wave spot, lies just offshore and helps funnel swell neatly into the bay, where it collides with the V-land reef to form shapely right-hand waves.
---
Seven Mile Miracle and Beyond
---
The North Shore is one of Oahu's most pristine coastlines. The Seven Mile Miracle is unrivaled in the beauty and quality of surf. The North Shore surf, however, should not be taken lightly.
The North Shore surf spots are a big makeup of Oahu's most pristine coastlines. The Seven Mile Miracle is unrivaled in the beauty and quality of surf. The North Shore surf, however, should not be taken lightly. Always surf within your limits, and ask a lifeguard if you're unsure about conditions.
Learn more about other Oahu surfing spots and Hawaiian surf culture...
---
Aloha & Enjoy!

Subscribe to receive Best of Oahu updates on events, updates, and new articles.  It's the closest way to paradise while you are away...
We will never sell or spam your information, and we'll respect your email privacy.