Home  /  Oahu North Shore
Oahu North Shore
Time to head to the countryside and pay a visit to the laidback Oahu North Shore!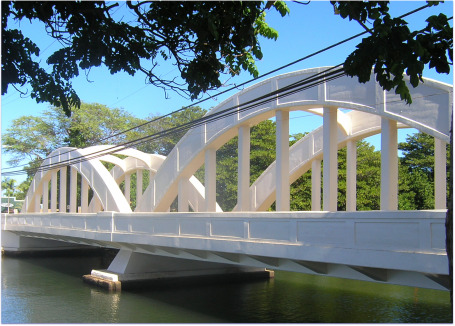 A one hour drive will take you from the bustling Waikiki to the rural countryside. You know you're close when you pass the Dole Plantation, and travel through the pineapple fields.  Continue driving down the ridge, as you admire the impressive view of the North Shore of Oahu. Roll down your windows, and breathe the fresh cool salty air, as you arrive at the rustic old Haleiwa Town.

---
Historic Haleiwa Town
It's time to slow down and relax when you reach Historic Haleiwa Town.  Grab a Hawaiian shave ice, check out the Hawaiian art galleries, and shops before continuing on to the famous Oahu North Shore beaches.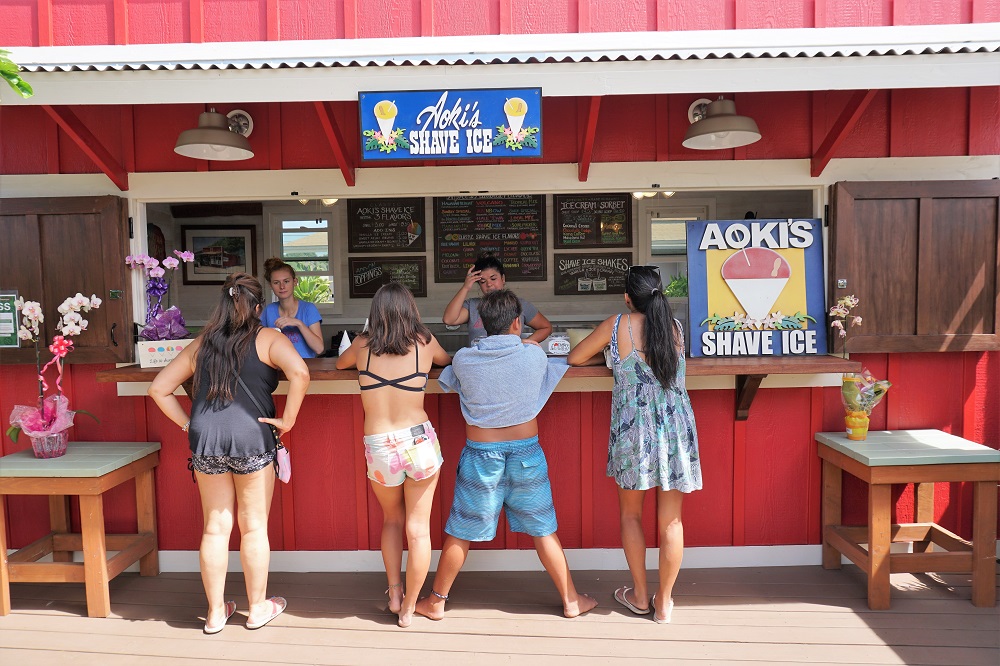 - sponsored -
Plan your trip ahead and purchase a GO Oahu Card that gives discounts (up to 55%) to multiple attractions & things to do in Oahu, museums and tours around the island. Activities include popular attractions such as Pearl Harbor, Oahu hikes & waterfalls, Polynesian Cultural Center, Dole Plantation, and great luaus!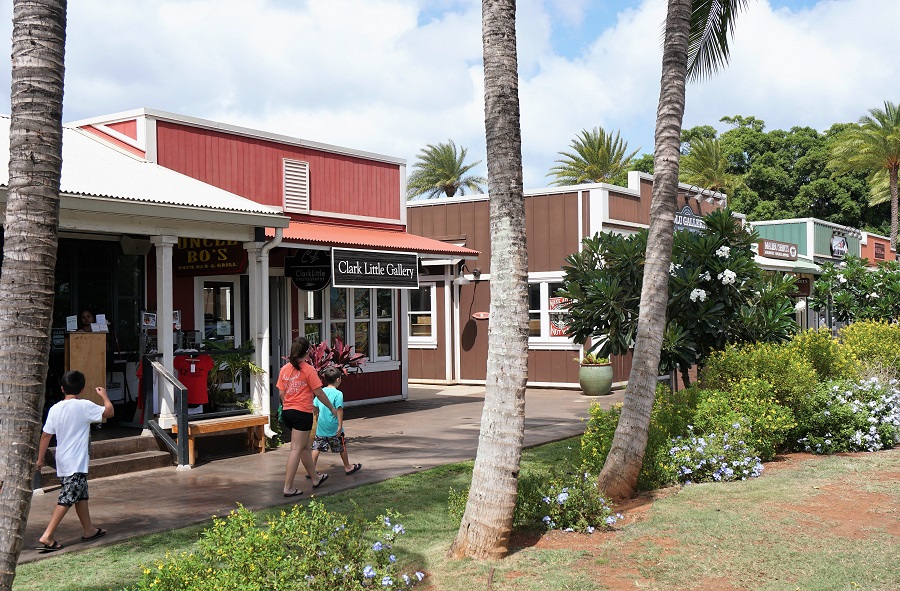 I never get tired visiting North Shore Oahu.  There's a different style and way of life in this part of the island that's hard to put into words – it's something you just have to experience to appreciate.
Talking with artist Roy Taisora, who owns his own gallery in the North Shore, I believe he put it best when he advised to "slow down when you arrive in the North Shore  and the magic will appear… You will be treated to the small island life".

I enjoy popping into small but well represented art galleries, ducking into small roadside island cafes, buying trinkets for my little girl and checking out the surf gear at the rustic surf shops.
---
Oahu North Shore - Art Galleries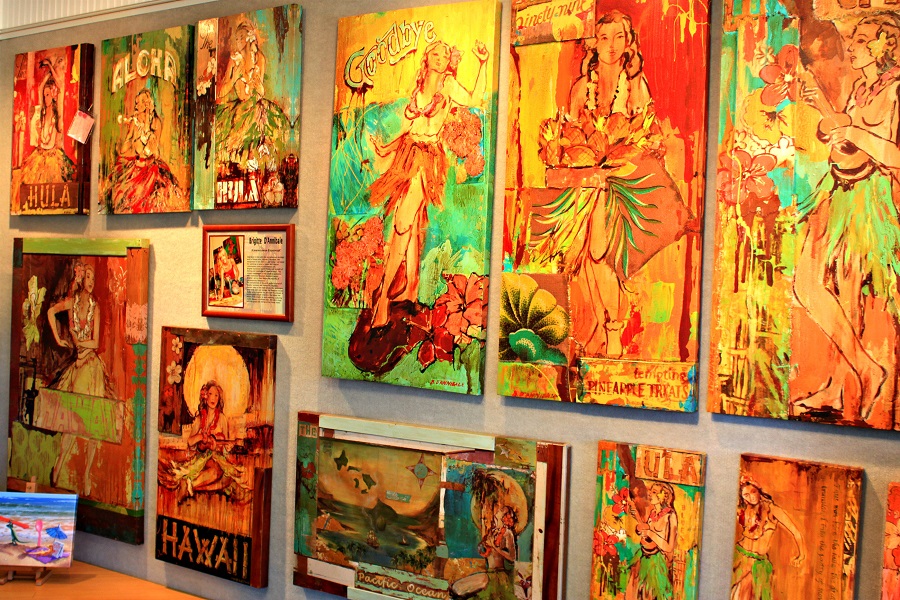 Make sure to stop by and visit Roy Taisora's gallery along with the other half dozen galleries in Haleiwa town, including the famous works of the artist Wyland.  If you are interested in picking up a piece of Hawaiian art work, this is the place to do it.
You'll find that it is about 50% less expensive than purchasing it back in Waikiki.

Also make a point to visit renowned artist, Kim Taylor Reece Gallery, outside of Haleiwa, in an area called Sacred Falls, Punaluu.  See more below in the Kahuku section...

---
North Shore Oahu – Surf Shops and Surf Museum
Beyond the galleries filled with Hawaiian art work, I love the character of the old surf shops with the retired long boards that line up against the entrance walls.  Even if you are not into surfing, you might appreciate the nostalgia that's lying around these shops.

There is also a neat surf museum located  in Haleiwa Town called the North Shore Surf and Cultural Museum.  It captures the history of surfing on Oahu North Shore, with antique surfboards, ancient artifacts, daily showing of movies and other surf nostalgia.
The North Shore is loaded with major attractions on Oahu, so why not consider a small group tour that takes you through old town Haleiwa, step onto famous beaches like Waimea Bay, Pipeline, and Sunset Beach, hike up to Waimea Falls, and check out the famous food trucks!   Sign up and learn more...
---
North Shore Oahu Good Eats!
---
North Shore Shrimp Trucks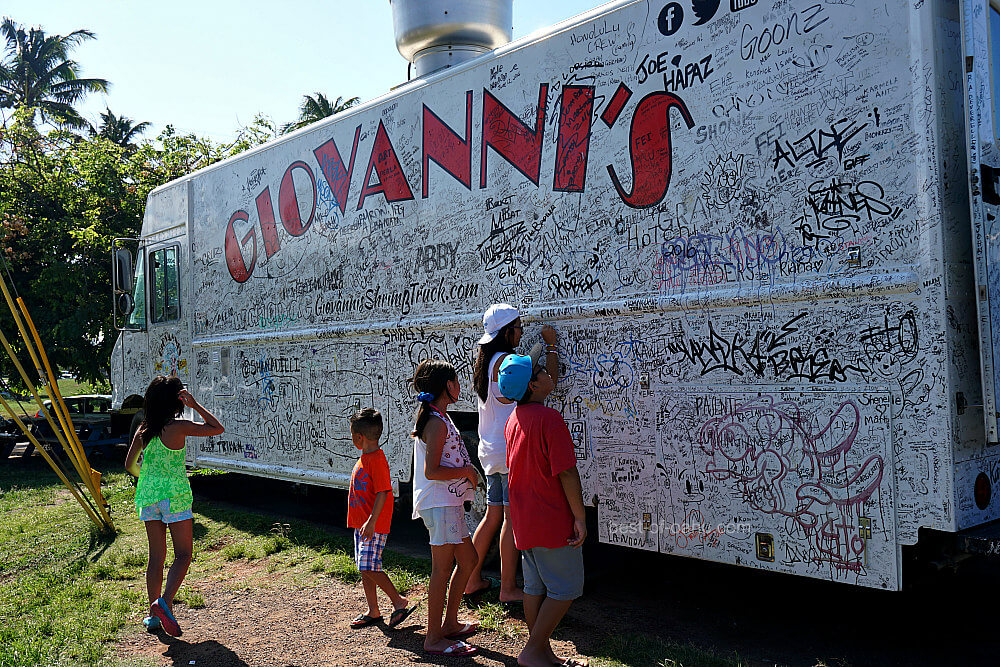 It's easy to find the popular North Shore Shrimp Truck, as there are probably about a dozen of them spread throughout North Shore of Oahu.  They are all about the same so go ahead and stop when you see one so you can fulfill your  craving to snack on a bucket of shrimp.  The garlic shrimp is a crowd favorite. 

Don't get too full on shrimp because you'll need to save some of your appetite for mouth-watering shave ice!
There are not many restaurants on the North Shore of Oahu, but there are a few establishments worth mentioning!
---
Ray's Kiawe Broiled Chicken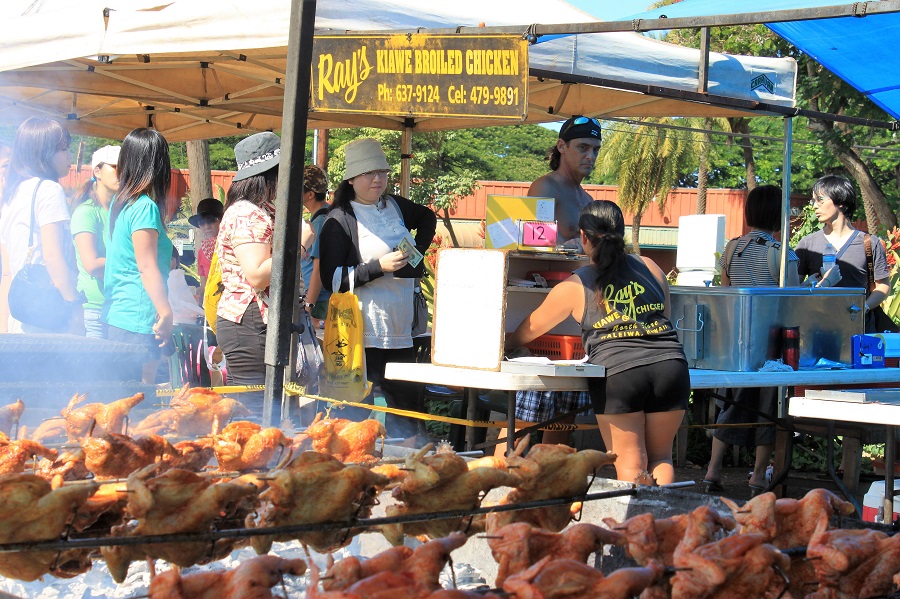 One of the best stops you can make right as you roll into Old Town Haleiwa.  Ray's Kiawe Broiled Chicken is a special treat if they got the grill fired up!  Folks describe it at fall-of-the-bone, juice mouthwatering chicken.

It's not your typical barbecued chicken, but smoked with Hawaiian kiawe wood, that intensifies the flavor!  Topped off with a side of their popular pineapple coleslaw, you're set for lunch!  Note that they are only open on weekends.

Location: 66-120 Kamehameha Hwy, Haleiwa HI

Check out more reviews for Ray's Kiawe Broiled Chicken
---
Haleiwa Beach Houses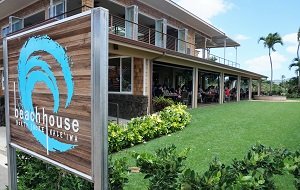 Hands down, the new Haleiwa Beach House has become a popular hit right from the start, and has joined Oahu's best restaurant list with their fresh fish entrees and tasty innovations!

It shouldn't come as a surprise as Owner Andy Anderson, has created successful restaurants in the past, including Michel's at the Colony Surf in Waikiki.

Enjoy the open air setting for lunch and dinner, and Mai Tai's in the upstairs bar & lounge area.
62-540 Kamehameha Hwy, Haleiwa
Check out more at Haleiwa Beach House
---
Uncle Bo's in Haleiwa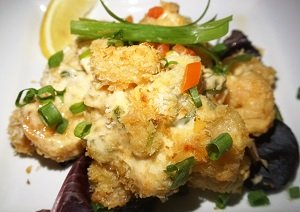 Get a taste of town in the country…no pun intended!  The North Shore continues to attract big culinary names and popular Honolulu established eateries, including Uncle Bo's that recently launched a second location in Haleiwa.

From ono surf & turf combo's to an amazing fresh fish menu, it's a treat to dine at Uncle Bo's in the country!  Try not to go crazy when ordering appetizers!
66-111 Kamehameha Hwy #101, Haleiwa
Check out more at UncleBosrestaurant.com
---
Haleiwa Joe's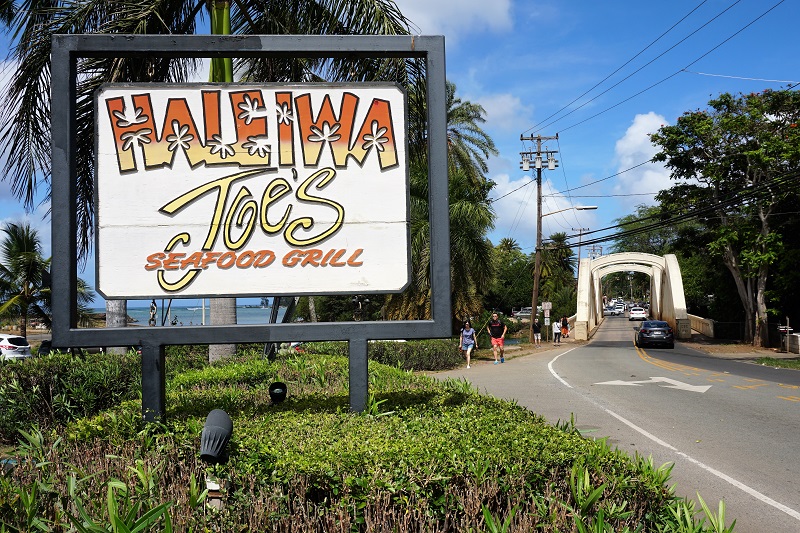 Bone-in Prime Rib, Crunchy Coconut Shrimp, Chipotle Grilled Pork Chop, and Premium Grade Ahi Tuna are a sample of the onolicious selections that you get from this long run establishment.

Bone-in Prime Rib, Crunchy Coconut Shrimp, Chipotle Grilled Pork Chop, and Premium Grade Ahi Tuna are a sample of the onolicious selections that you get from this long run establishment.
Catch a sunset with your dinner, and you'll see why Haleiwa Joe's has been doing well since opening in 1998.  Note that why are open for lunch as well, with great affordable options like fish tacos & ½ rack of baby back ribs!



Location:  66-011 Kamehameha Hwy, Haleiwa HI - Phone (808) 637-8005

Check out more at HaleiwaJoes.com
---
Ted's Bakery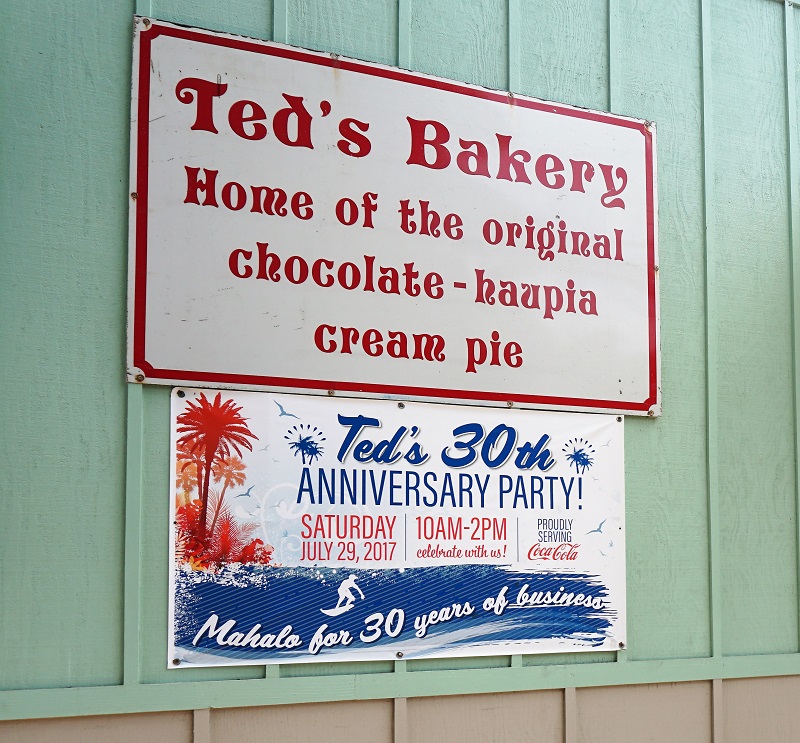 Along with Hawaiian shave ice and shrimp trucks being a must on the north shore, so are Ted's Pies.  Flavors such as chocolate haupia (creamy coconut) and macadamia nut draw the crowds.  

But their tasty BBQ plate lunches are the real reason why the locals continue to return and keep those lines long! Grab some lunch for the beach and a memorable pie to take back to town!

Location:  59-024 Kamehameha Hwy, Haleiwa HI - Phone (808) 638-8207
Check out more at Tedsbakery.com
---
Hawaiian Shave Ice!
Make sure you stop at the popular Matsumoto's Hawaiian Shave Ice shop.  A trip to Haleiwa town just isn't complete without indulging in this ultimate Hawaiian treat.
Take a stroll through the Matsumoto's video, and order a yummy shave ice!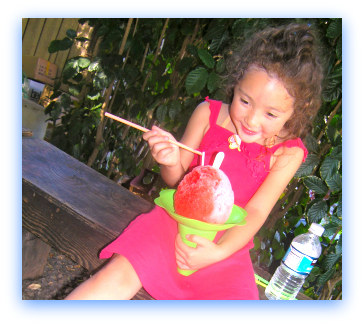 Matsumoto's is by far the most famous, but if you wish not to stand in the long line, then jump next door to Aoki's Hawaiian Shave Ice located across the street.

BEST Hawaiian Shave Ice TIP: Where ever you end up, just make sure you request a scoop of vanilla ice cream in the bottom of your cone –trust me, it takes your Hawaiian shave ice experience to a whole new level!

If Hawaiian shave ice just doesn't cut it for you, then maybe Ted's Bakery's famous pies just might fulfill that sweet tooth. 
Take note that these are not just everyday pies that you can find anywhere, but special pies with Hawaiian local flavors like Haupia (coconut), Chocolate Huapia (most popular) & Pineapple Cheese.  Everyone loves the Chocolate Haupia, my family's favorite is the plain Haupia.  
I would recommend buying a whole pie versus just a slice, or eat a slice while you are there, so you still have the ability to return and buy more before you leave.
---
Experience the North Shore from Above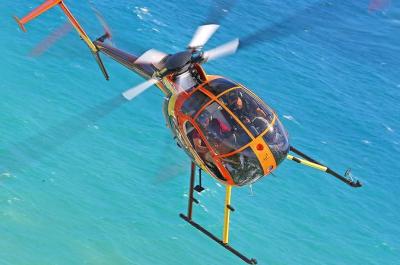 One of the most amazing experiences is taking it all in from above!  Words can't explain flying just a few hundred feet in an open-door helicopter above the rustic coastline taking in panoramic views from Turtle Bay to Kaiena Pt, including Waimea Bay, Famous Pipeline, Haleiwa Town, and much much more. 
---
North Shore Beaches
---
Best North Shore Beaches
The North Shore of Oahu has 7 miracle miles of incredibly beautiful beach waiting to be explored!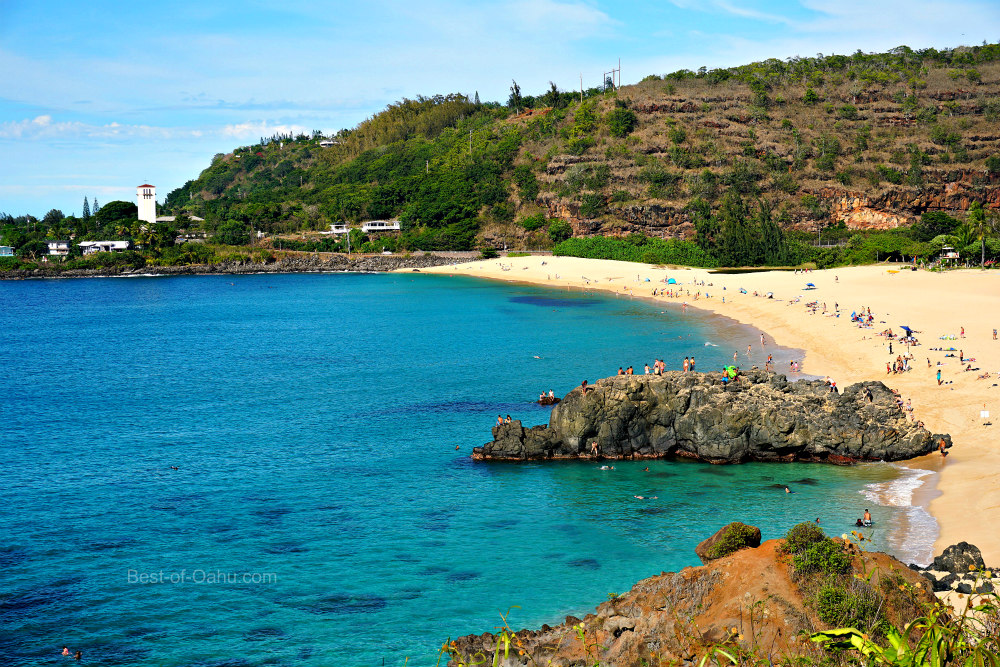 Leaving Haleiwa Town, you have two choices as you head out to the beaches.
Turning left and heading west, will take you an isolated and beautiful side of Oahu North Shore called Mokuleia.  
Turning right will take you across the famous twin-spanned Haleiwa bridge, which is the gateway to some of Hawaii's most popular beaches.  Waimea Bay Beach Park, Ehukai Beach Park (Banzai Pipeline), and Sunset Beach Oahu are the main event in the wintertime, when the waves are towering at 30 ft plus faces.

---
Surfing Haleiwa & Stand Up Paddleboarding the River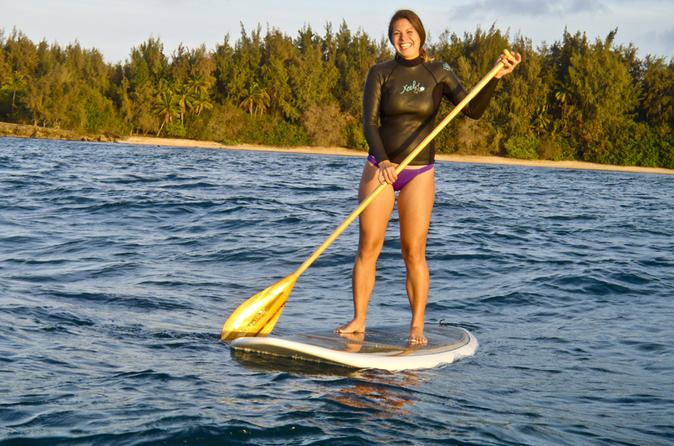 Learning to surf and riding waves is not just a water activity that takes place in Waikiki, but is widely available on the north side as well.  There are spots along the Haleiwa Beach shoreline that provide ideal waves to stand up and ride back to shore.   

Sign up for a 2 hr surf lesson

Another fun and unique experience is to take a journey up the Haleiwa River on a Stand Up Paddleboard. 


Most folks are pros after a few minutes of gaining their balance! 
Reserve a private Stand Up Paddleboard tour
---
Turtle Beach - Laniakea Beach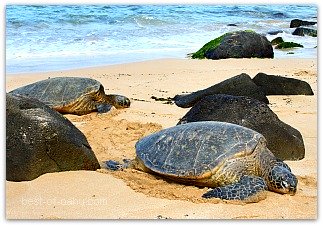 Discover Turtle Beach, or what is truly named Laniakea Beach.  The green sea turtle choose their home as we do, and this small Oahu beach happens to be it!

On almost any given day, you will find Hawaiian sea turtles basking here on the beach.  You're not allowed to touch, but you'll have the best front row seat to view them. 

"Turtle Beach" is not hard to find, but could be quit challenging to park at. Parking is no longer allowed at Laniakea Beach, so you will need to travel further down and walk back.
---
Snorkeling at Sharks Cove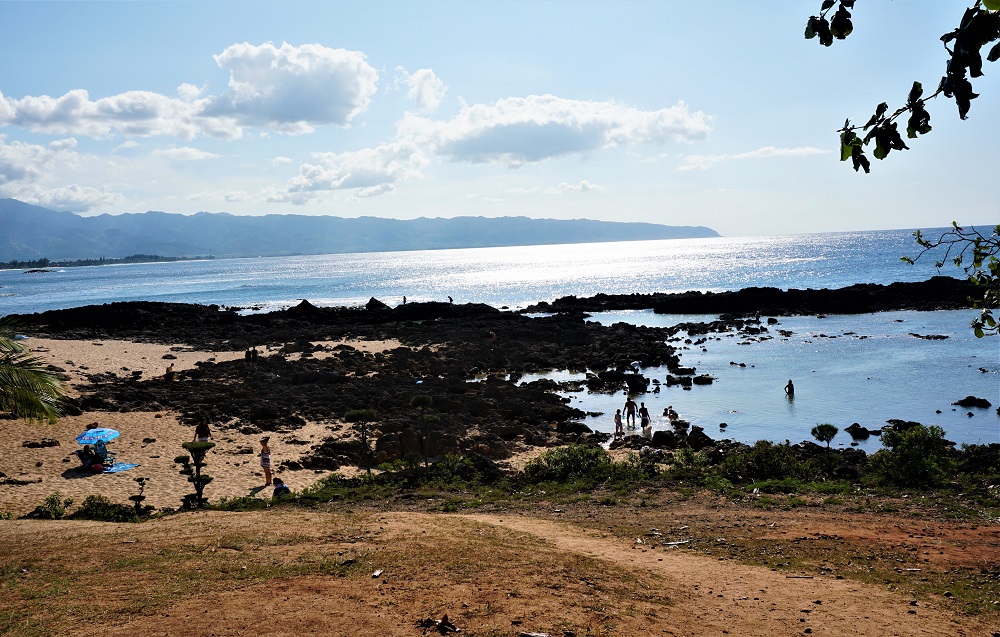 You are more likely to see green sea turtles swimming about, than reef sharks here at Sharks Cove. 
This North Shore cove got its name from its shark like shape around it.  Shark's Cove that is part of Pupukea Beach Park, and is known for its amazing snorkeling and scuba diving.  Under these waters you will see a large variety of marine life making home to the surrounding reef, and numerous lava tubes and caves to explore.
It's an underwater playground here at Sharks Cove,  but only advisable to enter the waters under flat conditions (typically in the summer), and if you're a good swimmer.  Take note that there is no lifeguard on duty at this North Shore beach.

Three Tables is another great snorkeling area located just above Waimea Bay and before you arrive at Sharks Cove.  This is another unique reef area that's part of the Pupukea Beach Park, and worth exploring the caves and marine life below.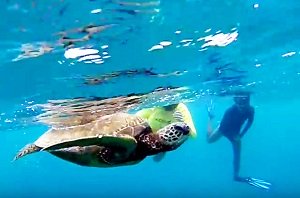 There is a 90 minute guided snorkeling tour in Turtle Cove, that includes a professional instructor, equipment, and safety lesson.  Explores the open water in search of green sea turtles and other sea life.



---
Watch a Sunset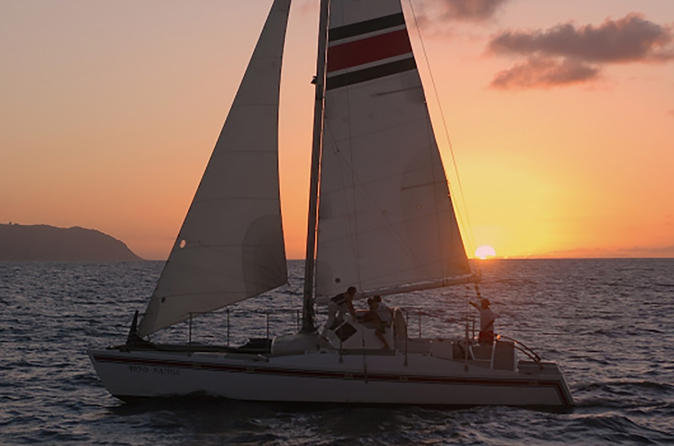 Whether you find an ideal spot in the sand along the 7-mile stretch of beach, or land a seat on a catamaran sailing along this beautiful coastline, the Hawaiian sunsets are magical here!  Most folks pack up and race back to town for dinner, but sticking around for a sunset can be quite rewarding!

Honolulu has the party boats that ride into the sunset, but a quiet no-frills catamaran ride on the north side might be more fitting! 

Explore simple Haleiwa Sunset Catamaran Rides
---
North Shore Hikes & Waterfalls
---
Waimea Falls Park
Don't miss a breathtaking Oahu waterfall across the street from Waimea Bay Beach Park.  It's located in the Waimea Valley Audubon Center (formally known and sometimes still referred to as "Waimea Falls Park").  This is a fun place to take a stroll with the family!

There is a small entrance fee to these botanical gardens, but well worth the admission to stroll the grounds with over 300 species of tropical plants and a stunning view of a 50ft waterfall at the end of the trail.

---
Ehukai Pillbox Hike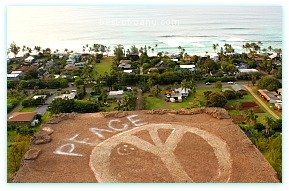 Nobody thinks of hiking ridges when searching things to do on the North Shore of Oahu, but there is a hidden trail known as the Ehukai Pillbox Hike.  Some refer to it as the Sunset Pillbox Hike, as it resides behind the Sunset Elementary School, as has the best sunset view! 

This intermediate hike will take approximately 30 minutes to reach the first of two military pillboxes that sit up top.

---
Puu O Mahaka State Monument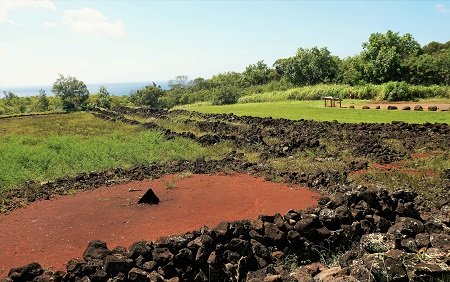 Above Waimea Bay is one of Oahu's largest well preserved heiau (ancient Hawaiian sacred site) sites, known as Puu O Mahaka State Monument.  Today much of the boundary walls are in great condition, and map the layout of the 2-acre site.

You can drive right up to this state moment, or hike a half mile up from the eastern tip of Waimea Bay.  Make sure to walk all the way around, and capture the magical view of the bay from bottom corner of the site.

---
Kahuku Countryside and beyond
---
While most visitors head to the North Shore to visit Haleiwa Town and the popular beaches, I like to head towards the tip of Oahu North Shore and beyond.  You'll notice there's a lot less traffic & development, and a lot more country greenside to see.
But the adventure doesn't stop once you reach the north tip, where you'll find the Turtle Bay Resort and its extensive natural preserved estate.
---
Kahuku Shrimp Farms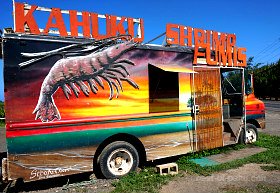 Just beyond the northern tip, you will discover the original 2 shrimp farms in a small town call Kahuku.  Between Romy's Kahuku Prawns & Shrimp and Fumi's Kahuku Shrimp farms, you can sample some of the islands best and freshest garlic shrimp!  Take a tour or simple sit on the outdoor picnic tables and enjoy! 

You will also find some shrimp trucks along the way, including the famous Giovanni's Shrimp Truck, where you write you name with a black sharpie...if you are able to find a spot to write on it!

---
Polynesian Cultural Center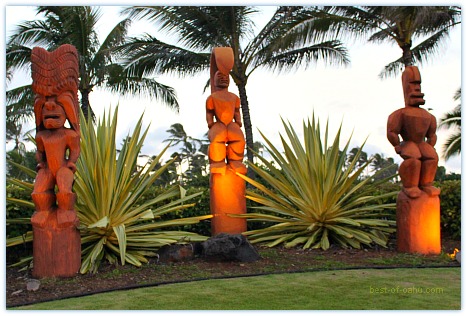 Just below Kahuku in Laie awaits the Polynesian Cultural Center.  From a Center that opened up in 1963 to the public to over 42 acres to explore today, this Oahu attraction offers an incredible experience!  You could easily spend all day here exploring the many different Polynesian cultural areas, shows and activities.

You'll want to stick around for the traditional luau, and also get tickets to their amazing night show called Ha "Breath of Life".  This Broadway like production is a one of a kind experience, high energy, and will keep you on the edge of your seat!
Make sure to book your tickets early and take advantage of discounts to the Polynesian Cultural Center.

---
Experience Kualoa Ranch - Windward Countryside
The chosen spot on Oahu for filming box office movie hits such as Jurassic Park, Pearl Harbor, and famous TV shows like Lost, and Hawaii Five-O.
---
Discover Kim Taylor Reece Gallery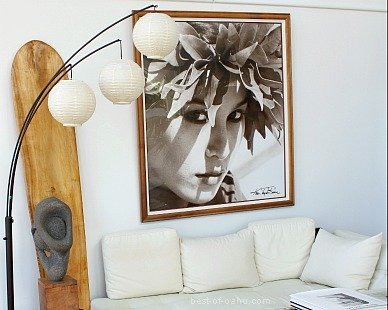 Very few visitors make it to the Sacred Falls area, or discover the Kim Taylor Reece Gallery.  It's an absolute treat for those who appreciate the artist of Hawaii. 
Kim has captured the beauty of the Hula performance in sepia-toned black and white photography.

His enlarged photographs that he lovingly calls murals are very captivating and will leave you with a larger appreciation for what the Hawaiian Hula dancers and their performances are all about. 
The Kim Taylor Reece gallery is about 20 minutes east of Turtle Bay Oahu Resort & 5 minutes away from the Polynesian Cultural Center.
Today Kualoa Ranch attracts lots of visitors to not only see the dramatic filming areas, but also to engage in tons of activities that the park grounds offer. Spend a day riding ATV's, horseback riding, kayaking to a secret island, flying across the tropical jungle on a fun zipline tour, and many other entertaining options!

---
How to Get to Oahu North Shore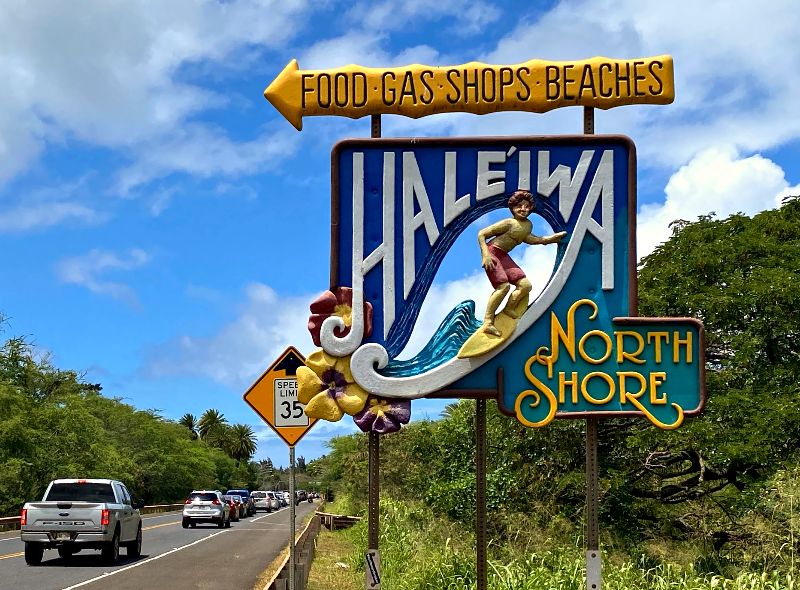 Because the attractions are spread through out Oahu North Shore, it's best to rent a car to get around, and see everything on your own time.
There are lots of charter tours available to get you out to the main attractions, but you lose part of the whole feeling of what the North Shore Oahu is about.
Taking the Oahu bus is also an option, but again, you will lose much time getting on and off the Oahu bus at destination points.  If you choose the bus as a means of transportation, I would recommend stopping in Old Haleiwa Town, and then choosing just one of the North Shore beaches to continue traveling on to.

---
By Car:
Directions:  From Waikiki, take the H-1 Freeway headed West…

Take the H-1 Hwy West to the H-2 Hwy North
Follow the H-2 Hwy to the Kamehameha Hwy (hwy 99)
Take Hwy 99 and continue into Haleiwa Town.

If you wish to by pass Haleiwa and head towards the north shore beaches, then continue on Hwy 99 and merge onto Hwy 83, which will take you to the coastline.

As you continue on  Hwy 83, you will first encounter Waimea Bay Beach Park, followed by the Banzai Pipeline (Ehukai Beach Park), and Sunset Beach Hawaii.
---
Oahu North Shore Map
---
By Bus:
From Waikiki, take the number 98A bus from Waikiki to the Wahiawa Armory and transfer to Oahu Bus 88A, that will take you out to Haleiwa Town and to the northshore beaches.

Facilities:  Old Haleiwa Town has some of the best Oahu North Shore restaurants and public restrooms.  The famous North Shore Beaches and Waimea Falls Park also have facilities available.
---
Oahu North Shore Visiting Tips:

Start early as traffic builds through out the day, and plan on staying out there a full day including sticking around to view the sunset at one of the beaches - Sunset Beach Hawaii didn't get its name by chance.

I would also recommend checking out one of the Oahu North Shore restaurants for dinner.  This will allow you to let the returning traffic to pass, and give you a chance to enjoy a nice ending to a fun day, versus trying to rush back to Waikiki to get ready for a late dinner.

---



Aloha & Enjoy!!