Discover Kualoa Ranch
Kualoa Ranch is a private nature reserve that provides discovery to these special lands through a variety of adventures.  With 4000 acres to explore between 2 beautiful valleys, it's no wonder how this Oahu attraction offers so many activities.  Movie Tours, ATV Rides, and the Zipline adventure are the most popular attractions.  But did you know you can ride horses and bikes into the mountains, or sign up for a one-of-a-kind UTV or Jungle Jeep ride?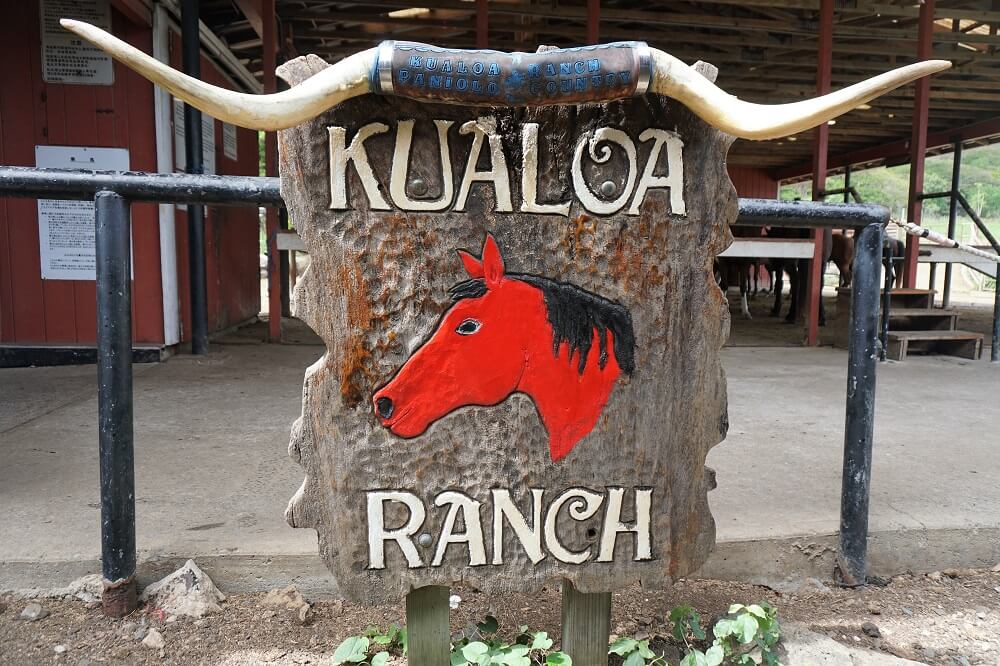 ---
The Tale of Two Valleys
---
Far from Waikiki and beyond the popular side of north shore is a living functioning ranch that offers a world of exploration and entertainment.

It's really the tale of two valleys, with so many stories and adventures awaiting to be explored.  There is no other ranch or Oahu Attraction out there that offers an array of experiences.  From riding ATV's through the valley to climbing trails with horses, learning about hydroponic farming, ziplining above the treetops, and kayaking to a private island that most folks don't even know exists.

---
What to Expect
---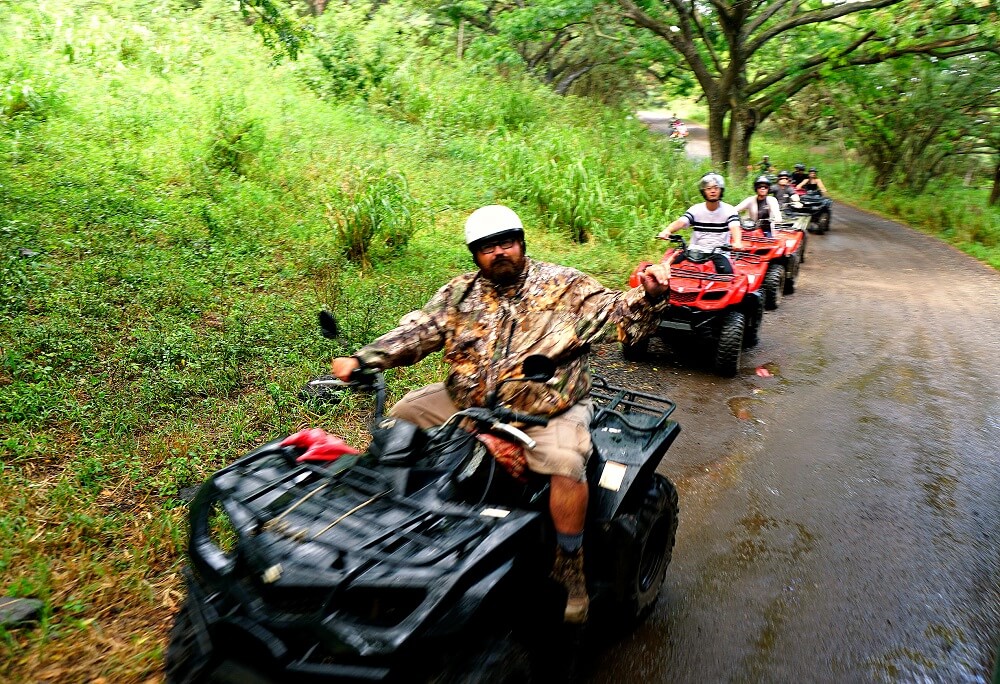 It can feel a bit overwhelming with so many different activities to choose from…horseback riding on side trails, ziplining through the trees, splashing ATV's in and out of mud puddles, to paddling kayaks out to a secret island, and just about everything in between.
There is literally something for everyone.  If ziplining from trees is not your thing, there is an adventurous movie tour from the comfort of an open air trolley bus or a fun Jungle Jeep Expedition Tour.  Both sparks a great sense of adventure while traveling deep into the valleys.
UTV Tour Rides and Zipline Rides
---
Kualoa Ranch History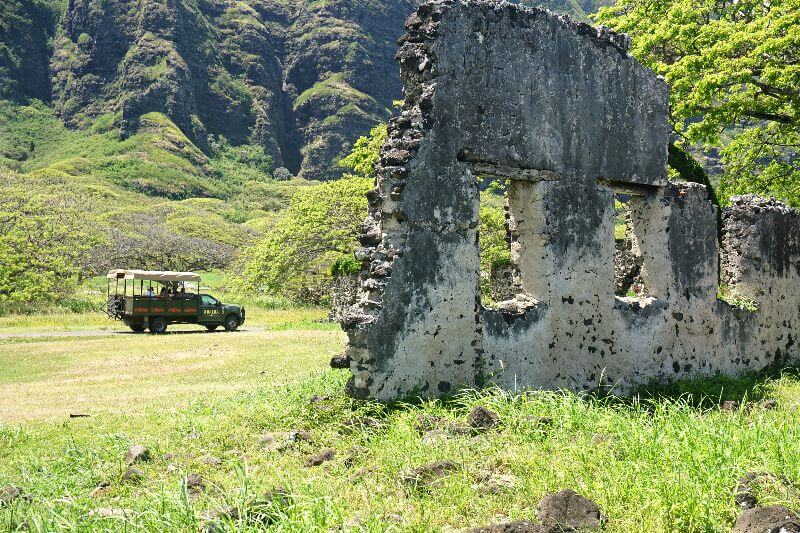 Before diving into the variety of activities that Kualoa Ranch offers, you might appreciate it a little more by understanding how it started as a ranch, and remains as an active one today.
It was established back in 1850 by a missionary named Dr. Gerritt Judd whose family continues to own, preserve and manage this beautiful land as we see it today.

---
A Self-Sustaining Ranch
---
While folks travel to Kualoa for an exciting day filled with adventure and discovery, there's lots going on behind the scenes with family ranchers taking care of livestock and attending many daily chores on the premises.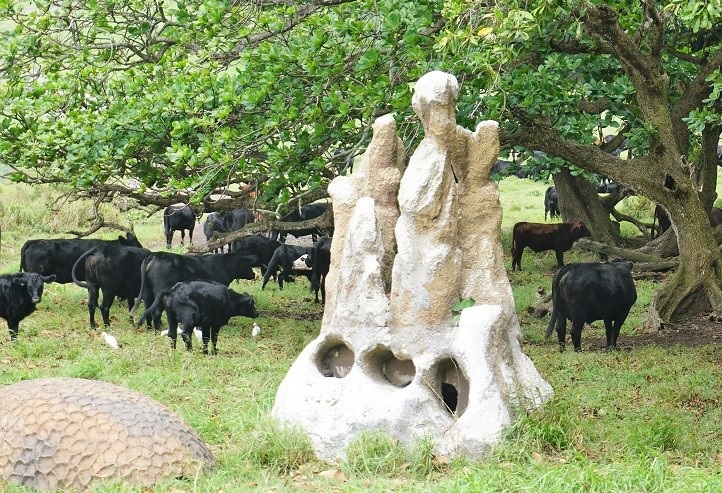 Kualoa Ranch is unique as it's one of the only self-sustaining ranches in Hawaii that raises farm animals, uses a hydroponic system to grow their own produce, and established a solar panel field for their energy.

---
Kualoa Valley Adventurous Tours
---
There are many ways to experience the expansive Kualoa grounds.  And while you don't need to be strong or athletic, you do need to have a little sense of adventure to have fun out there.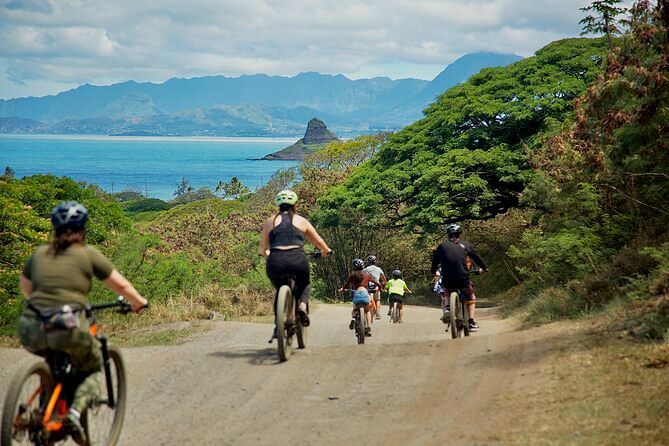 If you're looking for a sense of adventure and being in the driver seat, turn towards activities such as the horseback rides, electric bike tours, kayaking, ziplining, and UTV adventures.  You can book them them through UTV Tour Rides and Zipline Rides.
If you're looking for a sense of adventure and being in the driver seat, turn towards activities such as the horseback rides, electric bike tours, kayaking, ziplining, and UTV adventures.   You can book them them through UTV Tour Rides and Zipline Rides.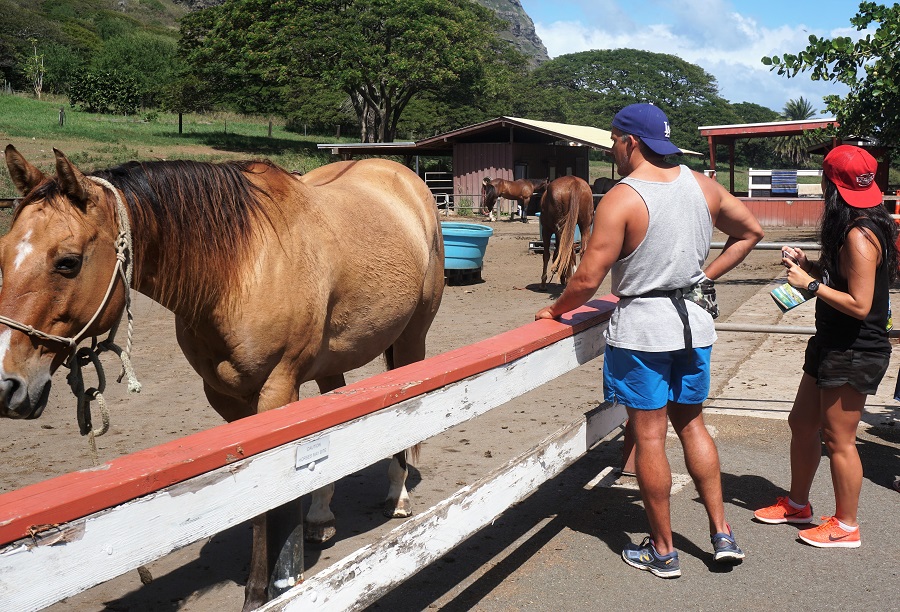 All tours are led by the ranchers, but you'll get a chance to drive the ATVs, ride your own horse, or paddle your kayak in the ocean.  There is a great sense of thrill while traveling deep into magical valleys.

---
Hollywood Movie Tour
---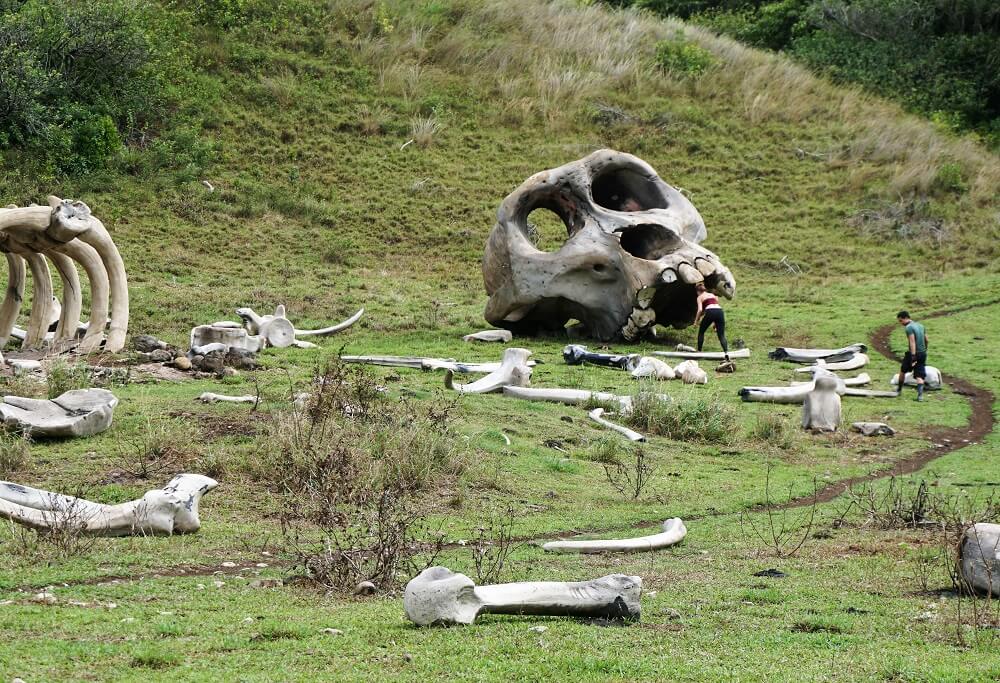 This Oahu attraction has to be one of my favorite Kualoa Ranch Tours.  Climb aboard an open air trolley, sit back and let your guide lead you through the valley where over 80 famous movies and popular TV shows have taken place.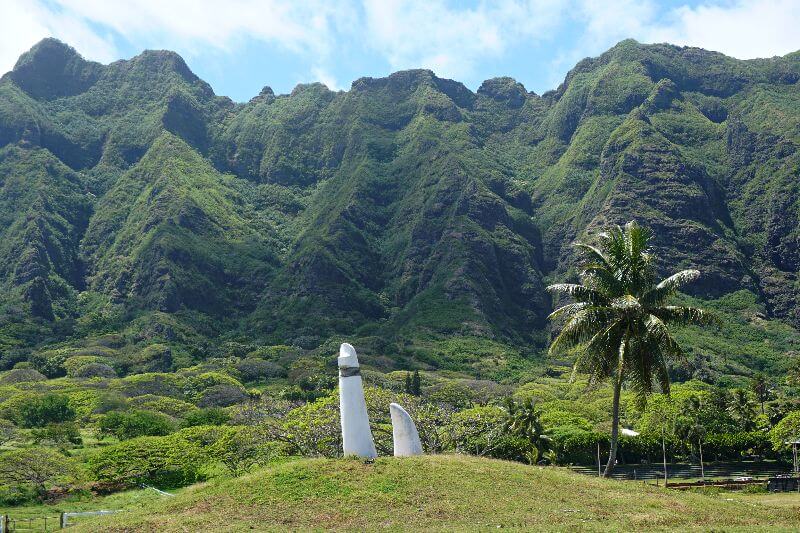 The tour makes a few stops along the route where you can see some iconic locations and some of the props that were used in movies, including gigantic foot prints and dinosaur bones from Jurassic Park.

You'll also get an opportunity to see their hydroponic farm put to use, and learn how Kualoa Ranch helps makes Hawaii a more self-sustaining state.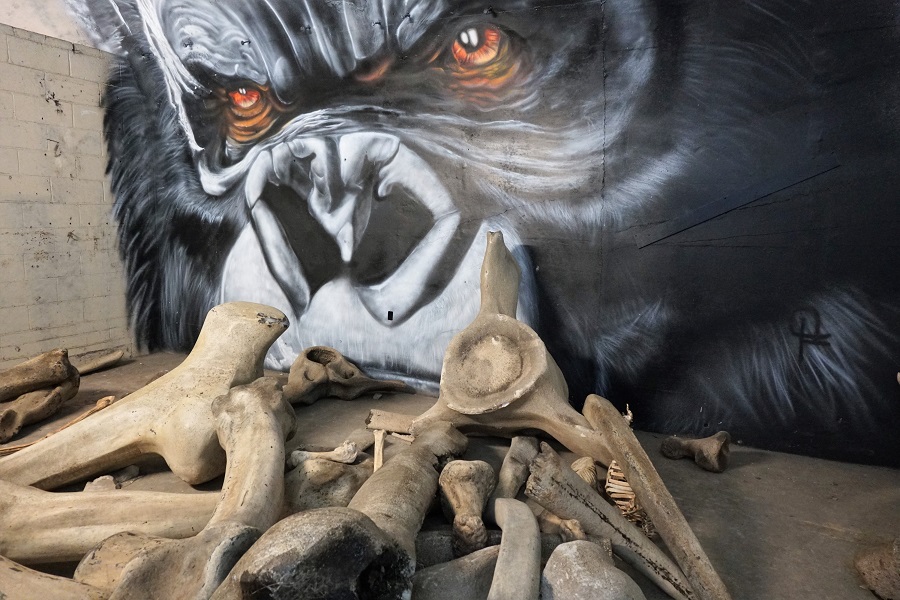 The trolley also makes a stop on top of a ridge where an old military bunker has been transformed into a museum.  The walls are covered with posters & pictures of movies that took place in these valleys, and the rooms are setup with movie scenes & props that were used.
---
Kualoa Food Tours
Explore what makes this area sacred, and be amazed by an ancient 153 acre fishing pond that was used a thousand years ago by the Hawaiian community practicing aquaculture, and remains well preserved today.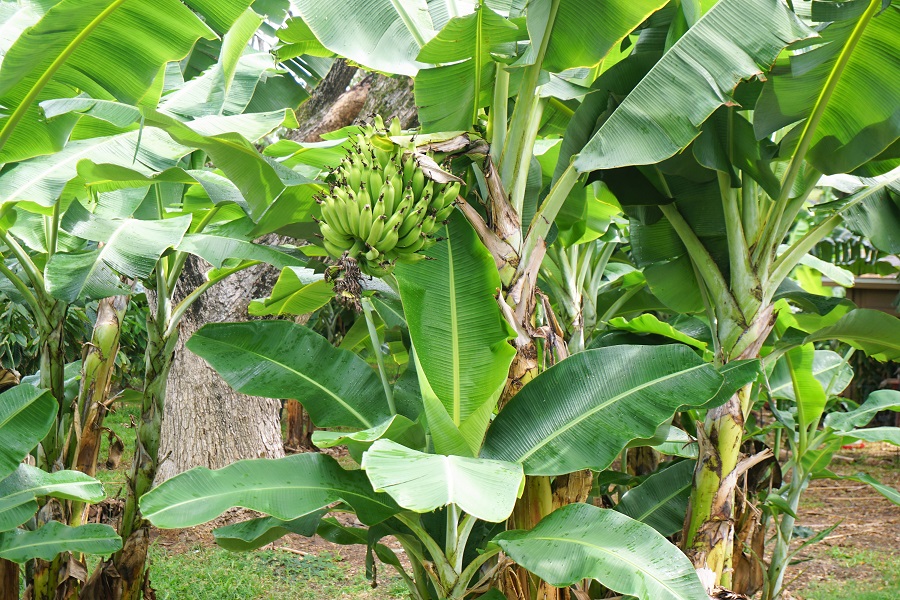 You'll travel by trolley listening to fascinating stories, identifying plants, flowers, and fruits grown on the property…with a taste along the way of course!
---
Guided Tours

Sit back but hold on as your guide leads the way through the jungle on a bus, open air trolleys, jeeps and UTV rides (where you get to drive too)!

Each offer levels of comfort while instilling a sense of adventure, but all offer great memories to share as they lead you through parts of the island that are unique, historic, and only can be viewed with the company of a guide.
---
Secret Island Beach Activities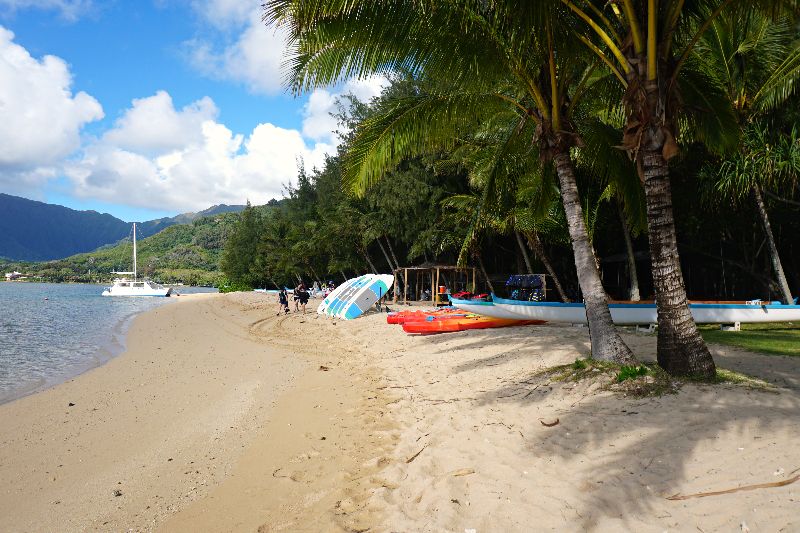 I can't think of many ranches that offer beach activities…and a Secret Island Beach at that!  Sign up for the beach and you can take advantage of fun water toys including Paddle Boards, Canoes Rides and Kayaks.
If you prefer to relax on the beach, you can lay out a towel or jump into one of the relaxing hammocks, or play ping pong, horseshoes, or get a beach volleyball game going.  It's all set up and waiting for your enjoyment.
---
Gift Shop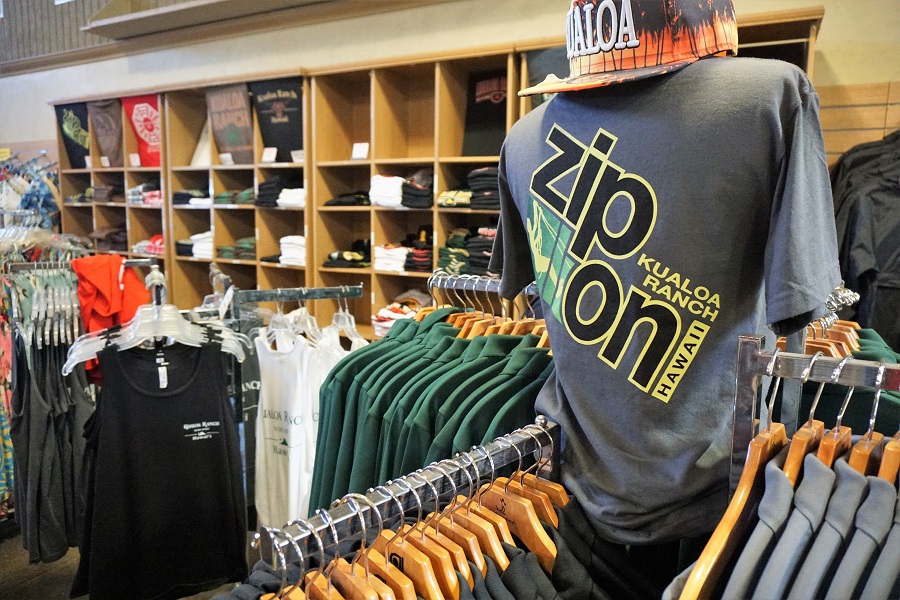 Give yourself a little extra time as there is an extensive gift shop on the premises that has some cool Kualoa souvenirs to check out…or walk away with!

---
Tips
---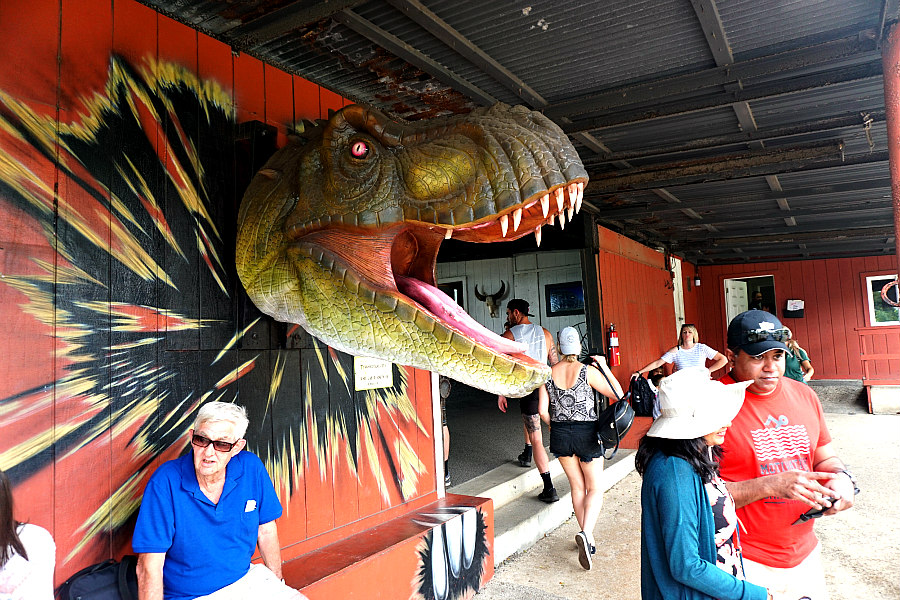 Purchase Tickets Early
Buy tickets 2 to 3 weeks in advance…especially for the most popular tours.  You can always try winging it to see what's available upon arrival, but might be subjected to long wait times, or be disappointed to find no availability.  Singles might have the best luck to find an occasional empty seat on one of the tours.
Pricing starts at $52 for guided tours and goes up higher for other activities, including $175 for the Jurassic Valley Zipline experience.
---
Dine at the Cafe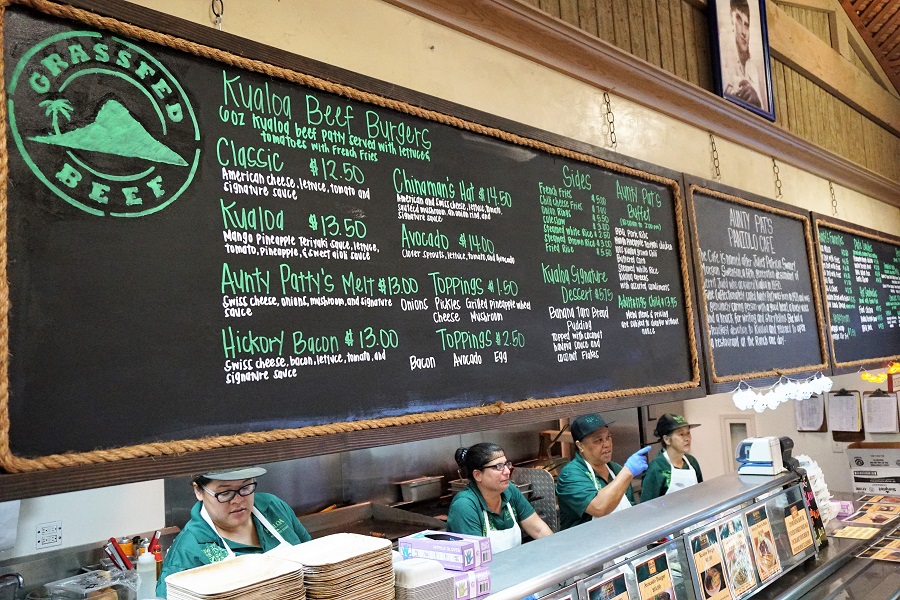 Dine at Aunty Pat's Paniolo Café!  You're at a ranch and the food doesn't get any fresher or more delicious!  Kualoa Ranch grows their own produce and raises its own grass-fed cattle.

Line up for their loco moco, homemade burger, or anything else that was grown or raised on the ranch!  Open 7:30 AM to 3:30 PM

---
Best Souvenir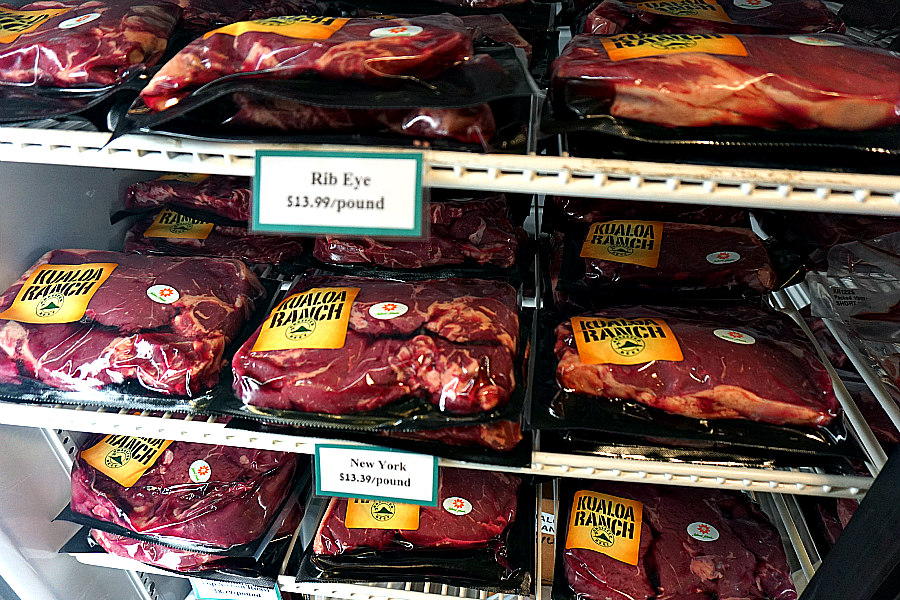 While the gift shop offers lots of cool swag items to remember your time here at the ranch, the best souvenir might be the one you can throw on the barbecue.  Ranch raised steaks are packaged up nicely and ready for the taking!

---
Bring Beach Gear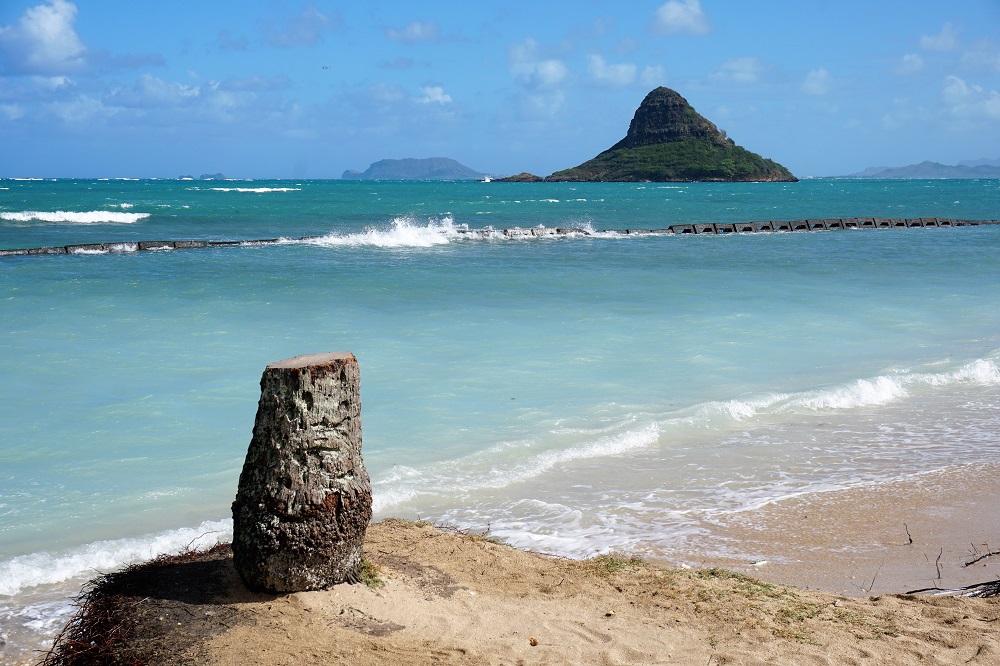 If you're planning to take advantage of any of the beach or water activities, you might want to pack some beach gear including towels, sunscreen, and bathing suits.

---
Getting There
---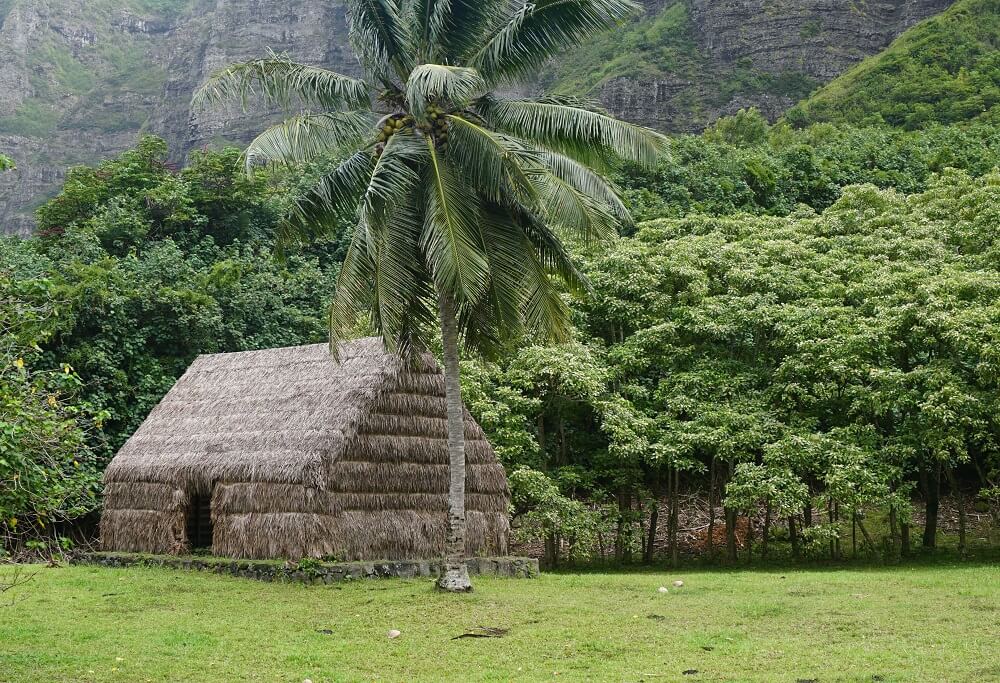 From Waikiki – approximately 45 minutes travel time
Take the Kuhio Ave to Kapahulu Ave and turn left
Take H-1 Freeway north 5 miles
Take the Like Like Hwy East for 7 miles
Take the Kamehameha Hwy north (H1-63 Kahekili Hwy) for 10 miles
The Kualoa Ranch will be on the left side
49-560 Kamehameha Hwy, Kaneohe

Open Daily 7:30 AM to 6 PM, Closed Christmas Day and New Years Day
Phone (808) 237-7321
---
Map to Kualoa Ranch


---
In The Area
---
Chinaman's Hat
There are some Iconic landmarks around Oahu, and Chinaman's Hat is one of them.  Also referred to as Mokolii (Hawaiian origin name) is owned and protected by the state & federal government.  It's stunning to marvel at, and a privilege for some kayakers to paddle to.  Best viewing point is from Kualoa Regional Park & Beach.

---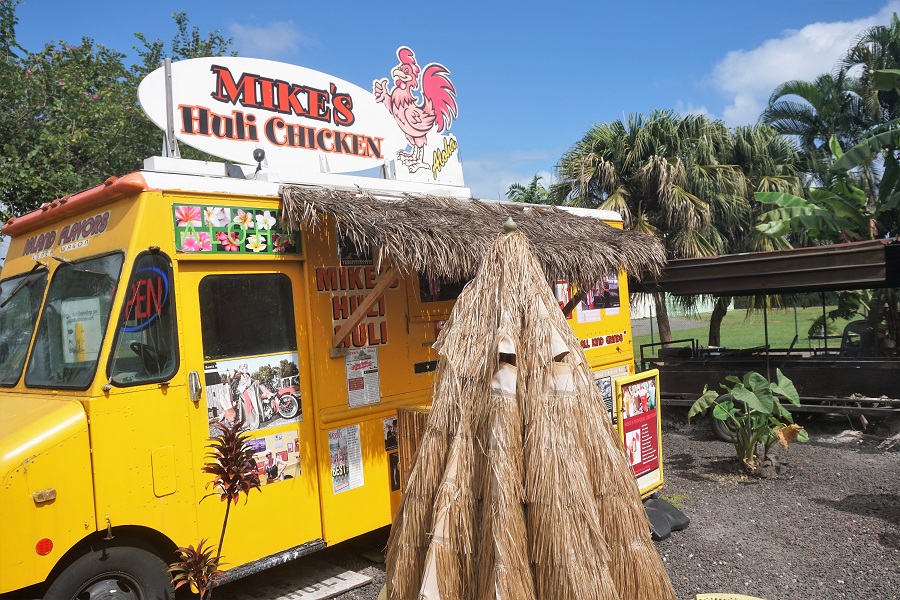 If you're in the mood for a different kind of barbecue other than what the ranch has to offer, then save your appetite for some ono side-of-the-road huli huli chicken.  You'll see a colorful sign and food truck just 10 miles down the road.  They have a tempting menu…just make sure to order some of their BBQ Chicken!

56-565 Kamehameha Hwy Kahuku

---
Polynesian Cultural Center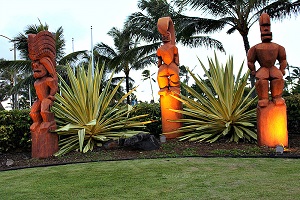 Loaded with fun activates, captivating shows, and a grand luau of its own, this is another full day of entertainment that is located 15 minutes up the road in Laie, North Shore.
The Polynesian Cultural Center has been an institution since 1964, and continues to evolve and entertain throughout the years.

55-370 Kamehameha Hwy, Laie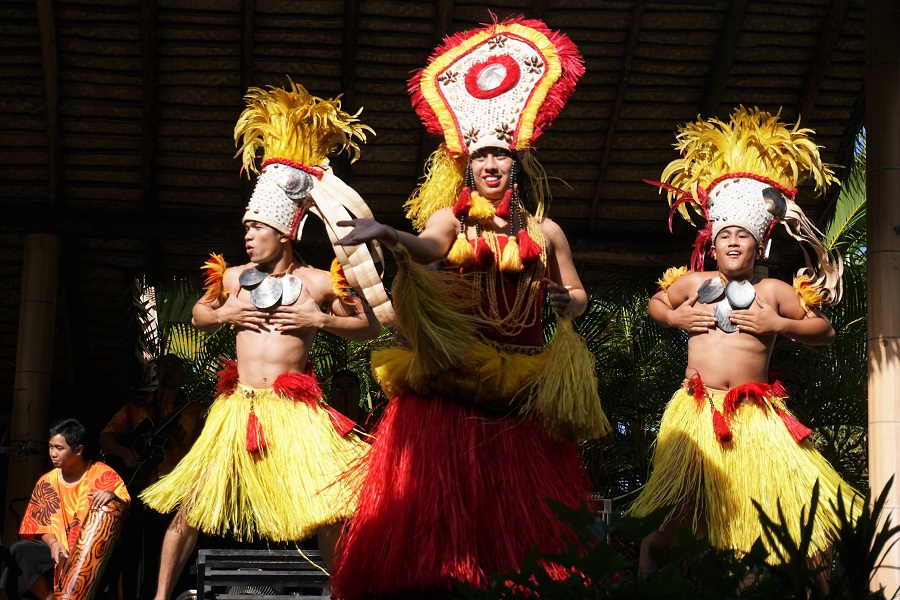 Purchase your ticket now before they get fully booked...especially for the popular package selections. There are a few different packages available including different options such as transportation, luau dinner, and a popular night show called Ha "Breath of life".  Bus pick up from Waikiki starts at 10 am, and later pick ups for evening luau packages & show only.  Book your tickets

There is so much to see and discover at the Polynesian Cultural Center that you will need at least a couple of days to explore it all!
And you will be happy to know that your entrance ticket is now good for 3 days beyond your first visit, if you wish to return and experience additional shows and village areas.

Aloha & Enjoy!

Subscribe to receive Best of Oahu updates on events, updates, and new articles.  It's the closest way to paradise while you are away...
We will never sell or spam your information, and we'll respect your email privacy.