Discover Chinaman's Hat & Kualoa Beach Park
One of many Oahu attractions worth seeing is Chinaman's Hat, located on the Winward side (east) side at the top of Kaneohe Bay. You can best view this distinctive island just offshore from Kualoa Regional Park.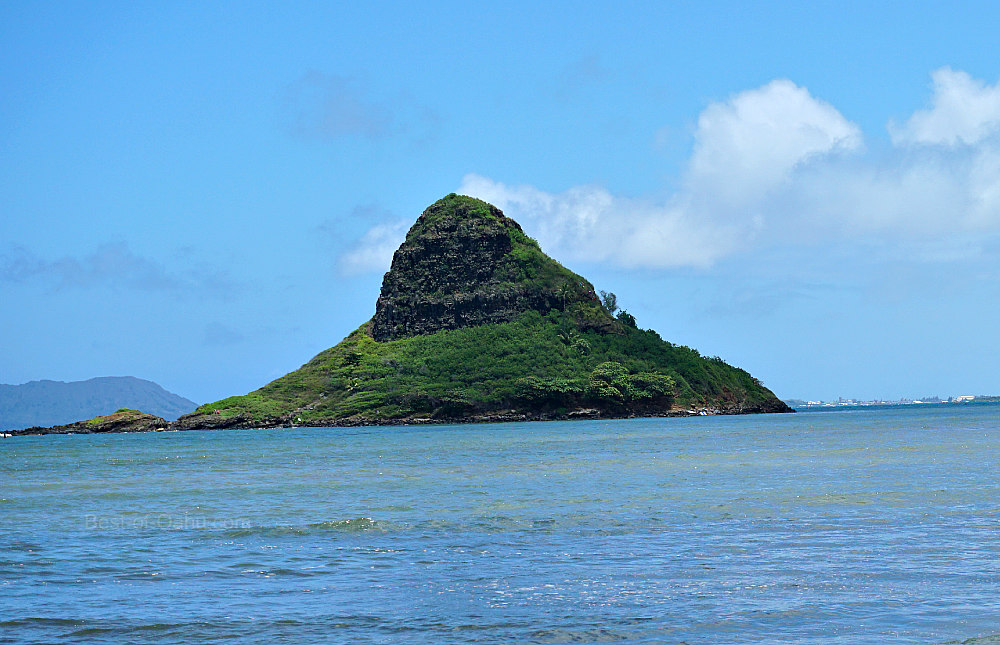 Most visitors that take a day trip around the island tend to make a pit stop at Kualoa Beach Park to admire Mokoli'i Island and get a pic. More commonly known as Chinaman's Hat for its shape, this island has become an iconic landmark for Oahu. What comes as a surprise to most visiting the area is encountering a sprawling grassy park accompanied by a long stretch of beach.

---
Explore Kualoa Beach Park
---
Kualoa Beach sand does not stretch long from the shoreline to the water but is extremely wide as the eye can see.  So wide in fact, that it wraps around the corner and goes on for another good half mile.
Most visitors don't make it this far, as they are here primarily for a photo opportunity of Chinaman's Hat.  But I encourage you to walk down past the lifeguard station located at the south end of the park, just before the beach wraps around the bend and continues to line Kualoa Bay.  This side is a much nicer stretch of beach worth exploring.
---
Camping at Kualoa Regional Park
---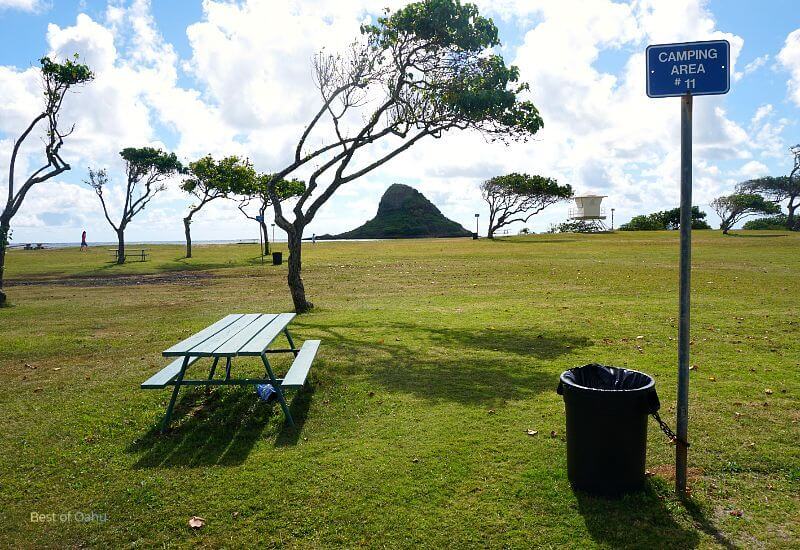 Kualoa Beach is a state-run park with many facilities, including bathrooms, outdoor showers, and picnic tables. The park features a huge grassy lawn with Kamani and palm trees.
There are even a couple of camping sections with multiple campsites located towards the end of the park. You can reserve a campsite through the Honolulu Government website.
Imagine camping along the shoreline with Chinaman's Hat in your view the whole time.

---
Spending the Day at Kualoa Beach & Chinaman's Hat
---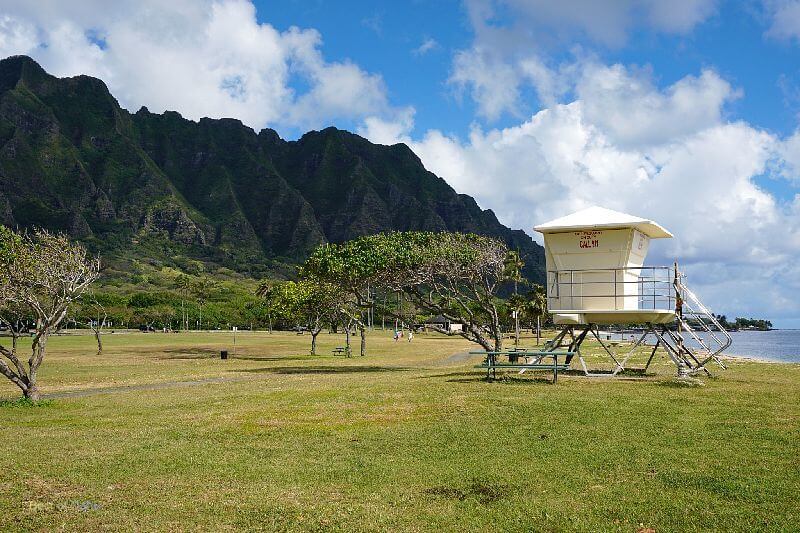 And while it's a good 45-minute drive from Waikiki, you'll find it to be a peaceful park in a beautiful setting.  Not only with a marveling Chinaman's Hat island from shore but the stunning and powerful Ko'olau Mountain range sky-scraping in the distance.
The water is usually calm in the area, as there is an extensive long barrier wall about 40 yards out in the water.  It's not a solid wall but an open crossbar structure that allows the fresh ocean water to circulate.  At the same time, it creates a protective fishing area and also helps prevent beach erosion.
If you're looking for the best area to take a dip in the water, you'll find sandier patches just beyond the lifeguard station.
There are lots of parking stalls around the park that only tend to fill up on holiday weekends when locals like to get together with family members and friends for all-day barbecue gatherings and camping.  Other than that, this is usually a tranquil beach and away from everything except Kualoa Ranch across the street.
---
Neighboring Kualoa Ranch
---
If you're not familiar, Kualoa Ranch is a unique estate that stretches between 2 beautiful valleys.  It's a popular area where famous movies and TV shows have been filmed.
This active ranch has become a big Oahu attraction over the years, offering ziplining, horseback rides, and ATV-guided tours through mountainside trails.
---
Kualoa Secret Beach
---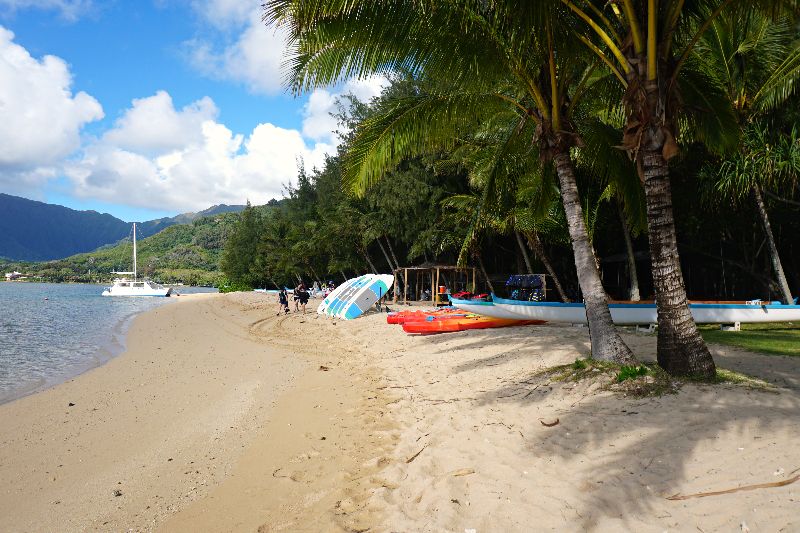 Kualoa Ranch also owns land that neighbors this Oahu Beach Park. If you were to walk a good half mile down the shoreline from the lifeguard stand, you would come across an area called Secret Beach.
Kualoa Ranch also sells beach excursions with lots of water and beachside activities, including kayaking, paddle boards, lounge chairs, and cabanas to relax on. Note that while all beaches in Hawaii are public, the land leading up to Secret Beach is privately owned.
---
Moli'i Ancient Hawaiian Fishpond
---
Another hidden feature in this area is a vast 125-acre freshwater pond.  You might see it while walking down this beach area.
It's part of the Kualoa Ranch estate, and there is no good access from this side to view this ancient Hawaiian fishpond, other than walking through the trees and brush.  There are actually 2 fishponds in the area, but the Moli'i is the largest.
---
Two Tales of Chinaman's Hat
---
Chinaman's Hat Drone Photo
Chinaman's Hat is situated just a half mile from land. It is truly amazing to marvel at... there isn't a bad view of this gem from Kualoa Beach Park.
Its Hawaiian name is Mokoli'i, which means small lizard.  Everyone refers to it as Chinaman's Hat, associated with a folklore tale of a giant fisherman resting below the sea, with only his big hat sticking out above the ocean surface.
But there is an older legend about this mysterious island.  A Hawaiian goddess named Hi'iakaikapoliopele killed a giant lizard that chased her in the Kualoa Valley.  During the battle, she had severed the lizard's tail, and all that remains today is the tip that we refer to as Mokoli'i "island".
---
Kayaking to Chinaman's Hat
---
It's common to see kayakers paddling out to Chinaman's Hat. There's actually a small beach you can paddle up to and rest up before making your way back.
Some adventurous folks elect to hike up to the top of Mokoli'i.  But note that it's a steep advanced quarter-mile hike to the top. Know you're ability before making such a journey, both kayaking and hiking.  There have been several rescues made over the years in both instances.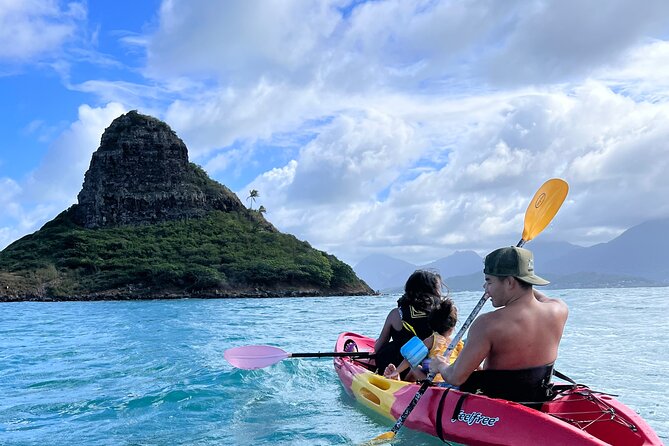 How nice would it be to have a kayak waiting for you upon your arrival?  Consider signing up half day self-guided kayak tour with map and equipment.  Learn more details...

---
Best times to View Chinaman's Hat
---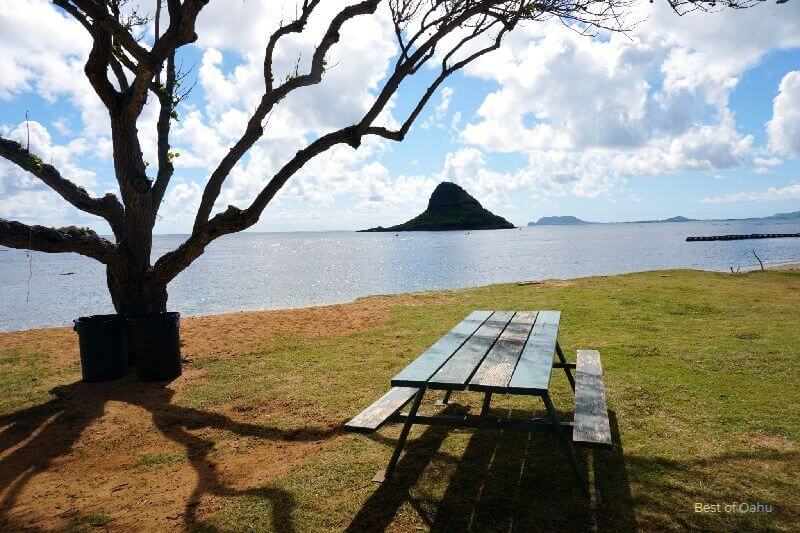 The best time to visit Kualoa Ranch Beach is in the morning when trade winds tend to be calmer and when you just might have the whole place to yourself.   If you want to see something really spectacular, catch a sunrise here, with the sun lighting up the sky with magical colors and Chinaman's Hat in the background.
The afternoon is also a good time to view this beautiful island, as the sun travels towards the Ko'olau Mountains and lights up the frontside of Chinaman's Hat and highlights its full character.
---
Kualoa Beach Park Facilities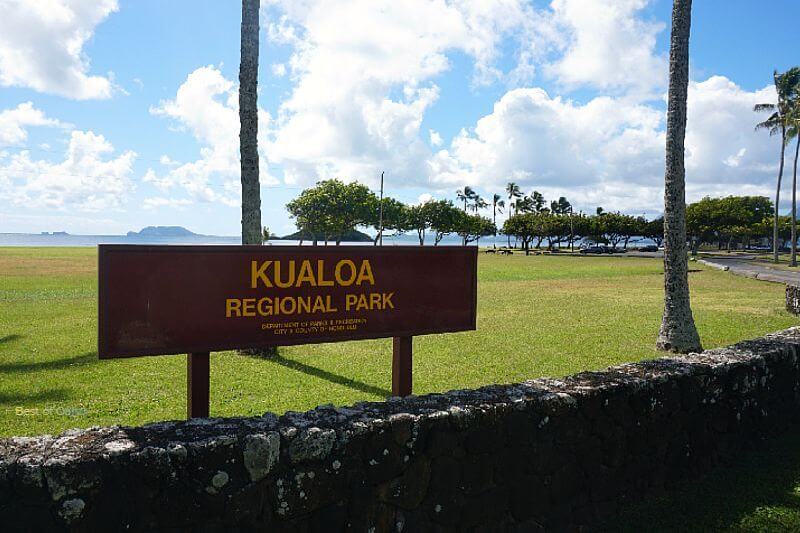 Picnic Benches
Barbeques
Bathrooms
Showers
Campsites
Free Parking
---
Getting There
---
From Waikiki – approximately 45 minutes travel time
Take the Kuhio Ave to Kapahulu Ave and turn left
Take H-1 Freeway north 5 miles
Take the Like Like Hwy East for 7 miles
Take the Kamehameha Hwy north (H1-63 Kahekili Hwy) for 10 miles
Chinaman's Hat and Kualoa Regional Park will be on the Right side
49-479 Kamehameha Hwy, Kaneohe
---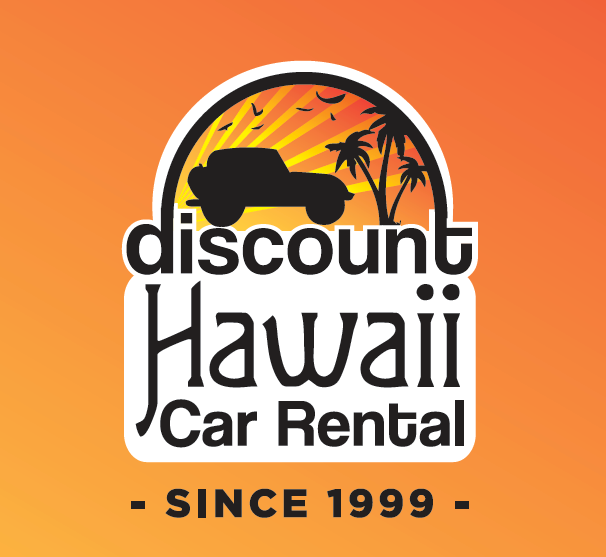 Need a good rental car option for the day?  Whether you would like to visit a beach, a popular Oahu attraction, or explore the island for just a day, consider these great, discounted rent-a-car rates with Discount Hawaii Car Rental.  They also have great packages for your entire trip...
---
Oahu Bus
From Waikiki take the #8 or #20 Oahu Bus from Kuhio Ave (northbound) to the Ala Mona Center.  Transfer to the #60 bus that stops in front of Kualoa Beach Park.  Take note that it can take up to 2 hours of travel time to get there.

Kualoa Beach Park Map
---
Return to Best of Oahu Home Page
Aloha & Enjoy!

Subscribe to receive Best of Oahu updates on events, updates, and new articles.  It's the closest way to paradise while you are away...
We will never sell or spam your information, and we'll respect your email privacy.