Kayaking Oahu: The Ultimate Guide to Exploring Island Paradise
If you're looking for the best kayaking Oahu experience, consider visiting Windward side Oahu beaches including Kailua Beach and Chinaman's Hat, and also Haleiwa Beach on the North Shore.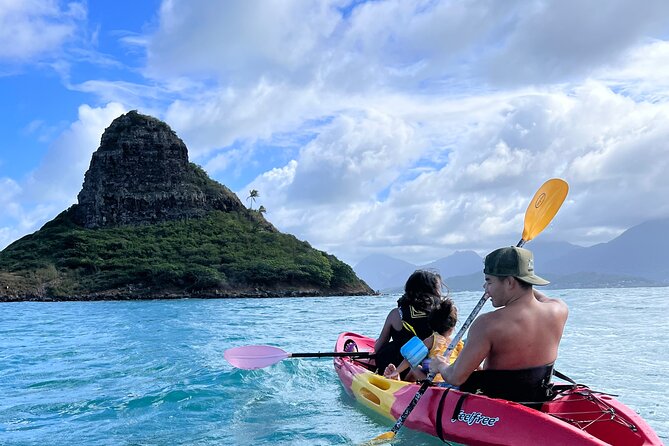 Kayaking to Chinaman's Hat
Oahu, the breathtaking island paradise of Hawaii, is renowned for its spectacular beaches and hidden coves.
While there are countless ways to experience the beauty of the island, kayaking stands out as one of the most unique and awe-inspiring activities. With crystal-clear waters and stunning shorelines, Oahu offers some of the best kayaking spots in the world.
Whether you're a beginner or an experienced paddler, there are plenty of amazing locations along Oahu's coast that will make your kayaking trip unforgettable.

In this comprehensive guide, we'll take you through everything you need to know about kayaking on Oahu. From where to rent a kayak to the best spots to explore, we've got you covered. So, grab your paddle and let's dive into the world of kayaking on Oahu!
---
Kayaking Oahu Table of Contents
---
Haleiwa River Kayaks
Getting a Kayak on Oahu
Essential Gear and Safety Tips
The Best Kayaking Spots on Oahu
Kaneohe Bay
Kailua Beach Park
Kahana Bay
Coconut Island (Moku o Lo'e)
Mokulua Islands (The Mokes)
Haleiwa Beach Park
He'eia State Park Fishpond
Pokai Bay Beach Park
The Best Time to Kayak in Oahu
Kayak Tours and Guided Experiences
Additional Tips and Recommendations
Exploring Oahu Beyond Kayaking
Conclusion
---
Getting a Kayak on Oahu
---
If you're planning to kayak on Oahu, you'll need to secure a kayak for your adventure. Fortunately, there are several options available to suit your needs.
For popular kayaking destinations like the Mokulua Islands, you can easily rent a kayak and paddles from local rental shops near the launch point. These rental shops typically provide all the necessary equipment and allow you to explore at your own pace.
In some cases, if you're heading to lesser-known kayaking spots, you may need to arrange for kayak delivery. Several companies offer kayak delivery services to specific locations, allowing you to start your kayaking adventure hassle-free.
Choosing the right size kayak for your needs is important, especially if you're a beginner. Choosing a double or triple kayak can provide stability and make your experience more enjoyable.
---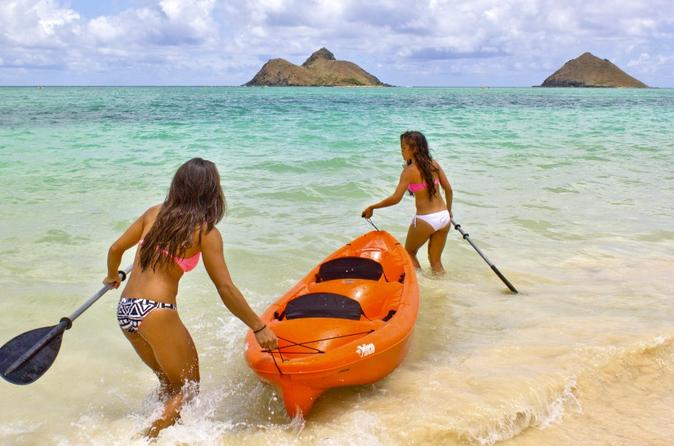 It's amazing enough to just step onto Kailua beach, but paddling out gives you a whole new perspective. Not to mention observing the crystal clear waters below as you journey out.

This is a special 2 hour adventure that you must plan ahead and sign up before arriving at the beach.  It includes transportation, lunch, snorkel gear, life jacket, dry bag, and caters to beginners to more advanced kayakers. 
---
Essential Gear and Safety Tips
---
Before starting your kayaking Oahu journey, it's crucial to ensure you have the right gear and follow safety guidelines. Here are some essential items you should bring:
Waterproof Bag: A waterproof bag is essential for protecting your belongings from water damage. Consider investing in a high-quality bag to keep your items safe and dry.
Snacks and Water: Stay hydrated and energized by packing snacks and water. Choose lightweight, non-perishable snacks that provide sustenance throughout your adventure.
Reef-Safe Sunscreen: Protect your skin and the environment by using reef-safe sunscreen. Hawaii has banned sunscreens that harm coral reefs, so opt for brands that are environmentally friendly.
Sunglasses: Protect your eyes from the sun's glare with a pair of sunglasses. Polarized lenses are especially helpful for reducing glare on the water.
Water Shoes: Water shoes are essential for protecting your feet from sharp objects and providing traction when getting in and out of the kayak. Look for shoes with a sturdy sole and quick-drying material.
Safety Equipment: Ensure you have the necessary safety equipment, including a life jacket and whistle. It's important to wear a life jacket at all times while kayaking, regardless of your swimming ability.
Navigation Tools: Bring a compass or GPS device to help navigate your way along the coast and back to your starting point.
Emergency Supplies: Pack a basic first aid kit, a flashlight, and a cell phone in a waterproof case in case of emergencies.
Remember to check the Oahu weather conditions and tide levels before heading out, as they can greatly affect your kayaking experience. If you're unsure about the tides, consult a local tide chart or seek advice from experienced kayakers.
It's also important to be aware of the marine life in the area and respect their habitats. Avoid disturbing or feeding wildlife and always give them plenty of space.
---
The Best Kayaking Oahu Spots
---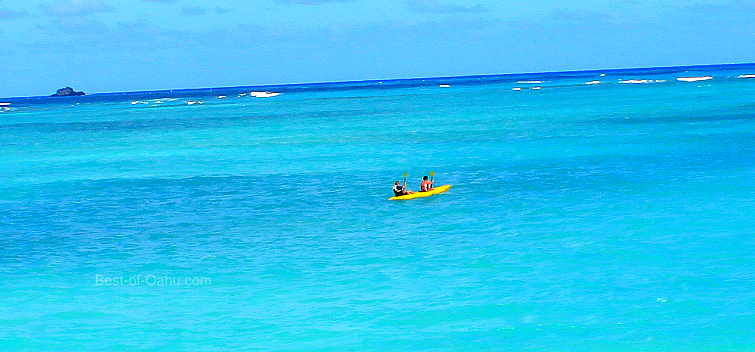 Kailua Beach Kayaking
Oahu is blessed with an abundance of stunning kayaking spots along its coast. Each location offers unique sights and experiences, catering to different skill levels and preferences. Here are some of the best kayaking spots on Oahu:
---
Kaneohe Bay
---
Kaneohe Sand Bar Tour
Kaneohe Bay is an ideal spot for kayaking with its calm and shallow waters. One of the highlights of kayaking in Kaneohe Bay is the opportunity to visit the Kaneohe Sandbar. This stunning sandbar stretches for over a mile and offers beautiful views of the nearby islands.
You can paddle around the sandbar, go snorkeling, or simply relax on the sandy shores. Kaneohe Bay is also home to coral reefs, providing a fantastic opportunity for snorkeling and observing marine life.
---
Kailua Beach Park
---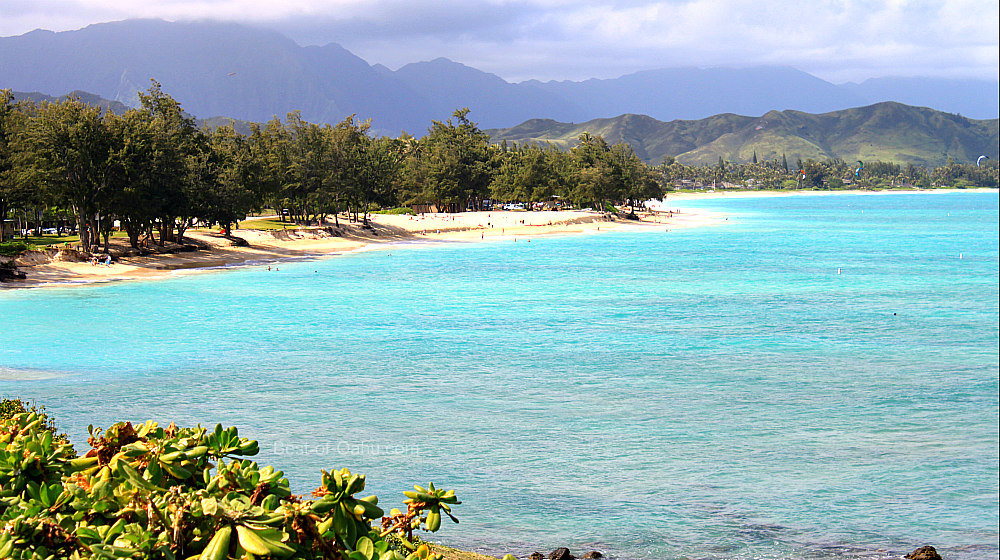 Kailua Beach Park
Kailua Beach Park is a popular destination for kayaking, thanks to its stunning views and calm waters. Rent a kayak and start a leisurely paddle along the coastline, taking in breathtaking views of nearby mountains and the turquoise ocean.
Kailua Beach Park offers a range of amenities, including restrooms and barbecue areas. It's an ideal spot for beginners to learn how to kayak in a safe and tranquil environment.
---
Kahana Bay
---
Located on the Windward Coast of Oahu, Kahana Bay is a picturesque spot for kayaking. The bay features gentle shorelines and calm waters, making it perfect for beginners. Explore the bay and keep an eye out for dolphins, turtles, and even whales during the winter months.
Kahana Bay is also home to an abundance of coral reefs, fish, and shells, offering a fantastic opportunity for nature lovers to immerse themselves in the vibrant underwater world.
---
Coconut Island (Moku o Lo'e)
---
Coconut Island, also known as Moku o Lo'e, is a hidden gem for kayaking on Oahu. While landing on the island is prohibited, you can still enjoy a peaceful kayak journey around its shallow bay.
As you paddle, you'll have the opportunity to spot tropical fish swimming beneath your kayak and admire the lush vegetation and abundant wildlife on the island. Coconut Island is a paradise for snorkeling, scuba diving, and whale watching, offering an unforgettable experience for nature enthusiasts.
---
Mokulua Islands (The Mokes)
---
Lanikai Beach Mokalua Islands
The Mokulua Islands, also known as "The Mokes," are a must-visit destination for kayakers. Start on a thrilling 2.5-mile kayaking adventure to these picturesque islands and immerse yourself in the beauty of the serene ocean.
The islands offer excellent snorkeling opportunities, with vibrant coral reefs and sea turtle feeding grounds. While landing on the larger island, Moku Nui, can be challenging, you can still hike around and enjoy stunning views of Queen's Bath and Hawaiian Monk Seals sunbathing on the beach.
---
Haleiwa Beach Park
---
Haleiwa Bridge Kayaking
Located on Oahu's North Shore, Haleiwa Beach Park offers breathtaking scenery and fantastic kayaking opportunities. The highlight of kayaking in this area is the chance to spot sea turtles as they make their way upstream in the Anahulu River.
Paddle along the bay and witness the stunning sunset views that Haleiwa Beach is famous for. With captivating sea life, including colorful fish and coral, Haleiwa Beach Park is a perfect spot for nature enthusiasts and adventure-seekers alike.
---
He'eia State Park Fishpond
---
For a peaceful and cultural kayaking experience, head to He'eia State Park Fishpond. This ancient fishpond, actively managed by Paepae o He'eia, offers stunning views of the Koolau Mountains and Kaneohe Bay.
Kayak through the calm waters and observe schools of native fish and crabs in their natural habitat. He'eia State Park Fishpond provides a safe and tranquil environment for kayakers of all skill levels to explore and learn about Hawaiian culture. Please note that access to private property is by permission only.  Reserve your rental now
---
Pokai Bay Beach Park
---
Pokai Bay Beach Park, located on Oahu's west side, is a hidden gem for kayaking. The secluded beach park offers crystal-clear waters and a picturesque shoreline, perfect for a peaceful kayaking experience. Paddle through the surrounding coral reef and watch for tropical fish that inhabit the area. The calm waters of Pokai Bay Beach Park make it an ideal location for novice kayakers to learn and enjoy the beauty of Oahu's coastline. You may even spot dolphins or whales during your kayaking adventure if you're lucky.
---
The Best Time to Kayak in Oahu
---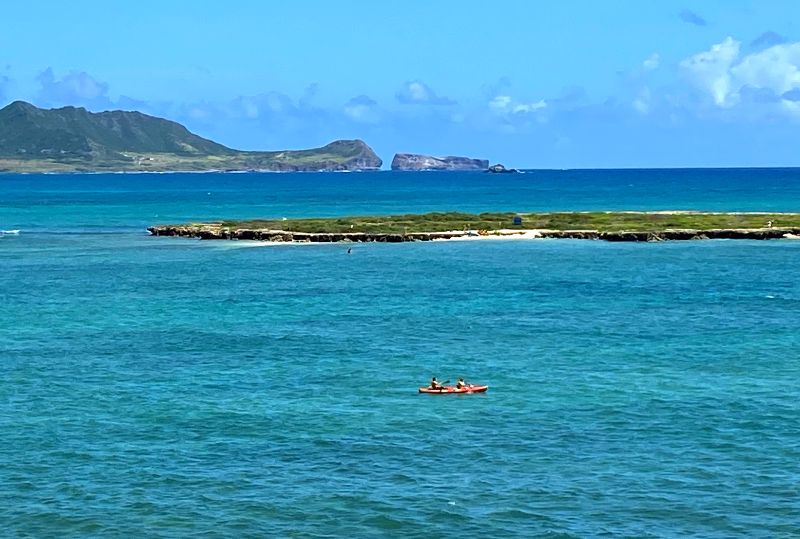 Kayaking Kailua Flat Island
The best time of year to kayak in Oahu is between May and October. During this period, the weather is dry and mild, with minimal rainfall, creating ideal conditions for kayaking.
This is also the peak of whale-watching season, so you can spot majestic humpback whales during your kayaking journey. Additionally, the waters during this time are crystal clear, offering excellent visibility for gazing at the colorful coral reefs below.
The North Shore experiences large ocean swells from November to March, making the open water unsafe for kayaking. However, sheltered areas like Kaneohe Bay provide serene routes for kayaking even during this time.
---
Kayak Tours and Guided Experiences
---
If you're new to kayaking or prefer to have a guided experience, several kayak tours are available on Oahu. These tours provide a structured and informative experience, allowing you to immerse yourself in the beauty of Oahu's coast fully.
Knowledgeable guides will lead you to the best kayaking spots, share interesting facts about the area, and ensure your safety throughout the journey.
Some tour companies offer additional activities like snorkeling, hiking, or wildlife encounters. Consider joining one of the top Oahu kayaking tours to make the most of your Oahu kayaking adventure and gain insights from local experts.
---
Kayak Rentals In Oahu, Hawaii
---
On the windward side of Oahu, there are many excellent kayak rental options.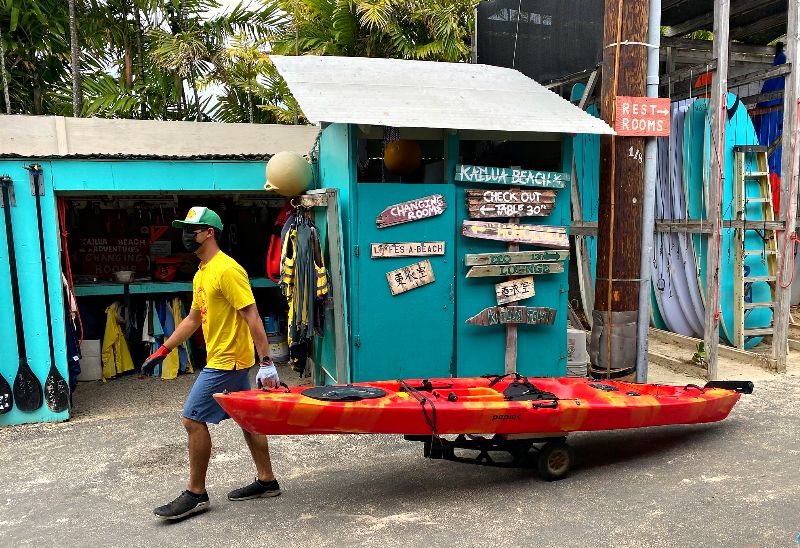 Kailua Beach Adventures
Here are some suggestions from Viator:

Ocean Adventure – Full Day Oahu Self-Guided KAYAK Adventure
Single-Person Oahu Kayak Rental – Full-Day
Stand Up or Kayak – Mokoli'i Island with Transportation
---
Aloha & Enjoy!

Subscribe to receive Best of Oahu updates on events, updates, and new articles.  It's the closest way to paradise while you are away...
We will never sell or spam your information, and we'll respect your email privacy.