Home  /  Hawaii Waterfalls

Hawaii Waterfalls - Oahu
Hawaii Waterfalls are beautiful, powerful,and full of life.  But only a few waterfalls on Oahu are accessible.  So the question should be which waterfalls in Oahu are worth hiking to?  Some Best of Oahu waterfalls only require a quick hike, while others take an hour or two to reach.  If you are feeling a little adventurous and up for a little trekking, then there is an Oahu waterfall waiting for you! 
Most Oahu waterfalls are tucked deep inside the rainforest, and they cannot be viewed just from scenic lookout points.  But after a good rainfall, there is one visible Oahu waterfall that can be seen from a distance, as you drive up to the Pali Hwy towards Kailua.
Of all the waterfalls on Oahu, this one has taken on the precarious name "The Upside Down Waterfall", as it seems that the water never hits the ground.  The powerful Pali mountainside winds sweeps up the cascading water back up into the air, until it finally dissipates.
With nowhere to pull over to view this impressive 100ft plus cascading Hawaii waterfall, or easy hike involved to get there, just simply keep your eyes focused on the right hand side of the highway (unless you're the driver…) about a mile before you exit to the Pali Lookout.

| | |
| --- | --- |
| If you're lucky…you might get a glimpse of this mysterious Oahu waterfall wonder. | |
Oahu Waterfalls you can hike to…
Although there are only a few accessible waterfalls in Oahu, each offering a unique setting worth exploring!  If you are feeling adventurous and up for a little trekking, there are some fantastic Hawaii waterfalls waiting for you!
Whether you are a Hawaii waterfalls enthusiast or you just want to satisfy your craving of  waterfall adventure and curiosity, the list below  is a great sampling of Hawaii waterfalls on Oahu.  Click on each one to learn more on how to explore these amazing natural wonders.
---
Waimea Falls Park
Plan on a fun family stroll versus an adventurous hike to reach this stunning Oahu waterfall.  Don't get me wrong…you will be walking along some beautiful botanical gardens as you make your way towards the Waimea Falls.
Located on the Waimea Valley grounds, this is the only waterfall in Oahu that you can swim at that also has a changing room, life jackets available, and lifeguards on duty.  Also plan on spending some extra time checking out the Hawaiian cultural activities that take place daily on the Waimea Valley estates, before starting your journey to the Waimea Falls.

Get your Oahu GO Card that gives discounts to multiple attractions, museums and tours around the island, including Waimea Valley Park & Falls...
- sponsored -
Plan your trip ahead and check out the GO Oahu Card that gives discounts (up to 55%) to multiple attractions & things to do in Oahu, museums and tours around the island.

---
Manoa Falls
This waterfall on Oahu is not only the closest falls from Waikiki, but also one of the most stunning Oahu Waterfalls worth visiting on the island! 
A quick 15 to 20 minute drive will take you from the Waikiki hotels to the lush Manoa Valley.  Manoa is recorded as the wettest spot on Oahu that receives more rainfall than anywhere else on the island.  Just imagine the impact this has on this Oahu waterfall…!
The trek up to the Manoa Falls is pretty much a flat trail, but can get muddy at times as you could imagine.

Stay the course for about an hour, and you will find yourself staring up at one of the tallest Oahu waterfalls - 150 feet tall!

The Oahu GO Card gives you your admission and discounts to multiple attractions & tours including Manoa Falls Park.

---
Maunawili Falls Trail
Located close to the Pali Hwy on the Kailua side of the Ko'olau Mountians is another spectacular Oahu Waterfall.  The Maunawili Falls towers an impressive 20 ft!
Here you'll find people jumping off the rocks and swimming in the mountainside pool below...at their own risk!
---
Li'keke Falls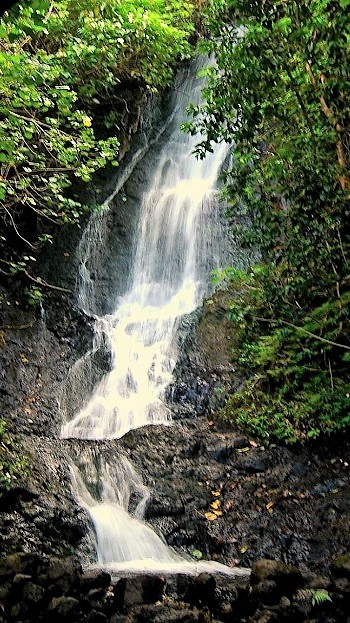 Most visitors journey up to the Pali Hwy Lookout for the breathtaking views of the easterly Windward side of the island.  Not many people actually hike down the old Pali Road located below to discover the Likeke Falls.
A great adventurous hike down broken sections of the original Pali Highway, and through a dense jungle forest will keep you entertained as the scenery continuously changes, traveling to the impressive 20 ft Oahu waterfalls.
It will take you about an hour or two to reach the Maunawili Falls, and it can get quite muddy, as it rains quite often in this region.  The best part is that you can swim in these waters, and even take a 30 ft rock plunge into it if you dare!

---
Lulumahu Falls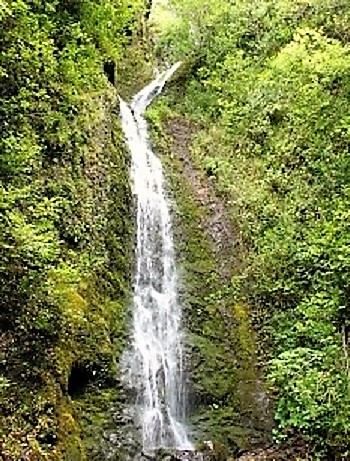 Lulumahu Falls is 1 of 5 popular waterfalls in the Pali region!  I like this waterfall a lot as it resides close to the Kaniakapupu Ruins, better known as King Kamehameha III's summer home.  This waterfall has a great Indiana Jones adventure-like trail to get there. 

It will take you about 30 to 40 minutes to reach the 50 ft plus Lulumahu waterfall, and I promise you that you will not find yourself bored hiking into a dense bamboo forest, climbing up old waterwork structures, and wandering into the mystical Hawaiian jungle!

CAUTION: You will not find many hikers on the paths to this waterfall, so it is important to travel with a buddy, and use a map for this hike.

---
Kapena Falls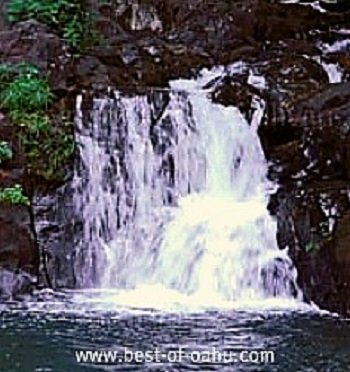 As kids, we would walk up Nu'uanu Valley and cross through a cemetery to reach this Oahu waterfall and local swimming hole.  Don't get the wrong picture, we didn't actually walk across loved ones tombs in the Nu'uanu Cemetery, but followed the road around to the backside to a service shed, where the access trail starts. 

I'm not sure what was more exciting…playing in the 20 foot sliding waterfalls, or swinging on the rope from the hillside and plunging into the pool of water below.  Some folks are crazy enough to jump off the hillside boulders into the small pool below!

---
Laie Falls Trail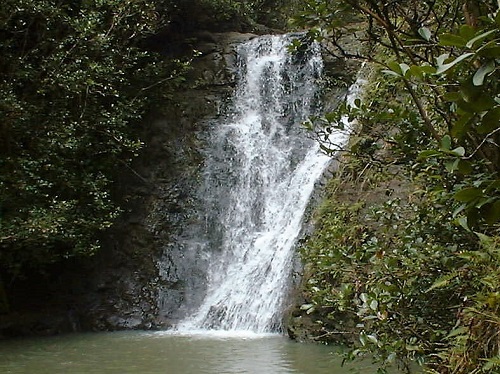 Step into the North Shore countryside near the Polynesian Cultural Center and hike the Laie Trail that leads straight up to the Ko'olau mountain summit, and to a beautiful 15 ft Oahu waterfall!
Laie Falls is a moderate 2.5 mile hike to reach the double-sided waterfall.  The terrain is a combination of open field dirt roads, winding ridge trails filled with guava trees and a Cook Pine Tree forest.
The backdrop view of Laie Point, is not only beautiful, but a scene for what untouched Hawaii might have looked like a few centuries ago. Laie Falls is a nice nearby alternative to the closed Sacred Falls, located 5 minutes away.

---
Oahu Waterfalls that are Closed to the Public
---
Sacred Falls
Sacred Falls is by far the most beautiful and stunning site to see of all Hawaii Waterfalls!  


While there are newly renovated trails that lead up to these Oahu waterfalls, they are ironically closed, due to a large landslide that took place in 1999.  The danger of falling rocks, valley flash floods, and landslides still exists in this narrow tall canyon area, so it remains closed today.

It's unfortunate because Sacred Falls is 90 feet of jaw dropping power that cascades down the mountainside!  It is currently illegal to trespass and hike in this state park area, but sometimes you still hear about some daring hikers that take the risk and make the 4 mile round trip.  It is unsafe to attempt this hike today.  Please take heed of the warnings of dangerous conditions.
You are better off getting a more spectacular view by chartering a helicopter flight, and soaring comfortably above the majestic falls for an unbeatable birds eye view!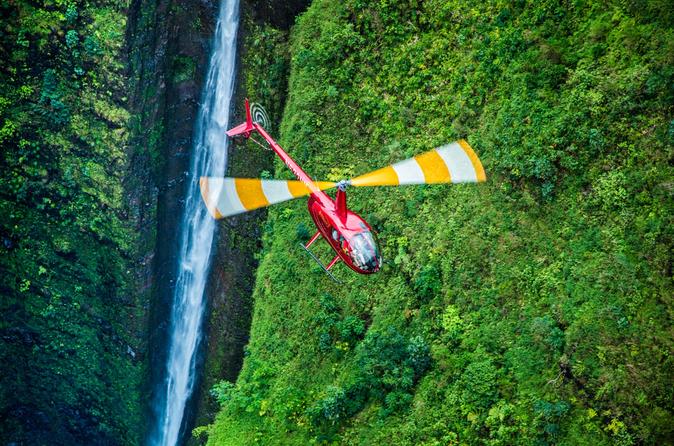 Sign up for an open-door helicopter ride and explore Sacred Falls from the top and through the valley, along with other unique parts of the north shore.

---



Aloha & Enjoy!!