Hiking Likeke Waterfalls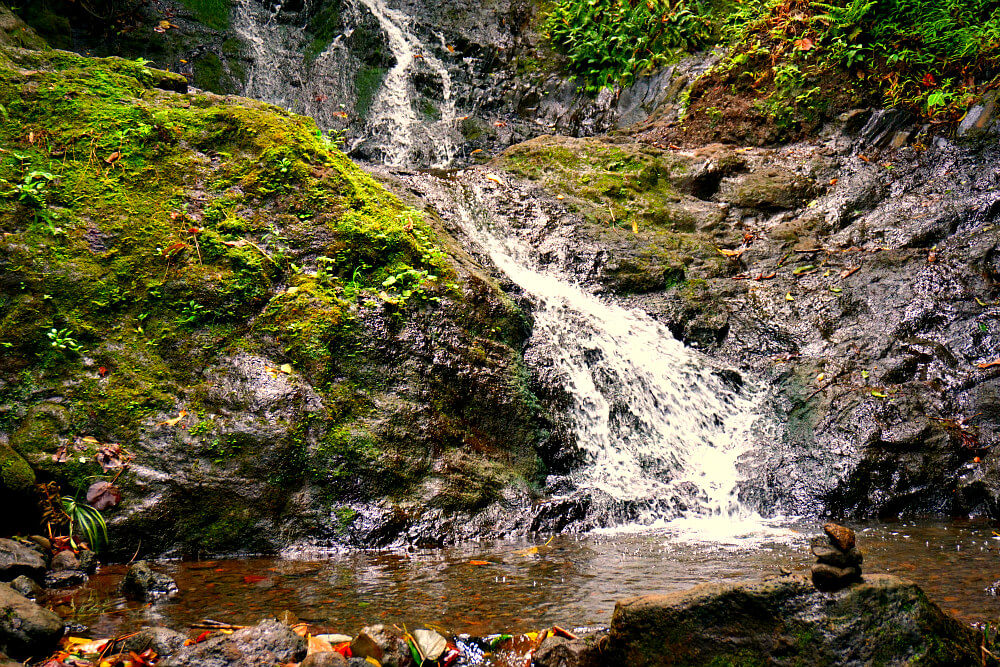 Likeke Falls is a stunning, two-tiered waterfall that sits below the Pali Lookout.  Sometimes referred to as the Old Pali Highway Falls, this Oahu waterfall can be one of the easiest to access!  But without a map or some directions, you might never find it…or wind up lost!
---
Elevation     200 Feet
Length         1 Mile Round Trip
Duration       30 to 60 Minutes
Terrain           Jungle, Stream Crossing, Mud
Difficulty        Easy to Medium
---
Disclaimer – all Oahu hikes have different challenges and hazards that can be dangerous and may inflict injury. Know your fitness and skill level before embarking in any hike.  Stay on trails and obey posted signs. The information on this site is for your reading pleasure only.  Hike at your own risk.

---
Two-Tiered Likeke Falls
---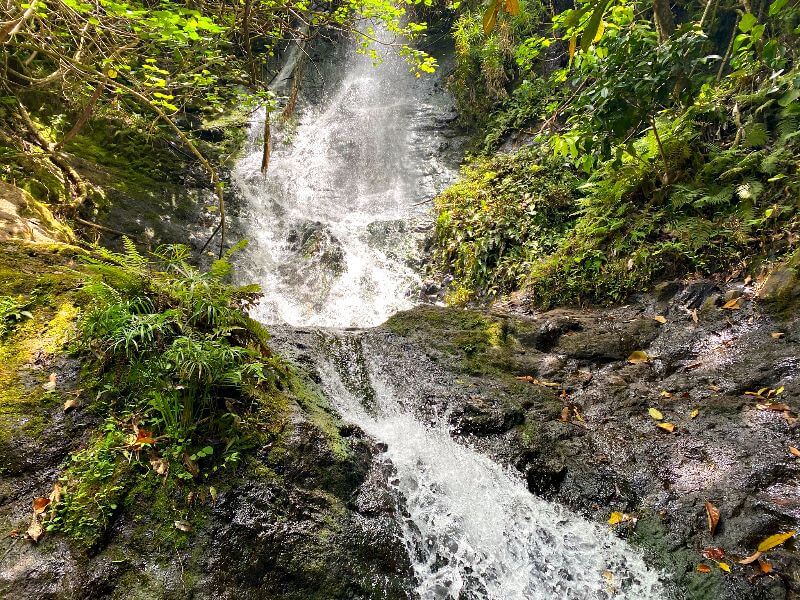 There are two ways to get to Likeke Falls.  You can reach it by hiking down the Old Pali Highway from the Pali Lookout, which will take about an hour and a half.
Or you can take the easier and much shorter route by starting from the bottom of the Ko'olau Golf Club, and walking up for approximately 15 minutes to reach this Oahu waterfall.
It really depends on how much time you have, how strenuous of a hike you're in the mood for, and how much scenery you want to pack in!

With the water constantly collecting in the high Ko'olau mountain range, you find beautiful waterfalls scattered throughout, including Likeke Falls.

---
The Hike
---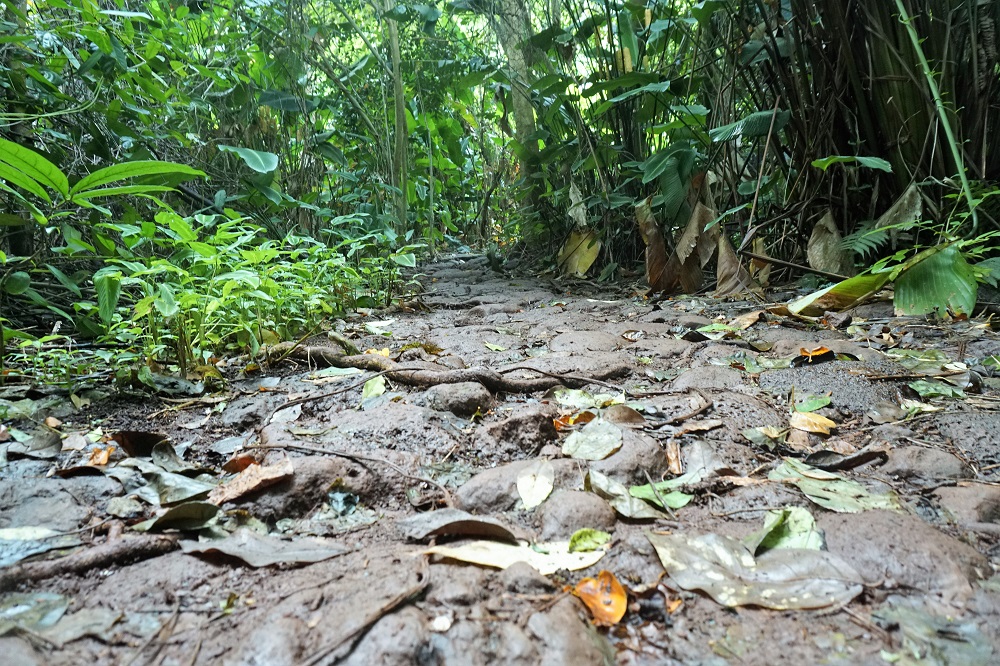 As I mentioned above, there are two ways to get to Likeke Falls.  You could hike down from the Pali Lookout for over an hour, or take a quick 10 to 15 minute hike up from the Ko'olau Golf Course parking lot.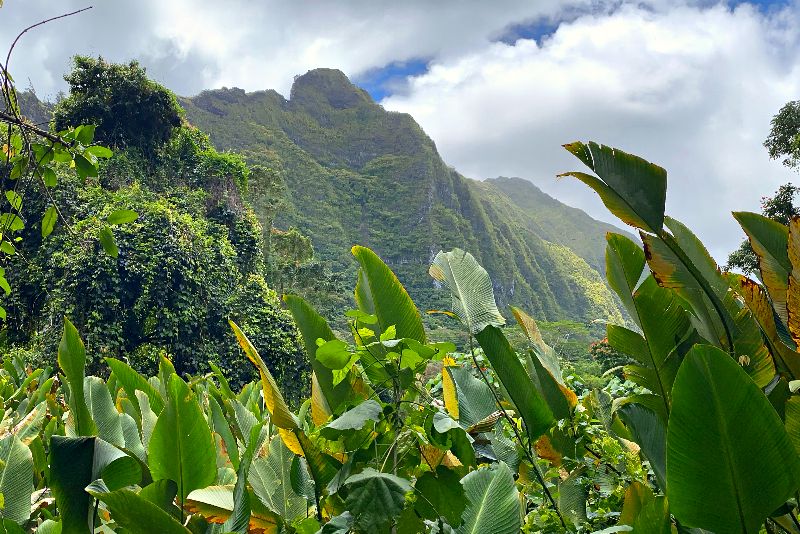 Window View of the Pali
Hiking down from the Pali Lookout requires traveling along the Old Pali Highway below the lookout, cutting through some thick brush, under the freeway, onto Auloa Road, and then connecting onto the Likeke Trail.  Follow the trail down the hill to the waterfall.
Just remember that when you're finished, the hike is all back uphill, if you take this route!
Note:  The route from the Pali Lookout is currently blocked off, do to the danger of falling rocks from above.  You will need to travel up to the waterfall from the golf course below.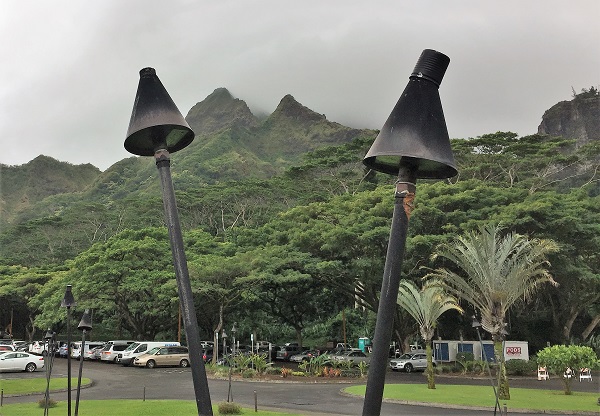 I prefer to keep this hike simple and start from the Ko'olau Golf Course parking lot.  Park away from the club house and closer to the mountain side right as you enter the parking lot.

Be ready to pay $10 for parking as the First Presbyterian Church of Honolulu has started charging a fee to park in their parking lot.
Walk up to the chain linked gate past the stop sign on the mountainside and proceed towards the water tower.  Take the first trail on the left hand side, which will lead to a stone pathway.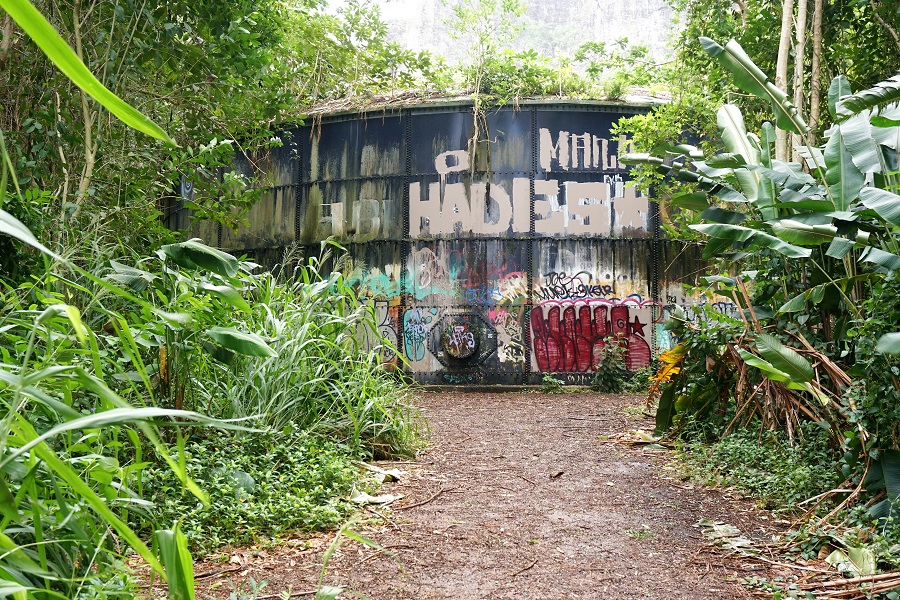 Don't make the mistake that I did by walking to the back of the tower and following another trail up to a utility structure that dead ends.  It's steep and only gets confusing and you'll end up lost if you make this mistake.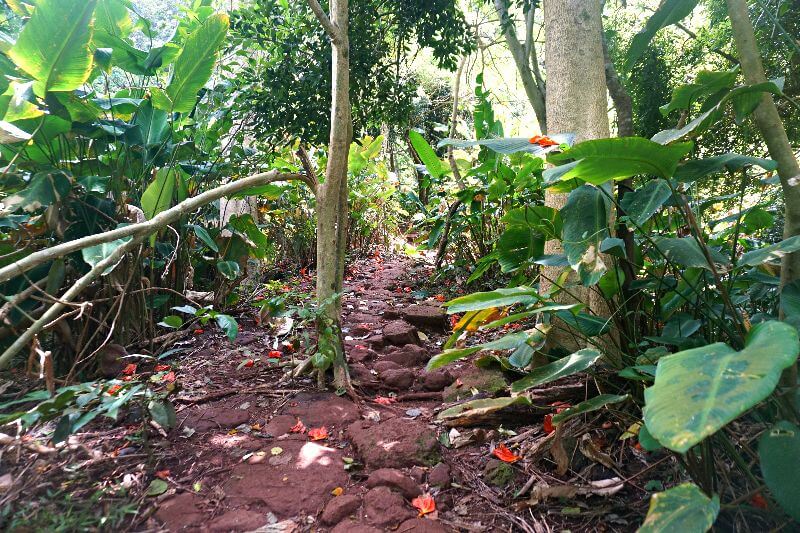 The trail starts off with an easy, well- maintained path that leads to lush, tropical foliage bordering the sides.  There is patches of beautiful ginger along the trail.  

Also enjoy a couple jungle windowed views of the Pali and Ko'olau Mountains above.  If you look carefully you will see a pronounced hole in the mountain-side rock at the top with daylight coming through it, located off the Pali Puka Hiking Trail.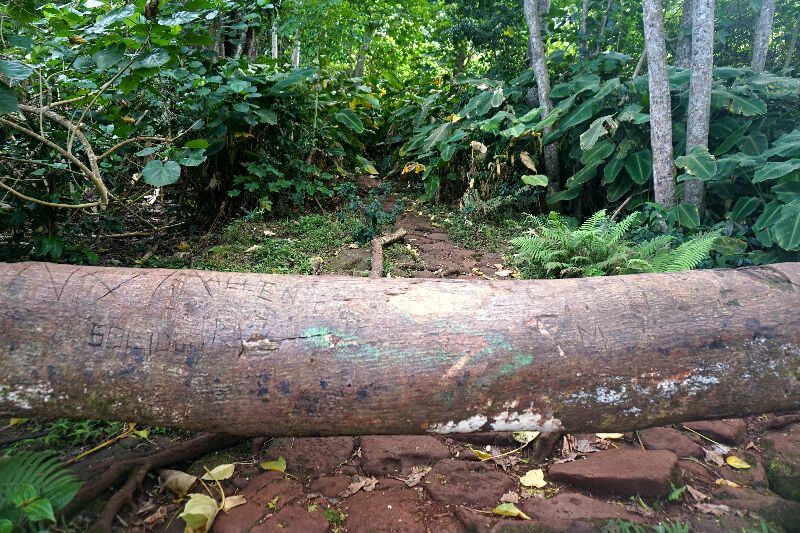 Follow this trail for about 5 minutes or so, until you see a smaller trail that forks on the right hand side into the brush.  Make sure you do not climb over and pass the large fallen tree truck that crosses the path.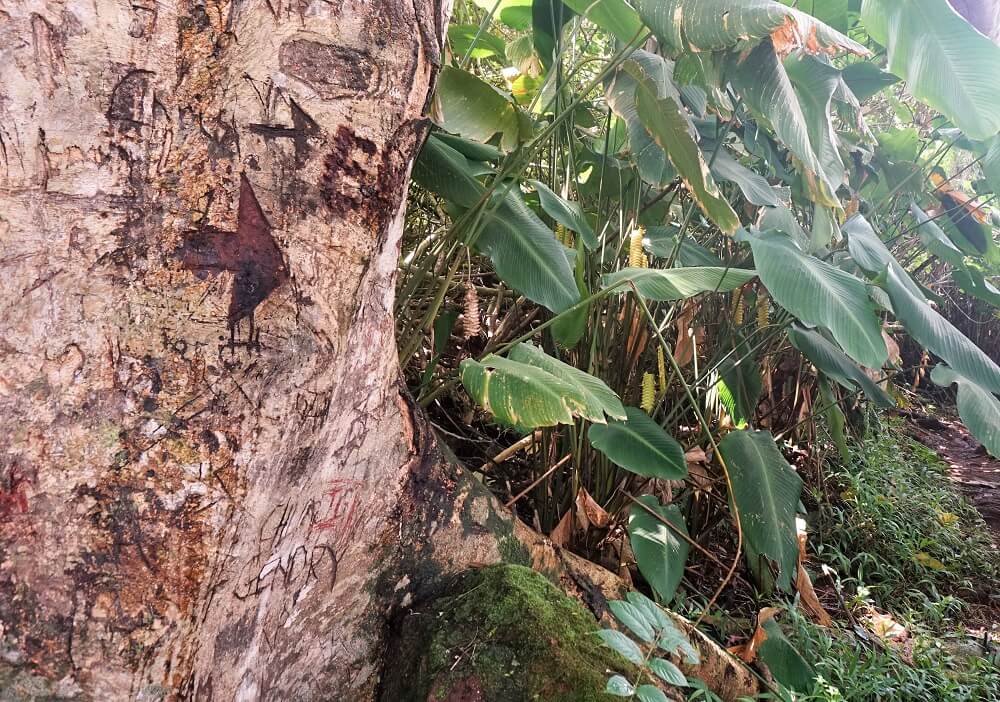 Look for an arrow sign that's carved into a tree at the T-intersection.  There is now an additional green arrow spray painted on the tree marking the trail.  If you miss it, you'll continue climbing up towards the Old Pali Highway!

Once you make the right turn, the trail becomes a bit narrower, and tends to be muddy with lots of tree roots and rocks that cover the ground.

Take your time and walk carefully through this section.  Trust me, in no time you will reach the beautiful Likeke Falls and be rewarded for your patience. 
---
Ko'olau Waterfall Tour 
Make it easy on yourself and schedule a guided waterfall hiking tour that includes pick-up and drop-off to your hotel.  Avoid getting lost on the trail, and skip renting a car.  Let a local guide lead the way and educate you on what you're seeing along the way.  Learn more…
---
The Waterfall
---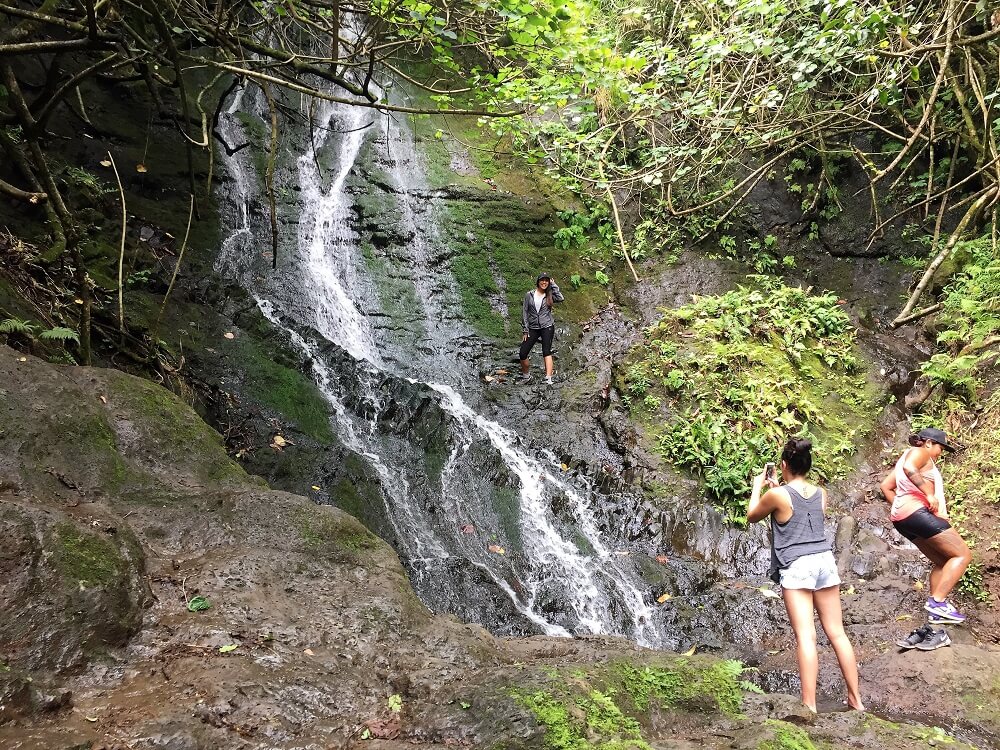 Likeke Falls is a really cool two-tiered waterfall that cascades down about 20 ft.  You'll be amazed once the trail opens up with a stream bed that runs right up to the waterfall.
The first 8 ft section runs down the rocks into a small pool below.  On occasion you'll see folks climb up to the upper pool.  I can't recommend it as the rocks are covered with moss and tend to be slippery.
And unlike Maunawili Falls, there's no jumping back down into this bottom pool, as it is too shallow.  A quick peek and photo opp are what you'll get from the second level.

Likeke Falls is a wonderful discovery worth hiking up to…or down to for that matter, depending where you start from. 
---
Directions to Likeke Falls
---
---
Consider a guided tour with transportation from your hotel...learn more.
 Or here are both driving directions from the two starting points to this Oahu waterfall:
Starting from the Pali Lookout:
From Waikiki, take the H-1 Hwy north.  Merge onto the Pali Hwy, Hwy 61. 

Take the 2nd Old Pali Road/Nuuanu Pali Drive. Exit to the Pali Lookout (there should be a Pali Lookout sign) 

Park in the Pali Lookout parking lot and proceed to the Old Pali Hwy located on the right hand side of the lookout.
Starting from the Koolau Golf Club
From Waikiki, take the H-1 Hwy north.
Merge onto the Pali Hwy, Hwy 61, and pass through the tunnels at the top onto the Windward side (15 min).
Take a left onto Hwy 83 towards Kaneohe for about 5 min.
Turn left into the Ko'olau Golf Club.
Located at 45-550 Kionaole Rd, Kaneohe
Directions from the Oahu Bus
Start off from Waikiki, and travel on the number 20 Oahu Bus up to the Aloha Tower bus stop.  Take a paper transfer and hop onto bus number 57 to the Pali Lookout.  Your hike starts here.
---
3 More Amazing Waterfalls
Here are 3 additional Oahu Waterfalls that you might want to consider hiking to after this one...
---
Hiking Tips
---
Parking – if you decide to start from the Pali Lookout, be mindful to not leave anything in your car.  This area unfortunately happens to be one of the highest tourist car break-in areas.  Thieves look for easy targets, including unattended handbags, cameras, backpacks, and electronics that are left visible inside the cars.
Start early and don't hike alone. The Ko'olau Mountain area is dense and can be confusing with multiple trails to navigate.  Don't hike alone and let others know where you're hiking to.
Stay hydrated – bring sufficient water and snacks.
Bring hiking shoes – certain parts of the trail tend to be muddy and slippery.  Also consider keeping a plastic bag with you to put muddy shoes in, once you're done and you can change into other shoes or flip flops.
Mosquito Repellent – anytime you head into the lush jungle, I highly recommend you bring some mosquito repellent with you.
---
---
In the Area
---
Pali Lookout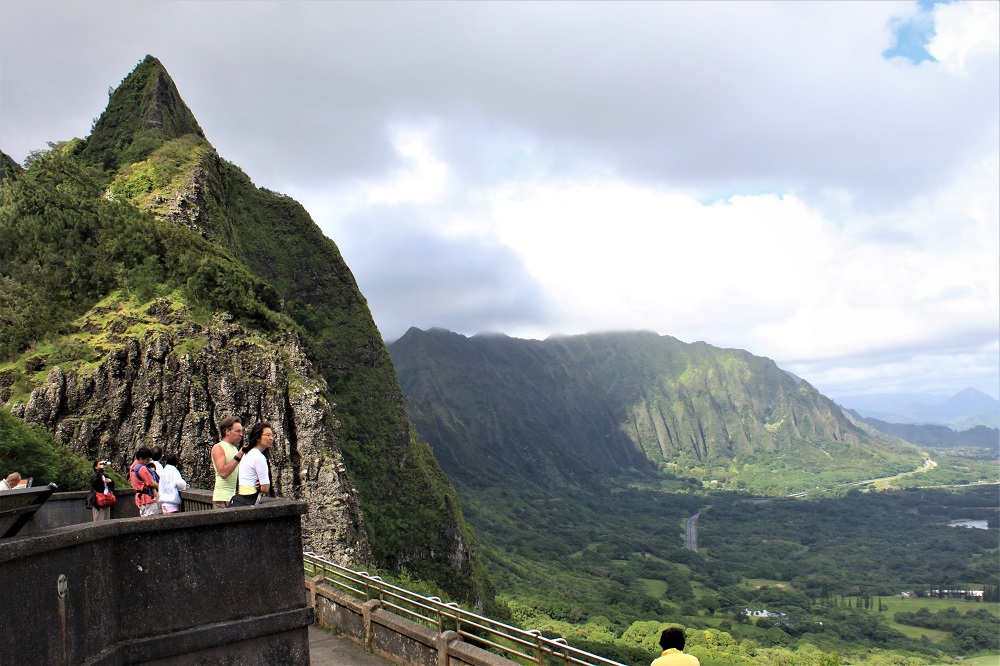 Whichever starting point you decide to hike from, the Pali Lookout is a must see!  The Windward views from this scenic point are incredibly beautiful and worth a couple pictures.  

And it happens to be a significant point in history where King Kamehameha defeated his enemies and reunited the Hawaiian Islands.

---
Downtown Kailua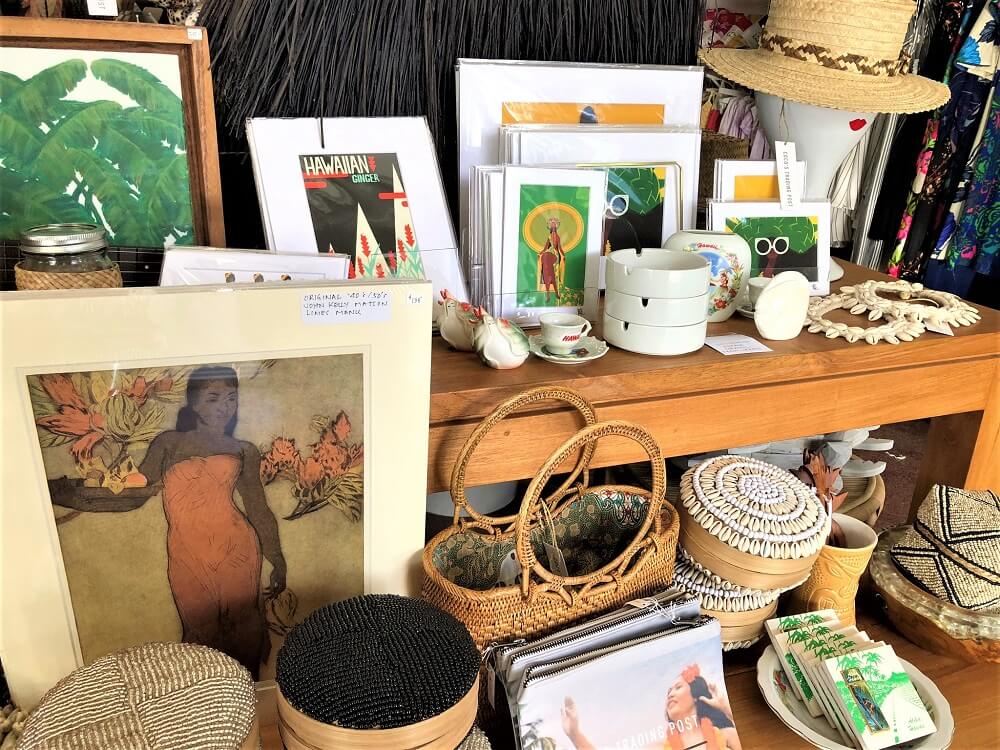 Just 10 minutes down the road is the quaint town of Kailau, and it is worth dropping into.  There are some really good restaurants, shops, a neat bookstore called Bookends, and a new Lanikai Brewery where you can enjoy some post-hike brew tastings.

Starbucks fans will be happy to discover a high-end Kona Coffee being sold at their Kailua location!

---
Lanikai Beach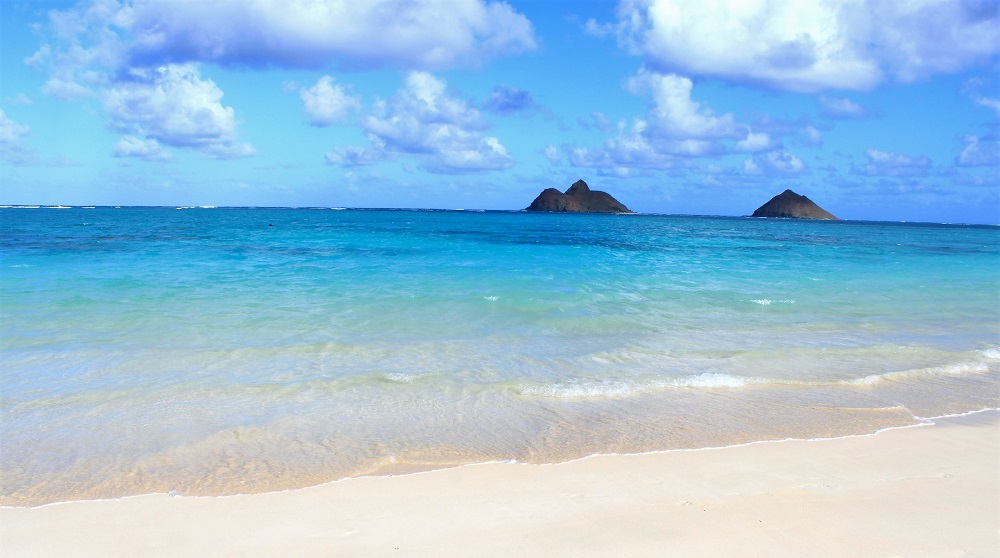 If you're looking for a little beach time after your hike, why not stay on the Windward side of the island and experience the most beautiful beaches on the island, including both Lanikai Beach and Kailua Beach!  

These beautiful, white-sand, world-renown beaches are located about 15 minutes away...

Aloha & Enjoy!

Subscribe to receive Best of Oahu updates on events, updates, and new articles.  It's the closest way to paradise while you are away...
We will never sell or spam your information, and we'll respect your email privacy.