Lanikai Beach Oahu Hawaii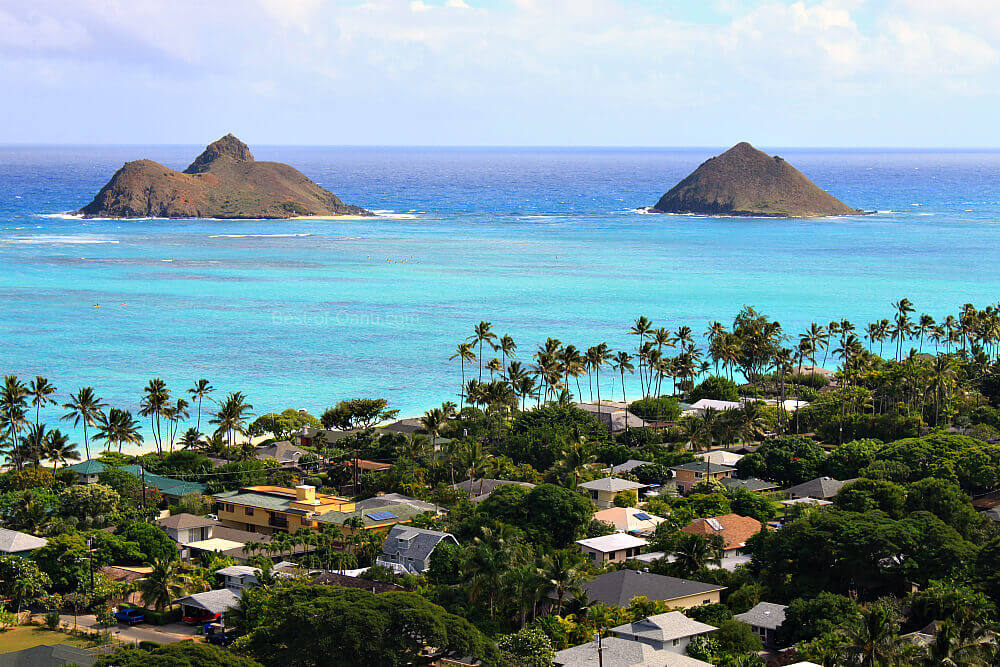 Lanikai Beach is a destination all unto itself. It is not only described as the "most beautiful" of all Oahu beaches, but Lanikai Beach has consistently ranked as one of the best beaches in the world. You will be mesmerized the moment you walk down one of the beach accessways, giving you a peek of the calm, aqua-blue waters awaiting you at the other end.
And once your feet touch the powdery white sand, you will swear you've never felt softer, finer sand in your life. It is what you dreamed paradise would look and feel like!

---
Lanikai Beach - Everything You Need to Know
---
The word "Lani Kai" literally translates to "Heavenly Ocean".  It is most definitely a fitting name for such a beautiful place.  A developer in 1924 renamed it from its original name, Kaʻohao.  Inspired by this gorgeous beach, we named our daughter "Kailani", which is actually the true Hawaiian translation of "Heavenly Ocean"...and quite fitting at that!
---
Worth a thousand pictures, this Lanikai Beach video captures from above, the beauty of this spectacular Oahu beach!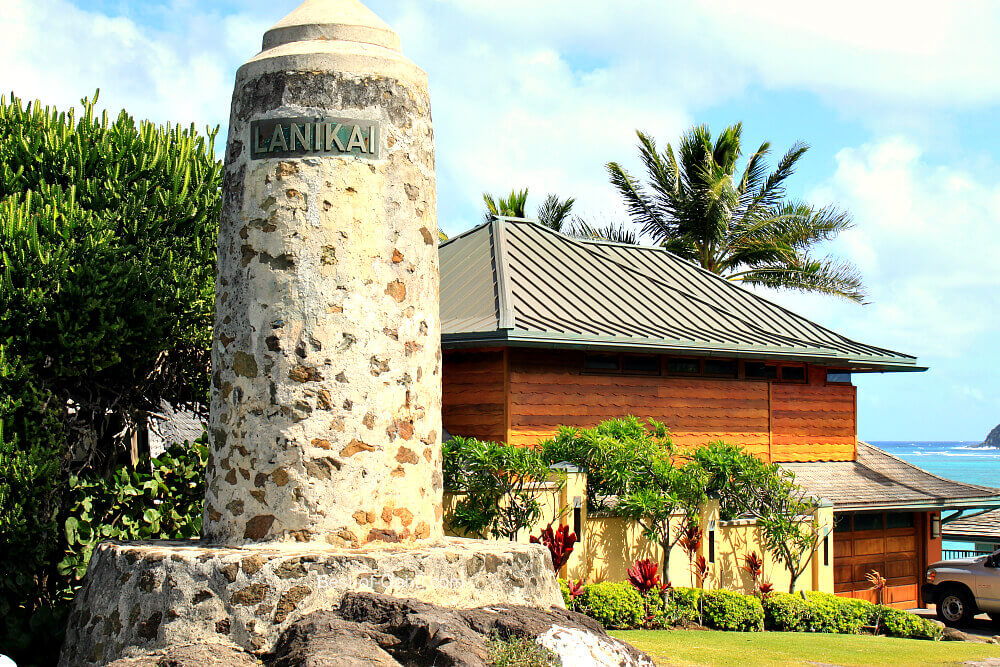 ---
How To Get to Lanikai Beach
Finding Lanikai Beach can be a bit tricky since there are no posted beach signs. After you pass Kailua Beach, you will know you are on the right path when you see the iconic Lanikai Monument in the photo above. It prominently has "LANIKAI" written on it, and it's very hard to miss. This large stone pillar marks the entrance to Lanikai's residential neighborhood and beach area. It will be on your left as the road veers to the right when you enter the neighborhood.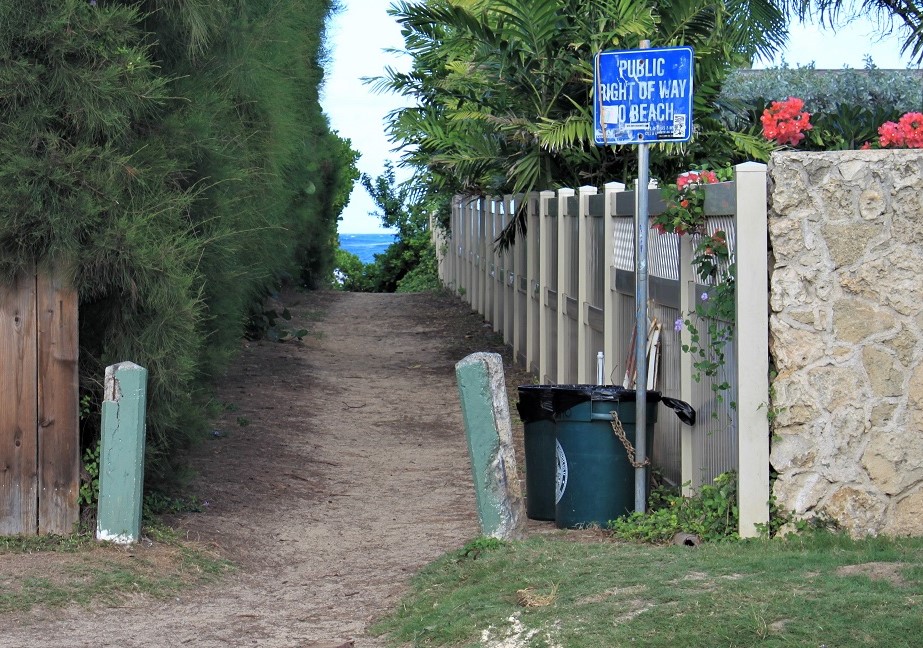 Parking has become tough in Lanikai because of its recent popularity among tourists.  There are designated parking areas on the surrounding residential streets.  Please park legally or you will surely get towed.

We've seen cars get  tickets for parking facing the wrong way.  After you park, it is fairly easy to find the 6 public beach accessways to Lanikai Beach along Mokulua Drive. 
The first 4 are the most popular, while the last 2 lead only to water as the sand has eroded away.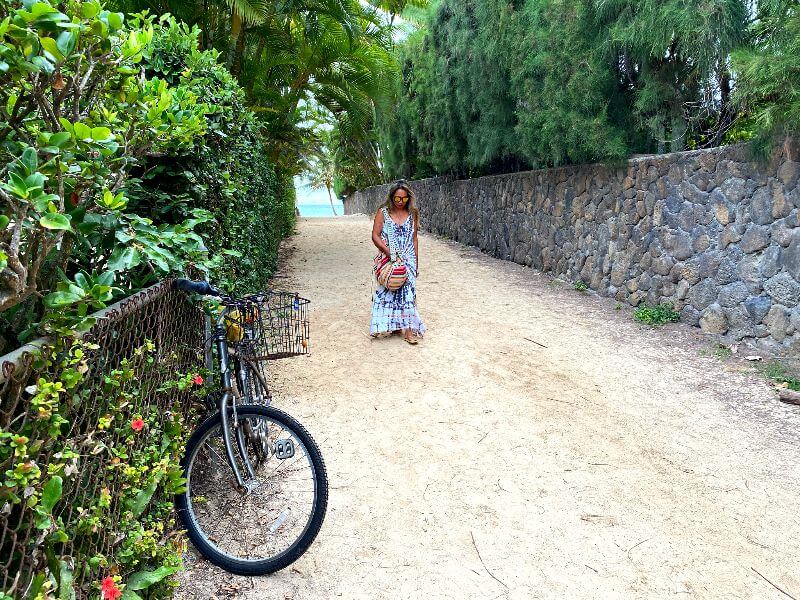 Lanikai Beach Pathway
As beautiful as Lanikai Beach is today, it is unfortunate that the construction of seawalls along some of the homes has eroded much of the sandy beach.  For those of you who are in search of the missing powder sand, look no further than next door at Kailua Beach Park, where the sand has migrated to.

---
Is Lanikai Beach Kid and Pet-friendly?

I'll start off by saying that this is my family's favorite beach to visit so yes, it is very kid-friendly.  Pets are also allowed (and are supposed to be on a leash), so you will see visitors bring there dogs.  The calm waters are perfect for children and adults who want a more relaxing swim.
But please make sure you always swim with your children and keep an eye on them even though the waves are almost always calm.  There is no lifeguard on duty.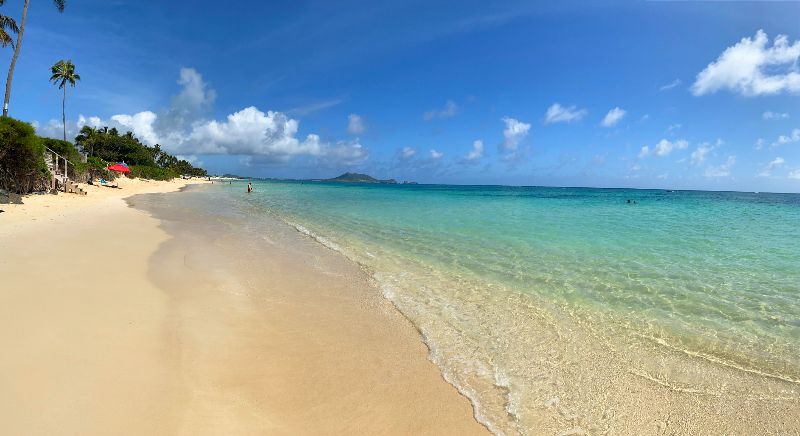 The visitors and locals who frequent this beach are friendly too.  I think it's the peaceful setting that promotes a relaxing setting for everyone to enjoy!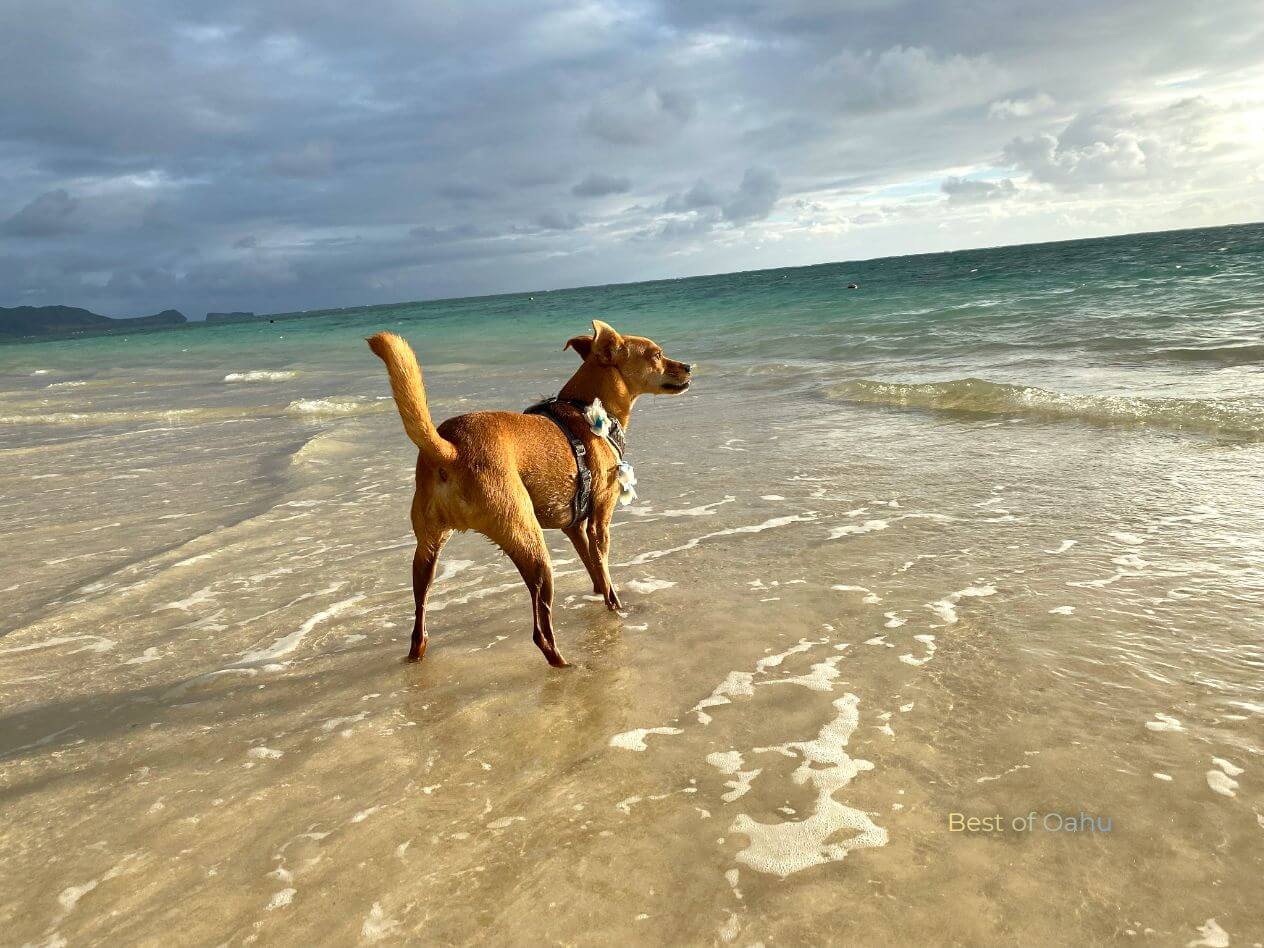 ---
What To Do at Lanikai Beach

While the calm aqua blue waters are ideal for swimming, it is not great for snorkeling.  Your best chance of seeing fish is on the left side of the shore.  Look for the dark areas in the water that represent rocks, and that's where fish will most likely be if there are any at all.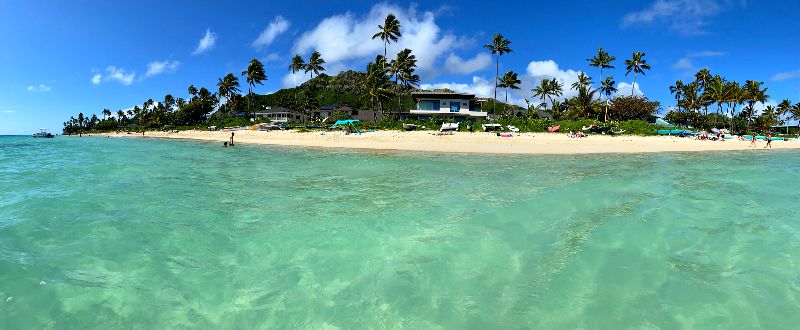 Lanikai Beach from the Water
There is not much reef to attract the fish, and the water can also become a little cloudy from the fine sand if stirred up from the bottom, so snorkeling is not the best water activity here.
Laying on the beach with a good book while working on your golden Hawaiian tan is a perfect way to enjoy Lanikai Beach. Take a break for a dip in the warm, clear, blue waters or take a stroll along the shore...this beach is perfect for it.  
If you'd like a more active experience, a kayaking adventure is a fantastic way to enjoy Lanikai's calm waters. Many kayakers, from beginners to advanced, enjoy paddling to the famous Mokulua islands off-shore.  The islands are approximately .75 miles away and kayaking back and forth is a popular water adventure. 
---
Lanikai Sunrise


Get up extra early and you'll be treated to a gorgeous sunrise!  This picture was taken from the Lanikai Pillbox Hike that serves as a backdrop to beautiful Lanikai Beach.  The hike will take you approx 30-45 minutes to reach the top pillbox, depending on how fast you want to climb and and how many photo stops you want to make.
Since it is a ridge hike, you have a 360 degree view of spectacular ocean and mountain vistas as far as the eye can see!
---
Kayaking around Lanikai
---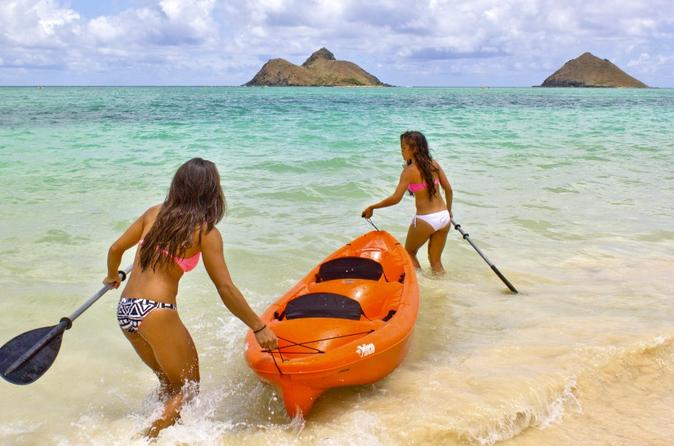 Experience the beauty of the Mokulua Islands and the Windward Coastline on a fun, guided kayak ride!  It's amazing enough to just step onto this beach, but paddling out gives you a whole new perspective. Not to mention observing the crystal clear waters below as you journey out.

This is a special 2 hour adventure that you must plan ahead and sign up for prior to arriving at the beach.  It includes transportation, lunch, snorkel gear, lifejacket, dry bag, and caters to beginners all the way to more advanced kayakers.  Book a Kayak Ride Now
---
Lanikai Outriggers

You'll see a picturesque display of outriggers lining the back of the beach area.  Many of them are pulled into the water by their rowing teams in the afternoons or early mornings, and taken for some practice paddles far out into the ocean.
They are fascinating to watch as they race along the shoreline.  There are also other types of outriggers that feature sails and only require one or more people to operate.

---
---
Getting to Lanikai Beach
---
I would highly recommend renting a car to travel to this beach location.  You can access it by taking the bus, but it will take about an hour and a half and 3 bus transfers from Waikiki, versus 30 to 40 minutes with your own vehicle. Beach time is a priority!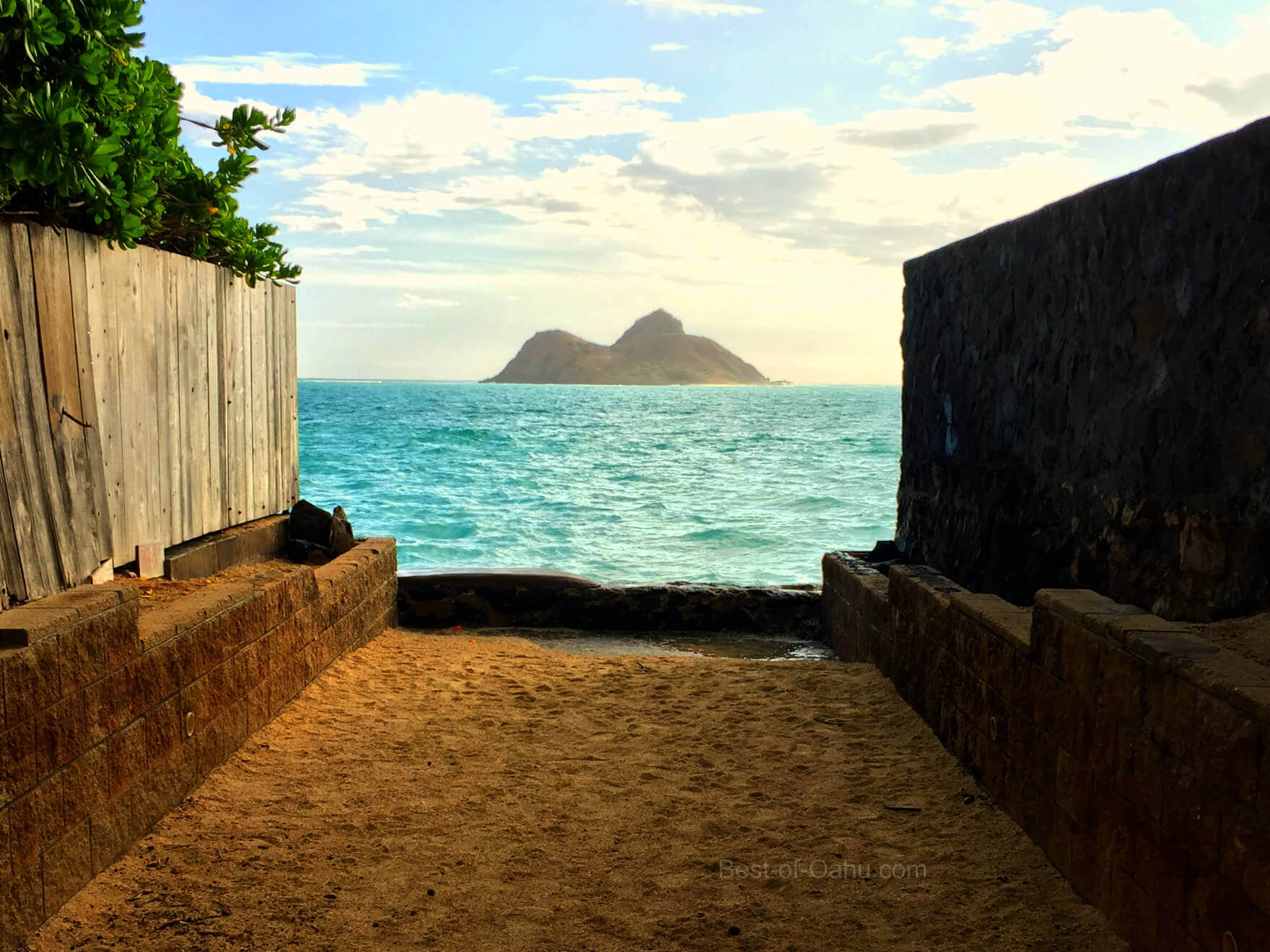 ---
Holiday Parking just got tougher in Lanikai! Note that vehicles will not be permitted to park or unload on the right side of the Lanikai loop during Statehood Day, Fourth of July, Memorial Day, Presidents' Day and Labor Day Weekend. Barriers will be placed along the bike lanes during these times and enforced with $200 parking citations.  Consider Kailua Beach or a just a little farther to Waimanalo Bay as an alternative.

---
---
Lanikai Beach - By Car


From Waikiki, you will want to jump onto the H-1 Freeway headed west…
Take the Pali Hwy (Hwy 61) over to Kailua
Turn right on Kailua St.
Stay on Kailua St. when you have to merge left (towards the ocean)
Turn right onto Kawailoa St and follow until it turns into Aalapapa.
Aalapapa loops around and turns into Mokumanu on the Oceanside.

When arriving in the Lanikai Beach area, you will want to seek out beach access points located off of Mokumanu Drive. 
turn left down Kaiolena Dr to access the main beach area or
turn left down Kuailima Dr to access a more secluded beach area.
---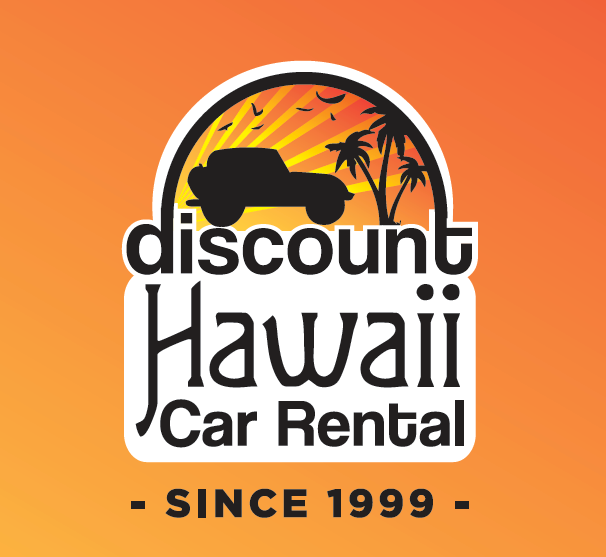 Need a good rental car option for the day?  Whether you would like to visit a beach, a popular Oahu attraction, or explore the island for just a day, consider these great, discounted rent-a-car rates with Discount Hawaii Car Rental.  They also have great packages for your entire trip...
---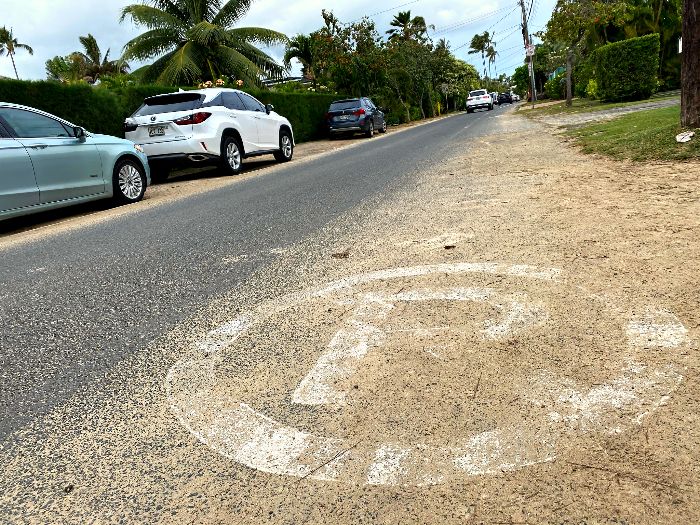 Parking Tip:  Be very careful of where you park and be aware of posted "No Parking" signs.  Parking officers patrol this area frequently to enforce parking rules and issue citations. 

Don't ruin a nice day at the beach with a parking ticket waiting for you.  Also please be respectful to the residents who deal with hordes of visitors coming to their neighborhood on a daily basis.
---
 Lanikai Beach Map


---
Lanikai Beach - By Bus


Take the number 20 Oahu bus from Waikiki to the Ala Moana Center.  Transfer onto the 67 to downtown Kailua, and finally transfer to the 671 shuttle bus.  Ask the bus driver to tell you when to get off and transfer.
---
3 More Beautiful Beaches
Here are 3 additional Oahu beaches that are also stunningly beautiful and definitely worth visiting after this one.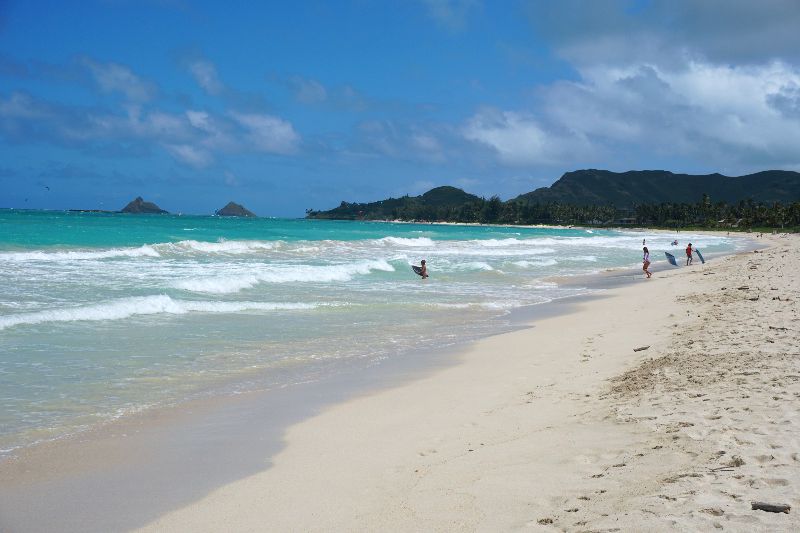 Kalama Beach
---
Lanikai Beach Facilities and Tips
---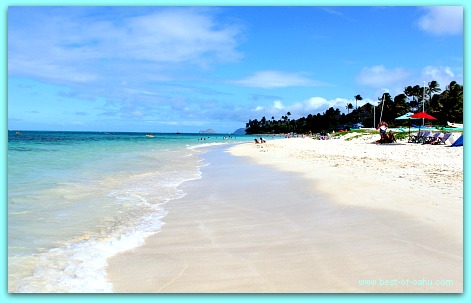 No Bathrooms and Showers:  Lanikai Beach does not have any bathroom facilities or outdoor showers to rinse off after swimming in the ocean.  I would recommend stopping at Kailua Beach Park, which is located less than a mile away, for its picnic tables, bathrooms, and shower facilities.

Food Tips:  I would also recommend bringing along a small cooler with some drinks and comfort snacks.  You might want to give yourself some extra time to stop in the lovely Kailua town that you will be passing through to get to the beaches.
The town of Kailua has some great places and grocery stores to pick up some food, ice, and drinks.  Consider picking up a Hawaiian plate lunch on your way...

Visiting Tips:  Visit Lanikai Beach Hawaii earlier in the day, as the sun travels over the Koolau Mountains in the afternoon.  This east side of Oahu is a perfect spot to experience a beautiful Hawaiian sunrise.
Check the weather first before trekking out to Lanikai for an early morning sunrise, just in case heavy clouds are forecasted to linger during the morning.  Also remember to be courteous to the local residents, and clean up after yourselves when leaving the beach.

---
Around the Lanikai Beach Area
---
Downtown Kailua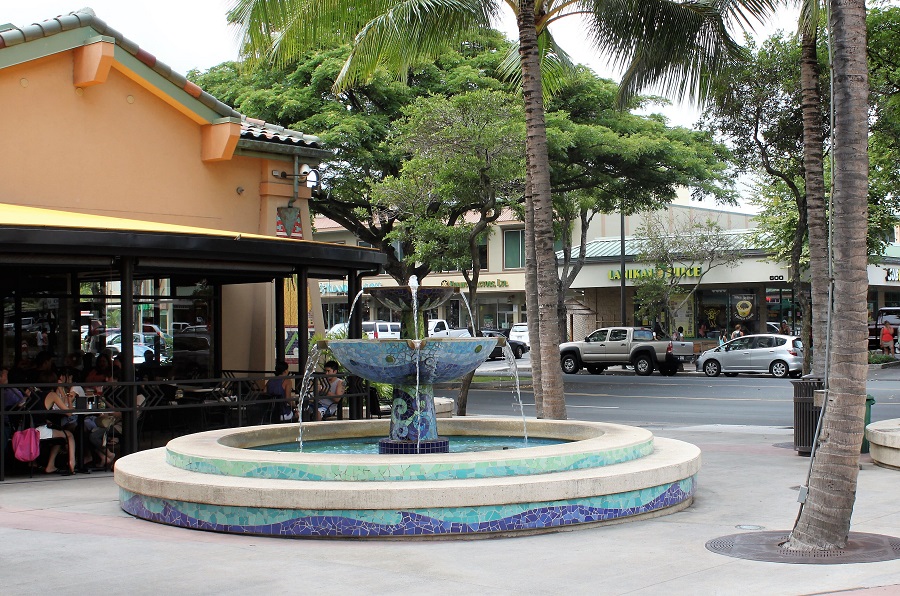 The downtown Kailua area, which is only 5 minutes away from the beach, is very charming with local boutique shops, art, and dining options. There are plenty of great Kailua restaurants worth checking out, including Maui Brewing Company, who recently joined the community.

If you are looking for a much larger version of Lanikai Beach with facilities, I recommend checking out its next door neighbor Kailua Beach Park. 
---
Lanikai Pillbox Hike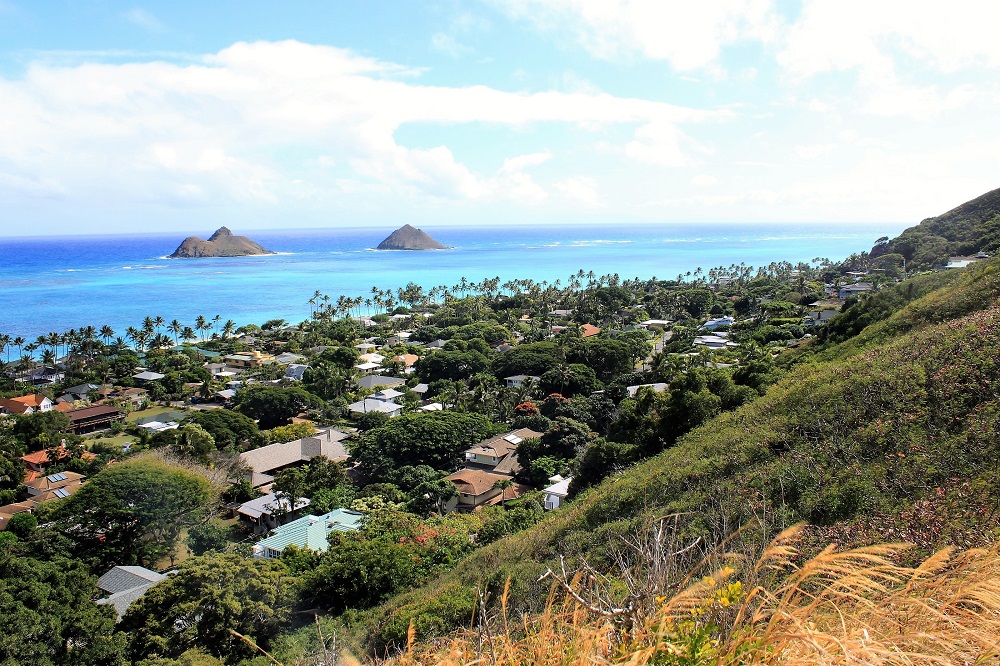 And as I mentioned before, there is a stunning 2-mile hike above Lanikai Beach that will lead you to some of the most amazing ridgetop views on the island.
Here's more info on Lanikai Pillbox hike

---
Boots & Kimos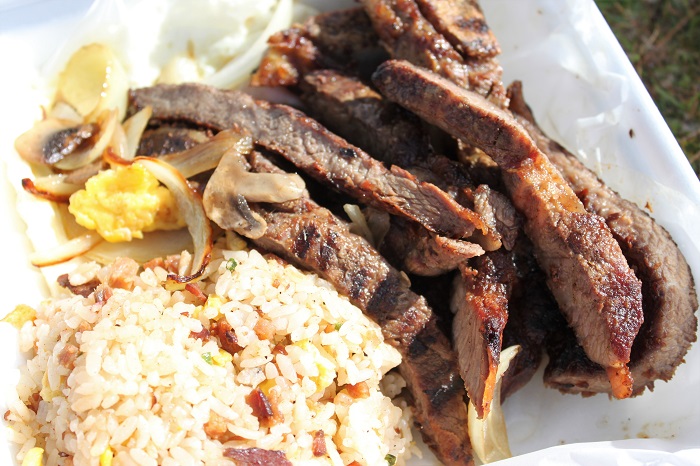 I highly recommend heading out to this part of the island early in the morning and stopping at Boots & Kimos for breakfast.  They have "to-die-for" macadamia nut pancakes w/ a special macadamia nut sauce that is out of this world! Their Pulehu ribs with fried rice will have you smiling for the rest of the day:-)

---
Lanikai Juice Company
If your looking for something refreshing and on the healthier side, stop in Lanikai Juice Company located in downtown Kailua.  Creative juices, smoothies, and bowls filled with acia, papaya, ginger, turmeric, and other superfoods! They also have salads and a few healthy entrees if you need something more substantial.

---
Return to Best of Oahu Home Page
Aloha & Enjoy!

Subscribe to receive Best of Oahu updates on events, updates, and new articles.  It's the closest way to paradise while you are away...
We will never sell or spam your information, and we'll respect your email privacy.