Best Kailua Restaurants - making the short list
For decades Kailua Restaurants have had a hard time competing against the talent and culinary that flocked to downtown Honolulu and Waikiki.  And while these popular areas continue to flourish, Kailua Town has transformed over the past decade, bringing many new boutique shops and incredible Oahu restaurants into the area.  Dine at old classics like Buzz's Steakhouse or culinary inspirations like Roy's new Goen Restaurant.
---
List of Best Restaurants in Kailua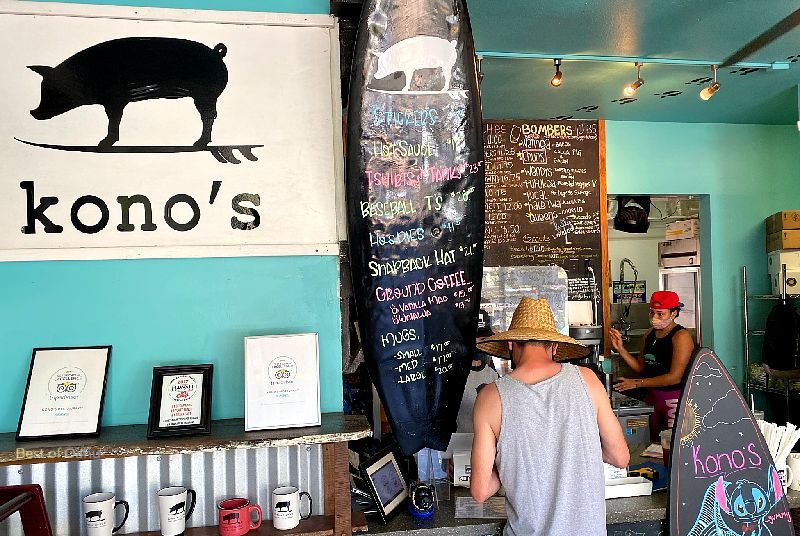 Today some of the best Oahu breakfast spots have anchored themselves in this small coastal town.  Kailua restaurants including Boots and Kimo, Cinnamon's, and Moke's Bread and Breakfast are all a must breakfast bucket list stops.
Local breweries like Lanikai Brewing Company, Olama Brewing Company, and Maui Brewing Company have also joined the fun and new energy that Kailua is experiencing.
Whether you simply looking for a delicious bowl of ramen, a good Hawaiian plate lunch, or island treats like shave ice and hot malasadas, make the trek to Kailua Town…you'll be delighted with the many good choices that await you. 

---
Kailua Restaurants Breakfast Eateries
---
Boots & Kimo's Homestyle Kitchen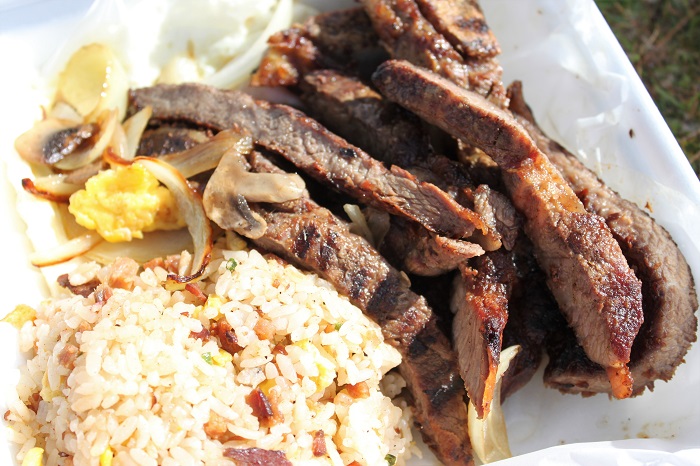 Living up to be one of the most iconic breakfast eateries in Kailua.  Well known for their Uncle Kimo's famous Macadamia Nut Glazed Pancakes.  They are straight up delicious, and you might almost feel guilty for eating a cake like entrée to start the day.

Take a moment to study the menu, as it features lots of tempting entrees and some wild omelette creations… a fried rice omelette, Eggplant Pamagane Omelette, or how about a Shrimp Alfredo Omelette?

They have recently moved to a new location in the Enchanted Lakes Shopping Center, which has been their 3rd move around Kailua Restaurants.  But where ever they go, the crowd tend to follow.
And while they are best known for their hardy breakfast items, they also feature some great and step-up plate lunch items like New York or Ribeye Steak, Hawaiian Spicy Chicken Wings, Homemade Crispy Fried Chicken, and Ono Pulehu Ribs.
Breakfast & Lunch  Open 8 AM to 1 PM (2 PM on weekends) Daily except closed on Tuesdays
Location:  Enchanted Lake Shopping Center, 1020 Keolu Drive, suite D1, Kailua
Phone (808) 263-7929
Check out more at Boot's & Kimo's.
---
Cinnamon's Restaurant
Also one of the most popular breakfast eateries on the island.  Show up late on a weekend and where could easily be a 3 hour wait!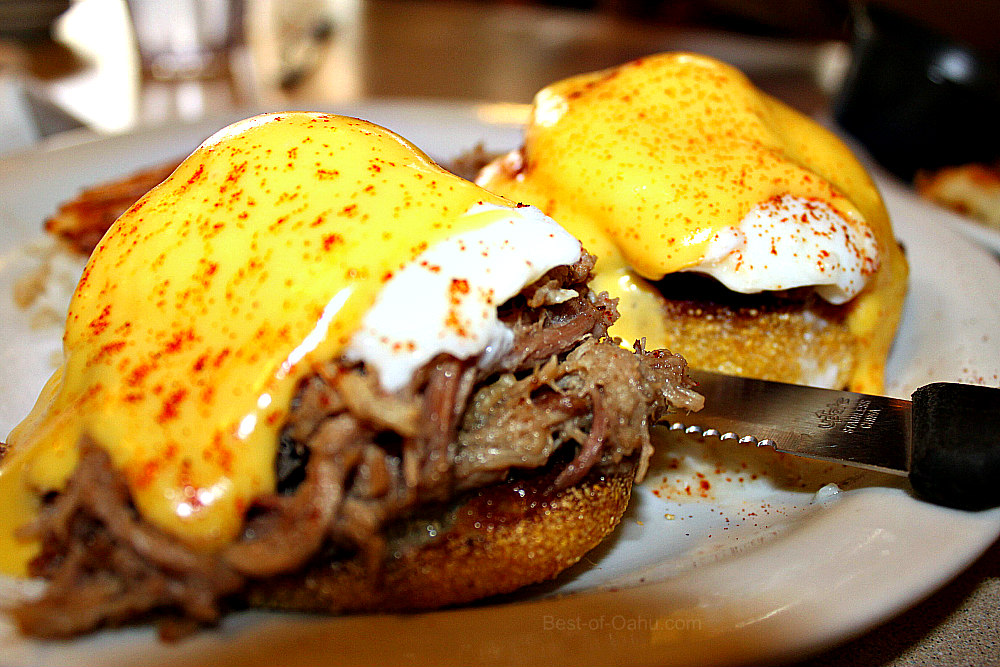 Ask anyone who has dined here and they will tell you that Cinnamon's Guava Chiffon Pancakes are to die for…I will also vouch for that.  And like Boots and Kimo's that's famous for their pancakes, there is so much more on the menu to look forward to.

For starters they have a good 10 other types of pancakes and waffles selections, 9 different styles to order your eggs benedict, 5 crazy loco moco creations (including a prime rib or short rib moco), and you can get lost in the omelet section…in a good way!

Dine after 11 am and your options just opened up to the lunch section as well.  Inspiring salads, sandwiches, and comfort food entrees.  They have a Curried Chicken & Papaya Salad, a Reuben Sandwich on Rye Bread, Crab Cakes, and even Kalua Pork on the menu.
Open Daily 7am to 2pm (no take-out on weekends)
315 Ulunui St, Kailua - Phone (808) 261-8724
See more at www.Cinnamons808.com
---
Egghead Cafe
Most folks discover this hidden gem after they learn there is a multiple hour wait at Cinnamons… located next door, is this cute breakfast eatery.  For starters they brew up quality coffee and a variety of latte drinks.  The Macadamia Nut Latte is like a creamy dessert, but not overly sweet.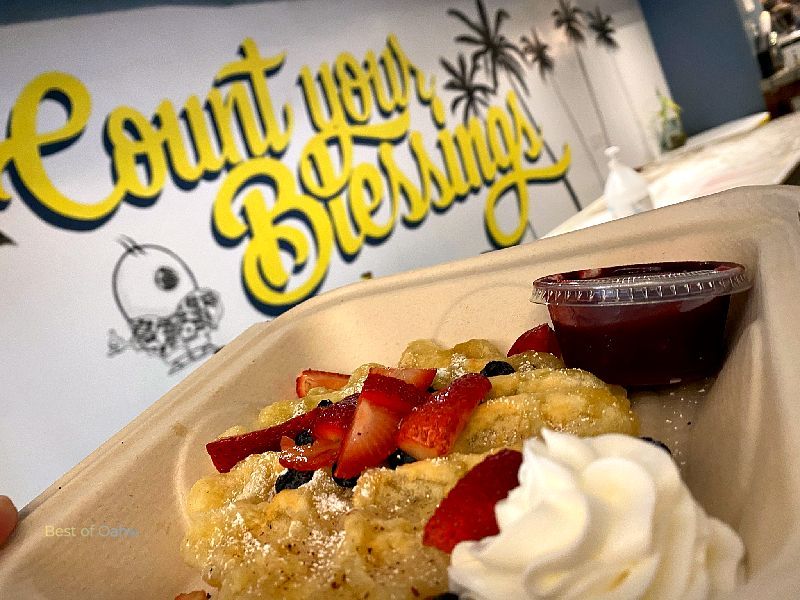 They have an impressive menu board featuring some breakfast rice bowl creations, open-face toast & sandwiches, Dutch Style Pancakes, Moffles (mochi waffles), and Acai Bowls which are always popular.  I like their Piggy Bowl with chorizo or bacon, avocado, corn, an egg, salsa, over some mushroom rice.

You must try one of their Moffles if you've never had one.  And the Egghead Café breakfast or lunch sandwiches will bring you back for more.

Open Tue - Sat 7 AM to 1 PM (2PM on Sat), Closed on Sun & Mon
Location:  25 Maluniu Ave, Kailua - (808) 263-8833
Learn more at Egghead Cafe
---
Moke's Bread & Breakfast
Mokes is short for the iconic Mokulua Islands that located just off shore in Lanikai Beach.  And you plan on paddling out to them, you might want to drop by Mokes Bread and Breakfast to fill up first.
I'm personally stopping by for their Likikoi (passion fruit) Pancakes with a premium Hawaiian coffee.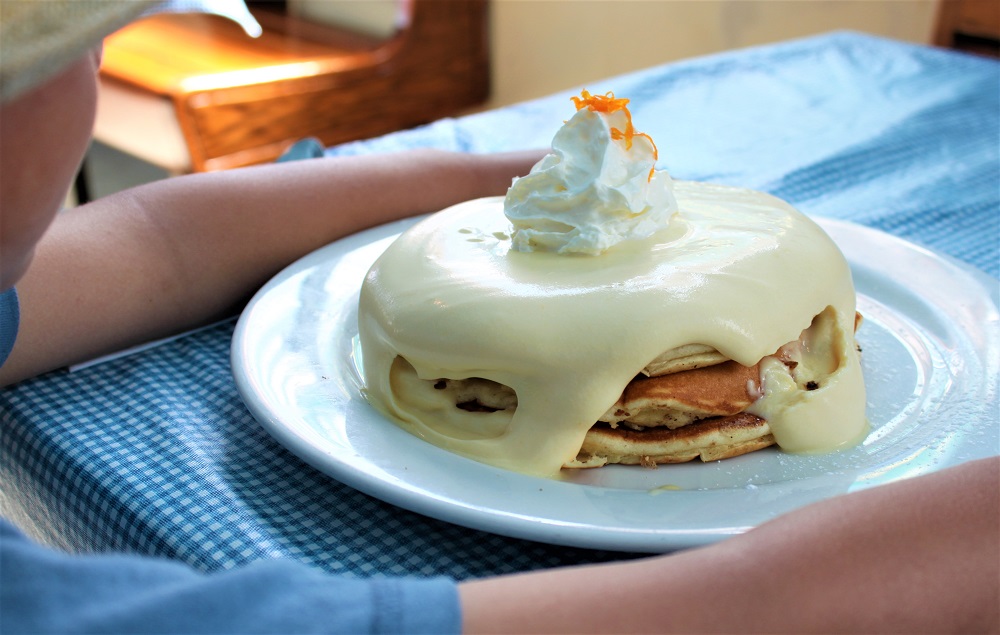 Moke's along with other breakfast/lunch eateries features some good hearty loco mocos, Homemade Corn Beef Hash, a Smoked Ahi Melt, and a House Cut Ribeye.

Did you know they feature a "secret menu"?  That's right…have feature a French toast sandwich, stuffed hash browns and a special Loco Moke (moco) with corned beef hash.  Make sure to inquire about it when your server arrives.

Mokes Bread and Breakfast is a great alternative when Cinnamon's and Boots and Kimos have hour long waits.

Open Wed - Sun 7 AM to 1 PM, Closed Mon & Tue
Location:  27 Hoolai St, Kailua  Phone - (808) 261-5565
Learn more at Moke's Bread & Breakfast
---
Over Easy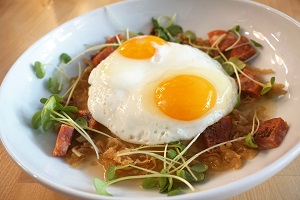 One of the newer breakfast eateries among Kailua Restaurants, but already making a name for itself.  Over Easy is an easy decision when it comes to their Custard French Toast, Kalua Pig Hash, or a number of their perfected egg dishes.

I'm a fan of Over Easy's 2 Fried Egg Breakfast Sandwich on house made sour dough bread with caramelized onions and cheddar cheese.  Stick around for lunch and yummy libations like their Lilikoi Mimosa or Hard Calamansi (mandarin-lime citrus) Limeade.

Fried Chicken Sandwich or Coconut Shrimp Patty Burger.  The owners and creators of Over Easy, Nik and Jennifer Lobendahn, have recently launched a new nearby Smoker Barbecue eatery called Easy Que, that's worth checking out as well for lunch and dinner.

Open Wed – Sun 7 am to 1 pm, Closed Mon & Tue
418 KUULEI ROAD 103, KAILUA PHONE - (808) 260-1732
See more at www.OverEasyHi.com
---
Morning Brew


Ask anyone in Kailua where to go for the best cup of coffee, and they will direct you to Morning Brew in town.  They have a wonderful staff that runs the espresso bar with a long menu of coffee creations to choose from.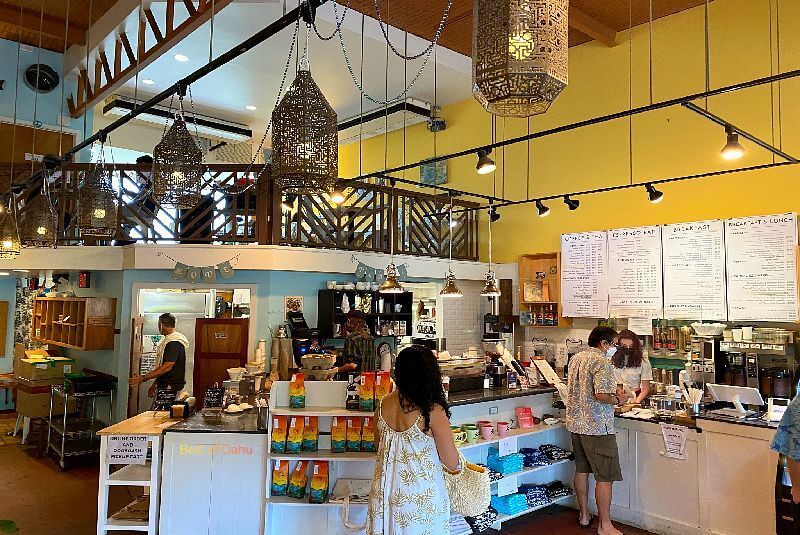 Inquire about their Kona, Waialua, and Maui Peaberry coffee pour-overs… And there's no better place to enjoy it than right in their cozy shop that feels more like an art gallery.  Take time to walk around and admire the many local artist creations that cover the walls.

Morning Brew also offers breakfast and lunch.  The menu is actually pretty extensive with offerings from Avocado Toast, Breakfast Burritos, Egg Scrambles, French Toast & Waffles with Fresh Fruit, Bagel Creations, and more.
There's even a handful of Vegan items to select from.  Stick around for lunch for yummy Paninis, Sandwiches, Wraps, and Salads.

Open Daily 6 AM to 4 PM
Location - 600 Kailua Rd, Kailua
Learn more at Morning Brew
---
Lanikai Juice $


Not just another juice bar, but a more unique and delicious smoothie concoction served up in a bowl!  I find it tough to describe, but you just gotta try it!

Many famous celebrities have been known to frequent Lanikai Juice to get their healthy serving of acai berry smoothie bowls.  Let me know if you spot anyone!

Location:  600 Kailua Rd, Kailua HI - Phone (808) 262-2383
Check out more at LanikaiJuice.com
---
Kailua Restaurants - Breweries
---
Maui Brewing Company
The Maui Brewing Company is one of 3 breweries that have moved into Kailua Town.  It has a friendly open-air atmosphere with impressive grand painted murals on the walls.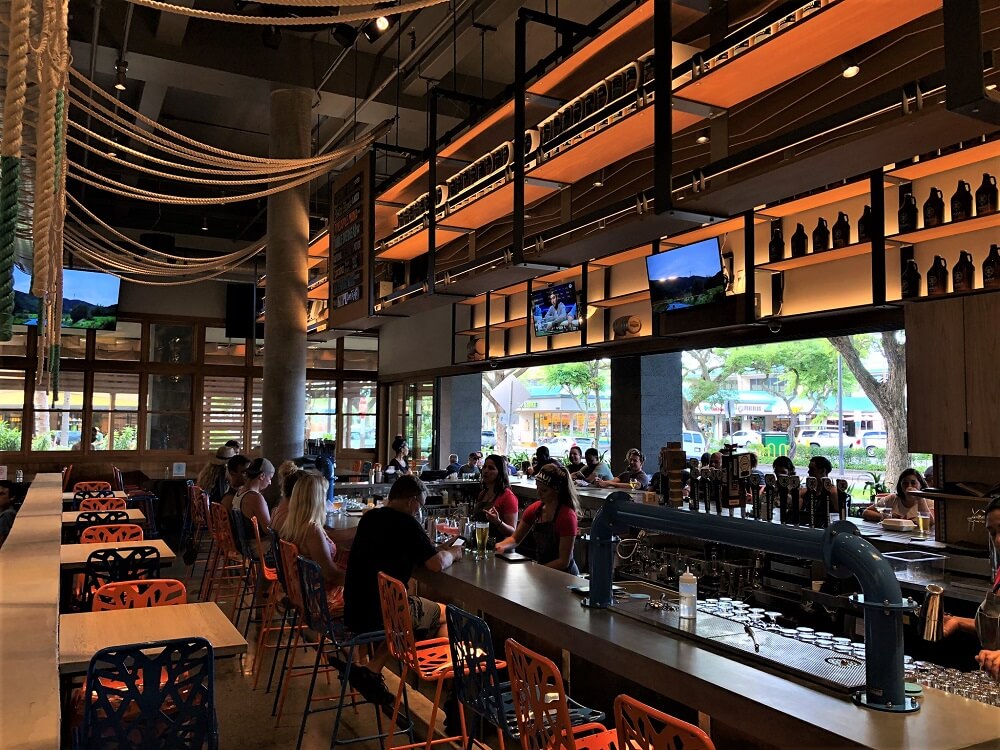 They craft around two dozen beers and Hard Seltzers, including a Bikini Blonde, Coconut Hiwa Porter, and a Big Swell IPA on the beers side and a Dragonfruit and delicious POG for seltzers.

If that's not tempting enough, Maui Brewing Co also make some must try crafted cocktails including a signature Pineapple Foam Mai Tai.  They are open for lunch and dinner, but happy hour is best time to secure a table and enjoy the energy this place brings.
They have a good selection of hand crafted pizzas and burgers, but we recommend their fish & chips and Baja Style Fried Fish Tacos.  Also make sure to check out their specials which are usually pretty good.  

Open Daily 11:30 AM to 9 PM (10 PM on weekends)
573 Kailua Rd Suite 105, Kailua - Phone (808) 518-2739
Learn more at Maui Brewing Co
---
Lanikai Brewing Company
One of 3 uprising local breweries among Kailua restaurants, and Hawaii for that matter.  The local community has embraced the Lanikai Brewing Company, and for good reason.  They have perfected the touch of brewing up some craft beers and sours.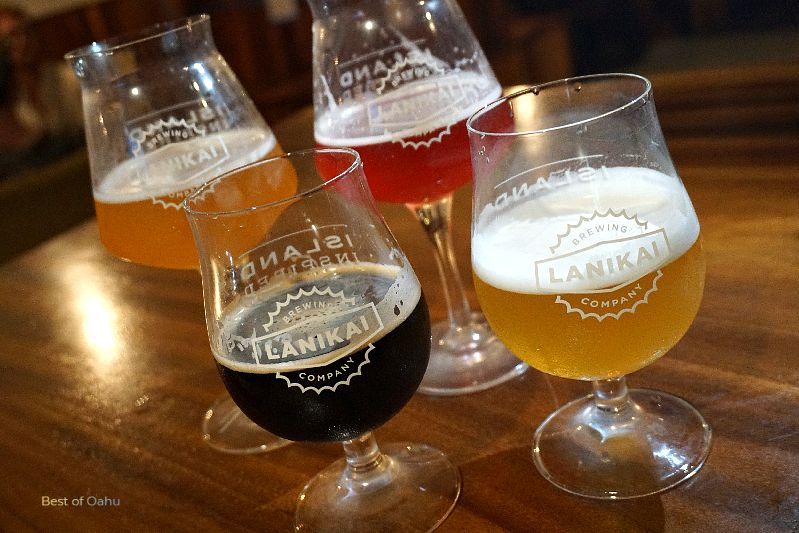 Lanikai Brewing Co has some staples on the menu, but are always continuously coming up with new creations, like a Forever Summer Pog (a passion fruit sour), a Mahina Ale aged in whiskey barrels, a Brewwhefener Heff that is a hefeweizen fused with Macadamia Nuts, Chocolate Haupia Stout, and the list goes on… 

Lanikai Brewing has recently entered the spirit space and have created a Lemongrass Gin and a Macadamia Nut Amaretto.
They do not have a kitchen, but have partnered up with Vanentina's Pizza's that has a portable wood fire brickoven station in the parking lot.  They put together some delicious handcrafted pizzas.  Valentina's even fuse Lanikai beer in some of the pizza dough for unique flavors.
And while you'll see some classics pizza selections on the menu like the Margarita or Supreme with everything on it, Vanentina also crafts some delicious vegetarian pies and other creations using fresh local ingredients.  Consider the Bee's Knee, which is pesto based, fresh mozzarella, pepperoni, goat cheese, and Hawaiian Hot Honey –yum!

Open Daily 12 PM to 10 PM - Phone (808) 295-7303
167 Hamakua Dr, Kailua
Learn More at Lanikai Brewing Co
---
Must Visit Kailua Restaurants
---
Goen Dining & Bar
One of Roy Yamaguchi's newest creations adds another great eatery to the Kailua neighborhood.  Located next to the Maui Brewing Company, Goen is also a lively open-air restaurant that draws a crowd every evening.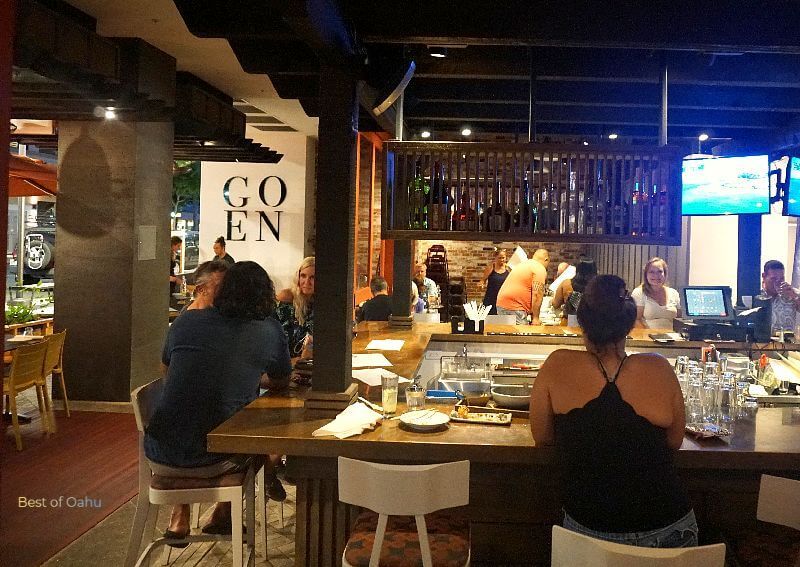 Roy's new restaurant venture offers new delicious spins on fusion Asian and popular comfort foods.  How about some Ko Chu Jang Glazed Pork Ribs, Misoyaki Roasted Eggplant with a toasted sesame aioli, a Waimanalo Herb Pesto Buratta with a Lavendar Honey for starters, or some fun sushi roll creations for starters.

For lunch you can settle for a Goen Burger or Fish and Chips or even explore some dinner listed entrees.  Some dinner temptations include a Roasted Branzino (Mediterranean Sea Bass) Filet, Rack of Lamb Kabobs, Maple Leaf Farms Duck Breast, and a Crispy Skin Smoked Salmon with Charred Scallions.
Save room for dessert and explore a twist on delicious ice-cream Filipino treat called Halo Halo.

Open Mon - Thurs 4 PM to 8 PM, Fri - Sun Lunch 12 PM to 3 PM and Dinner 4 PM to 8 PM
573 Kailua Rd, Kailua - Phone: (808) 263-4636
Learn more at Goen
---
Buzz's Steakhouse
The longest family run steak house in Kailua, since 1962.  Buzz's has become iconic establishment serving many happy customers over the decades.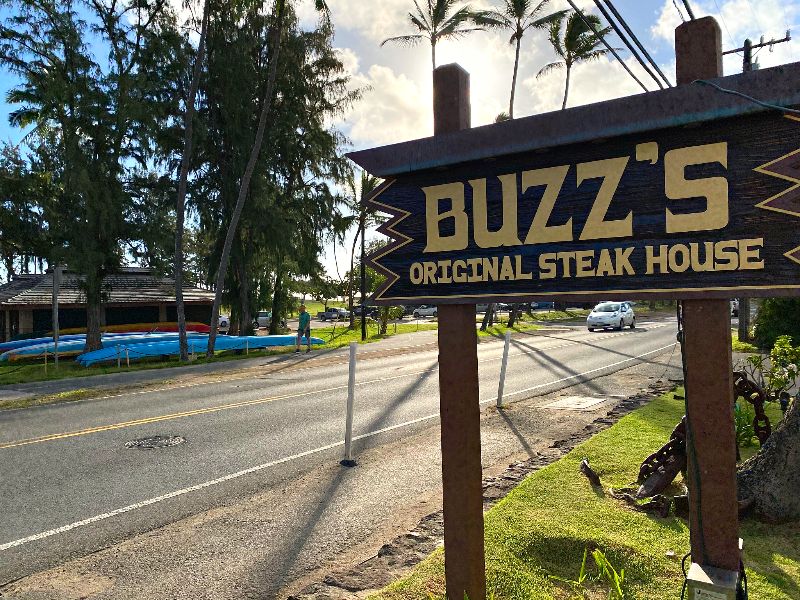 Strategically anchored across the street from Kailua Beach, Buzz's is the perfect spot to enjoy a Mai Tai after a long day baking in the sun on the beach.  They are known for their surf and turf meal.  Your steak cut of choice with a juice lobster tail, shrimp, crab, or fresh caught fish.

And that's if you don't fill up on their tempting appetizers first.  They also feature Chicken Teriyaki, Shrimp Scampi, and Rack of Lamb for entrees.
Consider dropping in for lunch as well, as they feature a good variety of hardy salads, burgers and ono sandwiches… An Ahi Salad, an 8oz Jack Daniels Burger, Teriyaki Flap-Steak or Teri Chicken Burger, and how about an Open-faced Crab Sandwich for starters.

---
Rai Rai Ramen
If you are looking for something quick, delicious, and comforting, Rai Rai Ramen is a must.  In fact they make the cut for some of the best ramen on Oahu.  It's a small space restaurant, but we always manage to get a seat.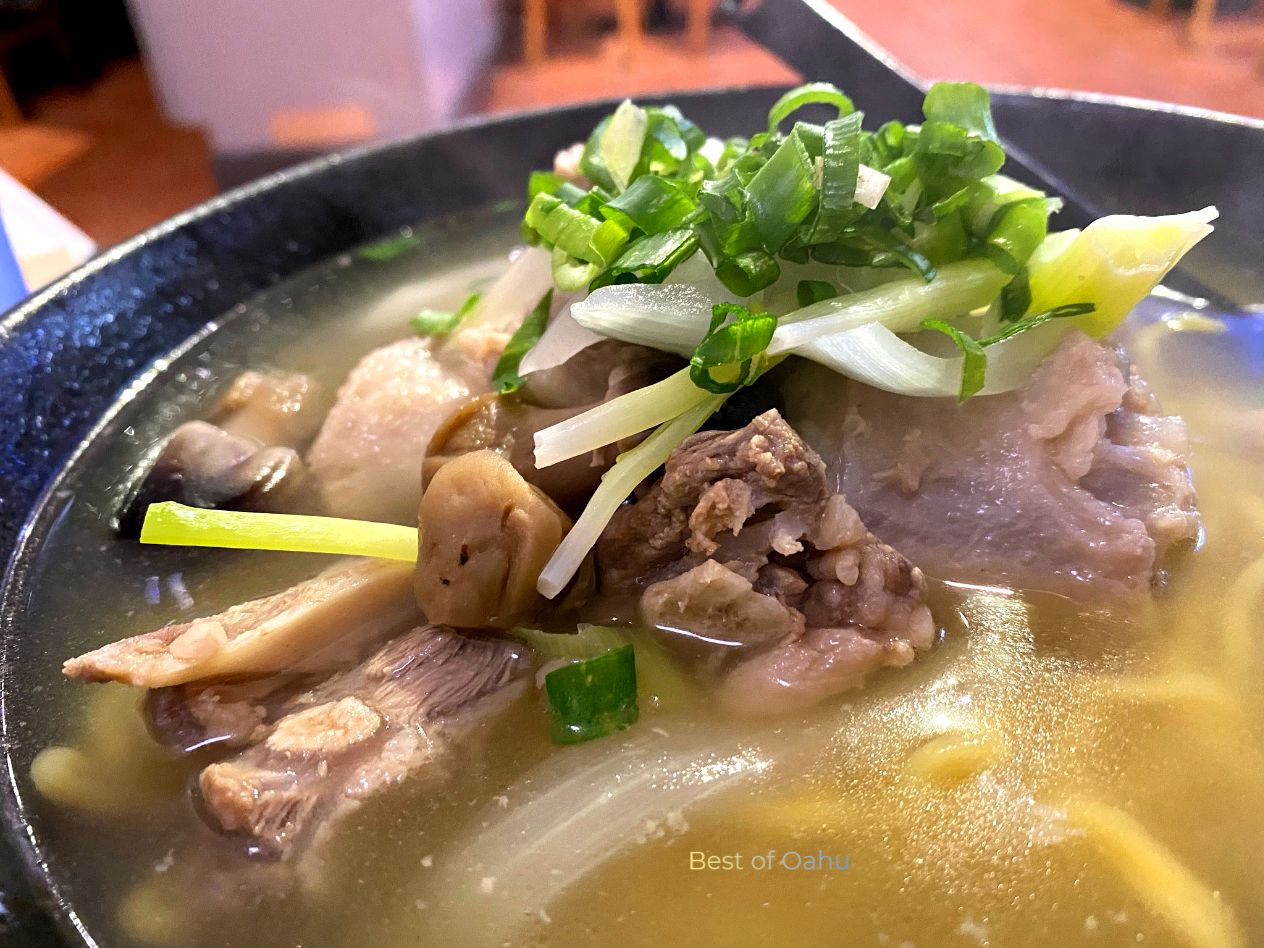 They offer a tall menu of ramens with variation of Miso, Shoyu, Shiro, and Curry flavors.  Consider some of their popular bowls including a Seafood Ramen, Ox Tail, Oyster or Shrimp Katsu Shoyu Ramen.

They also make a mean Tan Tan Ramen that is spicy delicious.  Rai Rai also features some rice and fried noodle dishes.  Get an order of their Kim Chee Fried Rice for the table to share.

Open Daily 11 AM to 8:30 PM
124 Oneawa St # 1, Kailua - Phone (808) 230-8208
Learn more at Rai Rai Ramen
---
Hawaiian Plate Lunch - Kailua Restaurants
Kailua has its share of Hawaiian Plate Lunch spots.  They are a staple comfort food on the island and delicious cheap eats.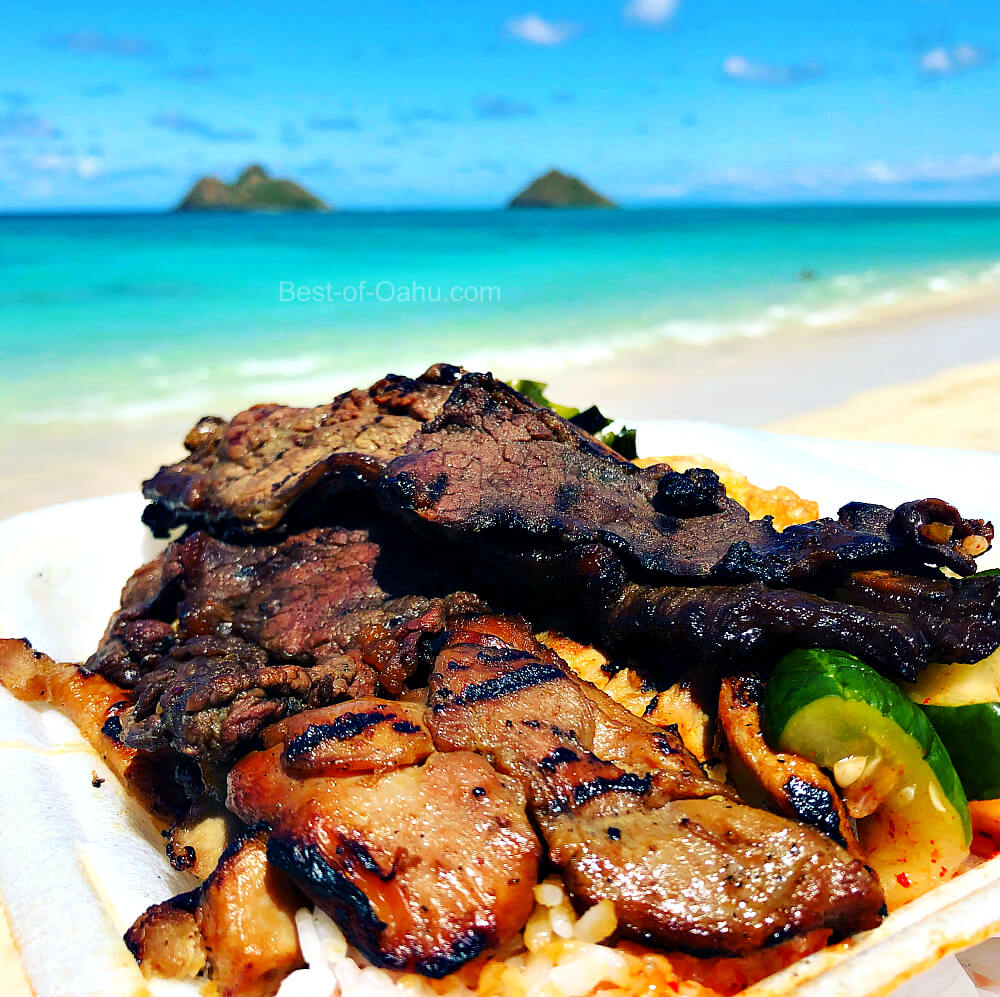 Zippy's, L&L Barbecue, Kono's, and Fatboy's all have a branch location in Kailua.  They all have some staple favorites… Zippy's Chile & Rice or Fried Chicken, L&L Barbecue Chicken is to die for, Fatboy's Crispy Garlic Chicken, and more...

Ohana Bar-B-Q is a one of kind Korean barbecue local favorite.  Choose one of their combination plates to get a good sampling of what they have to offer. 
K&K Barbecue Inn is also local favorite and close to the beach if you're headed that way.  Also consider Boots & Kimos or Nico's that offer a nice selection of Hawaiian Plate Lunches beyond their other entrees.

---
Mahaloha Burger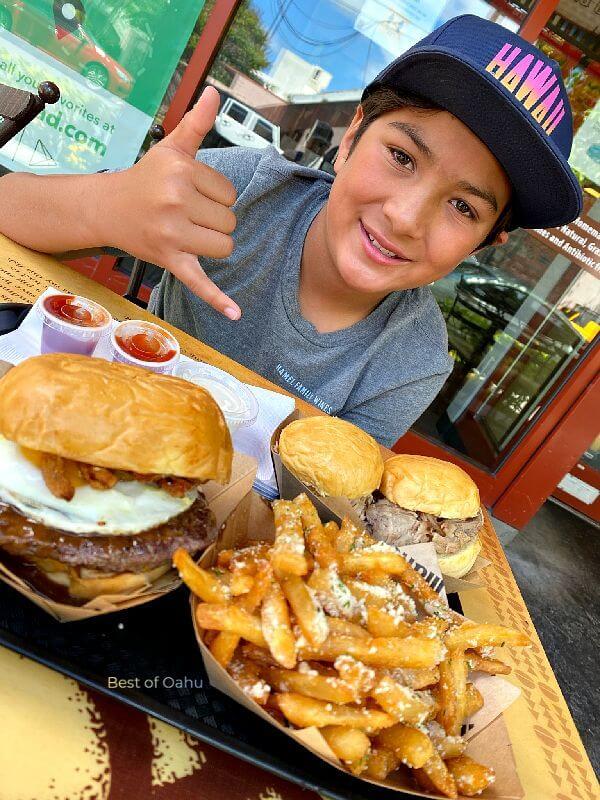 This burger joint gets an honorable mention for not only making a good burger, but a few of their fusion creations.  Mahaloha Burger has a few locations around Oahu, along with one in Kailua.

They feature a few select burgers, including a Teri-Burger and a Banzai Classic (layered with onion rings, coleslaw, and BBQ sauce).

They also feature a Mahi Mahi Burger and a Chicken Katsu Burger.  This is all tempting, but sign me up for the Mahaloha Loco Moco Burger or their Loco Moco Dog with egg, gravy, and crunchy onions.

Open Daily 11 AM to 8 PM, except closed at 4 PM on Mon and 8:30 PM on Fri & Sun
143 Hekili St, Kailua - Phone (808) 263-2777
---
Return from Kailua Restaurants to Oahu Restaurants
Aloha & Enjoy!

Subscribe to receive Best of Oahu updates on events, updates, and new articles.  It's the closest way to paradise while you are away...
We will never sell or spam your information, and we'll respect your email privacy.