Things to do in Waikiki
Waikiki is one of the world's most traveled and sought out vacation destination in the world.  With close to 5 million visitors per year, this city has become a Honolulu attraction itself!  Whether you're here to sink your toes somewhere on the 2 mile stretch of this Oahu beach, explore some of the surrounding Honolulu attractions, discover the best shopping areas, or get ready for the best island nightlife, we'll lead you to better main attractions, and point out the best things this incredible city has to offer!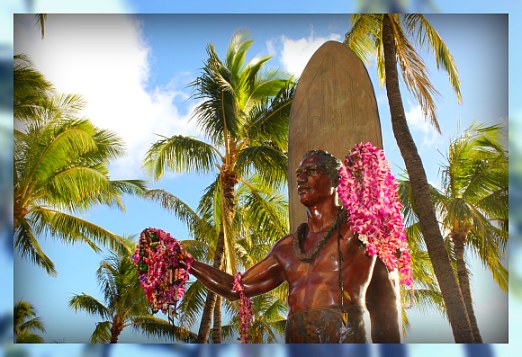 Duke Kahanamoku Statue
---
Waikiki Under Quarantine Footage
It's crazy to see just how isolated and quiet Waikiki has gotten during the Shelter-in-Place order for all of Hawaii.
Oahu would typically see around 15,000 visitors arriving each day during the spring time.  That number has shrunk to just a hundred per day.  Once the quarantine is lifted and visitors start to return to the island, we probably will never see it this isolated again... 
Check out this amazing footage taken of different sections of Waikiki as people shelter in place.
---
Beaches & Water Activities
---
Where better to go for great beach action and lots of water activities!  Waikiki Beach just about offers it all, whether you simple want to lay out in the sun, or do a little snorkeling around the shallow reefs.

Waikiki Beach


The number one reason visitors come to Hawaii is to spend time on our tropical beaches.  This Oahu Beach gets more than its share of beach goers with beautiful aqua blue waters, and easy access from just about any hotels in the area.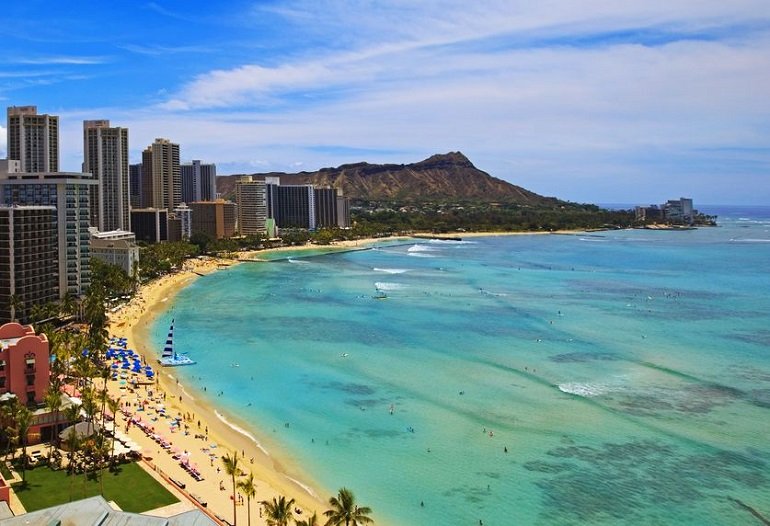 There are actually 8 sections to Waikiki Beach, covering the nearly 2-mile stretch of coastline!  From Duke Kahanamoku Beach being the largest section, to a small hidden section that sits in front of the Outrigger Canoe Club, near Diamond Head.
Learn more about these Oahu Beaches, and see which section you would like to visit.

---
Surfing Waikiki


There is nothing more exciting to paddle your arms into a wave, feeling the motion with increasing speed as the wave builds, popping up in a single motion, and riding waves back to shore…and just like that you're surfing!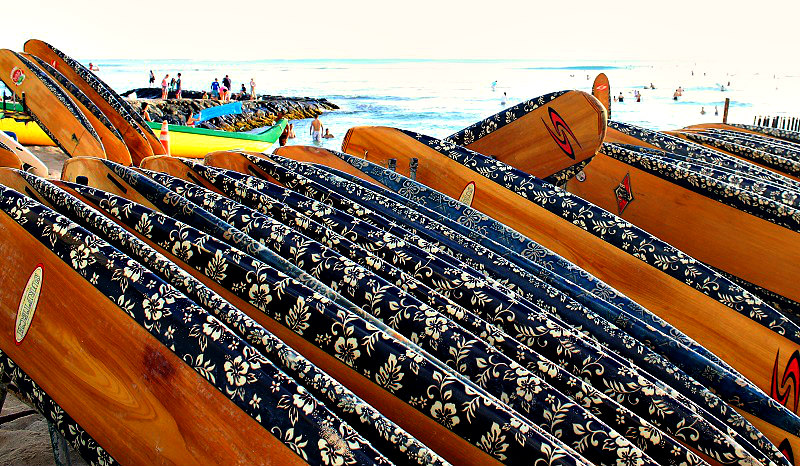 Whether you are and expert surfer or surfing for the first time, the magic feeling of surfing waves never ends!  There are some great surf schools to be found, with Waikiki Beachboy instructors located in front of the Royal Hawaiian, Prince Kuhio Beach, and Queen Kapiolani Beach.  Sign up and reserve your surf lesson now…
If boogie boarding is more your speed, then head down to a fun local surfing spot, located at the end of Kuhio Beach, called Waikiki Walls (which is a solid pier with waves breaking on both sides).  Sometimes there is a beach vendor who rents boogie boards next to the sea wall.
Learning how to surf in Waikiki is like learning how to ride a bike.  With a little guidance and persistence you will be standing up surfing in no time.  Lessons start from shore, reviewing some of the mechanics and safety.  Now the fun begins as you paddle out on a longboard with you guide beside you in search of waves and riding them back to shore.  It's an amazing feeling hard to put into words!
Book a 2 hour private lesson or group lesson

---
Waikiki Attractions
---
From simple treasures such as viewing the Duke Kahanamoku Statue to the War Memorial Natatorium, there are some great Honolulu attractions mostly on the outskirts of Waikiki.

Kapiolani Park that is located just before Diamond Head, is home to the 42 acre Honolulu Zoo, and the century old Waikiki Aquarium.  Kapiolani Park is grand in size, and always has something going on, especially on the weekends, including free concerts and festivals.

On Sundays, make sure to check out "Art on the Fence" that's located on the backside of the zoo.
Also check out the Hawaii Army Museum located on the north end in Fort DeRussy Park.  Look at exhibits and learn some history how the US military played a role in Hawaii over the years.  Admission is free but donations are welcome.
---
Experience Oahu from above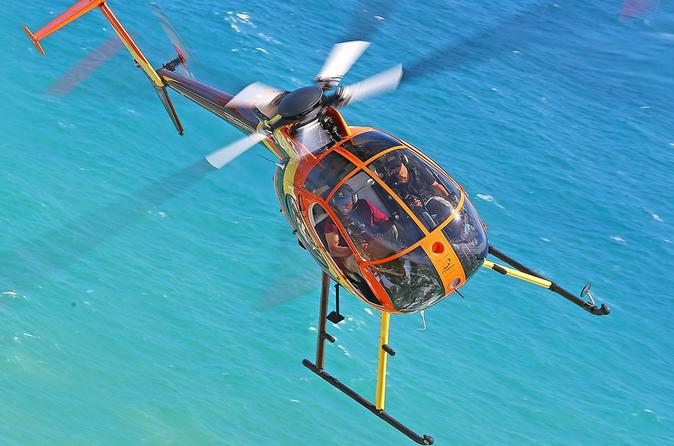 One of the most amazing experiences is taking it all in from above!
Words can't explain flying just a few hundred feet in an open-door helicopter above the coastline taking in panoramic views of Waikiki, Diamond Head, Pearl Harbor, the Ko;olau Mountains, Hanauma Bay, cascading waterfalls, and much much more.  Explore a once in a lifetime experience...

---
Waikiki Trolley - Hop on Hop off tour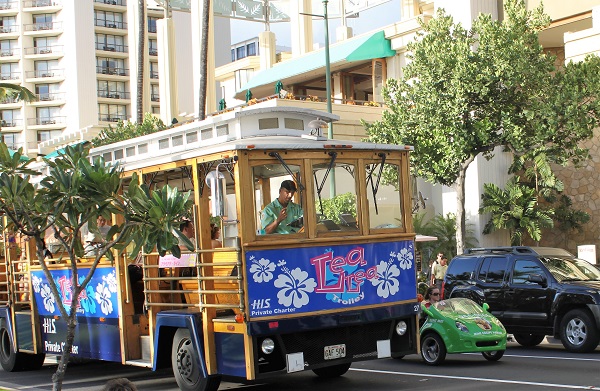 The trolley is a great way to get around and discovery the many things that Waikiki, Diamond Head and Ala Moana, and other beaches and Honolulu attractions have to offer.  Sit up top and enjoy the ride around town and feel free to jump off at any of the 30 stops that it make, and catch another trolley later!  
---
Strolling around Waikiki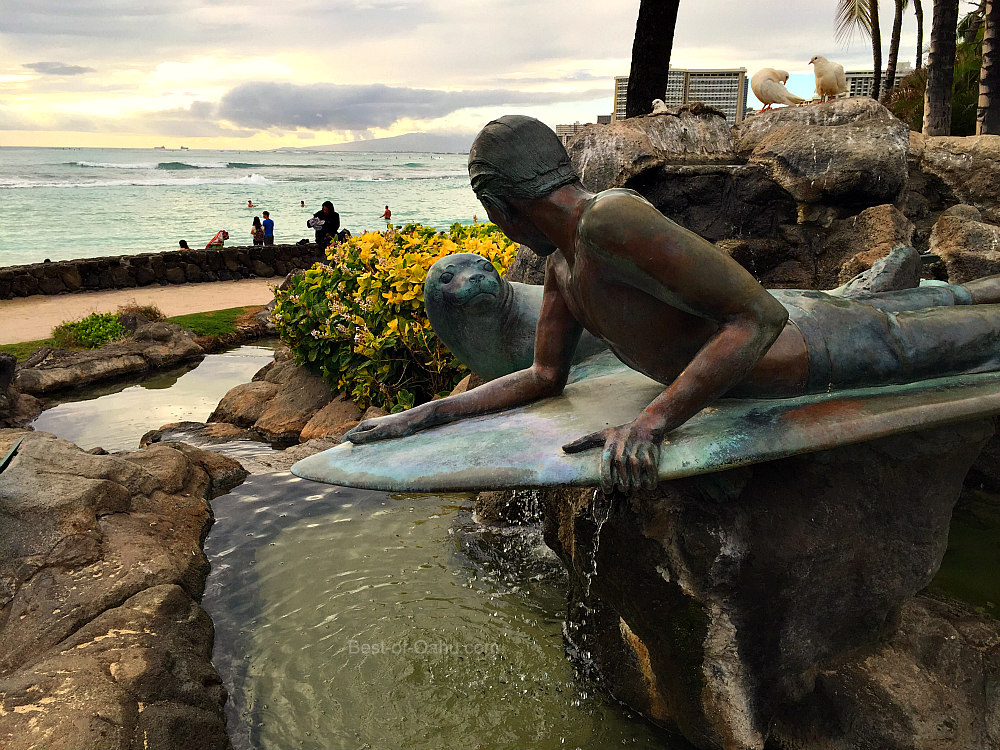 Stroll around Waikiki and check out sights and attractions.  It's about 5 miles if you travel around the boarders of Waikiki...following the beach path, around Kapiolani Park, and down the Ala Wai Canal front.
There are over 2 dozen bronze statues and storyboards along the way to admire that represent some of Hawaii's heroes and legends, including Duke Kahanamoku, Queen Kapiolani, Don Ho, and Gabi Pahinui.
The statue above is based on the Hawaiian ohana story of Makua & Kila the monk seal.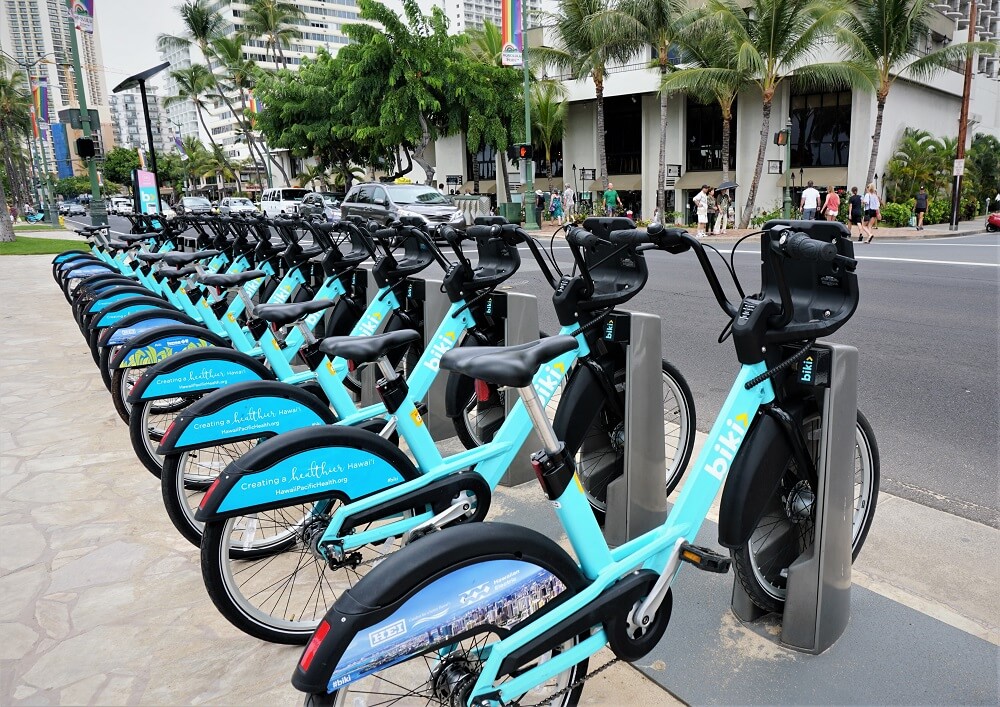 Another great way to get around Waikiki and beyond is by renting bikes at Biki Stations.  You'll find these bike stations throughout town and neighboring Ala Moana Beach Park and Chinatown as well.  They are easy to rent and inexpensive.
---
Waikiki Surfboard Racks


Take a walk down the classic Waikiki surfboard alley that is used for storing boards.  The walls are lined with surfboards from the street to the beach.  Not just any boards, but old classic long boards.

Some that have been stored for decades.  It's rare for a storage space to free up, but if you're luck you can rent a space from Nalu Storage Company for as low as $25 per week or $420 per year.

It's hard to pass by without taking a picture somewhere within the 5 sections, or next to a tanker that you've taking a liking to.
The Waikiki Surfboard Racks are easy to find between the Outrigger Waikiki Beach Resort and the Royal Hawaiian Shopping Center.

---
Catch a Stunning Sunset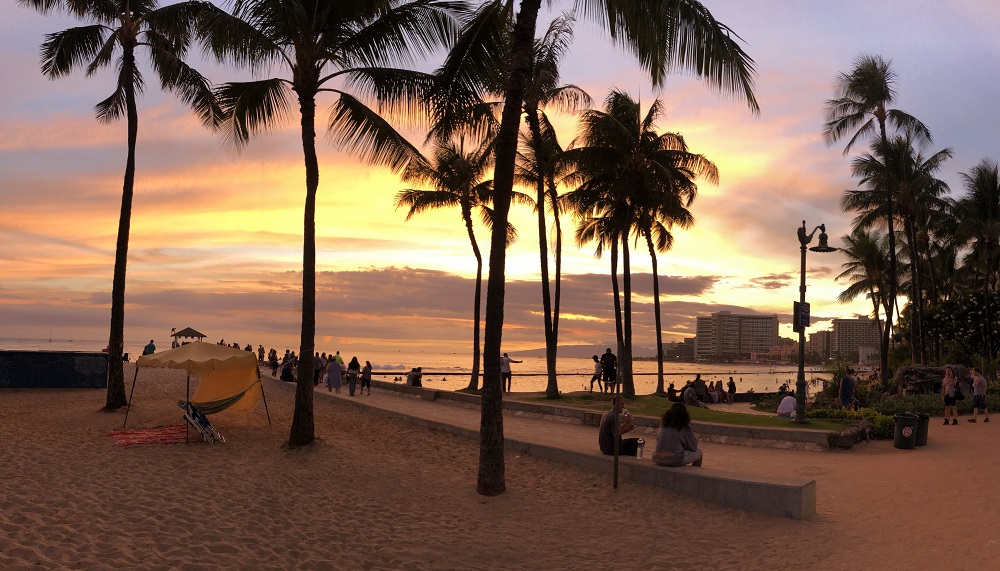 You're in luck…Waikiki is one of the best spots on the island to watch a Hawaiian sunset.  Facing west into the sunset, good humidity with scattered clouds in the air, and surrounded by stunning landscape will deliver an amazing sunset every time!  One of my favorite spots to watch it is from the end of Waikiki Walls near Queens Beach.

---
Watch a Hula Show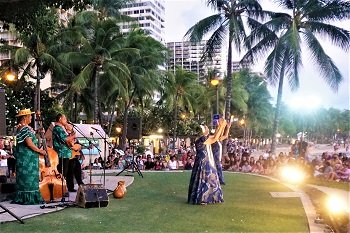 Speaking of sunsets, consider finding a seat around the Kuhio Beach Stage, and watch a hula show that takes place during the sunset hour.
The 1 hour Kuhio Beach Hula Show takes place Tuesday, Thursday & Saturday, from 6 PM to 7 PM (starts a little later (6:30 PM) during summer months) and weather permitting.
The fun begins when the sun goes down, the tiki torches are lite, and the conch shells are blown.  This is a real treat and provided free by the Hyatt Regency Waikiki Beach Resort!  Arrive early to get a good seat...
---
Best Hotels in Waikiki
---
There are close to 70 hotels in the 3 ½ square mile radius of Waikiki.  You can't go too wrong choosing a place to stay, as most have easy access to great shops, restaurants, and beach access.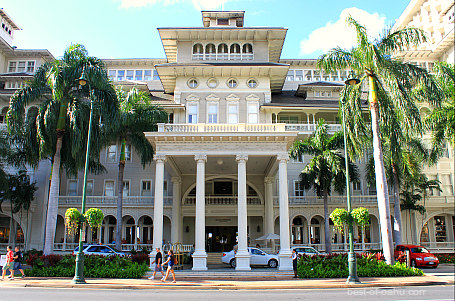 But it's worth checking out some of the classics like the Moana Surfrider, and the Royal Hawaiian Hotel.  There's also some amazing boutique hotels in Oahu such as the Halekulani and the Modern Honolulu.  Finally there are the cheap hotels in Oahu.  Find yours and more hotels in Oahu…

---
Best Shopping, Restaurants and Nightlife
---
Waikiki Shopping


You won't have to walk far outside your hotel to find hundreds of nearby shops!  Real estate is very competitive in this Hawaii bound oasis, so only the best and most desirable shops survive -even the famous International Marketplace has an incredible new appearance.

From popular designer shops to boutique kiosk stands, there is something for everyone!  The Royal Hawaiian Shopping Center is an attraction itself, with 110 shops spread out in a 4 tiered open air mall!

The Waikiki Beach Walk is another fun shopping area worth visiting, with over 50 unique shops and restaurants.
---
Restaurants


With hundreds of restaurants occupying this busy little city, it won't be a matter of finding a place to eat.  The real question is where are the best Waikiki restaurants to be found?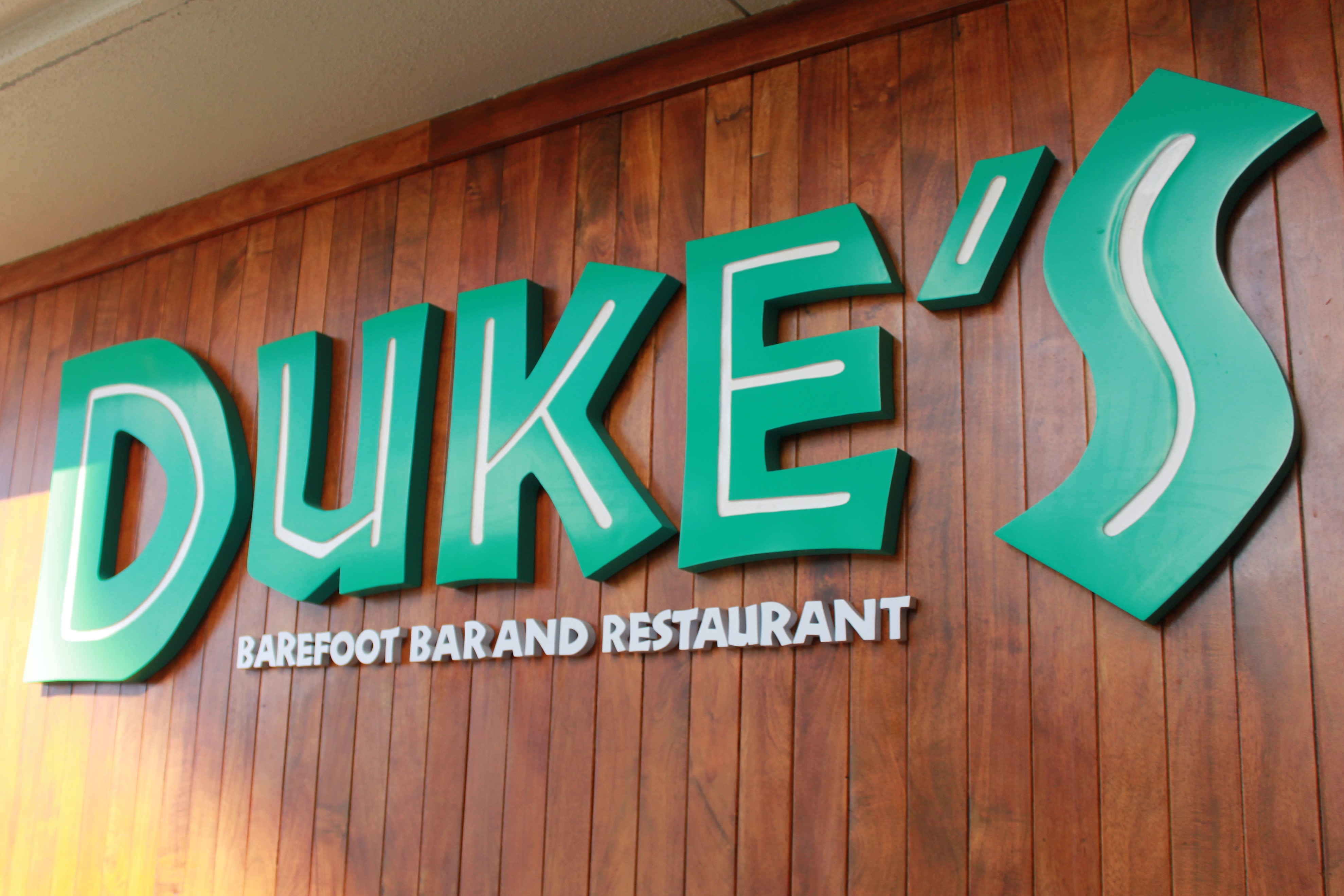 From breakfast spots to discovering islands treats such as Hula Dog and a Hawaiian plate lunch, to your 4-Star restaurants, we will highlight some of the best places that desire recognition for their good eats!  Here are the best Waikiki Restaurants…

---
Nightlife


This Honolulu city can sometimes feel just as lively at night as it is during the day!  Just walking around the streets is quite entertaining in itself!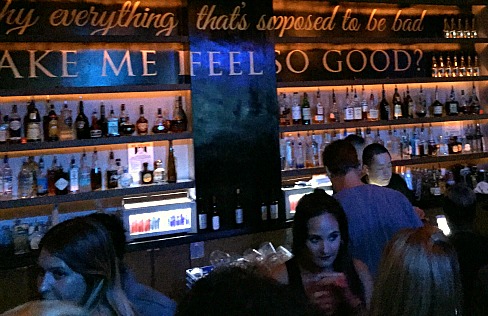 In a vibrant tourist driven city, you find lots of bars, nightclubs, live music, comedians, street performers, and maybe even a nearby luau taking place.  Visit the larger hotels, which usually have nightly entertainment.  Also check out ongoing Oahu events during your visit, and take a look at the best Oahu bars and nightclubs in and outside Waikiki.

---
Annual Events
---
WAIKIKI SPAM JAM FESTIVAL - April 25th 2020
One thing Hawaii is a big fan of is SPAM, and the Waikiki Spam Jam Festival is by far the one of the largest festivals that takes place in Waikiki and around Hawaii for that matter.
You will find SPAM represented in so many different ways, from food vendors making special dishes with it, to merchants selling just about everything with the SPAM logo on it.  It will be entertaining to say the least!  Along with all the SPAM you can handle, there will be great live entertainment and some performances taking place on 2 different stages. This is a special festival not to be missed!
The SPAM Jam also benifits the Hawaii Food Bank...
---
In the Area
---
While there is more than enough activity to keep you busy, you also don't have to wander far outside the city limits to find more great Oahu finds, including other beautiful Oahu beaches, and great restaurants, and incredible shopping, and iconic landmarks such as Diamond Head.

Whale Watching Tour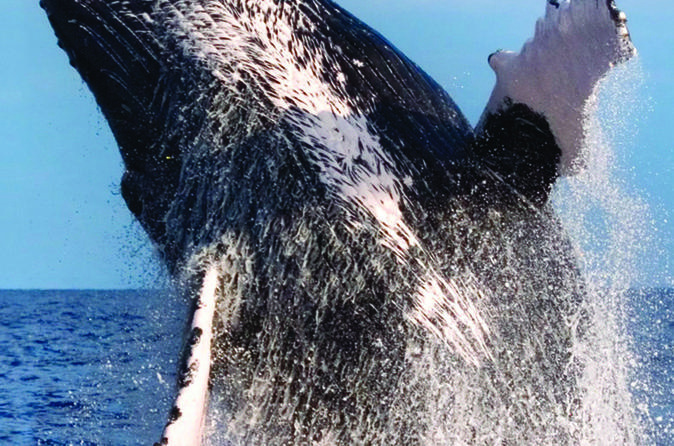 If you're visiting during whale migrating months (late Dec – early May) you might be fortunate to see humpback whales surfacing along the south and western coastline.  Ride a catamaran or monohull boat with a small group tour from Waikiki (through the Kewalo Basin Harbor) or from Ko Olina (through the Waianae Harbor), to get a closer look at these magnificent sea mammals.

If you're lucky, you're get to watch the whales breaching the water and splash around, along with other surprises from local marine life, including dolphins and sea turtles.  Book your Whale Watching Tour now...

---
Ala Moana Mall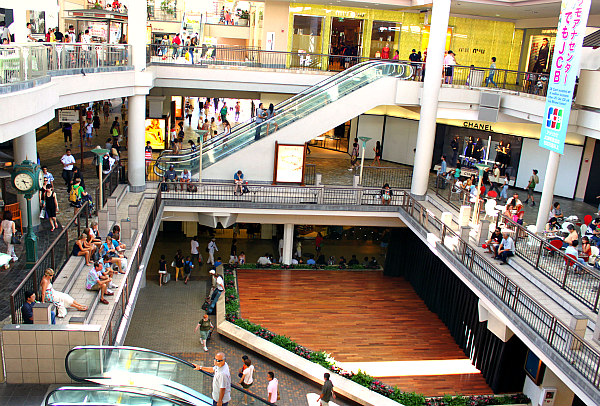 Not just another shopping center, but a Honolulu Attraction in and of itself.  The Ala Moana Mall, that's located just minutes away,  has close to 400 shops and restaurants - from Louis Vuitton and Fendi to the Flip Flop shops. 

The open-air 4-level structure hosts a slew of shops that are unique to Hawaii, including a restaurant row and signature Mai Tai Bar at the top of the 3rd level.

---
Ala Moana Beach Park


Neighboring just to the north, across from the Ala Moana Center, is a beautiful local beach with twice the amount of sand!

Ala Moana Beach is part of a 100 acre park that has many features to it, including a couple concession stands, tennis courts, and a cool separate crescent moon beach at the end of walking peninsula.

This Oahu beach is one of the best spots to come watch a sunset and the skyline view of Diamond Head and all the hotels.

---
Diamond Head Hiking Trail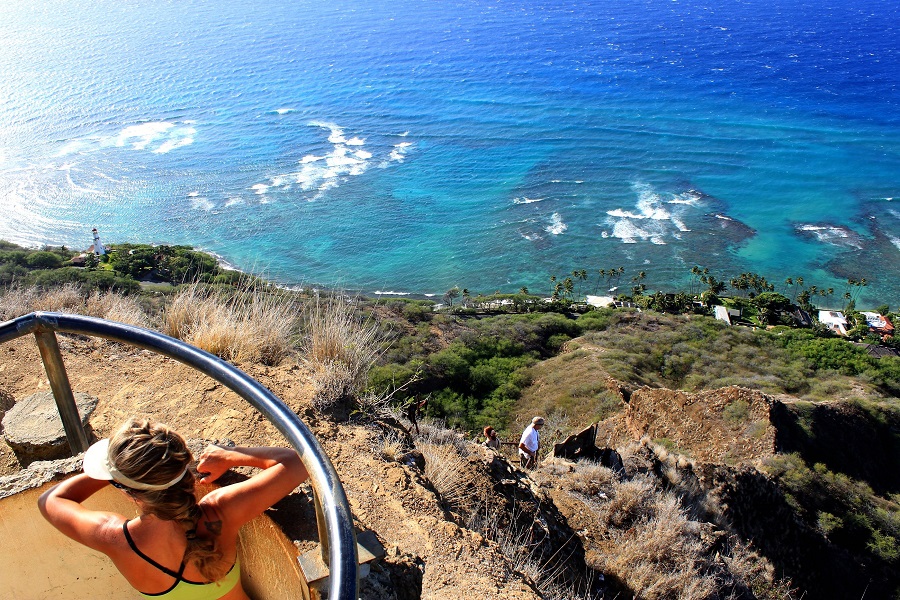 Climbing Diamond Head is the most popular and exciting Oahu Hiking Trails!  Take the 760 foot hiking challenge and climb to the top of the summit of Diamond Head.
Make it up the 99 steps after the switch back trails and you'll be treated to some stunning views of Waikiki and beyond!

You could begin the hike up Diamond Head straight from Kapiolani Park, which will add only a few miles each way to your trek, but most take a short drive around the other side of the mountain, and start their journey from inside the crater.

---
Diamond Head Beach Park


Explore a beautiful quiet Oahu Beach located just around the corner from Diamond Head.  Diamond Head Beach is home to some of the wealthiest beach home owners on the island, surfers & windsurfers, and locals looking for some weekend fun!

Give yourself some time stroll Diamond Head Beach, take in the scenery, and explore exposed tide pools.

Aloha & Enjoy!

Subscribe to receive Best of Oahu updates on events, updates, and new articles.  It's the closest way to paradise while you are away...
We will never sell or spam your information, and we'll respect your email privacy.