Ala Moana Beach Park
Ala Moana Beach Park is a playground that just about offers something for everyone, including a half mile beach strip stretch of white sand.  Compared to many Oahu beaches, Ala Moana Hawaii offers acres of shady trees, picnic tables, and a wide expanse of grass to play around in the park, including tennis courts, a yacht club, 3 concession stands, and an additional half crescent beach called Magic Island.  And all of this is across the street from the famed open roof Ala Moana Mall.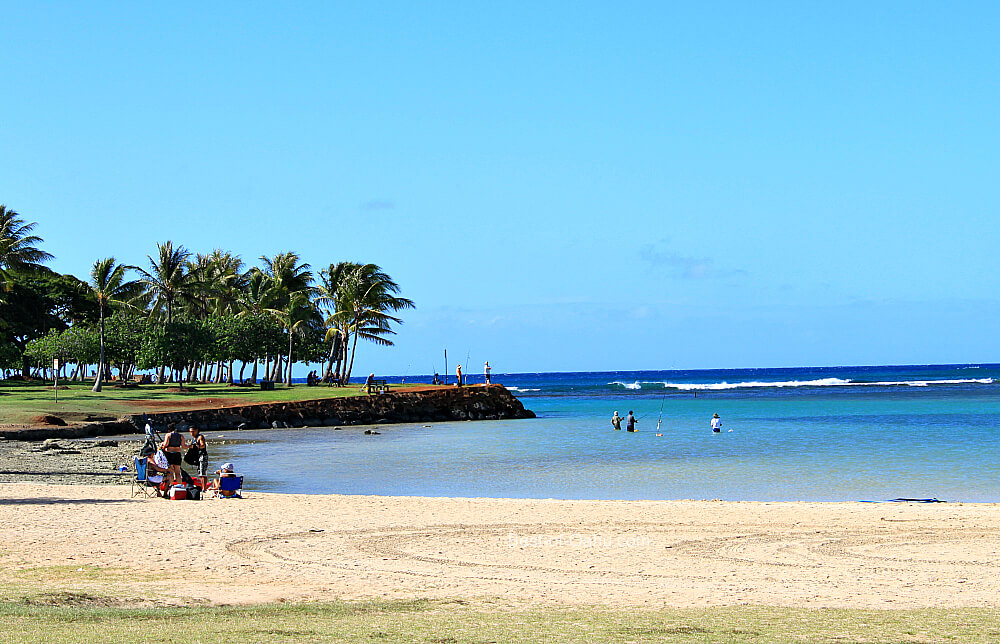 Ala Moana Beach Park is getting a BIG makeover! Many areas of this park are being improved upon.   Included in these renovations, all sections of the beach will be replaced, bathrooms will be restored, pathways will be widen and smoothed & adding a bike path, planting new grass and shady trees, adding 2 new sand volleyball increase night lights, and adding a new playground.
Improvements have already started and will continue thru 2025.  Beach sections started back in 2021.

This Oahu beach has a true urban beach feel that is beautiful, clean, and is a favorite among both locals and visitors!  I personally have spent a good portion of my childhood surfing here, attending parties, and countless strolls through the park and along the beach.

The locals love it because it is centrally located and accommodates large family and friend gatherings.  I can't tell you how many barbecue outings I've participated in over the years at the Ala Moana Beach Park!

Don't miss the Memorial Day Lantern Floating Ceremony that takes place every Memorial Day.  Music, entertainment, and activities go on all day.
At sunset , 6000 floating lantern will start their journey into the Pacific, serving as a memory of our military vets! About 50,000 people attend each year, so plan on arriving early!

This Oahu Beach neighbors popular Waikiki, and framed by the Ala Wai Canal which channels through a harbor and into the Pacific Ocean.  While Waikiki Beach is a favorite destination of Oahu beaches for visiting tourists, Ala Moana Beach is considered a locals favorite.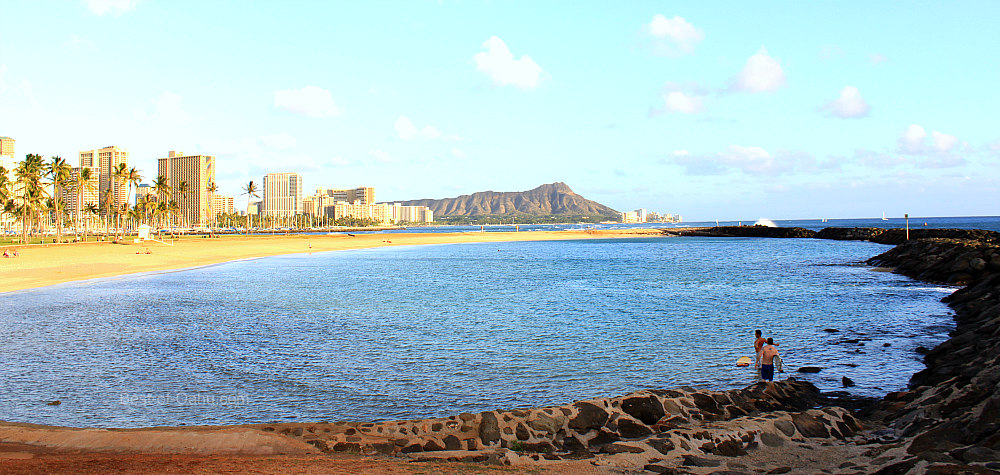 Magic Island
A little History:   It's hard to believe, but this area, including much of Waikiki was swampland before the Ala Wai Canal was developed back in the 1920's.

This canal channels the run off water from the mountains to the ocean, verses flooding the vicinity.  As this area transformed into a park with a beach, it was renamed Ala Moana in 1947, which means "path to the sea", and has transformed into a beautiful 100 acre park with over a mile stretch of white sand.

---
Ala Moana Beach - Activities
---
Ala Moana Surfing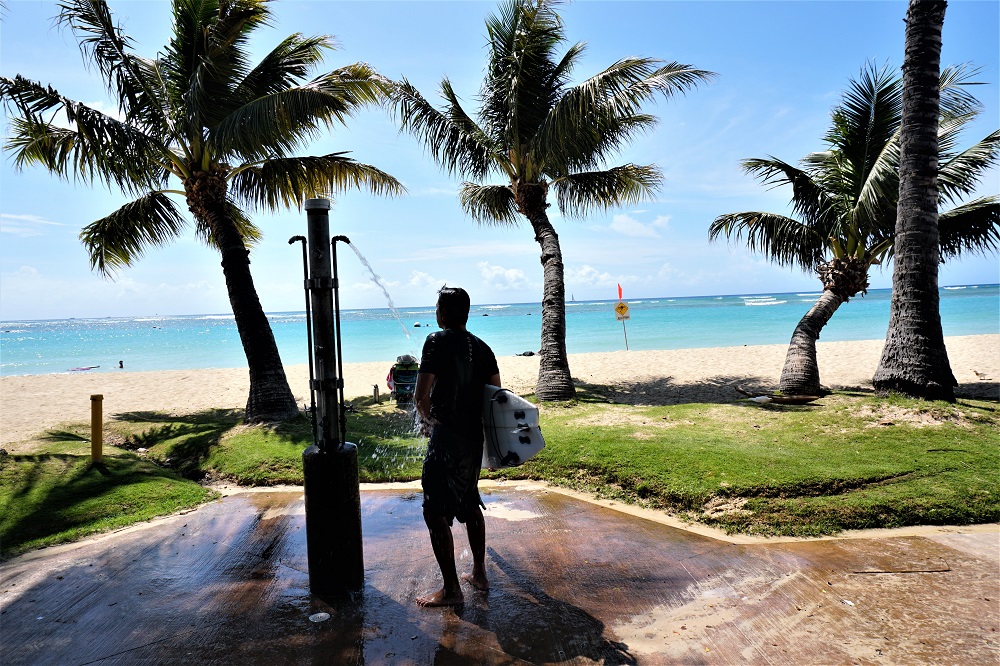 Ala Moana is notorious for it south town-side surf spots.  You have to work a little to reach the waves, which includes a 200 yard paddle to the reef, where you will need to walk another 200 yards across the raised reef, and finally a 400 yard paddle through the surf impact zone to reach the lineup.  

Surf Spots - Concessions, Tennis Courts and Big Rights are the main central surf spots.  Baby Haleiwas and Bomboras break near Magic Island when summer swells arrive.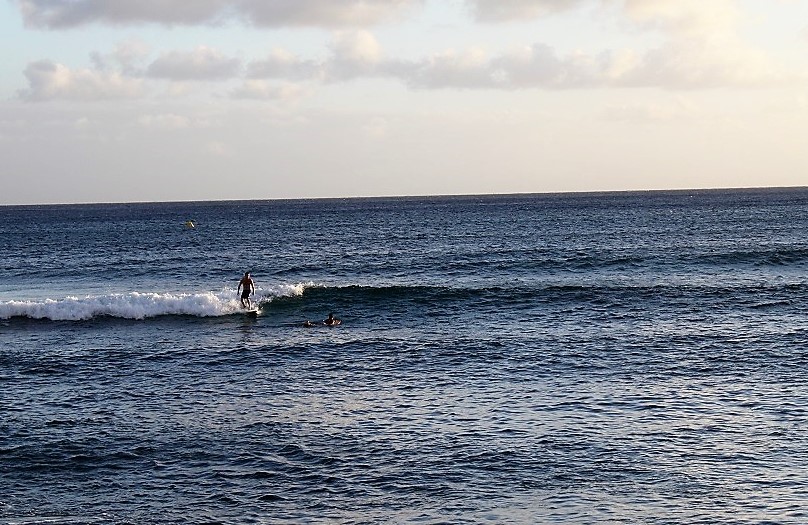 It's usually quite rewarding to make the long paddle out to the lineup, because the waves tend to be some of the largest and cleanest waves on the south side of Oahu.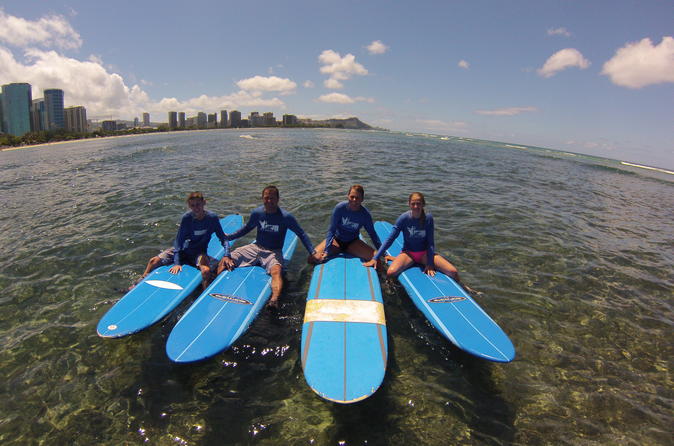 The multiple surf breaks follow the park's grounds a mile down the beach with a good half dozen surf spots to choose from.

Paddle into the line up with a pro, for a 2 hr lesson & surf session!  Book a Surf Lesson Now...
This does not include the famous Ala Moana Bowls and other surf spots, which are located just across the Ala Wai Canal channel on the other side of the Magic Island strip.

---
Stroll through the park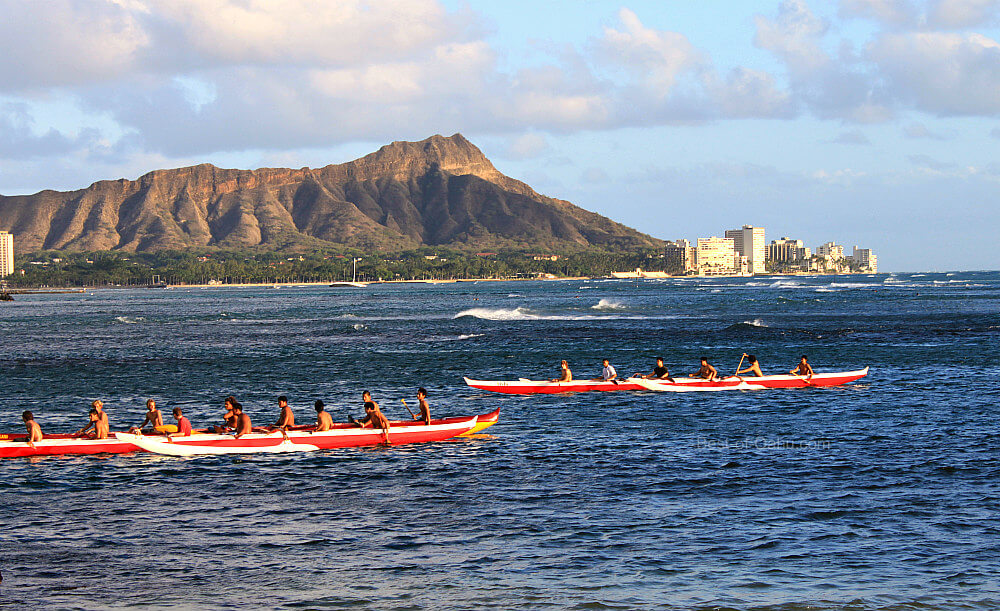 This is an excellent park grounds to take a stroll or light jog.   If you're in the mood to get a little exercise, enjoy it while taking in some of the best ocean views surrounding the Waikiki Beach skyline and Kewalo Basin!

You'll discover that the locals, at every chance they get, are not shy about taking advantage of their beautiful surroundings strolling in and around the Ala Moana Beach Park grounds.
Ala Moana Park Walking Trail
And why not? It's a great place to catch up while going for a walk! Joggers are out in force, taking a light run around the park trails, many of whom just changed out of their work clothes and came out to enjoy the rest of the daylight hours.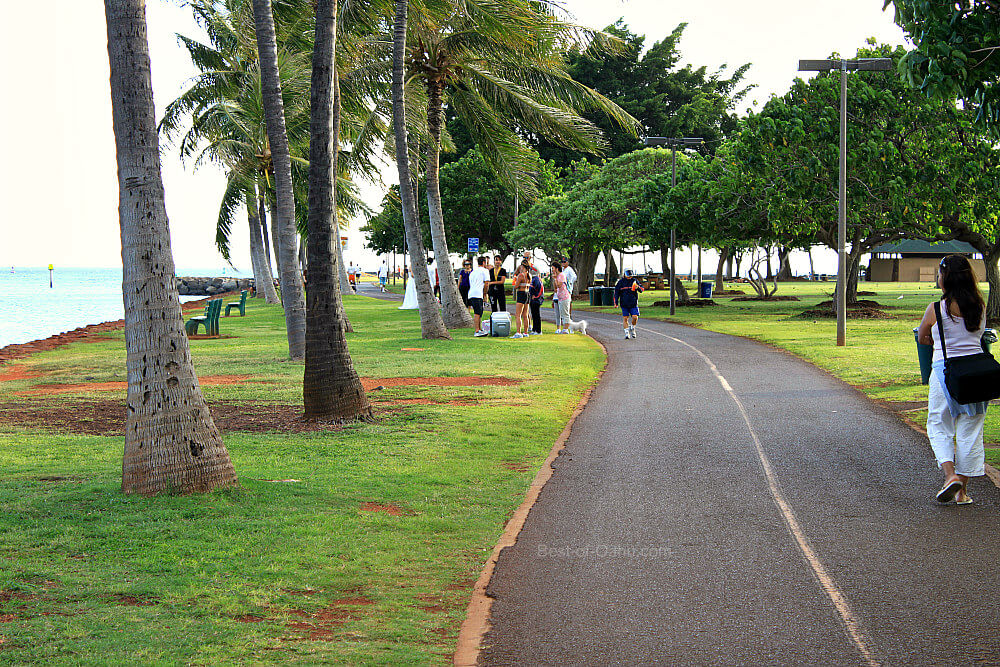 You'll find a paved path that winds around a peninsula of grassy field that end with a half crescent moon beach call Magic Island.  Watch the sailboats and canoe paddle clubs race out to sea.

Follow the path back around to the parking lot, and throughout the park's main shaded areas, and along the mile long beach seawall, which finally ends at the Kewalo Basin.
The mornings tend to be very peaceful, but I prefer taking a stroll in the afternoon when the sun is setting.  The sunset lighting is beautiful during this time and makes the stroll much more magical!

---
Rent Bikes in the Park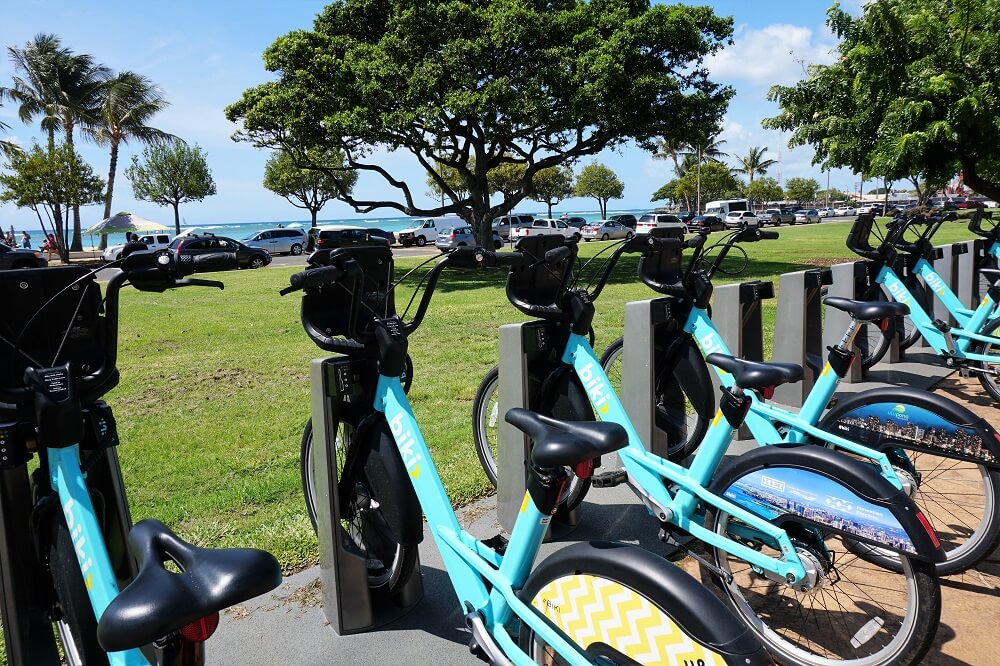 Take advantage of renting Biki Bikes.  It only cost $3.50 a ride.  Cruise around the beach park, and maybe even go as far as Aloha Tower Market Place and back to Waikiki.

---
Paddle Board Yoga Lesson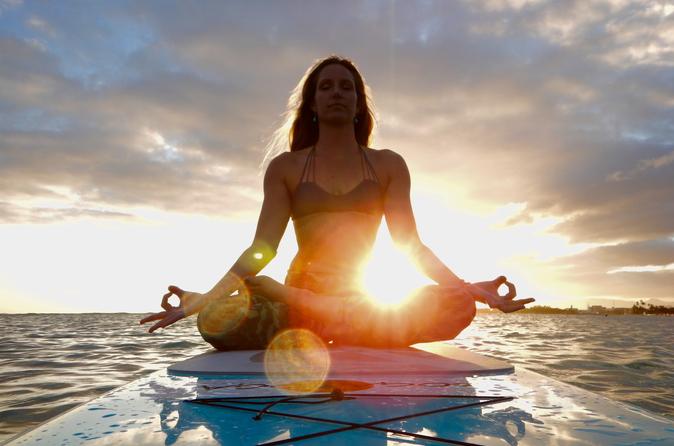 Have you ever seen a picture of someone doing a beautiful yoga pose on a paddle board?  Now you can experience it for yourself.  There is a beautiful feeling performing yoga on the water!  
No paddle board experience necessary.  Most yoga poses practiced are sitting, kneeling, and lying down.

---
Best Spot to Watch a Sunset
---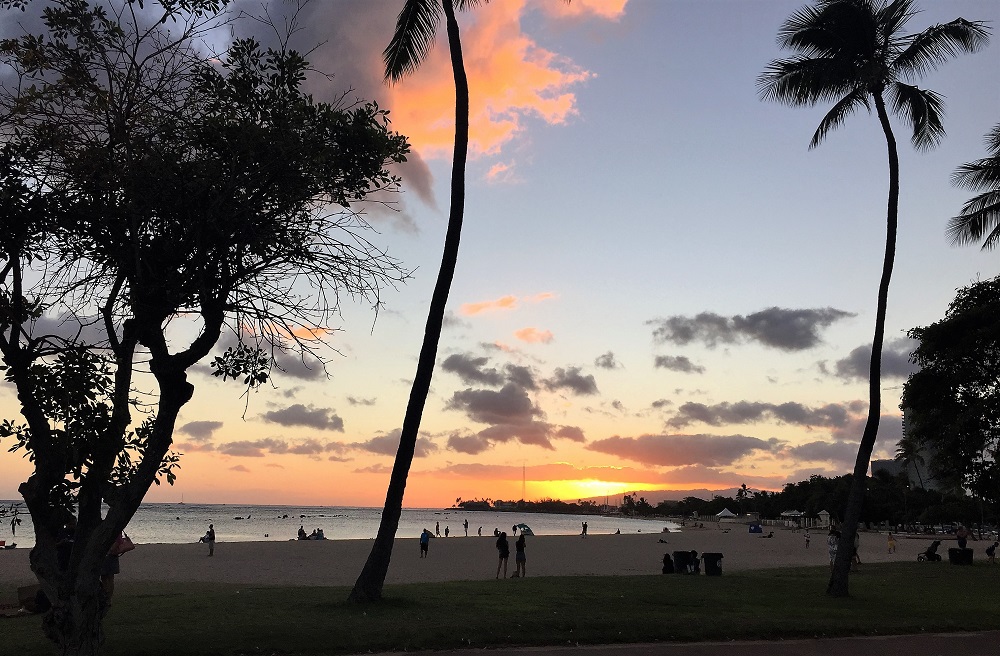 Just about any of the western and northern facing Oahu Beaches capture spectacular sunsets. 
But there are only a few beaches on Oahu, including Ala Moana Beach Park that deserve recognition for having a special setting that is perfect for watching the Hawaiian sun melt into the horizon.
Sunset hour at Ala Moana is a bewitching hour. It is a great time to find a spot on the endless stretch of sand.
I prefer grabbing a spot somewhere on the edge of the Bermuda grass that runs off onto the beach.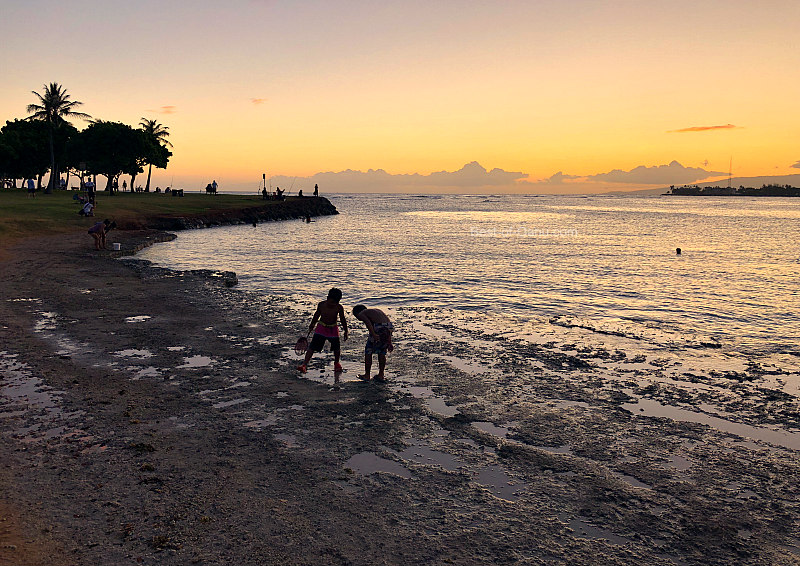 Another spectacular viewing spot is located further up the peninsula on the right side of Magic Island, where you can sit on the paved pathway and dangle your feet over the sea wall, watching the waves roll into the rocks or the surfers ride into the sunset.
If sitting around is not your idea of enjoying a sunset, then you might want to pick yourself up for a sunset stroll.  You'll be mesmerized as you walk along the path, and watch the changing colors taking place around you!
---
Natural Ocean Swimming Pool Setting
Are you a recreational swimmer looking to get some exercise on your vacation?  How about swimming some laps in a natural ocean swimming pool?
The outer reef couldn't provide more protected calm conditions to swim in.  One lap might take you awhile, since it's about a mile swim to one end.


---
Ala Moana Beach Park for Kids  
Ala Moana Beach offers a very friendly and accommodating environment for the keikis (kids).
Sandy beaches, calm ocean water, multiple food concession stands and restroom facilities, and plenty of shade to lay under in the grassy areas, has families headed to this Oahu for kids beach park.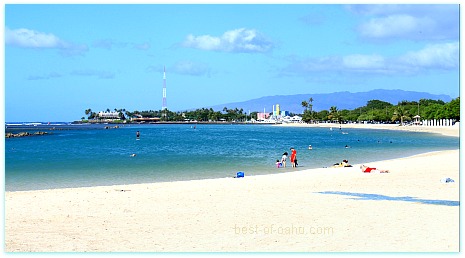 The long sandy strip and the Magic Island's half moon crescent beach offers inviting calm waters to play in. 
There are no immediate drop offs as you enter the water, but it is important to note that the depth progressively gets deeper the further you wander in.  Adult supervision is still needed in what will seem like a very safe environment.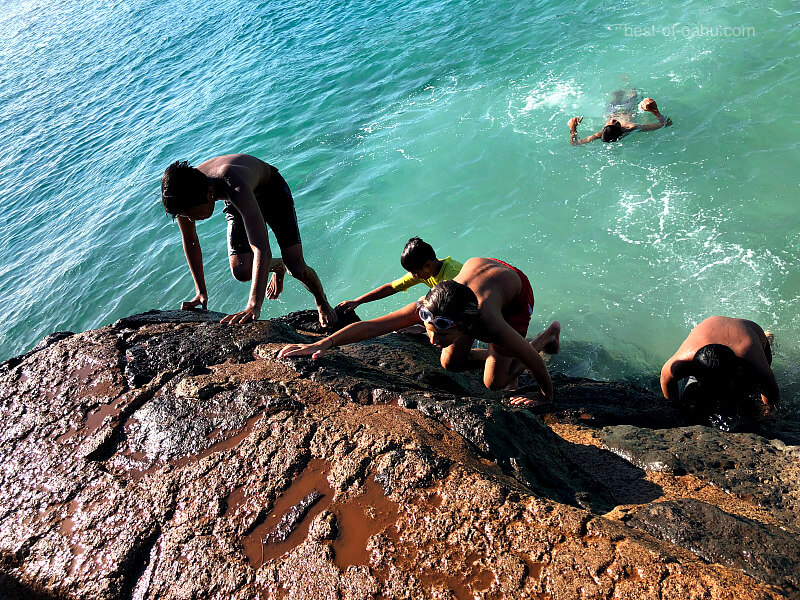 It's not uncommon to see kids jumping off the sea wall, and climbing back up only to repeat it multiple times.
---
Beach Facilities
Ala Moana Beach Park is well equipped with all types of the following facilities:

 

Multiple restrooms and outdoor beach showers throughout the park

On duty lifeguards

2 food concession stands (closed at this time)




Picnic tables, benches and BBQ grills

Grass fields and shady banyan trees

Walking paths

Tennis courts

Pavilion-style music stage

Free Parking on a large parking lot
---
Getting There
---
This Oahu Beach  is easy to find and very quick to get to from Waikiki Beach.  It is centrally located across the street from the Ala Moana Shopping Center. 

If your family is like mine, this bodes well to accommodate everyone.  Mommy watches the kids at the beach while I get some surfing time.
When I've had my fill, I relieve Mommy from the keikis so she can go do her own sport across the street – shopping at Ala Moana Mall …  Everybody's happy!

---
Waikiki Trolley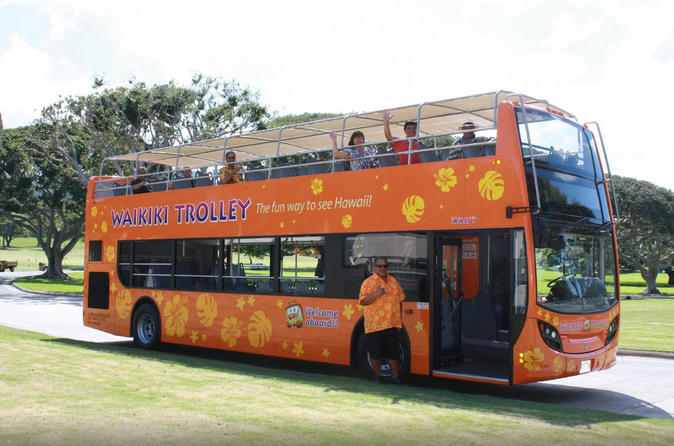 The Waikiki Trolley visits many Honolulu Attractions including the Ala Moana Beach Park. There are 4 different routes to explore including: Scenic Tour, Historic Tour, Shopping Tour, and the Island Tour.  The Purple Line will get you there.  
Tickets start around $9 for a child day pass, and go up to $25 - $49 for an Adult 7 day pass. 

---
Driving directions to Ala Maona Beach Park
Driving from Waikiki, follow Kalakaua Avenue northbound out of Waikiki.
Make a left turn onto Ala Moana Blvd
Continue until you drive over the Ala Wai Canal (Ala Wai Blvd). 
Turn left into the park when you reach Ala Moana Park Dr.

Once in the park, you will have the choice of parking in the Magic Island parking lot or find a spot somewhere along the mile stretch of beach.

---
Oahu Bus
Taking the Oahu Bus to Ala Moana Beach Park is easy and highly recommended.  Simply take the number 8 or 20 Oahu Bus from Kuhio Ave traveling northbound (away from Diamond Head).
These buses pass through about every 5 to 10 minutes.  Get off once you arrive at Ala Moana Mall.  Cross the street and enter into the park.
It will take you about 300 yards to reach the beach.  You might want to consider taking a car if you have lots of beach gear to transport.

---
3 More Action Beaches
Here are 3 additional Oahu Beaches that are beautiful, full of action, and worth visiting after this one...
---
Oahu Map
---
Visiting Tips
This beach is especially popular with the locals on the weekends and holidays.  Even with the vast amount of parking spaces available, parking can still become a challenge during these times.  That being said, choose a different time to visit or try to arrive early on these days.

If you plan on dropping by for a sunset, give yourself an extra hour beforehand to park, get set up and have some time to take a relaxing stroll or setup a sunset picnic.

---
In the Area
---
While this local Oahu beach neighbors Waikiki, there also happens to be a couple big shopping centers located just across the street, including the new upcoming Kaka'ako area.

---
Ala Moana Mall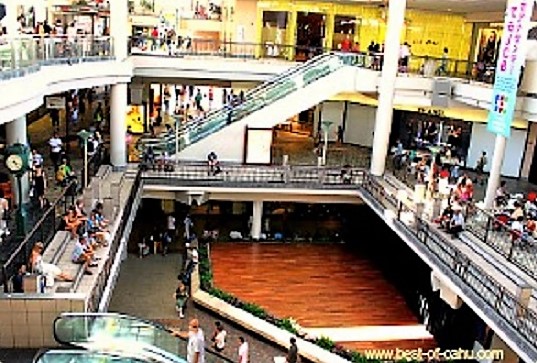 Not just another shopping center, but an entertainment destination in and of itself.  The Ala Moana Mall has close to 400 shops and restaurants - from Louis Vuitton and Fendi to the Flip Flop shops.  Discover the new Ewa Wing featuring 65 more shops & restaurants!

The open-air 4-level structure hosts a slew of shops that are unique to Hawaii, including a signature Mai Tai Bar at the top.

---
Kaka'ako Shopping Area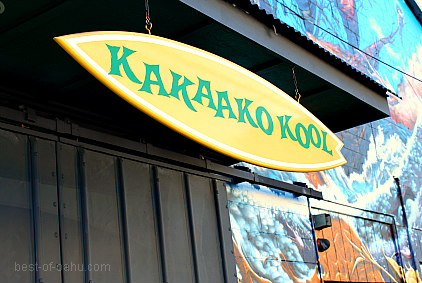 If you're in the mood to explore a neat collection of boutique shops, and maybe grab a bite to eat after the beach, then head over to the Ward Centre and surrounding shops.  Simply travel out of the park on the north end, and cross the street, which will turn into Kamakee St.  Make your first left onto Auahi St, and then try to decide where you want to go first.

---
L&L Barbeque Drive In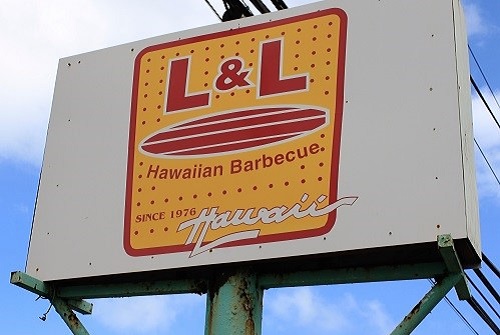 Hawaiian Barbecue has made it's mark on Hawaii, with their ono plate lunch comfort foods.  Popular menu choices include BBQ Chicken, Teriyaki Beef, Kalbi Ribs, and Loco Moco...

OPEN NOW - L&L BBQ has taken over two of the Ala Moana Concession Stands.  Stop by and celebrate with a plate lunch in hand!

---
Return to Best of Oahu Homepage
Aloha & Enjoy!

Subscribe to receive Best of Oahu updates on events, updates, and new articles.  It's the closest way to paradise while you are away...
We will never sell or spam your information, and we'll respect your email privacy.