Hanauma Bay
Hanauma Bay Hawaii is one of the most popular and most visited beaches outside of Waikiki and the North Shore beaches.  But it's not so much about the beach as it is about the marine life nature preserve, and the amazing Hanauma Bay snorkeling experience!  With over 300 different Hawaiian fish species lurking about the shallow coral reefs, it is easy to see why this Oahu Beach holds its fame!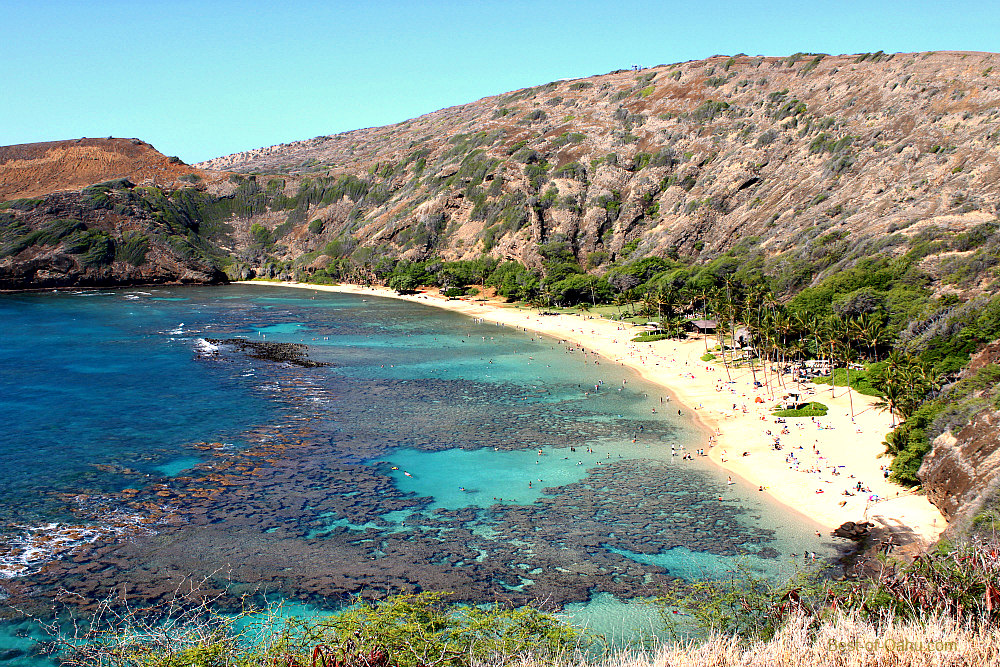 Check out the Oahu GO Card that gives discounts to multiple attractions, museums and tours around the island, including Hanauma Bay snorkeling...
Book your Hanauma Bay Snorkeling Adventure Half Day Tour that includes transportation from Waikiki hotels and normal snorkel gear for the day.
Part of what makes Hanauma Bay so special, is that it lies at the bottom of a volcanic crater. 
Here's a view of the bay from the top...
Over a thousand years ago, a violent eruption blew out its volcano crater side, and created the crescent moon shaped beach that exist today.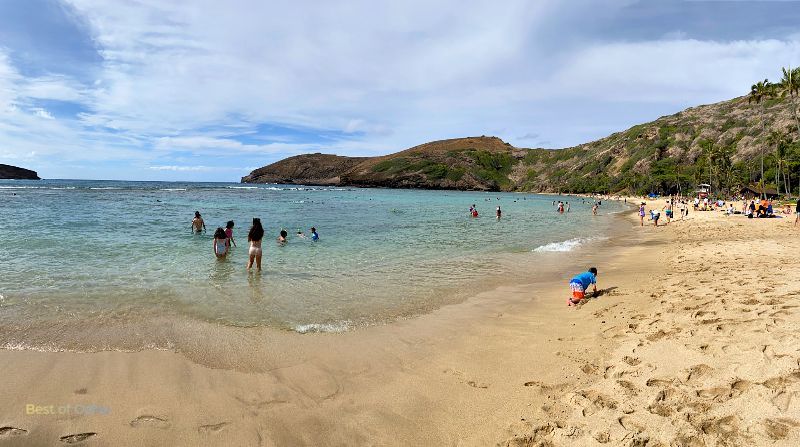 The lava rock tubes created a perfectly protected home for hundreds of Hawaiian fish species that live there today.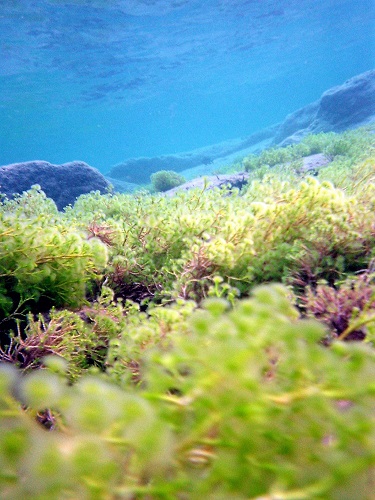 As a kid, I loved visiting this natural marine reserve to explore the reef's protected pockets & tunnels, and vast display of colorful Hawaiian fish – it's like jumping into a giant fish bowl...!


Back in the day, you could even feed the fish.  But you can imagine how cloudy the waters became when each visitor had a bag of bread or part of their lunch in the ocean, trying to attract a feeding frenzy around them...not to mention that human food is not necessarily the best fish food.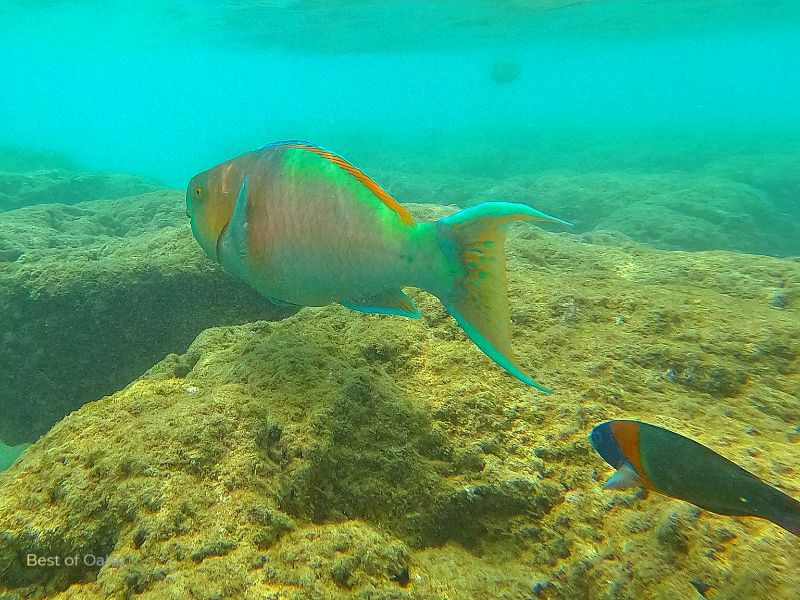 As this Oahu beach started to become more polluted and neglected, state park officials stepped in and made necessary changes to the Marine Life Preserve at Hanauma Bay.  The marine park now looks much better with the provided care.


Today, you obviously are not allowed to feed the fish, and they also now control the amount of visitors allowed in park at one time.  Only 3,000 visitors are allowed into this snorkeling heaven per day.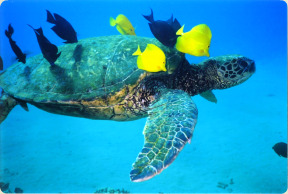 That might seem like a lot, but they used to easily get over 10,000 visitors each day.  The marine park also takes a break on Tuesdays when nobody is allowed in - even the fish and the coral reefs need a break from their adoring fans.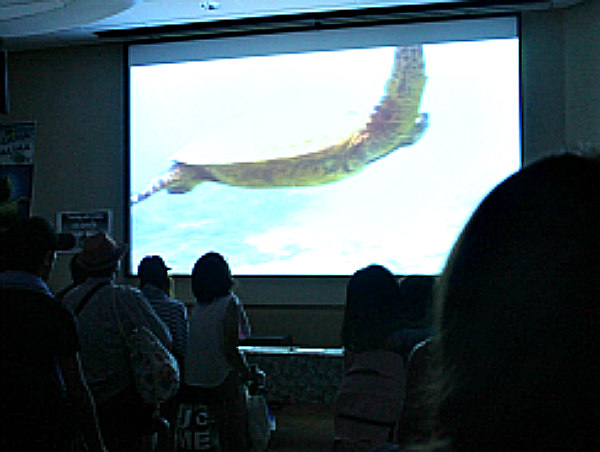 To better protect the Hanauma Bay fish and coral reefs, they have also created a mandatory 9 minute education program before heading down to the beach.  This constitutes watching a quick video on how to better protect what you are about to see.
---
Water Safety - do not go into the water if you're not a good swimmer or attempt snorkeling far from shore if you are a beginner.  Water rescues and drowning happen too often at this beach do to its popularity, unfamiliar waters and skill. Go with a buddy and check in with the life guard for more safety tips.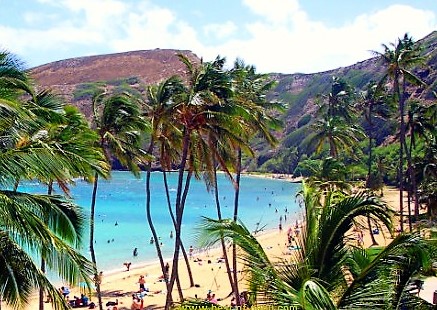 ---
Admission and Park Hours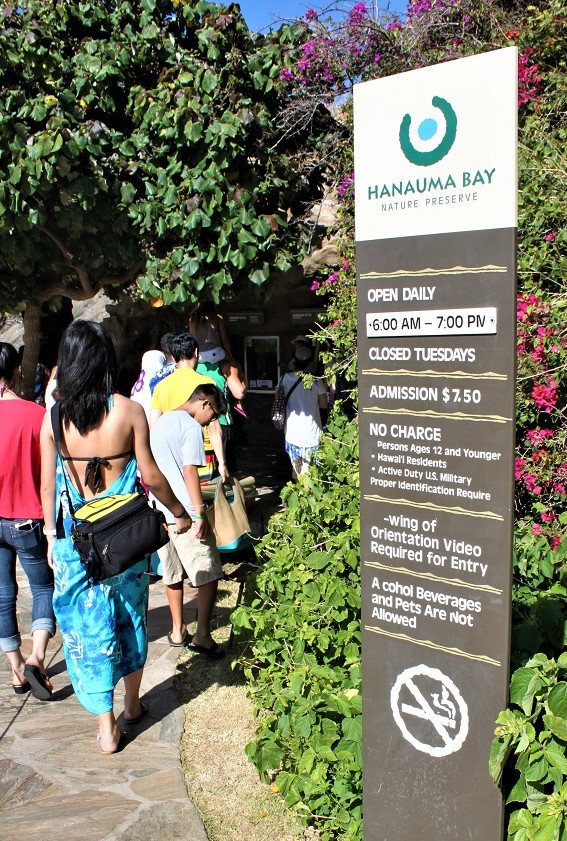 There is a $7.50 per person park entrance fee for visitors 13 years of age and older.  Free admission for children up to 12 years of age, active military, and Hawaii residents w/ proper ID.  There is also a $1.00 parking fee, if you are driving to this Oahu beach.
 
Hanauma Bay is open daily, except for Tuesdays, Christmas & New Years Day.
Hours open :   6am – 7pm                     
Recorded message for current fees, hours & conditions – (808) 396-4229
Book your Hanauma Bay Snorkeling Adventure Half Day Tour, which includes transportation from Waikiki hotels and snorkel gear for the day.
---
Getting There
---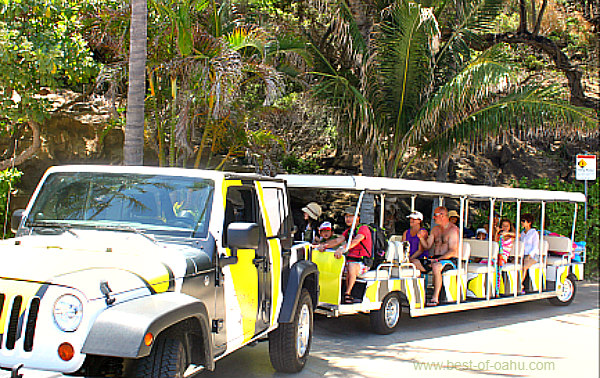 Take advantage of the $1.00 beach shuttle ride when you arrive in the parking lot located up top.

It is an easy 25 minute drive or 40 minute bus ride to from Waikiki.

Map of Hanauma Bay Oahu


---
Waikiki Trolley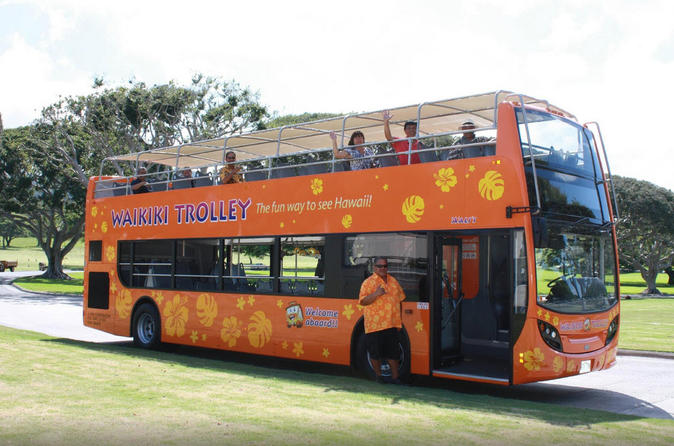 The Waikiki Trolley visits many Honolulu Attractions including Hanauma Bay. There are 4 different routes to explore including: Scenic Tour, Historic Tour, Shopping Tour, and the Island Tour. The Blue Line will get you there.  Tickets start around $9 for a child day pass, and go up to $25 - $49 for an Adult 7 day pass. 
Driving Directions
From Waikiki, take the H-1 Kalanianaoli Highway south.  The H-1 turns into Hwy 72, but still remains the Kalanianaoli Hwy along the coast.  Follow this coastal freeway through the residences, past Hawaii Kai, and up a ridge until you reach Hanauma Bay Road, where you will turn into the parking grounds.
---
Oahu Bus
Take the 22 Oahu Bus from Kalakaua Ave in Waikiki straight to Hanauma Bay.  Depending on traffic, it should only take about a half hour to get there.
---
Beach Facilities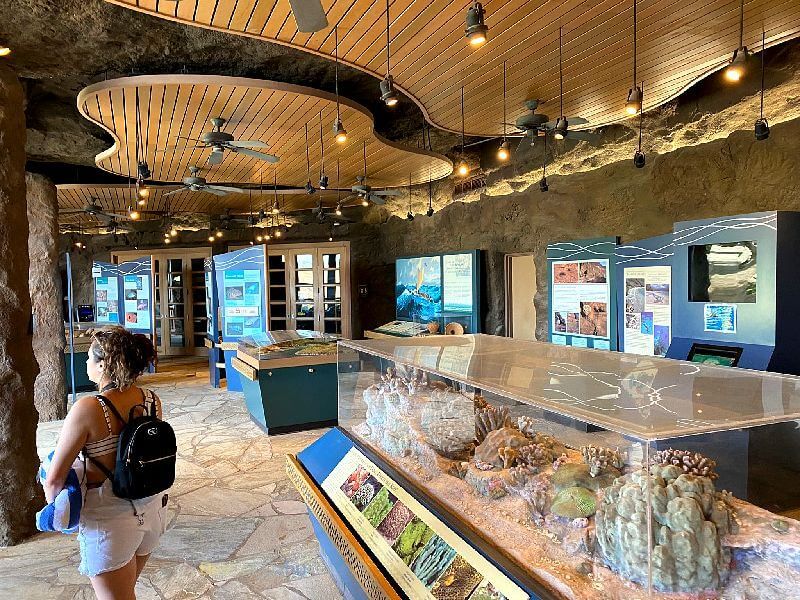 Restrooms
Beach Showers
Lifeguard on Duty
Parking lot - $1.00 fee
Food Concession Stand
Picnic Tables
Mask, Snorkel & Fin Rentals
Locker Rentals
Educations Center
Gift Shop
Beach Transportation Shuttle - $1.00
Handicap Facilities
Hanauma Bay Beach Tips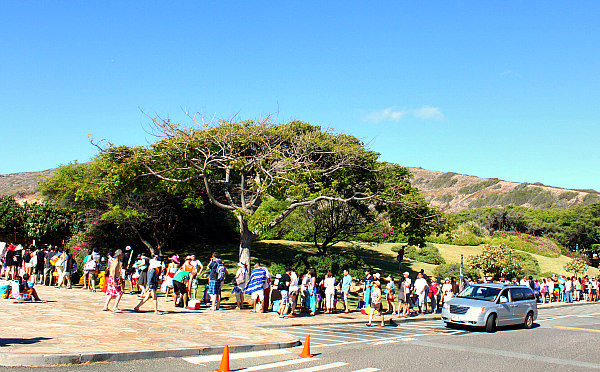 Arrive early!

I can't stress how important it is to arrive early at this marine life park. There is limited parking available which fills up very quickly.





Once the parking lot fills up, you will be turned away. If this happens to you,  I would recommend trying again another day, or driving back down the hill and parking near the residences below, where you can take the local 22

Oahu Bus

back up the hill.





You will also want to arrive early for better vision underwater.  The ocean is typically calmer in the morning, and the clarity of the water is much better for viewing the Hawaiian fish.




Food and Drinks -

I always recommend bringing food, water and other drinks to the beach. There is a snack shack on site, so bringing food is optional, but it's always good to have extra snacks of your choice just in case the snack shack food is not what you were expecting. If you plan on bringing a cooler along with your beach gear, you might want to consider taking the beach shuttle from the parking lot down to the beach. The cost is only $1 and it will save your arms and everything you might drop along the way.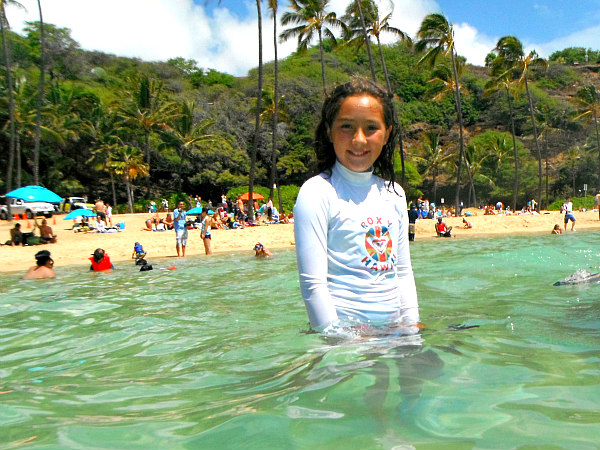 Sun Protection

-

Bring lots of high rated spf sunscreen and a tee-shirt to wear in the water.  It is easy to get carried away, spend hours partaking in the Hanauma Bay snorkeling.





Unfortunately this means your backside will be more susceptible to the powerful Hawaiian sunrays, which can result in a severe sunburn.  Make sure to reapply sunscreen every hour, and wear a tee shirt to help block the additional rays that your body does not need.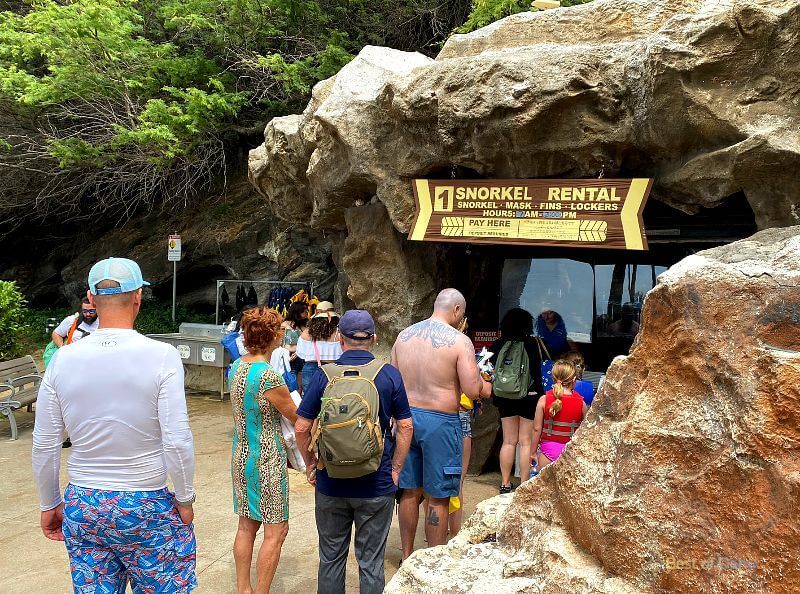 Snorkeling Gear

-

Bring your own mask, snorkel and swimming fins.  Although you can rent snorkeling equipment at the beach, it's inexpensive and more pleasurable to have your own gear.





You avoid problems if the shop runs out of rentals, and you will also have equipment that fits you better and are familiar with so you can be sure to have the best snorkeling time!



---
In the Area
Halona Blowhole

If you continue on from the 72 Kalanianaoli Hwy after snorkeling in Hanauma Bay, there is a fun spouting blowhole that is just down the road.  After driving around the single cliff side lane, you will see a small turnout with parking, right before you head on down to Sandy Beach Park.
The waves are the key for the Halona Blowhole magic to happen.  Don't expect much if the waves are small and calm.  But when the seas are rough and the waves are pounding into the rocky coast, you can bet that the Halona Blowhole will be spouting ocean spays high in the air to give you a magnificent show.

---
Sandy Beach Park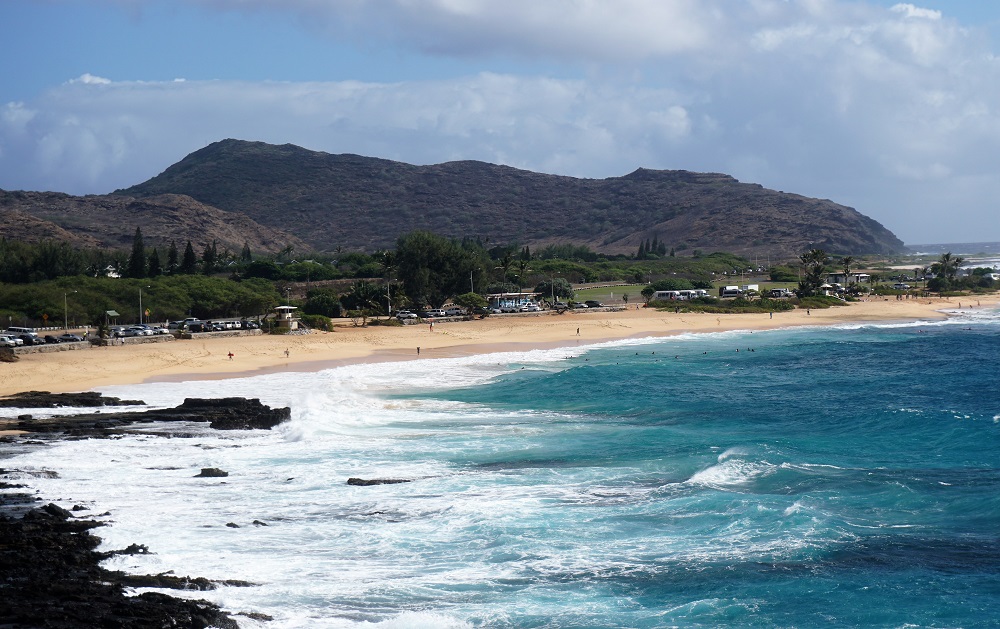 Go from the calm Hanauma Bay waters to the pounding shoreline waves of Sandy Beach Park.  This Oahu Beach is an ocean playground for the locals to relax, bodysurf, and body board. 
Located just 5 minutes away, as you continue driving on the H-1 around the bending lava rock cliffs, you will see a long strip of sandy beach. 


The name actually comes from its reputation of sand getting into everything you bring to the beach, including you!  When the surf is up, it is an impressive show to watch the locals pull off some death defying stunts in the surf.  
You can feel the power of these waves as they crash in front of you on this beautiful Sandy Beach.  Please be advised that this is not a swimming beach and the powerful shore breaks have been known to rip off unsuspecting tourist's swimsuits and gear.  
Heed the warning signs and if you are intent on going into the water, it would be wise to check in with the lifeguard if you are not familiar with the riptide and rip current patterns. 

---
Makapu'u Beach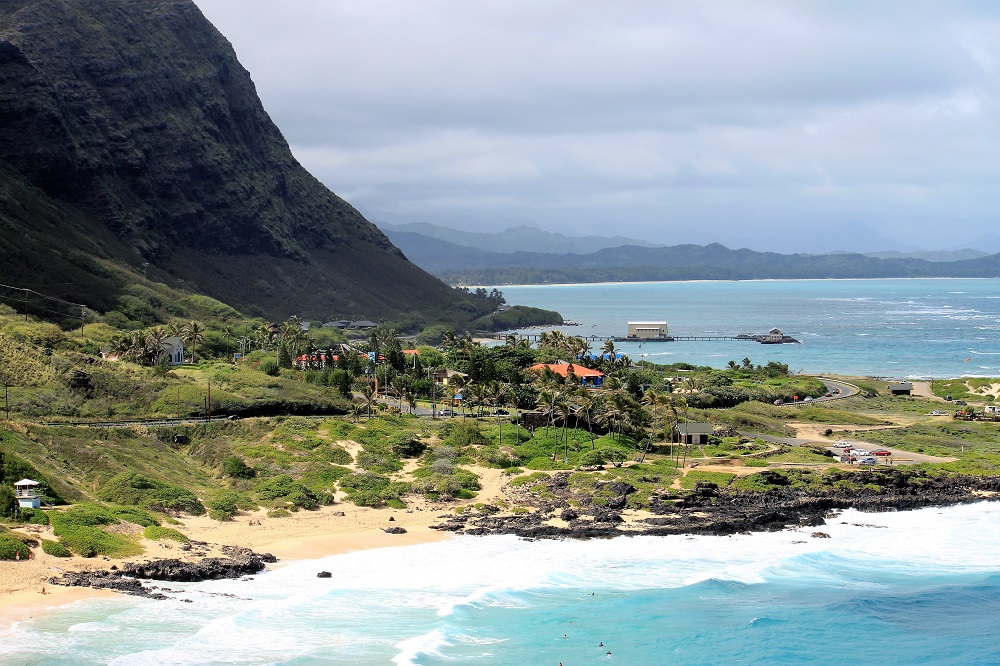 If you are feeling adventurous and would like to see one of my favorite Oahu Beaches, and part of the beautiful Windward coast, then continue on the Kalanianaoli Hwy for another 10 minutes.
After you climb the Makapu'u mountainside and start your decent down towards the beach, pull over to the side of the road where you can capture some amazing views of Makapu'u Beach and the beginning of the pristine Windward Coast.
---
Hiking Makapuu Lighthouse Trail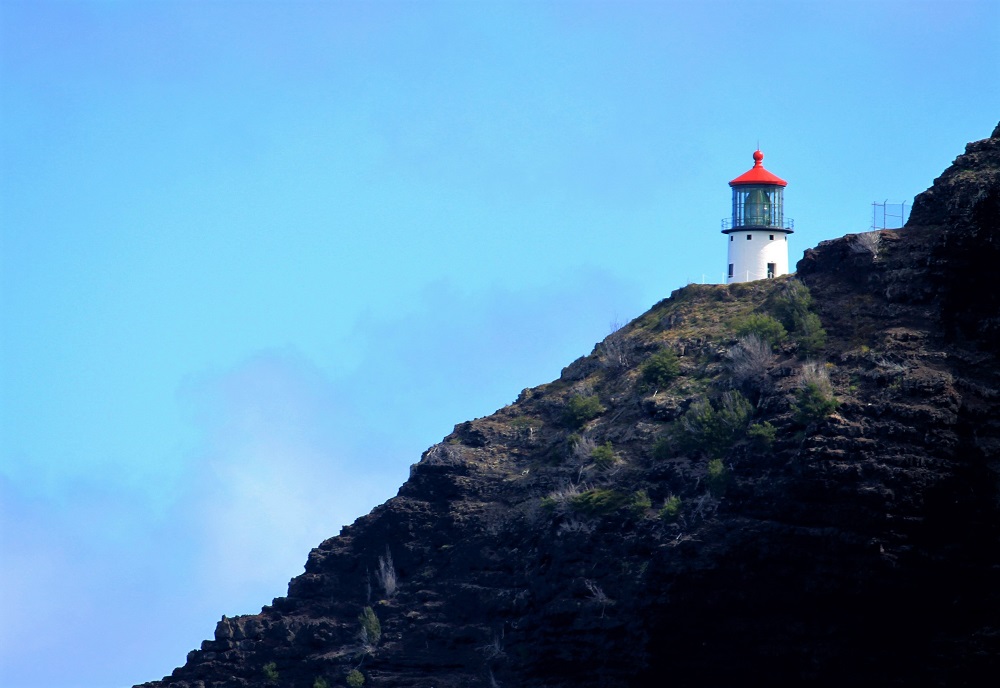 Climb a little higher from the Makapu'u Point Lookout, and the view become even more spectacular up top, on the summit of the Makapuu Lighthouse!  It's a nice 1 mile hike up a paved path. You will want to start this Oahu hike early as it tends to warm up quickly on the southside of the island.
---
Koko Crater Trail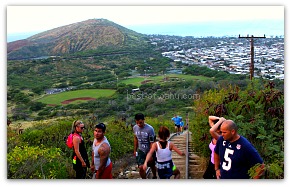 Looking to conquer the big hill?  Climb the Koko Crater Trail and the hill just might conquer you! 
The Koko Head Steps can be a lot of fun, but present a big challenge at the same time, as you'll be climbing 1050 long steps up to the top!
The "steps" are actually old military railroad ties for a train that once ran supplies to the top ridge.  Make it to the top of this Oahu hiking trail, and you will be rewarded with incredible panoramic views of the surrounding area, including Hanauma Bay, the Koko Marina, and Sandy Beach.
---



Aloha & Enjoy!!