Riding the Waikiki Trolley
The Waikiki Trolley is inexpensive, convenient, and a great means of Oahu transportation to get around town and visit some Honolulu Attractions.  Their 4 trolleys traveling different routes, and stop at some of the following destinations including the Pali Lookout, Iolani Palace, Bishop Musuem, Halona Blowhole, Ala Moana Center, Punchbowl Crater, Diamond Head, Chinatown & Kaka'ako, and many more Honolulu Attractions.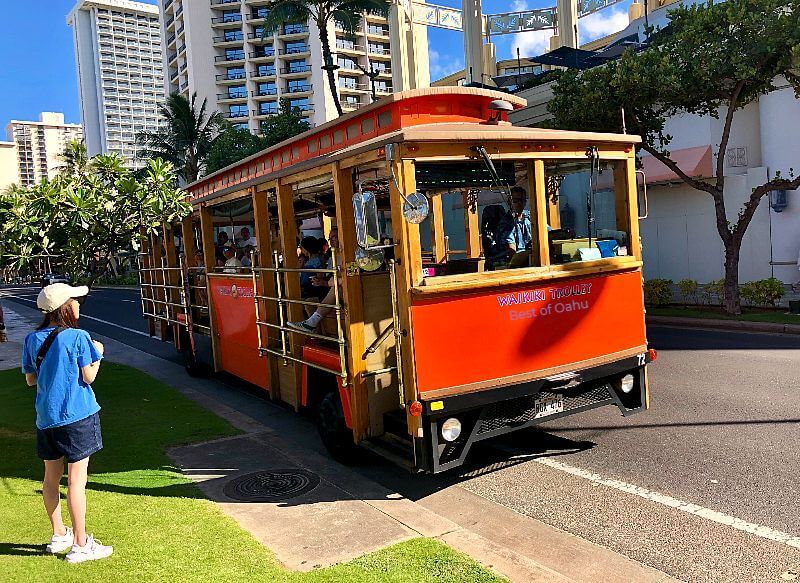 Traveling around Waikiki and Honolulu using a service Waikiki Trolley will make your trip much more convenient, affordable, and a time-saver. If you have limited time in Waikiki and renting a car just doesn't make sense or taking the local bus seems too intimidating, allow this one of a kind Oahu Trolley to shuttle you around the island and hit the must-see sights.
---
Traveling Benefits on the Waikiki Trolley
Renting a car is much more expensive and requires you to navigate, park in safe areas, fill up the gas, and be mindful of the vehicle while using it. Driving a car around a city that you are unfamiliar with also means you will be spending more time looking at maps than admiring the streets and surrounding you'll be passing through.
And while taking the local Oahu bus is much cheaper, it has its own downside.  A primary concern is that the route travel far beyond Honolulu attractions you want to see. The local residents rely on these local buses when getting to work and coming home. This means the buses are often full and prone to getting stuck in traffic during rush hours.
---
4 Waikiki Trolley Lines
---
There are 4 Waikiki Trolley lines - Blue Line, Red Line, Green Line, and Pink Line. The Blue Line and Green Line focus on the east side of Waikiki traveling up Kapahulu and past Diamond Head, while the Red Line heads north towards Chinatown and the Iolani Palace.  Note that all trolley lines pass through the central part of Waikiki. The Pink Line primary travels around Waikiki, and a stop at the Ala Moana Center.

---
Waikiki Trolley - Blue Line
---
The Blue Line covers about half of Waikiki but really focus on the Diamond Head area including lookout areas and passes by the start of the Diamond Head Hike.  Travels through the beautiful homes in the wealthy area of Kahala, and out past Hanauma Bay, past some local beach including Sandy Beach and Makapuu, and turns around at Sea Life Park.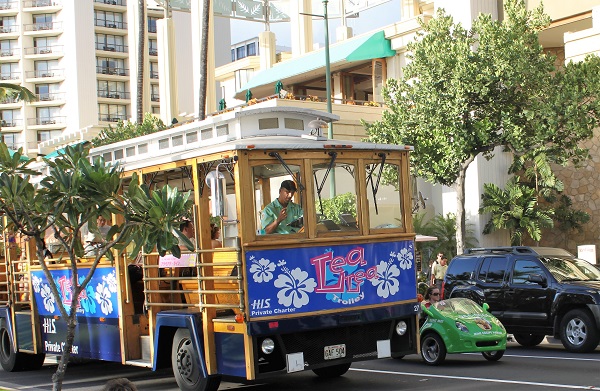 Waikiki Trolley
The Blue Line first bus starts at 8:30 AM at Waikiki Shopping Plaza, and the last bus that leaves from there at 1:50 PM. The round trip will take around 2 hours if you want to be dropped off where you started. The bus comes to every stops every 40 minutes. There are 11 stops where you can get on and off.
Here's a list 8 stops made in the following order:
Waikiki Shopping Plaza
Duke Kahanamoku Statue
Honolulu Zoo
Waikiki Aquarium
Diamond Head
Kahala Mall
Halona Blowhole Lookout - photo spot
Sea Life Park
---
Waikiki Trolley - Red Line
---
The Red Trolley stops throughout Waikiki, before traveling a few miles north to hip local areas that are full of culture and history, including Honolulu Chinatown (known for its historical old building architecture, galleries, and lei shops), and Kakaako (known for upcoming restaurants, breweries and shops in the SALT area, and decorated though out with impressive murals painted over the years).
The downtown area including historical including the Iolani Palace, Hawaii Museum and the Bishop Museum.  And finally up top to the Punch Bowl Memorial and provides some amazing views of Waikiki and Downtown.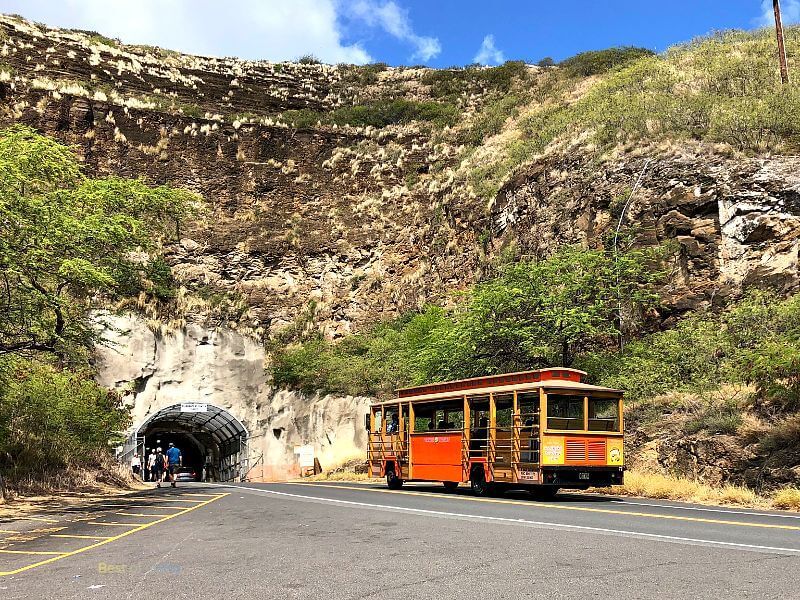 The Red Line starts at Waikiki Shopping Plaza at 9:30 AM, and the last pick-up is at 2:30 PM. The round trip journey also takes around 2 hours and bus intervals every 60 minutes.
Here's a list 13 stops made in the following order:
Waikiki Shopping Plaza
Duke Kahanamoku Statue
Aston Waikiki Beach Hotel
Honolulu Museum of Art
State Capitol
Punchbowl Crater
Foster Botanical Garden
Izumo Taisha Shrine
Chinatown
Kamehameha Statue/'Iolani Palace
Salt at Our Kaka'ako
Ward Center
Ala Moana Center
Waikiki Shopping Plaza
Koko Marina
Kahala Mall
Diamond Head
Waikiki Shopping Plaza
---
Waikiki Trolley - Green Line
---
The Green Trolley takes you out of Waikiki up the Kapahulu corridor where are lots of great Honolulu restaurants, best have ice, plate lunches, and Leonard's Bakery where they famous for their hot Portuguese malasada donuts.  This Waikiki Trolley then travels next up the freeway to the Pali Lookout and cliffs, where thousands of Hawaiian warriors once battled.
The Green Line:  there are 12 stops, and the first bus leaves at Waikiki Shopping Plaza at 8 AM and the last one is at 2:00 PM. The waiting time for each bus is 90 minutes. The roundtrip route takes only 1 hour and 20 minutes.
Here's a list 13 stops made in the following order:
Waikiki Shopping Plaza
Duke Kahanamoku Statye
Honolulu Zoo/Waikiki Beach
Waikiki Auariumr/Kapiolani Park
Diamond Head Crater
Kahala Scenic Lookout
Kahala MKT. by Foodland
Pipeline Bakery & Creamery
Kaimuki Superette
Leonard's Bakery
Da Ono Hawaiian Food
Rainbow Drive Inn
Waikiki Shopping Plaza
---
Waikiki Trolley - Pink Line
---
The Pink Trolley primarily runs throughout Waikiki and turns around near the Ala Moana Shopping Center and Ala Moana Beach across the street. Great way to see other areas and attractions you might want to visit and easy transportation to the Ala Moana Center.
The Pink Line has a different setup and runs throughout Waikiki during the day and into the night. The bus comes every 20 minutes and the roundtrip journey is 60 minutes.
The first bus leaves at 10 AM from Waikiki Shopping Plaza, and the last drop-off is at 8:20 PM.
Here's a list 13 stops made in the following order:
Waikiki Shopping Plaza
Duke Kahanamoku Statue
Waikiki Twin Fin
Hilton Waikiki Beach Hotel
Marukame Udon
Courtyard by Marriott Waikiki Beach
Hotel La Croix
Hokulani Hotel
Aqua Palms Waikiki
Ala Moana Center
Ilikai Hotel
Hale Koa Hotel
Trump International Hotel Waikiki
---
Waikiki Trolley Ticket Options & Costs
---
Waikiki Trolley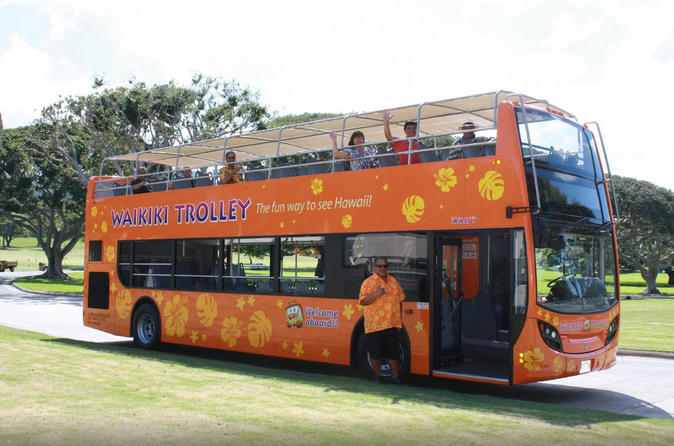 The Waikiki Trolley visits many Honolulu Attractions including the Aloha Stadium. There are 4 different routes to explore including: Scenic Tour, Historic Tour, Shopping Tour, and the Island Tour.  Tickets start around $15 for a child day pass, and go up to $25 - $75 for an Adult 7 day pass. 
The price offers a great deal as well. Depending on how many days you plan to stay and the areas you want to see, you will find the right pass for you. 4 different passes accommodate different types of users.
The 1-day pass entitles you to ride a specific route for the entire day.  The ticket costs $25 for 12 years old and up. Pay only $15 for 3-11 years old, and you can even pay an extra $5 if you want to do an "add-on" for the Pink Line.
There's also a 1-day pass is valid for all lines (all routes). The ticket costs follow the same age bracket, which is $55 for adults and $30 for children under 12, and a free bonus day that must be used the next day - this is suitable for people visiting Waikiki for 2 days.
Now, if you plan to stay in Waikiki for 4 days or more, you can get an all-line pass for $65 and $40 for 7 days. There's also a 7-day all-line pass for $75 and $50, valid for 10 days. These multi-day passes don't have to be used on consecutive days. You can pace it out depending on your itinerary.
All tickets are for unlimited use within the validity date. Infant passengers (up to 2 years old) do not need tickets to ride the Waikiki Trolley. Before you buy your pass and decide which route you need, pin the essential spots on your digital map, you can then compare which trolley pass will be suitable for you.
When you buy the ticket, you can access all the information needed. Remember to download a copy of the trolley schedules and the stops along the way. This will make accessing the information more manageable if you don't have any data on your phone.
Here is the Waikiki Trolley schedule
---
Riding the Waikiki Trolley is Convenient & Fun
---
If you elect to use for Waikiki Trolley, you can relax and forget about all the drawbacks to renting a car or taking the local Oahu Bus.  The Waikiki Trolley service runs on shorter routes and stops in areas that focus on showing the visitors of Waikiki its highlight and fantastic spots.
The 4 select courses are easier to understand and bypass the traffic much easier due to their specific routes, stops, and timetable.
The drivers of the Trolleys are not only there to navigate you around Waikiki, but they also offer helpful information and provide facts about the point of interest with such delightful humor.   Apart from the transport service, you will get a knowledgeable local who will make your trip much more enjoyable.  When it's busy season, apart from the driver, there might also be a specific tour guide to help and assist the riders.
Avoid time spent on checking maps, and simply sit back and relax, and enjoy the surrounding Honolulu attractions along the way.  Keep your camera handy for some great photo opts, while being chauffeured around.  If you get off the wrong stop, wait in the same spot and get on the next trolley without paying any extra fee.
---
Aloha & Enjoy!

Subscribe to receive Best of Oahu updates on events, updates, and new articles.  It's the closest way to paradise while you are away...
We will never sell or spam your information, and we'll respect your email privacy.