Explore the KCC Farmers Market
Explore the thriving KCC Farmers Market on side of Diamond Head.  With 80 local vendors selling fresh produce, Hawaii made products, and lots of local delicious food booths to choose from.  This market takes place each Saturday mornings from 7:30 am to 11 am.
Wake up early on a Saturday morning and head to this one-of-a-kind farmers market for fresh produce, local made treats, and brunch.
Located on the Kapiolani Community College campus and across the street from the Diamond Head tunnel entrance, this special Honolulu market surfaces only for a few hours and gone before noon time.
So don't procrastinate and make sure you give yourself extra time to get there and explore.

The KCC Farmers Market is one of my favorite Oahu shopping experiences not far outside Waikiki.  I love it because you get to eat your way through it, and walk away with lots of inspiring local products to spice up the kitchen pantry.
The market spans over a long bottom level parking lot arch and continue on a few rows up, featuring up to 80 different participating vendors.
We always look forward to finishing off our market stroll with an early lunch, before everything shuts down at 11 AM.  And trust me there will be lots of local restaurateurs to choose from with lots of tempting choices.
Sometimes we go overboard and order a few creations from different select booths, just to get a sampling from the market.
Popular restaurant popups like Crepes Hawaii, North Shore Cattle Co., and Guava Smoked draw crowds to the KCC Farmers Market.

And you're in for a treat if award winning Pig and the Lady from Honolulu Chinatown shows up.  It's hard sometimes to get a reservation to their downtown location, but here you only have to wait patiently in line at their tent.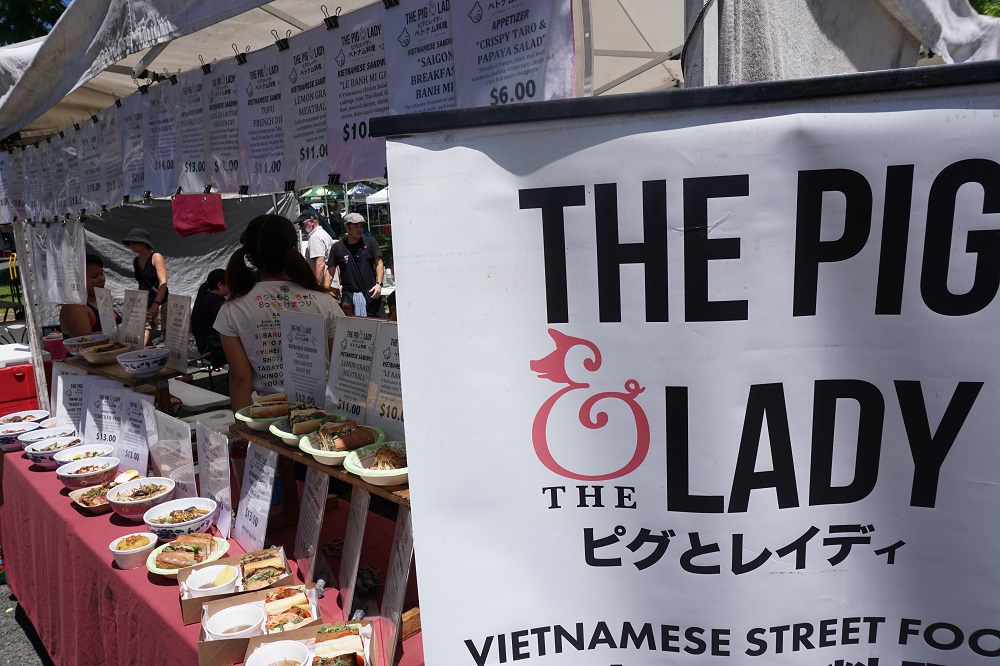 The market starts around 7:30 AM on Saturdays, but arriving by 9 AM gives me enough time to walk the whole market, make a few purchases, and hit up the food stands.
Unlike the Aloha Stadium Swap Meet where you can easily spend half a day walking around and still not see everything, this is more of a friendly market that is friendly and manageable.

It's easy to find locally grown vegetables and tropical fruits at the KCC Farmers Market.  But you'll also be surprised to find freshly caught fish including Ahi, Mahi Mahi, Opah. Ono, Tako (octopus), squid, shell fish and more.
When passing through the produce area, keep an eye out for some of the fresh tropical fruits that are in season.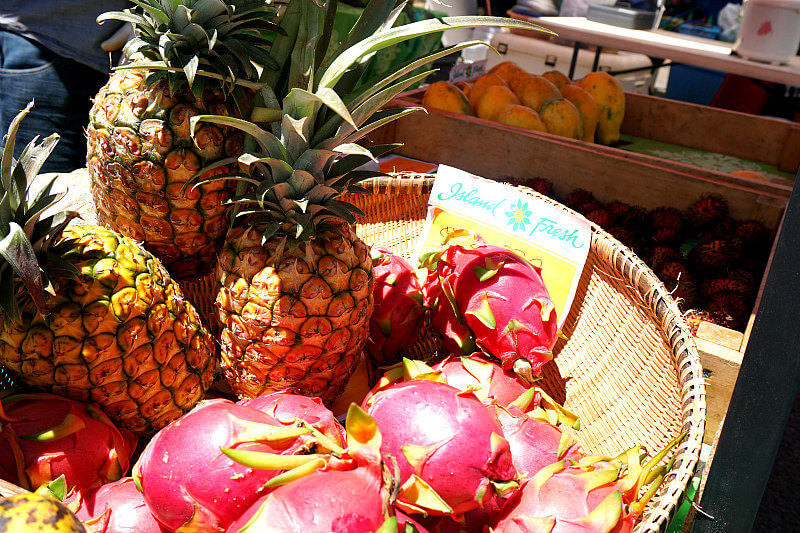 It's pretty common to see coconuts, pineapples, and papayas in the market year round, but look for some unusual treats like longan and rambutan in the winter, lychee in the spring, passion fruit, lychee & mangoes in the summer, and dragon fruit in the Fall.  Ask the vendor if they have samples that you can try…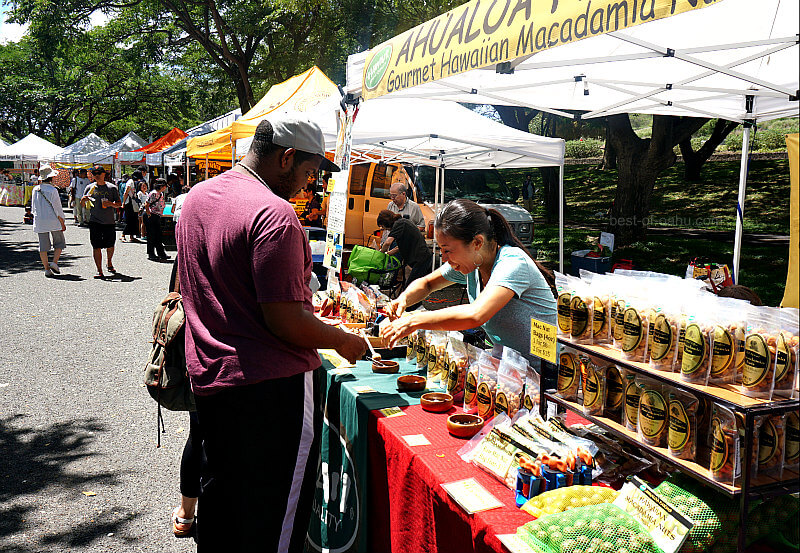 I also look for new and unusual pantry items to spice up my kitchen and meals back home.  I've found smoked Hawaiian sea salt, tropical infused jellies, butters, dressings and sauces, local beef jerky, special teas, taro chips, island cookies and more.

If you love Hawaii's tropical plants and would like to take some back home to plant, you'll most likely find it here.  Look for different types of ginger, plumerias and pikake plants which produce beautiful flowers.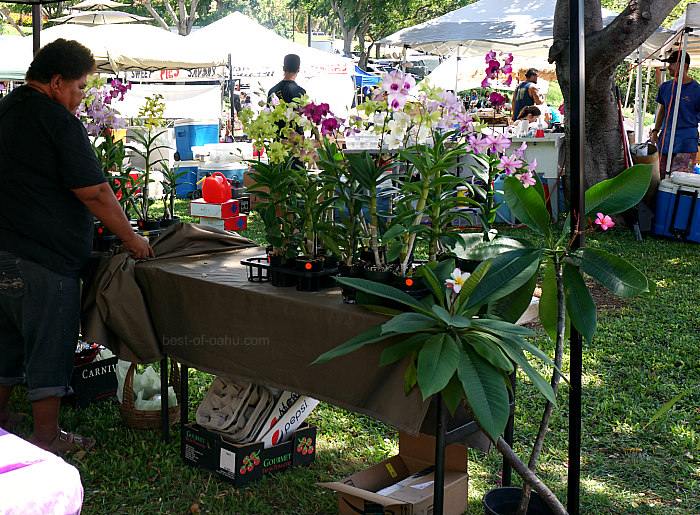 Take time to say hello to some of the merchants.  There is a good chance they are the owners of the products they are representing.
They are proud of their creations and what they have grown, and are usually willing to tell you about the process and time it took to create their goods.  And I promise you there are some fun stories told throughout the market.

---
KCC Farmers Market Food booths
---
You will definitely have a good selection of competing restaurant popup booths to choose from.  Here are a few temping choices amongst them…

Ma'Ono Musubi – we all know what SPAM Musubi is now, but now there are many twist in the musubi world, and Ma'Ono Musubi has created some ono choices including Sobora Pork, Beef Curry and Spicy Tuna.
North Shore Cattle Co – try and pass up this booth up with the sweet smells coming from the barbecue grilling up Portuguese Sausages, Haleiwa Beef Burgers, and more…
Guava Smoked - known for their perfection in smoking meats with guava wood and serving it up as a

Hawaiian plate lunch

.

KCC Culinary – that's right, you have students right here from the college campus in the culinary program, presenting their freshly baked pastries and other goods.
Crepes Hawaii – perfecting the crepe making process, using the fresh produce found not far from there booth.
Ono Kettle Pop – what farmers market wouldn't be complete without kettle corn? Even if I just had an OnoPop, I'm walking away with a bag of this caramelized corn for later!
Pig and the Lady – these guys might be the sole reason I visit the KCC Farmers Market on the weekend.  This is the popular Pig and the Lady Restaurant version of Vietnamese street food.  I'm always hungry for their 12-hour Roast Brisket Pho French Dip and Porchetta French Dip Bahn Mi sandwich…decisions decisions!  Also love their Pok Pok Green Papaya Salad…so yummy!  And I promise you won't walk away hungry if you order one of their rice plates or noodle dishes.
---
OnoPop
Ever had an OnoPop?  They are creamy popsicles with lots of delicious island flavors to choose from, including Butter Mochi, Chocolate Apple Banana, Kona Latte, Pineapple Li Hing, and Guava Tamarind.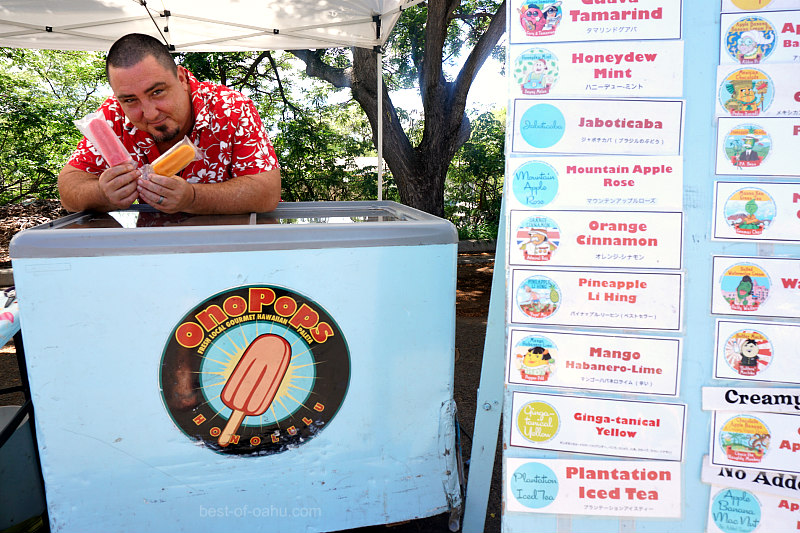 You can find OnoPops in some of grocery stores as well, but why not indulge in one while walking around…it will only cost you $3.00.

---
Local Live Music


If you're lucky there will be some local live music at the market to enjoy.  Here we got to listen to some beautiful old Hawaiian acoustic guitar tunes.
---
Other Oahu Farmers Markets
---
If you missed or unable to make the weekend KCC Farmers Market, you'll be happy to know there are a few similar farmers markets happening around the island, including a Tuesday afternoon KCC Farmers Market (note much smaller in size).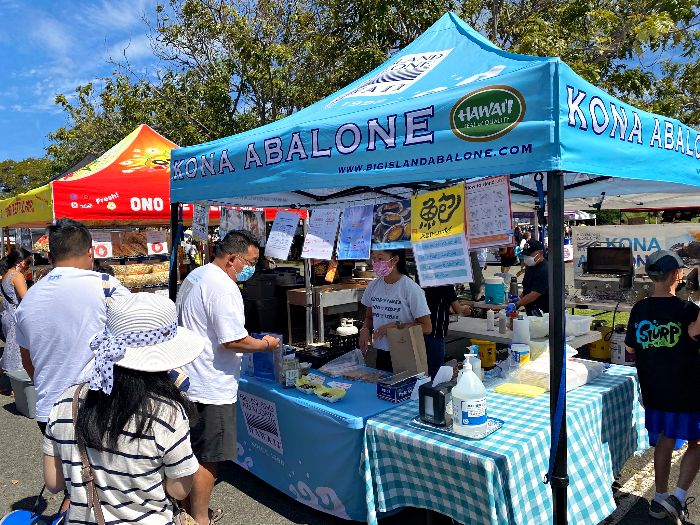 Waikiki Hyatt's Farmers Market – located at 2424 Kalakaua Ave, Waikiki, Thursday 4 pm to 8 pm
Waikiki Specialty Farmers Market – located at Thomas Jefferson School (end of Waikiki on Kapahulu Ave), Saturdays 8 am to 2 pm
Kailua Town Farmers Market – located at Pali Lanes 120 Hekili St, Sundays 8 AM to Noon
Kailua Farmers Market – located on Kailua Road, Thursday 5 pm to 7:30 pm
Lokahi Kailua Market – located at 340 Uluniu St., Sundays 9 am to Noon 
Kaka'ako/Ala Moana Farmers Market (starting Nov 17th) – located in Ward Village (1050 Ala Moana Blvd) Saturdays 8 am to Noon 
Ka Makana Ali'i Farmers Market (close to Ko'olina) – located at 91-5431 Kapolei, Wed 4 pm to 8 pm & Sun 11 am to 3 pm
Haleiwa Farmers Market – located in Waimea Valley, 59-864 Kamehameha Hwy, Thursdays 2 pm to 6 pm (until 7 pm during the summer months)
North Shore Country Market – located at Sunset Elementary School (59 Kamehameha), Saturdays 8 am to 1 pm
KCC Farmers Market – located in Parking Lot C, Saturdays 7:30 am to 11am, Tuesdays 4 pm to 7 pm
---
Getting There
---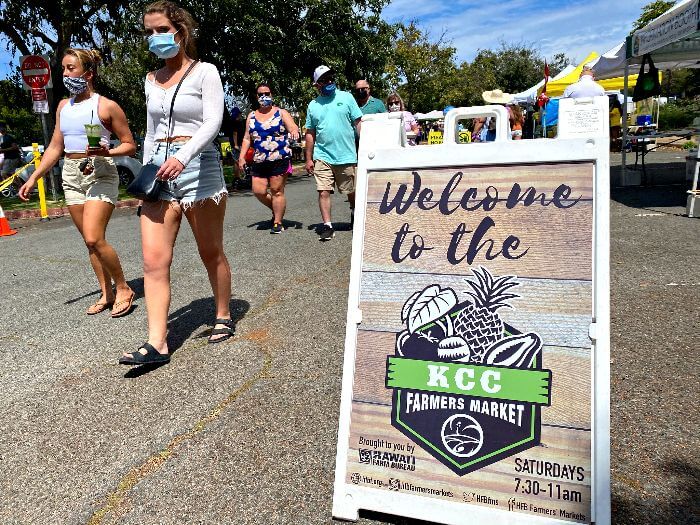 By Car
Drive through Kapiolani Park (located at the end of Waikiki) headed towards Diamond Head on Kalakaua Blvd.

Kalakaua Blvd. turns into Poni Moi Road.

Turn Right onto Diamond Head Road and follow it around the crater.

Make sure you merge left to stay on Diamond Head Rd, when the road intersects with Kahala Ave.

Kapiolani Community College will be located on the right hand side after you pass 18th Avenue.

Turn right into the KCC Farmers Market and park in the college parking lot.
---
By Oahu Bus
Take the Oahu Bus # 23 from Kuhio Avenue in Waikiki towards Diamond Head, and get off once you reach the Kapiolani Community College bus stop.
Ask your bus driver to notify you once you have reached your destination.
---
Oahu Map


---
Learn more about the KCC Farmers Market
---
In the Area
---
Diamond Head Hiking Trail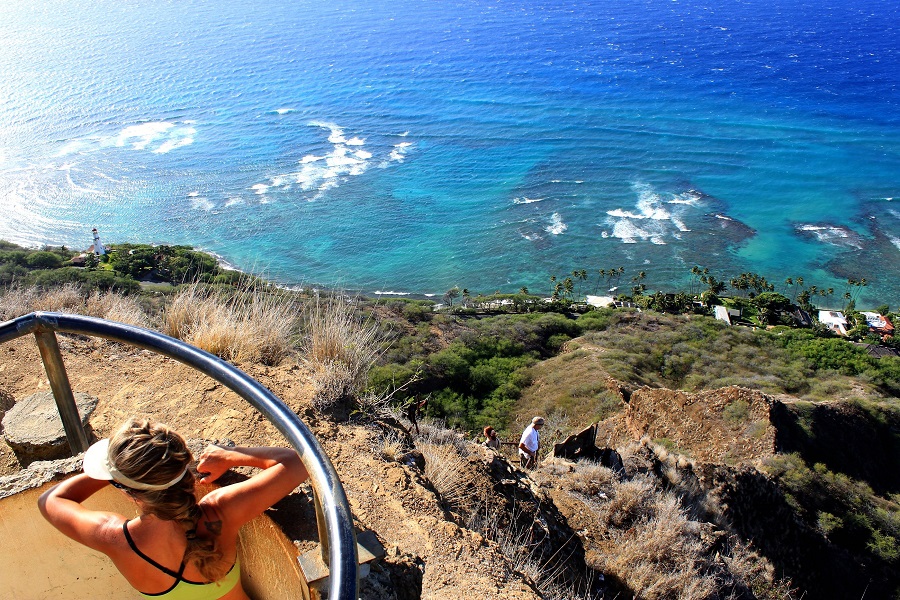 Located across the street from the KCC Farmers Market is the entrance to the Diamond Head Crater and hiking trail.  There is a hiking trail that will lead you up to the 760 foot summit, with beautiful panoramic views.  

Give yourself a couple hours to explore the round trip 1.5 mile hike.
---
Diamond Head Beach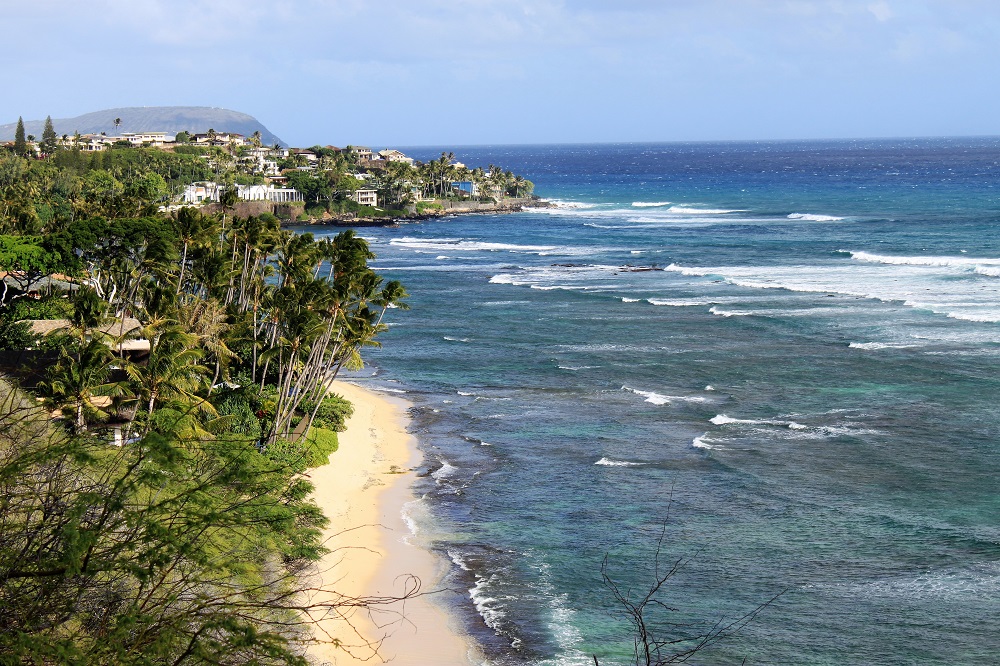 This is a beautiful Oahu beach is located close to Kapiolani Community College.  It's spot I like to visit after the market wraps up, and sometimes even consider bringing my farmer market  lunch to.

And even if you're not planning going into the ocean, Diamond Head Beach has a nice half-mile strip of sand to take a stroll on.
---
Aloha & Enjoy!

Subscribe to receive Best of Oahu updates on events, updates, and new articles.  It's the closest way to paradise while you are away...
We will never sell or spam your information, and we'll respect your email privacy.