Diamond Head Trail
Diamond Head Trail is one of the most rewarding Oahu hikes, offering amazing 360-degree views when you reach the top.  Hiking Diamond Head might first appear to be a challenging all day climb, but this Oahu hiking trail can look deceiving, as it really only takes about 40 to 60 minutes to reach the 760-foot summit.  The hike itself is 1.5 miles round trip.
There are some steep sections including narrow stairs, and the number of hikers ahead of you might slow you down, but just imagine the panoramic views you will be rewarded with once you reach the top of this Diamond Head hike.  Keep reading to see everything you need to know before you go!

Note:  Starting May 12th, 2022, you will need to make an online reservation for if you are an out of state visitor, and would like to hike Diamond Head.  See more details below in the Entrance Fee section.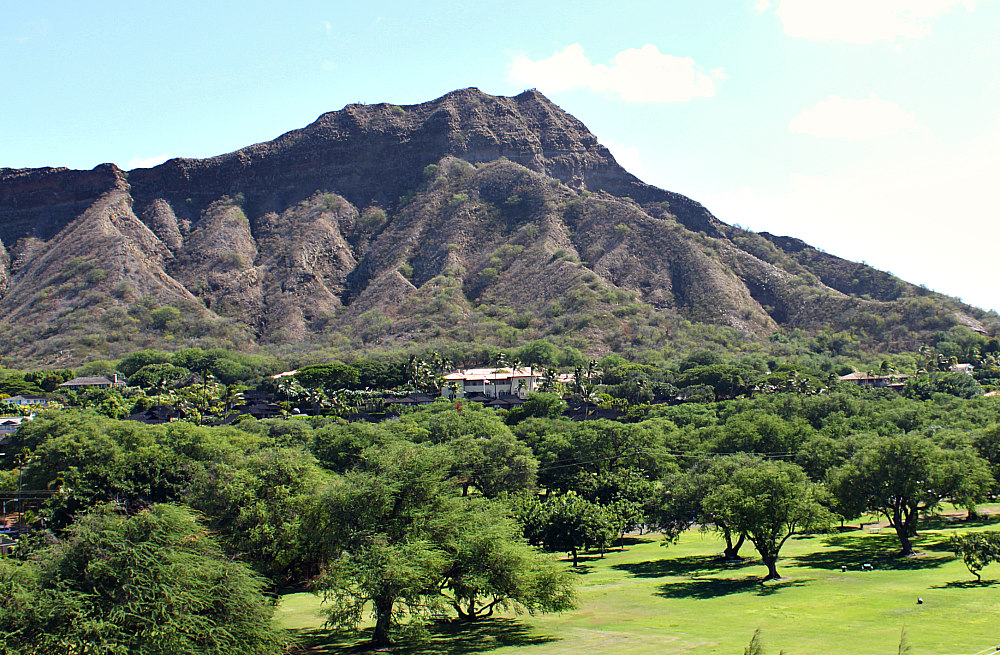 ---
Elevation     560 Feet
Length         1.6 Miles Round Trip
Duration       60 to 90 Minutes
Terrain           Switchbacks, Hilly, Stairs, Hot
Difficulty        Medium
---
Disclaimer – all Oahu hikes have different challenges and hazards that can be dangerous and may inflict injury. Know your fitness and skill level before embarking in any hike.  Stay on trails and obey posted signs. The information on this site is for your reading pleasure only.  Hike at your own risk.

A Little Diamond Head History
---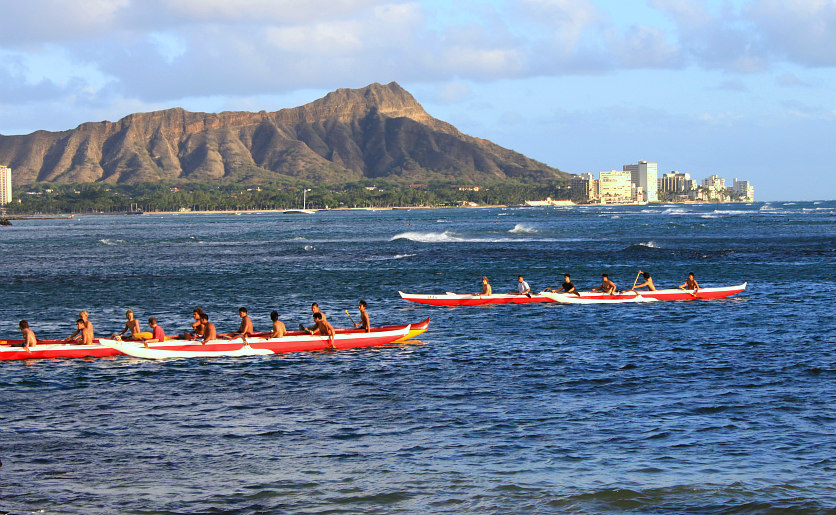 Diamond Head Crater is a stunning volcanic landmark that has captured the attention of visitors from the beginning of time.
Ancient Hawaiians first named the extinct volcano Le'Ahi for its strong Ahi-Tuna-fish brow like appearance.

Later in the 1800's, British sailors were fooled by the glittering stones that are embedded at the top of the crater.  No diamonds were discovered, but Le'Ahi received its new name "Diamond Head".

The Diamond Head trail itself was originally built in 1908 by the US Army, and used for many decades as part of the Fort Rugur military base.  Artillery cannons, cement bunkers and an observation deck were built on the summit of the Diamond Head Crater.

Today Diamond Head has been turned into a state national park.  You will need to enter the Diamond Head park from the eastern side, through a short tunnel that will bring you into the center of the crater, where you will start your 560 foot ascent.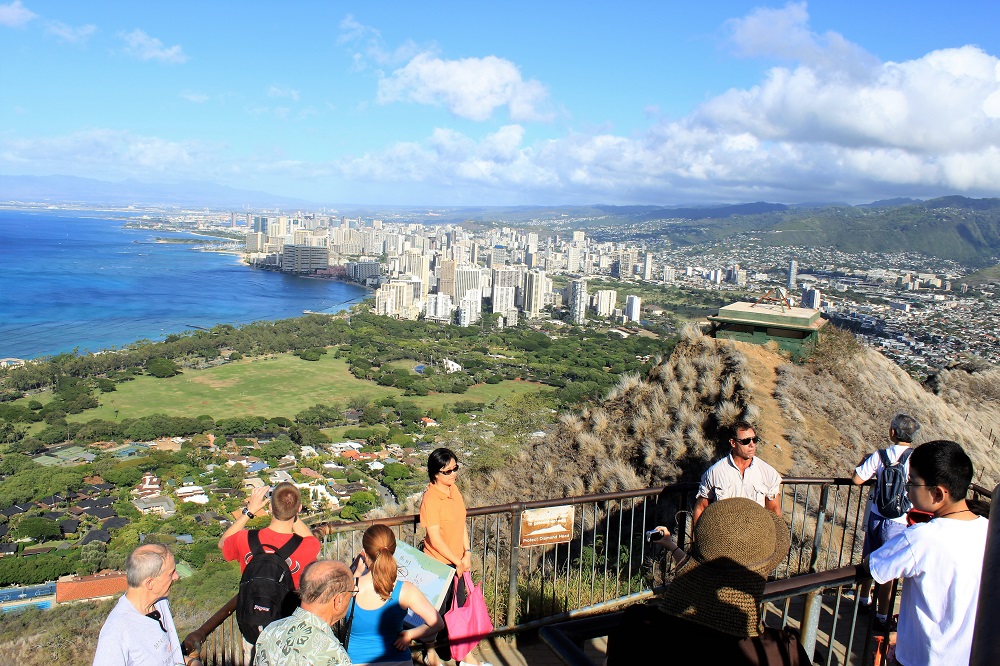 Consider getting a guided hiking tour, including transportation from your hotel, through purchasing a discounted GO Oahu Card!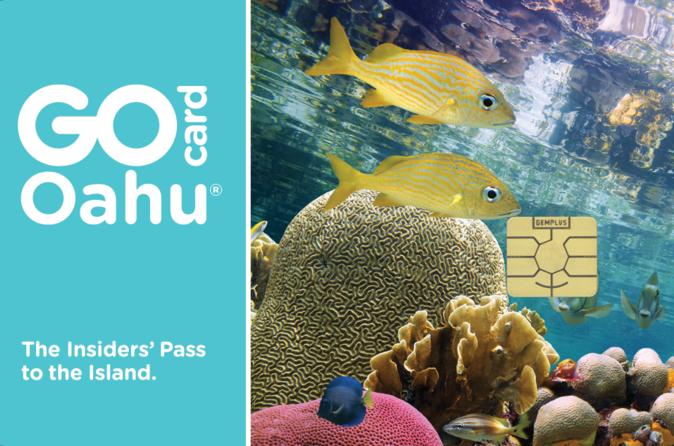 ---
The Diamond Head Trail Hike
---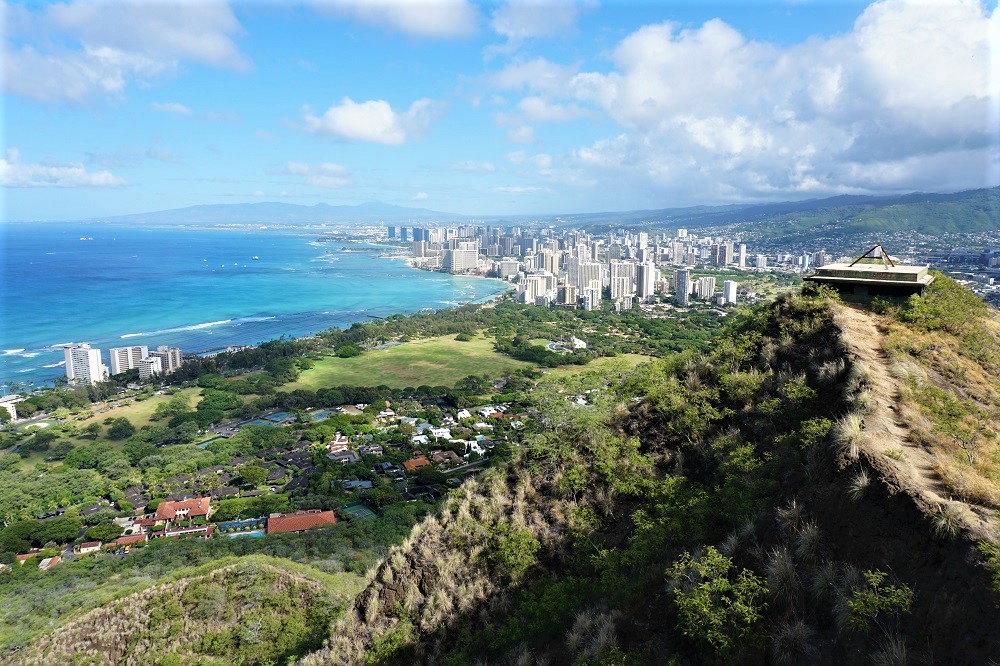 New pedestrian tunnel underway
Construction for a new pedestrian tunnel has been approved for the Kapahulu side of the crater, which will make it easier to access from Waikiki.  Currently the only entrance and exit is through a car tunnel on the Kahala side.  The new tunnel is expected to be completed by 2021.
Hiking Diamond Head is suitable for most, including children, golden agers, and the average person who does not exercise daily or participate in many hikes for recreation.  However, please know your own health condition and wear the appropriate gear for this moderate hike.

---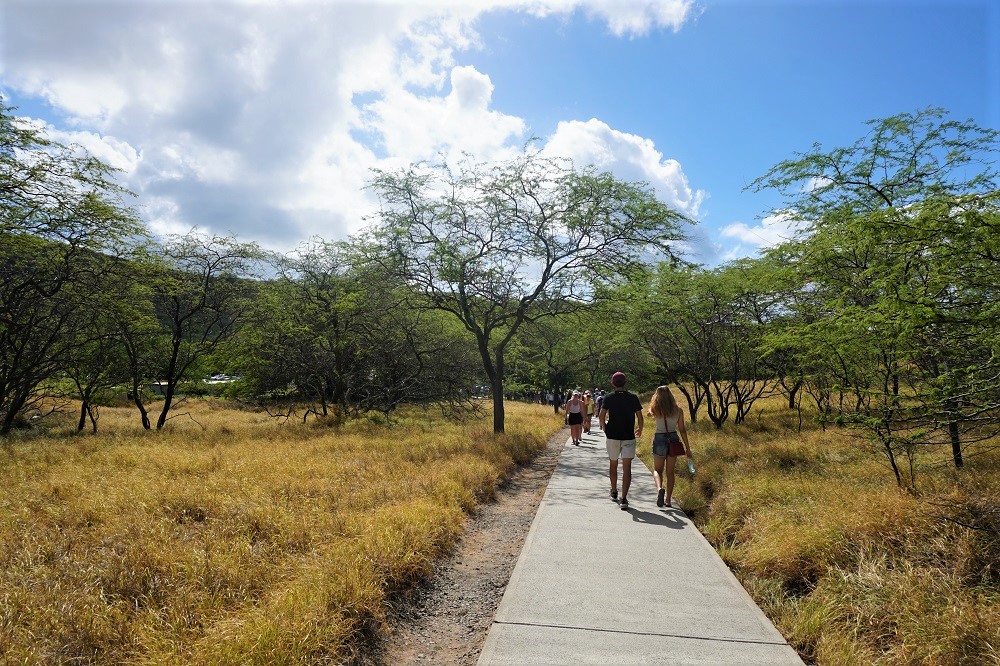 You will find the beginning of the Diamond Head trail on the west side of the crater, where you start your ascent slowly up a sidewalk path that turns into a switchback rock pathway.

There are lots of loose gravel and potholes on the trail, so take caution with your footing to prevent slipping and falling.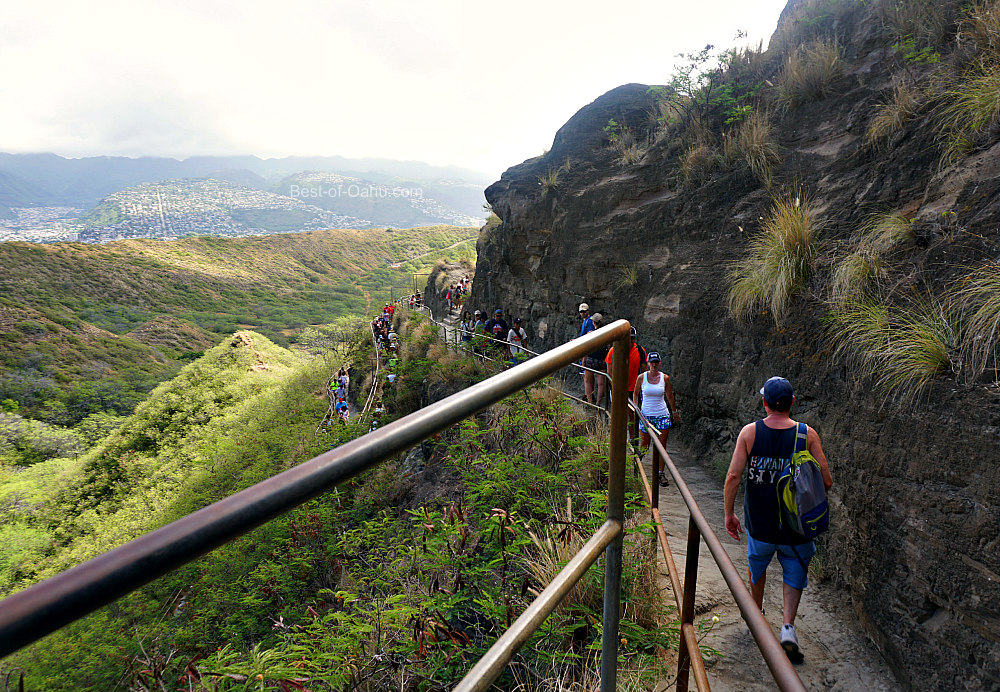 I have seen a few hikers on this Oahu hiking trail wearing flip-flops that are meant more for the beach.  Although they might get away with it, I would recommend wearing something with stronger support and grip, such as hiking or trail running shoes.

The switchback trails will take you quickly up to the first lookout, where I recommend taking a moment to catch your breath and enjoy some beautiful ocean views.

The next section of this Diamond Head hike involves narrow long stairs –lots of stairs!  This will lead you to a lit 225 ft tunnel that you will need to pass through.

As you exit the 75-yard tunnel, you will see a double headed painted arrow on the wall pointing 2 ways to the top.  Turn left and it's a long path with a series of stairs leading to the top platform.  Turn right and it's a straight shot up.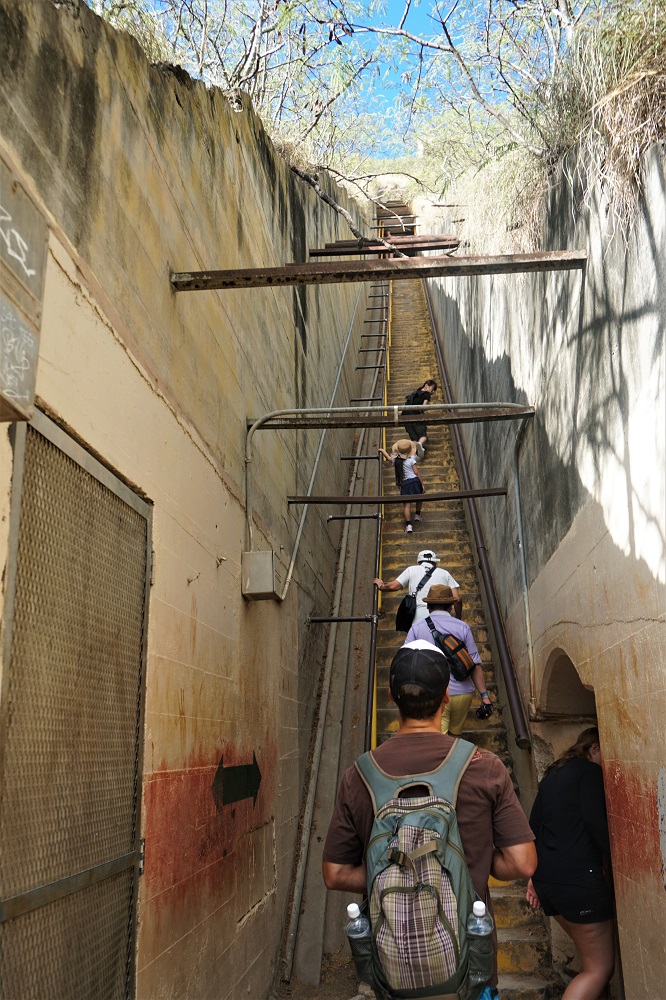 99 steps will lead you straight up to an old military bunker room with a spiral staircase leading up to the top.  That's right, more stairs that will finally lead you to the top of the pillbox lookout.


Not too long ago, you had an opportunity to purchase a Certificate of Achievement for doing the Diamond Head hike for a small donation of $2.00!  You will have to settle for a souvenir once you reach the bottom.

---
The spiral staircase adds another layer, mystery, and sense of adventure to this amazing Oahu hike!  And while this signifies the end of the climb, there are more stairs and platforms up top to explore.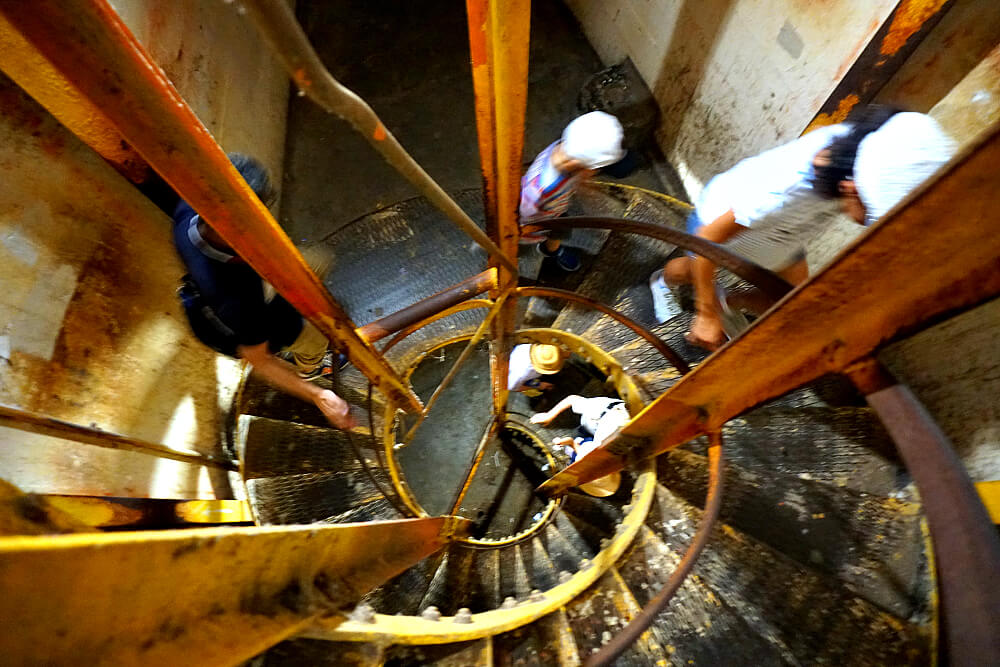 The backside stairs gives you an amazing view of the Diamond Head Crater, and the coastline leading down to the Koko Crater.  Most climbers take this route back down to the bottom.  You can climb up 1100 steps next at the Koko Crater if you're up for it!

The gorgeous 360-degree views from the viewing decks are breathtaking!  Not because you're out of breath from climbing all the stairs, but because of the panoramic views of Waikiki to Waianae, the vast Pacific Ocean, the Ko'olau Mountains, and eastern views reaching out to the Koko Head Crater.

Diamond Head Crater also holds the record for the longest recorded land views in the world.  On a clear day, I think I would have to agree!
Diamond Head trail is one of my favorite Oahu hikes…I hope you get to discover it too!
View Larger Map
---
Facilities at the base of the crater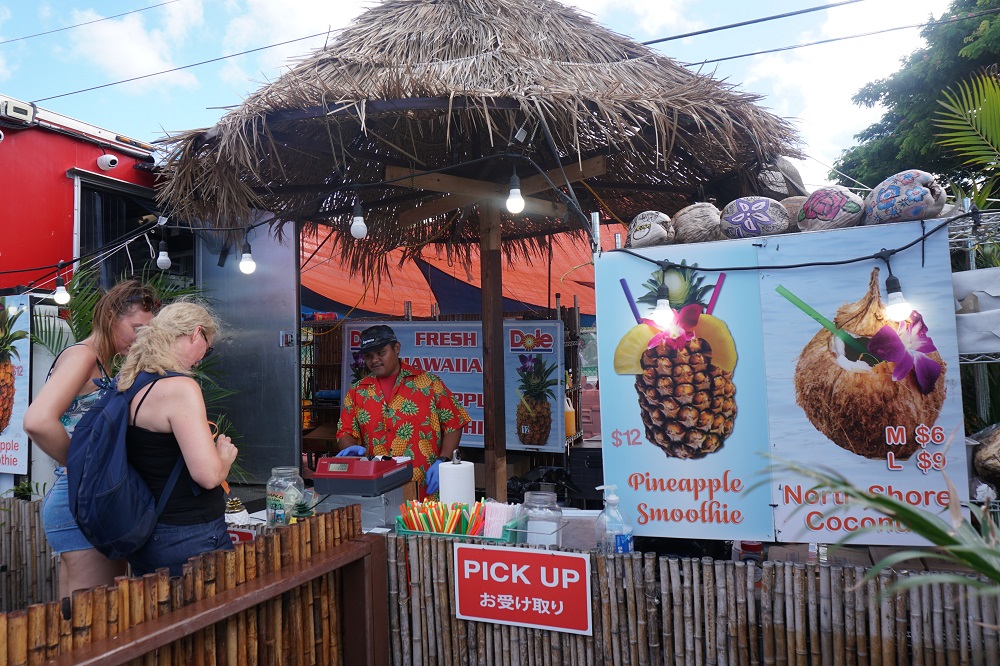 Restrooms
Food lunch wagon
Vending machines
Water fountains
Picnic areas
History and I signs 
---
Diamond Head Trail Hiking Tips
---
Start early!  Gates open at 6am…I wouldn't start to hike Diamond Head at midday since it gets a little hot in this area.  The crater and much of the trail are bare with little signs of shade or a breeze.
Also consider catching a sunset on the summit!  You would need to park outside the crater grounds, and start your hike before 4:30pm.  Your patience could pay off with a beautiful sunset if you're willing to hang out a while, once you reach the top.
Bring a hat, sun glasses, and a bottle of water for each hiker.  And don't forget to wear appropriate shoes to trek on loose gravel and uneven walkways.
---
Entrance Fee


Starting May 12th, 2022, out-of-state visitors will need to make an online reservation up to 14 days in order to hike Diamond Head.  DLNR, who oversees Hawaii hiking trails and parks, would like to reduce over crowding from 6000 to 3000 hikers per day, and help spread out visitors through out the day to help make it safer and more pleasant to experience.
There is a small entrance fee for parking and visitors.

$10 per for non-commercial vehicles, $5 for resident cars

$5 per non-resident visitor

Park Hours

6am to 4pm everyday

Park Gate closes at 6 pm
---
3 Similar Oahu Hiking Trails
Here are 3 additional Oahu Hiking Trails that are similar to hike, which you might want to consider climbing after this one...
---
Getting There
---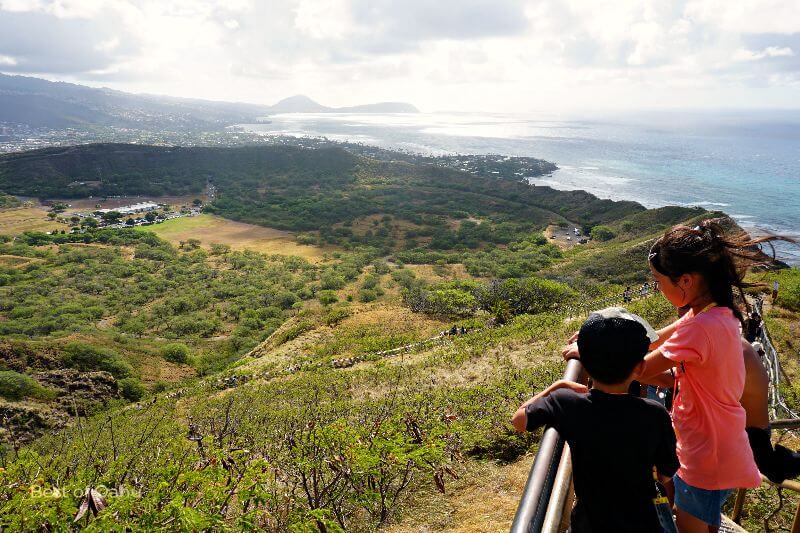 Diamond Head Crater
You could literally walk to the Diamond Head trail from Waikiki, if you don't mind extending your hike an hour...depending how far back you start from.
Remove the stress and get a guided hiking tour, including transportation from your hotel, through purchasing a discounted GO Oahu Card!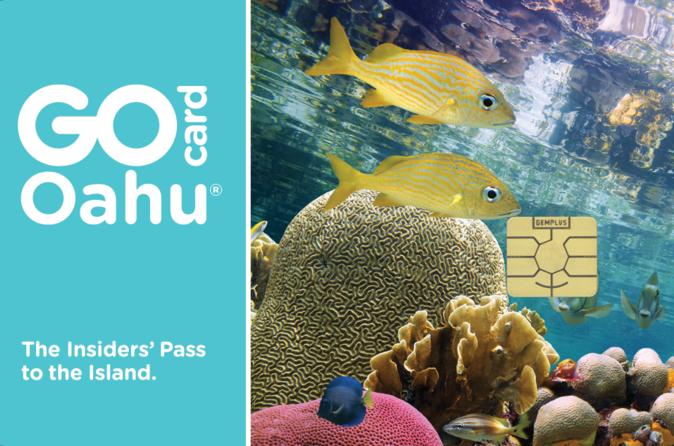 ---
Waikiki Trolley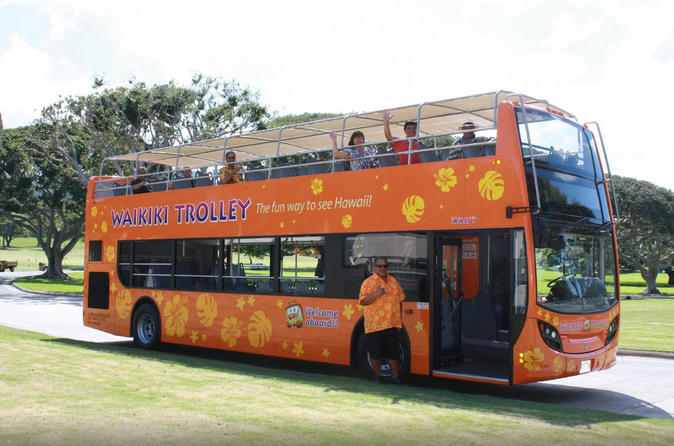 The Waikiki Trolley visits many Honolulu Attractions including Diamond Head. There are 4 different routes to explore including: Scenic Tour, Historic Tour, Shopping Tour, and the Island Tour. The Green Line will get you there.  Tickets start around $9 for a child day pass, and go up to $25 - $49 for an Adult 7 day pass. 
---
By Car


Drive through Kapiolani Park (located at the end of Waikiki) headed towards Diamond Head on Kalakaua Blvd.

Kalakaua Blvd. turns into Poni Moi Road.

Turn Right onto Diamond Head Road and follow it around the crater.

Make sure you merge left to stay on Diamond Head Rd, when it intersects with Kahala Ave.

After you pass 18th Avenue on the right hand side, make your next left turn towards the Diamond Head Crater.  There is no street name, but look for a large "Diamond Head State Monument" sign that's posted.

Follow this road up through a tunnel that leads to the center of the Diamond Head Crater.
---
By Oahu Bus


Simply take the number 23 bus from Kuhio Avenue towards Diamond Head, and get off once you reach the Diamond Head State Monument bus stop.
Ask your bus driver to notify you once you have reached your destination.  You will have to walk up through the crater tunnel to reach the Diamond Head Trail.

---
Hiking Gear Picks including Compact Hiking Poles, Mosquito Repellent, and GPS Mapping Tracker
---
Oahu Map of the Diamond Head Crater
---
---
In the Area
---
Diamond Head Beach Park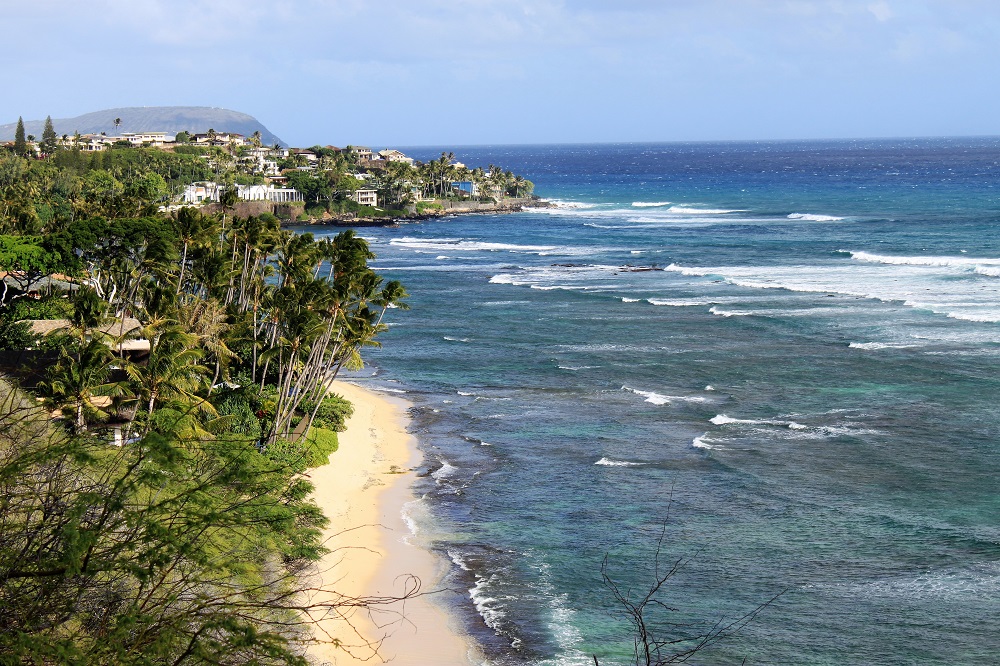 Hike from the summit back down to the Pacific Ocean.  Diamond Head Beach Park is a marvel to see and explore…just as much as the summit!

Most visitors only make it as far as the three, scenic view lookout points located near the Diamond Head Lighthouse, but never down to the beach itself.
---
KCC Farmers Market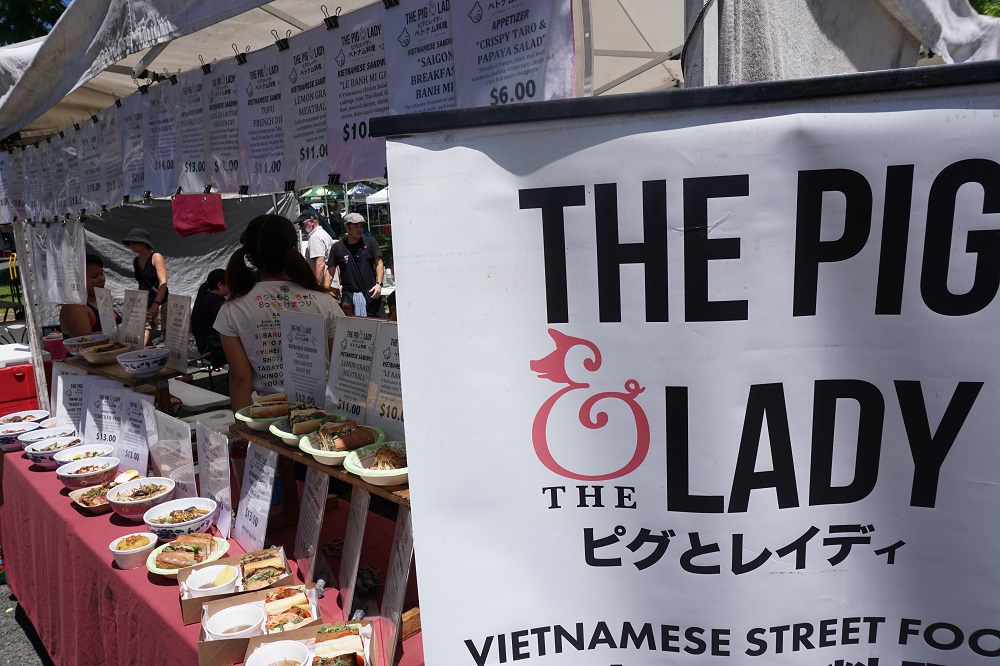 If you happen to hike on Tuesday or Saturday, consider swinging by the KCC Farmers Market, as its located just across the street from the entrance.  Sometimes referred to as the Diamond Head Farmers Market for its location, is one of the best on the island. 

You find lots of tempting eats, along with lots of local fruits, flowers, dried fruits and nuts, and creations for sale.
If you're lucky, Pig and the Lady (rated as one of the best Oahu restaurants) will be on site.  Don't pass up on an Ono Pop, which are unique local fruit Popsicles…they are delicious!
Location - Kapi'olani Community College, 4303 Diamond Head Rd, Honolulu

Times - Tue 4 PM to 7 PM, Sat 7:30 AM to 11 AM
---
Hau Tree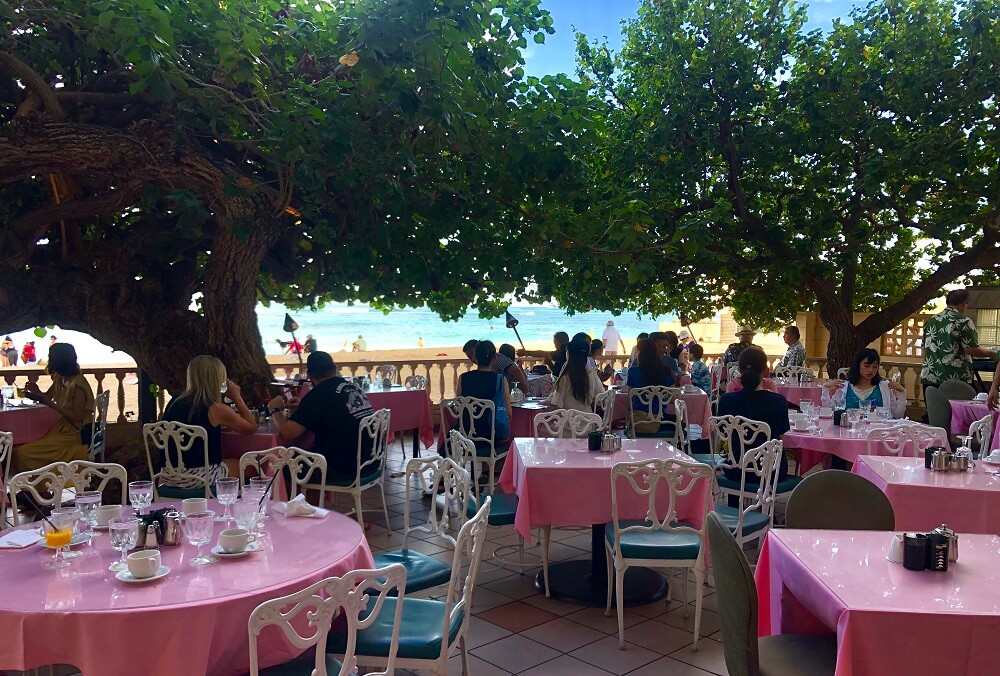 Hike Diamond Head early, and save an appetite for breakfast at the Hau Tree after your trek.  This Waikiki Restaurant is located in the New Otani Hotel at the base of Diamond Head, and is at the edge of San Souci Beach.

Celebrate your hike with a mimosa and some ono island-style eats, while enjoying the relaxing beachfront open air setting, under the Hau tree.

---
Diamond Head Market and Grill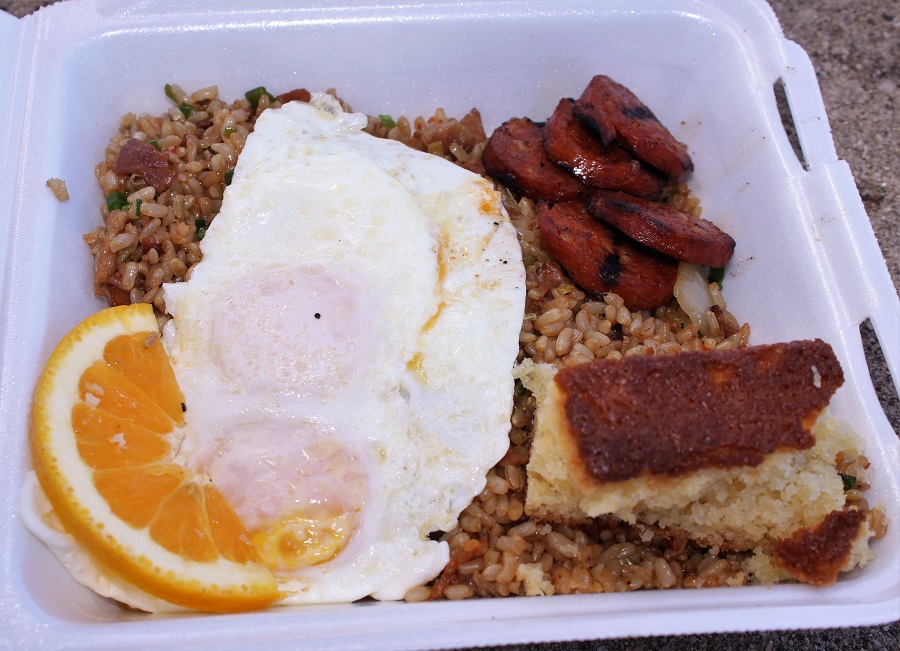 Continue northwest on Diamond Head Rd that turns into Monsarrat Ave, and you will run into the Diamond Head Market & Grill on your way back to Waikiki.  This is a popular spot to grab some food items to go.

They make some wholesome breakfasts and plate-lunch meals.  Their homemade cornbread and brown fried-rice are a treat!

There are lots of tide pools to explore and gorgeous beach homes to gawk at.
Return to Best of Oahu Home Page
Aloha & Enjoy!

Subscribe to receive Best of Oahu updates on events, updates, and new articles.  It's the closest way to paradise while you are away...
We will never sell or spam your information, and we'll respect your email privacy.