Makapu'u Lighthouse Trail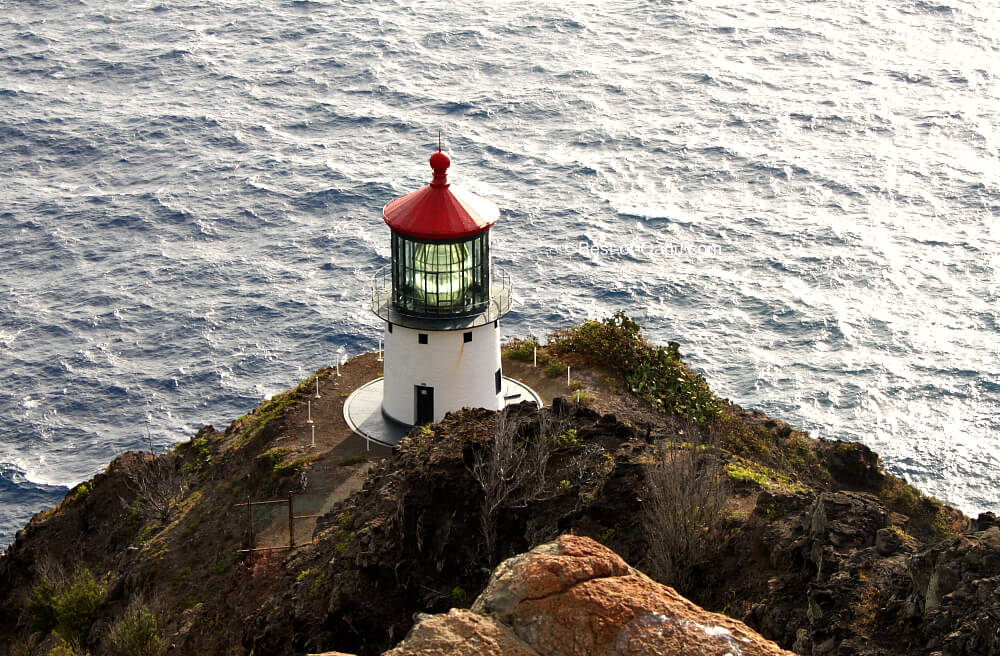 The Makapuu Lighthouse Trail, also known as the Kaiwi Scenic Shoreline, is the second most popular of all the Oahu hiking trails, next to the Diamond Head Hike.  This easy to moderate summit trail is definitely one of the most memorable, with stunning views overlooking Makapuu Beach, Koko Head, the windward coast, and Molokai & Lanai neighboring islands.
You will also discover some exciting points of interest along the way including Makapuu Point, old military pillboxes, giant tide pools, a hidden blowhole, and the popular Makapuu lighthouse landmark.

Disclaimer – all Oahu hikes have different challenges and hazards that can be dangerous and may inflict injury. Know your fitness and skill level before embarking in any hike.  Stay on trails and obey posted signs. The information on this site is for your reading pleasure only.  Hike at your own risk.

---
Elevation     500 Feet
Length         2 Miles Round Trip
Duration       60 to 90 Minutes
Terrain           Hilly, Paved Trail, Hot
Difficulty        Easy to Medium
---
Climbing the Makapuu Summit
---
The Makapuu Lighthouse is located at the southeastern point of Oahu, not too far from Sandy Beach, where it tends to be dryer and much warmer.

Arriving early in the morning to begin this Oahu hike is ideal, as it warms up quickly without shady trees or other types of cover along the way. 

There's a gate that opens at 7am, which allows cars to travel another quarter mile down to a parking lot area.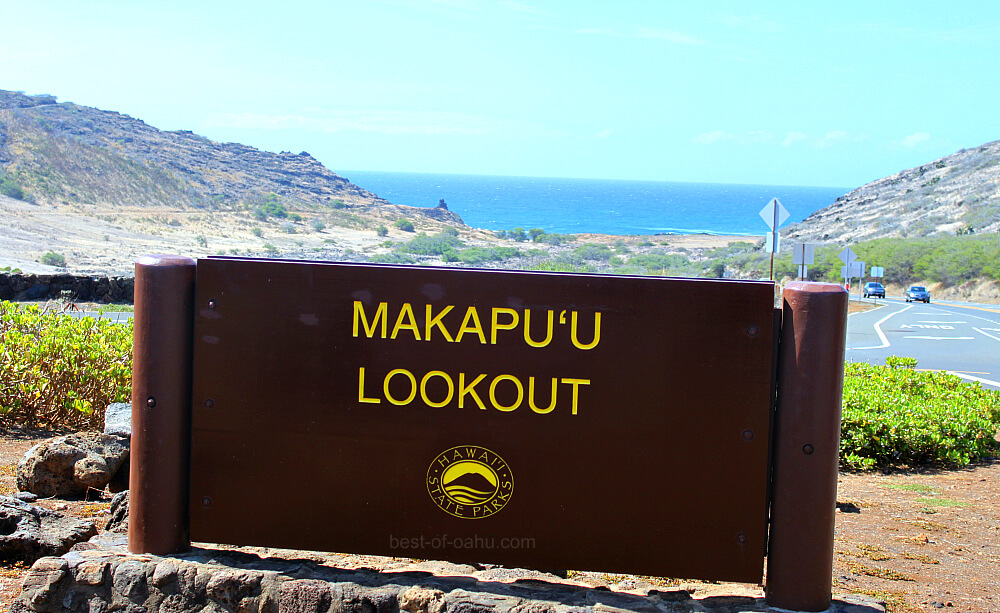 If you wish to start your hike earlier, you can park your car on the side of the road (make sure to obey all parking signs), or drive a little farther up, where you can park in the Makapuu Point Lookout parking lot.

There is a beautiful scenic view waiting for you at Makapuu Point, which is also a great place to take photos of Makapuu beach below.
From here you will need to walk back down to the Makapuu Lighthouse Trail parking lot, where the trail begins back up the side of the mountain.

These Oahu hiking trails are paved from the parking lot to the top.  It's a moderate climb that travels approximately 500 feet up to a viewing platform.

Most folks including younger kids will enjoy this hike, and should be able to make the journey to the top.  I've even seen baby strollers being pushed up by energetic moms and dads looking for a good workout!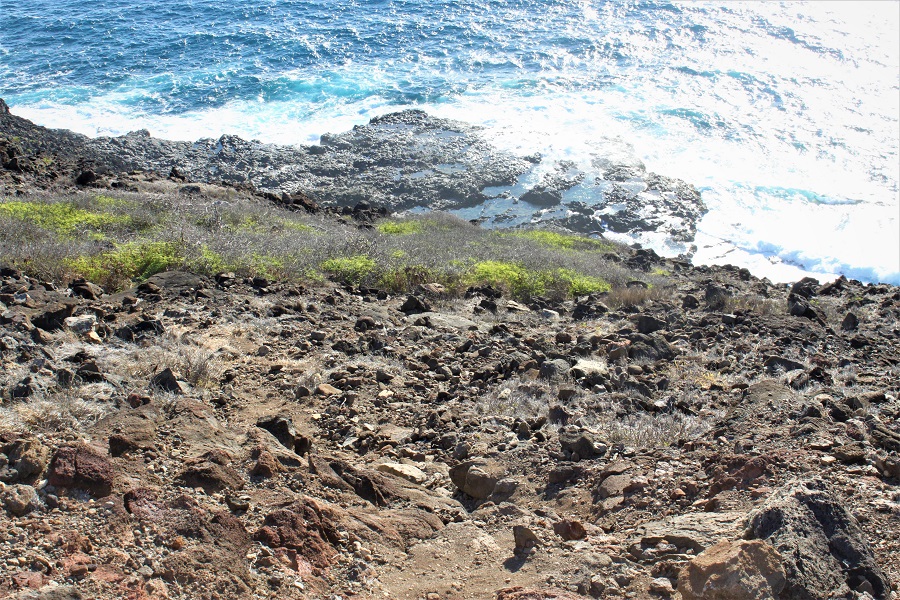 The Makapuu Lighthouse hike will take you about 30 minutes to reach the top.  Within a few switchbacks, you'll find some great viewing spots early on and along the way.  Take time to enjoy the beautiful coastal views towards Koko Head as you start your climb.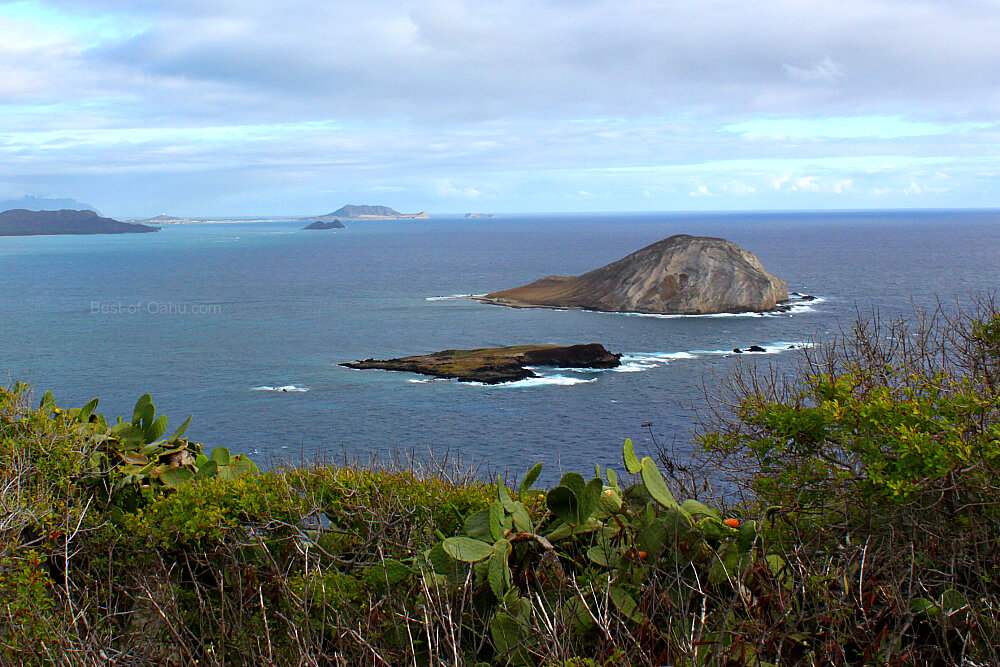 Keep an eye out toward the ocean once you cross the first ridgeline, because you just might spot some humpback  whales migrating if you're lucky!  Migrating seasons is typically May – November.

Although the Makapuu Lighthouse is off limits, you will have two opportunities to view it, including a great side view with a private curving walkway that leads to the structure.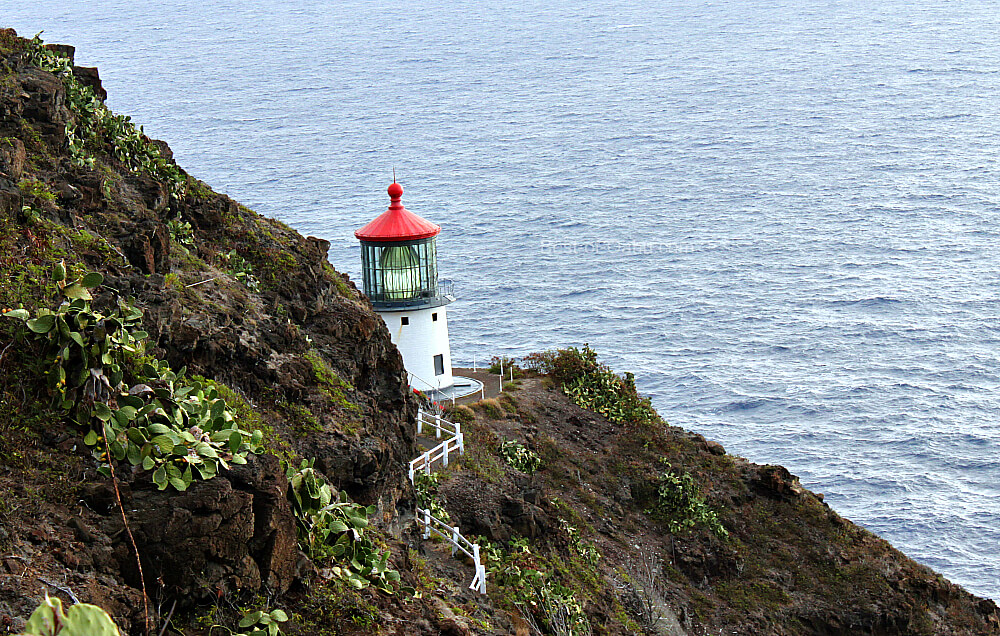 Another hundred yards up to the top, and you can look down at the beautiful 1909 landmark that still shines her light out to sea!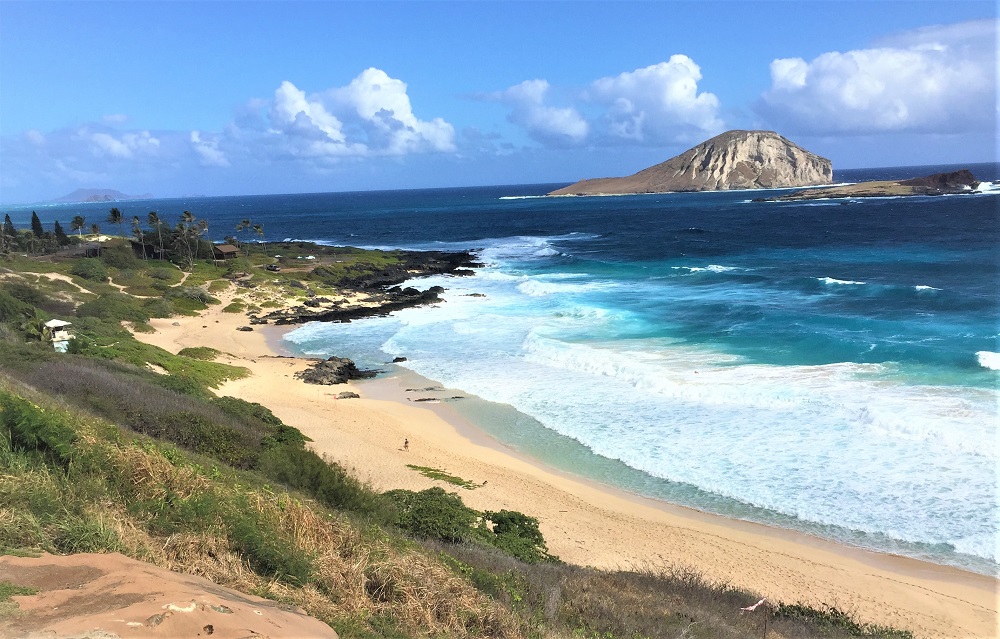 ---
Once you reach the top, you'll have your chance to climb the metal platform and enjoy breathtaking views of Makapuu Beach and the beginning of the Windward Coast –enjoy!!

---
Makapu'u Tide Pools & Blowhole
---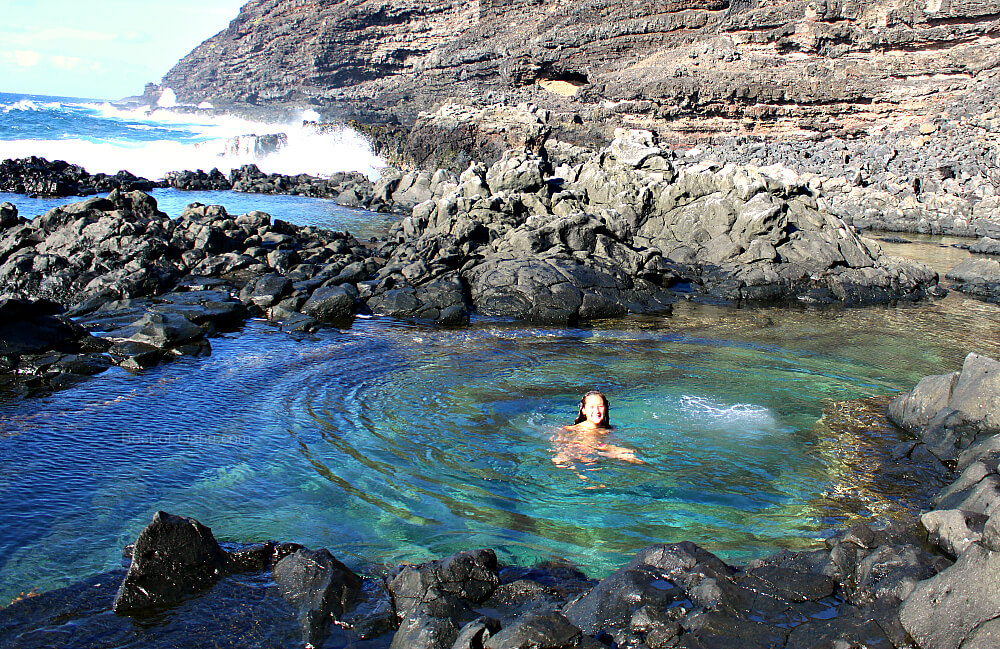 There are some giant Makapu'u tide pools and a giant blowhole that erupts on windy and/or big surf days.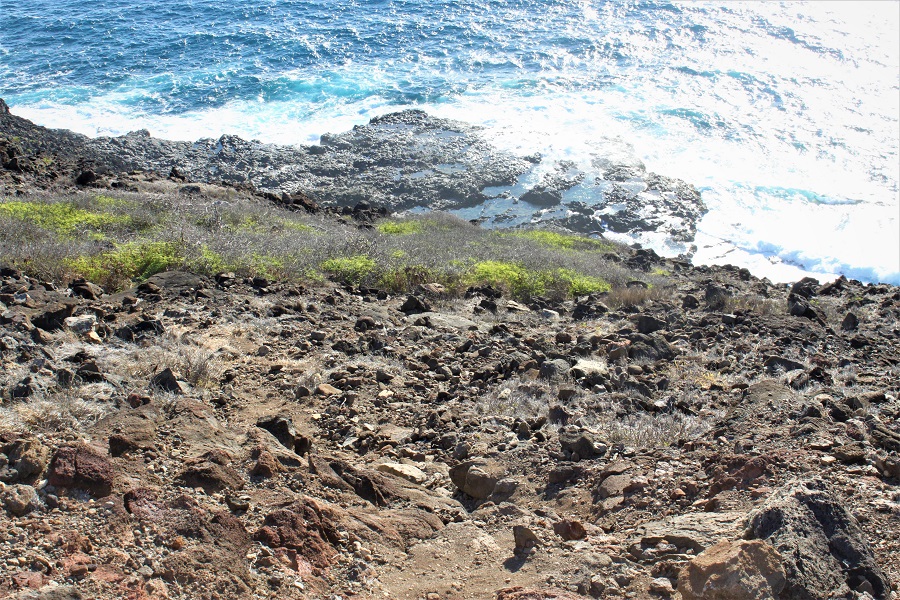 While these attractions are fun discoveries, it is NOT recommended for everyone to explore this area.  It is quite dangerous for children and inexperienced hikers to make the trek down the hillside.

There is an unmarked trail on the left hand side of the sign that leads down to the coastal reef.  There is a lot of loose gravel along the steep hillside, so proper shoes and strong footing is a must if attempted.
The reef area below is also dangerous, as strong  waves tend to smash over the barrier reef onto the shelf area.
Still interested in going?  About three-quarters of the way up, you will come across a humpback whale informational display that also happens to be the start of a loose trail that leads down to the Makapuu Tide Pools and a blowhole.

There are white arrows pointing up that have been spray painted on some of the boulders, leading the way back up...so you can follow them down as well.

At your own risk, you could swim in the larger tide pools.  It can be a lot of fun…but dangerous at the same time.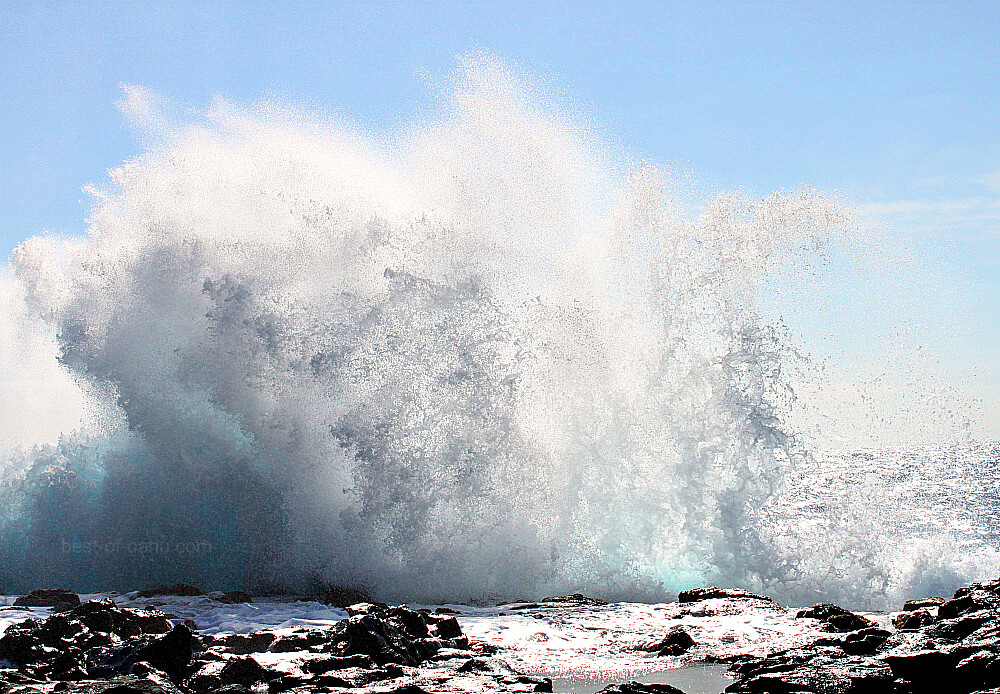 I would highly advise no swimming in this area during times when waves are breaking over the reef into the pools, as you could get hurt or swept out to sea.  Stay far enough away from the ledge, and remember that the reef is sharp and the rocks tend to be slippery when wet.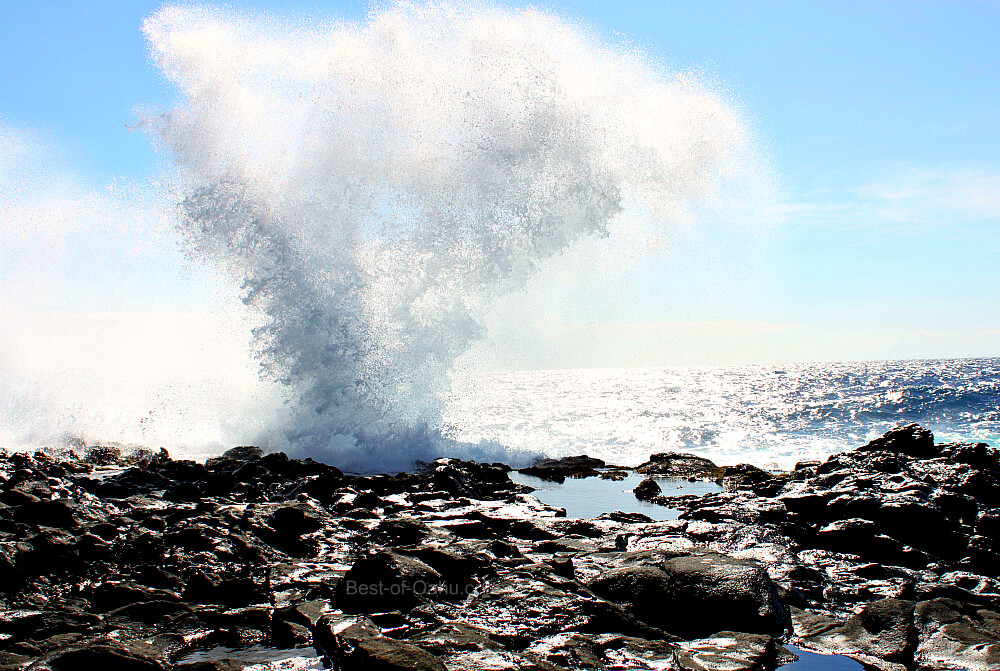 An impressive unmarked blowhole is also in the area.  As waves roll into the coast, the sea water travels through an underground tube and erupts once it reaches the blowhole. 

It's an entertaining show to watch, but please remember to keep a good distance away.
The force of water spraying through the the blowhole's opening is extremely hazardous and can easy injure those around it.  There's also a powerful downward suction that is equally dangerous when standing close by!

When leaving the area, remember to follow the white arrows back up to the main trail.  Please bring back up anything you brought down with you.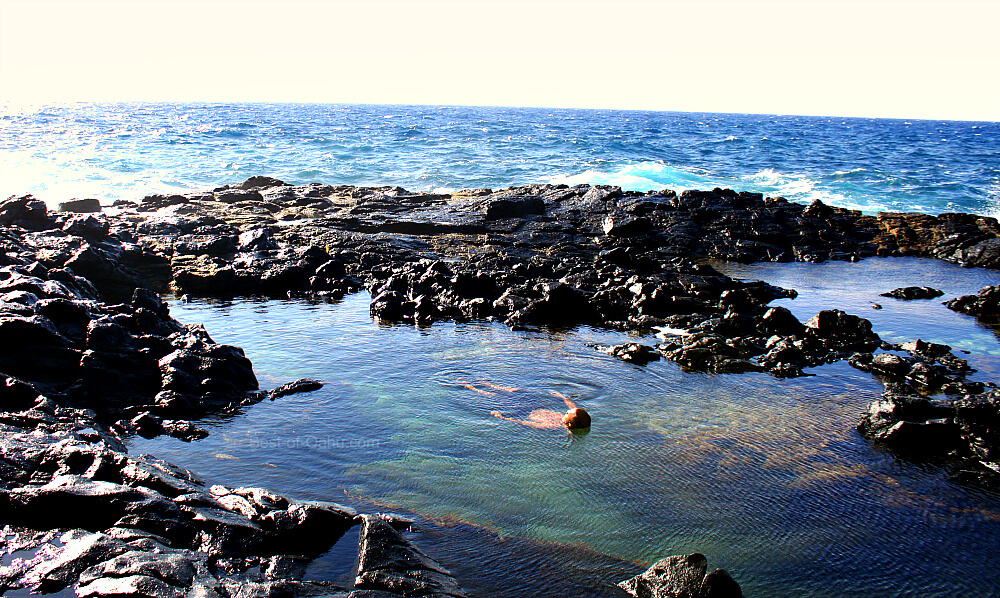 ---
Lighthouse Hiking Tour & Diamond Head


Set yourself up for a half day of discovery and adventure along the southern tip of Oahu, hiking up to an amazing viewing platform with views of the Windward side and lighthouse, and also to the top of Diamond Head. 
These Oahu attractions are both located on the south side of Oahu, yet not many folks have achieved climbing both in the same day.  This adventure includes transportation to and from your hotel.
---
3 Similar Oahu Hiking Trails
Here are 3 additional Oahu Hiking Trails that are similar to hike, which you might want to consider climbing after this one...
---
 Getting to the Makapuu Lighthouse
---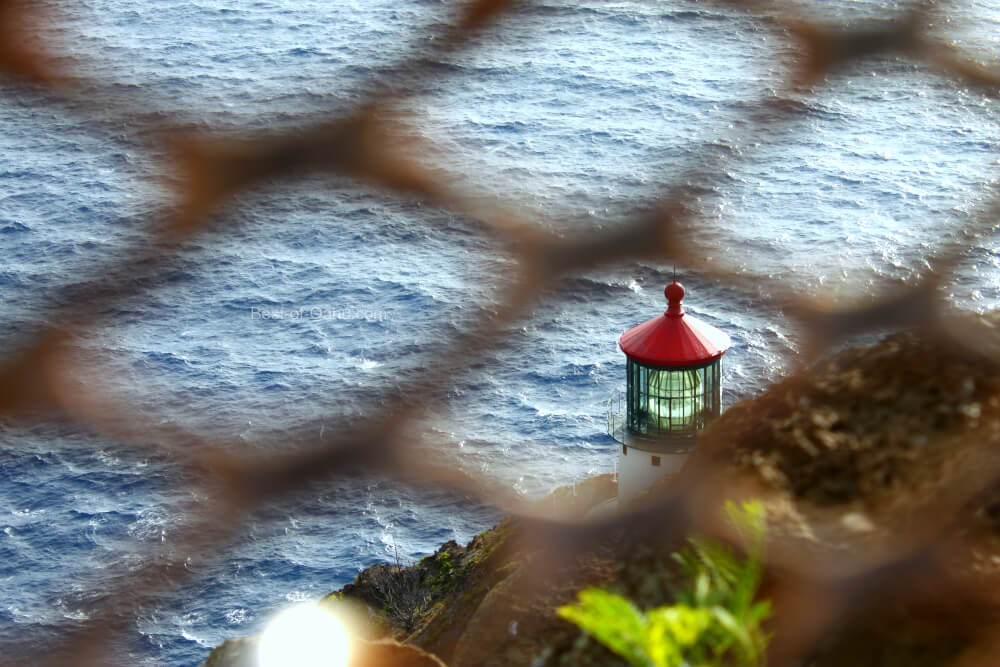 Also consider a direct lighthouse shuttle service to and from your hotel.  It's a great option if you don't want to rent a car or navigating getting there. 
It will take about 40 minutes from Waikiki by car.


From Waikiki , take the Kalanianaoli Highway (H-1) south. 
The H-1 turns into Hwy 72, but still is part of the Kalanianaoli Hwy which follows the coast. 
Follow the H-1 through the residences, around the Koko Head Crater, past Sandy Beach and up towards Makapu'u Point. 
Turn into the Kaiwi Scenic Shoreline area…just past the sign, or a quarter mile up at the Makapu'u Point Lookout –which is worth checking out anyways!
---
Map of Makapuu Area


---
By Oahu Bus from Waikiki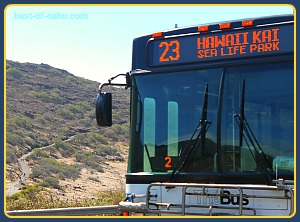 Take the number 22 or 23 Oahu Bus from Kuhio Ave in Waikiki, headed in the direction of Diamond Head.  Depending on traffic, it should only take about 1 hour to 90 minutes to arrive at the Makapuu Lighthouse Trail.
These buses run on the hour during weekdays and about every half hour on the weekends.

---
Recommended for this hike
    *  Water
    * Good hiking shoes
    * Hat & sunglasses
    * Sun screen
    * Light snack
---
Makapu'u Hiking Facilities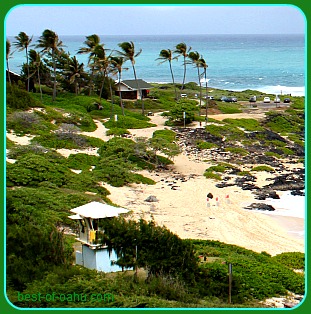 Free Parking lot

Bathroom and Picnic tables at Makapuu Beach

No nearby restaurant so bring a picnic lunch, water, and snacks if you plan to stay a while. 
---
In the Area
---
Makapu'u Beach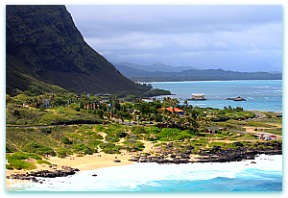 Makapuuu Beach – Below the lighthouse is one of Oahu's most distinctive and stunning beaches known as Makapu'u Beach Park.
It's not only a good stop for a bathroom break with public facilities, but also a wonderful place to set up a picnic on the tables overlooking the beach, the rocky coastline, and lighthouse that you just finished hiking up to!
Makapuu Beach is known for its powerful shore breaks, which are great for experienced bodysurfers, and provides a good show for spectators.

---
Sea Life Park Admission - Swimming with Sharks or Sea Lions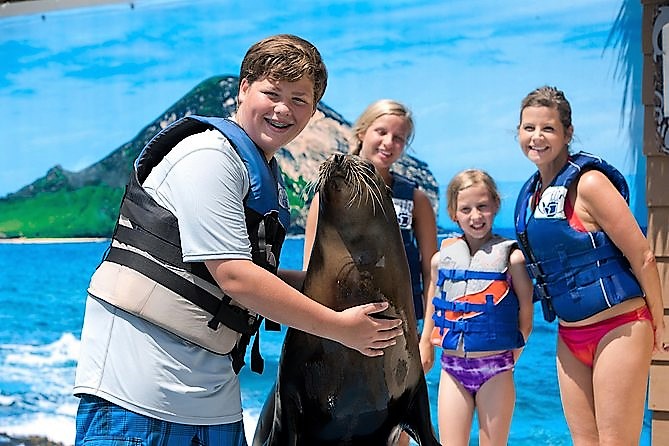 A thrill of a life time swimming with sharks or sea lions in a controlled environment at Sea Life Park! This Oahu adventure alone offers lots of exciting marine exhibits to explore, but not many theme parks offer opportunities to interact with the animals.
Spend 20 to 30 minutes in a 300,000 gallon tank with trained professionals that educate and lead you through the experience.

Price of admission includes transportation and a full-day pass to Sea Life Park.  Reserve Limited Tickets Now!

---
Halona Blowhole


Halona Blowhole – if you passed on the hike down to the Makapu'u Tide Pools and blowhole, make sure to stop at the Halona Blowhole on your way back to Waikiki.

You'll find this spot next to Sandy Beach. Park in the Halona Beach Cove parking lot, and walk up to the viewing rail.

All you need are some big rolling waves crashing into the rocks, which will give an impressive show as the water explodes through a small hole in the reef into the air!
---
Hanauma Bay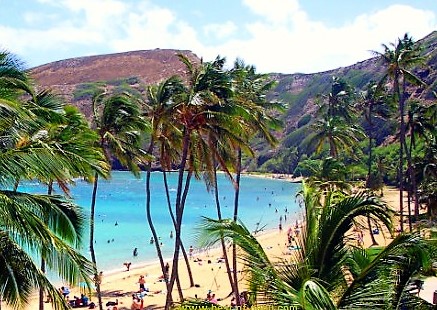 Hanauma Bay - This popular marine sanctuary is probably the most popular spot of all Hawaii to snorkel and scuba dive , as there are hundreds of fish and different types of marine life to be discovered.  It's an experience not to be missed!

It is highly recommended to start early in the morning if you plan to visit both Hanauma Bay and the Makapu'u Lighthouse Hike.
Hanauma Bay gets crowded quickly, making parking quite a challenge, and the south dry mountainside heats up fast as sun rises.
Maybe to beat the heat, you could arrive at the Hanauma Bay 6am opening, which will give you a couple hours to explore the bay's reef, and then continue on for a mid-morning hike?
---
Sandy Beach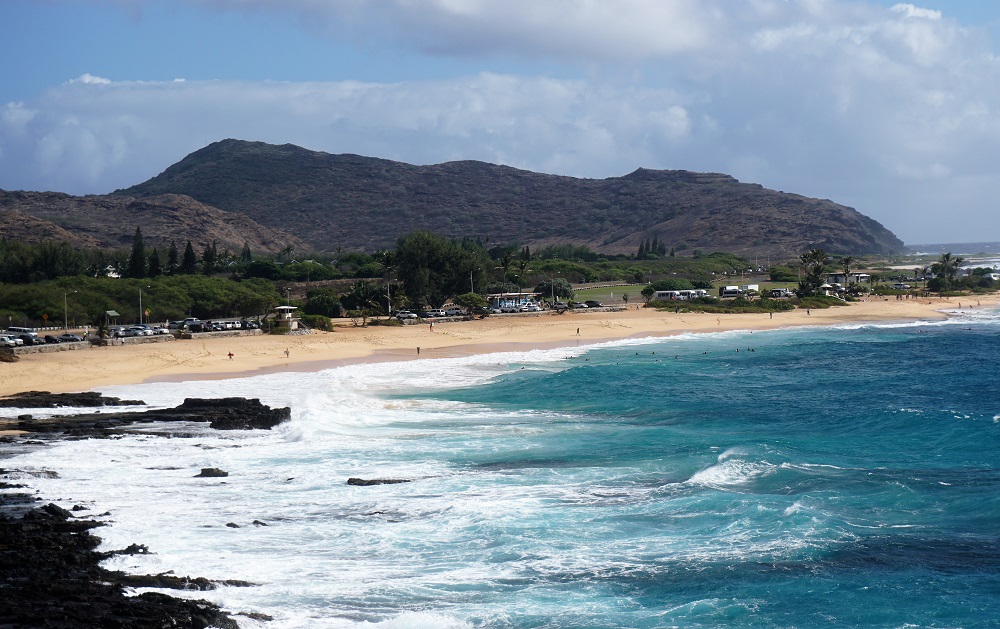 Sandy Beach Park - This long stretch of beach is notorious for its shore breaking waves! You will find a good handful of the world's best bodysurfers and bodyboarders on larger surf days, performing some daredevil stunts and tricks before the waves smash onto the shore!

This is definitely not your friendly swimming waters, but can be very entertaining to watch, and a fun beach to stop along your way!

Return to Best of Oahu Homepage
Aloha & Enjoy!

Subscribe to receive Best of Oahu updates on events, updates, and new articles.  It's the closest way to paradise while you are away...
We will never sell or spam your information, and we'll respect your email privacy.