Makapu'u Beach Park
Makapuu Beach is a Hawaiian gem that sits below the Makapuu Point, located southeast of Oahu.  Most visitors venture out this direction to hike up to the Makapuu Lighthouse, but rarely stick around to enjoy one of this most spectacular Oahu beaches!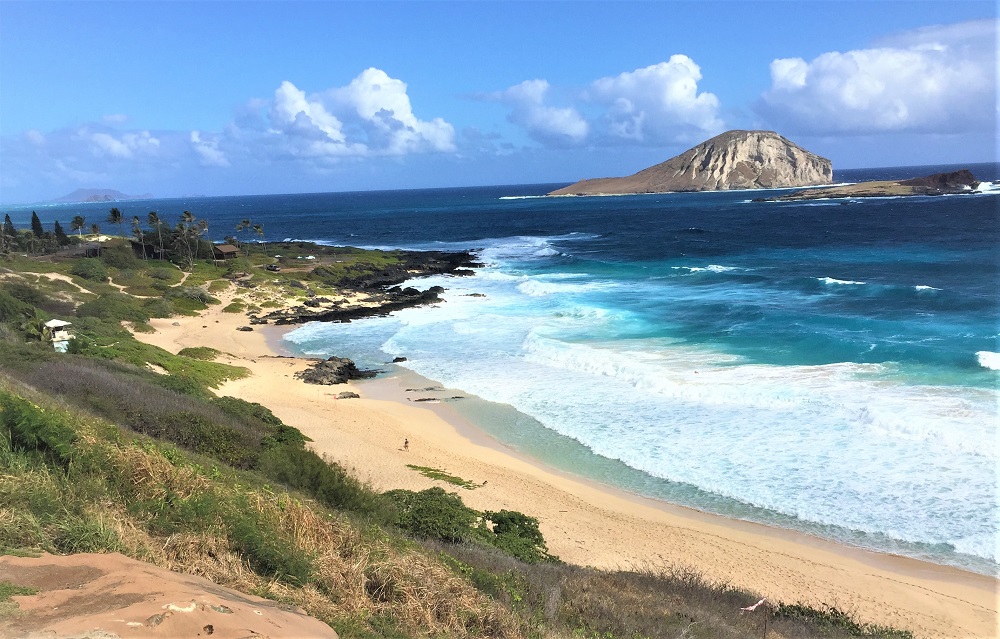 ---
Discover Makapu'u Beach
---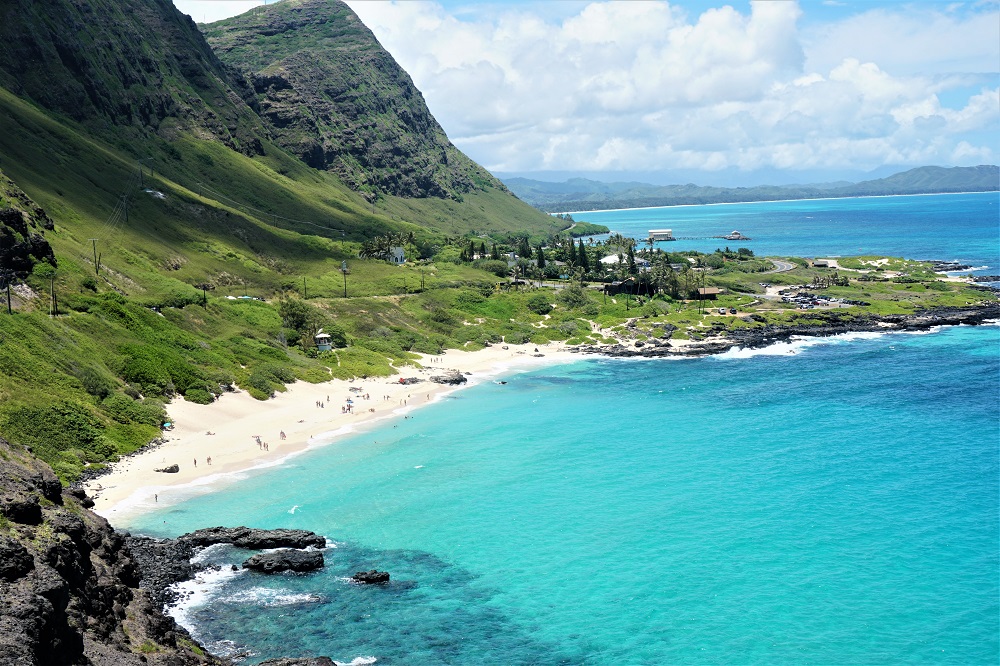 As you drive around the Makapuu Point Lookout, make sure to pull over and take a moment to enjoy one of the most scenic views of the Windward side of Oahu, including the stunning hillside that leads up to the Makapuu Lighthouse, and a spectacular view of Makapuu Beach Park below.

This Oahu beach is nestled in a cove- like bay, with mounds of sand that cascade down to the ocean.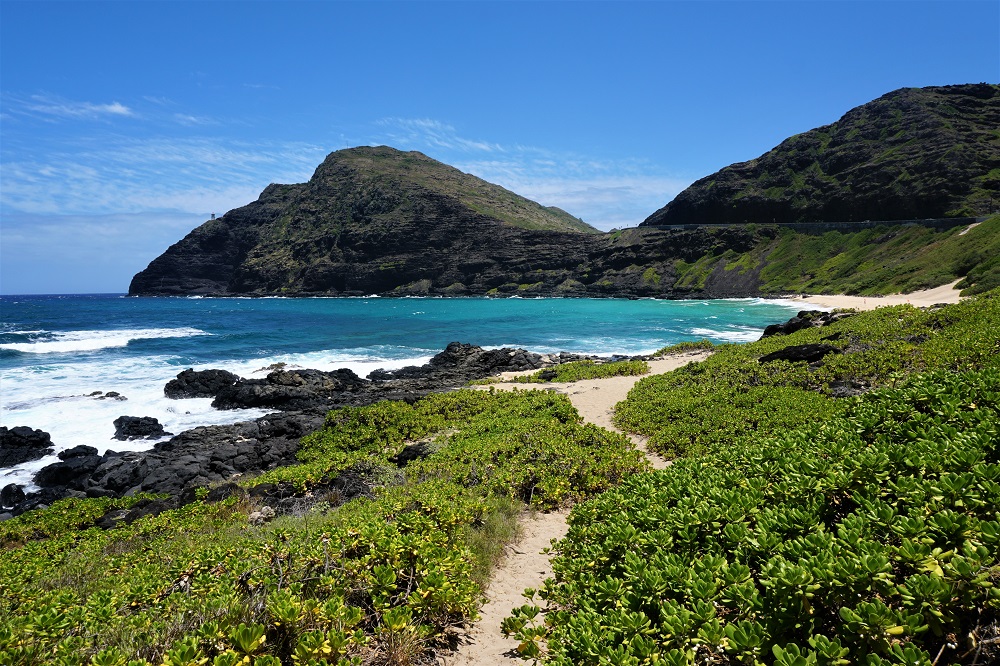 The dark lava rock mountain that juts out into the ocean casts a silhouette that is ominous and impressive to look at from the beach.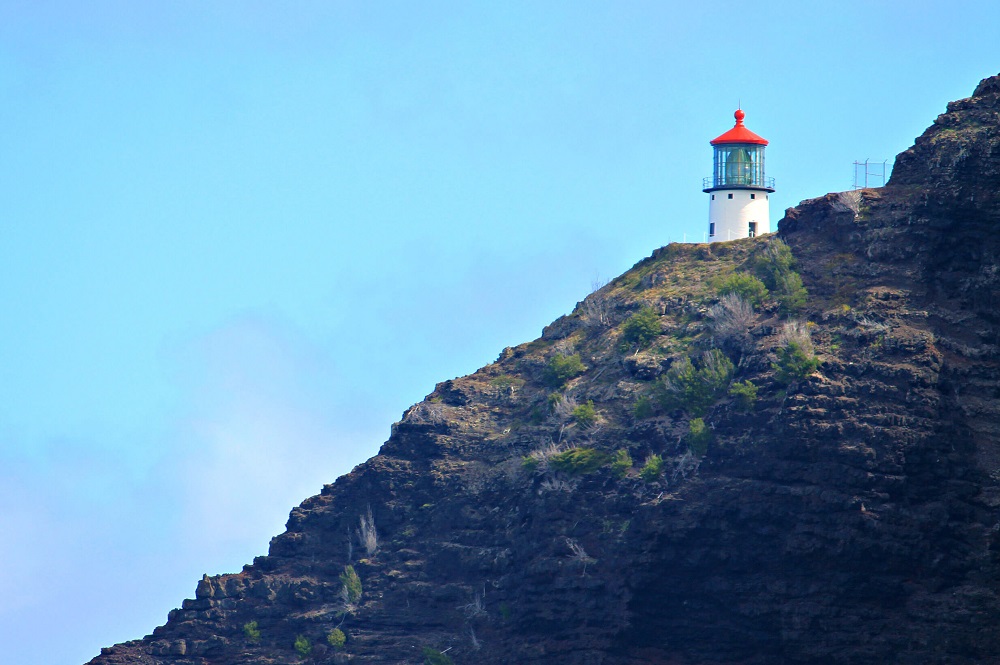 The Makapuu Lighthouse stands as a beacon, and looks as if it is clinging precariously towards the top of the dark rocky cliffs.  This mountain has such a commanding presence of  pure Hawaiian raw power and beauty at the same time.

Makapuu is my personal favorite beach!  The beautiful beach against the deep blue ocean and the black mountain will take your breath away as you make your way down from the parking lot to the beach.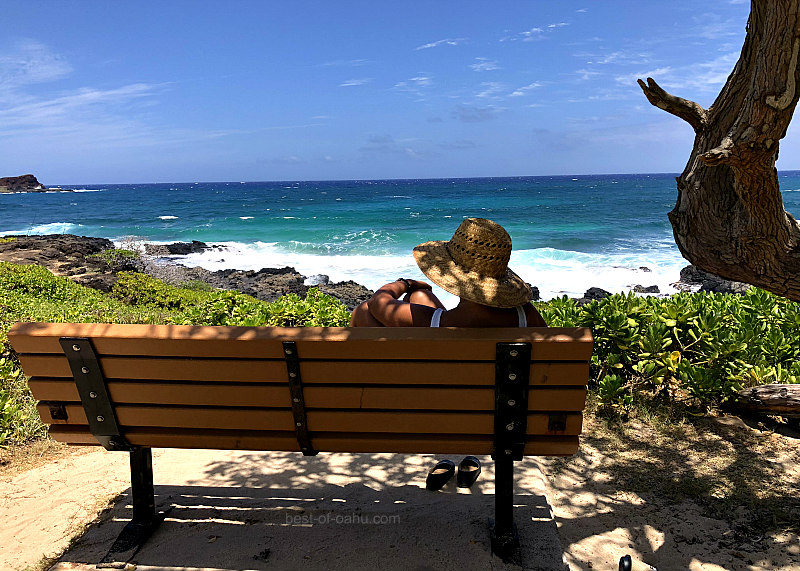 There are 2 sections of the beach separated by a sand dune and a large lava rock pile at the base of the ocean.  While beach goers explore all areas of the sand, body surfers tend to congregate at the furthest side of the beach where the shore breaks are more ideal to ride.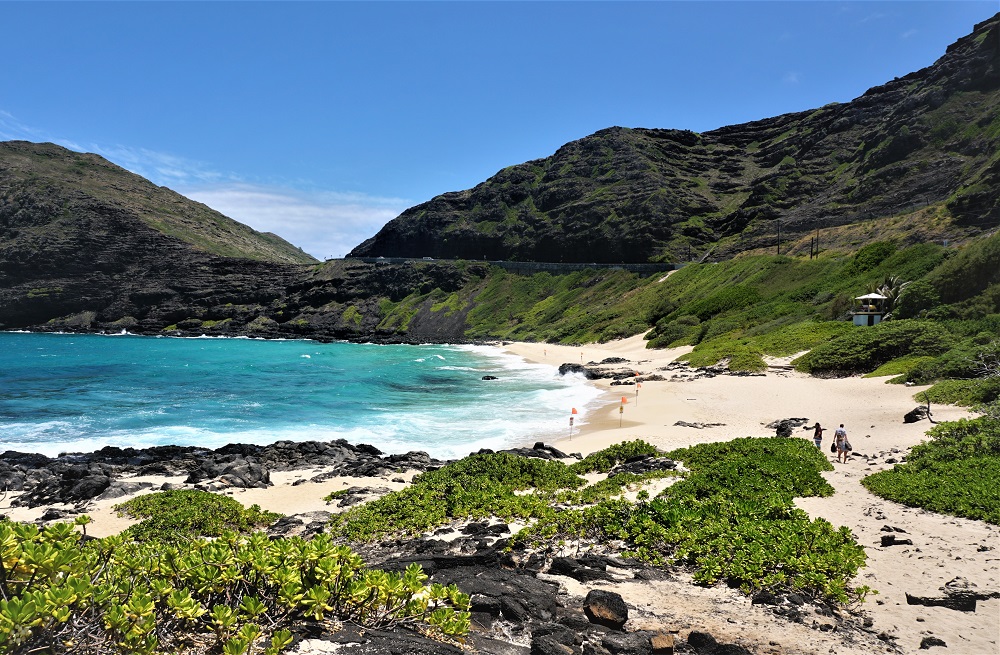 You'll also see body boards in the line up and catching the outside sets on the left hand side.

The waves have a similar shorebreak as its neighbor, Sandy Beach Park, which tend to get big and crash onto the shore.

You will more than likely see mostly locals bodysurfing and bodyboarding the waves on the right hand side of the ocean.

Warning:  The currents can become strong at times on Makapuu beach.  Please do not challenge the  powerful and dangerous breaking waves if you are inexperienced or in doubt.  I would advise checking in with the lifeguard before going into the water to learn about current conditions and guidance on best ocean entry points, if advisable to go in at all.

---
Facilities
---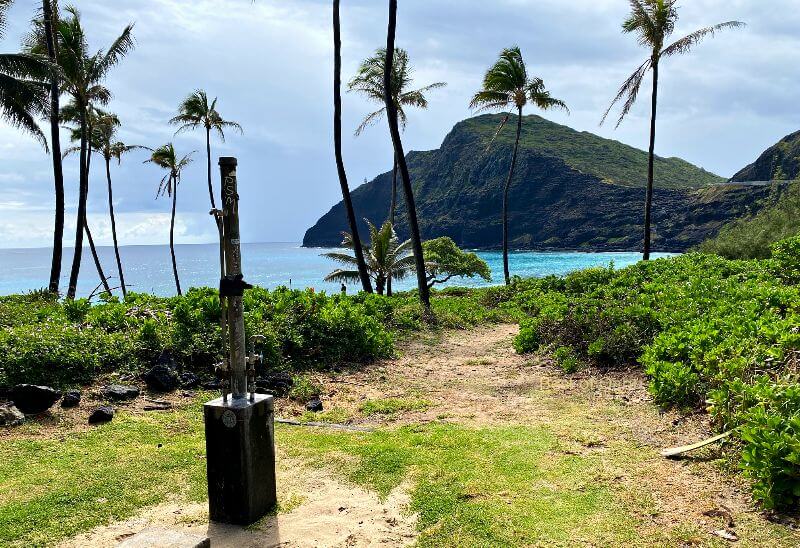 Restrooms above the parking lot

Beach showers above the parking lot

A couple of picnic tables midway down

A few shady trees

Life guard on duty

Free Parking Lot  
---
Visiting Tips
---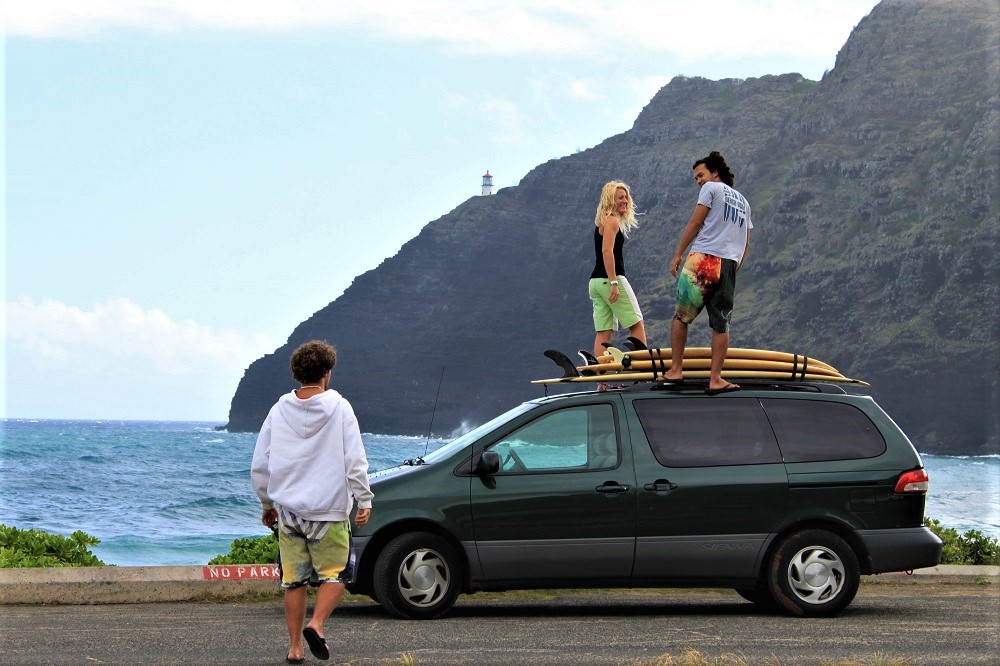 Bring the right equipment – If you are visiting Makapuu Beach to bodysurf or bodyboard the waves, make sure to bring the right swim fins with you.
Invest in a good pair of swim fins with foot leashes.  Swim fins are your best friends as you need them to propel yourself through the waves.  You can find these types of fins in local surf shops around the island for about $25 to $50.
Food - There are no food facilities in the area, so make sure to pack a small cooler with food and drinks before arrival.
Consider stopping in the Koko Marina Shopping Center located in Hawaii Kai for food options, before you continue driving to Makapuu Beach Park.
Parking Lot – It's unfortunate, but there have been a lot of car break-ins over the years at Makapuu Beach.  I have not experienced any trouble, but it is very important to take all personal belongings with you to the beach and leave nothing visible in the car.
Morning time – The mornings are beautiful at Makapuu Beach Park, as the sun rises on this side of the island.  There's also a good chance that you will have this Oahu beach all to yourself from sunrise to mid-morning.  A sunrise at Makapuu beach is a fantastic way to start your journey up the windward coast of Oahu.
---
Getting to Makapu'u Beach
---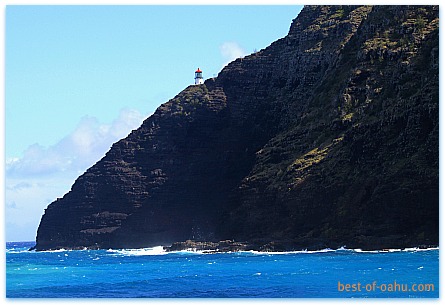 By Car from Waikiki:
From Waikiki , take the Kalanianaoli Highway (H-1) south. 

The H-1 turns into Hwy 72, but still is part of the Kalanianaoli Hwy which follows the coast. 

Follow the H-1 through the residences, around the Koko Head Crater, pass Sandy Beach and up towards Makapu'u Point. 

When you reach the top, take a moment to check out the beautiful views before heading down to the Makapuu beach parking lot.

Turn into the Makapuu Beach Park parking lot located directly across from Sea Life Park.
By Oahu Bus from Waikiki:
Makapu'u beach park is about a 1 hour drive or 90 minute bus ride from Waikiki.

Take the number 22 or 23 Oahu Bus from Kuhio Ave in Waikiki, headed in the Diamond Head direction.  Depending on traffic, it should only take about 1 hour to 90 minutes to arrive at Makapu'u.
These buses run on the hour during, weekdays and about every half hour on the weekends.
Street View Map from Makapuu Point:
---
---
Oahu Map of Makapu'u Beach
---
---
In the Makapuu Beach Area
---
Sea Life Park Admission - Swimming with Sharks or Sea Lions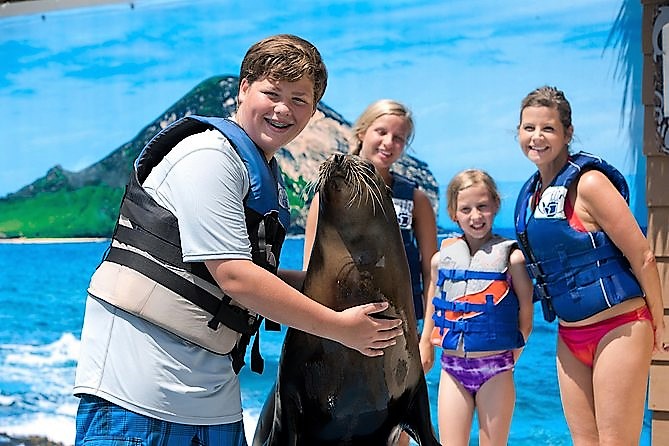 Located across the street and a thrill of a life time swimming with sharks or sea lions in a controlled environment at Sea Life Park! This Oahu attraction alone offers lots of exciting marine exhibits to explore, but not many theme parks offer opportunities to interact with the animals.  Spend 20 to 30 minutes in a 300,000 gallon tank with trained professionals that educate and lead you through the experience.

Price of admission includes transportation and a full-day pass to Sea Life Park.  Reserve Limited Tickets Now!

---
Halona Blowhole
This is one of Oahu's natural wonders that is guaranteed to entertain on big surf days. 
When the waves roll into the rocks, it pushes a truckload of water into a small underwater lava tube, which has nowhere to go but up through a small blowhole.  
The force is so powerful, that you can hear and feel the explosion of the Hanauma Blowhole on big days, as it sprays 20 to 50 feet into the air!

---
Eternity Beach – Halona Beach Cove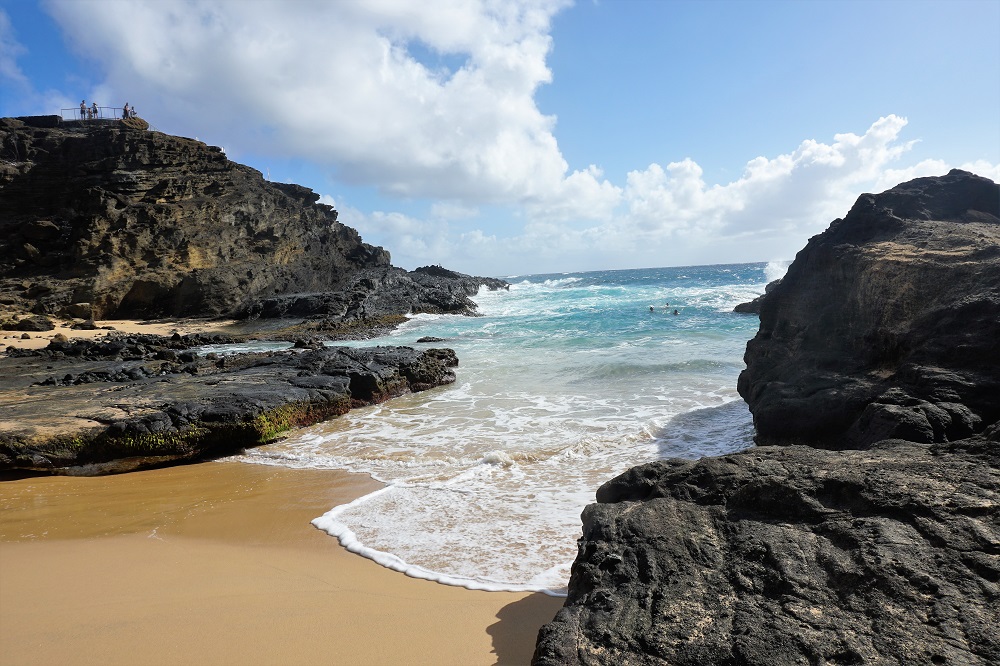 If you are stopping at the Halona Blowhole, make sure to stroll over to the right side of the parking lot to view the famous Eternity beach that has been featured in a few movies, including the popular old romantic 1953 film titled "From Here to Eternity". 

---
Hanauma Bay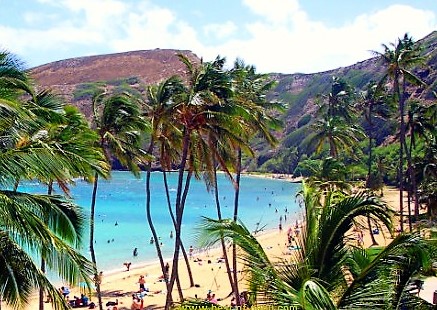 Plan your day early and you could spend some time snorkling Hanauma Bay before heading off to Makapu'u Beach.  This protected lava crater bay is rich in marine life and hundreds of tropical Hawaiian fish. It's rated one of the best rated spots for snorkeling in Oahu. Makapu'u Beach Park is only 15 minutes down the road after you pass Hanauma Bay.

You won't find any signs for Eternity Beach, because its only a nickname for the Halona Beach Cove, near Sandy Beach Park.
If you choose to hike down to the Halona Beach Cove, make sure to take great caution on the rocky and loose gravel path that you will be stepping on to get down to the beach cove.  It is also highly unadvisable to swim at Eternity Beach during turbulent days, when waves are crashing and the ocean current is very strong. 
---
Lighthouse Hiking Tour & Diamond Head


Set yourself up for a half day of discovery and adventure along the southern tip of Oahu, hiking up to an amazing viewing platform with views of the Windward side and lighthouse, and also to the top of Diamond Head. 
These Oahu attractions are both located on the south side of Oahu, yet not many folks have achieved climbing both in the same day.  This adventure includes transportation to and from your hotel.
---
Hiking Makapuu Lighthouse Trail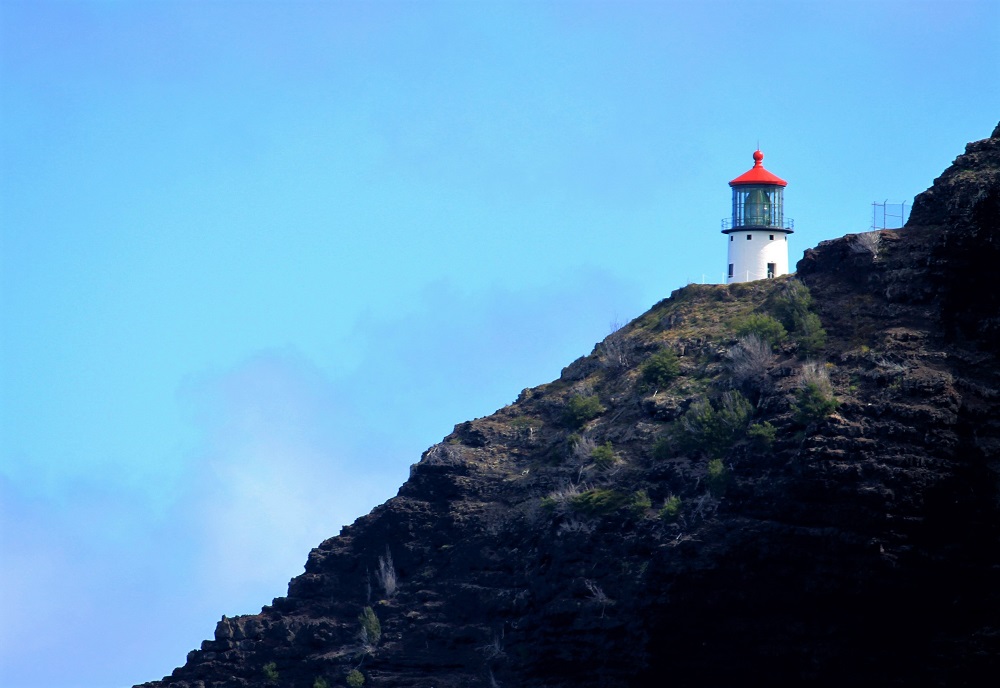 Are you are up for a light 1 mile hike up a paved path to the Makapuu Lighthouse?  It is best to start this Oahu hike early in the morning, as it tends to heat up later in the day.  There are great Windward island views on top of Makapu'u Point that are worth the half-hour trek to get there!  Easy to get to and lots of fun!

---
Waimanalo Bay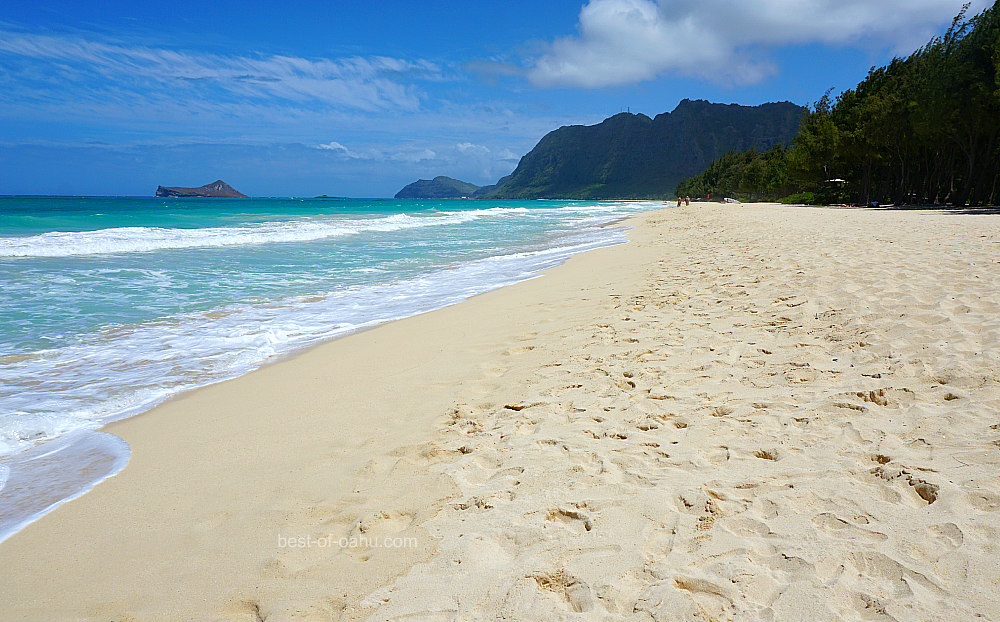 If the waves are too rough for you at Makapuu Beach, then consider driving another 15 minutes up the road to see one of the most beautiful Oahu beaches on the island.  The waves tend to be smaller and much more forgiving at Waimanalo Bay -but still fun to play in!

Aloha & Enjoy!

Subscribe to receive Best of Oahu updates on events, updates, and new articles.  It's the closest way to paradise while you are away...
We will never sell or spam your information, and we'll respect your email privacy.