Discover Secret Halona Beach Cove
This secret Oahu beach is more commonly known as Eternity Beach for an infamous beach scene in a romantic 1950's Hollywood movie.  Despite its unmarked and not-so-easy-to-get-to location, thousands of visitors manage to visit it each year.  You'll most likely discover this Oahu beach when visiting the south side Halona Blowhole, which is not too far from Hanauma Bay and Sandy Beach.

Halona Beach Cove sits below the famous blow hole, and is sometimes referred to as Oahu Secret Beach, because you cannot see if from the road when driving past.
But what made it famous is the 1953 filming of "From Here to Eternity" with the cast of Burt Lancaster and Deborah Kerr.  There is an unforgettable romantic kissing scene between these two, while lying on the beach with the waves washing up over them.  So today many call this Oahu beach Eternity Beach…very fitting.
This Oahu beach is still a popular filming spot for newer blockbuster hits like Pirates of the Caribbean part 4 "On Stranger Tides".

While most visitors view and take pictures of the Halona Beach Cove from above, some follow the hiking trail down to the beach to get a better view and explore the unique cove.

---
Halona Beach Cove video of surrounding area


---
Please be warned that there are posted signs (mostly covered up with stickers) noting this Oahu beach is off limits, and the water and rocks can become a dangerous area to wander into.  Please heed these warnings and proceed with caution.
There are NO lifeguards in this area, and waves can get rough at times, creating an undertow, and can potentially drag you out to sea under strong currents.  Be aware that waves smash into the rocks on both sides, which are slippery and if you are standing on these rocks, the waves can easily knock you down and cause you to fall into the ocean.

It is amazing to know that fishermen, since the 1920's and until today, climb down to this rocky point called Bamboo Ridge, and fish into the night.

Although Eternity Beach could very well be a main attraction on its own, the famous Halona Blow Hole is what most tourists come to experience from the viewing deck above it.  So before hiking down to the beach, make sure to catch the Halona Blowhole in action before you descend.

On good days with high surf in the area, you are bound to witness the powerful blowhole shoot water 20 feet and higher into the air for a spectacular show.
It never gets old watching waves pound into the shoreline, filling the lava tubes with thousands of pounds of water pressure, and shooting straight up into the air through the small opening in the rocky lava floor.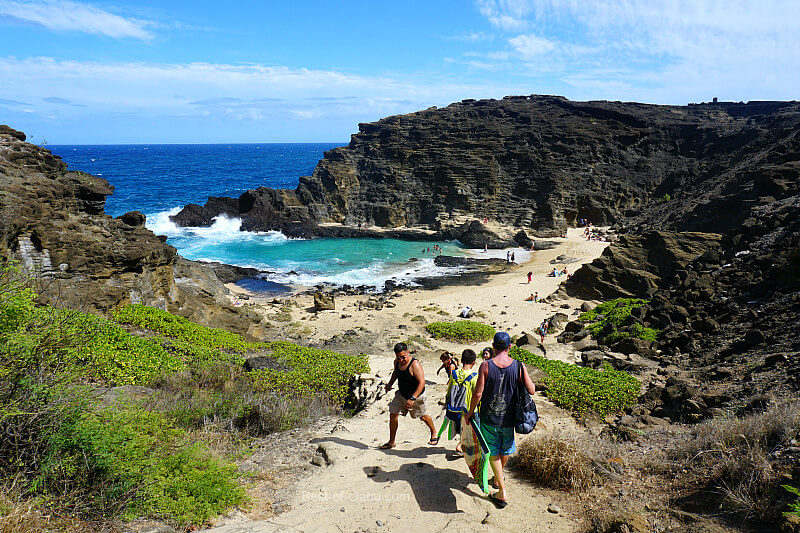 To get down to Eternity Beach, you simply walk back towards the Kalaniana'ole Highway from the Halona Lookout parking lot, and look to your left where there is an unmarked entrance to a trail between the guardrail and rocky hillside.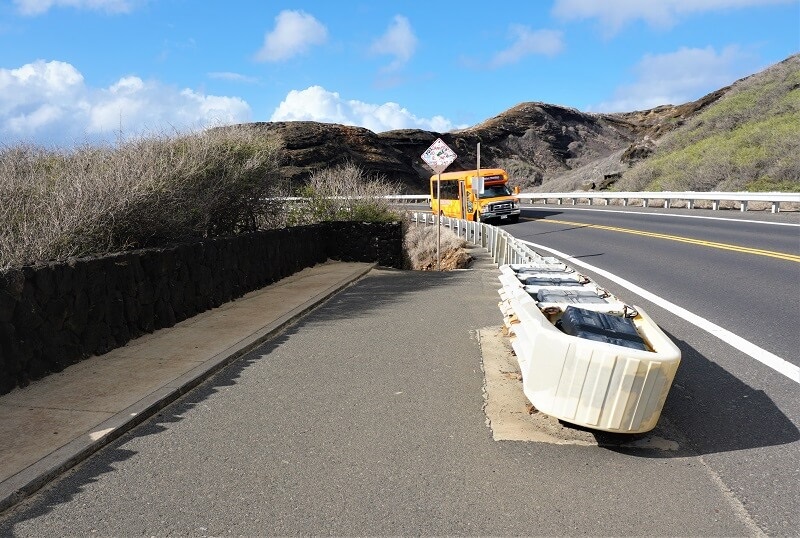 Note that it is not a paved or maintained trail.  You will need to carefully maneuver down some rocks and sandy dirt paths that may require a few hops and twists.
Also make sure not to stub your toes…as I have, on the lightly covered lava rocks leading down to the beach.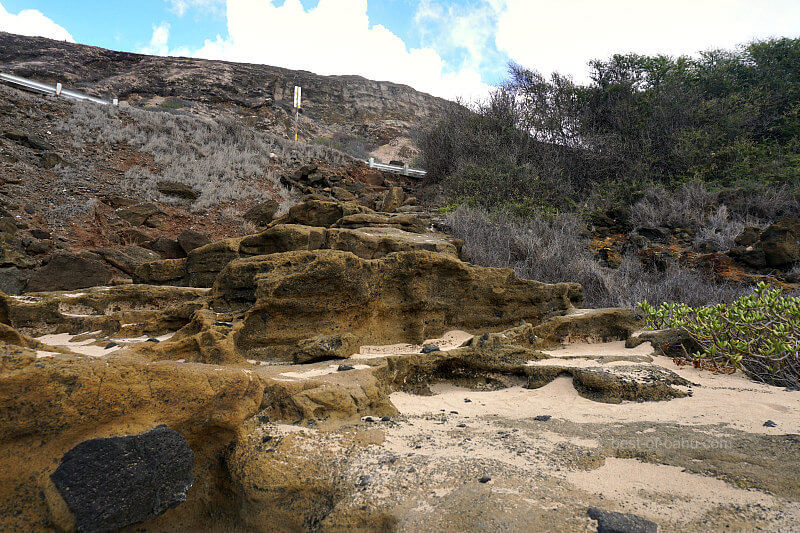 The Halona Beach Cove may be small but it comes with plenty of charm in its own setting.  You have a rocky shelf on the left hand side that extends out into the ocean.
And there's a cliff side on the right where you sometimes see daredevils climb up and jump into passing waves from different heights.  I cannot recommend doing this, but have been known to make a few splashes myself.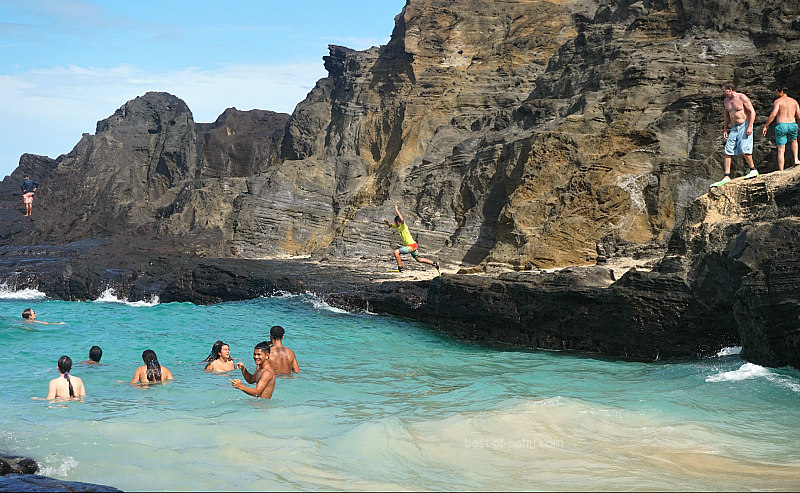 Look back up the cliff towards the view deck on the left, and you'll most likely see Halona Blowhole visitors observing all the Eternity Beach activity from the lookout above.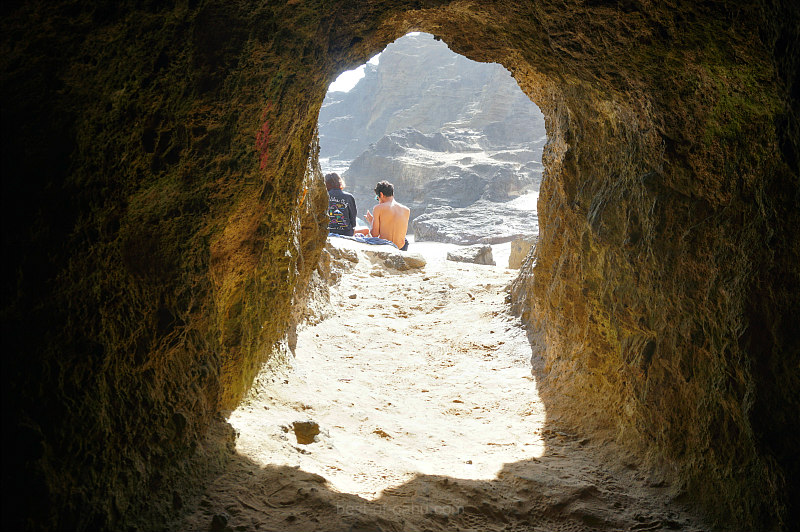 This Oahu secret beach also features a secret cave!  Yup, sorry for the spoiler alert, but there's a really cool cave at the base of the beach.
Ok, actually this opening is an ancient lava tube that cuts through the rocky cliffside to the other side of the freeway.  Be careful if you decide to explore it, it's very dark and narrow in there.

Depending on the weather and water conditions, I have seen Halona Beach Cove both packed with people and other times empty.

---
Entering the Water
---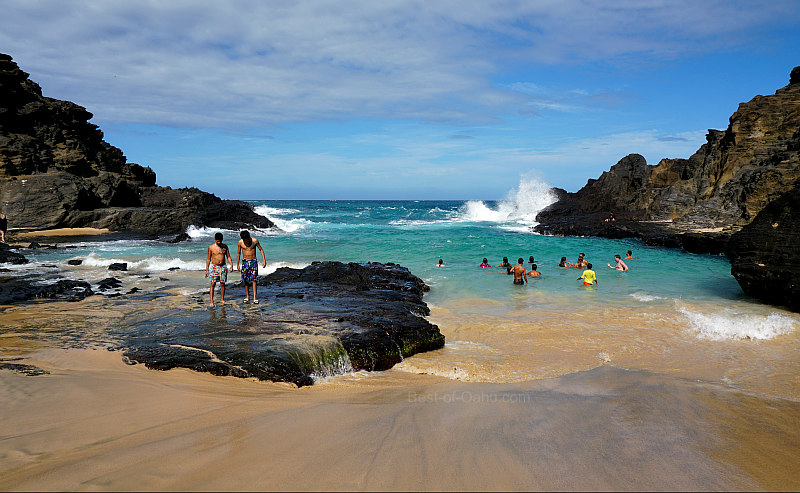 It is not uncommon to see both locals and visitors, kids and adults, body surfing and playing in the waves that roll into Halona Beach Cove.
And while fun, it can be very dangerous in these waters, especially when there is a south side swell and the waves tend to be large, and create a powerful riptide effect leading back out to sea.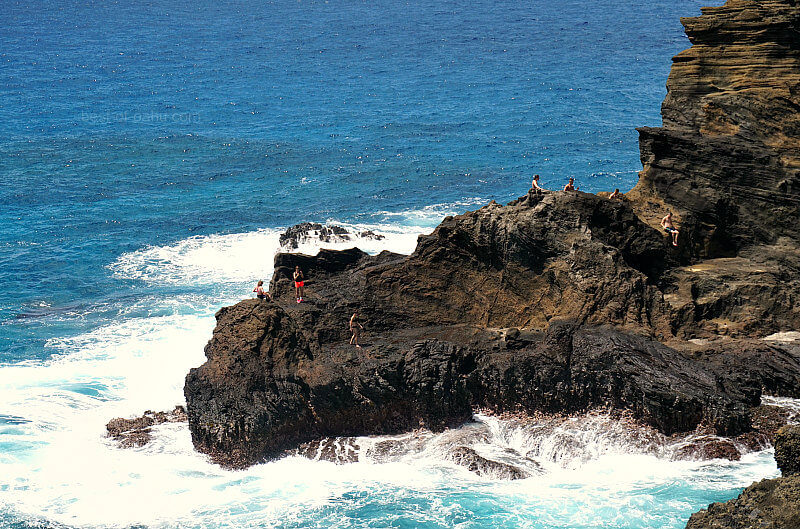 Many beachgoers have been rescued from trouble or have faced much worse consequences in these rough waters.

It gets a little worrisome when you see tourists swimming out towards the mouth of the bay, where the currents get rough and can easily sweep you out to sea. Climbing around the slippery rocks or jumping off them is equally dangerous, so please take extreme caution as there is no lifeguard at this beach.

You may be better off watching some of the local pros catch the powerful shore break waves and ride them back to shore.
The experienced bodysurfers usually wear swim fins that help propel them into the waves with an extra burst of power.  Swim fins are also a useful tool for swimming in the ocean and waves.

---
Facilities
---
This is a natural beach with no facilities other than the parking lot above at the Halona Blowhole Lookout.  There are bathrooms, outdoor showers, picnic tables, and lifeguard stands located a ¼ mile down the road at Sandy Beach.

Consider signing up for a grand island tour exploring the Blowhole, the Pali Lookout, the Dole Plantation in the North Shore, the Makapu'u Lighthouse, and lunch at the famous shrimp trucks.  Learn more about this tour...
---
Oahu Map of Halona Beach Cove
---
---
Directions to Halona Beach Cove
---
Driving directions from Waikiki
Take the H-1 Kalaniana'ole Highway south.  

The H-1 will turn into Hwy 72, but remains the Kalaniana'ole Hwy that follows the coast.  

Follow this coastal freeway through the residences, past Hawaii Kai and around Koko Crater.

After passing Hanauma Bay, the single lane road winds around  the cliff for a few miles until you reach the Halona Blowhole Lookout parking lot.  

Turn right into the parking lot once you see the Halona Blowhole sign.

Eternity Beach is located down a rocky, downhill path on the right side of the parking lot.
---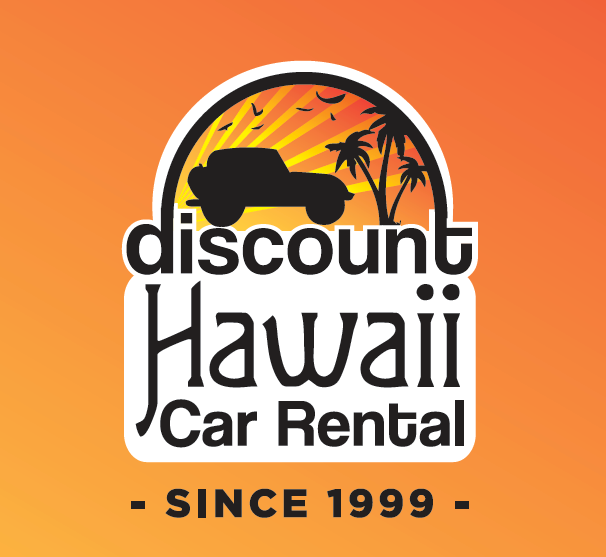 Need a good rental car option for the day?  Whether you would like to visit a beach, a popular Oahu attraction, or explore the island for just a day, consider these great, discounted rent-a-car rates with Discount Hawaii Car Rental.  They also have great packages for your entire trip...
---
Oahu Bus

Take the number 22 or 23 Oahu Bus from Kuhio Ave in Waikiki that is headed in the direction of Diamond Head.  Depending on traffic, it should only take about 45 minutes to 1 hour to get there.
These buses run hourly on the weekdays and every half hour on the weekends.
---
In the Area
---
Hanauma bay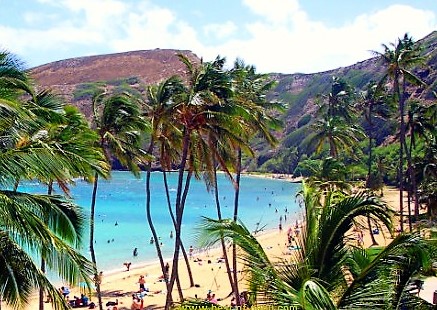 You will actually pass Hanauma Bay on your way to Halona Beach Cove.  If you plan your day right, you could start off the morning snorkeling in this state protected marine life sanctuary, and then head over to discover this secret beach.  The Hanauma Bay fish and marine life are a wonderful site to see and experience if you can!

---
Halona Blowhole

Located in the same area and even sharing the parking lot is the popular Halona Blowhole.  On really big days you can bet on the blowhole spouting high into the air.  Check out the video below and you'll get a good sense of power this natural wonder can deliver.
---
Sandy Beach Park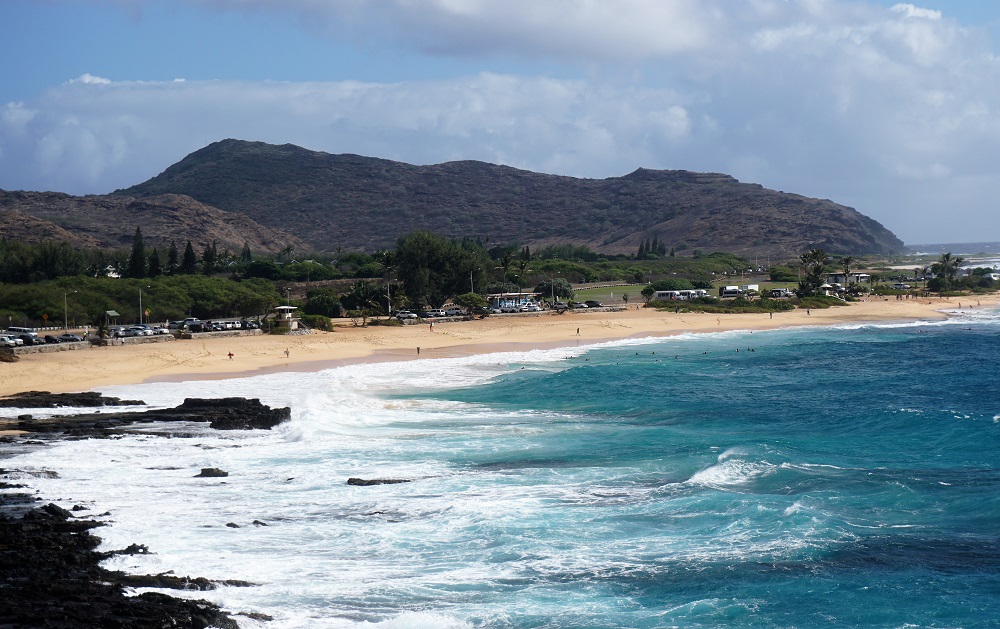 Just down the road from Eternity Beach is a long strip of beach called Sandy Beach Park.  This Oahu Beach has a strong shore break that the locals love to play in, and either body surf or body board the waves before they fold over and pound the shore.

This is not a swimming beach, and I do not recommend going into the water if you're not a good swimmer or have the right equipment to help navigate you through the waves.  But it is very entertaining to sit on the beach and watch the pros perform their tricks in the waves.
Aloha & Enjoy!

Subscribe to receive Best of Oahu updates on events, updates, and new articles.  It's the closest way to paradise while you are away...
We will never sell or spam your information, and we'll respect your email privacy.