Oahu Bus
The Oahu bus is a great way to get around the island if you opt not to get an Oahu car rental.  The Honolulu bus system is actually ranked as one of the best transit systems in the world.  That's pretty impressive with over 72 million satisfied Honolulu bus riders per year!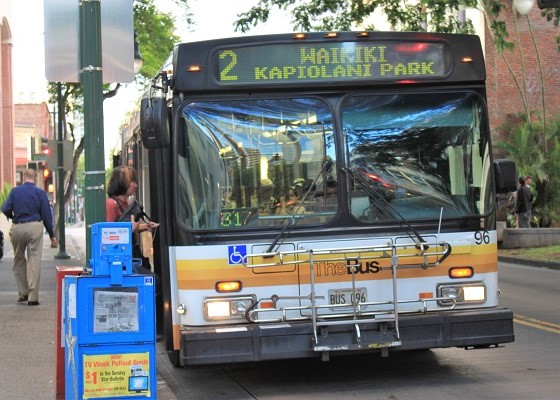 The Oahu bus is a reliable source to travel around the island, and getting to places in a reasonable amount of time.
You will need to coordinate a little more the farther you travel outside of Waikiki, and allow more time to get to your destinations, but you can let go of your stress and let the bus driver do all the work!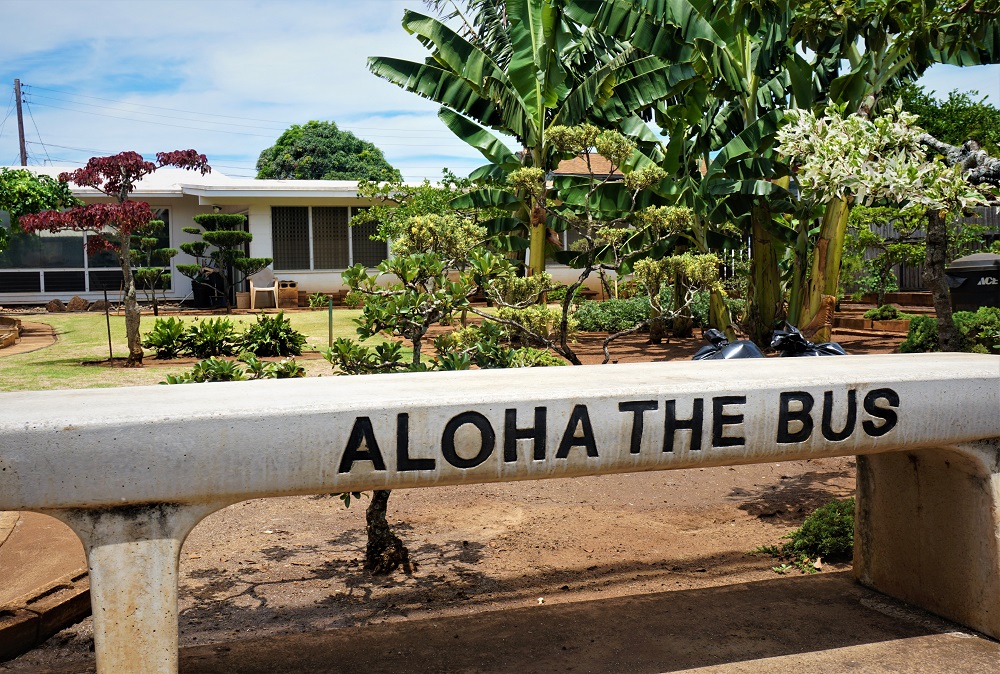 A majority of the Oahu buses on different island routes travel through Waikiki (on Kuhio Ave), Ala Moana Mall, and/or downtown Honolulu -all which are very close to each other.  A quick bus transfer should get you to further traveling destinations such as the Lanikai Beach or the North Shore.
Most Oahu buses arrive at the bus stops every 10 to 30 minutes.  Some buses only pass by once an hour on Sundays, holiday, and less traveled areas.
This is not the case for the most popular Oahu attractions, but it's always good practice to check the schedule or ask the bus driver.  Equally important is to know when the last bus is scheduled for your route if you plan on staying out late.
---
---
Honolulu bus schedules for most popular Oahu destinations:


---
Route 2 & 23 - Diamond Head Trail
Waikiki to KCC Farmers Market and Diamond Head Trail (you will need to walk into the crater from the bus stop).
---
Route 2 & 13 - Iolani Palace & Chinatown
Waikiki to Iolani Palace, Chinatown.  Route 2 also travels close by the Bishop Museum.
Runs most days between 5:30am and 12:30pm
---
Route 6 - Kaka'ako Shops & Restaurants, and Downtown
Ala Moana Center to the Kaka'ako area (Ward Village, Auahi & Queen St) and Downtown area.
---
Route 8 & 20 - Waikiki & Ala Moana Center
Runs most days between 7:30am to 10pm

---
Route 20  - Aloha Tower, Chinatown, Airport and Pearl Harbor
Waikiki to the Aloha Tower Market Place, Chinatown, and then travels to the Honolulu Airport, Pearl Harbor, and the Aloha Stadium Swap Meet.
Runs most days between 5:45am to 6:45pm

---
Route 20 & 42 - Pearl Harbor & Aloha Stadium
Waikiki to Arizona Memorial in Pearl Harbor, and Aloha Stadium
Runs most days between 5:45am to 10:45pm

---
Route 22 & 23 - Hanauma Bay , Sandy Beach & Sea Life Park
Waikiki to Diamond Head Crater and Hanauma Bay Oahu
Runs most days between 8 am to 5:28 pm
This bus also travels to Sandy Beach & Makapu'u Beach.  Runs every half hour to 1 hour, and can take an hour to get to. 

---
Route 40 - Ala Moana Center & Makaha Beach
Ala Moana Mall to Makaha Beach
Runs most days all day/night.  It can take up to 2 hours each way for arrival.

---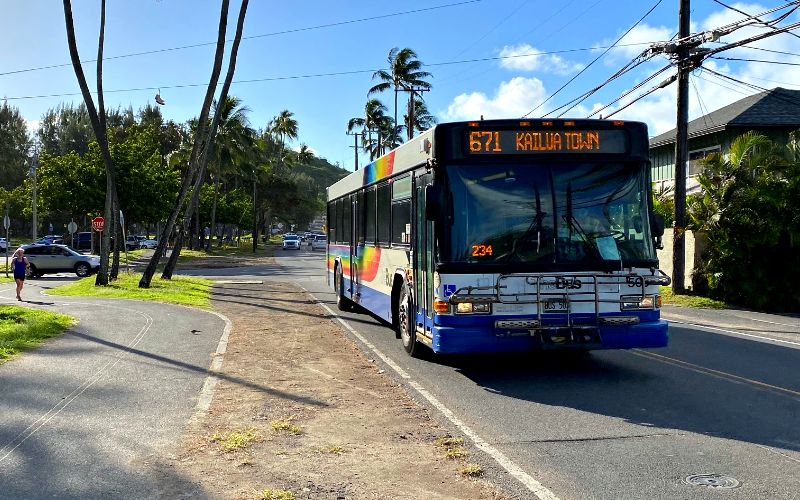 Route 56 w/ transfer to Route 70  - Kailua Beach & Lanikai Beach
Ala Moana Mall to Kailua Beach and Lanikai Beach
Runs most days between 6am to 10pm.
Note – route 70 runs only once an hour until 7pm…walking back to Kailua road and taking the number 57 might be a better choice.

---
Route 52 & 88A (North Shore Express) - North Shore
Ala Moana Center to North Shore Beaches, to Turtle Bay Resort, and Polynesian Cultural Center
Runs most days between 6:30am to 12:00pm (Lanikai until 7pm).  2 hours each direction.
---
Route 60 - Kualoa Ranch, Polynesian Cultural Center & North Shore
Ala Moana Center to Kualoa Ranch, then Polynesian Cultural Center and then passes North Shore Beaches (including Sunset Beach, Pipeline, and Waimea Bay), and turns around after passing through Haleiwa Town.
For more Oahu bus routes, Honolulu bus schedules and route maps check out TheBus.org

---
Alternative - Waikiki Trolley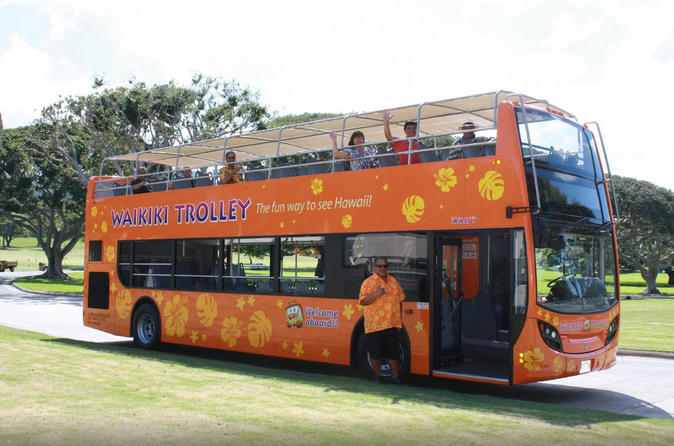 The Waikiki Trolley visits many Honolulu Attractions. There are 4 different routes to explore including: Scenic Tour, Historic Tour, Shopping Tour, and the Island Tour. Tickets start around $9 for a child day pass, and go up to $25 - $49 for an Adult 7 day pass. 
---
Oahu Bus Rates
---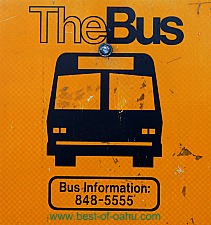 Adults - $2.75/ Ride or $5.50 / Day Pass

Children 5 years of age  – Free w/ paid riding passenger

Youth ages 6 to 17 - $1.25/ Ride or $2.50 / Day Pass

Seniors over 65 and Handicap Fare- $1.00 with
Bus Senior Card or valid US Medical Card, $2 for Day Pass

Note – exact change is required (no change available)
A bus fare will take you one direction and includes a transfer ticket if needed.

Get a multi-day Waikiki Trolly Hop on Hop off Pass


---
Baggage Accepted on the Honolulu Buses:
---
The Oahu buses can accommodate the following carry on bags and accessories that you might be traveling with:  small handheld luggage, boogie boards, golf clubs, beach chairs, small coolers, musical instruments, baby strollers, and even small caged pets!
The buses are also equipped with bike racks located on the front side for traveling bikers.

For more information regarding the Oahu Bus call (808) 848-5555, or check out their website for more information:  http://www.thebus.org

Aloha & Enjoy!

Subscribe to receive Best of Oahu updates on events, updates, and new articles.  It's the closest way to paradise while you are away...
We will never sell or spam your information, and we'll respect your email privacy.