Visiting Pearl Harbor - Planning, Tickets & Tips
With well over a million visitors per year, Pearl Harbor is the number one Oahu attraction.  This national park includes the sunken USS Arizona and viewing platform, the USS Missouri Battleship, the Pacific Aviation Museum, and the retired USS Bowfin Submarine.  You can easily spend a full day viewing, exploring, and taking in all that this historically significant site has to offer.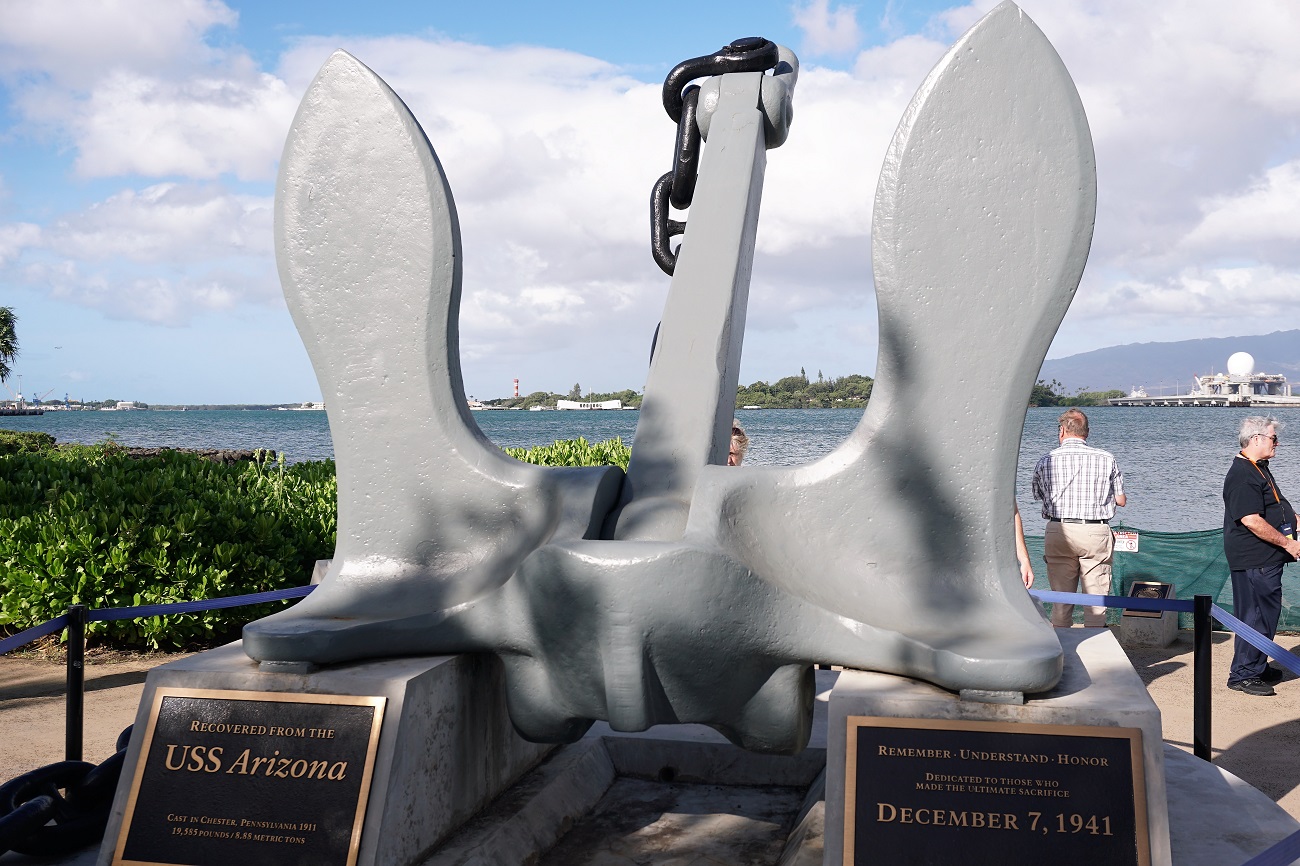 ---
The Attack
We all know the history…on December 7th, 1941 just before 8 am, Pearl Harbor was bombed by the Japanese air force.  Hundreds of Japanese fighter planes and bombers led a surprise attack against the unprepared US naval battleships and devastated the air force landing strips with its fleet of 300 planes.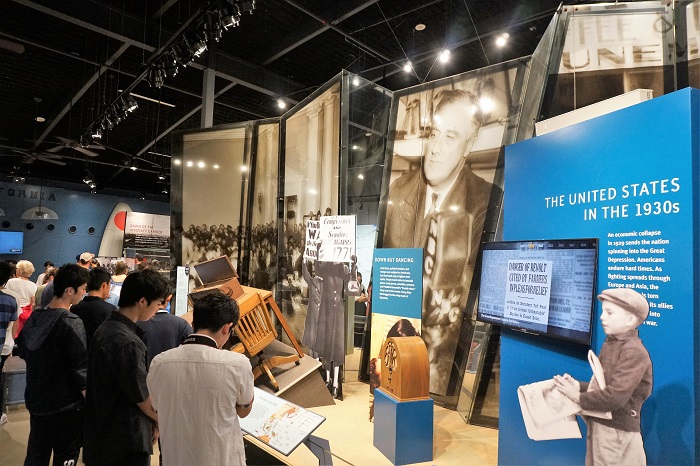 Pearl Harbor Museum
Approximately 20 American sea vessels were destroyed, including 3 sunken battleships and 6 others that sustained massive damage.  The air force was also neutralized with over 300 planes that were destroyed, and over 2400 military personnel who lost their lives. 

This historic day was not only a devastating defeat, but the mark of the United States declaring war on Japan.

---
Visiting Pearl Harbor Today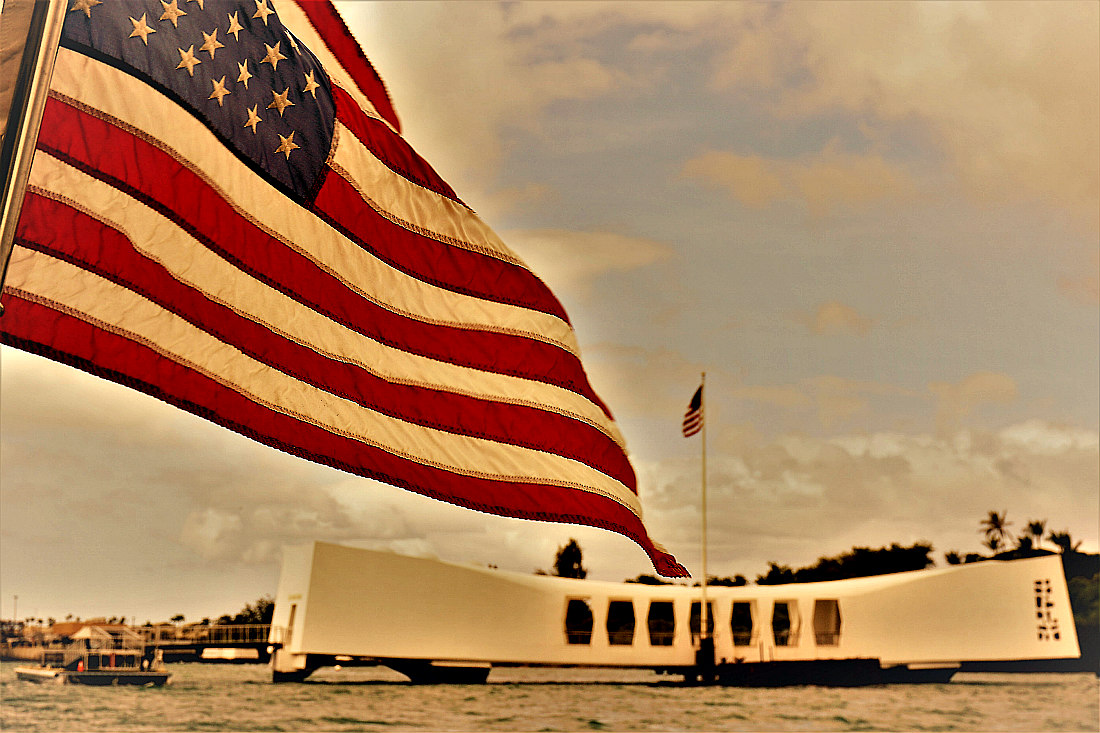 Attending Pearl Harbor today is a somber experience of remembrance, observation, exploration, understanding, and respect.  It's normal to experience many different emotions throughout your visit.  It's a grand Oahu attraction which everyone should experience.  
Most folks visiting today come to pay tribute to the popular Arizona Memorial.  But there are 3 other Pearl Harbor attractions worth visiting:  the USS Missouri Battleship, the USS Bowfin Submarine, and the Pacific Aviation Museum.  You could easily spend a full day trying to see it all!  I recommend visiting 2 or maybe 3 attractions, versus trying to tour them all in one day as it could become overwhelming.  But that's entirely your call!
If you are looking for an all day pass with access to all the attractions, consider purchasing a Deluxe Tour Pass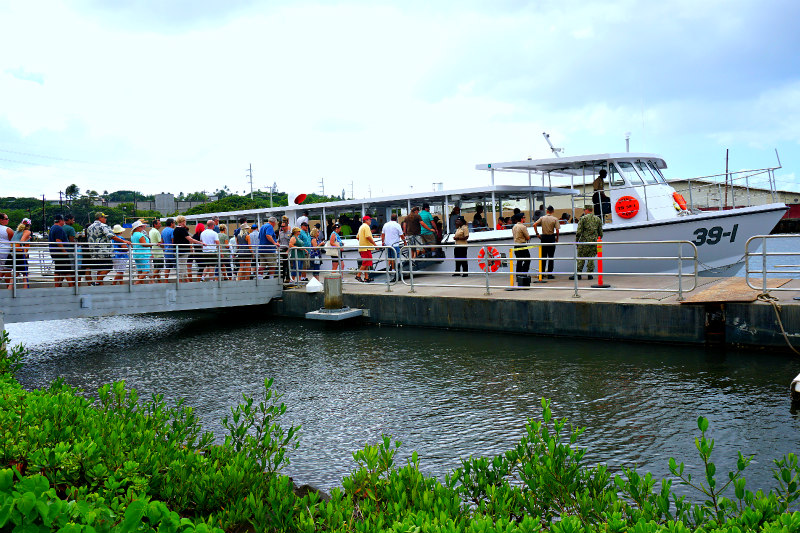 Arizona Memorial Ferry
It also helps to understand the layout of Pearl Harbor to better plan your day.  While all these Honolulu attractions are conducted out of the Pearl Harbor Visitor Center, only the USS Bowfin Submarine, and ferry service to the Arizona Memorial are accessible directly from this visitor center.

A bus transport runs every 15 minutes from the visitor center to Ford Island, where you'll find the USS Missouri Battleship and the Pacific Aviation Museum.  Note that it's only a 5 minute ride to the island…  
If you are coming to specifically see the sunken Arizona Memorial, and only have time to quickly explore one more attraction, then you might want to consider purchasing tickets to the USS Bowfin.  The submarine is easily accessible and fun to explore.
Purchase your Pearl Harbor Tour now
---
Pearl Harbor Attractions
---
Arizona Memorial


The Arizona Memorial could be argued as the most popular Oahu attraction, with over 1 million visitors per year.  It is an incredible site that brings on many emotions once you realize why this monument exists.
The final blow that sunk the ship was a 2,000 pound bomb that exploded directly in the armed magazine room.  They say it was the most dramatic explosion during the raid.  It became the tomb of over 1,100 sailors that rests on the shallow waters of the Pearl Harbor bay.
Today you can easily see the outline of the ship while standing on the Arizona Memorial Viewing Platform.  The 500,000 gallons of oil that sunk with the ship still slowly seeps out today, and leaves a small film on the water above.  The black drops of oil that surface to the top are referred to as black tears from the soldiers below.

---
The only way to see the Arizona Memorial is by a quick ferry ride out to a viewing platform.  The boat ride is free, but you must acquire tickets well in advance or plan accordingly as there is limited room available.
Your 3 best choices to secure tickets are to reserve them in advance, arrive an hour early before the Visiting Center opens to get some of the limited daily issued tickets, or purchase a tour package in advance that provides transportation and tickets. 

Sign up for the Pearl Harbor Skip the line Tour

Before boarding the ferry, a park ranger will take a few minutes to talk to the scheduled group about what to expect.  You will then be ushered into the Pearl Harbor Memorial Theater, to watch a 23 minute movie that highlights the history of Pearl Harbor, the attack, interviews of some vets, and a message for the future.
You will then be escorted onto a Navy ferry shuttle where you will take a quick ferry ride over to the Arizona Memorial platform to witness the silent sunken battleship.
Another way to experience the Arizona Memorial and surrounding grounds, is through a NEW Virtual Realty Tour that is set up in the visitors center.
---
USS Missouri Battleship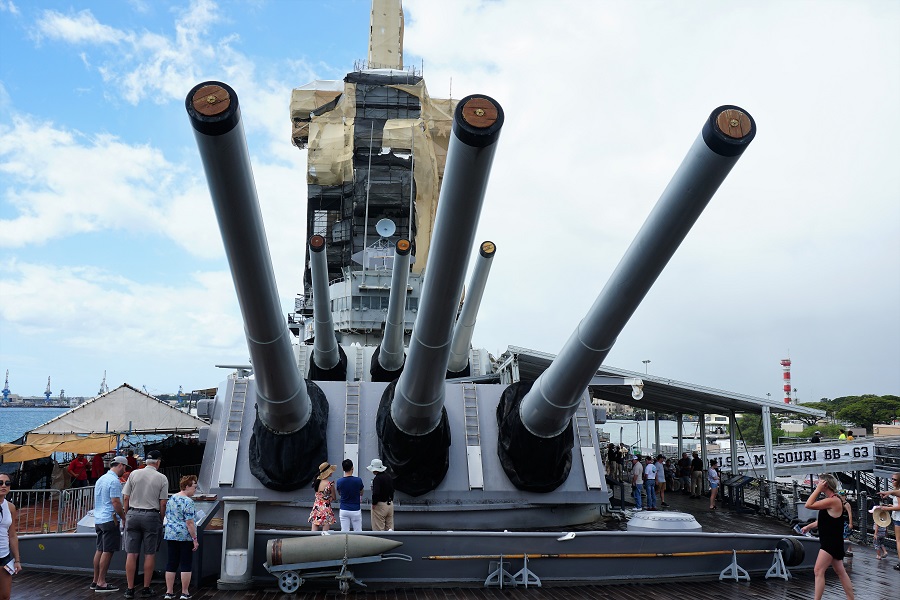 The 2nd most popular attraction while visiting Pearl Harbor is stepping onto the impressive USS Missouri Battleship.
Words can't define the feeling of standing on the bow of the ship, and staring up at the 16 inch 50 caliber guns that were powerful enough to accurately fire rounds at their targets up to 20 miles away.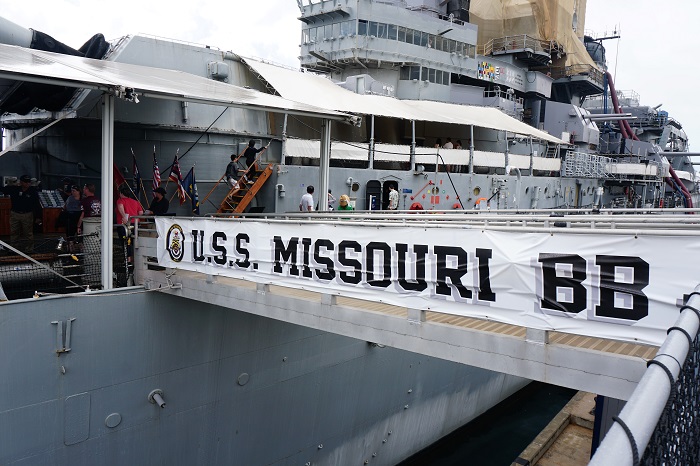 You are allowed to tour the ship on your own with the price of admission, but I highly recommend joining one of the guided tours.  They are free and only take a half hour of your time. 

The tours are conducted on the upper deck and not only give trivial information about the battleship, but also tell some heartfelt stories of important moments that walk you through her history, including the surrender of Japanese leaders to General MacArthur outside the ship's control center.  It's a story worth hearing, not only for what took place, but the message and tone that was set going forward.

Walking below deck is an adventure as well.  Have fun exploring the living quarters and different halls that housed the sailors.  It's a self-guided tour and interactive experience.  You'll find lots of staged areas, old displayed photos, running videos, and other props to better demonstrate what it was like on this battleship.
The USS Missouri Battleship is located on Ford Island, which you'll need to take a free shuttle ride to and from the Pearl Harbor Visitors Center.  Tickets can be purchased ahead of time and recommended to be bundled with other attractions that you'll be visiting.
Sign up for the Missouri Battleship Combo Tour

---
Pacific Aviation Museum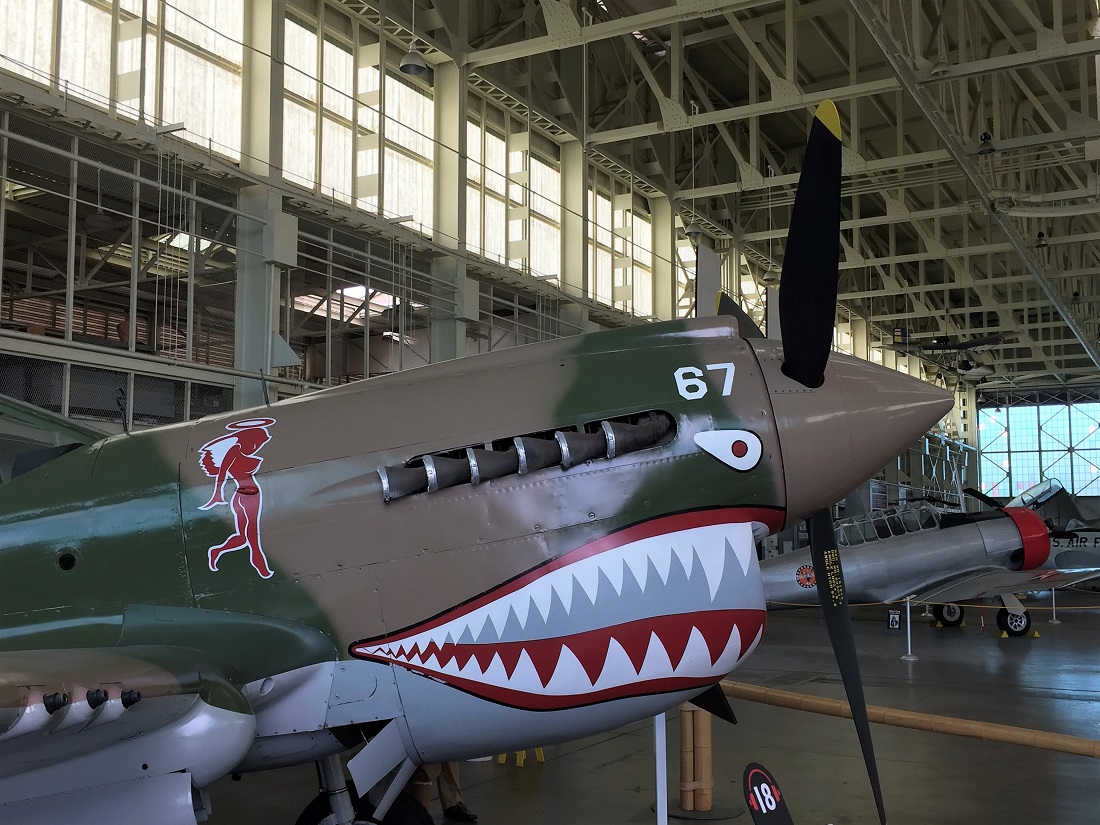 One of the newest and more fascinating attractions at Pearl Harbor is the Pacific Aviation Museum.  The museum is only a decade old, and already offers so much to see and explore!
It is considered it a most interesting attraction in the area and definitely worth exploring!  Between the main museum and Aircraft Hangar 79, you will find lots of old classic planes along with new jets and huge military helicopters that were used in strategic missions.
The new 42,000 sq ft Pacific Aviation Museum was well designed and includes a large viewing theater, featuring a 12 minute documentary on the "Surprise Attack", an exciting Laniakea Cafe surrounded by fun props, and a unique gift shop to purchase souvenirs.
The Aviation Museum is not solely dedicated to Pearl Harbor history, but displays lots of different time periods, including an Emilia Earhart Exhibit.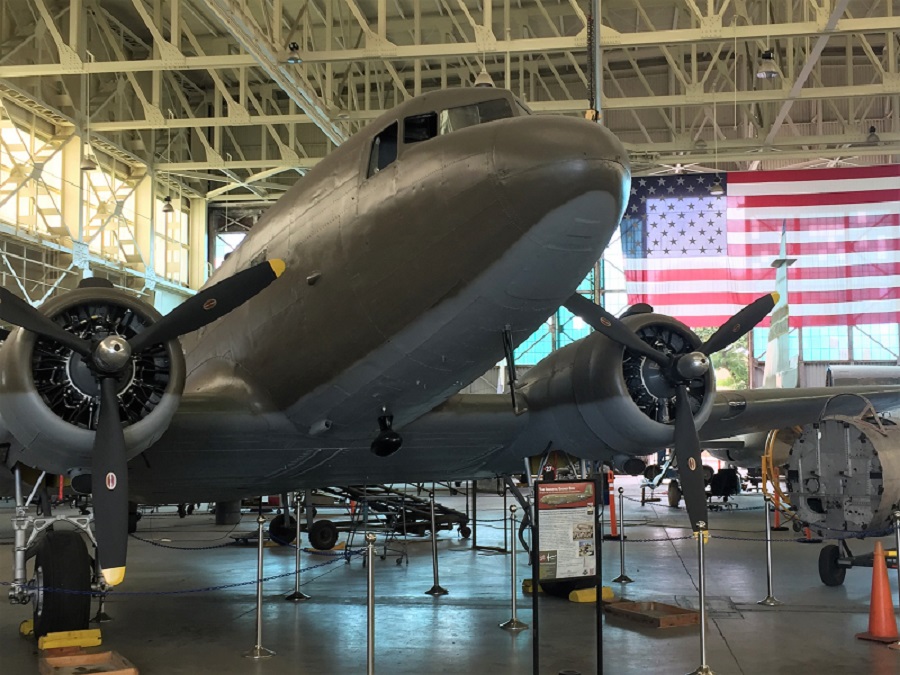 While the airstrip in front was bombed, the old Hangar 79 survived the attack on Pearl Harbor, but still displays its war wounds as you'll see many bullet holes that riddled the upper windows.

Today the hangar is used for the renovation of some older retired planes, and displays impressive modern jets, such as the MIG-21 or F-104 Starfighter jets. It's an ongoing effort by dedicated volunteers working onsite.  

It's hard to pick a favorite, but I promise you'll find yourself in awe standing next to the B-17 Flying Fortress Swamp Ghost, or looking into a cockpit of a B-52 Bomber, or taking a selfie with a fierce looking Flying Tiger!

Purchase a Passport Pass that includes admission to the Pacific Aviation Museum.
---
USS Bowfin Submarine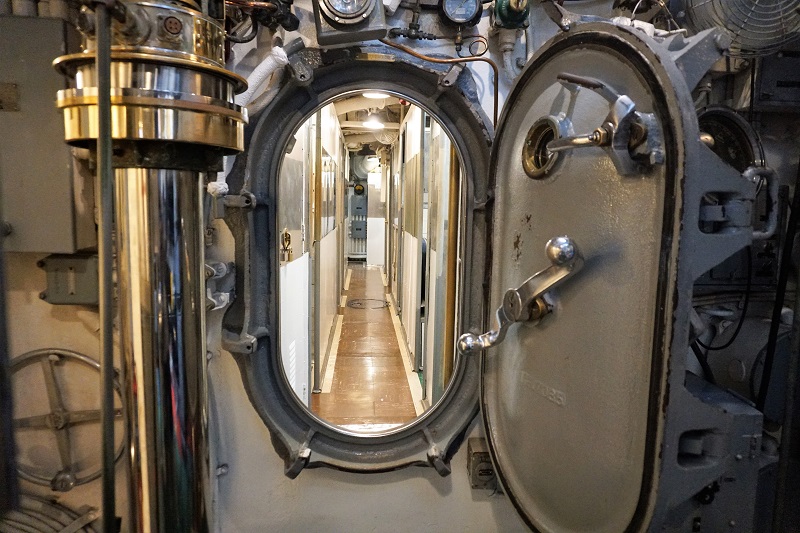 The USS Bowfin Submarine was launched a year after the attack, and was nicknamed "The Pearl Harbor Avenger"!  Today, Pearl Harbor is also the resting place for this World War II sub.  The Bowfin Sub served a majority of its missions in the Pacific off the coast of Japan.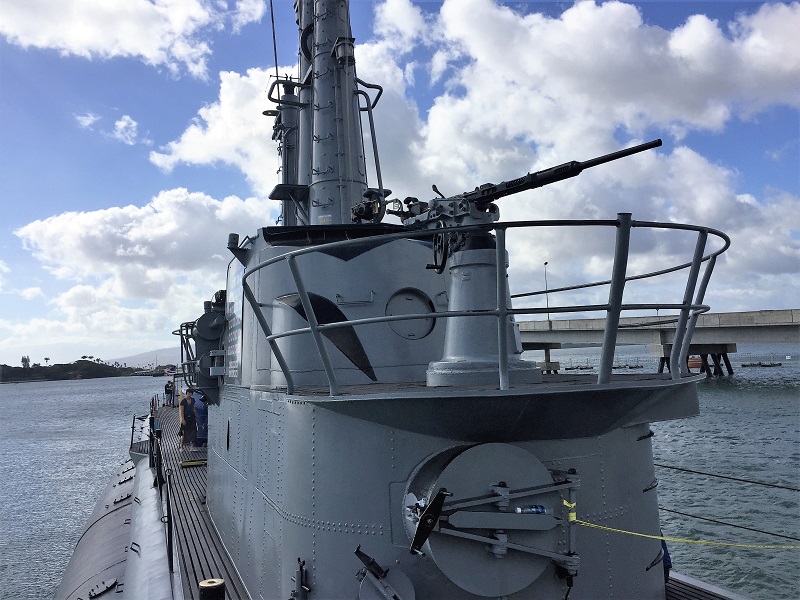 This fourth addition to the Pearl Harbor attractions is not only fun to explore, but one of the easiest to see once entering the Pearl Harbor Visiting Center.  It's a good option if you're short on time, but would like to include an additional excursion with your Arizona Memorial visit.

It's located just off a dock on the right hand side of the visitor's center.  With the price of admission you can climb above the 312 foot long submarine.  Walk the full length of the deck, climb up the viewing platform, and grab a hold of the 5 inch 25 caliber machine gun if you like.

Climb down the stairwell below and view the living quarters of 70 to 80 US Navy Sailors.  It's hard not to feel sorry for these service men when you see the sleeping cots that are stacked on top of each other with very little breathing room.
But you'll also be amazed when you crouch down and step through the pressure-sealed doors, and see hundreds of valves and pipes that line the walls, which were used to help submerge and ascend the sub. 
The torpedo room is also impressive to see with stacked up torpedoes ready for launching through multiple open firing tubes.
The Pacific Fleet Submarine Museum
Also give yourself time to explore the USS Bowfin Submarine Museum that's located just to the right of the entrance of the sub.  The museum is devoted to the Bowfin, the navy, and the submarine culture, with over a 1,000 artifacts and other noteworthy displays to view.
From a prized brass submarine bell to a 12,000 pound Poseidon C-3 Missile, there are lots of interesting things to see, read about, and take pictures, pictures, and more pictures of!
Also part of the museum are the outdoor grounds.  Make sure to check out the impressive turbo jet-powered cruise missile and the Waterfront Memorial dedicated to the 52 submarines and crewmen that lost their lives in the war.  It also happens to be the best viewing platform and photo opp of the Bowfin Submarine.
Sign up for a Bowfin Sub Combo Tour
The Bowfin Submarine Museum has recently undergone a $20 million dollar renovation, including the surrounding grounds and 3 main exhibit galleries.  The museum even got a new name after the completion in April 2020…welcoming the Pacific Fleet Submarine Museum.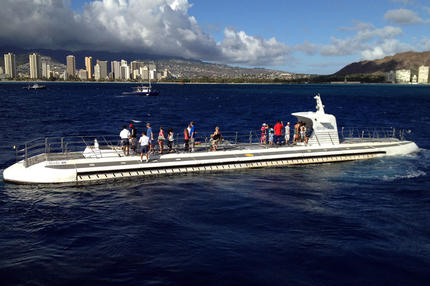 If you love walking on board the USS Bowfin, then imagine taking a ride on a real active submarine that submerges 100 ft below the surface and explores the outer reefs beyond Waikiki!  Experience the depths of the Atlantis Submarine!

---
Pearl Harbor Visiting Recommendations
---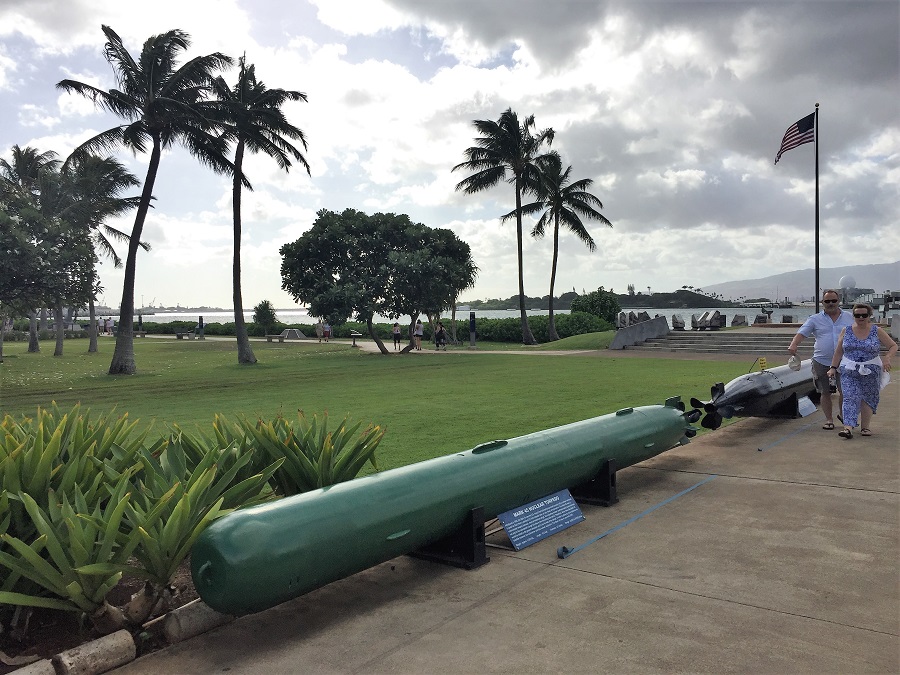 Pearl Harbor Grounds
Book ahead of time - if you can, book at least one week in advance.  Only so many visitors are allowed to visit each attraction, especially the Arizona War Memorial platform where space is limited.
Hours of Operation - Open Daily 7 AM to 5 PM, Closed on Thanksgiving, Christmas & New Year's Day
Arrive Early – give yourself an hour or more of extra time, as you'll need extra time to park, go through a security entrance, pick up tickets, walk the grounds and take pictures.  There's also a free Pearl Harbor Museum that you'll will want to explore.  It's full of history, interactive experiences, and lots of memorabilia props to take pictures of.
No backpacks or bags allowed – you are entering a secure national park, and will be required to walk through a metal detector.  No personal backpacks or bags are allowed beyond the entrance.  There are small locker rentals available before the entrance, and a check in center where you can lockup backpacks and valuables.
But do note that you are able to bring in cameras, phones, small tripods, and bottles of water.  Only clear water bottles are allowed…no coke or colored type drinks are allowed.
Do not leave valuables in your car – if you elect to drive, realize that you are parking in a tourist area and the thieves know it too!  Do not leave any valuables in your car, or anything visible for that matter.
Any belonging should be placed in your trunk before arrival.  This goes for all Oahu attractions and places that you'll be visiting during your trip.
Extra viewing time - Give yourself about 2 hours for each Pearl Harbor attraction that you'll be visiting.  All 4 attractions have tours available, short movies to watch, museums worth seeing, and extensive grounds to explore.
Food - While there are no restaurant facilities at the visitor center other than snacks and beverages, the Aviation Museum and Battleship have cafes available for dining.  Also consider visiting Restaurant 604 located just down the road in a peaceful marina with views.  They are known for their burgers, plate lunches, and tropical drinks. 

---
Getting to Pearl Harbor
---
Waikiki Trolley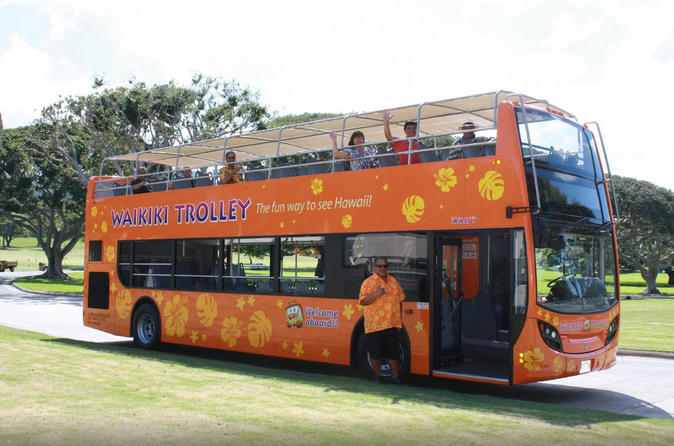 The Waikiki Trolley visits many Honolulu Attractions including the Pearl Harbor. There are 4 different routes to explore including the Scenic Tour, Historic Tour, Shopping Tour, and the Island Tour. The Purple Line will take you there.  Tickets start around $9 for a child day pass, and go up to $25 - $49 for an Adult 7 day pass. 

---
By Car
You can access the 4 main attractions from the visitor center which has a parking lot.  From Waikiki it will take about 30 minutes to arrive.
Take the H-1 Freeway and head west

Take the H-201 Freeway towards the airport

Take the Arizona Memorial/ Stadium Exit (Exit 15A)

Take H1-99 (Kamehameha Hwy)

Turn left at the 4th stop light which indicates "Arizona Memorial Place"
By Bus
From Waikiki it will take about an hour

Take the number 20 or 42 Honolulu Bus from Kuhio Ave

It will take you a little over an hour to get there

Ask the bus driver to notify you where to get off
Oahu Map


---
In the Area
---
Aloha Stadium Swap Meet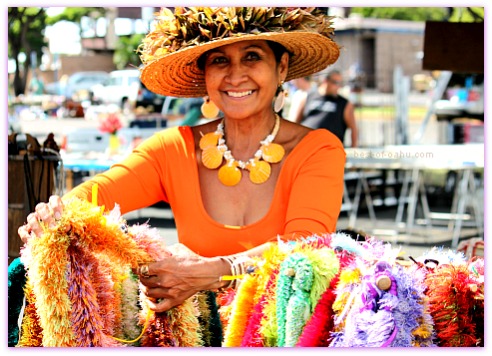 If you have any energy left to walk and shop then you'll be happy to know that you are very close to the popular and one of a kind Aloha Stadium Swap Meet.
You'll find yourself walking through a maze of vendors displaying all different types of goods.  From thousands of different Hawaiian tee shirts to endless Hawaiiana goods, you'll walk away in amazement if you don't find anything you like here!
---
Bishop Museum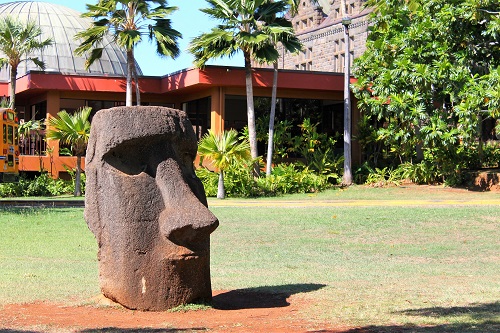 It might be a bit much for one day, but just 10 to 15 minutes away is the Bishop Museum.  It's full of artifacts from Hawaii's past and surrounding Polynesia history, culture, monarchy, and much more.  I can't tell you how much of a treat this Honolulu attraction is!
---
Pearl Harbor Historic Trail


A big renovation is in the works for what could size up to be one of the best walking/biking trails on Oahu.
The City of Honolulu is proposing both short and long term fixes in 2016 of the old 18 ½ mile Pearl Harbor Historic Trail, which stretches around the harbor itself and continues all the way to Nanakuli.
Along with cleaning up this Oahu trail, the plan calls for creating seating, shade, fountains, and night lighting. The vision also includes a longer goal of building retail shops & restaurants, and park play areas along the Pearl Harbor trail section that starts at the Halawa Landing Visitors Center and ends at Lehua Elementary School.
---
Return to Honolulu Attractions

Return to Best of Oahu Homepage
Aloha & Enjoy!

Subscribe to receive Best of Oahu updates on events, updates, and new articles.  It's the closest way to paradise while you are away...
We will never sell or spam your information, and we'll respect your email privacy.