Bishop Museum - Immerse yourself in Polynesian History & Culture
Bishop Museum is the most comprehensive and complete museum in Hawaii, and considered one of the best Honolulu Attractions on the island, and a personal favorite for my family.  They feature an impressive collection of Hawaii's heritage and culture that is stored at this Honolulu museum.  It was commissioned by the husband of the last descendant of King Kamehameha the Great, Bernice Pauahi Bishop, hence the name.

---
Discover the Bishop Museum
---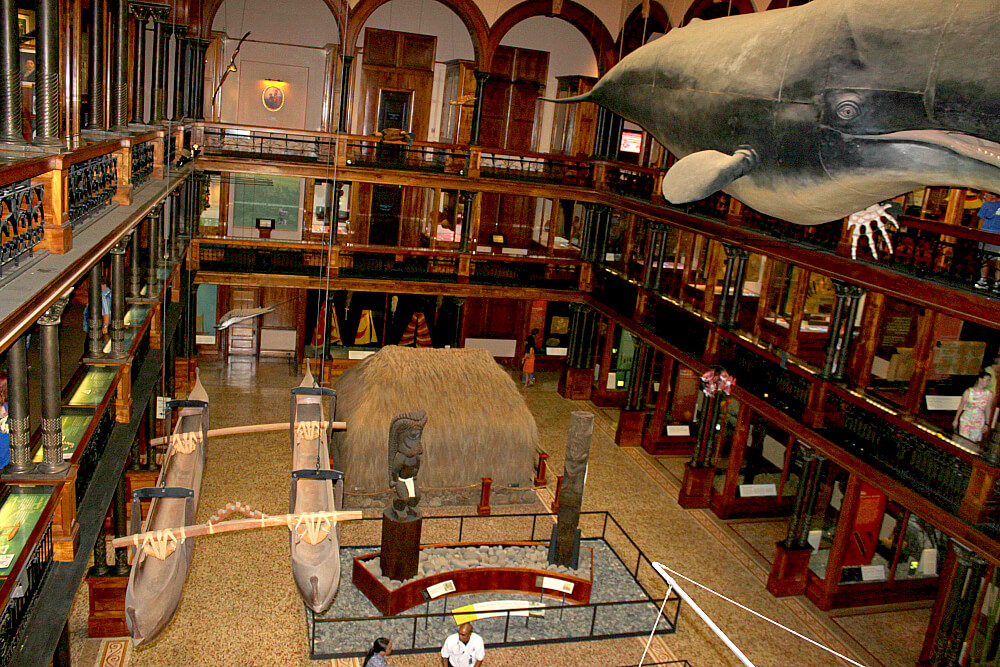 You will want to devote at least 2-3 hours at the Bishop Museum in order to absorb and appreciate all it has to offer.  It has gone through a $20 Million dollar renovation and is a Honolulu attraction that should be a must on your list of things to do in Oahu, even if you're not a history buff.

---
If you do enjoy history, learn more about the estate and featured items directly from the friendly staff, as you will see them perform, host and study here.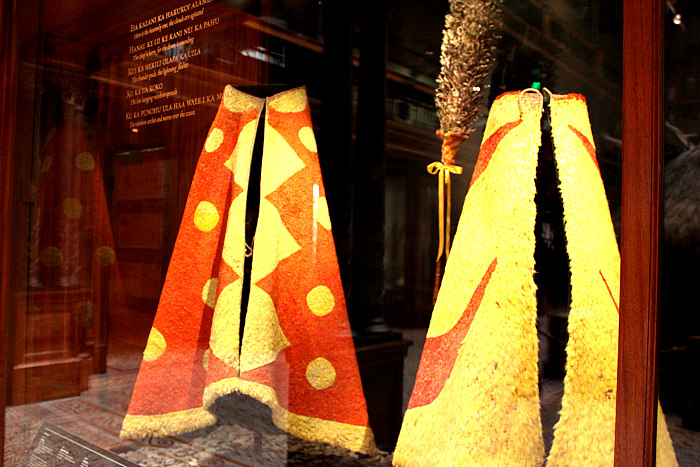 Valuable items such as the royal cape worn by King Kamehameha himself, made out of royal feathers, along with the skeleton of a 55-foot sperm whale, are just some of the special exhibits you will be treated to on your visit.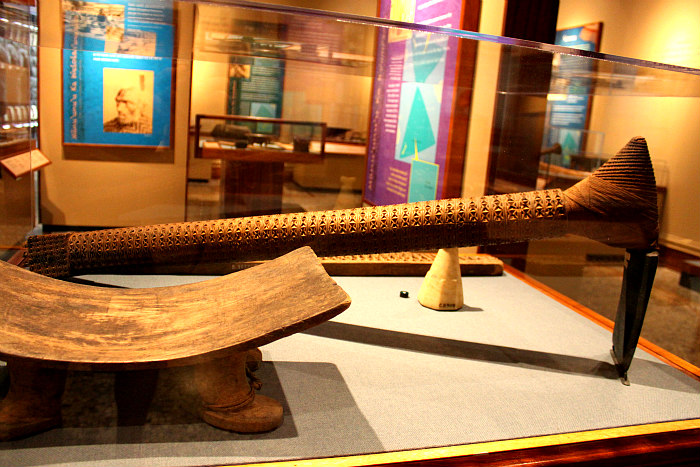 There is also a good display of unique items from other Polynesian islands whose population immigrated to Hawaii.
---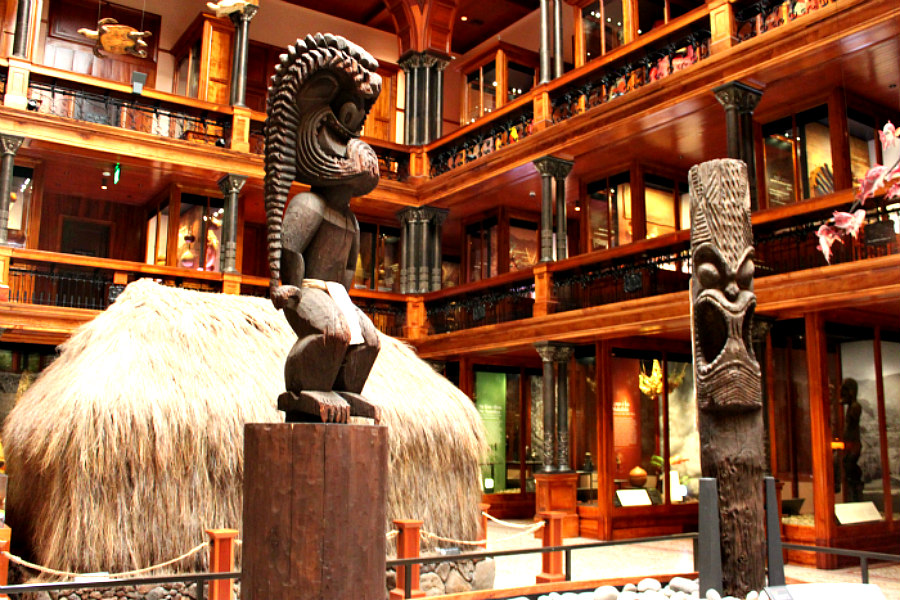 Parts of the museum that are not to be missed are the regal Kahili Room, the Hawaiian Hall, and the Science Adventure Center.  The Science Center is complete with an erupting volcano that will keep both adults and kids entertained.

Looking for an unforgettable cultural experience on Oahu? Look no further than the Bishop Museum!
With a rich history dating back to 1889, this world-class museum offers an incredible range of exhibits, interactive displays, and educational programs that will transport you through time and across the Pacific. From ancient Hawaiian artifacts to cutting-edge scientific discoveries, this Hawaiian culture museum has something for everyone.
Whether you're a history buff, a science enthusiast, or just looking for a fun day out with the family, there's no better way to explore the wonders of Polynesia and Hawaii than by reserving your tickets today!
---
Bishop Museum Permanent Exhibits
---
Hawaiian Hall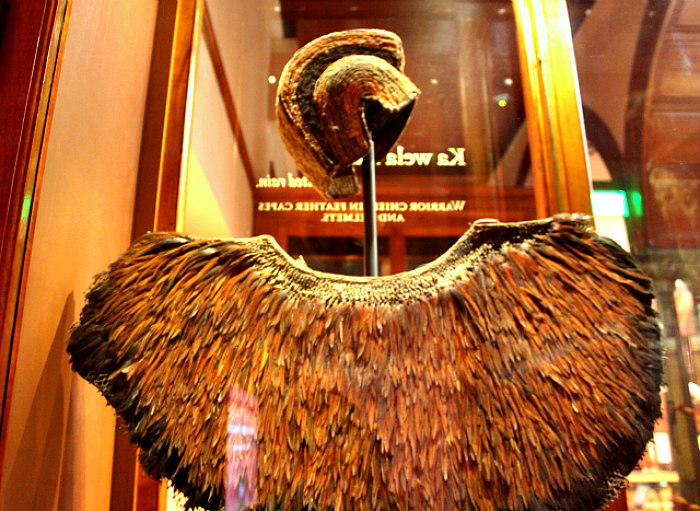 The Bishop Museum's Hawaiian Hall consist of three different floors representing Hawaiian gods and legends on the first floor,  the role of nature in daily Hawaiian life on the second floor, and the seat of the gods and important Hawaiian historical moments on the third floor.

---
Kahili Room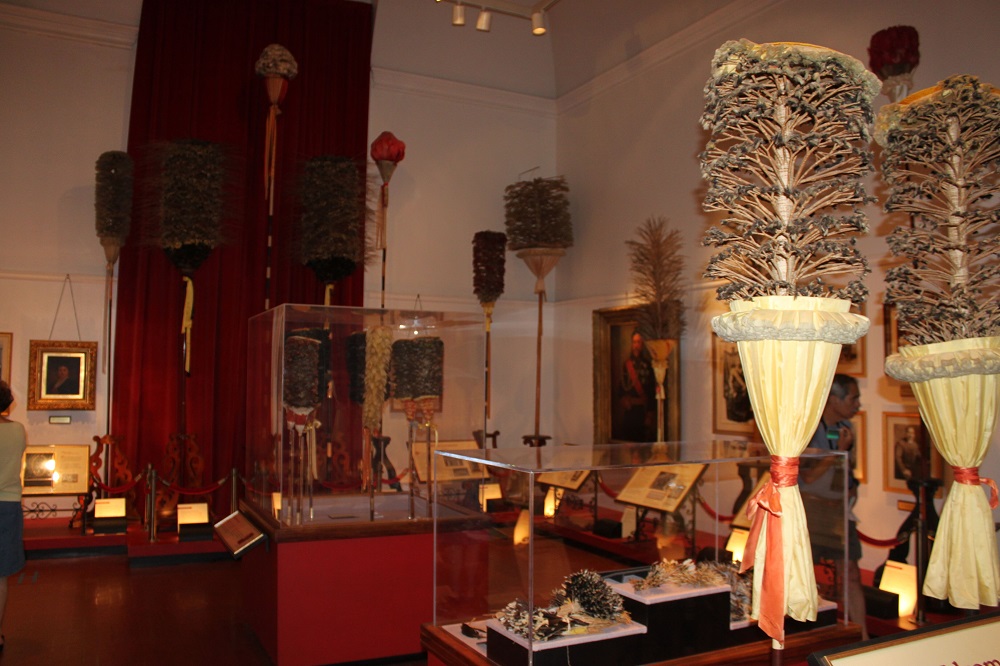 This regal room displays the Kahili, or preciouse feather standards, along with various portraits of the monarchy and their personal belongings.  The Kahili Room is beautifully set up, as it walks you through King Kamehameha's past and Hawaiian Royalty to follow.

---
Pacific Hall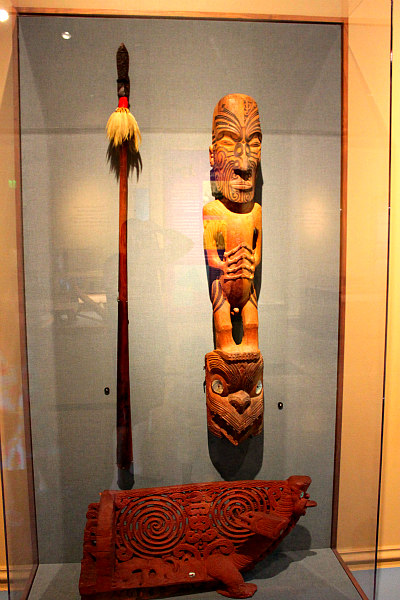 This hall is comprised of two different floors showing exhibits from cultures across Polynesia, Melanesia and Micronesia.  You will find artifacts that tell of the origins and daily life of the Hawaiian people's roots from Polynesia.  This exhibit was renovated most recently in 2013.

---
Mamiya Science Adventure Center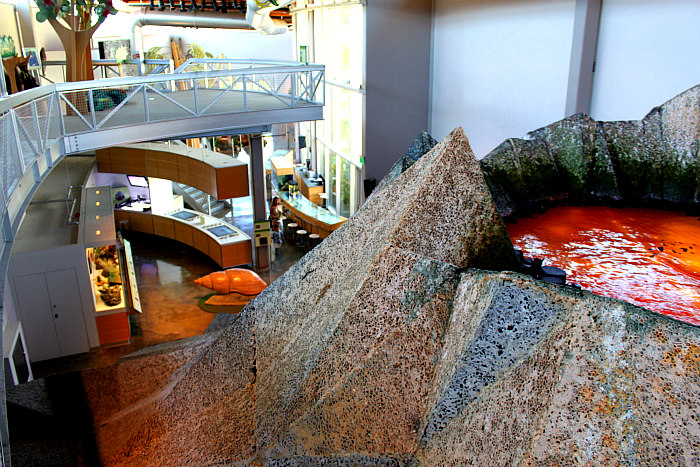 The Science Adventure Center is an interactive facility designed to give visitors a good understanding of Hawaii's natural environment.  The entire center is housed inside 16,500 square feet of space.  This is usually a favorite stop for the kids while visiting the museum.

Both kids and adults will be delighted seeing the erupting volcano, and the many interactive learning areas of the Science Center.  You will find this newest building just across the 3 acre courtyard lawn.

---
Planetarium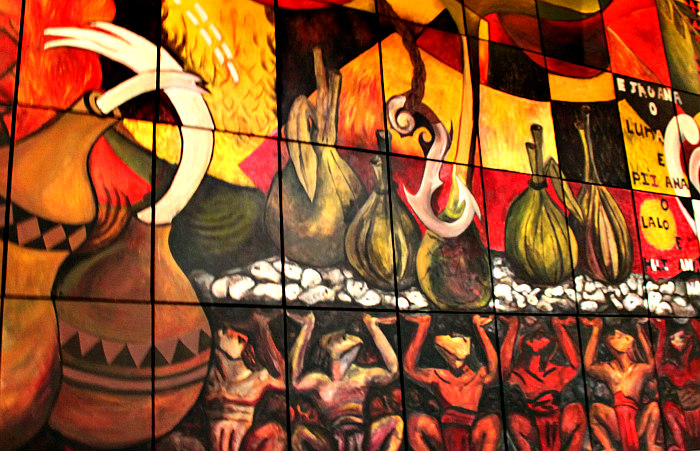 Catch the Planetarium half hour long show that focuses on Galileo's discoveries.  Don't be late as you will not be seated if the show has already started without you.

Science on a sphere is another great educational display at the Planetarium lobby that provides great visualization of information difficult to convey -- you can watch how a storm slowly grows, how a hurricane forms, how dust blows across the surface of Mars, and much more.

---
Temporary Exhibits
---
Check in with the museum's staff as to what exciting temporary exhibits they will have on display at the time of your visit to Oahu.  You just might be in luck to see a fabulous traveling exhibit.

---
Tips
---
Inquire about lectures and special events taking place when you arrive.
Dine at the Highway Inn Cafe located on the grounds.  They have a couple of locations around the island, and serve some of the best Hawaiian food!
Visit early or close to closing to avoid crowds
---
Getting to Bishop Museum Hawaii
---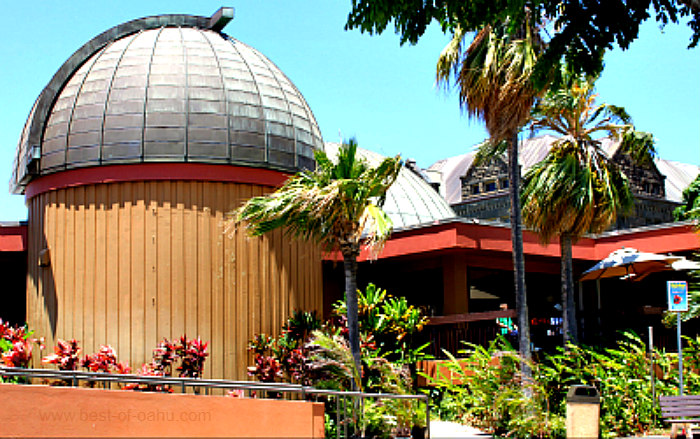 Directions
---
Waikiki Trolley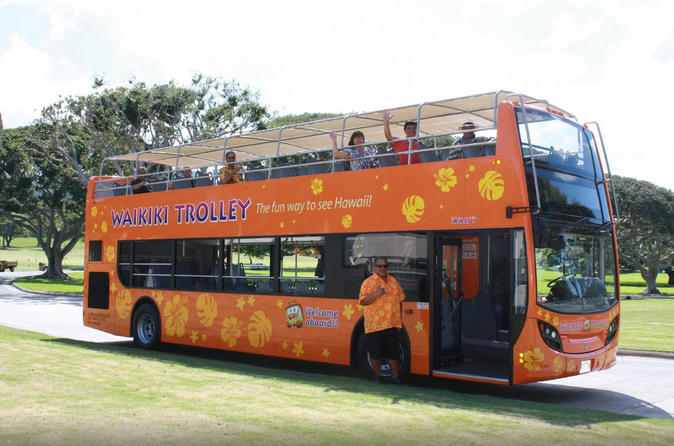 The Waikiki Trolley (Purple Line) visits many Honolulu Attractions including this one. There are 4 different routes to explore including: Scenic Tour, Historic Tour, Shopping Tour, and the Island Tour.
Tickets start around $9 for a child day pass, and go up to $25 - $49 for an Adult 7 day pass.  Purchase your pass now
---
By Car
Head up to the H-1 Hwy (Kapahulu St will easily get you there)

Take H-1 Hwy West (towards the Airport)

Take the Likiliki Hwy (off exit 20A , about 5 miles)

Turn Right onto Bernice St

Located 200 feet down on the Left hand side

1525 Bernice St., Honolulu
---
Google Street Map to Bishop Museum
---
By Bus
The Oahu Bus #2 from Waikiki will best transport you to the Bishop Museum.

Ask the bus driver to alert you when to get off (School St)

Proceed walking down Kapalama St from School St

Turn Right onto Bernice St and walk down 200 ft

Located on Left hand side at 1545 Bernice St.
---
Admission & Hours
Open Daily 9 AM to 5 PM / Location - 1545 Bernice St., Honolulu
Adult - $26.95 to $28.95    Senior - $12.95 to $23.95     Kids 4 to 17 $12.95 to $18.95     Under 4 is Free
Kama'aina & Military Rates - Adult - $10.95 to $14.95
Reserve your tickets to the Bishop Museum Now.

---
Other Attractions In the Area
---
Just 10 minutes away from the Bishop Museum, you can jump into the downtown Honolulu area, where you can visit Oahu's historic Chinatown, the Iolani Place, and the Aloha Tower.
Oahu's historic Chinatown area is an upcoming hip area on the island now, that hosts a slew of great tasting restaurants, clubs and Hawaiian art galleries.
While this area gets a face lift from new entrepreneurs, the old brick buildings, flower lei shops and produce stands helps preserve the charm in Chinatown Honolulu.
---
Iolani Palace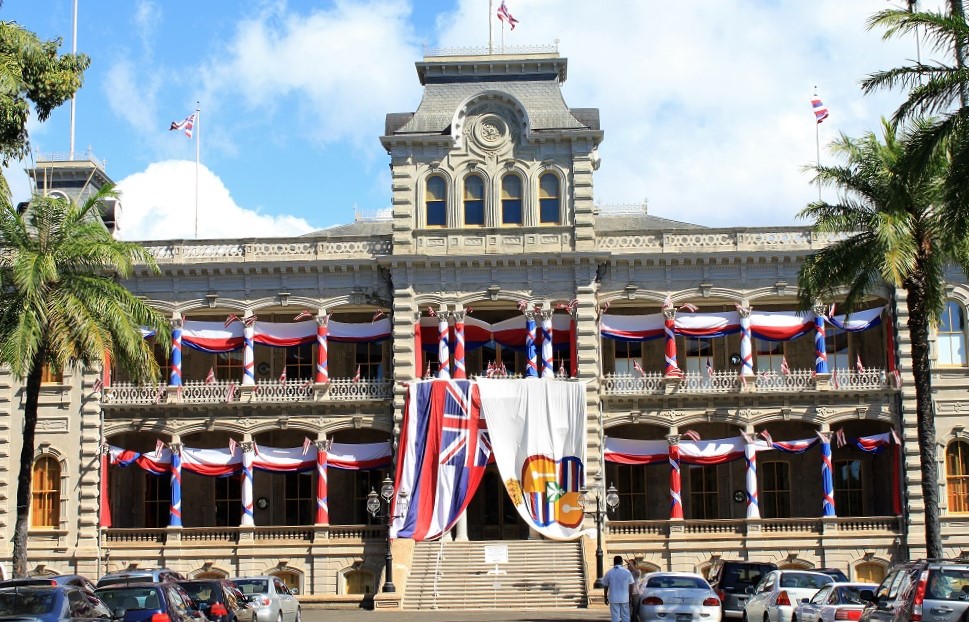 If you liked the Bishop Museum and would like to learn more about History of the Hawaiian people and Hawaii royalty, then make a point of visiting the Iolani Palace, located in the downtown area.

The Iolani Palace became the last stand for the Hawaiian Royalty in 1893, before the overthrow of the Monarchy and the end of an era.  Today the palace preserves the treasures and the legacy of Hawaii's history.

---
Ethel's Grill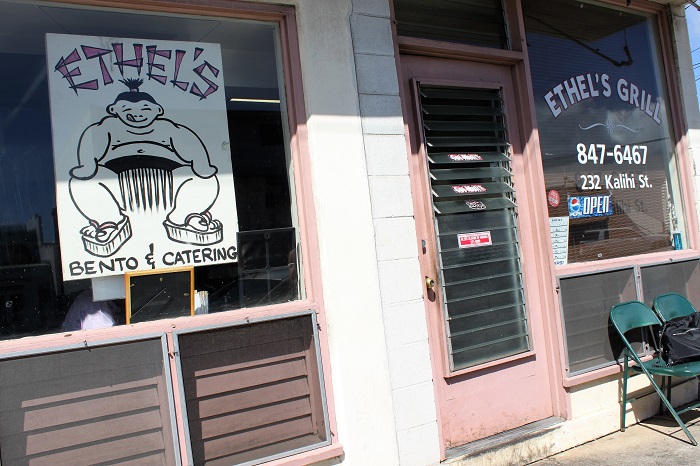 Just down the street from the museum located in an industrial area is a local hole-in-the-wall eatery.  It can be hard sometimes to find an available seat at Ethel's Grill, do to its popularity for serving wholesome comfort food meals that cost a fraction of the price they should be charging!

---
Chinatown Honolulu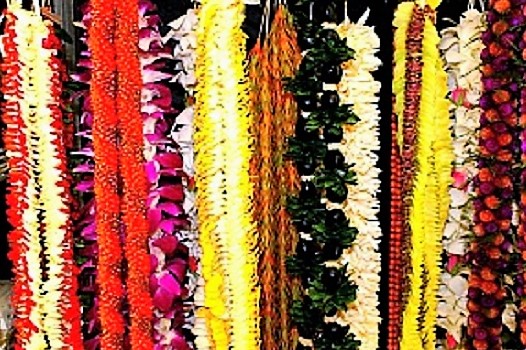 Just a few blocks away is Honolulu's Downtown Chinatown.  It's full of character, charm, and lot's of great finds.  Grab a bite to eat, check out the shops and art galleries, and don't forget to pick up a fresh lei from one of the popular lei stands!

Stick around for the evening and watch the nightlife transform the area as the clubs and bars open up!
Aloha & Enjoy!

Subscribe to receive Best of Oahu updates on events, updates, and new articles.  It's the closest way to paradise while you are away...
We will never sell or spam your information, and we'll respect your email privacy.