Home  /  About Best of Oahu.com

About Best of Oahu.com
Best of Oahu is a insiders guide to the better things on Oahu.  Discover the best Oahu beaches, hikes, waterfalls, restaurants, places to stay, and much much more!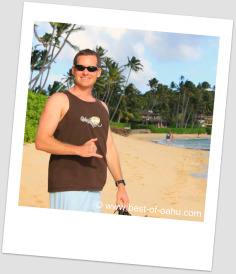 Aloha!

There's something magical about the Hawaiian Islands.  And the beauty is that you can see, smell, hear, taste and feel it!

I had the pleasure of growing up on Oahu and falling in love with it.  It's the friendly Hawaiian people, the majestic blue Pacific Ocean, the ono delicious food, the relaxed pace of life, and the exotic, tropical surroundings that fill me with the Spirit of Aloha.

My passion is finding the best of the best in everything.  And the best of Oahu is no exception!  While I tend to covet the traditional things that make this Island so special, I'm always in search of new discoveries, great finds, and best deals to be found.

Today I am happily married and blessed with two beautiful children, daughter named Kailani (Heavenly Ocean) and a son named Kekoa (The Chief).  Now I have the privilege of introducing them to the best Oahu beaches, hikes, plate lunches, Hawaiian music and everything else Hawaii at its best!

For years I've helped guide friends and family who visited the islands.  I've advised them on where to stay, what to eat, and the best things to do on Oahu.
Not only do I steer them to some of the better main attractions, but my goal is to get them off the hard beaten path and discover the real Oahu that I know and love.

This passion has led me to create www.best-of-oahu.com, an Oahu insider's guide, where I can share my Oahu tips and favorites with everyone who stumbles upon this site.  I hope you are able to travel in my footsteps and discover the magic for yourselves!

Mahalo for visiting our site, and I hope you have the best time in Oahu!

Bradah James

---
Favorite Picks!
Beaches – Lanikai Beach, Makapu'u Beach Park, Waimanalo Bay

Surf Spot – Ala Moana Bowls

Hike – Hiking Diamond Head

Golfing – Pali Golf Course

Sunset Spot – Ala Moana Park

Nightlife – Live Jazz at the Kahala Hotel and Resort

Hawaiian Musicians -  Brothers Cazimero, Makaha Sons, Ka'ao Crater Boys, Ale'a, Gabby Pahinuhi

Hawaiian Radio Station -  105 KINE

Hawaii Artist – Kim Taylor Reece, Avi Kiriaty

---
Ono Eats
Breakfast – Boots & Kimos, Koko Head Cafe

Plate Lunch – Rainbow Drive In & L&L Barbeque

Fav lunch – Moku, Scratch Kitchen

Dinner – Shokudo, Pig and the Lady

Treats – Leonard's Bakery, Teddy's Pies, Shimazo Shave Ice

I generally tell new visitors coming to Oahu, that the island is beautiful and full of entertainment.  And no matter what they do or where they go, they are bound to have a good time.  

But for those who are familiar with Oahu…staying in Waikiki, driving around the island and shopping around your hotel, are most likely searching for a new experience.  

It's common to see vacationers head to Maui, Kauai, or the Big Island to escape the busy city life that Oahu seems to portray.  But what they don't understand is that you can really just about have it all on Oahu.  You just need to know how to get around and where to explore!

I'll provide some great tips, lead you out of the hustle and bustle, and open your eyes to a new Oahu experience.  Travel to beaches where you can stamp your own footprint in the sand, enjoy meals that define the Hawaiian word "Ono", and shop only at the unique places that standout from the rest.

Mahalo for visiting and I hope you find the Aloha Spirit during your stay in Oahu… or rather, I hope it finds you and finds you well.  

---
Best of Oahu Archives
---
From time to time, there are changes happening around the island.  And as restaurants, clubs, shops, and attractions sometimes close, we move the featured info and pics to our Best of Oahu Archives Page...
Aloha & Enjoy!

Subscribe to receive Best of Oahu updates on events, updates, and new articles.  It's the closest way to paradise while you are away...
We will never sell or spam your information, and we'll respect your email privacy.