Leonard's Bakery
Leonard's Bakery on Oahu is not a local secret anymore.  A once quiet bakery sitting midway on Kapahulu Avenue, is now featured in many tourist guide books, and has become an Oahu attraction itself!  All the attention and fame go to these little special Portuguese-style donuts called malasadas!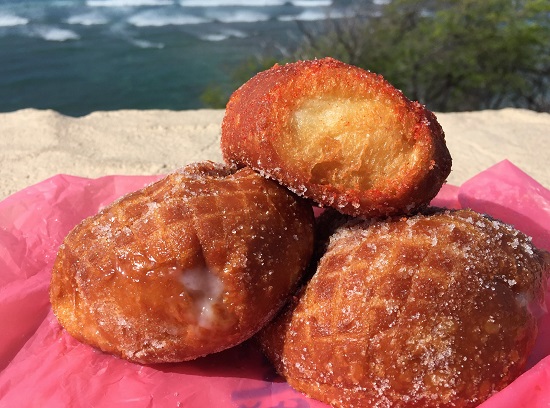 ---
Leonard's Bakery Hot Malasadas
---
So, what's all the hype about Leonard's Bakery and their malasada donuts?  For one they are scrumptious, or as they say in Hawaii, onolicious!
Food fads and crazes come and go, but there is good reason why locals and tourists line up for these delectable treats on any given day, rain or shine.  

These Portuguese-style donuts are round with no holes, approximately the size of your palm, deep fried, and are deliciously fluffy and airy on the inside.  They are freshly-baked and come rolled in plain sugar or are injected with exotic and tropical-flavored fillings.
There is also a "flavor of the month" that is usually not part of the permanent menu.  There are lots of malasadas to choose from, so if you can't make up your mind, just order a mixed box of half-dozen or one dozen malasadas in all the different flavors!  That's what we do :-)
---
History of Leonard's Bakery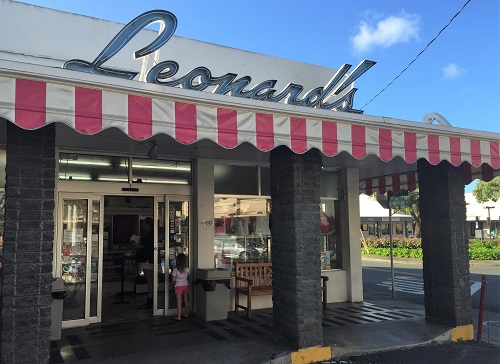 We owe a little thanks to the DoRego family that migrated from Portugal to Maui for an opportunity to work in the sugar cane fields in 1882.  But it wasn't until 1952, when their grandson Leonard & wife moved to Honolulu, and opened the doors to their own bakery, not too far outside Waikiki. 

Soon after opening their doors, Leonard's mother suggested making a traditional treat for "Strove Tuesday".  Today these traditional malasada treats have become a staple phenomenon that we've come to love…and the rest is history!
---
Hot Malasada Flavors
How do you make an amazing treat even more awesome?  If you guessed rolling them in flavored sugars or filling the malasadas with delicious, tropical-flavored fillings, then you guessed right.  Don't get me wrong, plain hot malasadas are still wonderful, but the fillings turn it up a few notches.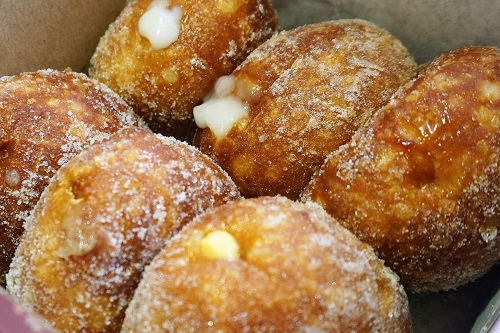 Flavors for malasada fillings:
Haupia (coconut cream)
Custard
Dobash (chocolate)
Guava
Macadamia Nut
Flavors for malasada coatings:
Cinnamon
Plain Sugar
Li Hing (candied plum)
Flavor of the month fillings:
Mango
Guava
Banana
Pineapple
Lychee
Lilikoi (passion fruit)
Peach
Blueberry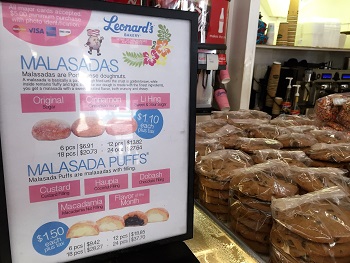 Don't feel too guilty if you walk out of the bakery with a dozen…most folks do!
They run $1.70 each for coated, or $2.10 each with filling.

---
Beyond Malasadas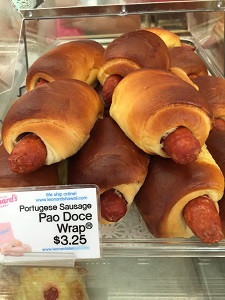 There are a few other items at Leonard's bakery that are worth a try.  I like Pao Doce Wraps.  These are Hawaiian sweet bread that are stuffed with Portuguese Sausage and make for a good snack when you get hungry at some point of the day.  This sweet and savory snack is very satisfying.

Leonard's Pineapple & Coconut Turnovers, and Fudge Mac Nut Brownies are also quite tasty!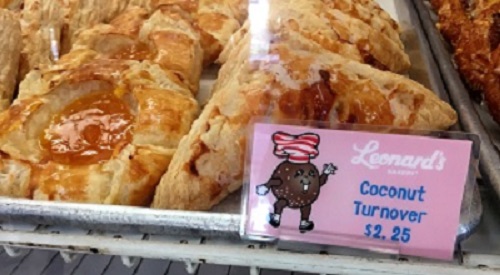 And you must walk out with a large Pao Doce which is also known as Hawaiian Sweet Bread.

If you are unfamiliar, this soft semi-sweet roll is another must-have treat that you can share by simply ripping it apart with the family and enjoy!

---
What you need to know!

---
Visit Leonard's Bakery early during your vacation, as you will most likely want to return at some point.  I usually get my fill when dining at nearby Kapahulu restaurants, including popular Rainbow Drive In.

The lines tend to get long as the day goes on, but they do move quickly.  The owners and staff have streamlined their operation to help get orders out as fast as possible.  While waiting, you can check out the merchandise if you're looking for a souvenir. They have t-shirts, hats, bags, and those cute Malasada Babies!

Malasada Babies
Parking is tough, both in their small parking lot and the surrounding neighborhood.  You might need to let someone else run in while you look for parking.  Please be mindful not to block driveways or block traffic by double parking. 

Order more than less, or you'll find yourself standing back in line shortly after.  I can guarantee that you will eat more than you thought you would because you will want to taste the different flavors!

---
Honolulu Food Tour - Eat Like a Local!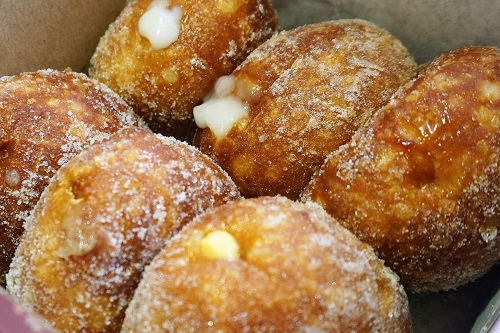 Spend 4 to 5 hours touring hole-in-the-wall eateries located just beyond  Waikiki.

Visit some of Hawaii's gems, and learn a little culinary history, while exploring the different cultures that make up our island. Taste local favorites like Spam Musubi, Ube, Poke, Malasadas, and island plate lunch hits!

These are small-group tours, to help keep the experience personalized, so make sure to sign up early if interested.  Book an Aloha Food Plate Tour Now!

---
How to get there
---
Towards the end of Waikiki, and just before Kapiolani Park, is Kapahulu Ave.  You simple travel up Kapahulu Ave towards the H-1 freeway for about a mile and half, and it will be located on your right hand side.

933 Kapahulu Ave, Honolulu   Phone (808) 737-5591
Open hours  5:30 AM to 7 PM Daily
More at LeonardsBakery.com
---
Leonard's Bakery Food Truck!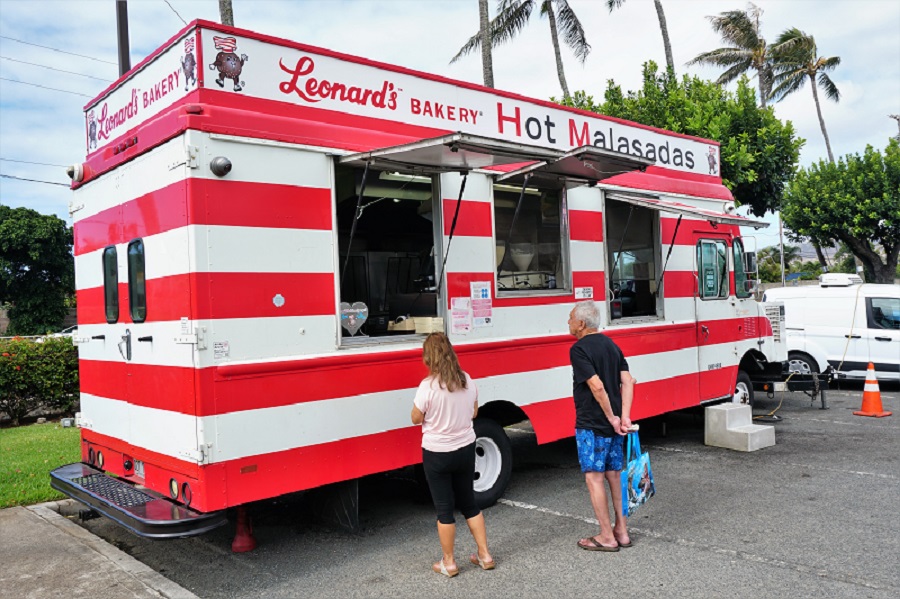 There are a few Leonard Malasada Food Trucks that travel around the island, so keep your eyes peeled and you just might set yourself up for a treat while driving around Oahu.  This Leonard's Hot Malasada Truck is usually parked in the Koko Head Marina Shopping Center.  It's an easy stop on your way to Hanauma Bay or nearby Sandy Beach!

You'll find other Leonard's Bakery Malasada Food Trucks at the following Shopping Center Parking Lots:
Waikele Shopping Center
Windward Mall Shopping Center
Koko Marina Shopping Center
Pearl Ridge Shopping Center
---
In the Area
---
Pipeline Bakery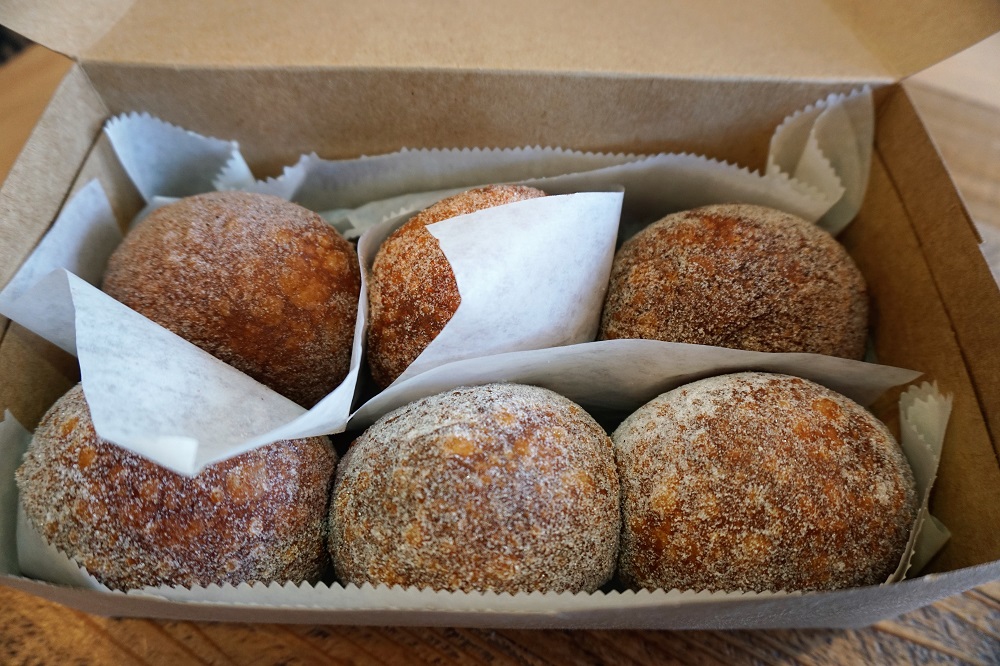 For decades Leonard's has been the sole master of making malasada in Hawaii.  And there hasn't been any noteworthy bakeries of these Portuguese style donuts until now.
The Pipeline Bakery is located just 5 minutes away from Leonard's in the Wai'alae town area.  You'll discover tasty versions of the hot malasada along with many other delicious treats.  

The sugar-coffee & coco-rubbed malasada are worth trying, and make sure to taste their Coconut Haupia Ube Macadamia Nut Squares!  Another must try is their Homemade Malasada Ice Cream- filled Malasadas…only available on Wed - Sun 2 PM to closing!
Open 7AM to 9 PM Wed - Sat, Sun 8 AM to 9 PM, Closed Mon & Tue
3632 Wai'alae Ave., (808) 738-8200, pipelinebakeshop.com

---
Waiola Shave Ice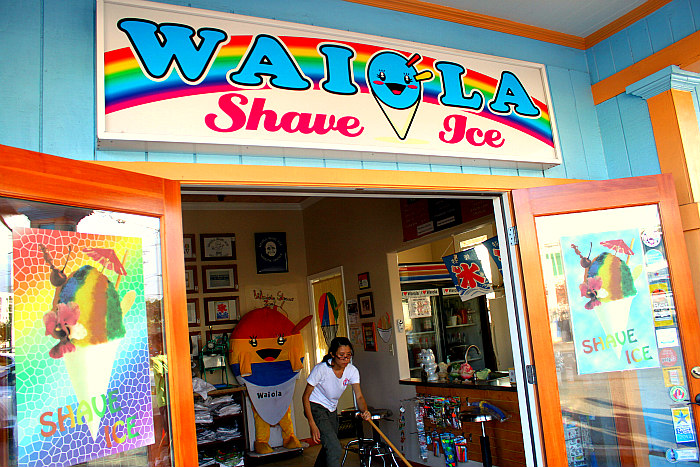 Forget the 1 hour drive to the North Shore for a Matsumoto Shave Ice, when you can enjoy the island  treat right here in town.
Hawaiian shave ice has been perfected over the years at Waiola Shave Ice, and definitely worth a try.

Waiola shave ice has a big following on Oahu!  Make sure to try some of the exotic tropical flavors…and always request a scoop of vanilla ice cream at the bottom of your cone to make it complete! Yes, the ice cream does magic to the experience...

7:30am to 6pm, except open 10am on Sunday

Location:  3113 Mokihana St, Honolulu, HI (across from Safeway, off Kapahulu St)
Phone (808) 735-8886 Check out more Waiola Shave Ice reviews.
---
Kapahulu Ave Restaurants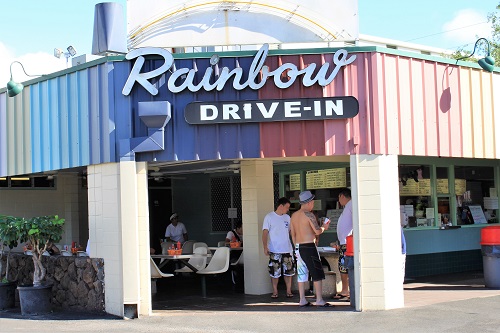 Too many amazing local Upper-Waikiki restaurants to choose from, including Ono Hawaiian Foods for obviously delicious Hawaiian meals, Side Street Inn for great comfort foods with an Asian flare, and a few star plate lunch houses such as Rainbow Drive-Inn –a locals favorite!

Open Daily 7 AM to 9 PM
Location:  3308 Kanaina Ave, Honolulu, (808) 737-0177
---
Bailey's Antiques & Aloha Shirts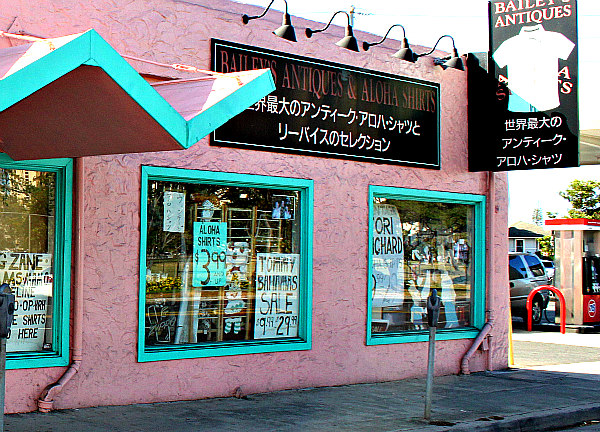 Bailey's Antiques & Aloha Shirts  There's a good chance you will find the aloha shirt you've been looking for our of the 15,000 shirts waiting for you at Bailey's Antiques & Aloha Shirts.

They have it all from Vintage to brand new. They have the worlds largest collection of Aloha wear in the world.

Open Daily 10am to 6pm
517 kapahulu Ave, Honolulu - (808) 734-7628
Learn more at www.alohashirts.com
Aloha & Enjoy!

Subscribe to receive Best of Oahu updates on events, updates, and new articles.  It's the closest way to paradise while you are away...
We will never sell or spam your information, and we'll respect your email privacy.