6 Best Hawaiian Shave Ice on Oahu
Having Hawaiian shave ice in Hawaii is like experiencing a cannoli in New York, or Sourdough Bread in San Francisco.  It is as iconic as some of the best Honolulu attractions.  No Oahu vacation is complete without indulging in this frozen shave ice treat! 
Here are the 6 Best Shave Ice Stands that are not-to-be-missed on Oahu:
Matsumoto Shave Ice (Haleiwa, North Shore)
Waiola Shave Ice (2 locations in Honolulu)
Shimazu (2 locations in Honolulu)
Uncle Clay's Pure House of Aloha (Honolulu)
Aoki's Shave Ice (Haleiwa, North Shore)
Monsarrat (Honolulu)
---
Map to the Best Shave Ice in Oahu
---
---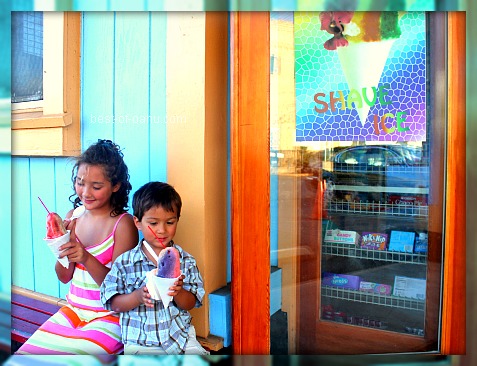 ---
---
Oahu's Best Hawaiian Shave Ice Stands
---
#1.  Matsumoto Shave Ice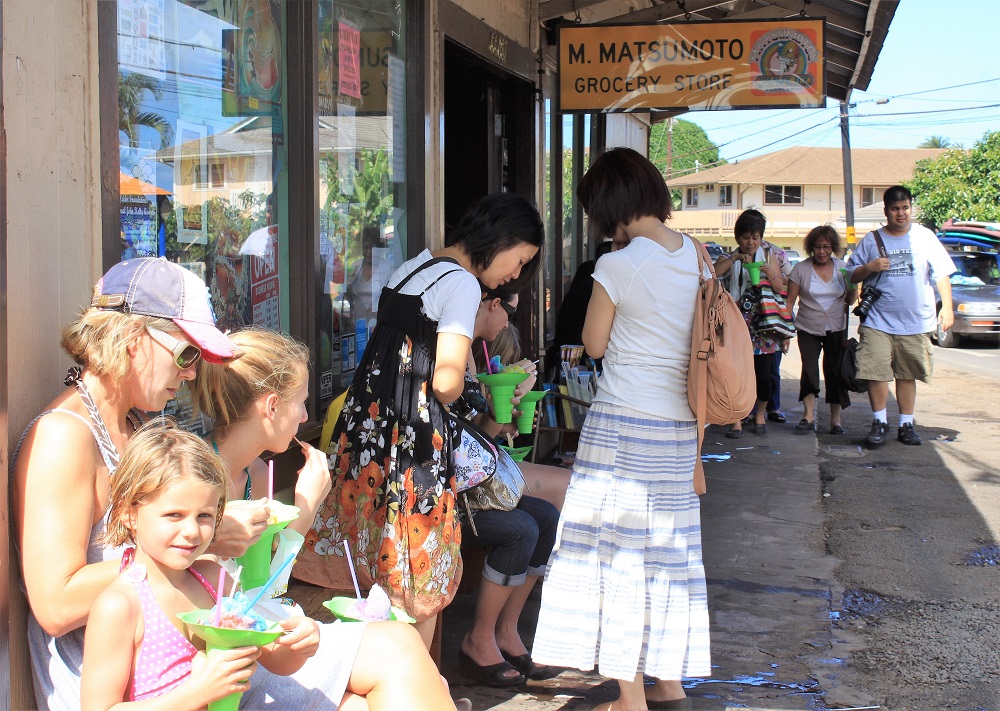 We gotta give it up for the longest running North Shore Hawaiian shave ice shop.  Matsumoto's Shave Ice has been in business since 1951, and for many good reasons still in business! 
When you arrive in Oahu, it's a ritual to head to the North Shore and specifically stop at Matsumoto's in Haleiwa to get your hands on their famous shave ice!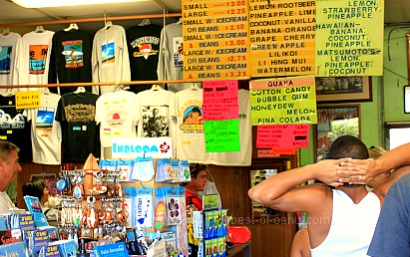 Be prepared to stand in a long line outside the door in the heat when you arrive…but it's all part of the experience.

There's a delightfully long list of great flavors to choose from including cotton candy, guava, honeydew, creamy coconut, and white cake.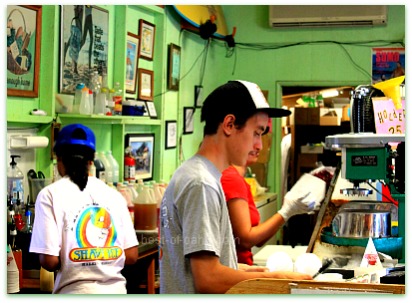 Select your flavors carefully, because you can only choose up to 3!  I'm still a sucker for mango, likikoi, and pina colada –yum!

Location:  66-087 Kamehameha Hwy, Haleiwa HI - Phone (808) 637-4827

Open daily from 9am to 6pm - Check out more at MatsumotoShaveIce.com
---
#2. Waiola Shave Ice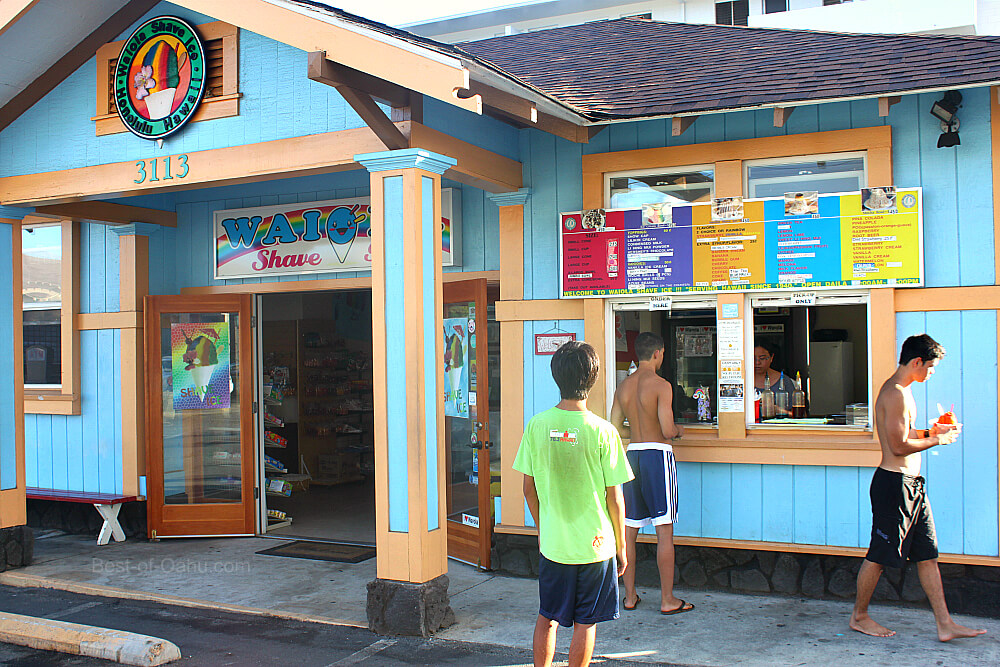 Matsumoto's might be king of the North Shore, but Waiola Shave Ice is the longest running establishment on the island, since 1940.  Town side locals will swear you have to go no further than Waikiki to satisfy your craving!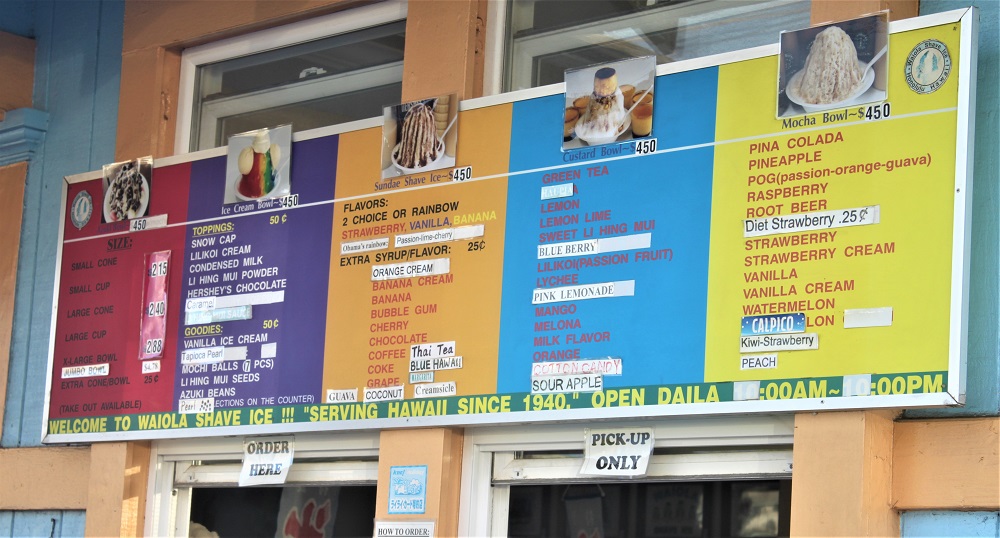 Waiola Shave Ice has perfected the art of making this icy treat.  Today there are 2 stores to help tackle the lines.  One is in Kapahulu right in the outskirts of Waikiki close to Leonard's bakery, and the other is a little bit farther outside of Waikiki in the McCully-Moiliili area.
Adding sweet azuki beans or tapioca pearls with the vanilla ice cream at the bottom of the cones, pushes the envelope to greatness.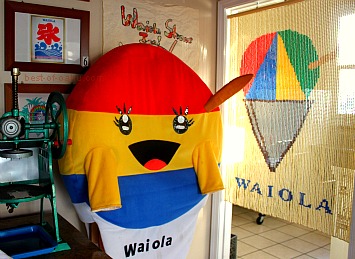 For under $3.00 you can get a pretty tall cone.  Start adding fancy flavors such as Blue Hawaii, Green Tea, Creamsicle, POG, or Pineapple, will run you a whopping .25 cents per flavor.

Go crazy on the toppings such as snow caps, caramel, or Hershey Chocolate…each running you an extra .50 cents each!

Don't forget to sample the large display of Crack Seed inside the store.  It's hard to describe, other than seasoned dried fruit.  It's a local sweet and sour treat to suck on, so give it a try!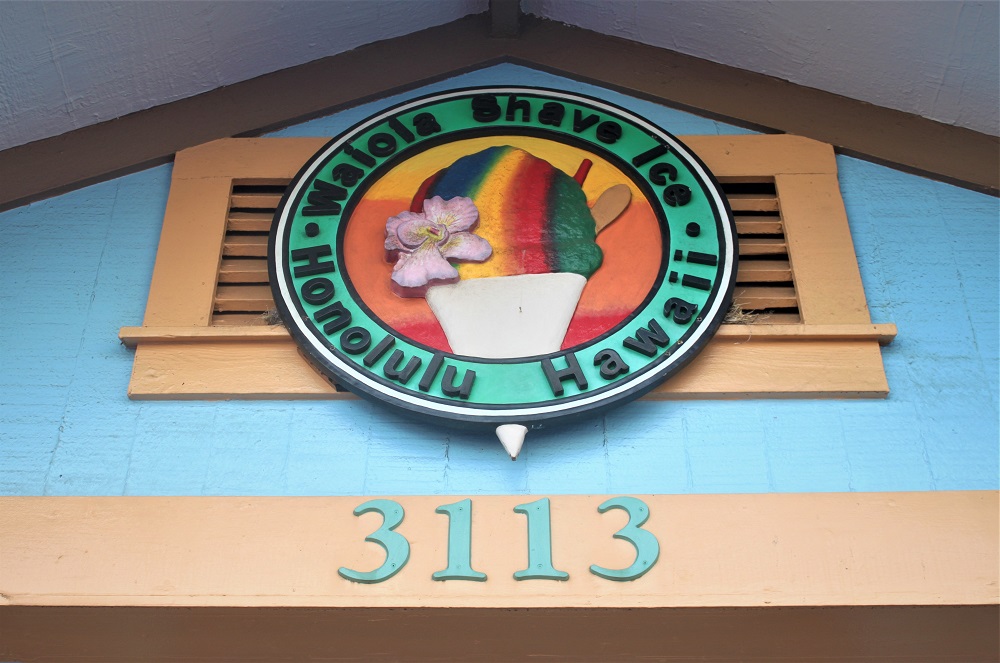 Location: 3113 Mokihana St., Honolulu HI (across from Safeway Grocery, off Kapahulu St)  Phone: (808) 735-8886 - Check out more Waiola Shave Ice reviews
Open:  7:30 to 6pm weekdays, except opening at 10am on Sundays
---
#3. Shimazu Store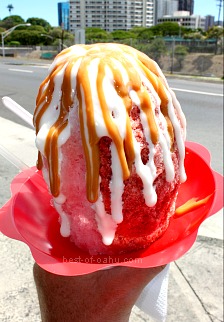 Leave it to the hole-in-the-wall operation, located in an undesirable location with no parking or seating, to possibly serve the best Hawaiian shave ice on the island!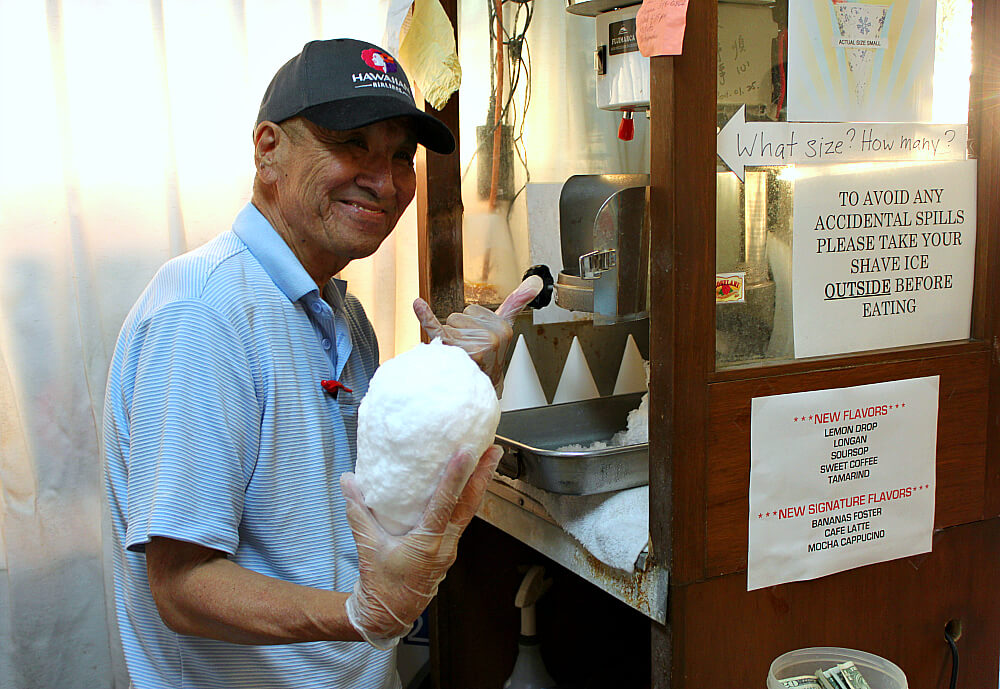 Kelvin Shimazu started his magical shave ice creations from a mobile cart in Mililani before moving his operation to town.  He can be found behind the counter, always smiling while putting his aloha touch to this mountain of snow.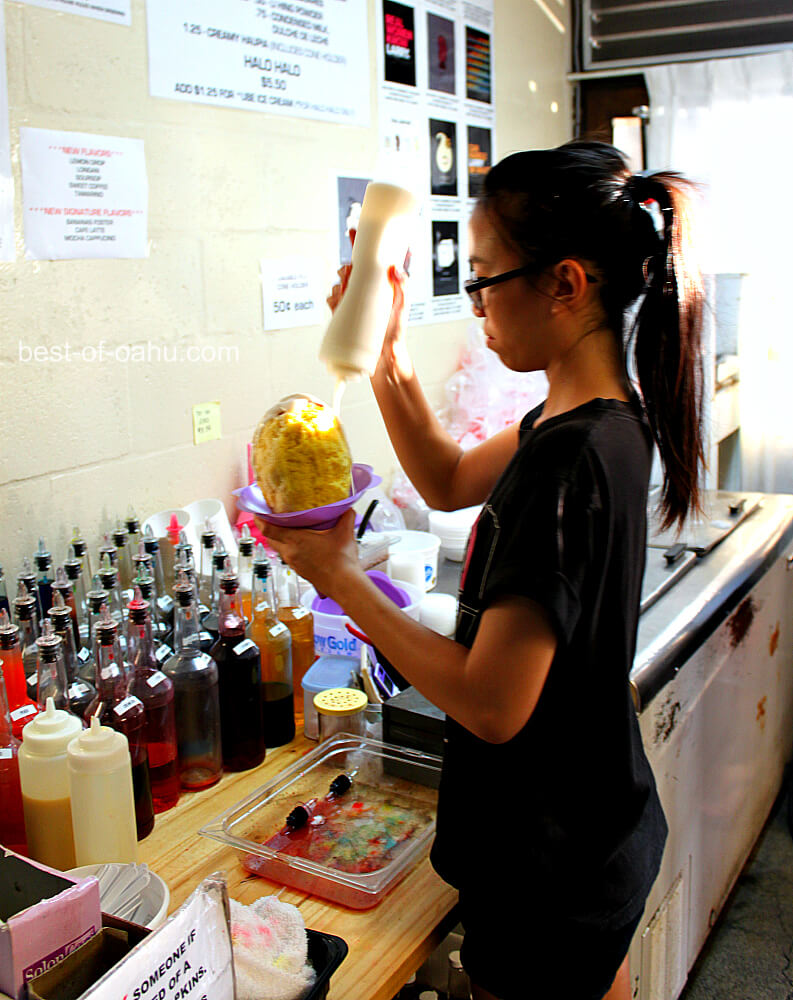 Shimazu's is known for their Mount Everest-size (well, almost:-) of light powdery snow and special flavors, such as Red Velvet Cake, Café Latte, Lemon Drop, and even Bananas Foster - my wife's favorite!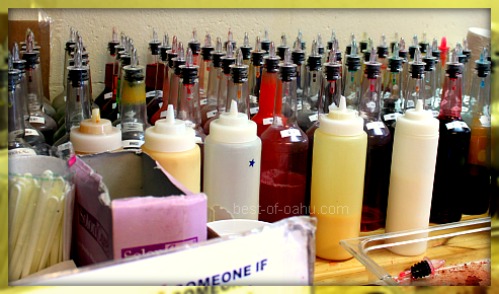 Add some incredible toppings such as Creamy Haupia (creamy coconut), Li Hing Powder, or Dulce de Leche, and it's guaranteed to put you over the edge!
Beyond shave ice, there are other noteworthy treats in the store to discover, such as their special flavored popcorns.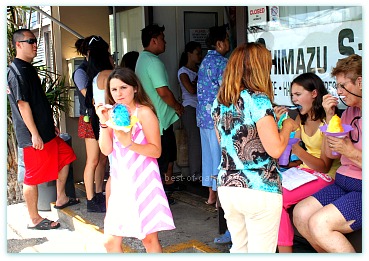 They open in the late afternoons and lines tend to be long, so have some patience and know that the reward is worth it!
NEW Kapahulu Location:  3111 Castle St, in Hawaii's Favorite Kitchen
Open daily 10am to 7pm, (808) 744-0465

Location:  330 North School St, Kalihi HI, (808) 371-8899

Open daily 11am to 6pm, except closed on Mondays.  Check out Shimazu's reviews

---
#4. Uncle Clay's House of Pure Aloha


There are only a couple of places on the island that specialize in fresh fruit Hawaiian shave ice creations, and Uncle Clay's House of Pure Aloha is one that does it really well.

So well that they compete with the top shave ice shops and continuously rank at the top of food polls. You can build your own or choose one of their masterful creations.

I recommend their Strawberry Dream, Tropical Delight, The Classic Rainbow, and The Ultimate, which has a lot going on in it!

The Strawberry Dream is one of my favorites, as the strawberry puree blends nicely with the shaved ice and cream on top.  Their Tropical Delight is also a treat, blending pineapple, guava and lilikoi (passion fruit) with vanilla ice cream.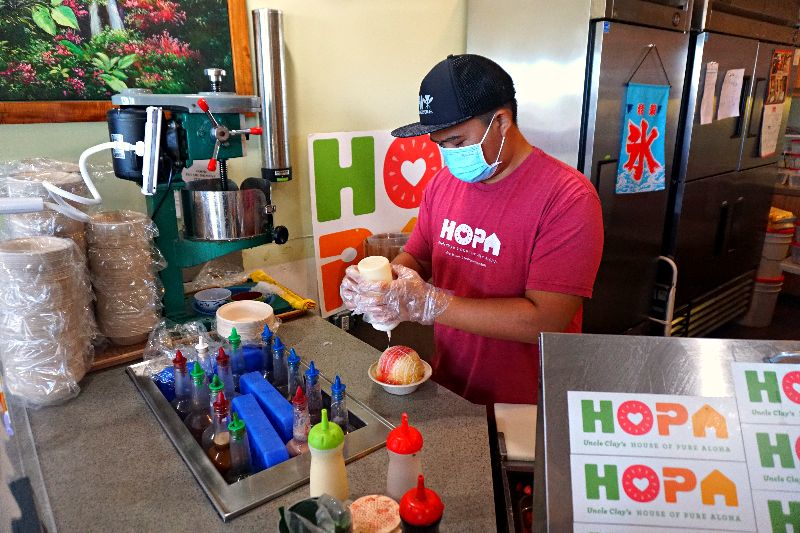 If you're a coconut fan, try the House of Pure Aloha Pina Colada that includes fresh pineapple, along with a thick coconut syrup and haupia (fresh coconut cream).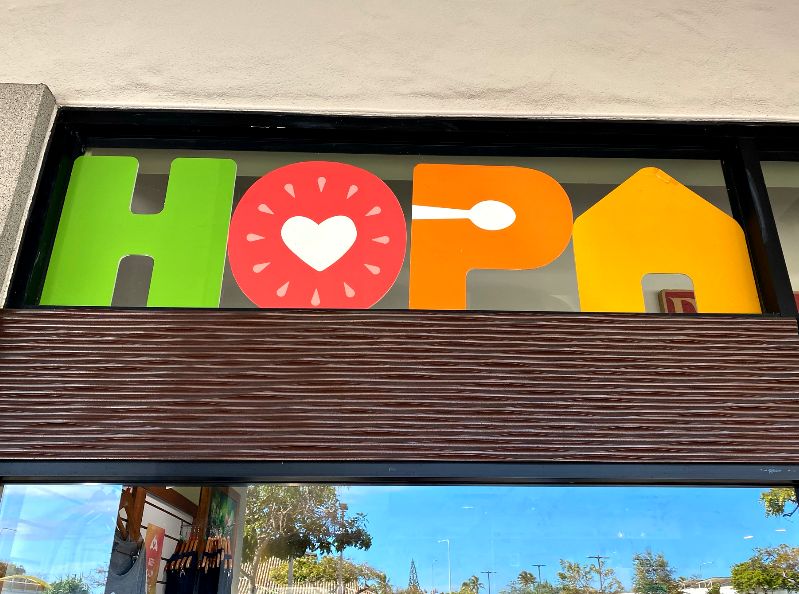 They are located in a strip mall in Aina Haina, which is located on the way to Hanauma Bay…could be the perfect treat after a day of snorkeling.
Open Fri - Mon from 10:30 AM to 7:45 PM and Tue - Thurs from 11 AM to 6:30 PM
820 W Hind Dr #116, Honolulu  -  Phone (808) 373-5111   Learn more at House of Pure Aloha
---
#5. Aoki's Shave Ice


Ask any tourist who has the best shave ice on the North Shore and they will tell you Matsumoto's, but ask the locals and they will tell you it's Aoki's Shave Ice.
Personally I think they both serve up a great shave ice experience that will have you walking away with a colorful smile.  Yes, your tongue, lips, chin, will be multi-hued in neon shave ice colors:-)
One thing is for certain, and that is there are no long lines at Aoki's, compared to long lines at Matsumoto's.  Aoki's is lesser known, but is not a new comer at all.  They started back in 1981, and while successful, they took a break in 2013 when the building owner did not renew their lease.
Today you will find them relocated in a much better spot, directly across the street from Matsumoto's Shave Ice.  They have an inviting outdoor front deck leading up to the shave ice counter.  It's a courtyard full of memorabilia signs, tropical plants, and tables with shade to sit and enjoy a mound of colorful tasty snow. 

Aoki's features an array of popular flavors along with some that they have crafted themselves.  Order a classic Rainbow Shave Ice for a colorful selfie pic, or explore other fun flavor like the "Hawaiian Delight" or "Volcano".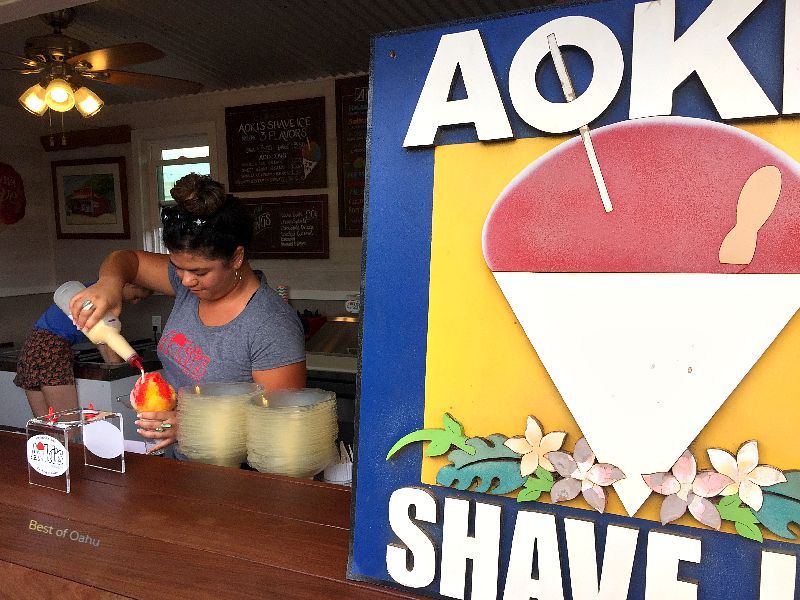 Most folks love to pick their own favorite flavors or explore new ones.  Aoki's creates their own syrup flavors and continuously add new flavors to the menu, including Coffee, Chocolate and Strawberry Cream.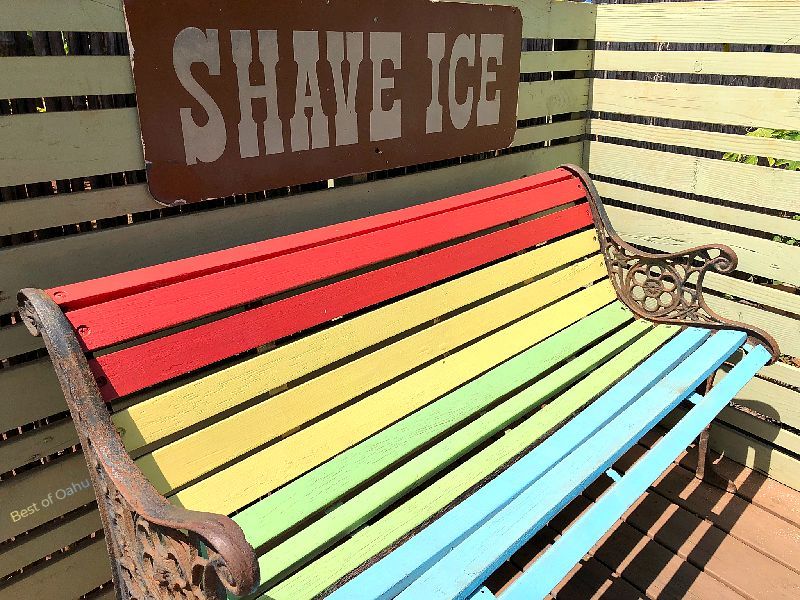 Ask them what their most popular flavors are, and I'm sure they will include Guava, Lilikoi (Passion Fruit), and Lychee.  All 3 flavors are locally grown fruits, and I'll bet it makes up one of the best Hawaiian Shave Ice! 

---
Honolulu Food Tour - Eat Like a Local!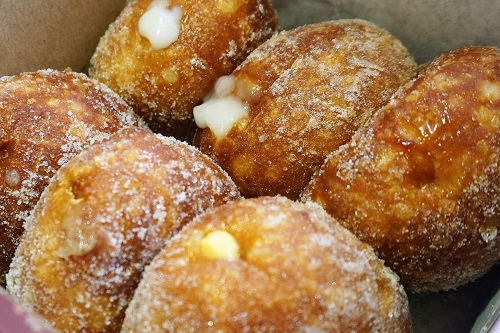 Spend 4 to 5 hours touring hole-in-the-wall eateries located just beyond  Waikiki.  Visit some of Hawaii's gems, and learn a little culinary history, while exploring the different cultures that make up our island.

Taste local favorites like Spam Musubi, Ube, Poke, Malasadas, and island plate lunch hits!  These are small-group tours, to help keep the experience personalized, so make sure to sign up early if interested.  Book an Aloha Food Plate Tour Now!
---
#6. Monsarrat Shave Ice

Monsarrat Shave Ice is not your typical Hawaiian Shave Ice.  They use real, organic fruit that helps create the magic in their syrups.  The staff literally cakes on the thick, pureed syrups onto the pile of shave ice.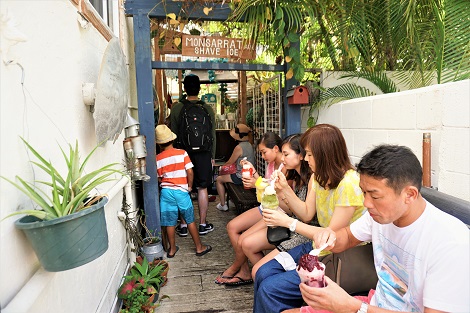 It's not as sweet as some of the other shops, and yet still is an amazing, refreshing treat.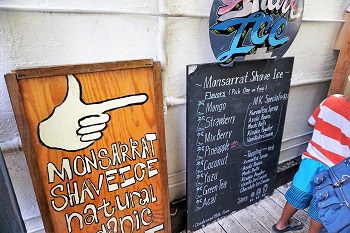 They have yummy flavors such as strawberry, mango, coconut, and green tea.  Most popular is their pineapple and mix berry flavors!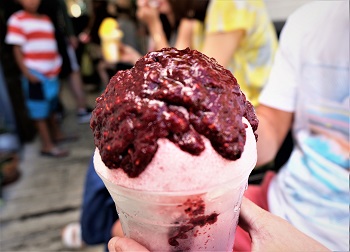 You can order special toppings like azuki beans, kinako powder and mochi balls, but don't miss out on adding a scoop of vanilla ice cream.

And unlike adding the scoop on the bottom of the cone or bowl, they add the scoop of ice cream on top!  It tastes as delicious as it looks!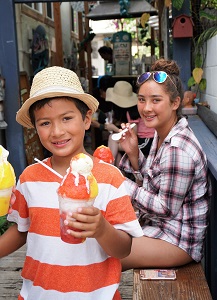 Monsarrat Shave Ice is not easy to find…even though it's right on the strip!  Keep your eyes peeled for the Pioneer Saloon, and you'll find it next door with a small sign in a small charming alley.

It's is near Kapiolani Park, not far outside Waikiki.

Also check out the Pioneer Saloon right next door to Monsarrat's. It is also worth a visit for their yummy plate lunches and eclectic memorabilia displayed around the room!
Location:  3046 Monsarrat Ave - Phone: (808) 732-4001 
Open daily from 11 AM to 5 PM (closed if raining)
---
Hawaiian Shave Ice History
Shave ice has carved its place on Oahu, and put smiles on faces since the 1940's.  It was a simple snow cone with basic flavors such as orange, lime, cherry, and grape.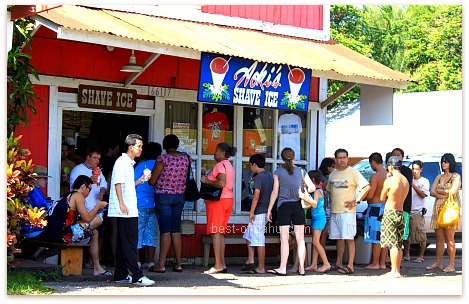 We should give credit to the early Japanese grocery store establishment, and Hawaiian shave ice shops such as Matsumoto's Shave Ice on the North Shore and Waiola Shave Ice in Waikiki, who helped pioneer this treat, and created a desire and passion for what it is today!
They along with others have put smiles on millions of faces over the decades! In the 80's, new tropical flavors surfaced such as mango, lilikoi (passion fruit), and guava.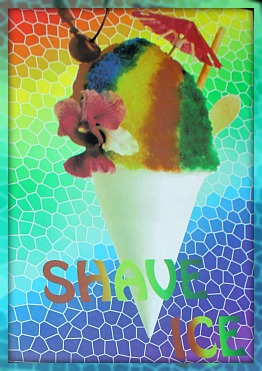 Hawaiian shave ice became even more onolicious when a scoop of vanilla ice cream was placed at the bottom of the cup before piling the snow on top.  As the sweet flavors drip their way down the cone and blended with the ice cream, you can imagine the treat that awaits you!

Today, Hawaiian shave ice establishments continue to push the envelope with flavors & toppings, and create some of the most amazing creations Oahu has ever seen!
---
Make your own Hawaiian shave ice!
---
Whether you want to make some snow cones for the family, a party, or much larger events, there are some great choices these days with the advancement in machinery that make this treat...and here are a few worth considering:

Make your own shave ice party at home
---
Other Onolicious Treats on Oahu
---
Leonard's Bakery
Fresh hot malasadas from Leonard's Bakery is both a locals and tourists (the fortunate ones) favorite, and it just might top Hawaiian shave ice.  "I can never get enough of these delicious hot malasadas" are commonly spoken words.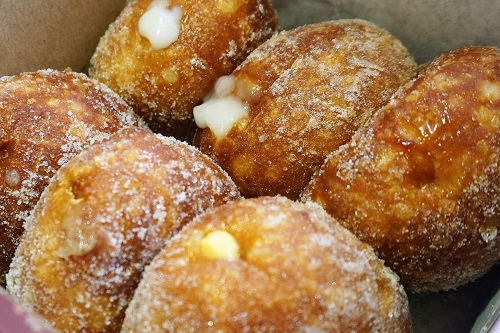 If you're not familiar already, a malasada is a light fluffy Portuguese style donut dusted with sugar.  They're hard to resist when eaten fresh out of the fryer.

Today Leonard's Bakery continues to evolve this magical treat, and offers incredible fillings such as chocolate haupia, guava, and mango.
If only they could find a way to combine the flavor of fresh malasada into a shave ice…!
Location:  933 Kapahulu, Honolulu, HI - Phone (808) 737-5591
Open 5:30 to 10pm Daily - Check out more...


---
Ted's Pies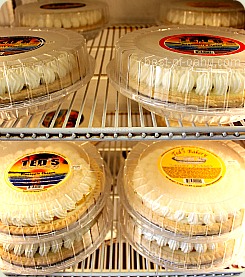 Located on the North Shore and distributed in some local supermarkets are Ted's Pies.  Not to be confused with any usual dessert pie, but local tropical flavors with a punch!

If you're headed to the North Shore (near Sunset Beach), it's worth stopping by.
You can pick up a slice or go for a whole pie…not an easy decision!  Haupia and Macadamia Nut are a two of many great flavors!
Location:  59-024 Kamehameha Hwy, Haleiwa HI - Phone (808) 638-8207
Open 7am to 8pm Daily - Check out more at Tedsbakery.com
Aloha & Enjoy!

Subscribe to receive Best of Oahu updates on events, updates, and new articles.  It's the closest way to paradise while you are away...
We will never sell or spam your information, and we'll respect your email privacy.