Best Hawaiian Plate Lunch on Oahu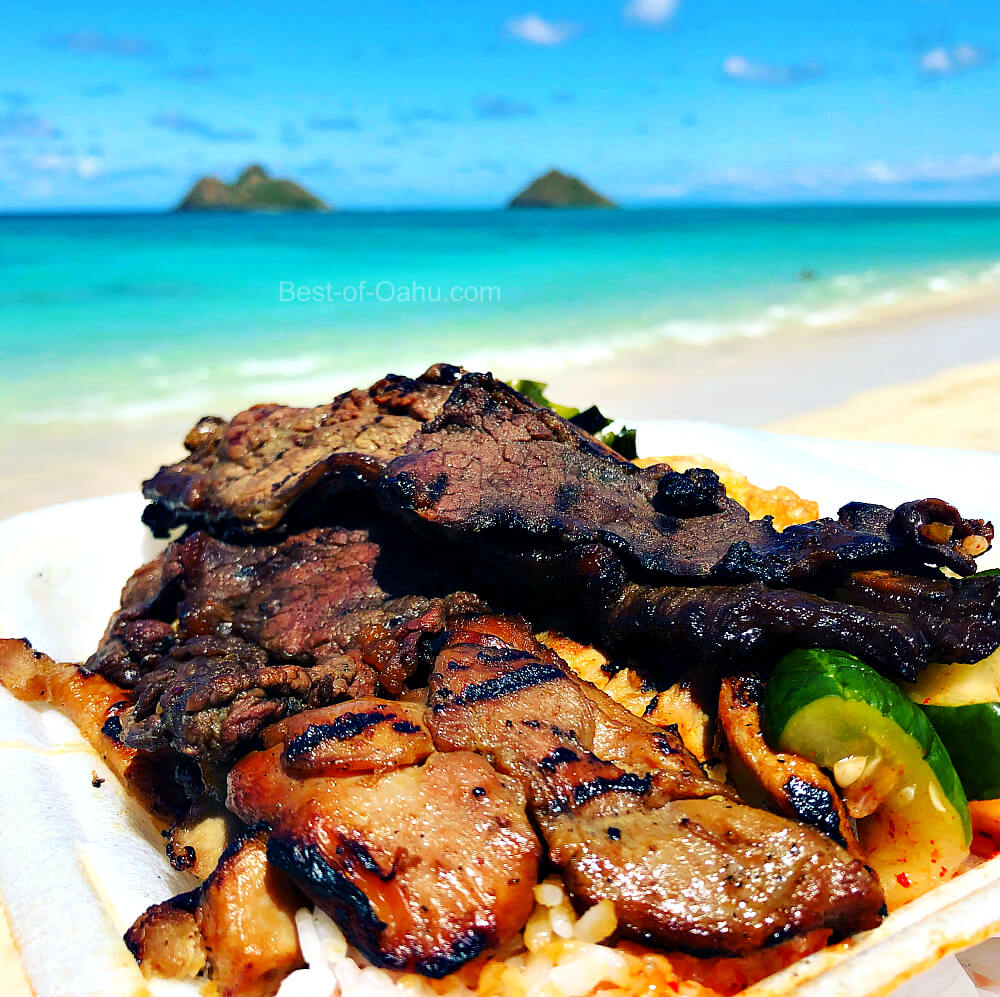 What is the best Hawaiian plate lunch on Oahu?  I have watched folks argue with passion about who serves the best Oahu plate lunch, and describing in detail why that is.  And while we all have our favorites, there are a handful of places that separate themselves from the pack.  Classic institutions like Rainbow Drive Inn, L&L Hawaiian Barbecue, Highway Inn, and Zippy's continue to serve the Hawaiian comfort foods we've come to love.
---
Barbecue – Mac Salad – Rice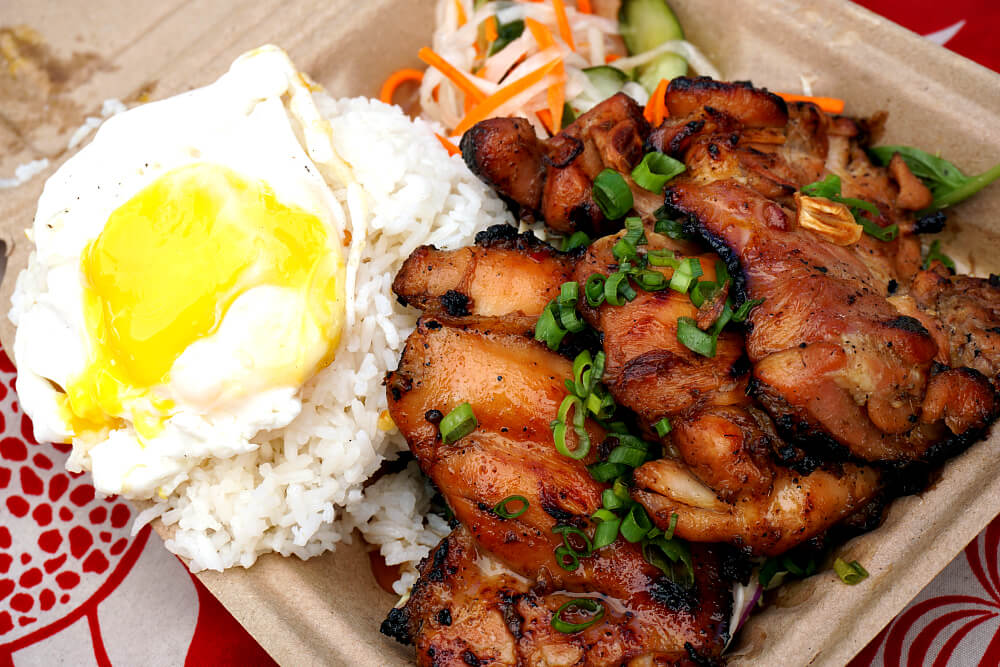 A typical Hawaiian plate lunch is generally is made up of some grilled meats or comfort food entrees, paired with mac (macaroni) salad, and white sticky rice.  It sounds pretty simple but it's a trifecta in the making.  And while it's not a very colorful meal as it tends to lack with vegetables, but the starch and meat pairing is unbelievably delicious!  
Don't discount the mac salad!  Everyone understands that starchy rice complements the BBQ, but will question the mayo-based mac salad if they are not accustomed to it.
Consider it the glue to make the Hawaiian plate lunch so delicious.  It helps bring all the flavors together!  Hawaiian Mac Salad is very basic…made up of macaroni pasta, Mayonnaise, salt and pepper.
Each restaurant prepares it a little differently.  Some keep it basic while others add other spices or ingredients to make their mark on the side dish.
---
Oahu Plate Lunch Favorites
---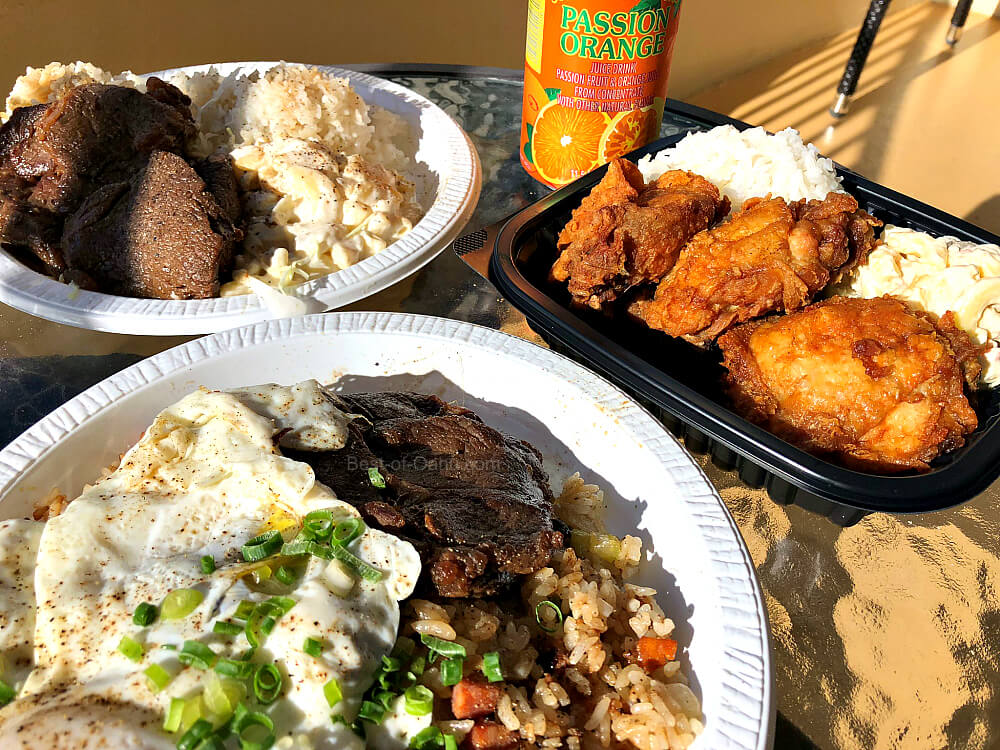 ---
Oahu Hawaiian Plate Lunch Classics
---
Most Hawaiian plate lunch places are serving over the counter, whether you decide to eat it in the restaurant grounds or taking it to go.
The classic plate lunch is served in a thin square cardboard box and served to go.  And there are other institutions that are classic sit-down restaurants with service that feature "plate lunch" items on their menu.
---
Rainbow Drive In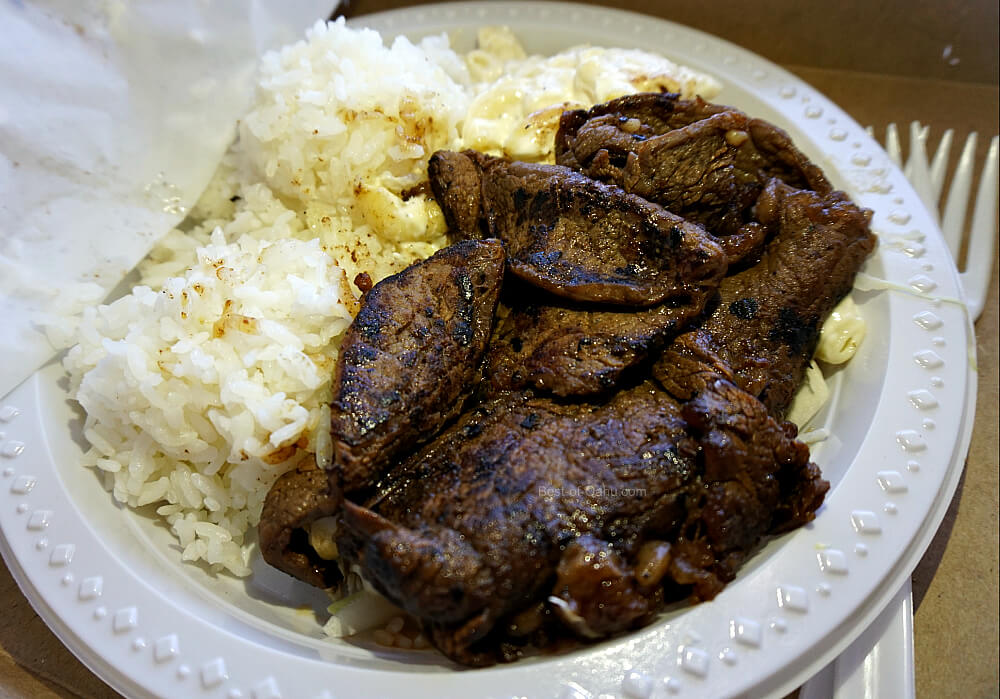 One of the original Hawaiian plate lunch restaurants on Oahu.  Rainbow Drive In opened up on iconic Kapahulu Ave back in 1961 and the lines have remained long ever since.
They are known for their Barbecue Steak Plate, Mixed Plate Lunch w/ Mahi Mahi, and voted #1 for their Loco Moco.  I personally love their Hawaiian Fried Rice, which is so popular that it's usually gone before mid-morning!
Location:  3308 Kanaina St, Honolulu, HI – Phone (808) 737-0177
Open Daily - 7 AM to 9 PM
---
L&L Hawaiian Barbecue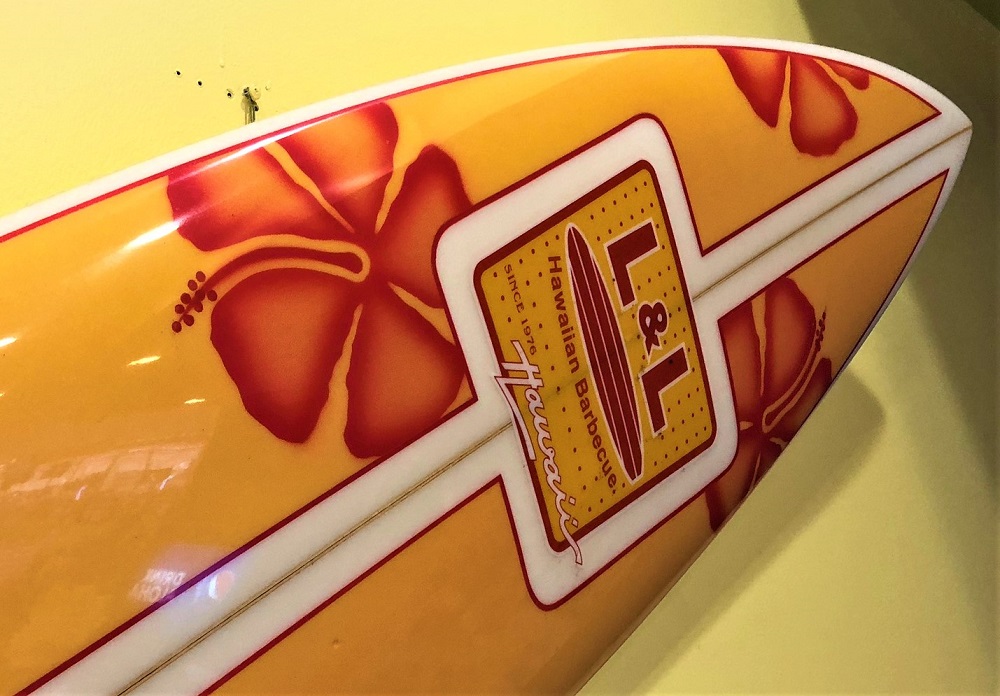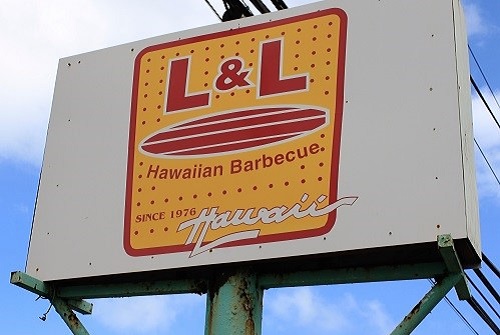 Cheap, local, and good Hawaiian plate lunch!  L&L Hawaiian Barbecue is a well-known Oahu restaurant chain that has made a presence on Hawaiian and beyond over the decades.
They have also been expanding their reach across the mainland with new branches popping up all the time!

They serve many different Hawaiian plate lunch options, including Chicken Katsu, beef short-ribs and the Loco Moco.  But trust me...it's the BBQ Chicken plate that you want.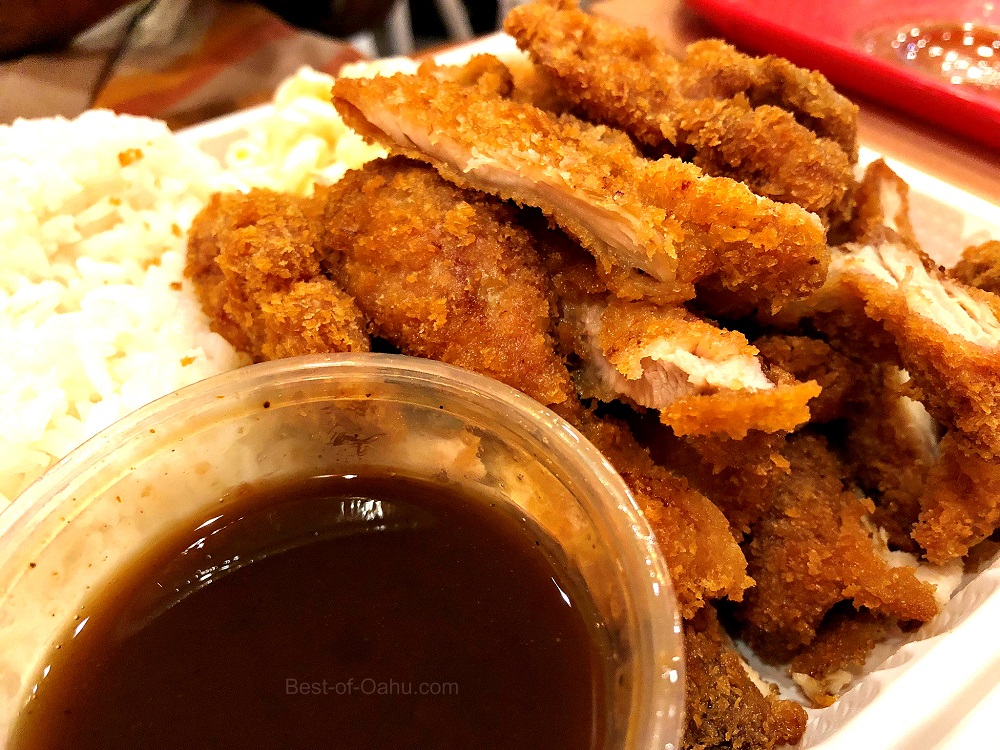 I'm also a sucker for their Ramen Burger creation that sandwiches a teri-burger between 2 semi-crispy ramen buns.  Surprisingly it doesn't fall apart, and the flavors gel nicely together.

The mixed plate is also very popular at L&L Hawaiian Barbecue, giving you a variety of teri-beef, BBQ chicken, and kalbi ribs.
SPAM lovers will be happy to discover SPAM Sumubi and SPAM Saimin noodle soup on the menu.

$ Lunch & Dinner
2919 Kapiolani Blvd #103 - Phone (808) 737-8899
Open Daily - 10 AM to 10 PM, Closes 9 PM on Sun
See Oahu L&L locations at HawaiianBarbecue.com
---
Zippy's Restaurant


Also located in many locations around the island is another local favorite plate lunch spot called Zippy's.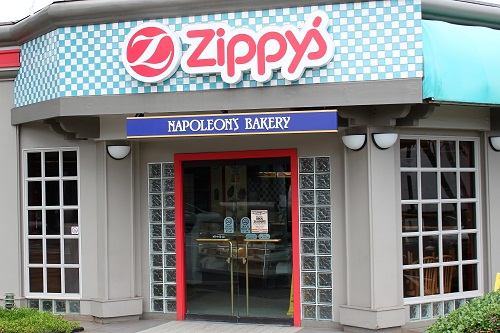 They are most famous for their chili and rice bowls, fried chicken plate, Zip Pac's (a mixed plate lunch, including a  piece of hoki fish, a piece of fried chicken, teri beef, and a slice of SPAM), and their saimin noodle soup.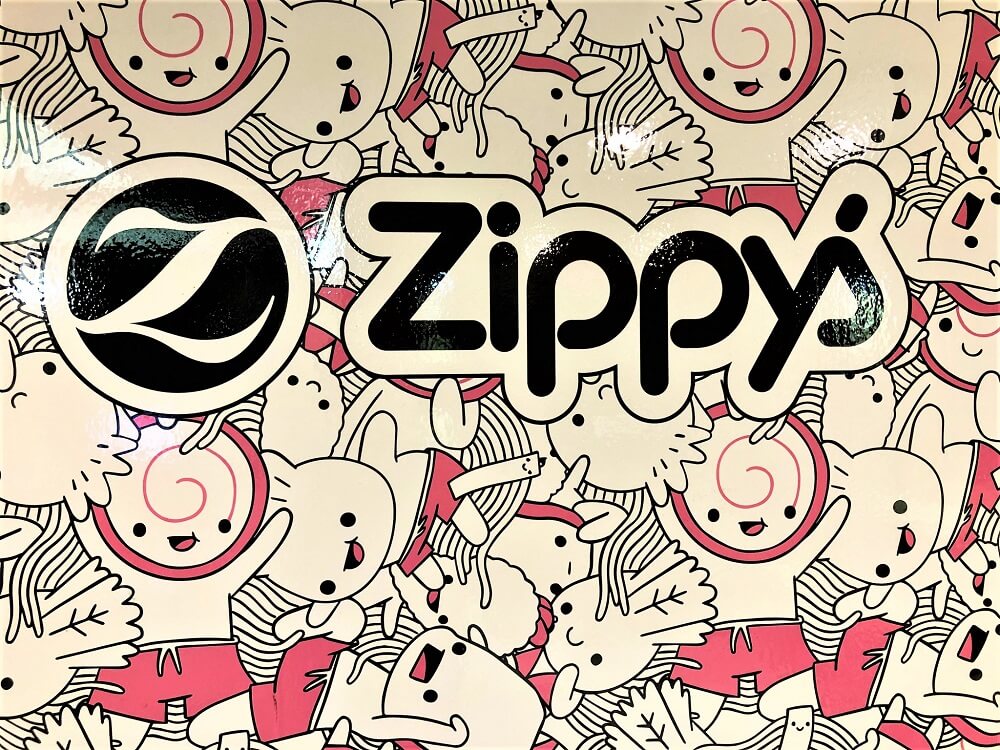 One of the newest plate lunches that became a success overnight is their Korean Fried Chicken.  And I can see why as sweet teriyaki and spicy flavors meet the sensation of deep fried…a beautiful marriage in heaven!
I love their chili and rice with a side order of mac-salad on the side –so yummy!  Lucky for me they also sell a Chili & Fried Chicken Mixed Plate.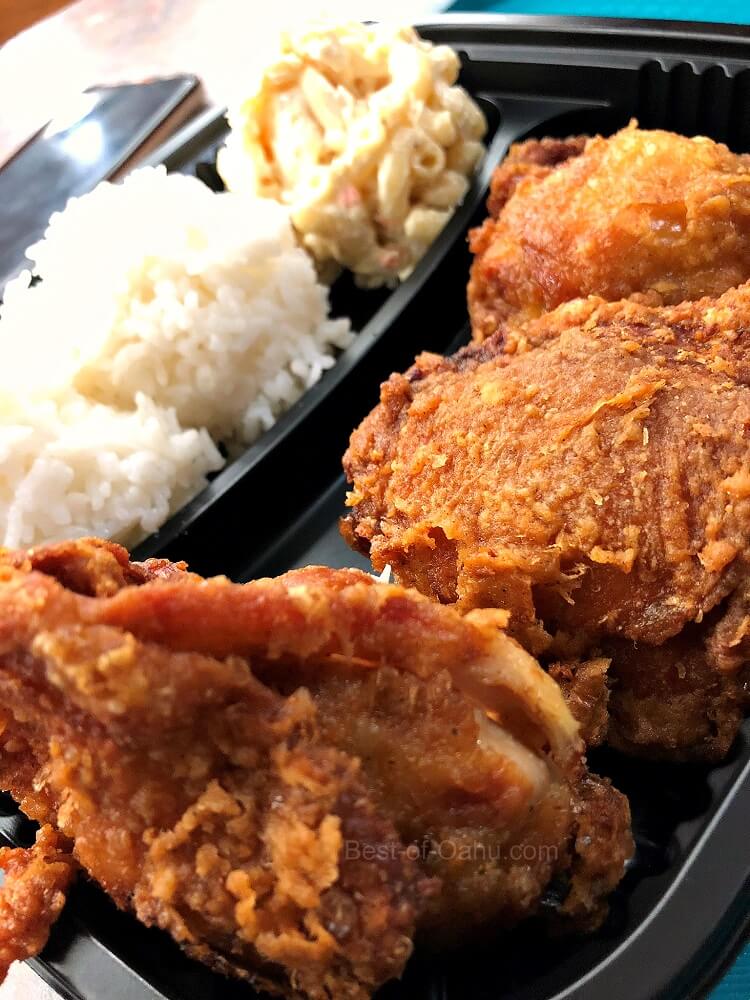 It also common to see folks in line ordering barrels of chicken and buckets of chili for weekend beach gatherings and parties.  Their chili is so popular that Zippy's has come up with 18 different entrees with it.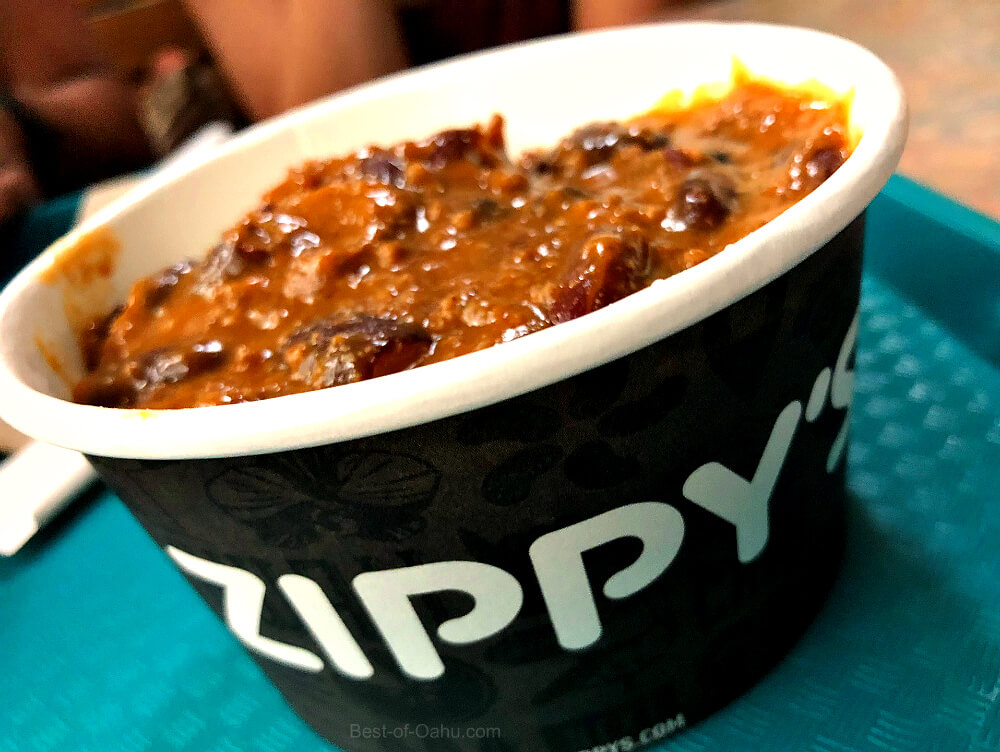 Ramen is also a staple on the island, and again this plate lunch chain offers over a dozen styles of ramen soups.  Zippy's classic Saimin is still a favorite around the island.
601 Kapahulu Ave, Honolulu – Phone (808) 733-3725  Open Daily 6 AM to 10 PM
$ Lunch & Dinner
See Oahu Zippy's locations at Zippys.com

Tip:  Grab a plate lunch and enjoy it on the beachfront.  It's the best seat in the house, and the meal tastes "that" much better!
---
Kim Chee Restaurant No 2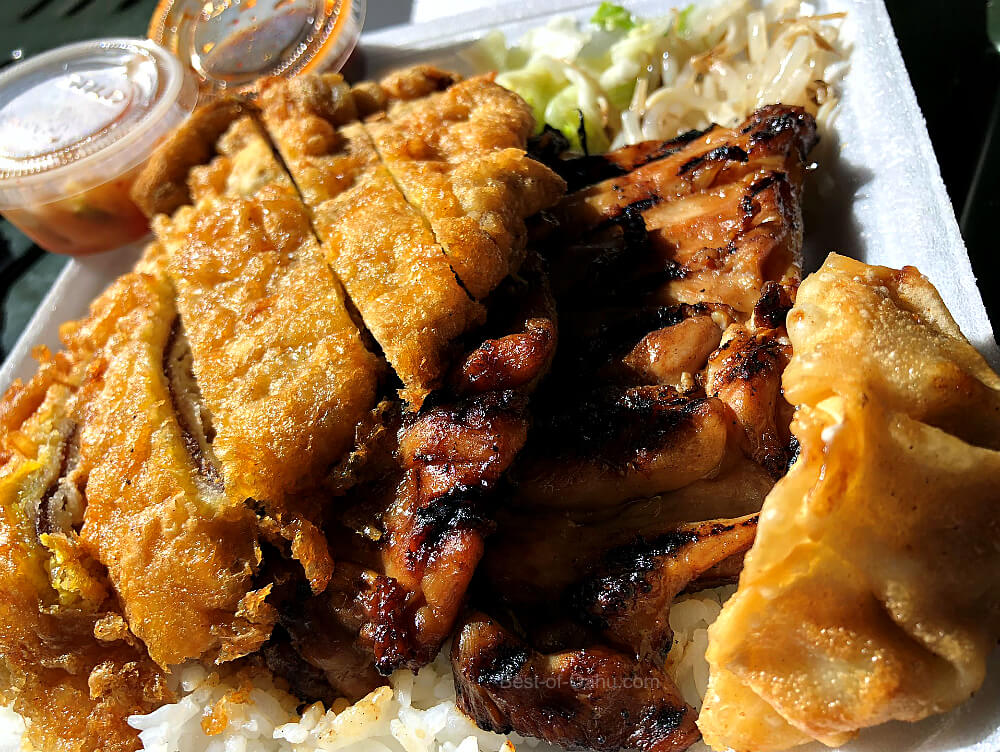 Serving ono delicious Hawaiian Plate lunch since 1977!  Kim Chee Restaurant has grown to a small chain of about 10 spots throughout Hawaii.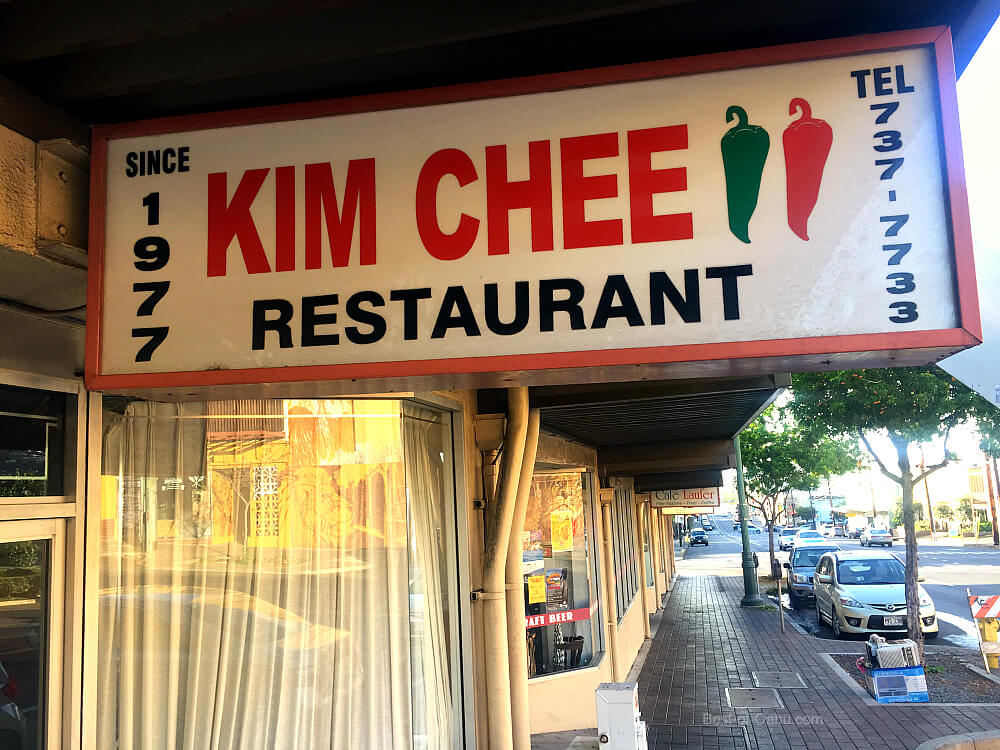 Known for their barbecue kalbi, generous servings, and for being a loaded plate lunch.  One plate lunch could feed 2 people.

I'm a personal huge fan of their Meat Jun, which is egg dipped thinly sliced marinated steak that is grilled, and served with a tempura dipping sauce –yum! They claim to be the most awarded restaurant in Hawaii and I believe it.

3569 Waialae Ave #104, (808) 737-7733
Open daily 10:30 AM to 10 PM to 9 PM
Learn more – Kim Chee
---
Hidden Plate Lunch Stars
---
Ohana Bar-B-Q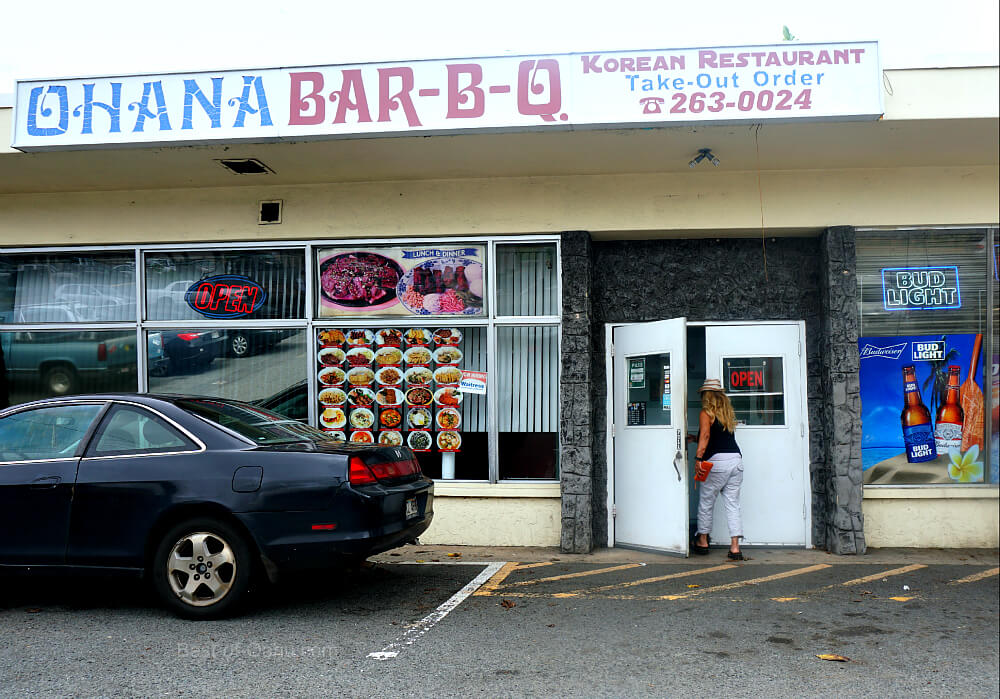 This is a great hole in the wall Korean barbecue that stands on its own in the town of Kailua.  You're most likely to drive right by it.  And the truth is it's not very attractive inside either.  But don't be fooled, the food is delicious.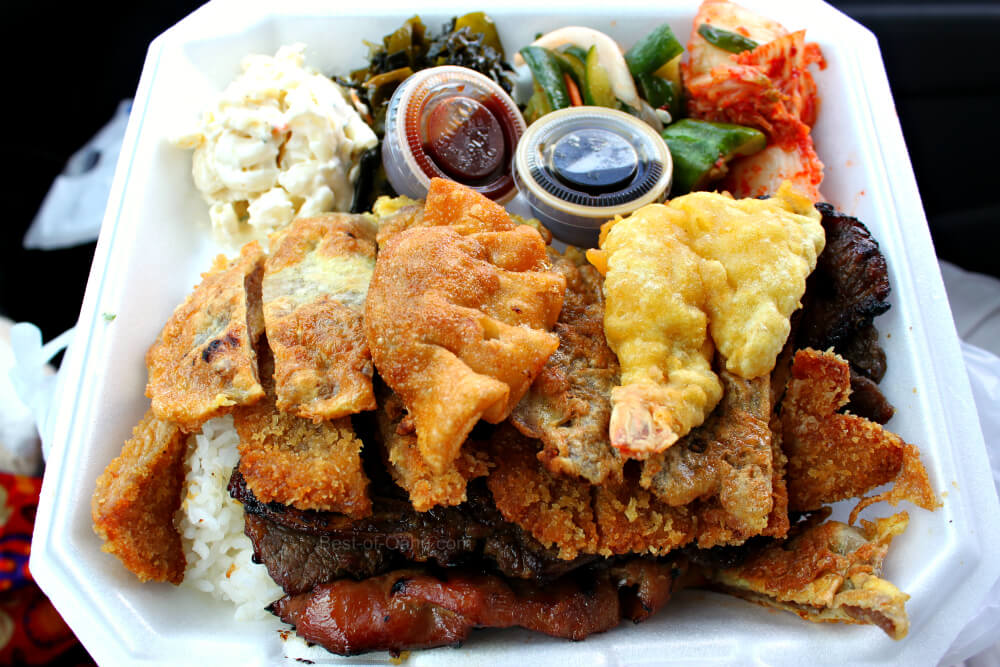 Barbecue Chicken, Teriyaki Beef, Kalbi Ribs, and more!  They should have named it The Ono Bar B-Q!  The prices are a bit on the higher side for plate lunches, but they won't leave you hungry.
The meat is stacked up high and accompanied by some tasty Korean vegetables.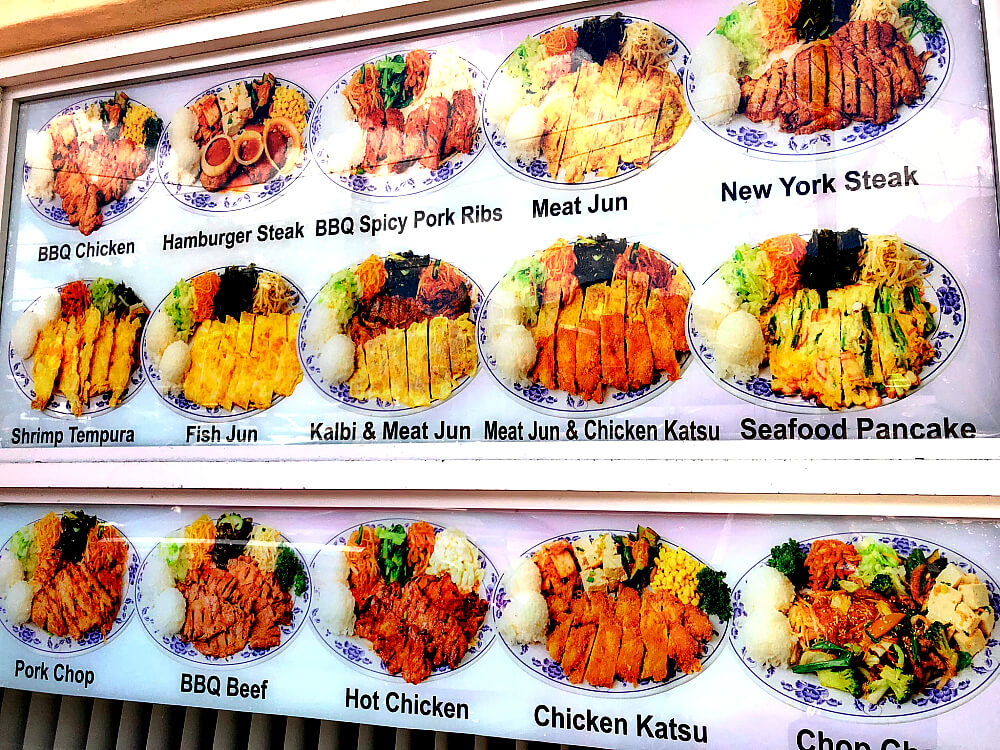 I recommend ordering a mixed plate lunch that will give you a good taste of a few things on the menu.
Location – 16 Kainehe St, Kailua – Phone (808) 263-0024

Open Mon – Sun 10 AM to 9 PM, Closed on Sunday
---
Pioneer Saloon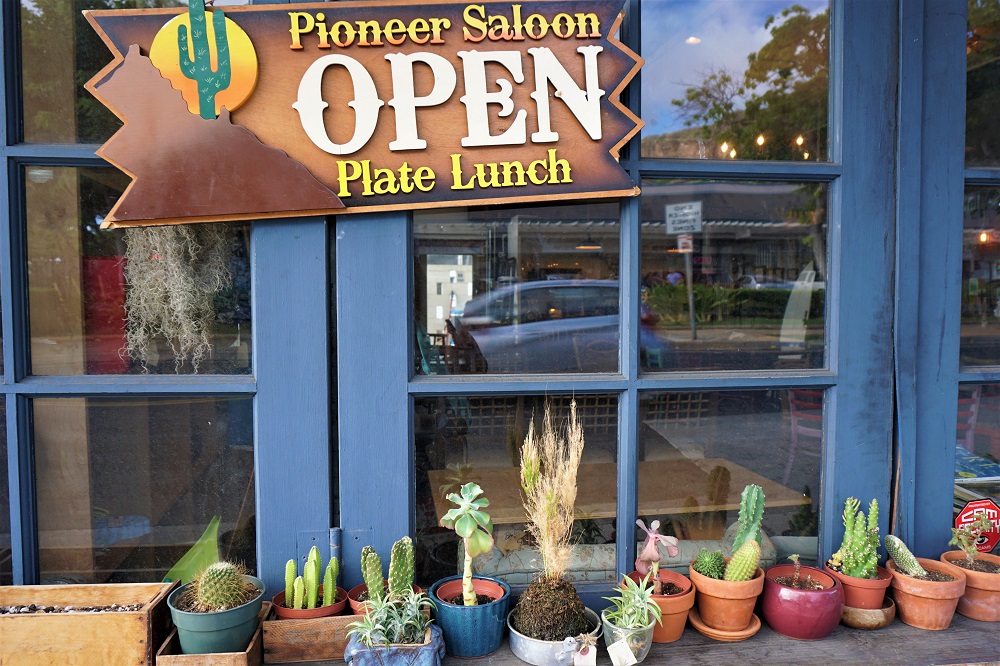 Here's your hidden hole-in-the-wall gem serving up some of the best Hawaiian plate lunch on the island!  Step inside the Pioneer Saloon and it will feel like an old saloon, which is not your typical Oahu plate lunch seen.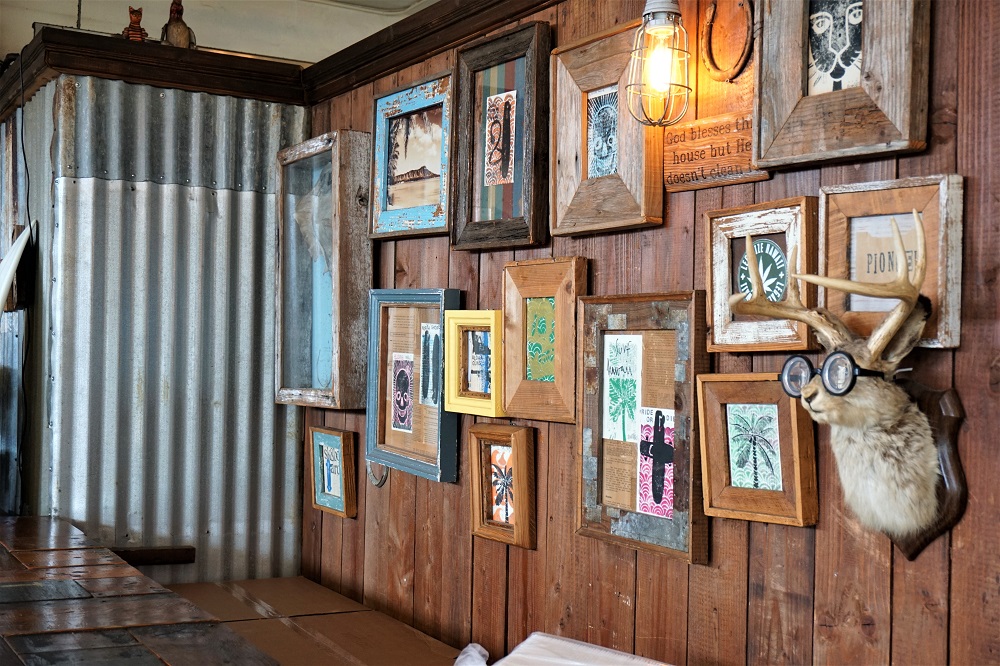 Don't let it fool you, they have an extensive menu to choose from, the portions are generous, and their entrees are delicious!
For starters the feature a Fried Chicken plate with Garlic Sauce and Spicy Mayo or Ponzu.  And while you also find your typical Hawaiian plate lunch favorites, here are a few entrees that separate themselves from the pack…  try their Creamy Shio Koji Chichen, Mochiko Chicken plate, Shoyu Ox Tail, and the Braised Beef Short Rib BBQ.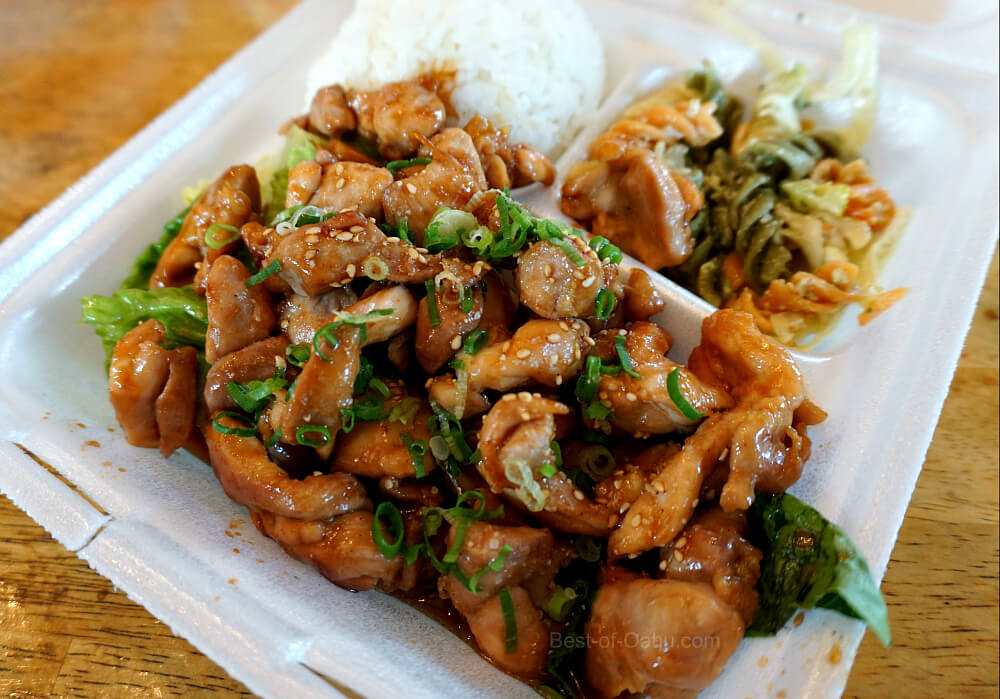 They also feature an extensive seafood menu, including Grilled Ahi Spicy Chili with Ponzu, Miso Butterfish, Garlic Cajun Scallops, and a Mahi Mahi Katsu Plate!

The Pioneer Saloon even has a Fried Oyster Plate and Rack of Lamb plate!  It doesn't end here, and only makes it harder to make a decision when the time comes…good luck!  Oh and don't miss their Prime Rib Short Rib with Aju & Spicy Sauce on the weekends! 
The Pioneer Saloon is located on Monserrat Ave that's close to Diamond Head and up the hill from Kapiolani Park.
Diamond Head Location – 3046 Monsarrat Ave, Diamond Head – Phone (808) 732-4001  Open Daily 11 AM to 8 PM
Kaka'ako Location – 675 Auahi St, Honolulu – Phone (808) 600-5612  Open Mon – Thurs 11 AM to 8 PM, Fri & Sat 11 AM to 9 PM, and Sunday 11 AM to 3 PM
Learn more at Pioneer Saloon
---
Diamond Head Market & Grill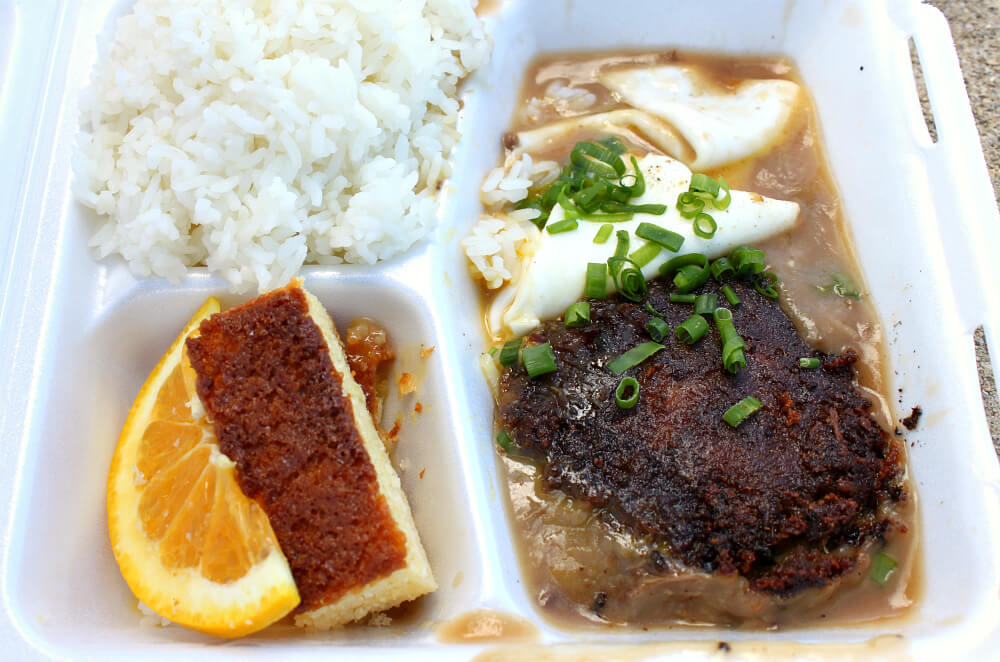 Also located on Monsarrat Ave and just a couple blocks away from the Pioneer Saloon, is the Diamond Head Market Grill.  This popular Hawaiian plate lunch spot is best known for serving healthier versions of the island comfort food with brown rice and green salad as sides.
There is usually a line of people waiting patiently to place their orders.  And take note that orders are purchased to go with little seating available outside.
It's not uncommon to see hungry diners enjoying their meals standing or sitting on the curbside.  Personally I'll take mine to go and drive a few minutes over to the Diamond Head Lighthouse where you can park in the turnouts and enjoy your meal with a much nicer view!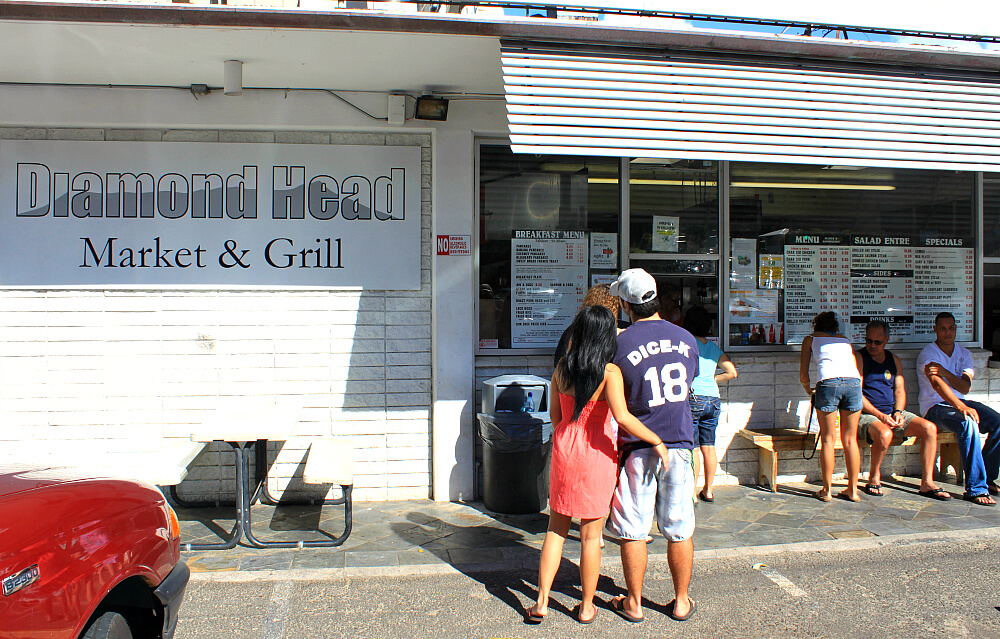 Don't miss their fresh daily baked scones.  Enjoy flavors like Banana Cream Cheese, Pineapple Cream Cheese, Apple Cream Cheese Crumb, Cranberry Mandarin Orange Cream Cheese, and Blueberry Cream.
Flavors change daily, but Blueberry is a staple and they usually feature 3 types each day.  There are more baked goods inside the bakery located next door.

Breakfast Favorites – Roasted Pork Hash & Eggs w/ a sunny side egg and brown gravy, Kalbi Kim Chee Fried Rice, Ahi & Eggs…better than steak and eggs for many, Signature Pancakes – Banana, Coconut, Pineapple, Mac Nut or Blueberry. They also include a slice of their yummy honey cornbread in some of their breakfast entrees.
Lunch & Dinner Favorites – Mushroom Garlic Herb Chicken Plate w/ roasted garlic balsamic jus, Ribeye Plate, Garlic Shrimp Plate w/ garlic butter sauce, Wasabi Shoyu Ahi Steak w/ shoyu wasabi ginger sauce, Miso Ginger Salmon, and a Surf & Turf Plate that's loaded!
There are some temping hearty salads as well with ahi, salmon, or chicken, and some burger & sandwiches worth considering.
3158 Monsarrat Ave, Diamond Head  - Phone (808) 732-0077
New SALT location - 675 Auahi St, Kaka'ako - Phone (808) 600-5612
Breakfast  Mon – Fri 8 AM to 10:30 AM, Sat & Sun 8 AM to 11 AM  Lunch & Dinner Mon – Thurs 11 AM to 8:30 PM, Fri – Sun 11 AM to 9 PM  Note – Bakery opens up a 7 AM
Learn more at Diamond Head Market & Grill
---
---
Honolulu Food Tour - Eat Like a Local!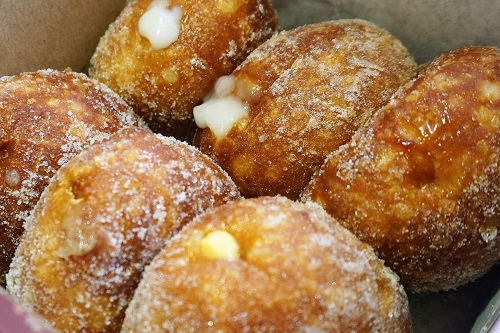 Spend 4 to 5 hours touring hole-in-the-wall eateries located just beyond  Waikiki.

Visit some of Hawaii's gems, and learn a little culinary history, while exploring the different cultures that make up our island. Taste local favorites like Spam Musubi, Ube, Poke, Malasadas, and island plate lunch hits!

These are small-group tours, to help keep the experience personalized, so make sure to sign up early if interested.  Book an Aloha Food Plate Tour Now!

---
Guava Smoked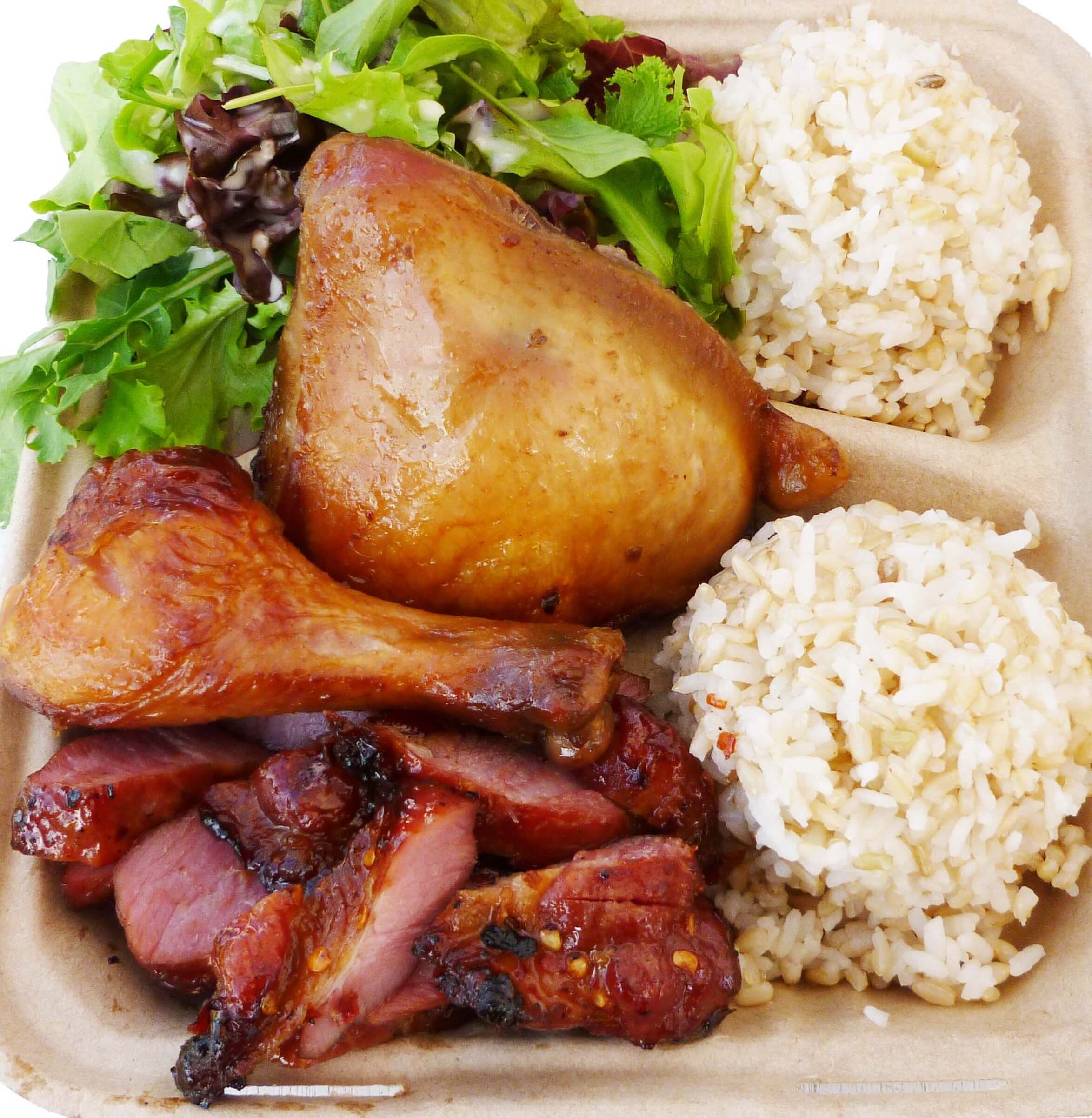 How about taking your Hawaiian plate lunch up a notch with smoked barbecued meats!  Meat lovers will love this island smokehouse with their extensive variety and cuts of meat.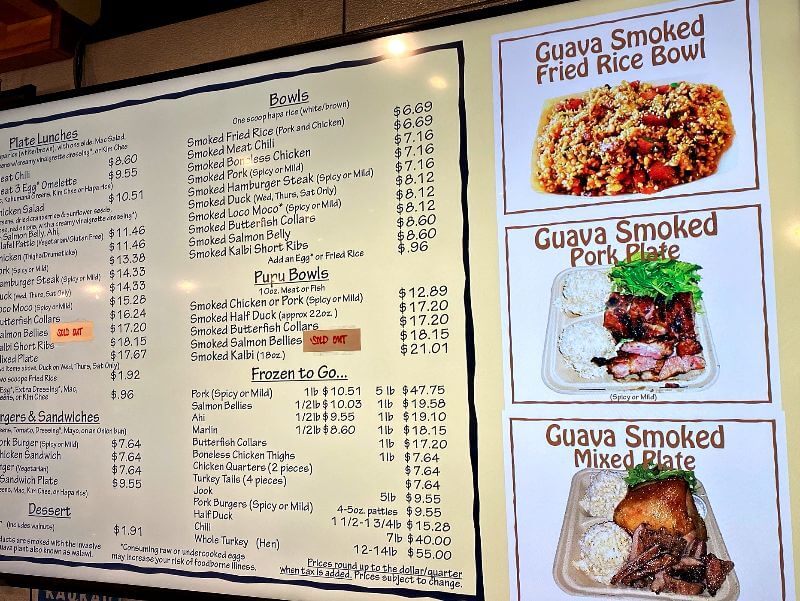 Look forward to your plate lunch chicken, pork, hamburger steak, and kalbi short ribs being slow smoked with strawberry-guava wood known as "waiwi".  It doesn't stop there, as you'll find smoke duck, a smoked meat chili, and even a smoked loco moco on the menu!

Check out their smoked fattier sections of fish like salmon belly and butterfish collar.  Personally I'm lining up for the mixed plate to get a better sample of a couple smoked entrees with my mac salad and rice.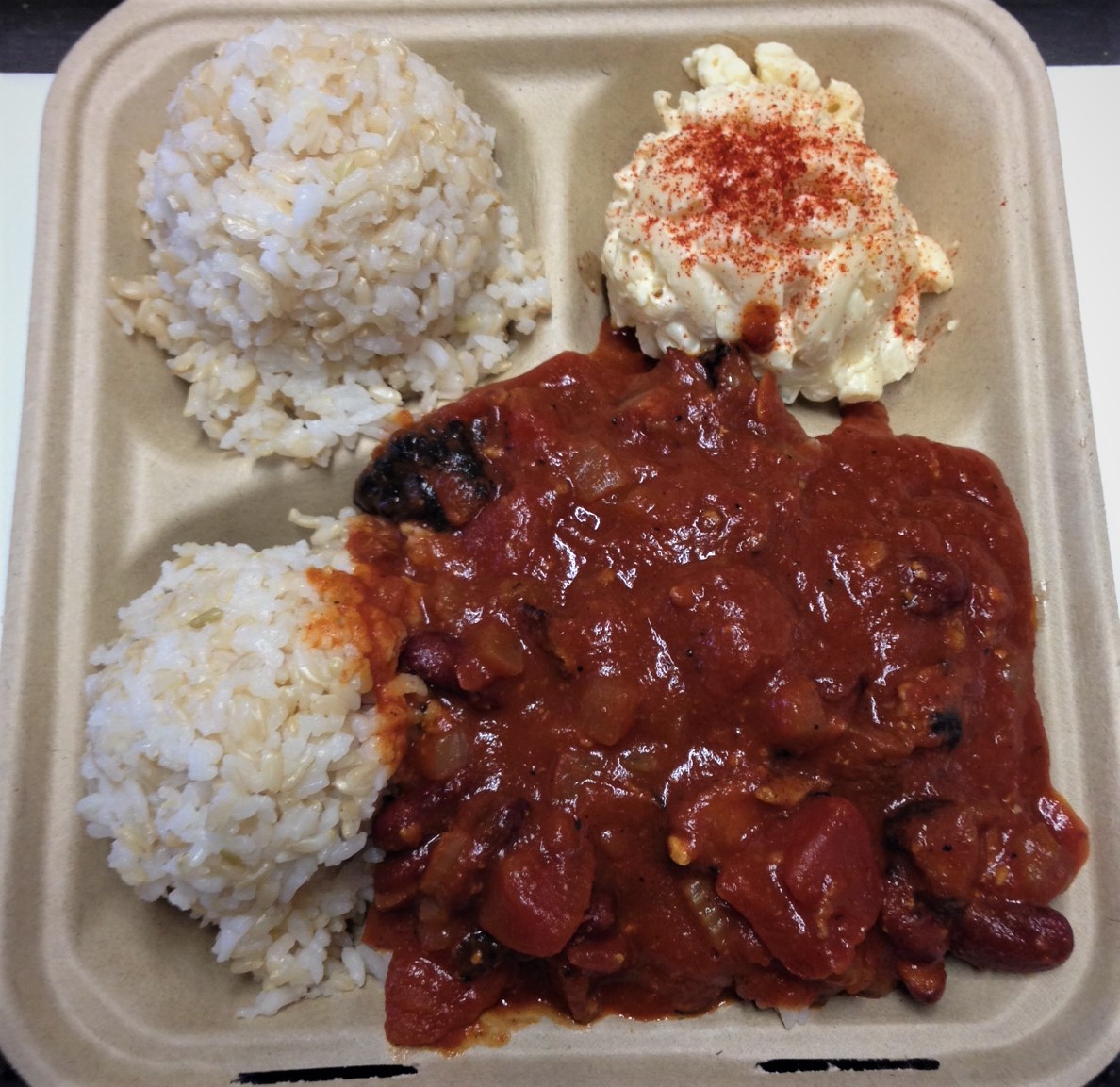 Also consider adding a fried egg on top for an extra buck to help accentuate all the flavors.  Brown rice and Nalo Greens are available for healthier choices.

Guava Smoked was established in 2011 through selling their smoked creations at the farmer market.  As popularity grew, they opened up their first Oahu restaurant two and half years later.
Kapahulu Location – 567 Kapahulu Ave, Honolulu – Phone (808) 351-1003 - Open Daily 10 AM to 8 PM
Kalihi Location – 16637 Republican St, Kalihi – Phone (808) 351-1003 Open - Mon – Sat 10 AM to 3:30 PM
Learn more at Guavasmoked.com
---
Ted's Bakery on the North Shore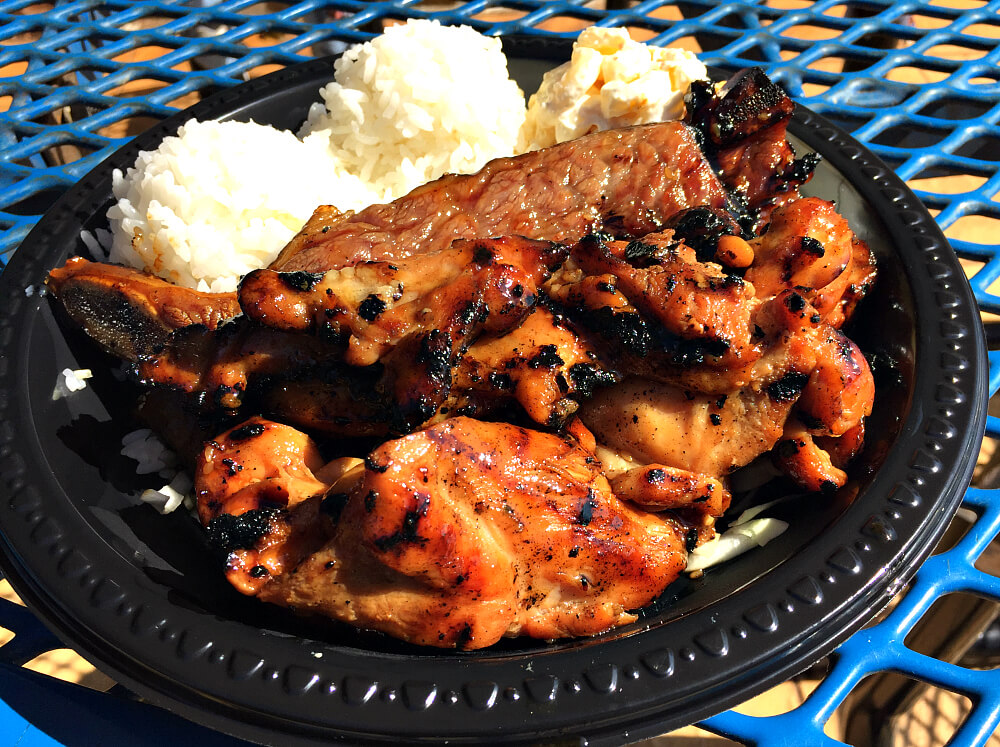 If you're not familiar already, there is a small bakery located deep in the north shore that is known for making some of the best pies on Oahu.
Macadamia Nut Cream Pie, Lilikoi Cheesecake Pie, Strawberry Guava Cream Pie, and Chocolate Haupia Pie are a few favorites you'll find at Ted's Bakery.
But you would never think to stop by for one of the best plate lunches on the island!  Maybe it's because I'm always starving by the time I get up there that the food taste so good, but they really do such a good job on marinating their meats and grilling them to perfection!
You'll have some tough choices to make with classics like Teri Beef, Shoyu Chicken, Garlic Shrimp, Chicken Katsu, Mahi Mahi, and BBQ Chicken…all include 2 scoops of white rice and mac a creamy mac salad.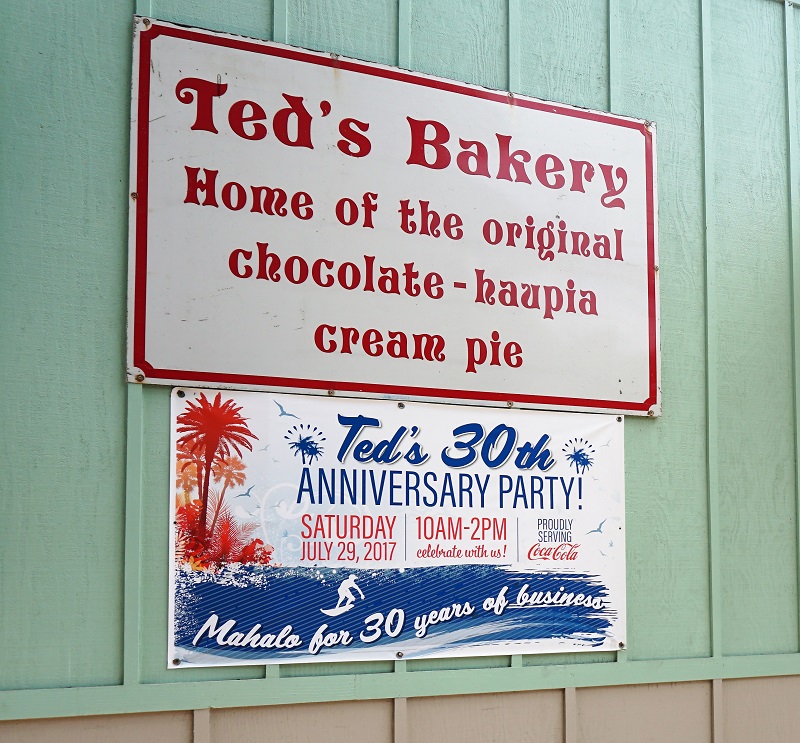 You can't go wrong ordering one of Ted's combination plates to taste of multiple entrees.  Order a slice of Ted's Pie for dessert and you'll most likely find yourself on a nearby beach taking a nap with a food comma!

Side note – they serve a hearty breakfast as well if you arrive in the north shore early enough.  A Portuguese Sausage & Cheese Omelet might just get you up a little earlier.
59-024 Kamehameha Hwy, Haleiwa (just past Sunset Beach)  Phone (808) 638-8207
Mon – Thurs 7 AM to 8 PM, Fri – Sun 7 AM to 8:30 PM
Learn more – www.tedsbakery.com
---
While some long established drive-in Hawaiian comfort food establishments, including KC Drive Inn and the Like Like Drive Inn retire and close up shop, new establishments grab the reins and take the island-grinds category to new heights.
We'll always remember who paved the way, and appreciate the love that goes into these comfort food meals, as continue to seek the best of the best plates on the island.
---
Aloha & Enjoy!

Subscribe to receive Best of Oahu updates on events, updates, and new articles.  It's the closest way to paradise while you are away...
We will never sell or spam your information, and we'll respect your email privacy.