Best Things to do in Kailua
Take a trip to the Windward side and discover some of the best things to do in Kailua Town.  You're in for a treat as you'll be surrounded by incredible delicious restaurants, cute boutique shops, a couple neat  breweries, and even a chocolate factory where you can take a tour and sample some high end Hawaii made chocolate.  And if you can make it 5 minutes past this captivating town, you will also discover two of the most beautiful beaches on Oahu, known as Kailua Beach and Lanikai Beach.
---
Best things to do in Kailua Town
---
Once a sleepy neighborhood with not much happening on the Windward side of Oahu, is now full of lots of things to do in Kailua.
Over the past decade this pleasant quaint town has been experiencing a renaissance of new shops and restaurants.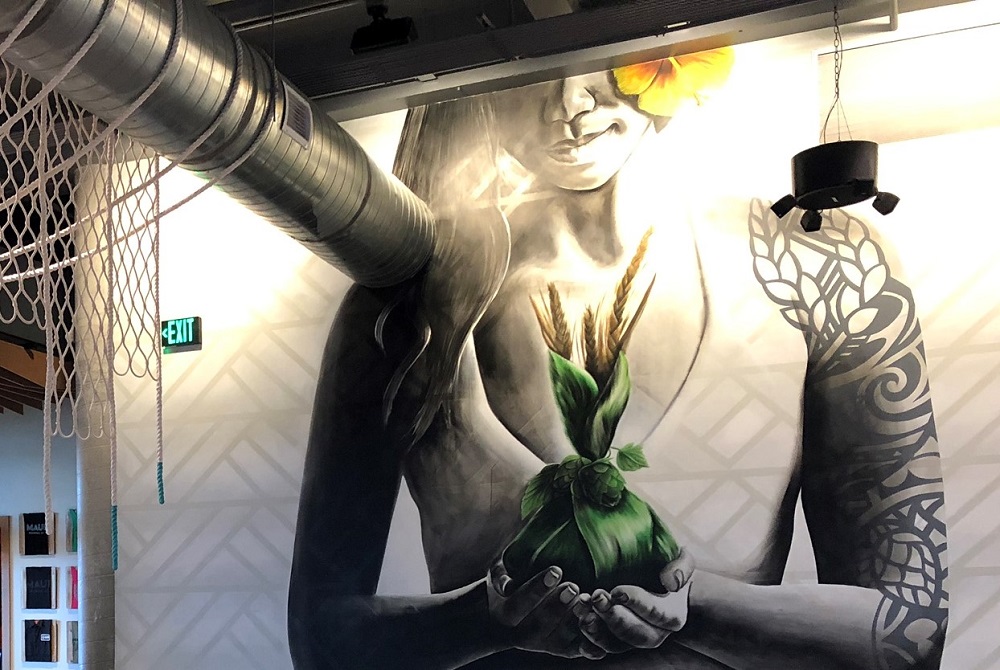 But it's the outdoor activities and easiness of getting around that's driving tourist over the Pali Highway and spending more time here.

And unlike the north shore that takes a good hour to get to, you can arrive in Kailua Town from Waikiki in under a half hour.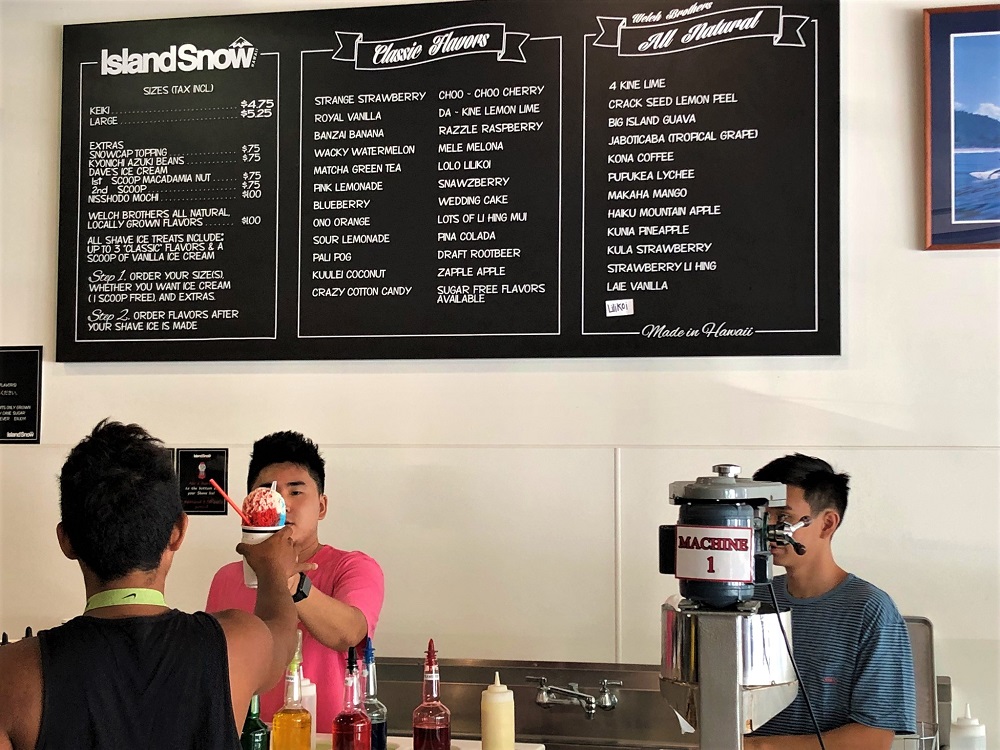 Island Snow Kailua
Whether you decide to climb to the peak of the Lanikai Pillbox Hike for a spectacular view, go for a morning swim in aqua blue waters at Kailua Beach, kayak to the Mokulua Island, rent a bike and ride along the coast, or spend a lazy afternoon in town enjoying a shave ice and looking for a perfect souvenir, Kailua has something to offer everyone.

---
Explore Kailua Town
---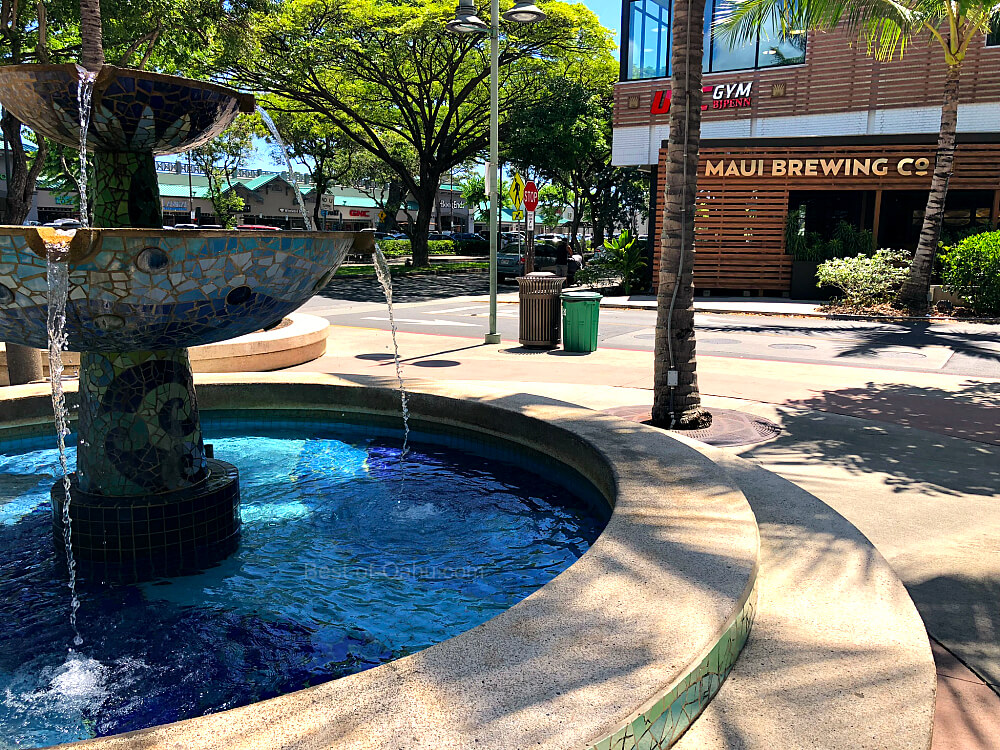 Most visitors pass right through the 3 square block town to get to the beautiful beaches, but it is worth pulling over and exploring.  Peruse the Hawaiian book collection at Bookends, check out the poke bar in Whole Foods, and sample different types of chocolate from a local chocolatier called Mano.
Also admire local art creations at the Island Treasures Art Gallery, and grab yourself a shave ice from Island Snow as you head off to the beach.
You could also rent a bike in town to ride around and check out the surrounding area including the beaches. There are a few places that provide bike rentals including Kailua Bicycle, The Bike Shop, Pedego Electric Bikes, and Kailua Beach Adventures.  They are easy to rent and start around $20
---
Kailua Shops
---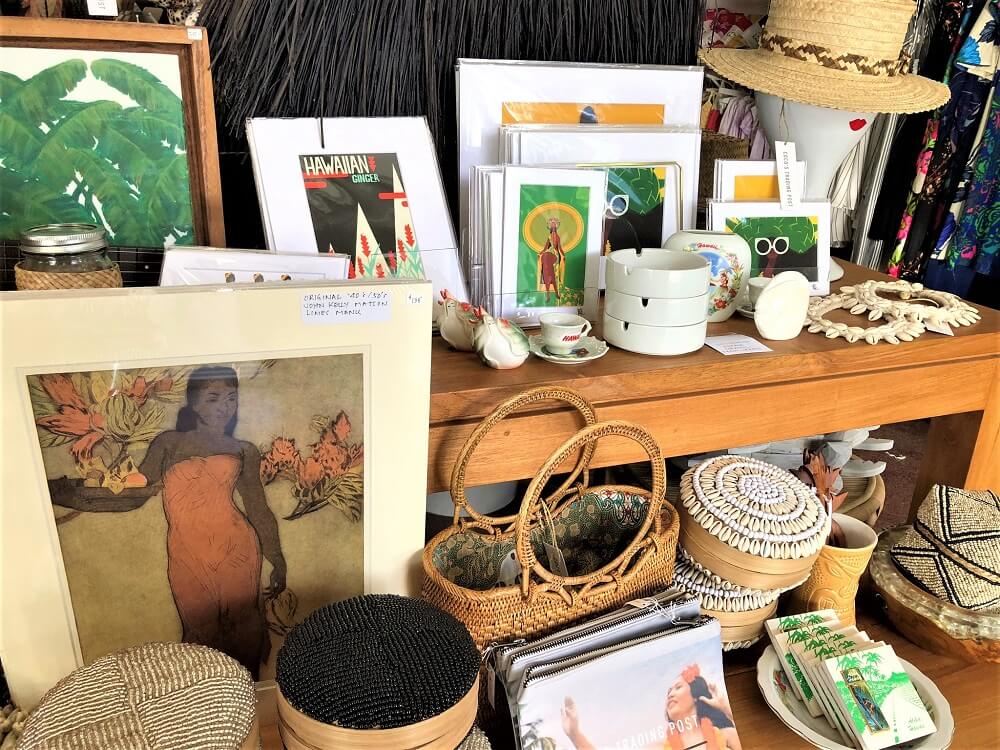 Parking along Kailua Road will give you access to a good sample of fun boutique shops to explore.  And while you will discover most by simply walking around and exploring, here are a few we would like to highlight…

---
BookEnds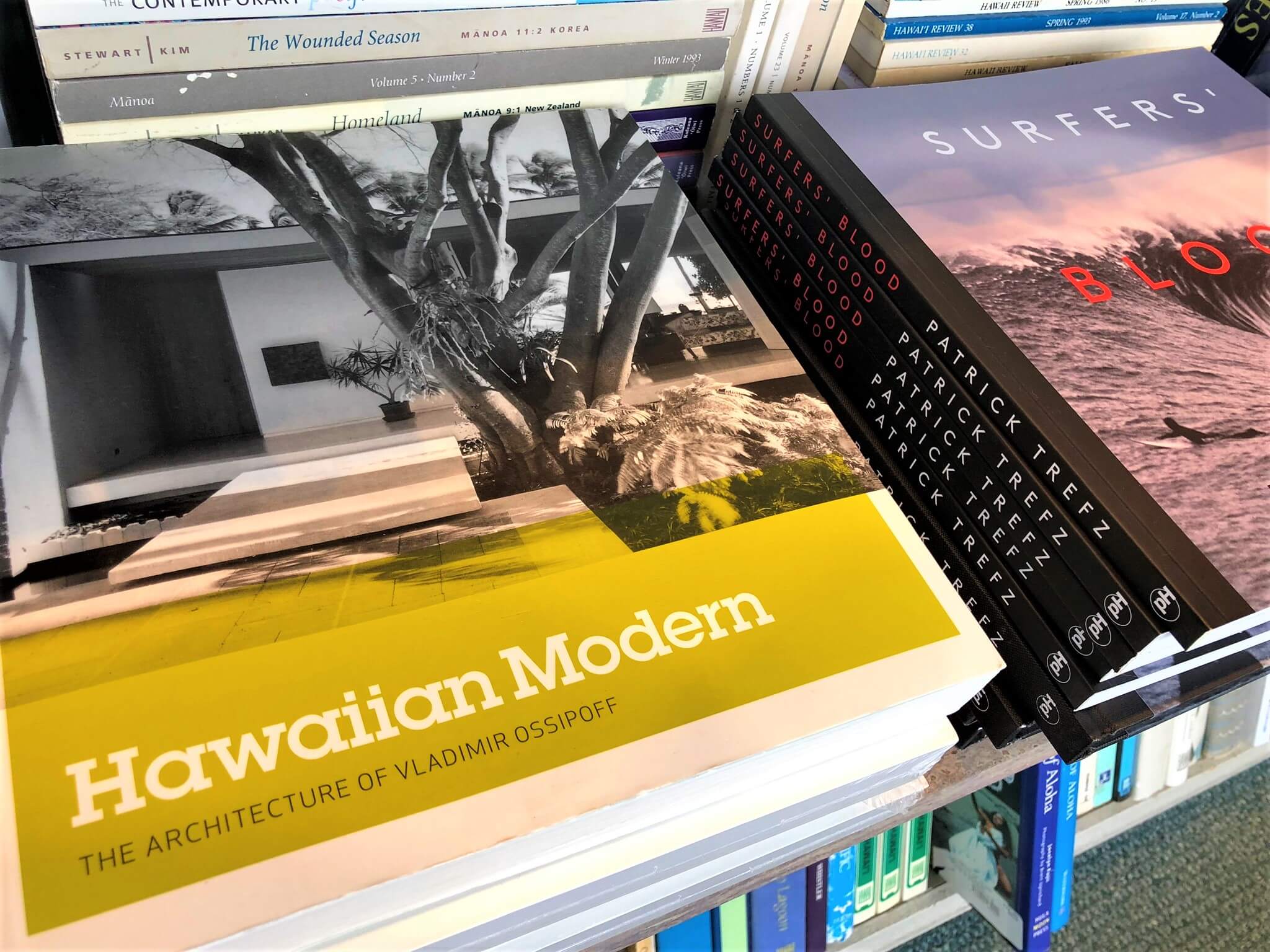 One of the last few bookshops on Oahu, and the only one in Kailua Town.  You'll see aisles and stacks of books as you would in most shops, but it's the extensive Hawaiiana Book section that most visitors are interested in at BookEnds.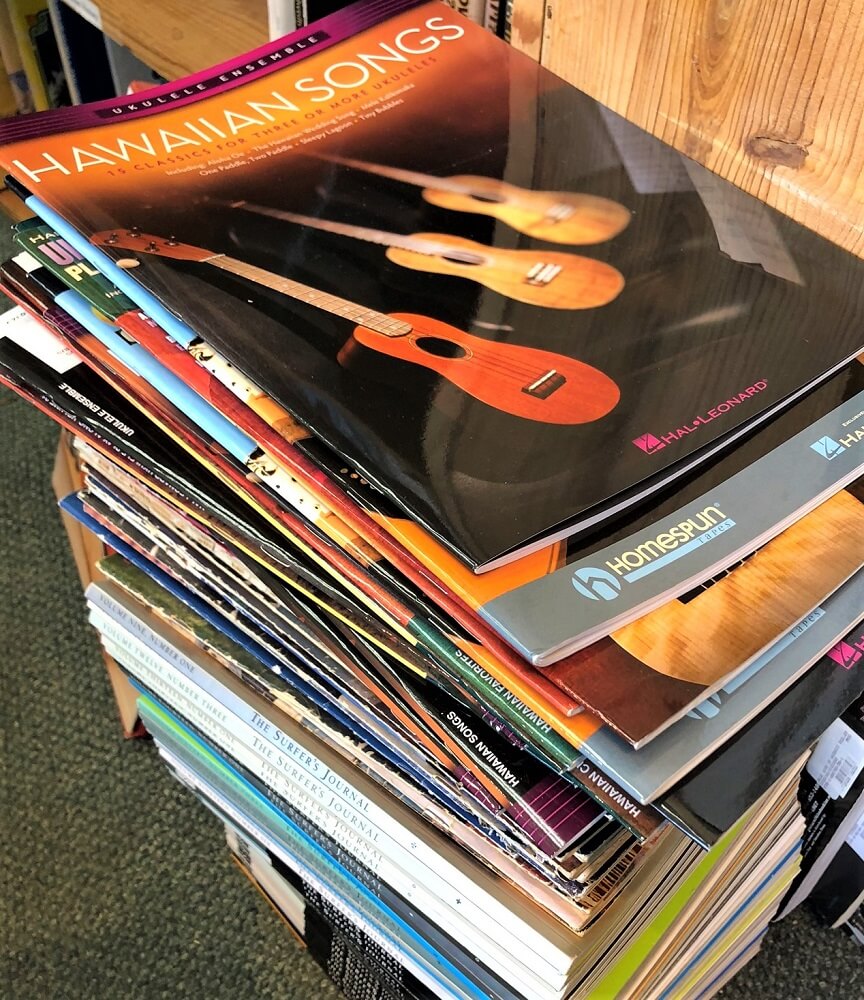 Old Hawaiian history, Colorful Island Photography, Arts & Crafts, Folk Tales, Pidgen English Joke Books, and lot more to be found in this section.

Proud owner Pat Banning, has been in business for over 20 years.  She has also expanded her children's book section, which has become very popular and a main staple to Book Ends growing business.
600 Kailua Rd #126, Kailua - (808) 261-1996
Open daily from 9 AM to 8 PM, except closes at 5 PM on Sunday
---
Global Village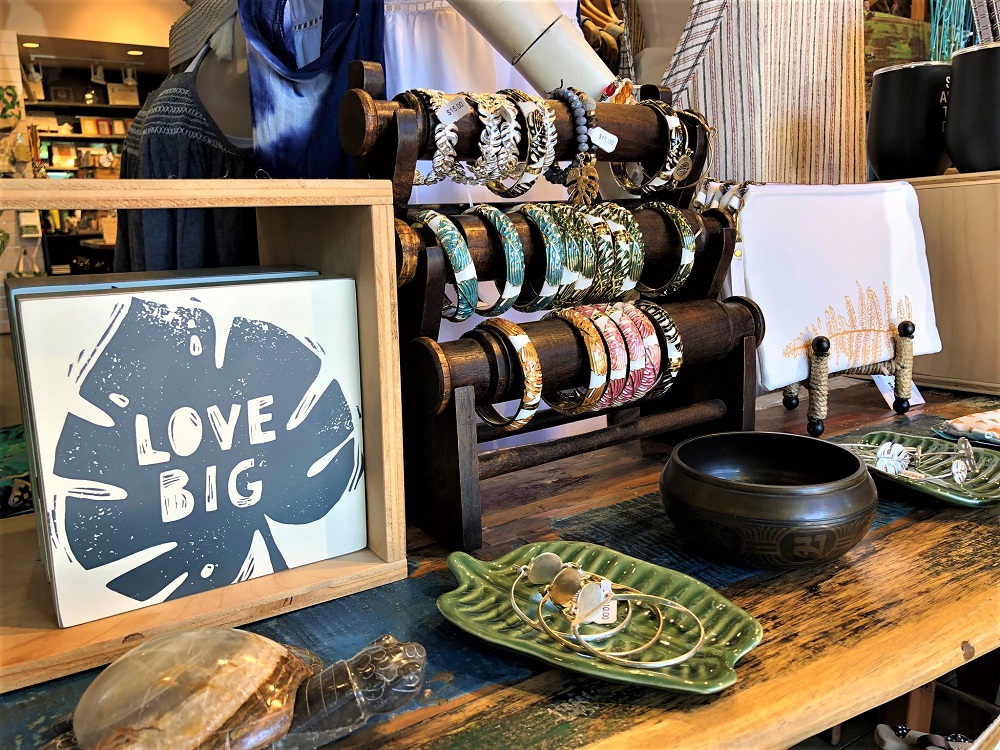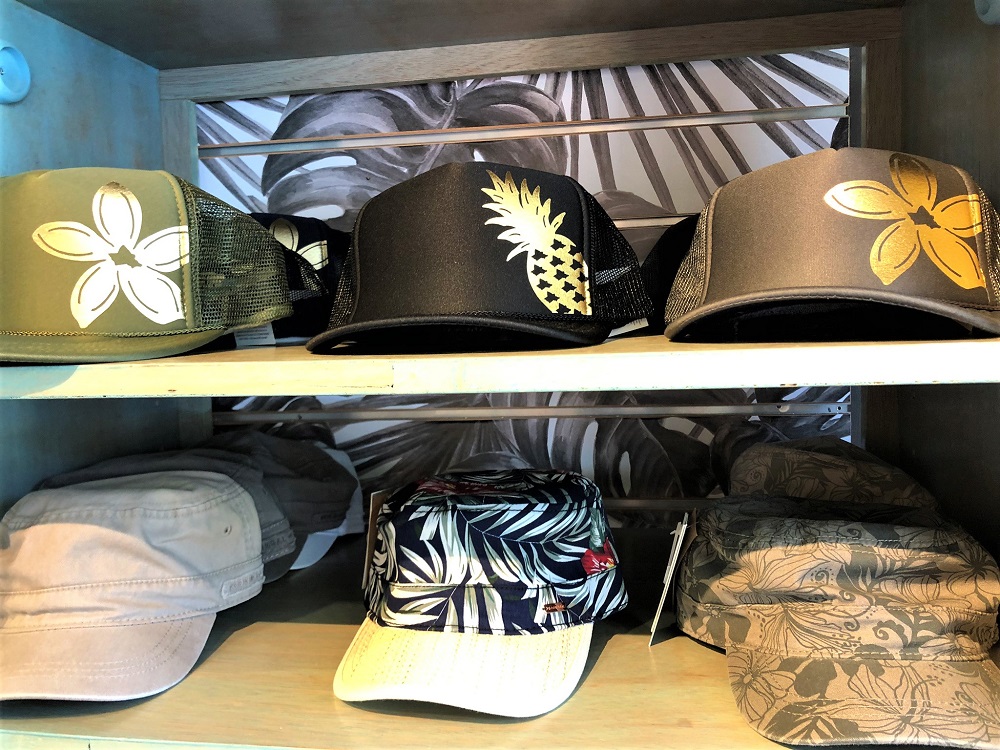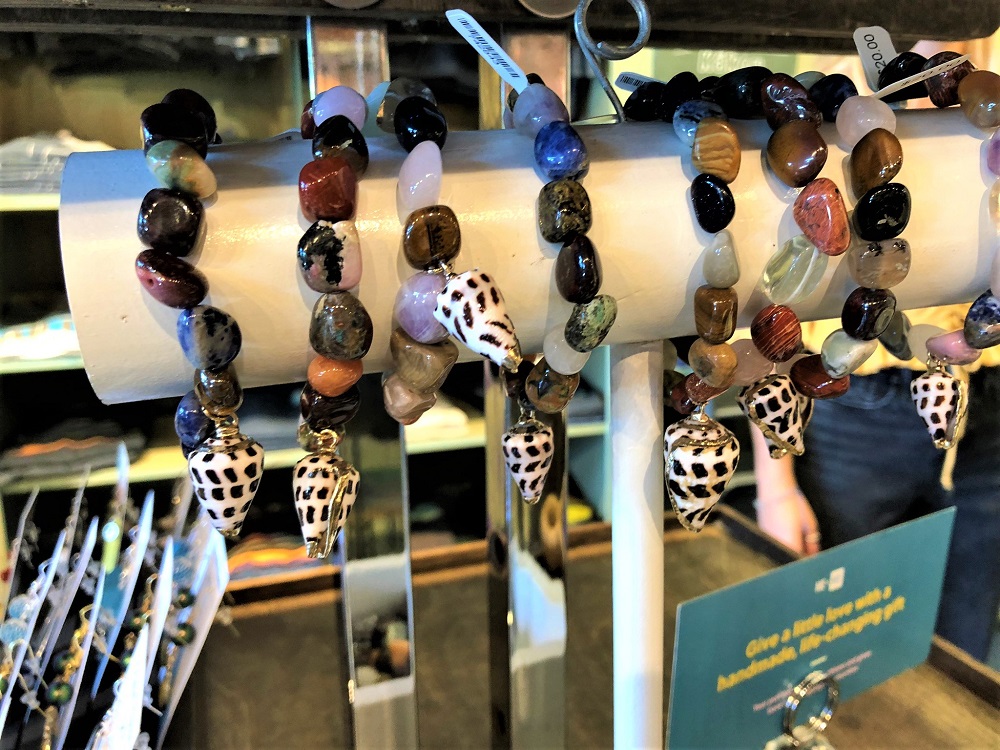 This cute shop features lots of neat creations by local artist.  You're bound to fall in love with something where its handmade jewelry with seashells, island printed hats, pineapple salt & pepper shakers, owner designed shirts, and everything in-between.
539 Kailua Rd #104, Kailua - (808) 262-8183
Open daily from 9:30 AM to 6:30 PM, except Sunday 10 AM to 5 PM
---
Soha Living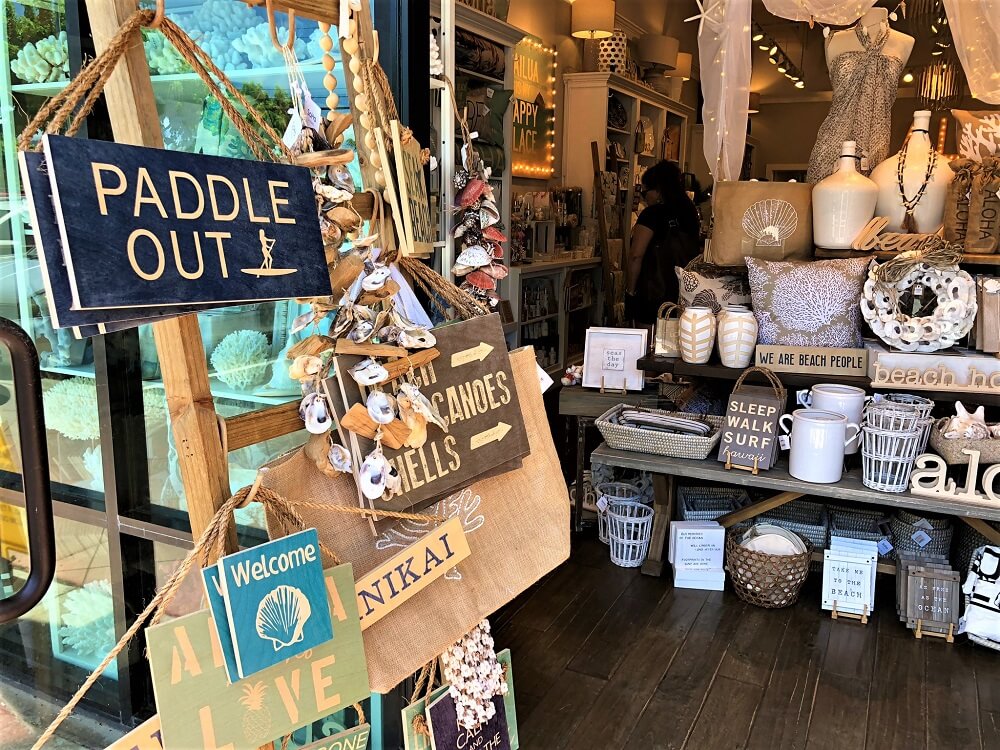 Step into the beach scene before you walk on any sand!  Lots of beach signs, seashell printed home décor, and coastal natural colored jugs, baskets and other items for sale.  It a good feel shop to step into even if you plan on buying nothing.
539 Kailua Rd #106, Kailua - (808) 772-4805
Open Mon - Thurs 9 AM to 7 PM & Fri - Sun 9 AM to 8 PM
---
Red Bamboo
Another must see Hawaiiana galore shop on this side of the island.  Red Bamboo is an eclectic store filled with lots of artist paintings hanging on the walls, personal creations including picture frames, candles, and shell chandeliers. They even feature year-round local Christmas items to take home for the holidays. 
602 Kailua Rd #101, Kailua - (808) 263-3174
Open daily 9:30 AM to 6 PM
Learn more at Red Bamboo Facebook Page
---
A Taste of Kailua
---
Kailuatown Farmers Market


Not to be missed and considered one of the best farmers markets on the island, you're in for a treat on Sunday mornings in Kailua.  The market starts at 8 am and in full swing by 9 am.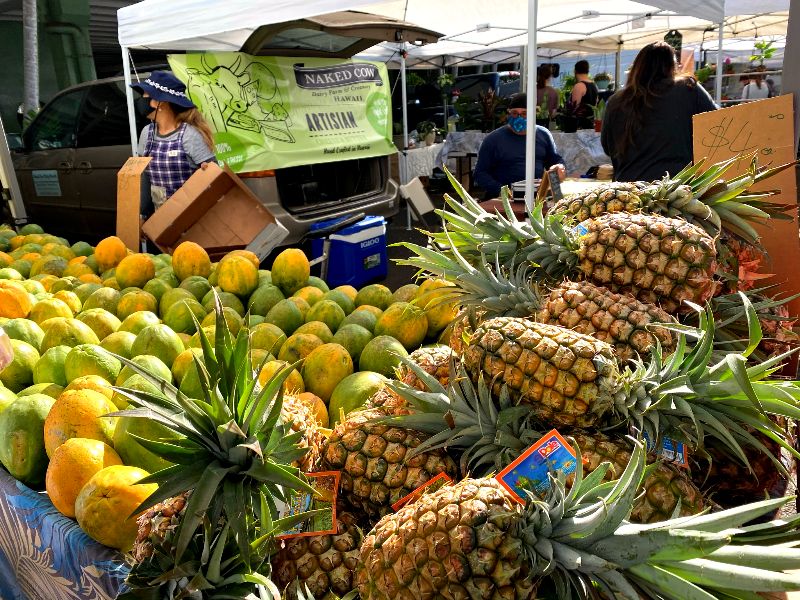 Come hungry as there are always some fresh bakery goods, healthy smoothies, wholesome entrée meals, and treats being sold.  It's also a fun market to find fresh produces, flowers & tropical plants, and different types of craft creations on display.

The Kailua Town Farmers Market has found a new and beautiful spot to set up 60 plus tents for all the special local vendor who participate.
ENCHANTED LAKE CENTER, 1090 Keolu Dr.
Sundays, 8AM - 12PM
---
Taste at the Manoa Chocolate Factory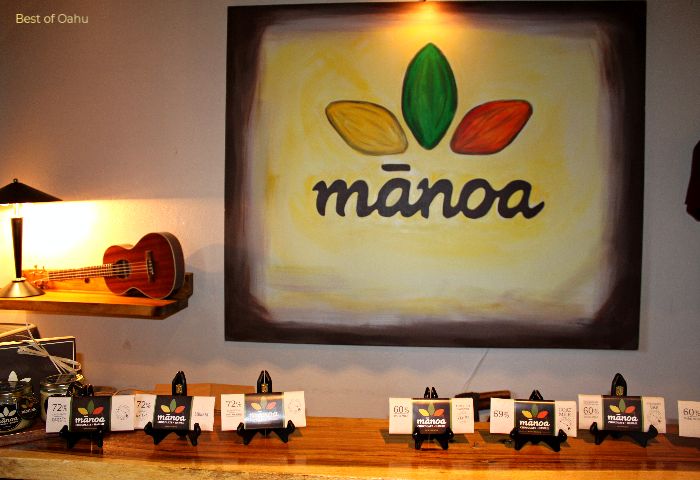 There are a handful of chocolatiers on the island, and Manoa Chocolate has grown their small Kailua operation into something much sweeter!
Not only is their facility bigger, but Manoa's line of chocolate bar creations have grown into new exciting flavors like Lilikoi (Passion Fruit) Dark Milk Chocolate, Haupia (Coconut) Vegan Milk Chocolate, and KoHana Rum infused chocolate.
It's almost injustice to just name a few as there are some many neat creations and other types of products to explore as well.  I recommend taking their $15 tour that walks you through the process of making fine chocolate on the island and allows you to taste lots of samples as well.
Open Daily 10 AM to 5 PM
Location - 333 Uluniu St Suite 203, Kailua, HI 96734 – Phone (808) 263-6292
Learn more at Manoa Chocolate
---
Kailua is also home to the Ko'olau Distillery and open to the public.  They recent opened up in 2018 and have released some crafted spirits including a gin, moonshine, and their rising star Old Pali Road Whiskey. 

They have a neat space in town and offer whiskey tastings and also serve crafted cocktails including Tradewind Gin & Tonic, Moonshine Refresher, and how about a Chocolate Macadamia Nut Old Fashion.  
SIgn up for their whiskey tasting tour and sample their spirits while learning about their production process.
---
Kailua Restaurants
---
For many years Buzz's Steakhouse that's located across the street from Kailua Beach was about the only memorable place in town for its location and long standing run.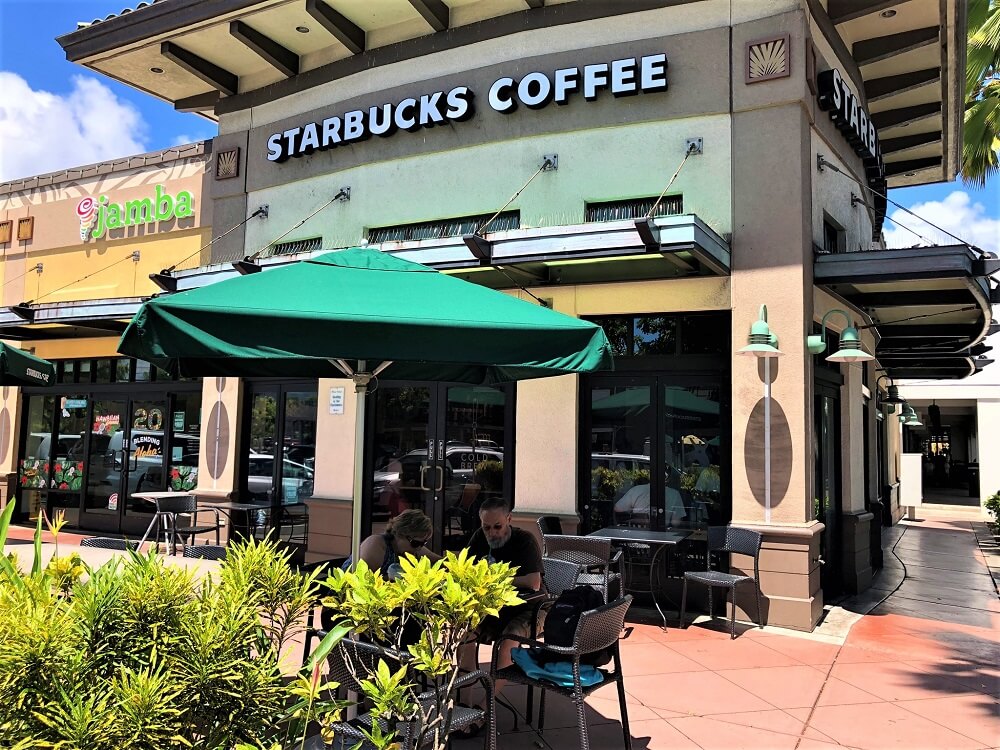 Did you know that you can order a cup of Kona coffee at the Starbucks in Kailua?  It's the only branch on the island that features this luxurious coffee.  It's not cheap but worth the indulge!

When I think of Kailua Restaurants today, brunch spots come to mind as they have some of the best!  Boots & Kimo's, Cinnamons, Moke's Bread and Breakfast, and Over Easy and all excellent choices with delicious spins on pancakes, fried rice and loco mocos…you will not be disappointed!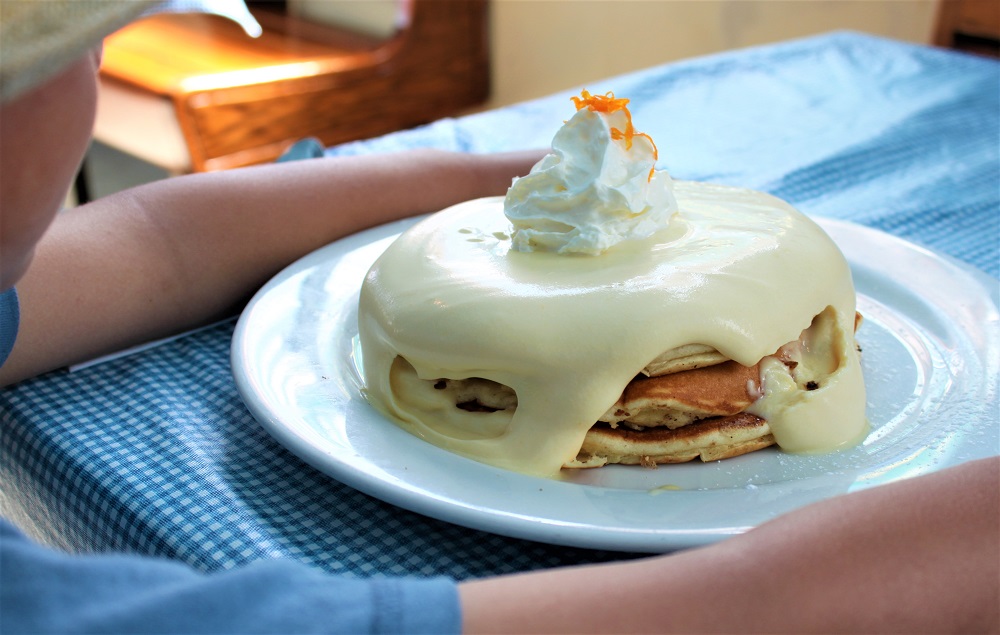 Checkout more on the best Kailua Restaurants, and what they have to offer.
---
Plate lunch in Kailua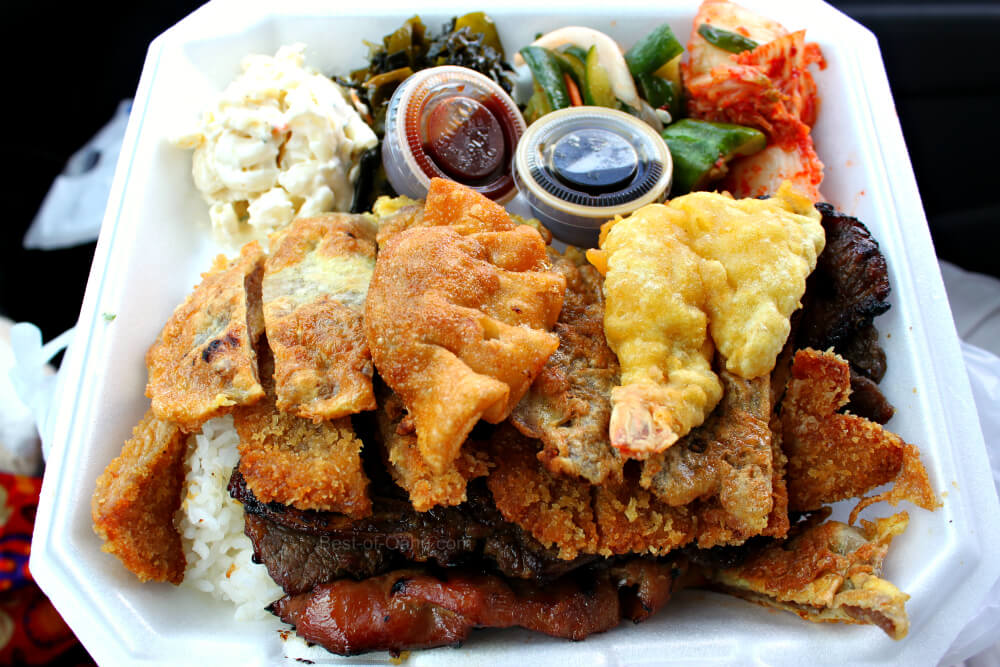 Keep it simple, filling, and onolicious (delicious) by grabbing a plate lunch in town. If you're not familiar, this is local comfort foods that are well regarded in Hawaii.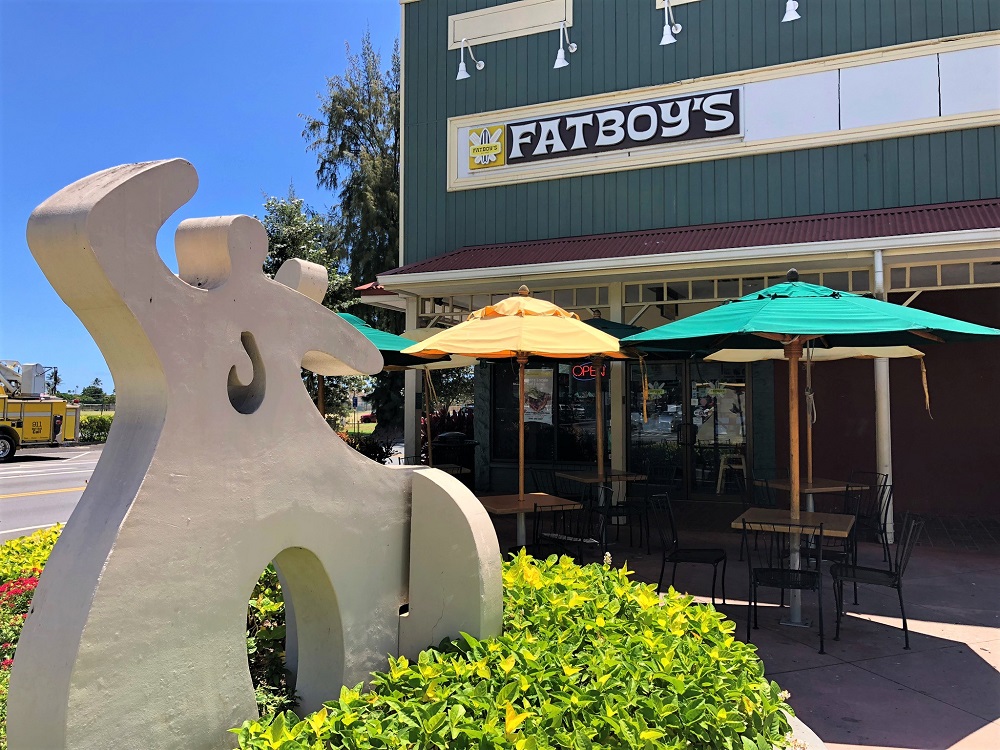 Kailua has its share of classic plate lunch spots including L&L Barbeque, Zippy's, Kim Chee Restaurant, Koko's, and Fatboy's Kailua Town.  There nothing more stratifying than picking up some Hawaiian comfort food barbecue and taking it to the beach for a picnic.

We personally like the Ohana Bar-B-Q for the quality and generous portions.  A mixed plate lunch here can feed the whole family!

---
Kailua Breweries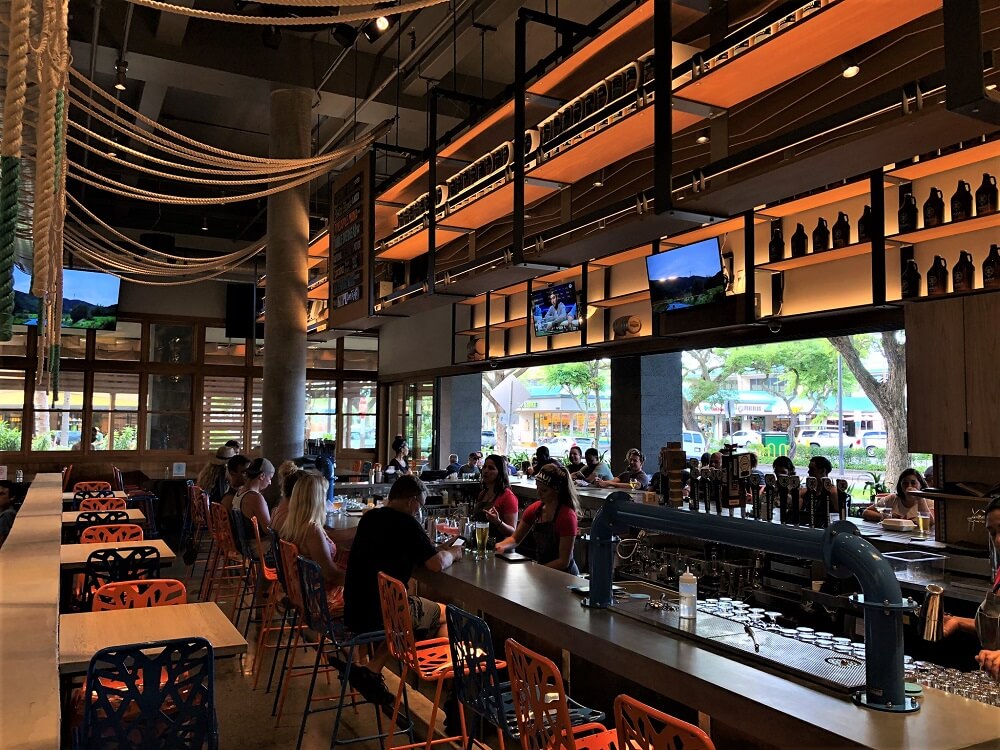 Recently a couple breweries have popped up in town.  Stop by the Lanikai Brewing Company for tastings of their Moku Imperial IPA, Pillbox Porter, and Hawaiian Wild Ales, and learn about their brewing process.
The Maui Brewing Company has also opened up in town with a restaurant & bar tied to it. The wall murals, hip island décor, and outdoor seating makes it one of the coolest places to hangout for happy hour.

---
Agnes Portuguese Bake Shop
Hot Malasadas in Kailua…?  That's right you can get your fill of fresh Portuguese hot malasadas from Agnes Portuguese Bake Shop.  Agnes runs his operation from a food truck these days.
You'll find it parked downtown area at the corner of Puniu St and Ho'olai St.  And while Leonard's Bakery is the master at this perfection, Agnes has found his own secret recipe to these devilish delicious tasting donuts.
They are simple no fillings, squishy and hot goodness.  I recommend calling ahead for 2 reasons… Agnes' malasadas take about 15 to 20 minutes to make, so order ahead, and sometimes by popular demand they simple run out for the day.
Location - 5 Ho'olai St, Kailua - Phone (808) 284-4963
---
Kailua Beaches
---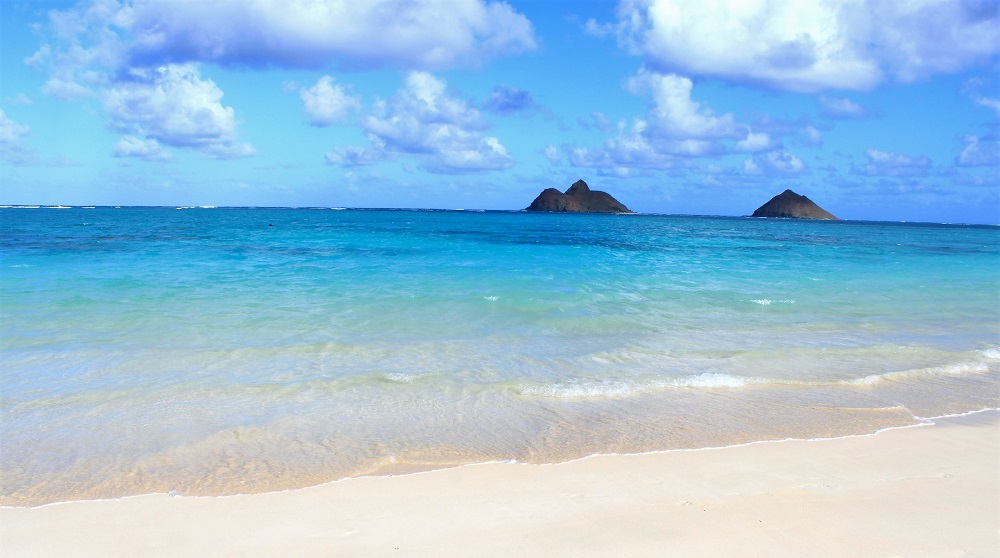 Aqua blue waters, long powdery sandy beaches, calmer waters, trade winds and sunshine are what make up these beautiful Oahu beaches!  The question is do you want to go to Kailua Beach, neighboring Lanikai Beach, or Kalama Beach located down the road?  There are no bad choices here, but learn more about them and how they differ from one another.

---
Kailua Beach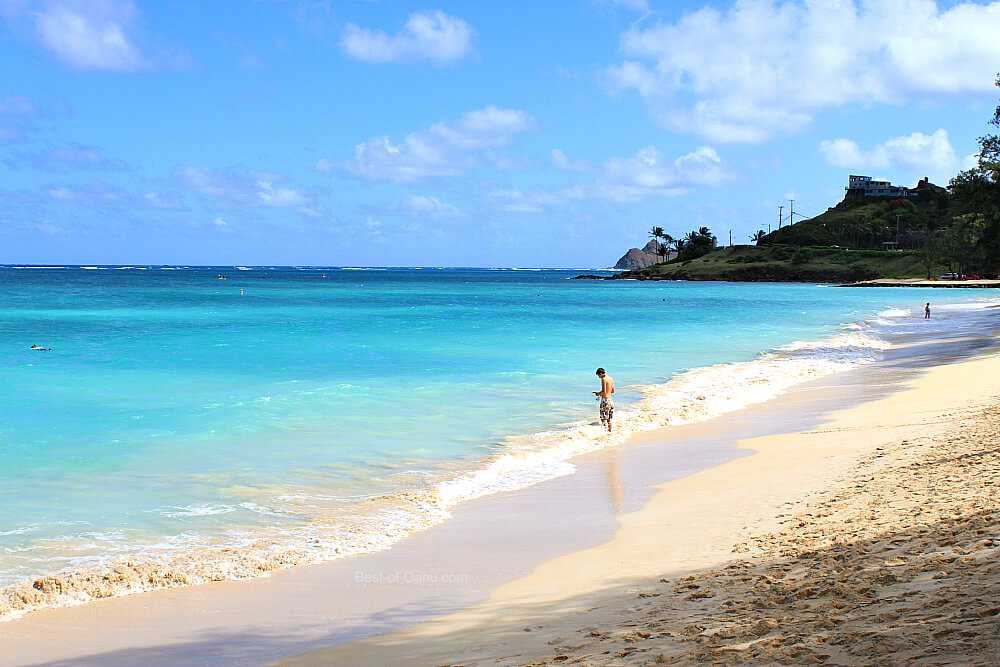 This Oahu beach is just a couple minutes past town.  It has lots of public parking, restrooms, a large grassy field with picnic tables, and trees providing some shade.
Kailua Beach Park is also has an extensive beautiful beach with playful water to jump into.

---
Lanikai Beach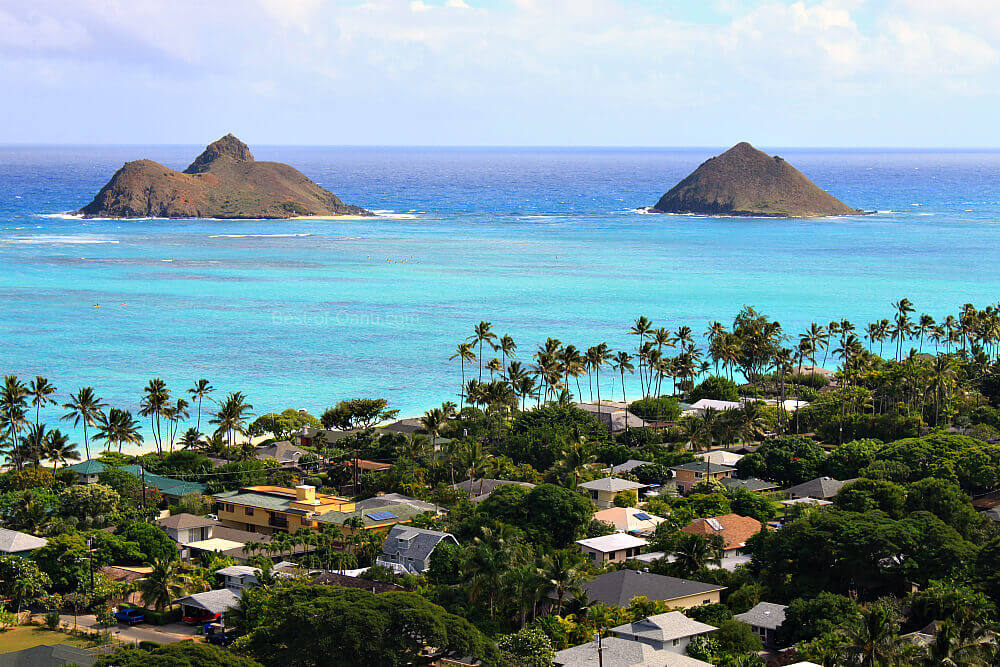 Voted as Oahu's #1 most beautiful beach, tends to be a little overrun because of its popularity.
If you manage to find a parking spot in the Lanikai Beach residential neighborhood, and walk through one of the 3 beach alleyways, you'll see why this was named "Heavenly Water".

---
Kalama Beach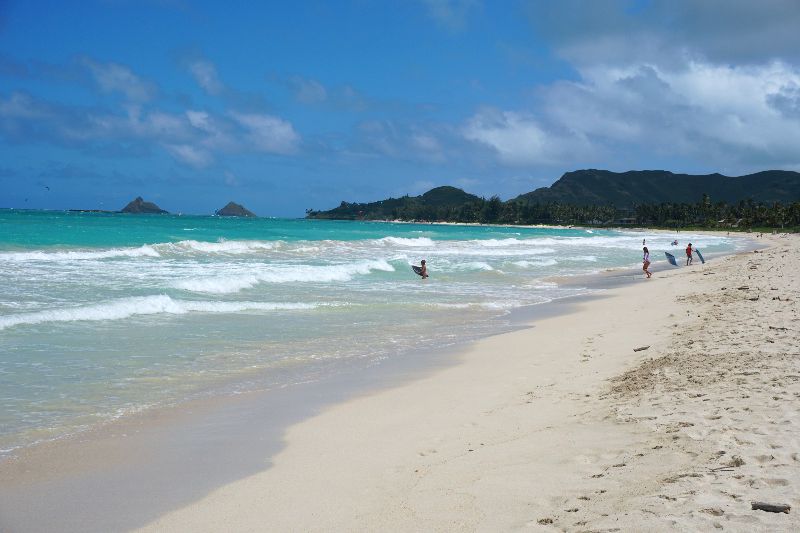 Located on the opposite side of North Kalaheo Ave is Kalama Beach Park.  It tends to be quitter on this side and a locals favorite.  It's a beach combers haven with lots of drift wood along the white sandy beach.
There not much public parking available (about 2 dozen park parking spaces), but there is parking available along the residential side streets.  Make sure to park your car off the street and be courteous to the residents.  One thing to note is that there's no shortage of pristine beach here…goes on for miles!

---
Outdoor Kailua Activities
---
Like renting bikes in town, you can also rent kayaks in town or sign up for tours that make it easy to participate in this water sport.

Whether you decide to stick close to coast and admire the beaches and homes or make the journey out to the Mokalua Islands and back, I'm sure you'll have fun!

There are guided kayak tours available with gear provided...

---
Lanikai Pillbox Hike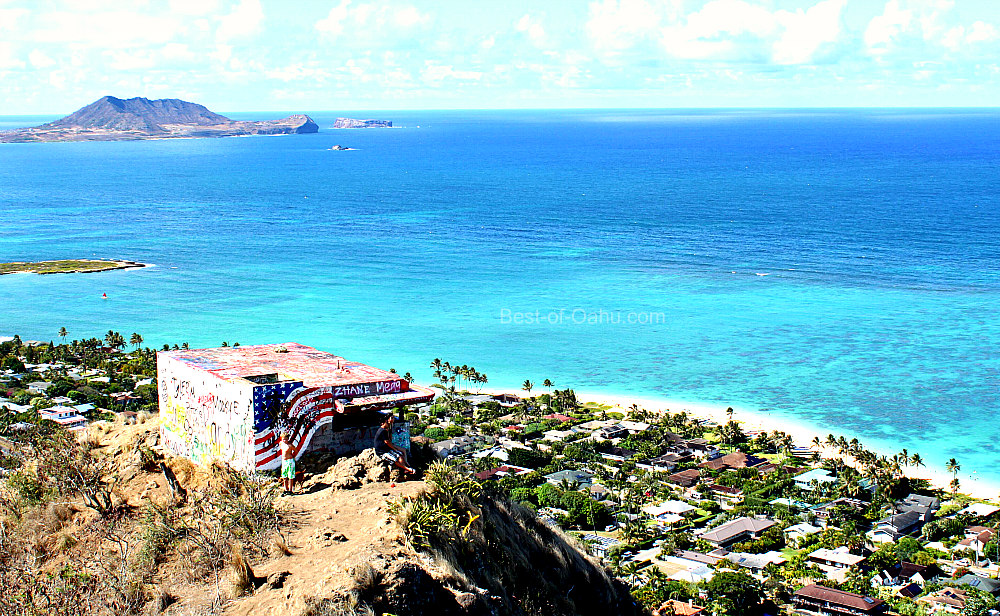 known for its short climb up to a couple military viewing pillboxs, with some of the most stunning views of Mokulua Islands, and the vast majestic blue waters surrounding the Windward side.  The Lanikai Pillbox Hike is an adventurous mile hike with rewarding views.
known for its short climb up to a couple military viewing pillboxes, with some of the most stunning views of Mokulua Islands, and the vast majestic blue waters surrounding the Windward side.
---
Getting there
---
Driving Directions from Waikiki


Driving Directions from Waikiki: 

Starting from Waikiki, jump onto the H-1 Freeway and head west…

Take the Pali Hwy (or Hwy 61) over towards Kailua

Turn right onto Kailua St. and you just entered the heart of Kailua Town
---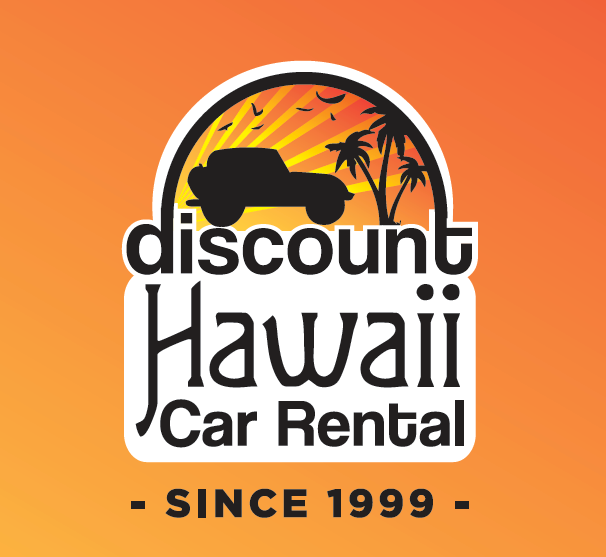 Need a good rental car option for the day?  Whether you would like to visit a beach, a popular Oahu attraction, or explore the island for just a day, consider these great, discounted rent-a-car rates with Discount Hawaii Car Rental.  They also have great packages for your entire trip...
Oahu Bus Directions


Start off from Waikiki, and take the number 8 or 20 Oahu Bus to the Ala Moana Center.  Take a paper transfer and jump onto bus number 67 to the downtown Kailua Town area.

Map of Kailua


---
Return to Best of Oahu Home Page
Aloha & Enjoy!

Subscribe to receive Best of Oahu updates on events, updates, and new articles.  It's the closest way to paradise while you are away...
We will never sell or spam your information, and we'll respect your email privacy.