Lanikai Pillbox Hike - to heavenly views
The Lanikai Pillbox Hike, also popularly known as the Kaiwa Ridge Trail, is one of the most picturesque and pleasant Oahu hiking trails.  This intermediate hike rises just above beautiful Lanikai Beach, rewarding hikers with some of the best vistas of Oahu's windward side.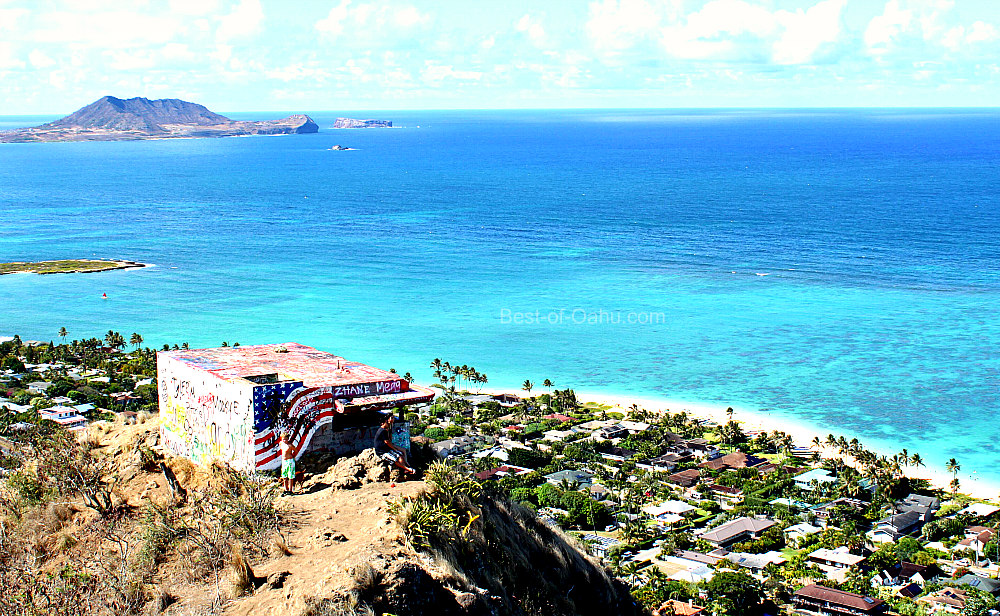 ---
Elevation     625 Feet
Length         1.5 Miles Round Trip
Duration       60 to 90 Minutes
Terrain           Hills, Ridge, Loose Dirt
Difficulty        Medium
---
Disclaimer – all Oahu hikes have different challenges and hazards that can be dangerous and may cause injury. Know your fitness and skill level before embarking on any hike.  Stay on trails and obey posted signs. The information on this site is for your reading pleasure only.  Hike at your own risk.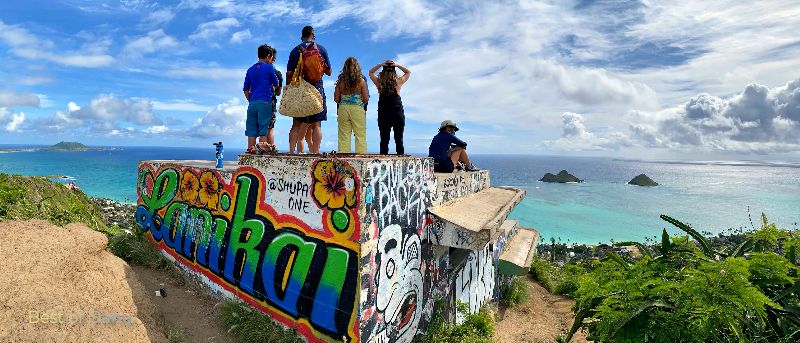 Lanikai Pillbox Hike is ranked intermediate because of the steady steep grade of the uphill climb right from the start of the trail head.

Throughout the climb, hikers are rewarded with views of the Mokulua Islands, Kailua Beach, Lanikai Beach, and its surrounding residential neighborhoods.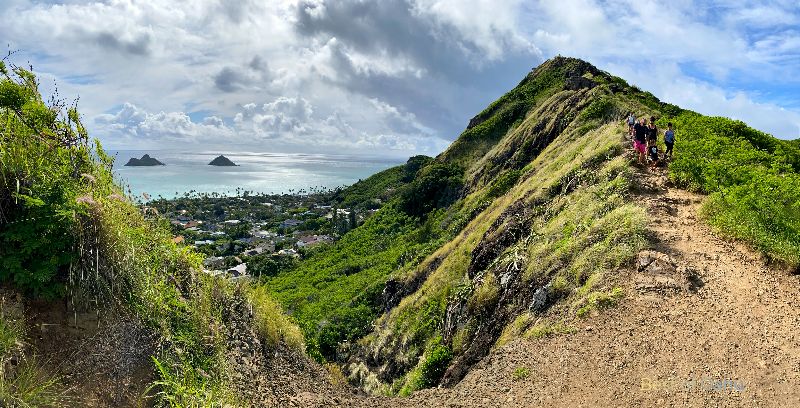 In the distance, you can also see Kaneohe Bay, Chinaman's Hat, Waimanalo Bay, and the Makapu'u Lighthouse.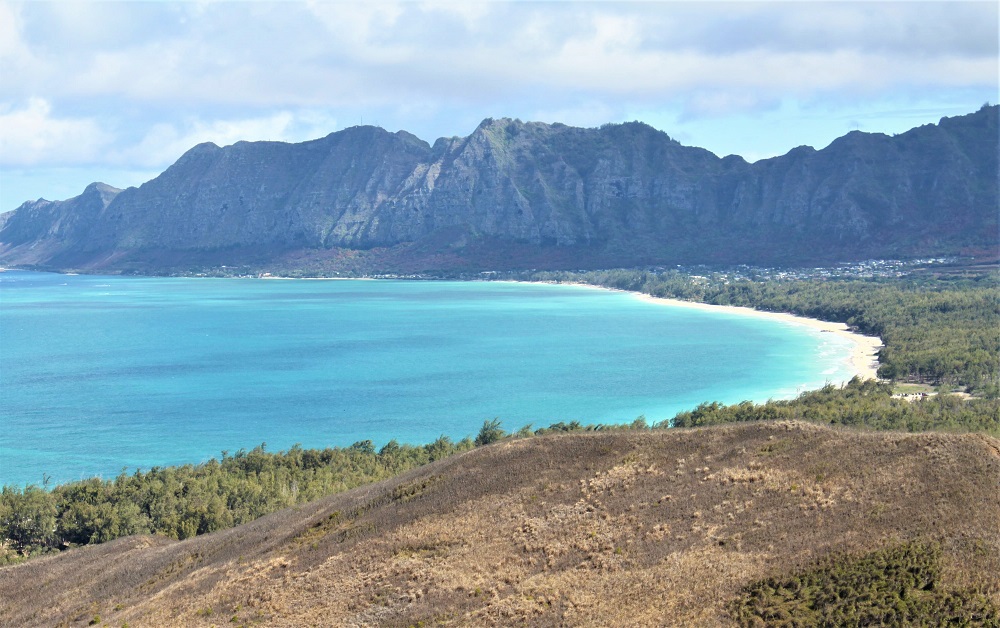 ---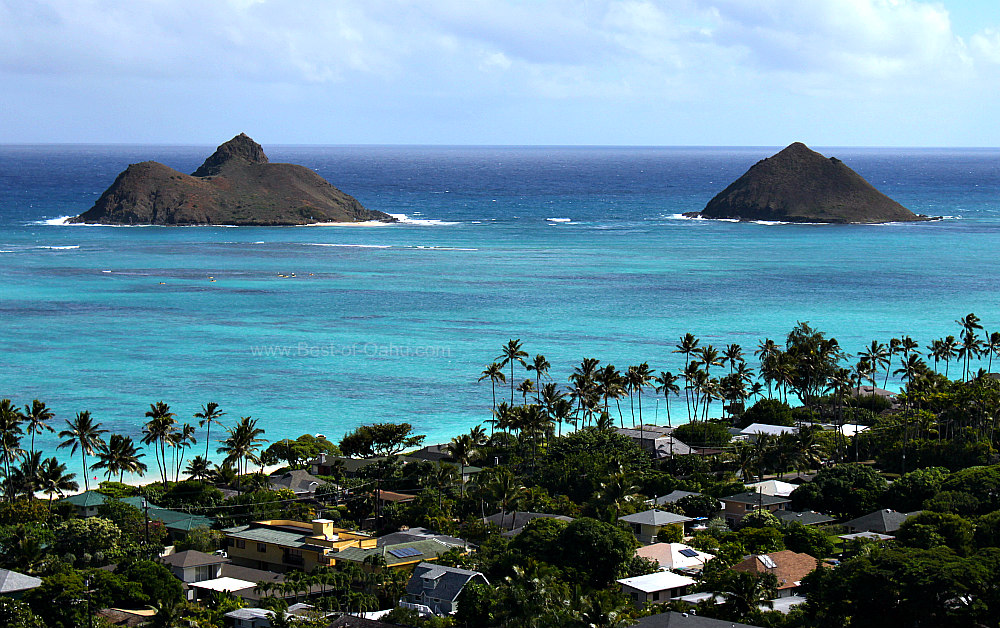 Hikers are rewarded with mesmerizing views the entire way up to the pillboxes.

---
The Hike to the Pillboxes
---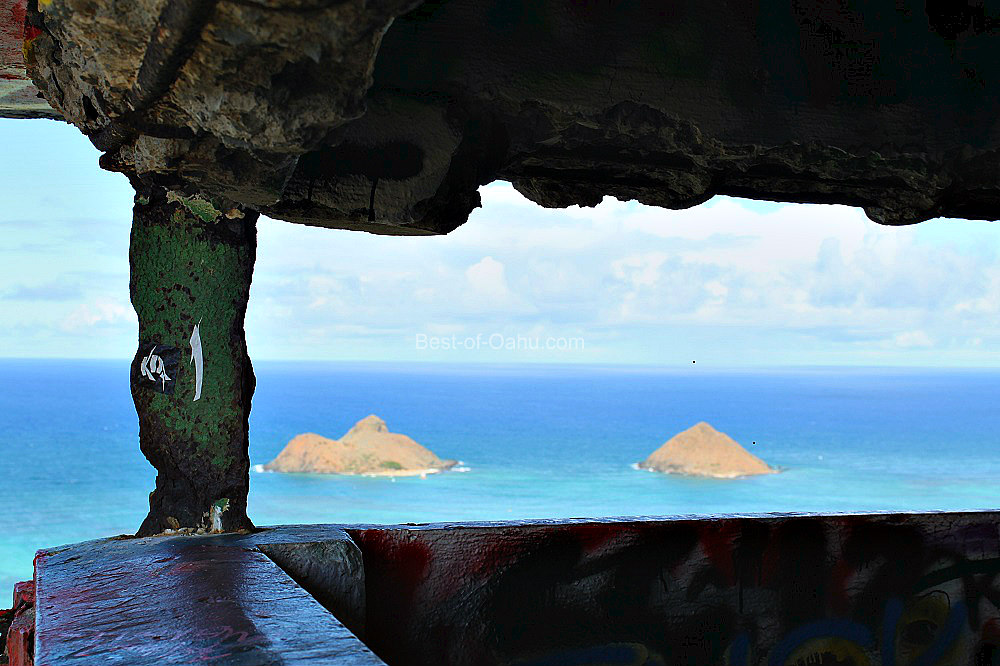 The Lanikai Pillbox Hike is a moderate 1 hour to 90 minute hike (roundtrip), depending how far you decide to go.  You can easily reach the first old military pillbox bunker in about 20 to 30 minutes.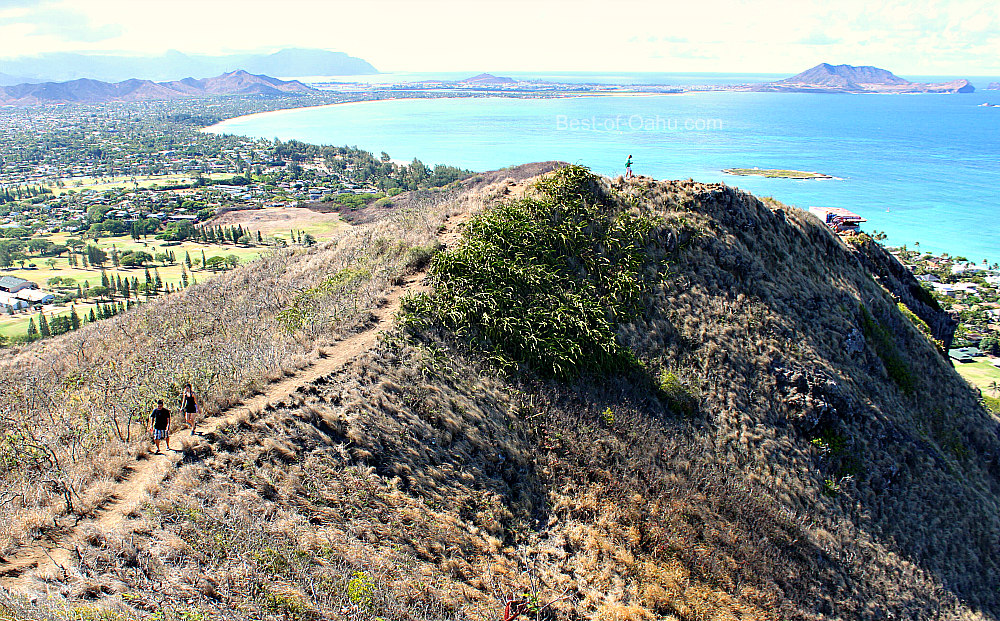 From here, another 10 minute walk along the ridge will take you to the second pillbox.  Most hikers turn around at this point, and travel back down the Kaiwa Ridge Trail from where they originally started.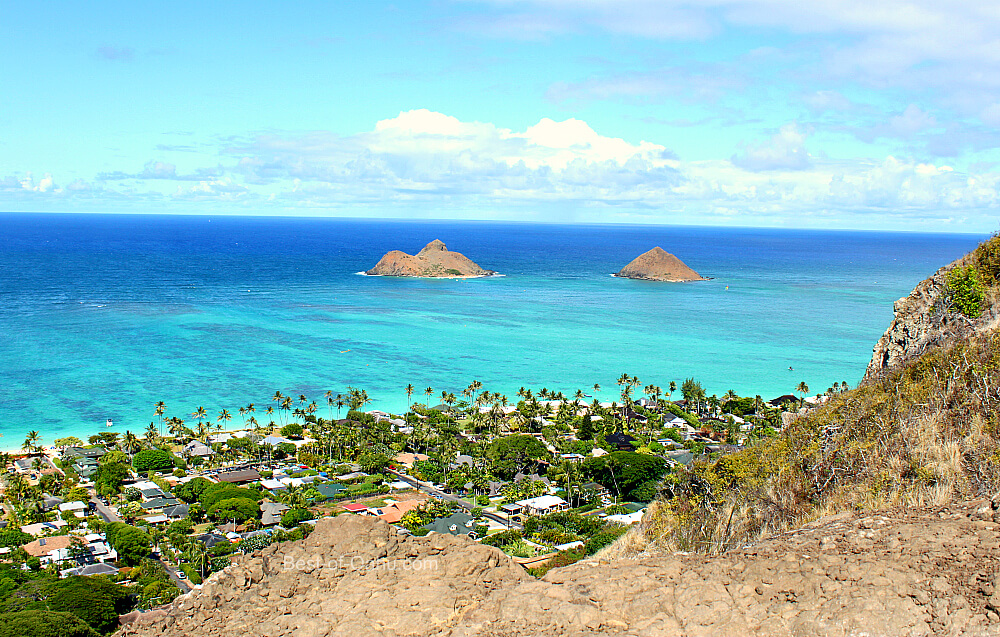 You also have the option of trekking another hour farther along the Kaiwa Ridge Trail and it will take you around the coast a bit farther, and finally lead you down to the residential houses located on A'alapapa Street.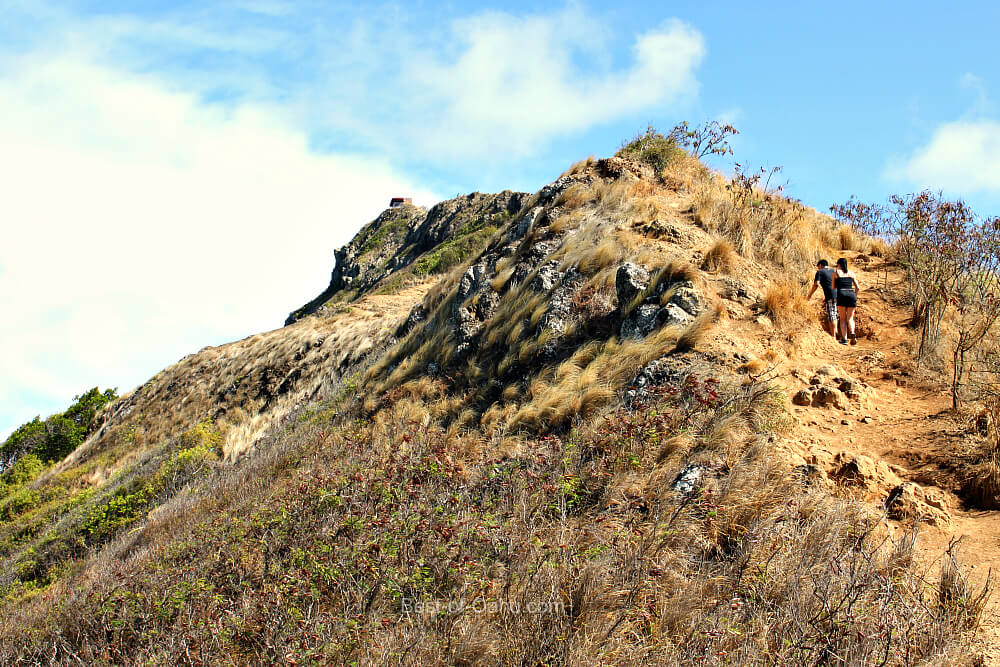 From there you will need to walk approximately mile back to Ka'elepupu Drive, where you first started.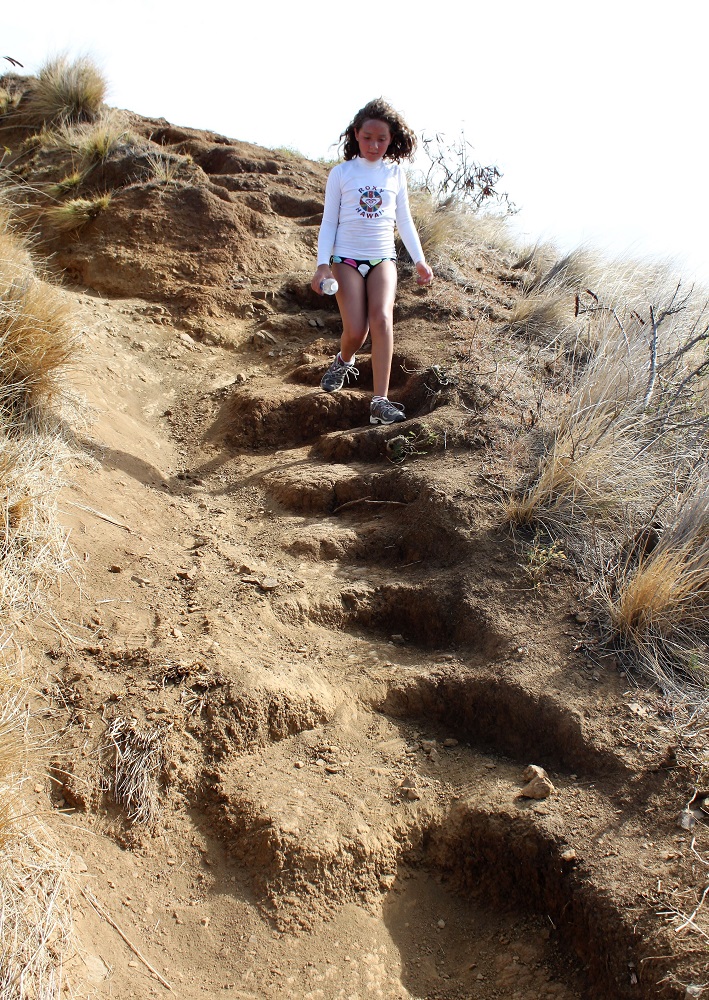 You will want to wear appropriate hiking shoes and take caution climbing up and back down the Lanikai Pillbox Hike.  It's a long steep climb up the initial part of the ridge, with lots of loose rocks and gravel that you could slip on.
There used to be a climbing rope on the side of the trail to help you along your way.  But since the rope is gone now, I like to walk through the tall grass on the side of the hill, which seems to give me a little more grip.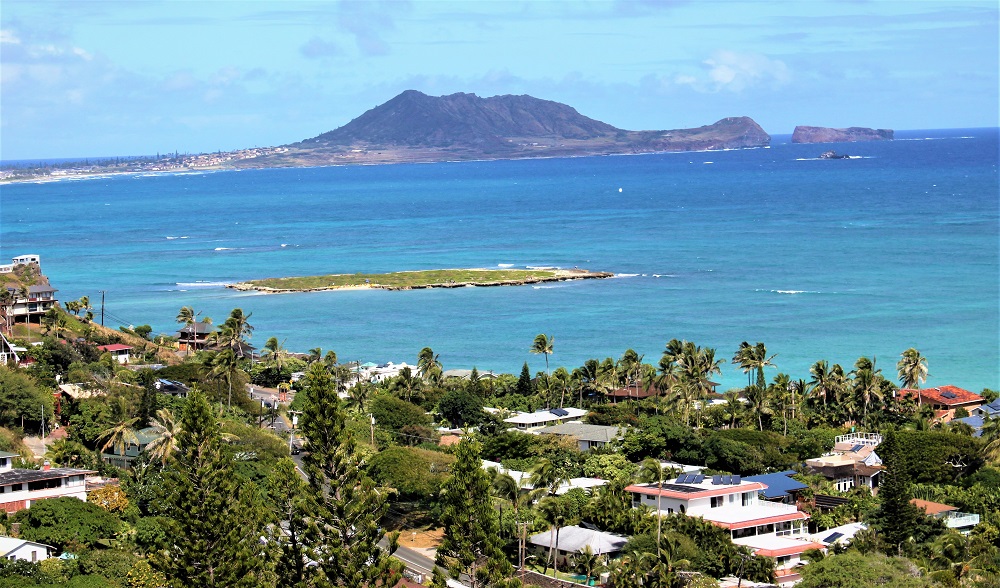 The initial 10-yard (approx) vertical climb through thick brush might seem a little intimidating at first, but the steep part is short and you will be fine once you get started and the trail opens up to the fabulous ocean views to the left.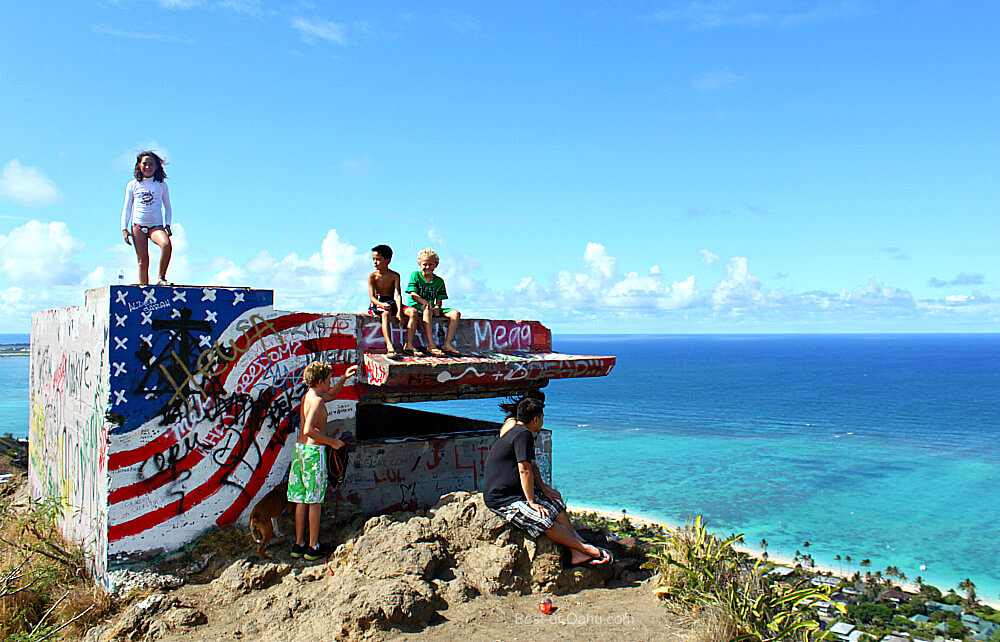 Although this Oahu hiking trail is rated moderate because of its initial steep climb, you often find kids and families along the ridge top, enjoying the adventure and views!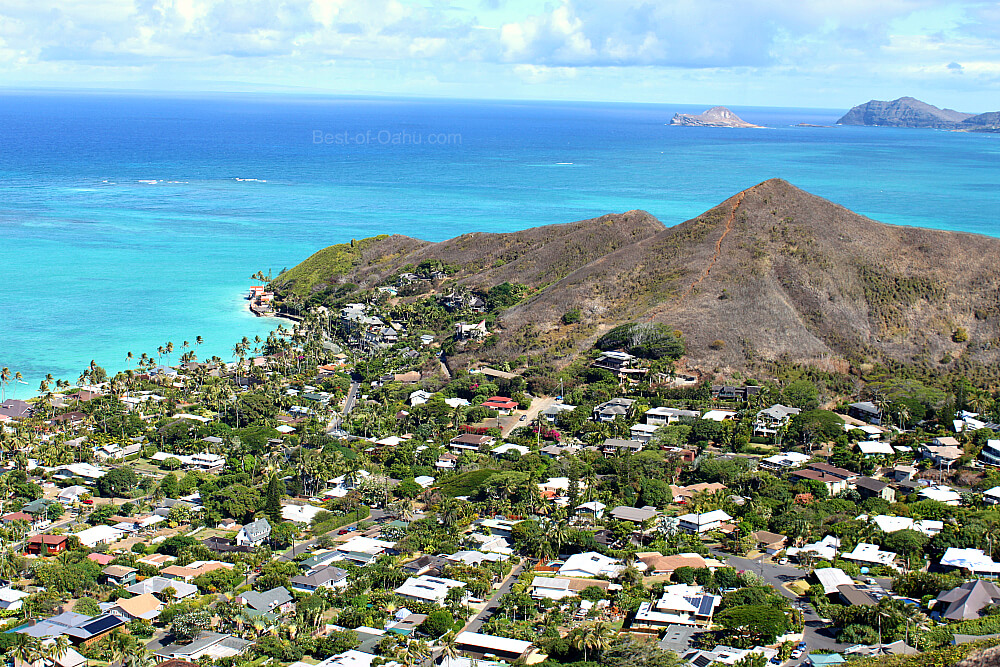 ---
---
Pillbox Sunrise
---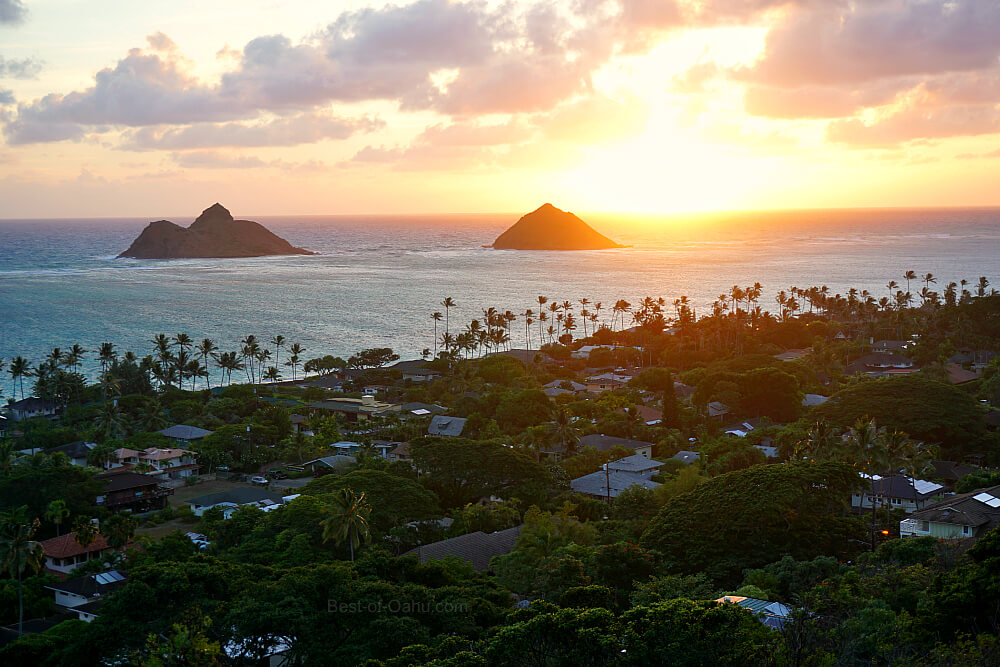 If you wake up early enough you just might be rewarded with one of the best sunrises of your life.  Note that if you're not ready for the climb, there is a gratifying experience watching it from the beach below.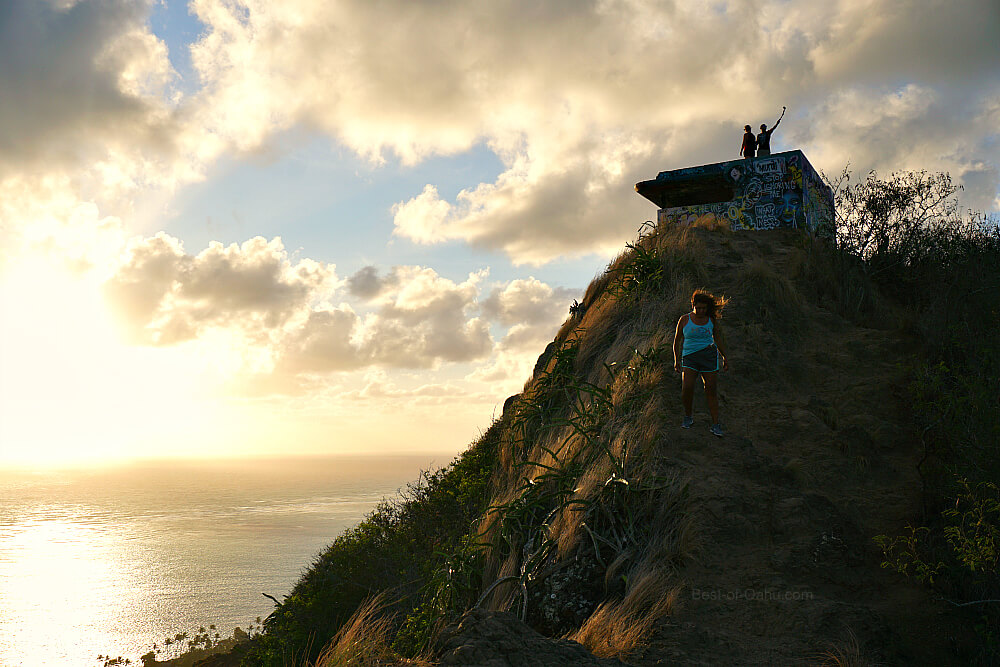 Some hikers climb up on top of the bunker when they reach the 1st pillbox.  Maybe as a sign of victory...or to get a memorable selfie.  Make sure to be extra careful as it gets quit windy along the ridge and up top.
---
Panoramic View Map
---
---
3 Similar Oahu Hiking Trails
Here are 3 additional Oahu Hiking Trails that are similar to hike, which you might want to consider climbing after this one...
---
Getting To Lanikai Pillbox Hike
---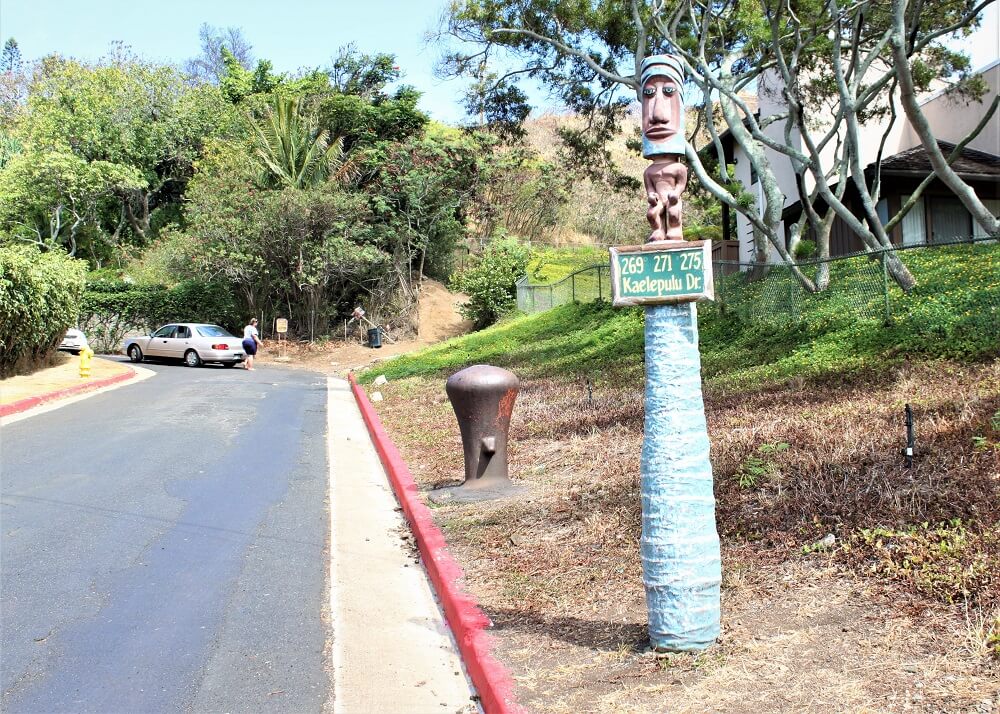 Your best option is to drive to Lanikai for this hike.  It will take you about 40 minutes by car from Waikiki, or 1 hour plus by bus.

The starting point of the Lanikai Pillbox Hike is located on a small no name street that branches off of Ka'elepupu Drive --- trust me…its easy to find!  You will see it directly across from the Mid-Pacific Country Club.  There should also be a small sign further up this "street" indicating the Pillbox Hike.

Next to the sign, you will need to step through some brush and immediately climb up about 10 feet to reach the Kaiwa Ridge Trail.

By Car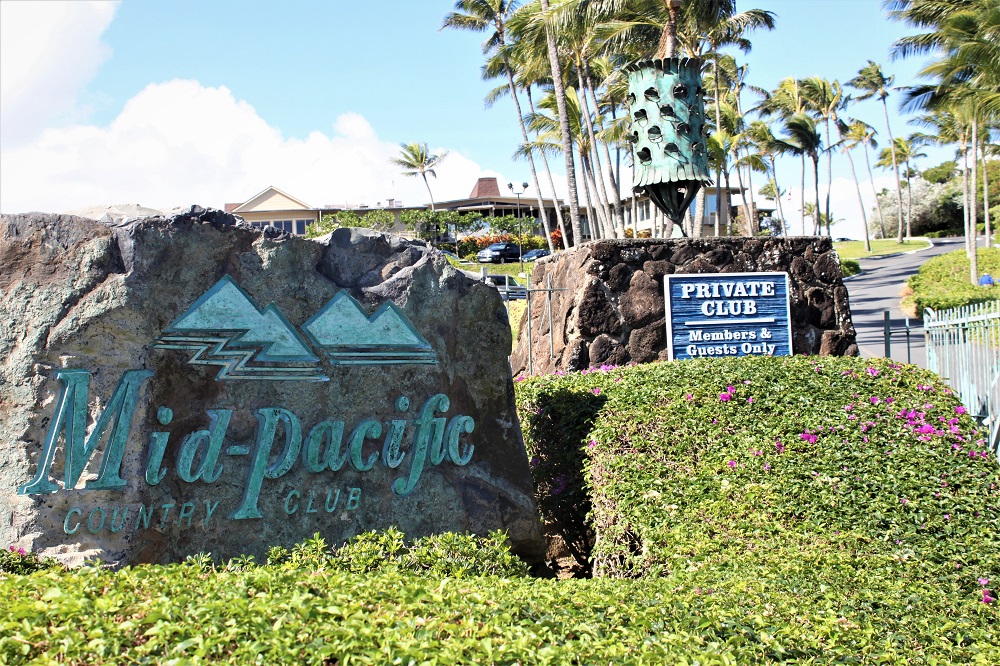 Jump onto the H-1 Freeway from Waikiki and head west.
Merge onto the Pali Hwy (Hwy 61) and follow it to the eastern side of the island
Turn right on Kailua St (in the town of Kailua)
Make a right turn onto Kawailao St and follow it until it becomes Aalapapa St.
Make a right turn onto Ka'elepupu Dr
There are about 7 parking spots located on the right hand side by the entrance gate to the Mid-Pacific Country Club.  Park and walk up the side street on the left hand side and look for the small "Pillbox Hike" sign.

---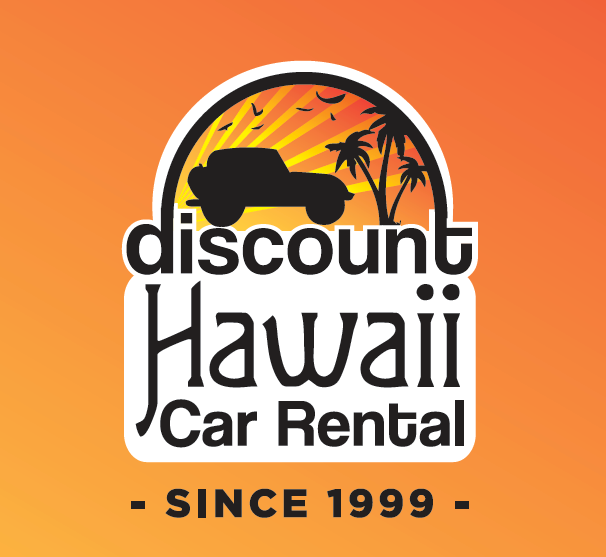 Need a good rental car option for the day?  Whether you would like to visit a beach, a popular Oahu attraction, or explore the island for just a day, consider these great, discounted rent-a-car rates with Discount Hawaii Car Rental.  They also have great packages for your entire trip...
---
By Oahu Bus

From Kuhio St in Waikiki, take the number 8 or 20 Oahu bus to the Ala Moana Center.
 Transfer onto bus number 67 that will take you over the Pali to the downtown Kailua area.

Once in downtown Kailua area, transfer to the shuttle bus number 671.  Ka'elepupu Drive will be the 2nd street once you enter the Lanikai residential area.  
Let your bus driver know that you would like to be dropped off at the A'alapapa Drive stop.  Ka'elepupu Drive is one block up the street, where you will need to walk up to the hiking entrance.
---
Oahu map of the Lanikai area
---
---
Hiking Tips


While some consider this to be an easy hike, be mindful and careful as medical rescues take place here.  Some hikers have fallen and hurt themselves, sprain ankles or have just hike beyond their means.  There has even been some helicopter recues on occasion in the area, assisting folks off the hillside.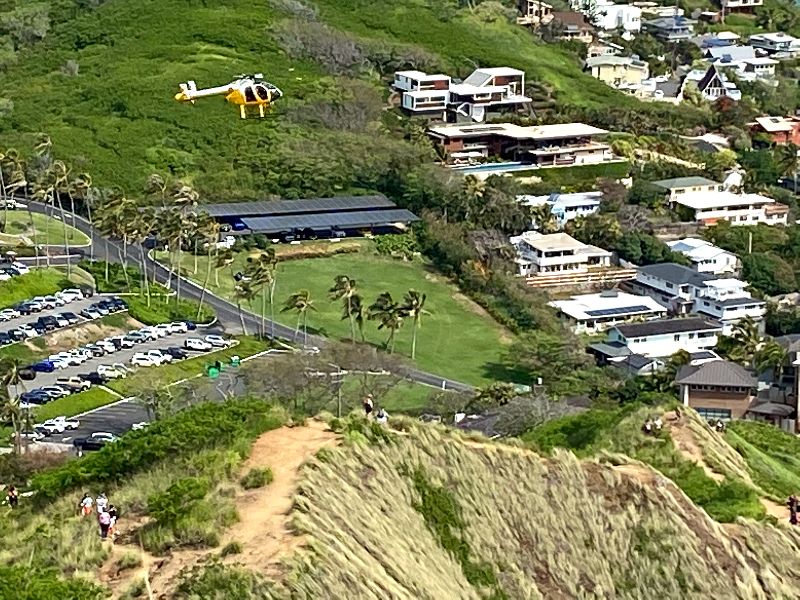 Closest public restroom is located at Kailua Beach Park if you need to use one.
Come prepared to all Oahu hikes with the proper gear and aid including the following:
Water
Hat
Shoes with a grip
Sunscreen
Light snacks
Camera
Backpack
---
In the Lanikai Pillbox Hike Area
---
Windward Oahu Beaches!


The 2 most beautiful beaches on Oahu just happen to lie below the Kaiwa Hills.  It would be a shame to not spend a little R&R time on at least one of them!

---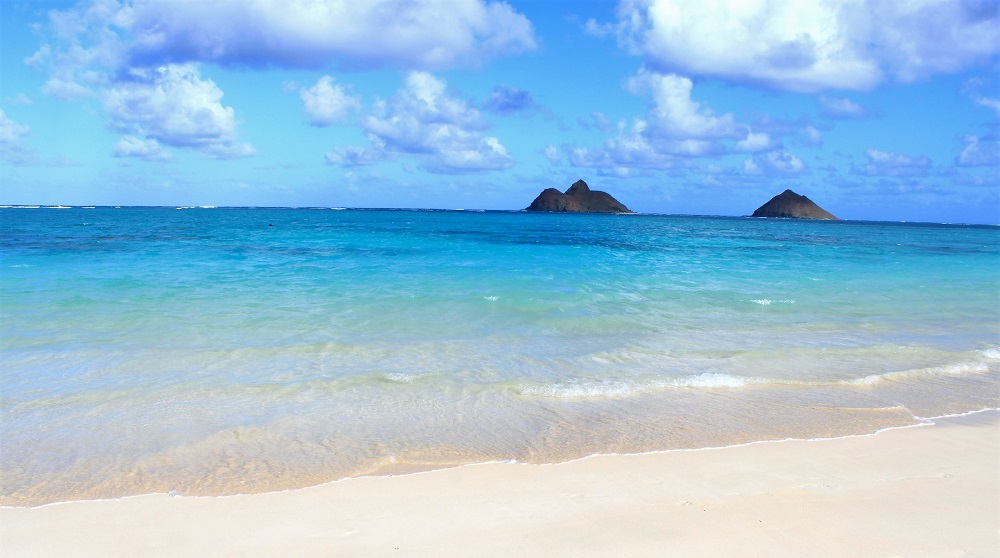 Lanikai Beach backs up to the luckiest residents on the island!  This Oahu beach has pristine powder sand and tranquil aqua blue waters.  I could easily camp out on this beach all year long and call it home!

---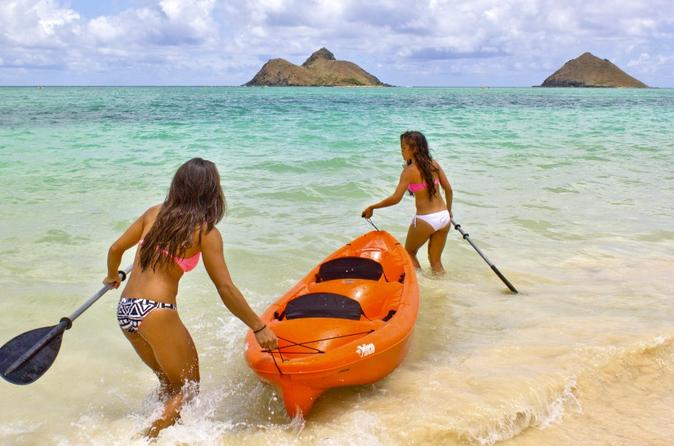 It's amazing enough to just step onto Kailua beach, but paddling out gives you a whole new perspective. Not to mention observing the crystal clear waters below as you journey out.

This is a special 2 hour adventure that you must plan ahead and sign up before arriving at the beach.  It includes transportation, lunch, snorkel gear, life jacket, dry bag, and caters to beginners to more advanced kayakers. 
---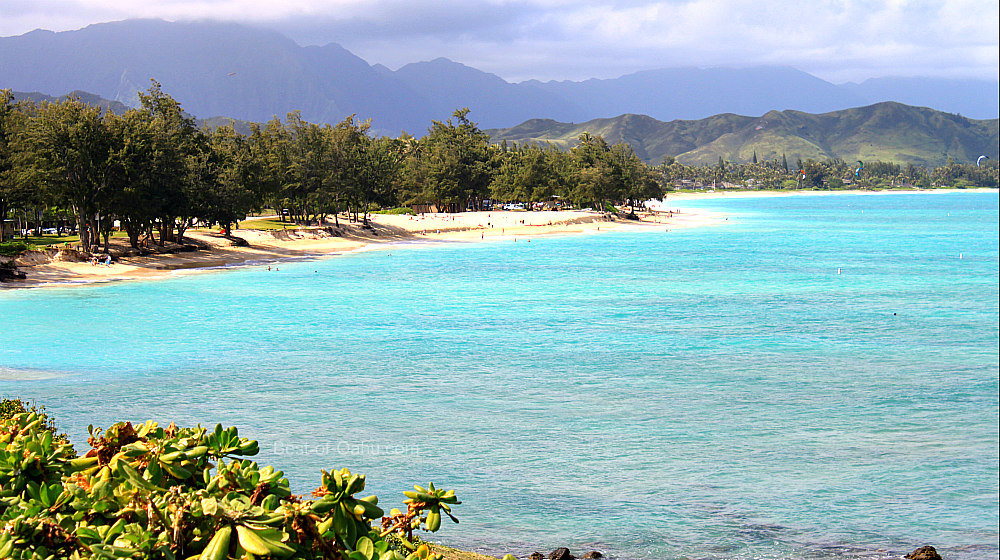 Kailua Beach Park offers more pristine beaches, aqua blue waters, and the definition of the word paradise!  It also has park facilities available if you need them.

---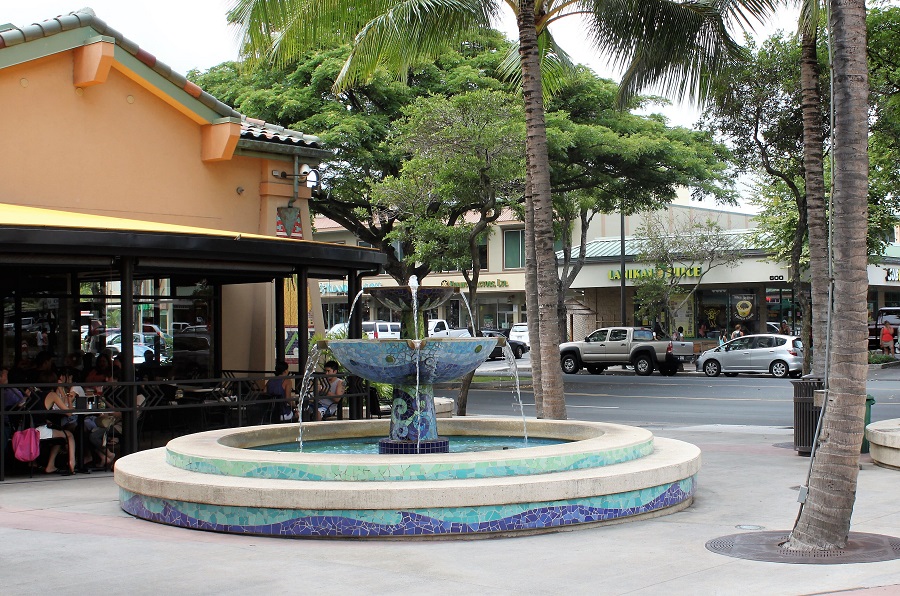 On your way to Lanikai, you will pass through the charming downtown area of Kailua Town.  There are many fun shops and restaurants you can duck into.  Take a stroll if your legs are still up for it!

---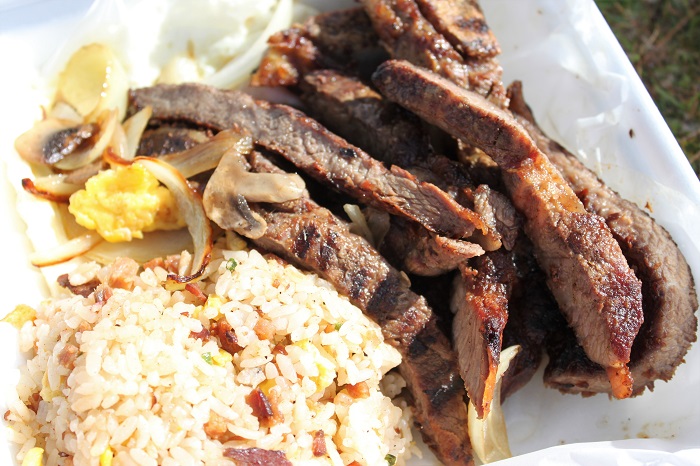 Among the slew of Kailua Restaurants, I would recommend heading over to Boots & Kimo's for good breakfast eats, and L&L Barbecue or Zippy's for an inexpensive, fast, and satisfying plate lunch.

---
Sister Hike in the North Shore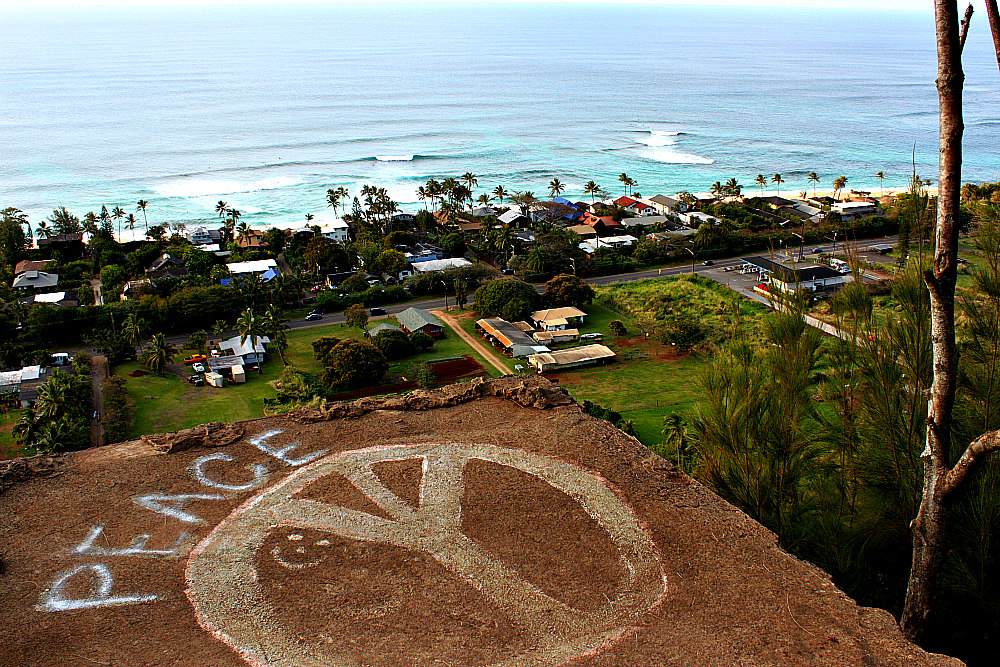 Looking for another hike similar to Lanikai?  Head to the North Shore and turn your attention to a ridge above the Banzai Pipeline.  The Ehukai Pillbox Hike is another great Oahu hike that is a 30 minute climb up to two old military bunkers overlooking the North Shore coastline.   The views are breathtaking!

---
Return to Best of Oahu Home Page
Aloha & Enjoy!

Subscribe to receive Best of Oahu updates on events, updates, and new articles.  It's the closest way to paradise while you are away...
We will never sell or spam your information, and we'll respect your email privacy.