Laniakea Beach - known as Turtle Beach
Laniakea Beach translates to "wide sky"…you'll understand once you arrive and look beyond the sea.  But I guarantee you'll be more fixated on the turtles on the beach than looking up into the sky.  In fact this Oahu beach is more commonly known as Turtle Beach, and for good reason.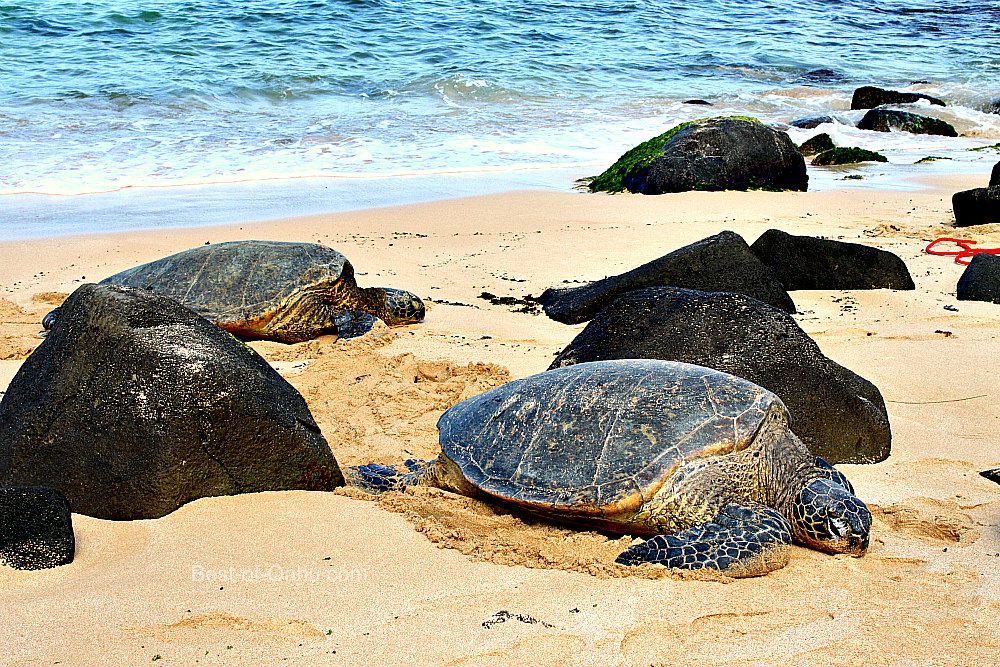 More commonly known as Turtle Beach for its beach side residents, Laniakea Beach is also part of the 7-Mile Miracle, which makes up an area in the North Shore that is prime for big surfing waves during the winter time.  What this Oahu beach is less known for is just how beautiful it is.
---
Laniakea Drone Footage

Get a glimpse from the air of just how extensive and beautiful this beach is.  Most visitors don't make it past the first 30 yards where the turtles hang out.  Take time to walk down the beach towards Chun's Reef,  and you just might end up staying there for the day.
---
Explore Laniakea Beach
---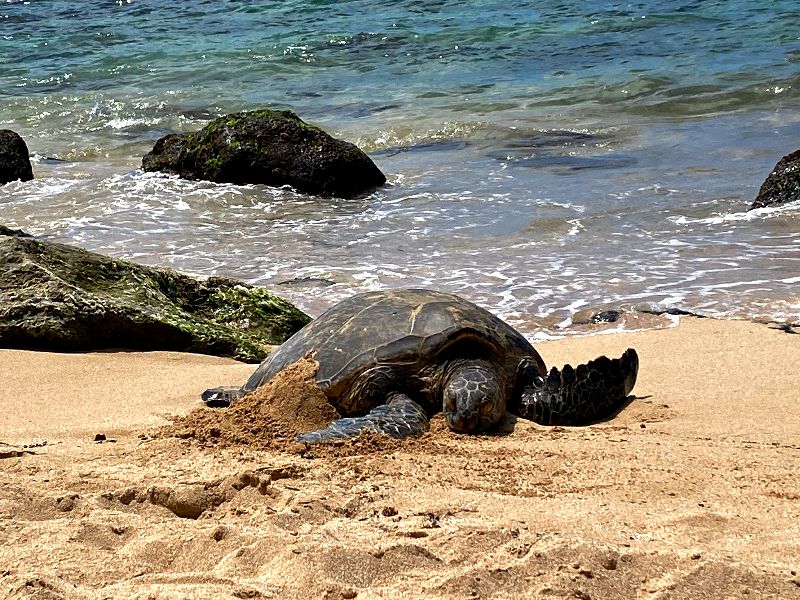 It's hard not to stroll onto this North Shore beach and instantaneously become mesmerized by the giant green sea turtles that bask in the sun and call this place home.
But turn your head to the right and admire a picturesque scene with a rocky cove surrounded by swaying palm trees.  It's an ideal photo opportunity after getting your fill of turtle photos!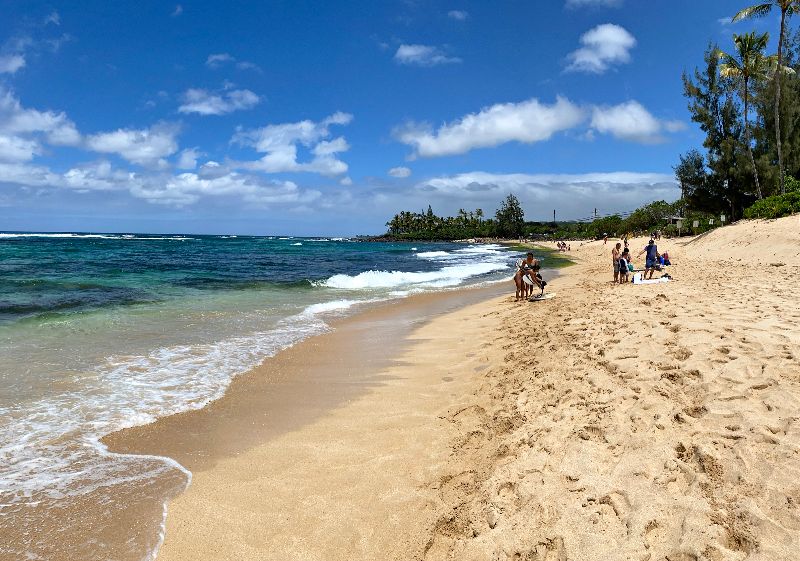 If you plan to stay a while, I recommend taking a stroll down the left hand side of the beach, which opens up to a nice 300 yard stretch of sand.
But while it's a great place to set up your towel and beach chairs, the water can be rough to swim in during the winter time, and you will need to be careful of large patches of rocks below the surface.  The water is usually clear, so look for a good entry point if you decide to go in.
---
There is a 90 minute guided snorkeling tour in Turtle Cove, that includes a professional instructor, equipment, and safety lesson.  Explore the open water in search of green sea turtles and other sea life.  See other awesome snorkeling spots around Oahu here...
---
Hawaiian Green Sea Turtles
---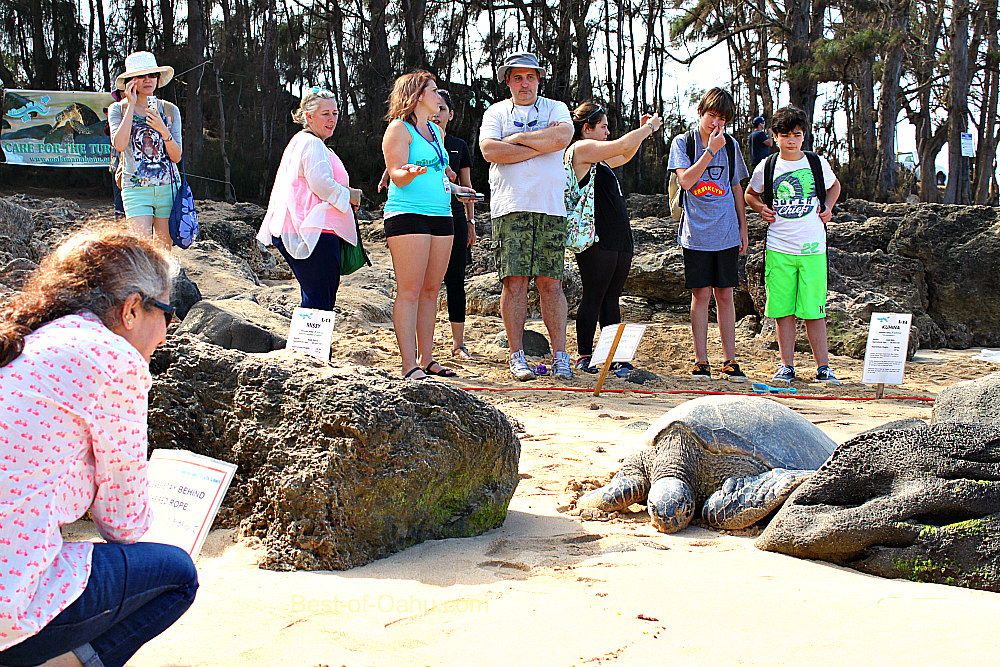 For decades Hawaiian Green Sea Turtles have frequented Laniakea Beach more than any other spot on Oahu, which is why this area has taken on the name Turtle Beach.
We believe the turtles love this rocky cove, because it provides a feeding ground with kelp and green moss seagrass that grows on the rocks above and below the ocean waterline.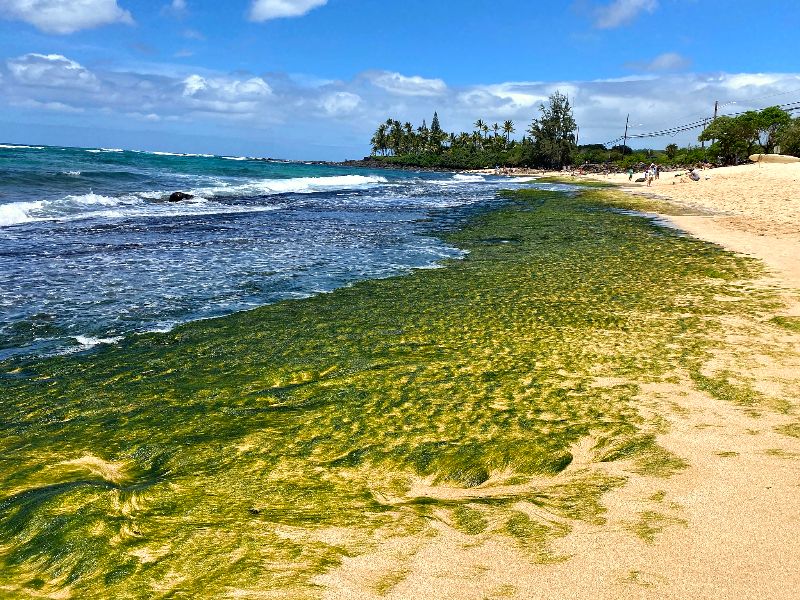 Note that the sea turtles are fascinating to look at, but prohibited by federal law to touch, provoke or even get too close to.
They were once hunted almost to extinction, and put on the endangered species list.  Luckily they have grown back in great numbers, and once again spotted around the island swimming in the ocean.
There are volunteers now who devote their time daily to roping off safe distance viewing areas, and answer questions that visitors may have about the sea turtles.  You'll usually find turtles resting on the beach, but might be lucky to see some turtles surfacing from the ocean or making its way back.

---
Explore Chun's Reef Beach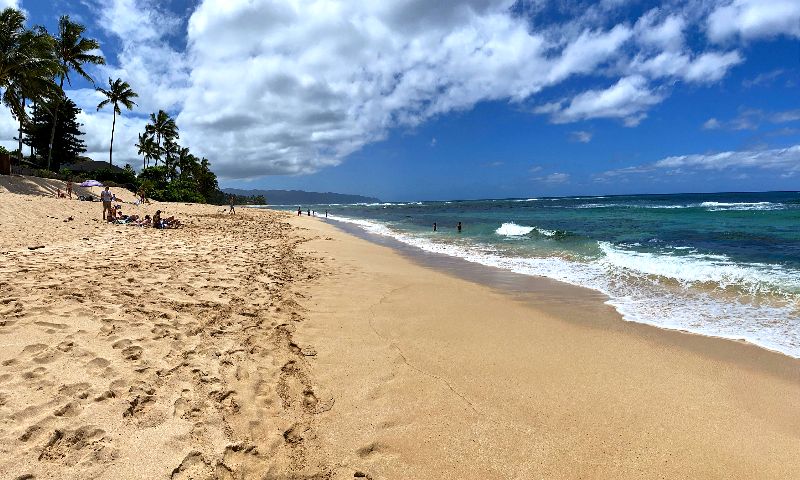 A nicer stretch of the beach is actually a 100 yards away from the turtles, past the rocky path along the coast.  This area is known as Chun's Reef.
It's beautiful and typically empty since you have to walk down a bit from the parking area to get to it.  Chun's Reef is also a popular surf spot when there is a North Shore swell.  Check with the lifeguard before entering the ocean for a swim or some snorkeling.
---
Beach Facilities
---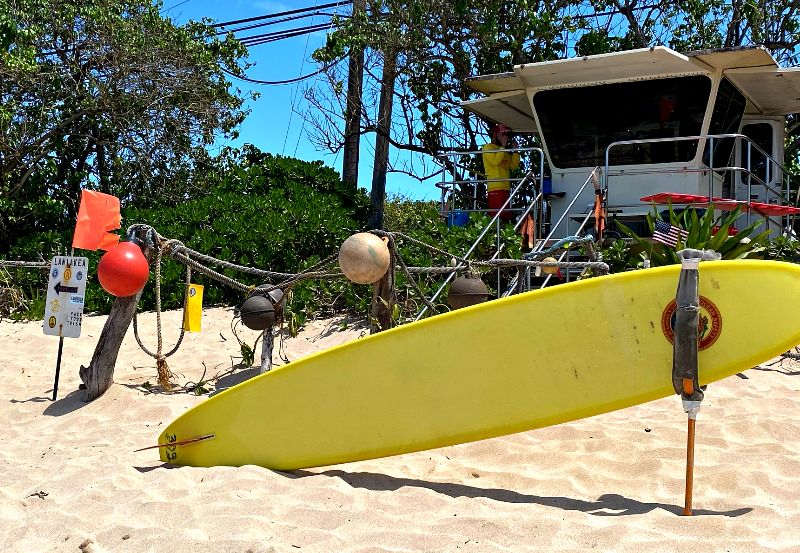 Life Guard Station located 100 yards down towards Chunn's Reef Beach area
No bathrooms, showers or picnic tables 
Some shade under trees
Parking available across the street
---
Getting to Laniakea Beach
---
Located about a mile outside of Haleiwa Town in the North Shore, you're most likely to drive right by it, as there are no signs, and there is only a small beach side opening from the road.  If you reach Waimea Bay then you've gone too far!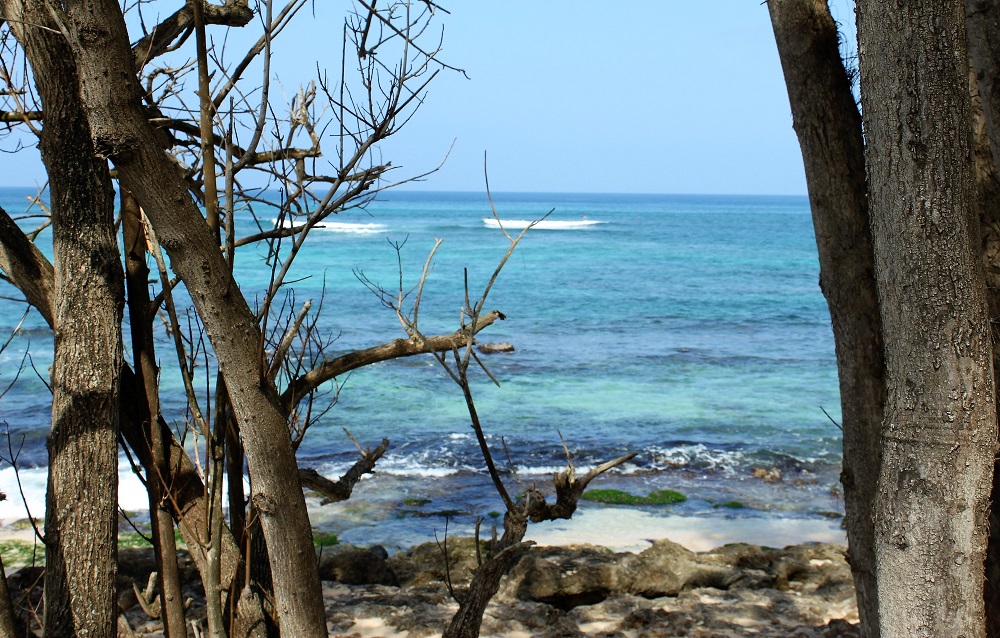 Keep your eye out for parking area located across the street.  If you're lucky to get a parking spot! But you'll still need the traffic to yield before cautiously crossing back across the street to the beach.

---
By Car
---
From Waikiki, Take the H-1 Freeway Headed West…
Take the H-1 Hwy West to the H-2 Hwy North
Follow the H-2 Hwy to the Kamehameha Hwy (Hwy 99)
Take Hwy 99 and continue into Haleiwa Town or bypass it and continue on Hwy 99.  Merge onto Hwy 83, which will lead you to the coastline.
Once you pass Haleiwa, Laniakea Beach will be 1-mile down the road, with the parking lot located directly across the street.
---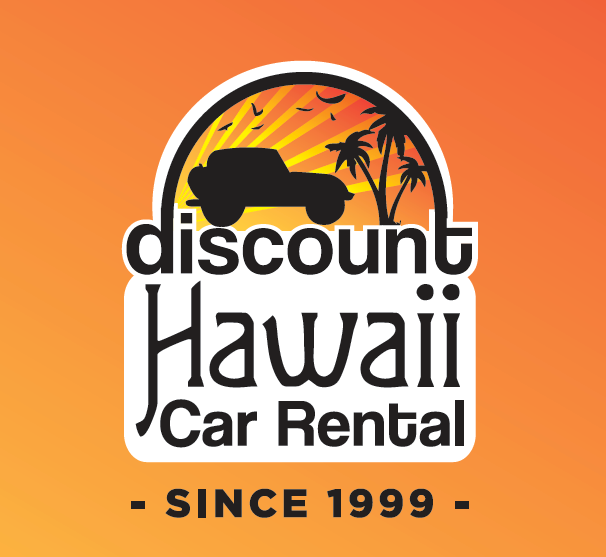 Need a good rental car option for the day?  Whether you would like to visit a beach, a popular Oahu attraction, or explore the island for just a day, consider these great, discounted rent-a-car rates with Discount Hawaii Car Rental.  They also have great packages for your entire trip...
---
By Bus
---
Take the 52 bus from Kuhio Ave to Haleiwa Town, and transfer to Oahu Bus number 88A or 60.  These Oahu Bus will take you to the North Shore Beaches.

Note:  Bus # 88A travels from the Ala Moana Center to the North Shore and backdown the Windward (East) side of the island.
Ask the bus driver to notify you once you have arrived at Laniakea Beach.

---
Oahu Map
---
---
Beach Visiting Tips
---
Arrive Early – "Turtle Beach" is one of the biggest North Shore attractions, and not only is the turtle viewing area small, but so is the parking lot across the street.  You might want to consider visiting Laniakea Beach before making any stops in Haleiwa Town.
Parking – while it has been a challenge in past years, a new parking lot has been constructed to make it easier for visiting.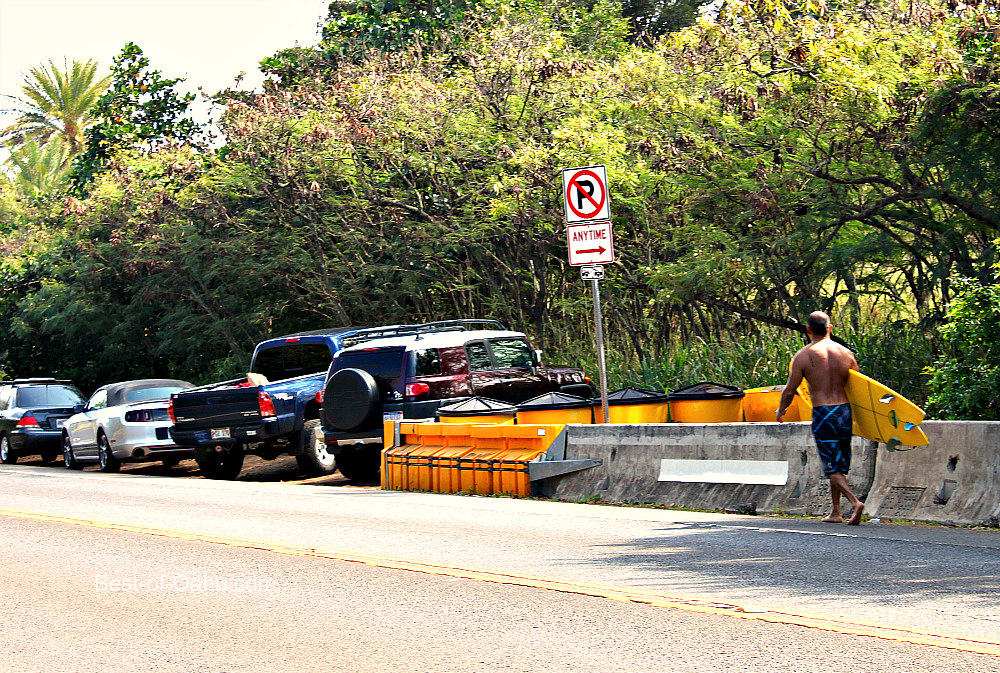 Make sure to leave nothing visible or anything valuable in your car for thieves to break in and take.  Also be careful while crossing the street and stay within the crosswalks in the area.

Currently the city is considering a realignment of the Kamehameha Hwy to help relieve traffic congestion in the area.  Proposals and studies are in the works.  Learn more at Laniakearealignment.com
---
Note and adhere to the "No Parking" signs along the beach side of the street.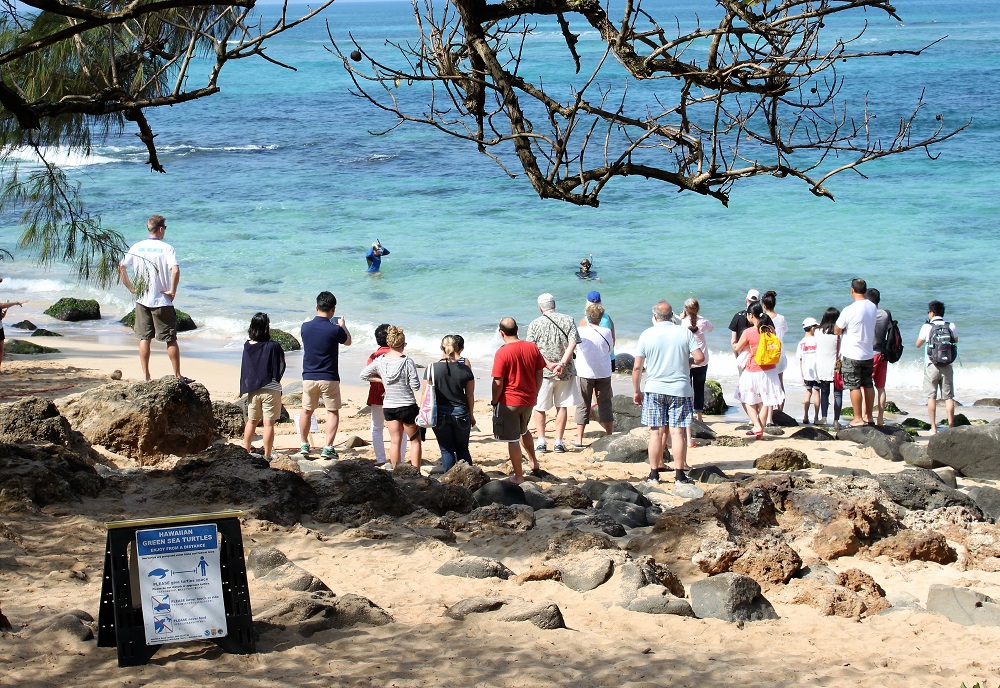 Snorkeling – this area is known for good snorkeling when the waves are flat and the water is clear.  You just might see some Hawaiian Green Sea Turtles swimming in the vicinity.

Remember to stay clear of them.  The rocky bottom also attracts other colorful marine life, so enjoy!
---
In the Area
---
After you had your fill of beach and sea turtle viewing, consider returning to Haleiwa Town.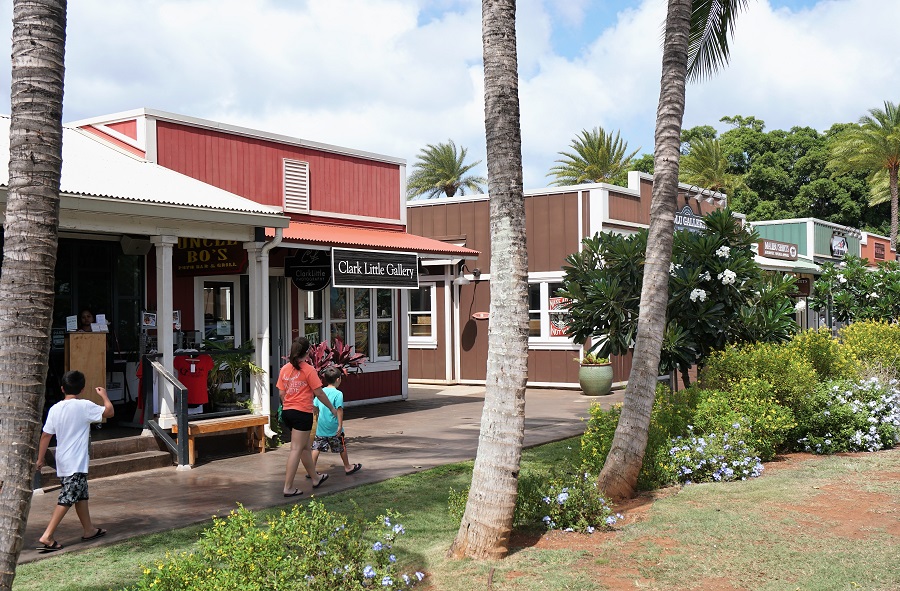 There are lots of wonderful galleries and shops to check out in the North Shore, and also good selection of restaurants to dine at.  Whatever you do, make sure you get to famous Motsumoto's or Aoki's for a shave ice!

---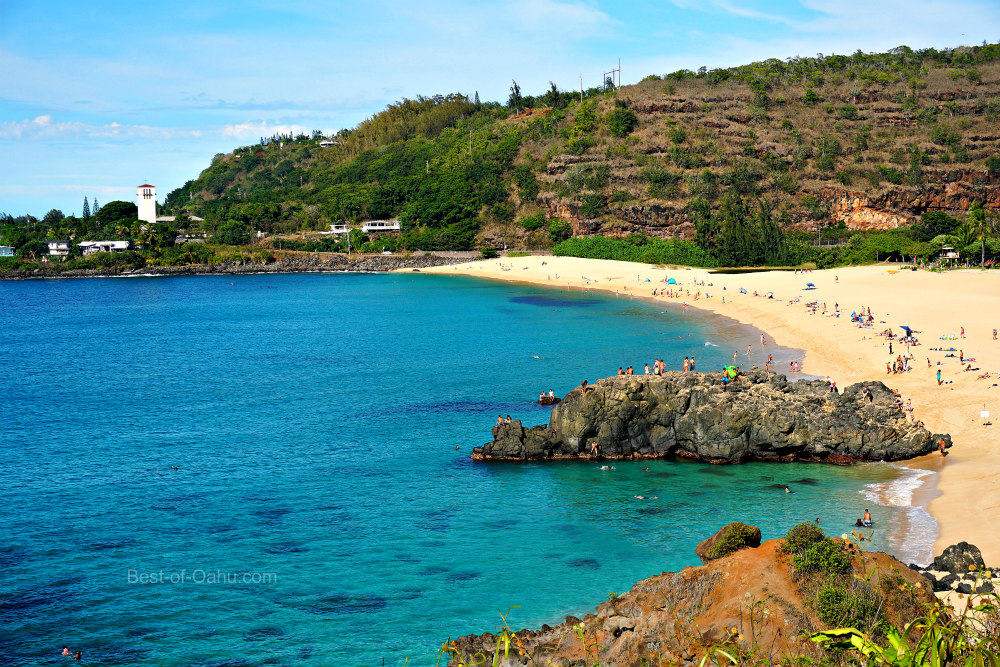 2 miles further up the road is the notorious big wave Waimea Bay.  Known for her gigantic waves in the winter, and popular gigantic water rock to jump off of during the summer.

I love the bay for its beauty and landscape…  If you're going to send a day at just one North Shore beach, let it be this one.
---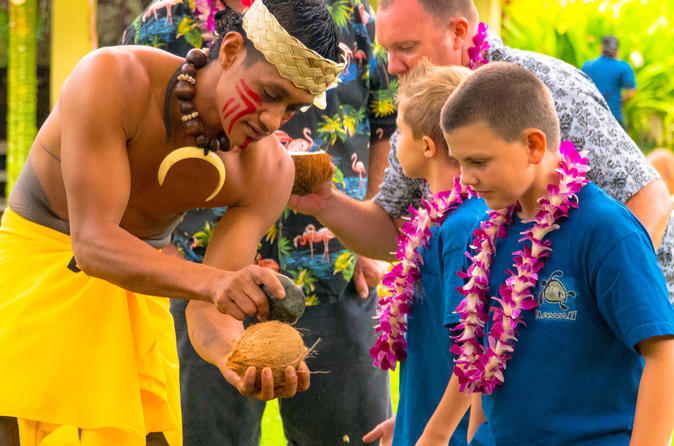 Tie on a visit to Waimea Falls Park with an evening luau dinner with cultural demonstrations and Hawaiian entertainment.  The Toa Luau includes your entrance to Waimea Valley & Waterfall.
Just make sure you give yourself enough time to get back in time for the festivities.  Note that this luau only takes place on Mon - Wed.  Learn more and reserve a spot...
---
Return to Best of Oahu Home Page
Aloha & Enjoy!

Subscribe to receive Best of Oahu updates on events, updates, and new articles.  It's the closest way to paradise while you are away...
We will never sell or spam your information, and we'll respect your email privacy.