Toa Luau on the North Shore
As the sun sets in Waimea Valley, conch shells are blown, tiki torches are lit, and the Toa Loa Luau begins.  This Oahu luau is like no other on the island.  Yes, it is filled with entertainment, hula performances, and lots of Kalua Pork, but there is so much more this Oahu attraction give you for a luau experience.
There are a good handful of established luau productions on Oahu that have great venues, and give grand performances into the evening.
You will need to head to Waimea Valley located in the North Shore for this special event.
Going through the Toa Luau experience has opened my eyes to a warm heartfelt luau with inspiring moments of gratitude, participation and engagement.  They do a great job including you in activities that contribute to the luau, and have you partake in a memorable kava experience.
---
Waimea Valley & Waterfall
---
There is another fun iconic feature close by and worth exploring.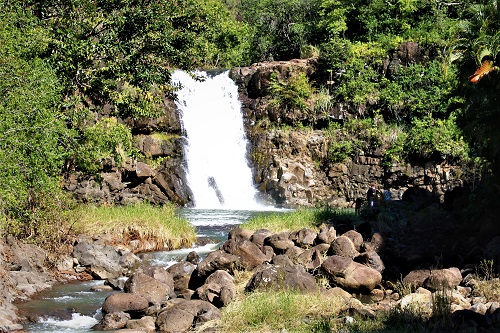 Before attending the evening luau, consider taking a stroll up to Waimea Falls. 
They are actually separate Oahu attractions, but both reside on the Waimea Valley estate.

The walking trail is under a mile long, and is surrounded by beautiful botanical gardens.  With a few photos and stops along the way, it should take you about a half hour to reach the 30 foot cascading waterfall.  Bring a bathing suit and towel with you if you wish to swim in the pool of water below the falls.

---
Toa Luau Festivities
---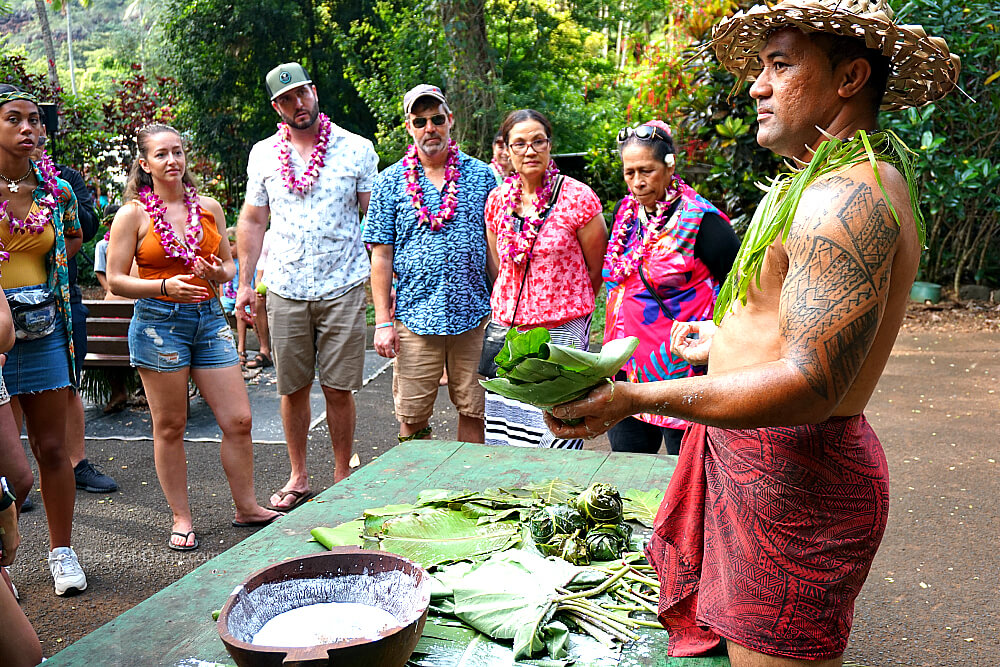 Check in starts at 5 PM…don't be late. Entrance to the Toa Luau is close to the front of the Waimea Valley grounds, just past the Waimea Valley Café.

You will find some engaging luau activities taking place on the lawn area, teaching you the ancient ways and practices on how to prepare for a grand feast.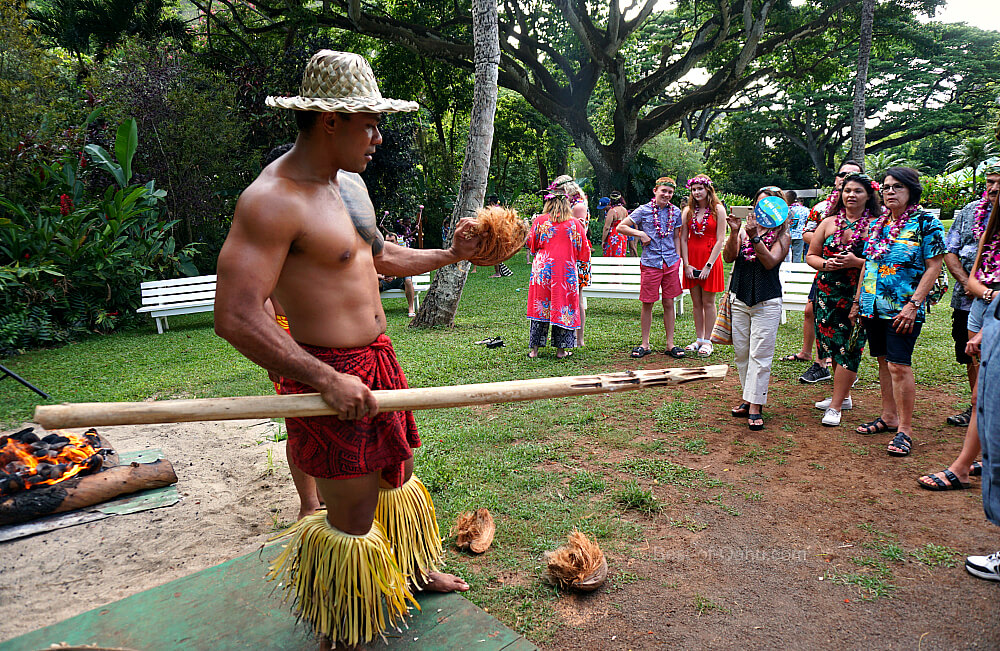 Starting a fire with coconut husks, peeling apple bananas with wooden knifes, shaving coconut chips, and preparing fish lau laus, are some of the preparations taking place for your big luau feast.  It's a real treat to see how it all pulls together in the end.

---
The Kava Ceremony
---
Once the work is done, everyone comes together for a traditional kava ceremony.  I found this to be a very special moment of the Toa luau.  You will be divided you into groups to help play an important role in the ceremony.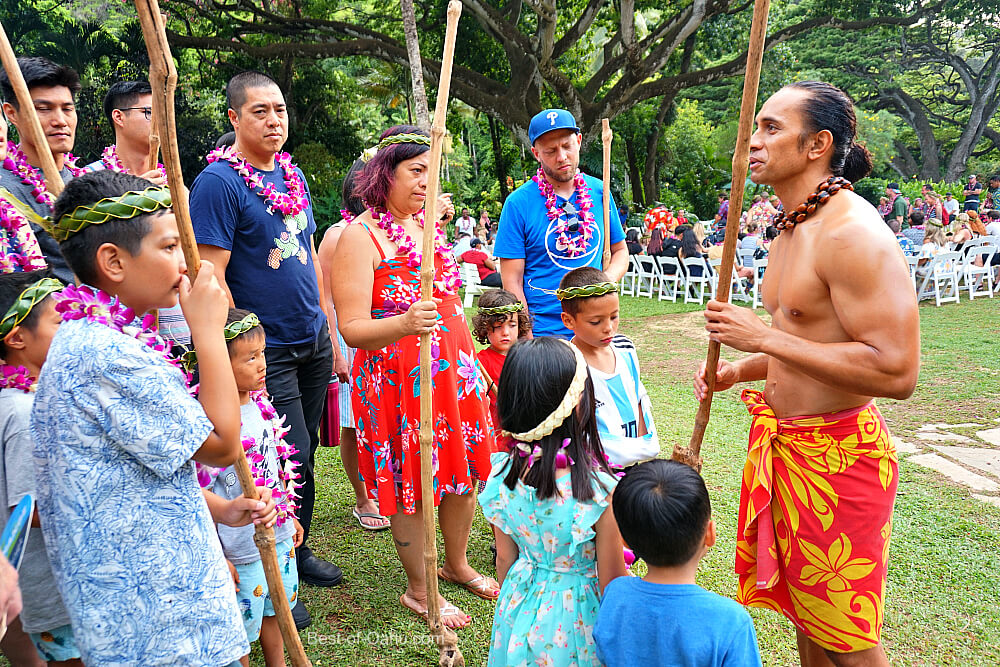 As the kava ceremony begins, host Billy will explain the significance of what's taking place, and lead you into your roles as a guest or host to the party. The authenticity of events taking place are as real as it gets, and transport you back in time, letting you firsthand experience what it was like.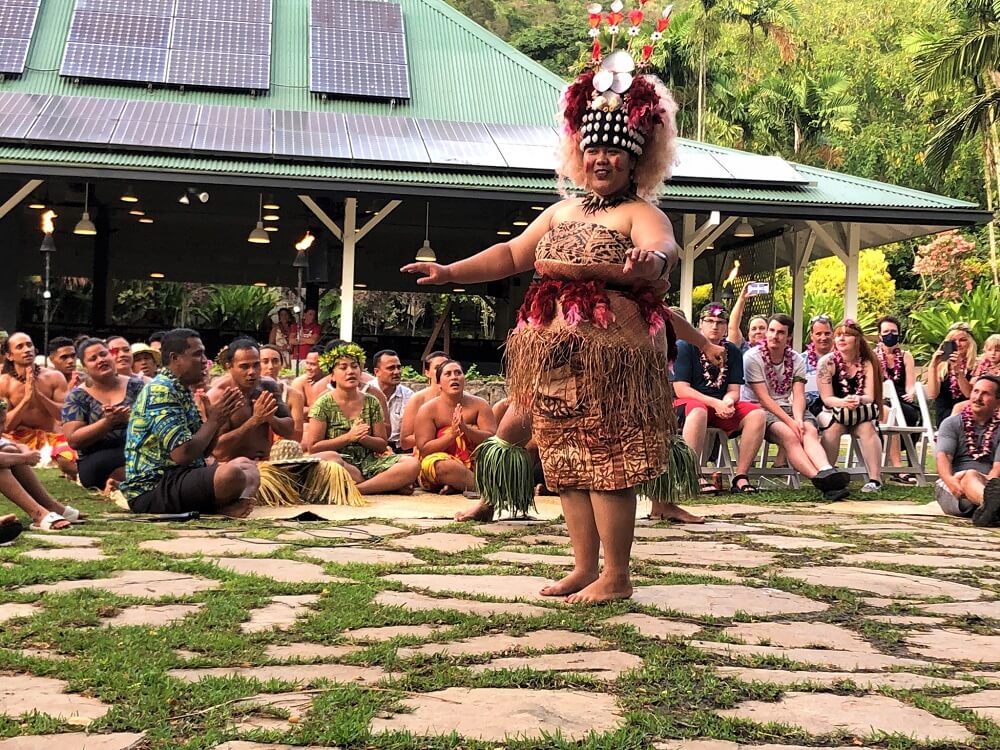 There are moments when you will feel the intensity of interaction between the tribesmen, and you could cut the silence of the crowd with a knife.  Not to worry as this is a celebration and bonding between family and friends.

And what Kava ceremony would be a party without Kava!  If you are unfamiliar, Kava come from a root.  It is cut, crushed, filtered and extracted into a bowl to be shared amongst friends.  This muddy looking water drink has a numbing and calming effect when drank, and has been used to settle tribal disputes at times.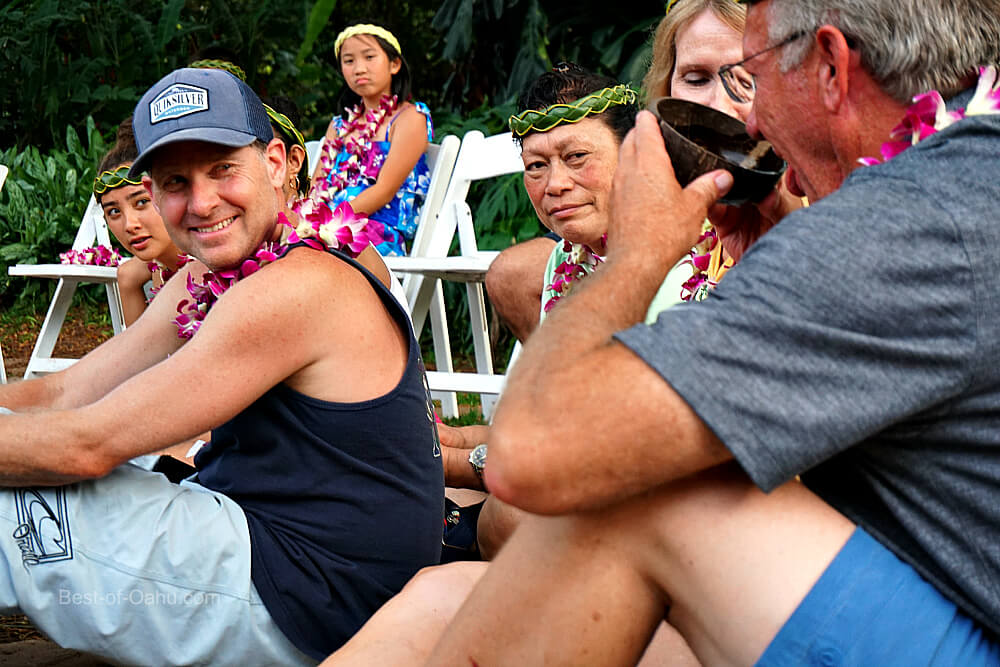 Consider it a gift and an honor if you are presented with a bowl of kava to drink…and be ready to drink it!

---
The Hawaiian Luau
---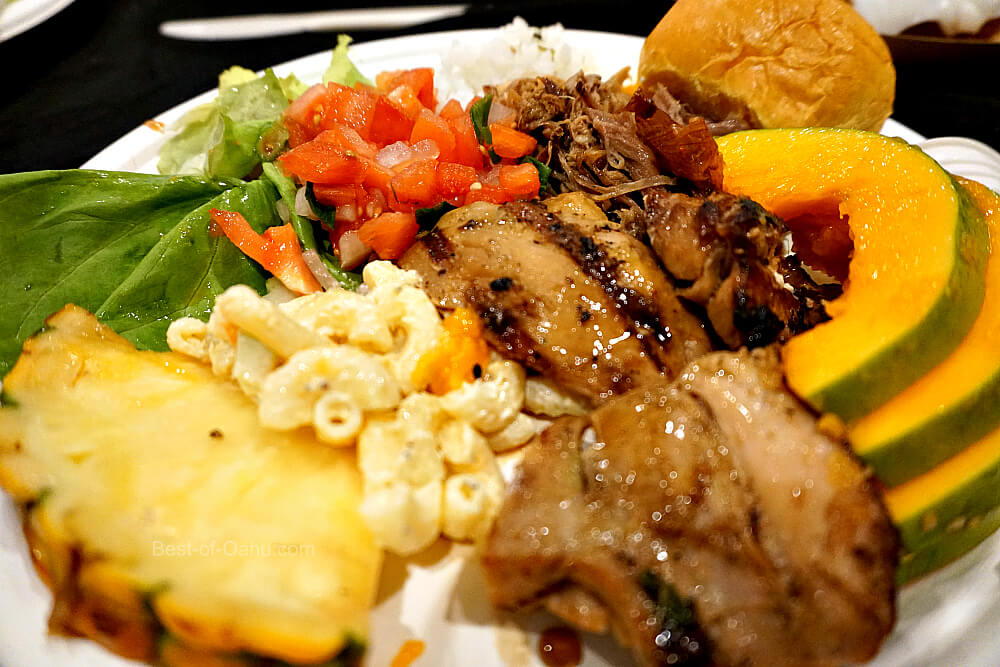 Once the Kava Ceremony has ended, the luau feast begins!  In the Samoan culture, the men are the hunters, cooks and servers to their families and guests, and only eat after everyone else has been taken care of and fed…pretty impressive!
As a guest of the Toa Luau, you will notice an abundance of food available.  I believe it's so they won't go hungry themselves once everyone has sat down to feast. 
---
Luau Reservations and Tickets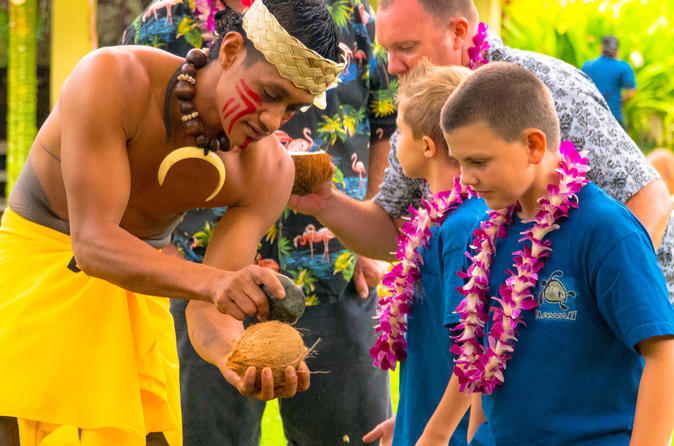 This North Shore luau is a smaller intimate event and only takes place only 3 days of the week (Mon - Wed).  Plan ahead and make reservations ahead of time.  It's perfect way to end an adventurous day on the North Shore. 
And in case you're wondering, you should get your fill of Kalua Pork, along with some other Hawaiian luau favorites including barbeque chicken, lomi lomi salmon, ripe local fruits like pineapple and papaya, and ono luscious desserts.

Do not miss out on the haupia coconut squares, and the Haupia Chocolate Cake provided by Teds Bakery up the street.  On that note, if you have time before you arrive for the Taua Luau, head up to Ted's Bakery and purchase a pie to bring back to town.  Their plate lunches are a hit as well if you arrive around breakfast or lunch time.
---
A Special Treat
---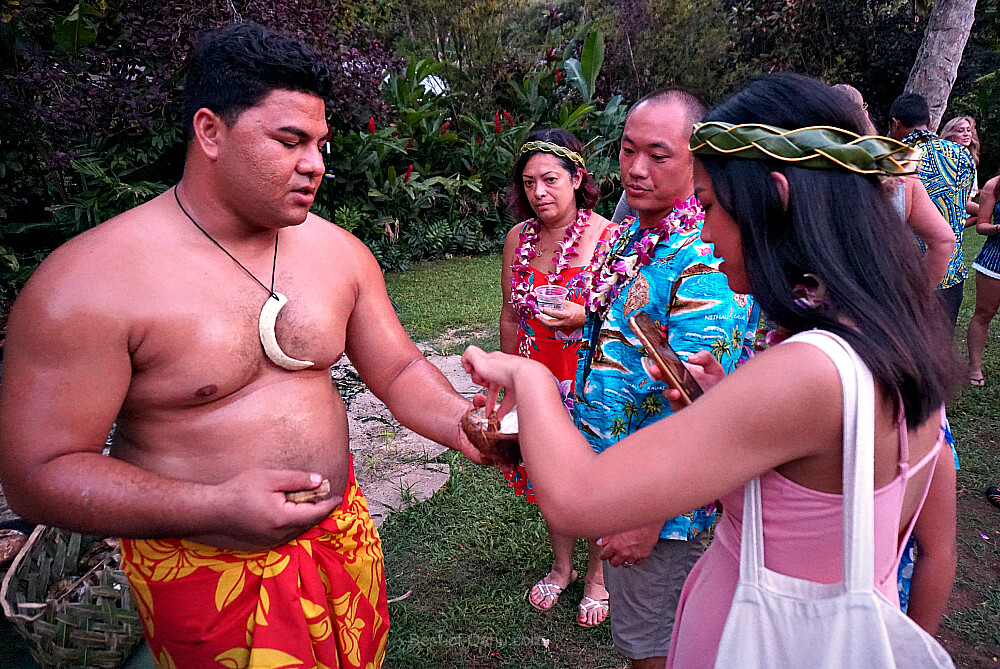 I don't want to ruin a surprise, but there might be an opportunity to taste some of the authentic luau creations that you help prepare earlier, and slowly cooked over a pulehu (open flame grill) while enjoying your meal.
You won't find these items lined up in the buffet spread, but back down on the lawn where they were cooked.  This treat comes with a smoked barbecue flavor.
Break off a crisp star fruit piece of bread, and use it to spoon up some smoked fish and other treats.

---
The Entertainment
---
Give it up for the staff that has been entertaining you from the start, guiding and educating you through the luau experience, from preparation to a kava ceremony, and now performing the remainder of the evening watching special Polynesian dance performances from different regions of the Pacific, including Tahiti, Fiji, Samoa, Tonga, New Zealand, and of course Hawaii!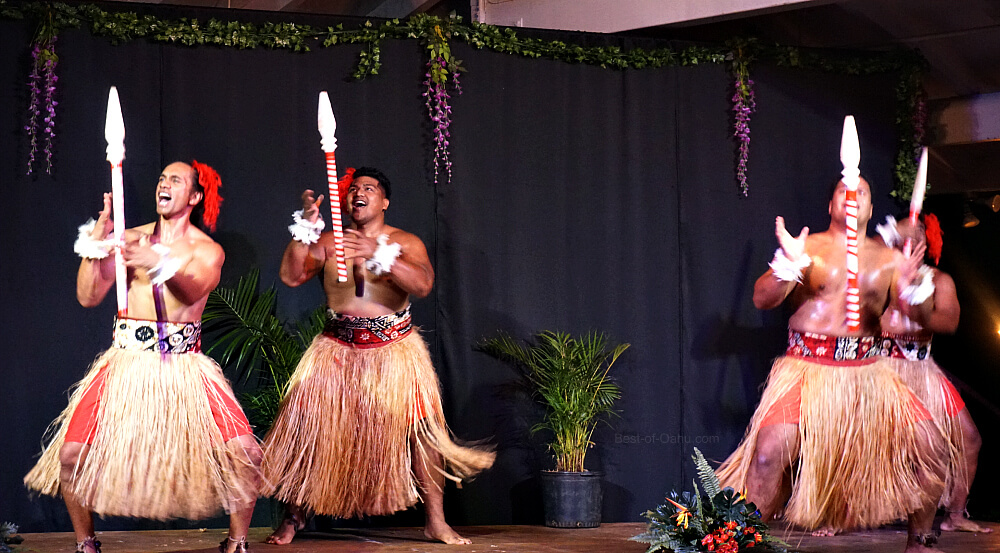 While visitors look forward to the elegance of hula performances and electric Tahitian fast swaying hips, wait until the Samoan, Fijian, and Tongan entertainment begin.
Feel the Tahitian drums pounding, and the presence of fierce warriors on stage demonstrating their weapons and strength of their bodies that is both exciting and intimidating at the same time.
Along with the feast, the exciting evening entertainment is what makes a Hawaiian luau one of the most popular Oahu attractions!
A proper way to end a good luau is with Samoan Warriors performing a Fire-Knife Dance.  It's intense and fascinating to watch these young warriors light their knife sticks on fire and start spinning them faster and faster in the air.
You'll find yourself on the edge of your seat when additional fire dancers join in and feel the intensity of the heat from the fire spinning circles in the air!

For a grand finale, they take this popular dance performance onto the lawn as there's not enough space on stage to allow an entourage of fire dances to join in and leave you with impressionable memory for your trip!

---
Aloha Oe - Farewell
---
When the lights come on and the music winds down, Host Billy takes a moment to introduce his Toa Luau family who has entertained you throughout the evening.
They all desire nothing short of a standing ovation and a big mahalo (thanks).  I think it's fair to say you'll leave this Hawaiian Luau with new appreciation and sense of respect for how the Polynesian people communicate, help one another, and share their compassion for life and living.
The Toa Luau is unique and special Oahu event that takes place on the island, and I hope you get to experience the magic that I have.
---
Toa Luau Tickets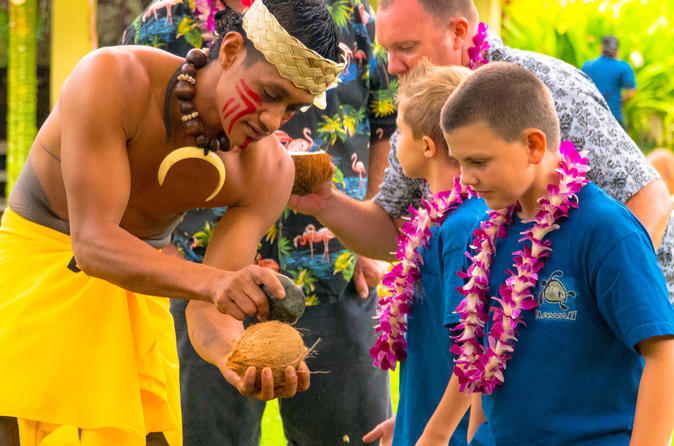 Tie on a visit to the waterfall with an evening luau dinner with cultural demonstrations and Hawaiian entertainment.  The Toa Luau includes your entrance to Waimea Valley & Waterfall.  Just make sure you give yourself enough time to get back in time for the festivities.  Note that this luau only takes place on Mon - Wed.  Learn more and get tickets...

---
Luau Schedule and Pricing
There are 2 production shows that take place on luau days including a 12:30 PM and 5 PM.  The events that take place are the same for both shows.
Check in - Guests are welcomed with a lei greeting.
Lawn Area - Polynesian activities and food prep and demonstrations 
Witness the imu ceremony, where a pit-roasted pig is uncovered.
Participate in a special Kava Ceremony
Enjoy a large Hawaiian luau buffet.
Be entertained by various cultural performances, such as hula dancing, fire knife dancing, and live music.
Aloha Closing Ceremonies
Pricing
There are 3 different luau packages to choose from - Silver, Gold, and VIP.  The difference between the 3 levels are how many drink tickets you receive (one additional ticket Gold and 2 for VIP), and seating proximity to the stage with VIP seating closest to the stage.
Silver - $95 Child (5 to 12 yrs), $115 Adult

Gold - $125 Child (5 to 12 yrs), $145 Adult

VIP - $145 Child (5 to 12 yrs), $175 Adult
---
Getting To the Toa Luau
---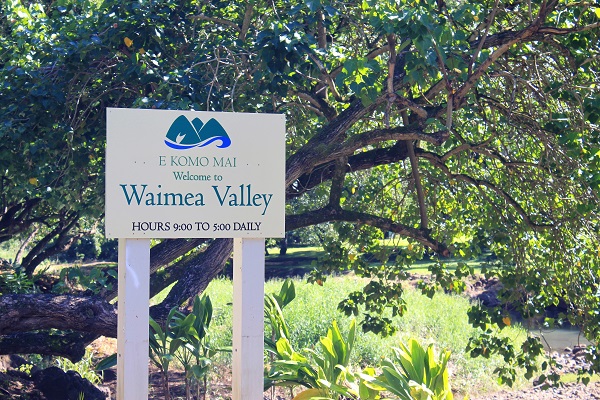 Directions:  From Waikiki, take the H-1 Freeway headed West…

Take the H-1 Hwy West to the H-2 Hwy North

Follow the H-2 Hwy to the Kamehameha Hwy (Hwy 99)

Take Hwy 99 and continue into Haleiwa Town

or bypass Haleiwa Town, and continue on Hwy 99 and merge onto Hwy 83, which will lead you to the coastline.

Continue on Hwy 83 for almost 4 miles, and turn right onto Waimea Valley Road

Look for a sign that reads "Waimea Valley", which is about 200 yards down the road, and park in the parking lot.

The Toa Luau is to the Right, once you've entered through the Waimea Valley Park main building.
---
In the Area
---
Waimea Bay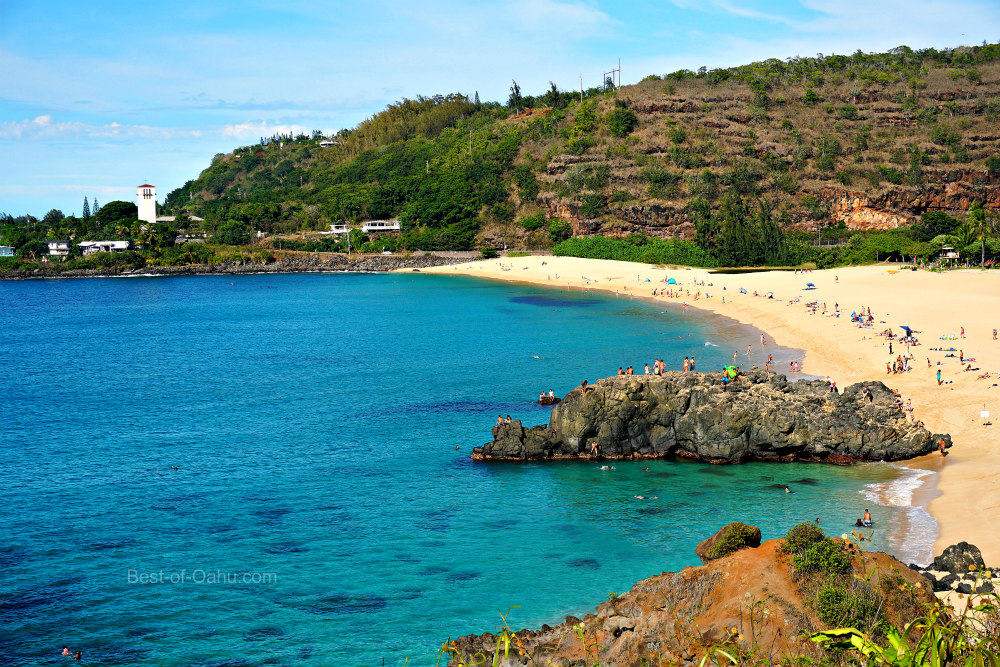 Consider spending the day at one of Oahu's North Shore most prestigious beaches.  Located just across the street from Waimea Waterfall, back down the park and across the highway, into Waimea Bay Beach Park.
Known as one of the most beautiful beaches on the North Shore, this Oahu beach also produces some of the largest waves to be ridden and seen in the wintertime.  When the gigantic waves go flat in the summer, the kids turn to jumping off the gigantic Waimea rock into the water!

---
Puu o Mahaka State Monument


Waimea Heiau Ruins – Just above Waimea Bay is one of the most well preserved Hawaiian heiaus on the island, known as Puu o Mahaka State Monument.  Most of the outlying walls are still intact, giving you a good perspective on just how large the site was.
You can drive to this site a quarter mile up a small road off the main highway, or take a small hike up a trail that starts just beyond the entrance to the beach parking lot.  There are some nice views along the way and up top!!

---
Haleiwa Town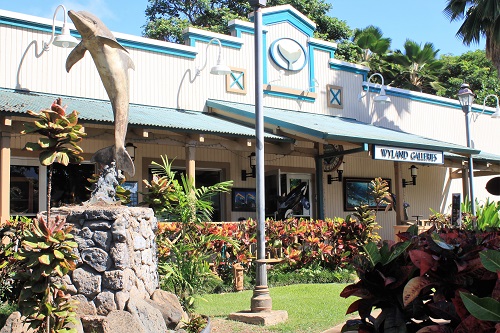 Haleiwa has a neat little rustic North Shore old town and country island vibe. Give yourself enough time to stop and enjoy and explore this historic town on the way up to your luau.

You will find a handful of Hawaiian art galleries, ono restaurants, shrimp trucks, old school surf shops, clothing and boutique stores, and 2 popular Hawaiian shave ice shops.
---
Other Popular Hawaiian Luaus
---
Paradise Cove is not just another luau, it's a full production with lots of activities and entertainment that some others tend to lack.  Kick off the afternoon with some Mai Tai's and join in the celebration and festivities!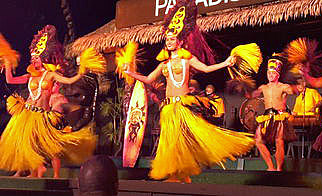 A Luau is a celebration for enjoying each other's company, play traditional Hawaiian games, watching a Kalua Pork Imu ceremony take place, participate in a hukilau of pulling in a large fishnet from the ocean, listening to live local music, and being entertained throughout the night with many Polynesian and Hula performances.
Location- Paradise Cove, Ewa Beach
Time – Pick up starts at 3:15 PM in Waikiki, Gates open at 5 PM
Cost – $100 and up
---
Polynesian Cultural Center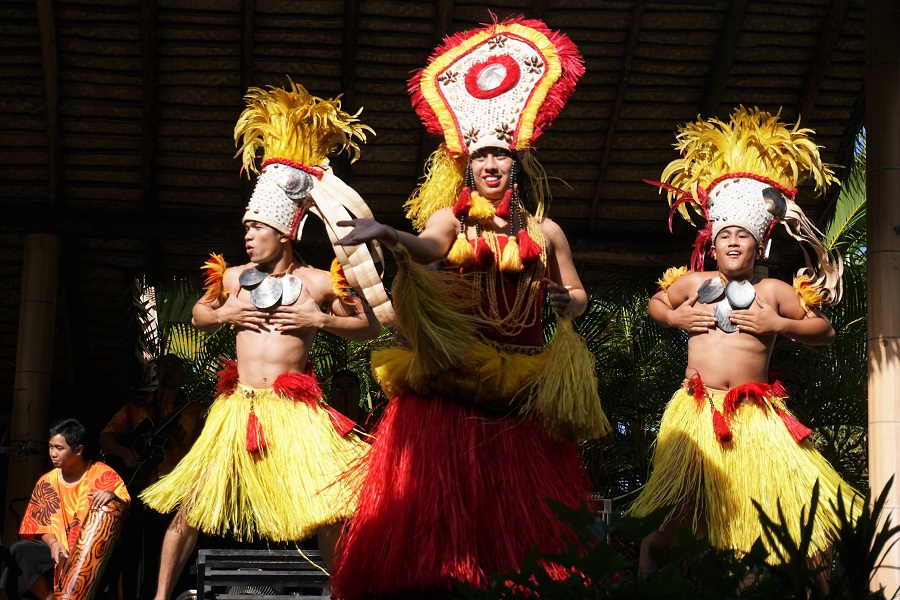 Book your ticket now before they sell out...especially popular selections. There are a few different packages available including different options such as transportation, luau dinner, and a popular night show called Ha "Breath of life".  Bus Pick up from Waikiki starts at 10 am, and later pick ups for evening luau packages & show only.  Book your tickets

There is so much to see and discover at the Polynesian Cultural Center that you will need at least a couple of days to explore it all!  And you will be happy to know that your entrance ticket is now good for 3 days beyond your first visit, if you wish to return and experience additional shows and village areas.

Aloha & Enjoy!

Subscribe to receive Best of Oahu updates on events, updates, and new articles.  It's the closest way to paradise while you are away...
We will never sell or spam your information, and we'll respect your email privacy.