Paradise Cove Luau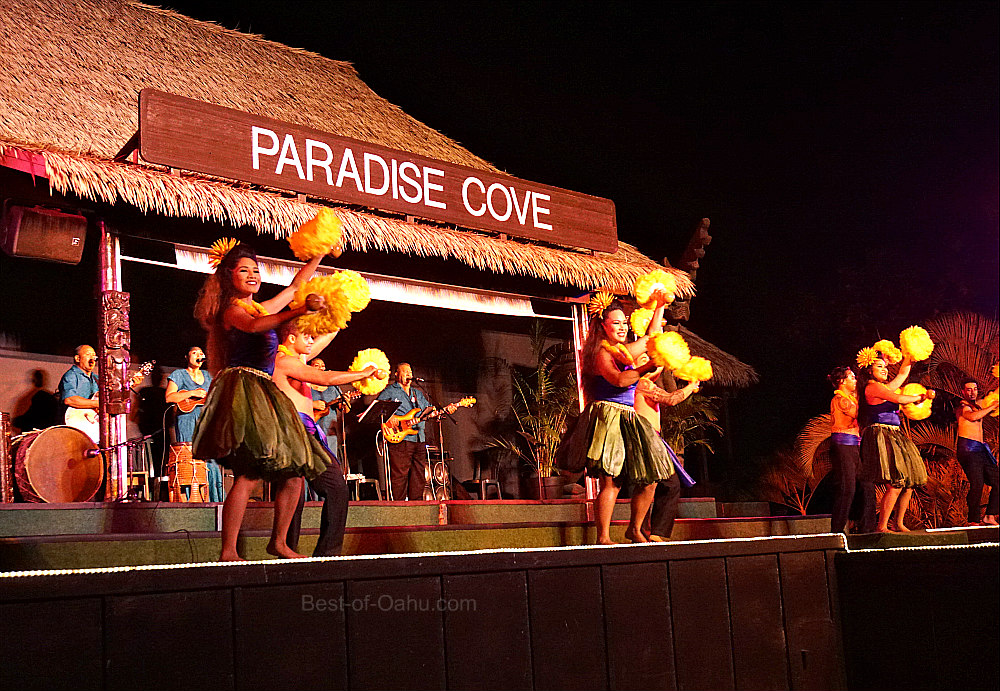 Lights, Camera and lots of Kalua Pork…head to Paradise Cove and let the luau begin!  While a few resorts feature a dinner luau on site only once in a while, this Oahu attraction puts on a full production each night.  With hula performances, beach activates, fun games, and a Hawaiian feast like no other, it's going to be a memorable night!
---
Best Beach Luau
---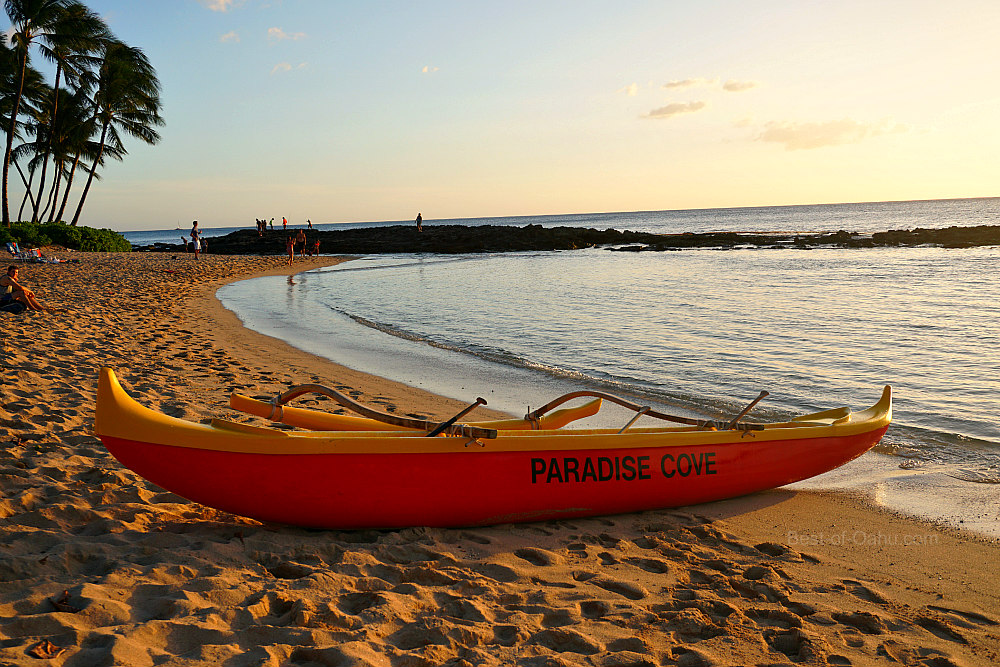 Paradise Cove luau sits on 12 acres of beach front property in Ko'olina with their own semi-private beach lagoon.  All Oahu beaches remain free in Hawaii, but this one is not easy to get to.
And while you might know that a luau typically features an entertaining hula show and large Hawaiian banquet spread, it's many other activities that help make it a grand experience.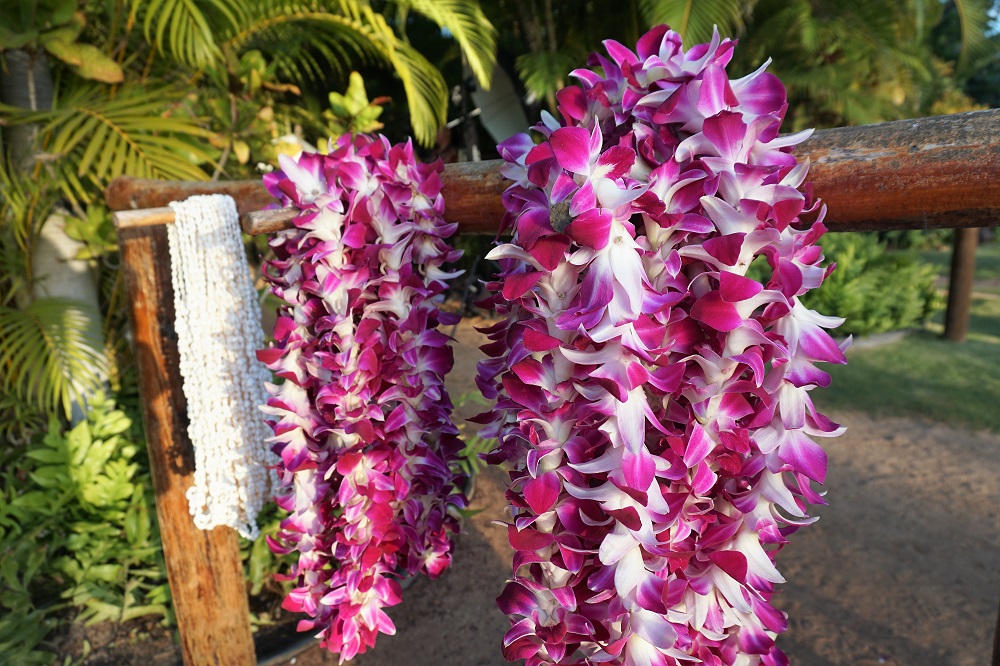 Enter through the beautiful botanical gardens and you'll be presented with a purple orchid lei or white stranded puka shell necklace.  Proceed towards the lagoon beach were you'll find a few ongoing activities. 

Reserve your tickets early as this event can sell out.
---
Paradise Cove Activities
---
Throwing Spears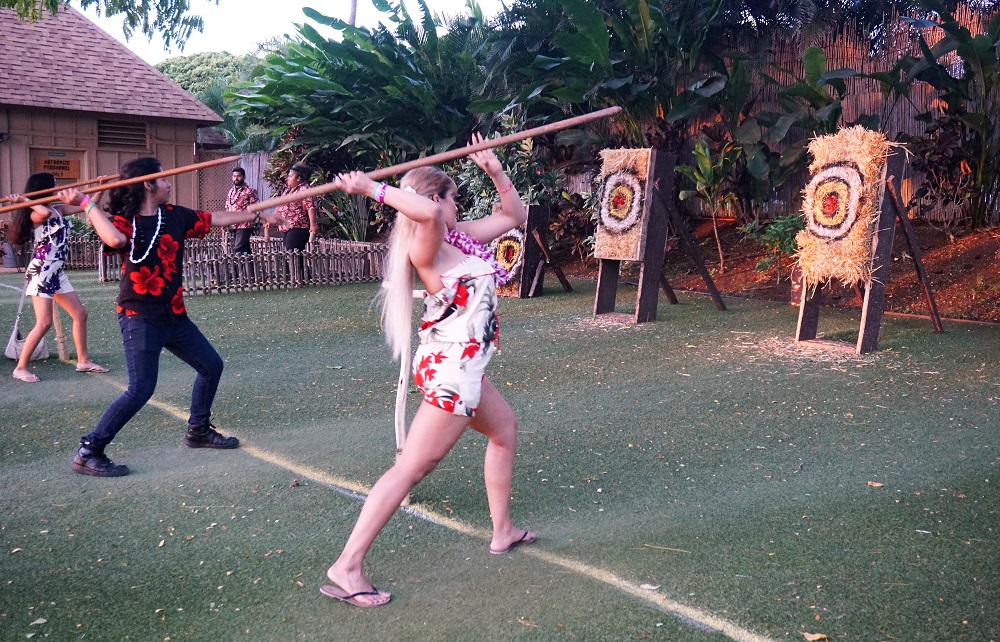 Test your throwing spear abilities!  Who doesn't want an opportunity to throw a 5 foot spear!  The question then becomes is it as easy as it seems?
You'll get that opportunity as you line up with others in a friendly contest to see who gets closest to the bullseye.  At the very least you'll have fun trying!

---
Coconut Tree Climbing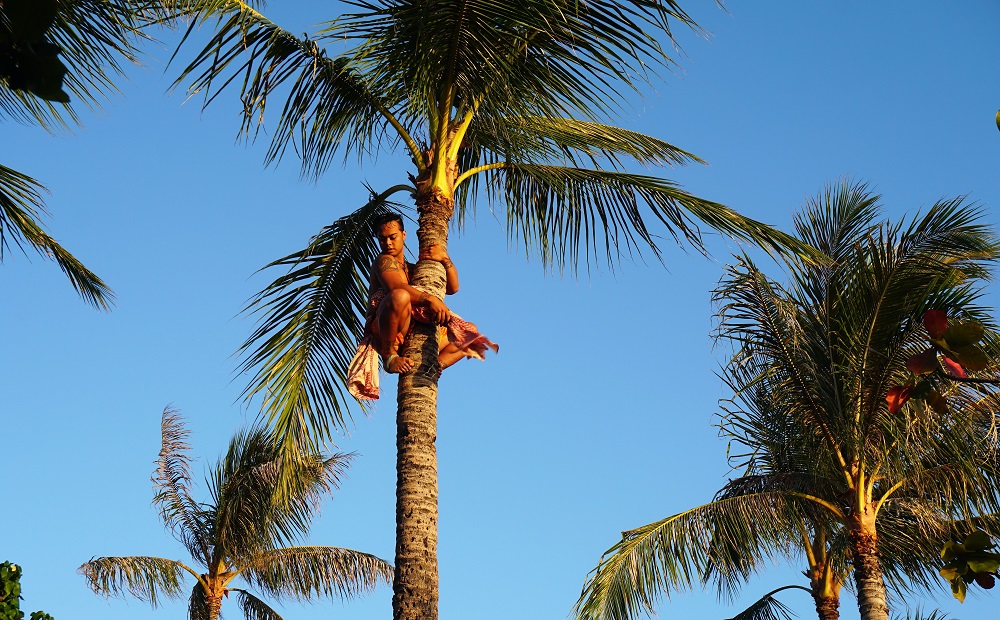 Look up if you see folks gathering around one of the surrounding coconut trees, and you'll most likely see a demonstration how coconuts are harvested.  Warning, do not try this back at your hotel…or anywhere for that matter.

---
Photo Opts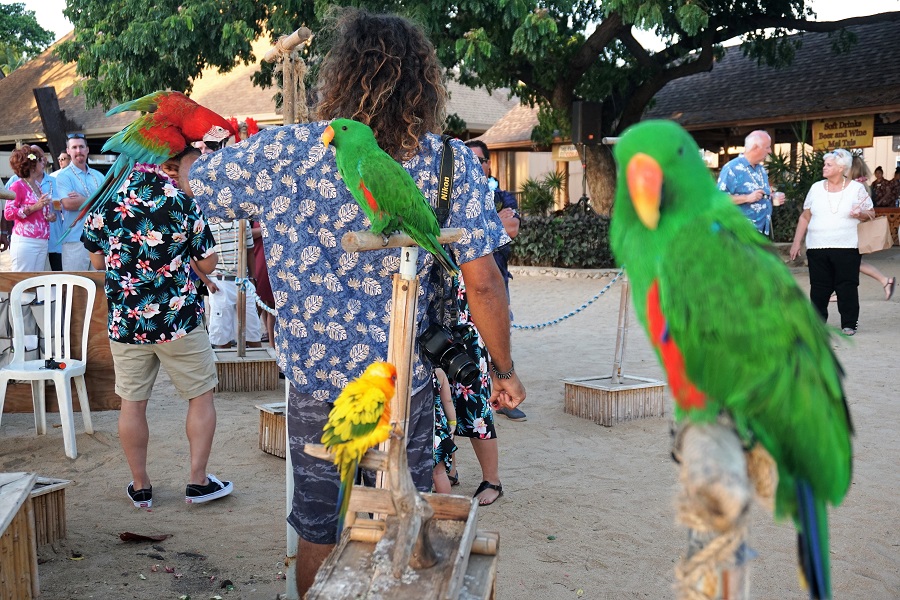 Don't forget your camera as there are some many great photo opts to be taken.  There's even some friendly tropical birds that would love to join your family photo.

---
Lei Making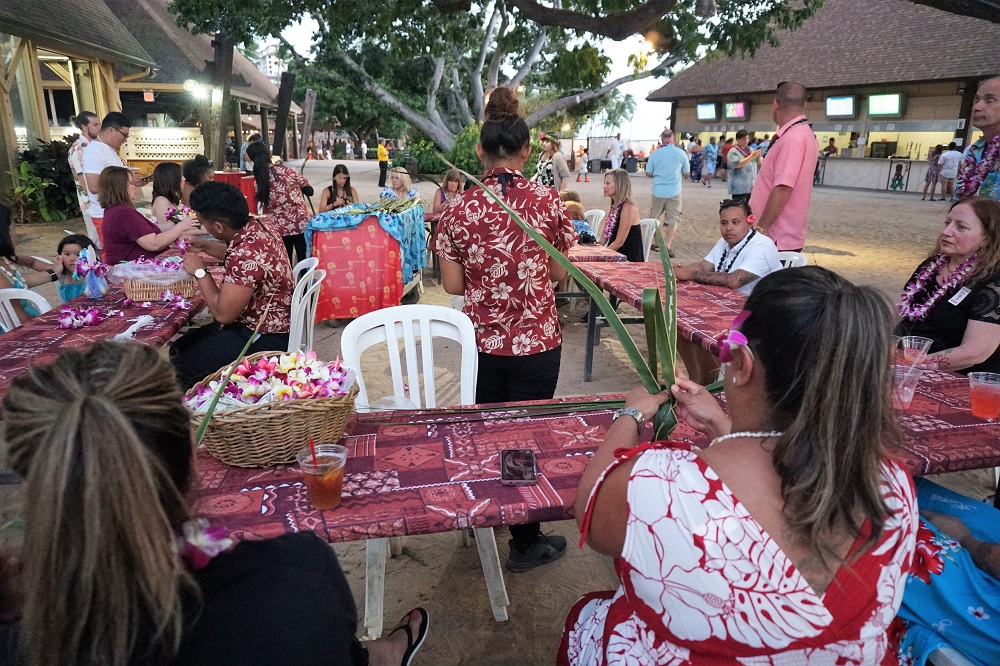 How fun would it be to take part and learn how to make a Hawaiian flower lei or straw hat…

---
Shopping for Souvenirs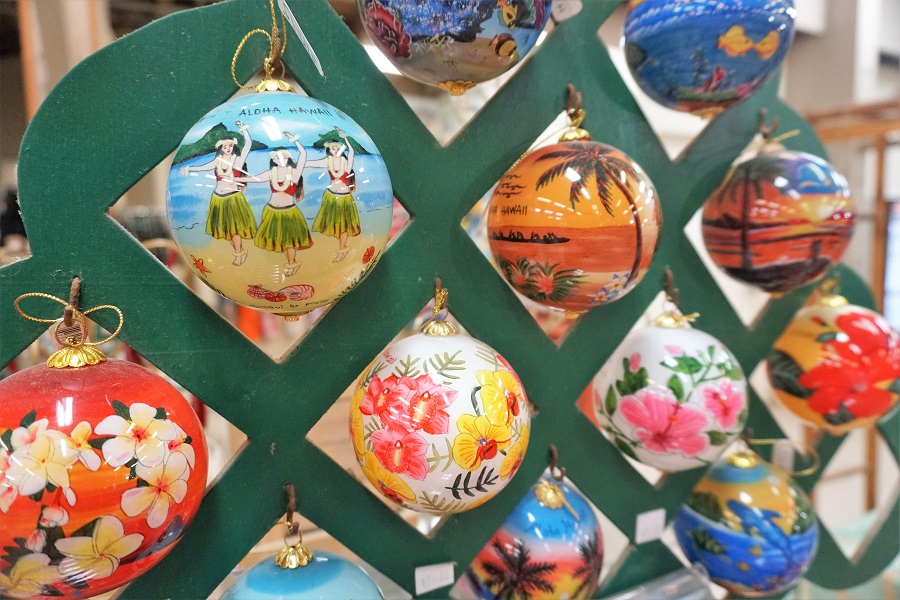 Shoppers beware as there are many temping souvenir in your path with a few kiosks and gift shop featuring Hawaiian made jewelry, neat shell necklaces, keychains, and other special tokens for memories and gifts.

---
Participate in a Hukilau
---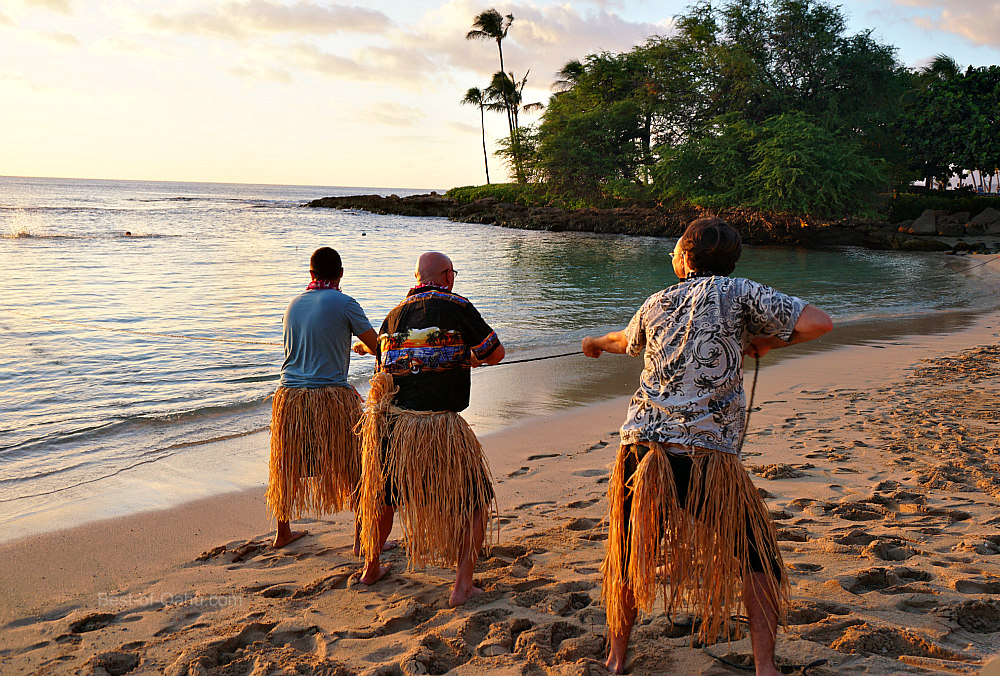 There is an art to casting the net into the sea…  Don't miss a select few that will be chosen to help pull in the traditional fishnet called a Hukilau.  And trust me, this is more entertaining than a few grown men pulling in dinner for the night!  

Or watch the Paradise Cove pros cast their handheld fishing nets into the water and draw them back in, with hopes of a lucky catch.
---
Kalua Pig Imu Ceremony
---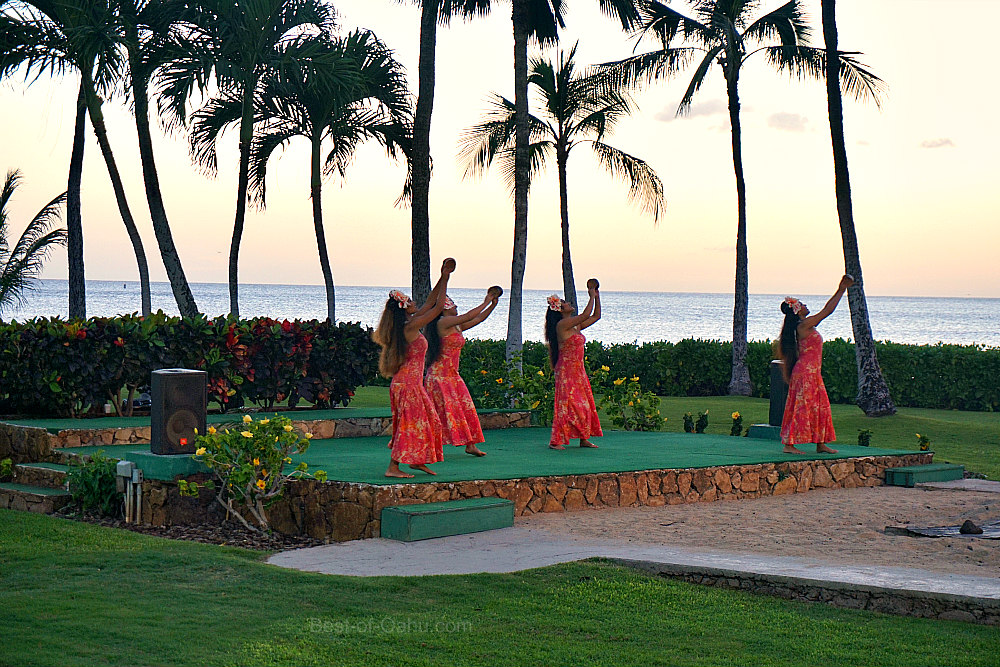 Another not-to-be-missed tradition that takes place in a luau is the Kalua Pig Imu Ceremony.  Preparations starts long before the Kalua Pork makes it to your table.
In fact it starts the night before with prepping the pork by wrapping it up with burning lava rocks, and burring it in the ground with many protected lairs so nothing contaminates the meat or let smoke and heat escape the imu oven.
The magic is revealed through a ceremony and unearthing the layers of the imu to discover the the gift of smoked Kalua Pork.

Along with a blessing and a traditional hula performance into the sunset, it's a special moment before night entertainment begins.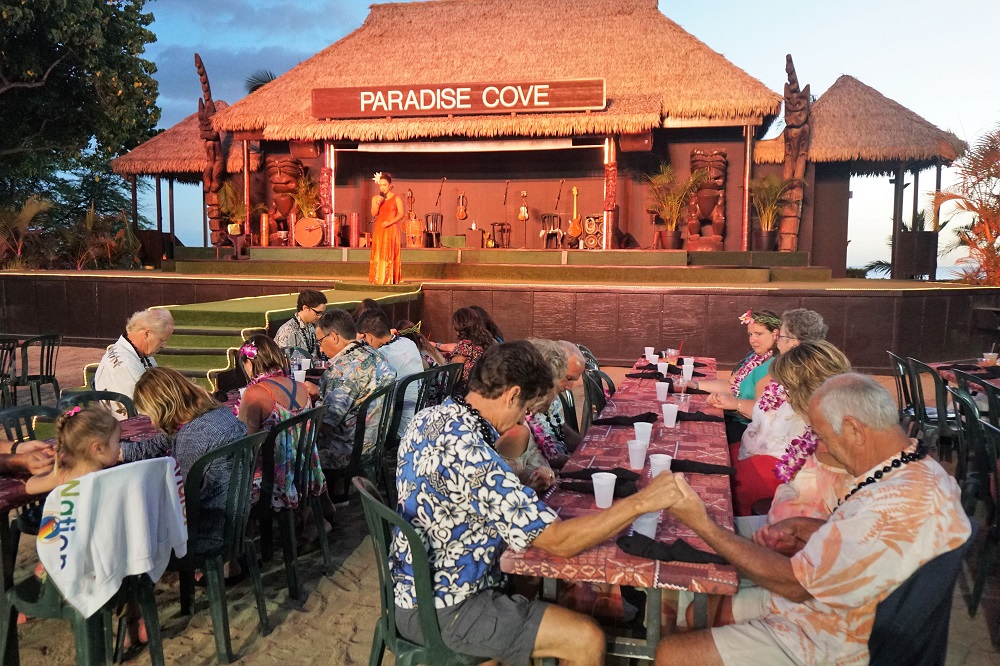 When the sun finally sets, the luau feast begins. A special prayer is giving to bless the food and the friends who've come to join it. Bring your appetite as it will look like a Hawaiian style Thanksgiving feast!

Endless piles of Kalua Pork, Pineapple Teriyaki Chicken, Lemon Local Fish, Lomi Lomi Salmon, a Slice of Taro and lots of tempting sides to make a colorful plate.

Reserve your tickets early as this event can sell out.

---
Hula Show Performance
---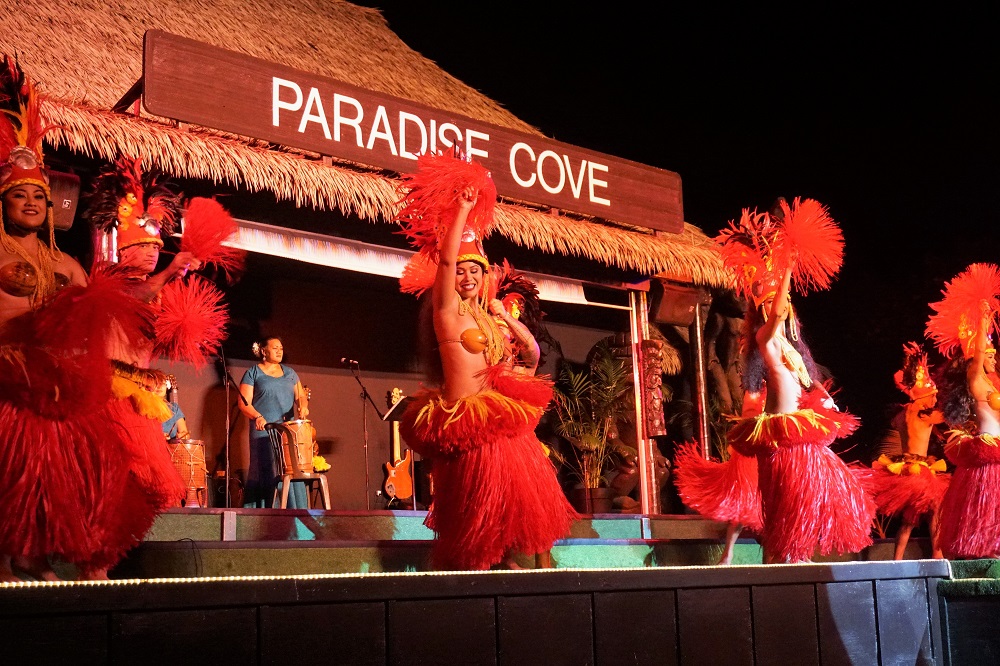 Dig into the feast and turn your attention to the stage and let the main show begin.  You're in for a grand show of many entertaining performances.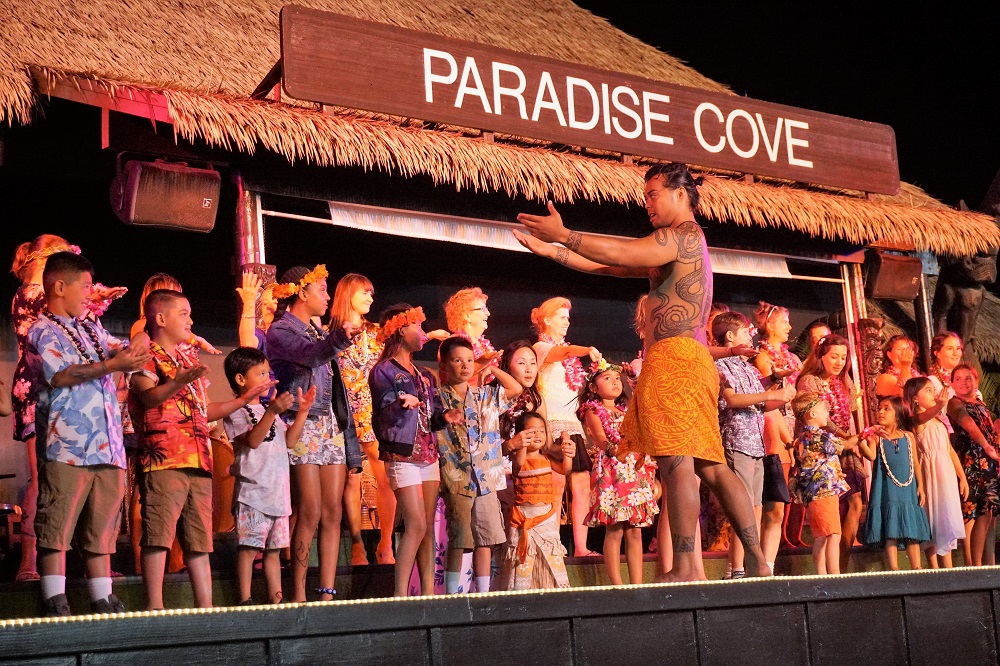 I promise you the keikis (kids) will steal the show when they are asked up on stage to perform for the audience.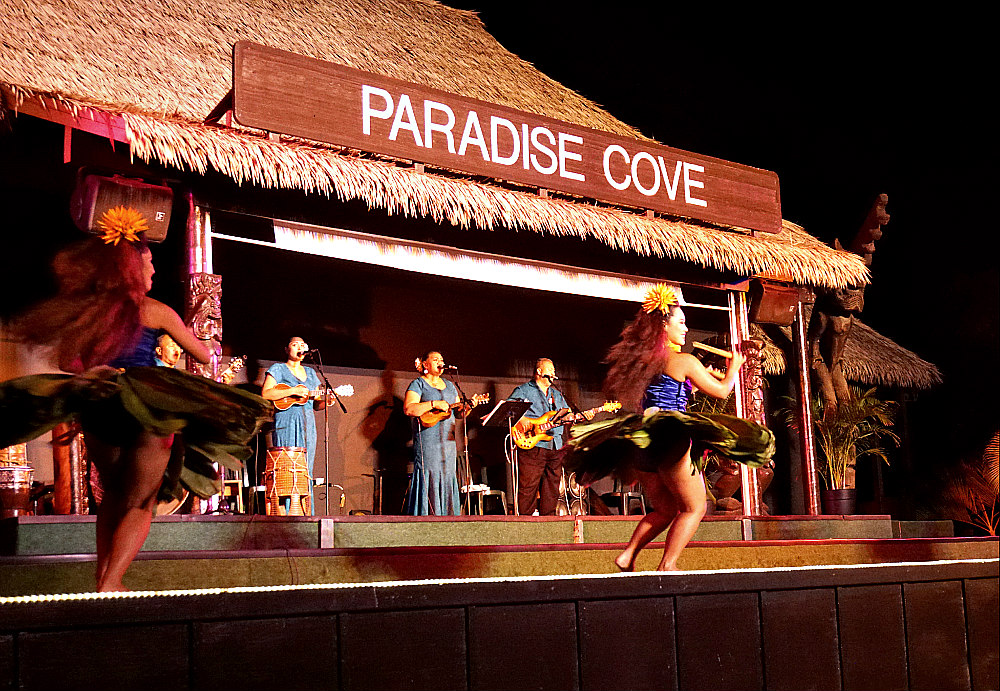 The hula performances are not only colorful with the traditional costumes worn, but also through the different display of instruments and styles of performances given.

When the sky is finally dark, the dramatic fire dances begin.  You'll find yourself on the edge of your seat with talented young men twirling sticks of fire into the air, and flames braising their skin.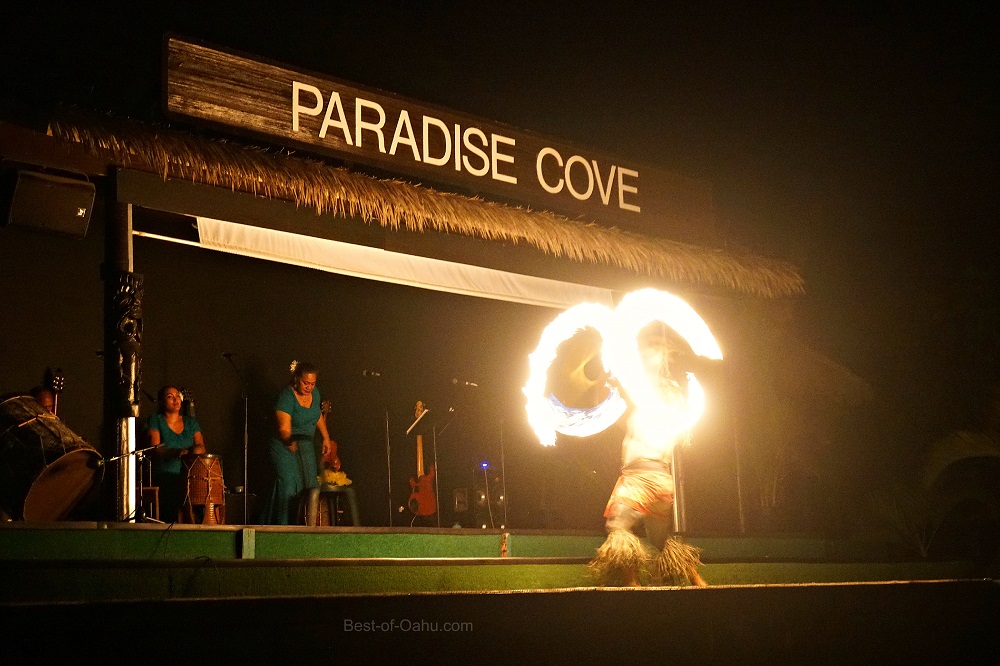 And although the fun night must come to an end with a bid farewell from the Paradise Cove family, it's a memory for life…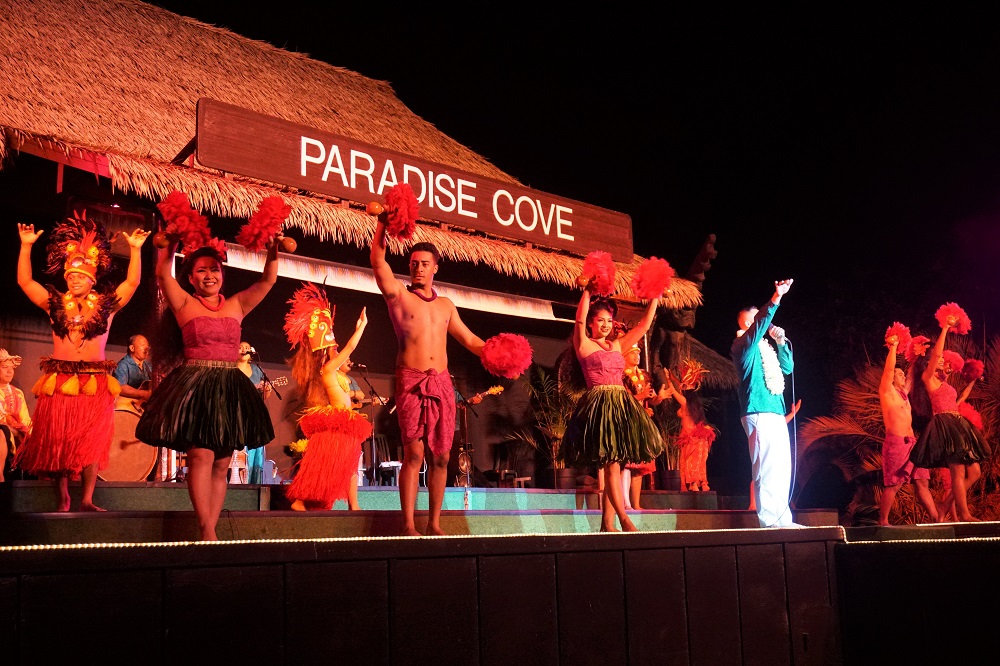 ---
Here's some of our party picks including Hawaiian Leis, Tiki Torches and Tiki Mugs
---
Getting There
---
Driving Directions
From Waikiki, take the H-1 (located above Waikiki towards the back Mountain ridge)

Stay on the H-1 for about 25 miles

Continue on as the H-1 turns into the Farrington Hwy

Take the Ko Olina Oahu Exit

Drive past the security gate, and turn left at the stop sign.  You will see the Paradise Cove parking lot located on the left side.
---
Oahu Map
---
---
In the Area
---
Ko'olina Lagoons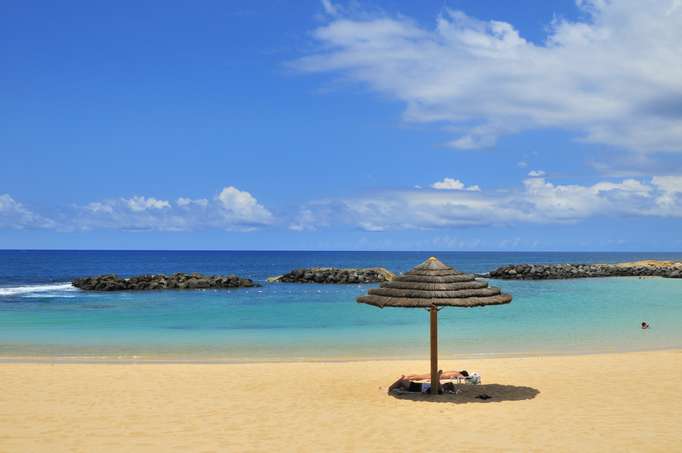 Ko'olina is a newest developed resort area on Oahu.  The surrounding area features 4 beautiful half crescent beach lagoons and just a few resorts that neighbor them.  Ko'olina is not only home to Paradise Cove Luau, but one of the best golf courses, and popular restaurants.

I would recommend arriving early and spending time at one of the beach lagoons before hopping next door for your luau.

---
Other Grand Oahu Luaus
---
Toa Luau to end the evening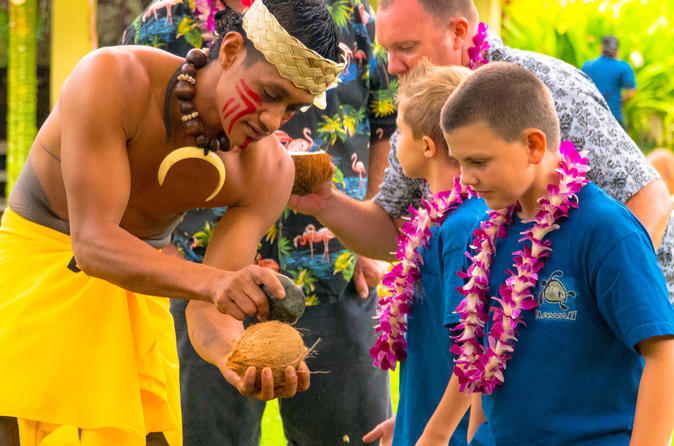 Tie on a visit to the waterfall with an evening luau dinner with cultural demonstrations and Hawaiian entertainment.  The Toa Luau includes your entrance to Waimea Valley & Waterfall.  Just make sure you give yourself enough time to get back in time for the festivities.  Note that this luau only takes place on Mon - Wed.
---
Polynesian Cultural Center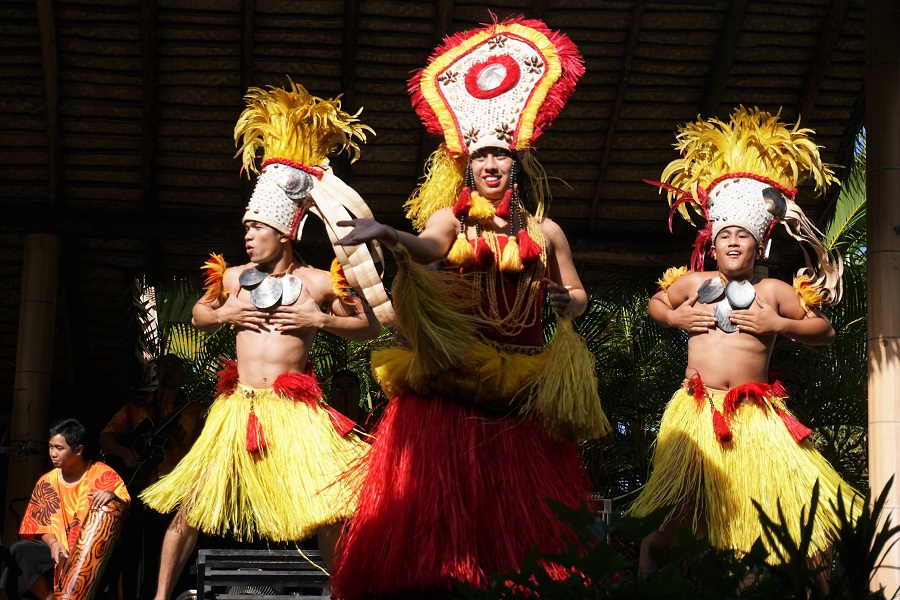 Book your ticket now before they sell out...especially popular selections. There are a few different packages available including different options such as transportation, luau dinner, and a popular night show called Ha "Breath of life".  Bus Pick up from Waikiki starts at 10 am, and later pick ups for evening luau packages & show only.  Book your tickets

There is so much to see and discover at the Polynesian Cultural Center that you will need at least a couple of days to explore it all!  And you will be happy to know that your entrance ticket is now good for 3 days beyond your first visit, if you wish to return and experience additional shows and village areas.

---
Polynesian Cultural Center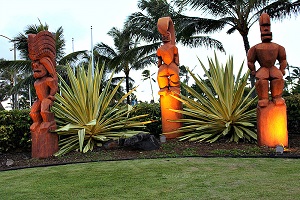 Loaded with fun activates, captivating shows, and a grand luau of its own, this is another full day of entertainment that 0is located 15 minutes up the road in Laie, North Shore.
The Polynesian Culture Center has been an institution since 1964, and continues to evolve and entertain throughout the years.

55-370 Kamehameha Hwy, Laie
Aloha & Enjoy!

Subscribe to receive Best of Oahu updates on events, updates, and new articles.  It's the closest way to paradise while you are away...
We will never sell or spam your information, and we'll respect your email privacy.