Waimea Falls Park & Botanical Gardens
Waimea Falls Park is ranked among some of the best Oahu hikes.  It is more like a pleasurable one-mile stroll through lush botanical gardens that lead up to the grand waterfall.  Still known as the popular Waimea Falls Park, this Oahu waterfall and the surrounding tropical grounds are now run by the stewards of Waimea Valley Hi'ipaka.

Waimea Falls in all its powerful cascading glory!

Disclaimer – all Oahu hikes have different challenges and hazards that can be dangerous and may cause injury. Know your fitness and skill level before embarking on any hike.  Stay on trails and obey posted signs. The information on this site is for your reading pleasure only.  Hike at your own risk.

---
History of Waimea Falls Park
Unlike the other waterfalls on Oahu, Waimea Falls Park was once an entertainment theme park on the North Shore, where you could drive right up and park, grab a seat, and sip on pineapple juice while watching cliff divers take death-defying plunges along the side of Waimea Falls.  Hula dancers also used to provide additional entertainment with dance performances.
---
Waimea Valley - Botanical Gardens & Waterfall
---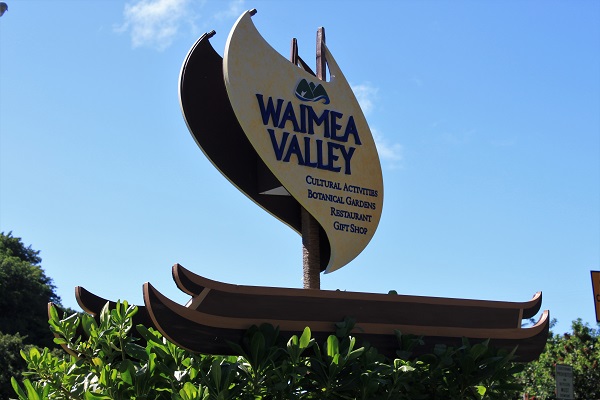 After years of neglect, this area was transformed into the non-profit Waimea Valley gardens that now benefit and preserve the Hawaiian culture and community.
The road that you once drove into and right up to the waterfall has been turned into a beautiful, paved, botanical garden walk.
The type of entertainment now offered are more educational presentations and workshops on Hawaiian culture and history, highlighting the surrounding lands, animals, and different species of tropical plant life.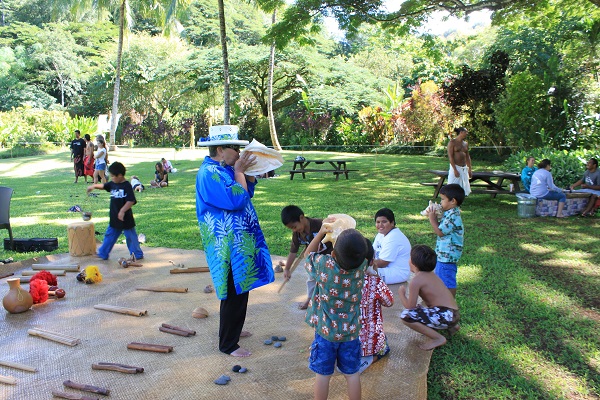 There are usually demonstrations, workshops and crafts, tours, works of art, and Hawaiian performances taking place in the meadow by the main entrance.

You will find the Waimea Valley staff to be friendly and are a rich source of information, as they take great pride in their heritage.
You won't find many Oahu hiking trails here, except for the one-mile stroll  along a flat road that weaves through the lush, tropical jungle and leads you to the main attraction -- the Waimea Falls.  Give yourself enough time so you can enjoy the beautiful flora on this meandering path.

You might feel like you have stepped into the movie set for Jurassic Park, as you are surrounded by oversized tropical plants and unique botanical gardens.
You will find many posted signs along your walk, describing the grounds, history, and plant life that exists in the sacred Waimea Valley.

Take note that the nursery sells plants and flowers from its award winning botanical garden on Saturdays from 8am to 12pm.

If you're lucky, you might catch a rainbow above Waimea valley as the sun comes out after the rain.
---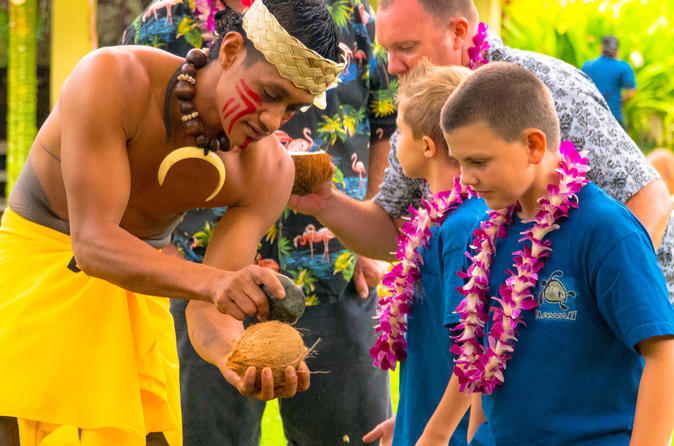 Tie on a visit to Waimea Falls Park with an evening luau dinner with cultural demonstrations and Hawaiian entertainment.  The Toa Luau includes your entrance to Waimea Valley & Waterfall.
Just make sure you give yourself enough time to get back in time for the festivities.  Note that this luau only takes place on Mon - Wed.  Learn more and reserve a spot...
---
The Hike
---
While this Oahu trail is only ¾ of a mile long, it's a fascinating one to trek with lots of beautiful exotic plants and flowers to admire, Hawaiian Hale structures to explore, and lots of twists and turns leading to a grand waterfall.  The path itself is a concrete paved path, well-marked and maintained.

The trail starts just beyond the Waimea Valley Great Lawn.  You will find an administration entrance booth located on the right hand side.  This is where you check in or take care of your entrance fees, and you are ready to start your hike.
From the start you will be surrounded by oversized ferns, neon green lily ponds, and wildlife birds that call this valley home.
Walk through the covered bridge and take a moment to explore photos of past Hawaiian Monarchy portraits, ancient tools and instruments used in dance, cooking, and other facets of life from the past.
Take side trails that steer up hill on the right hand side.  You will find a series of reconstructed Hawaiian Hales (houses) in different stages and materials used.  They are fascinating to see, just like the one at the Bishop Museum.
The side trail eventually will reconnect back to the main trail.  There is also a section of stairs that leads down to the river (stream during the summer months) below, if you wish to see a closer view of it.  The river runs all the way out to Waimea Bay if you were to follow it.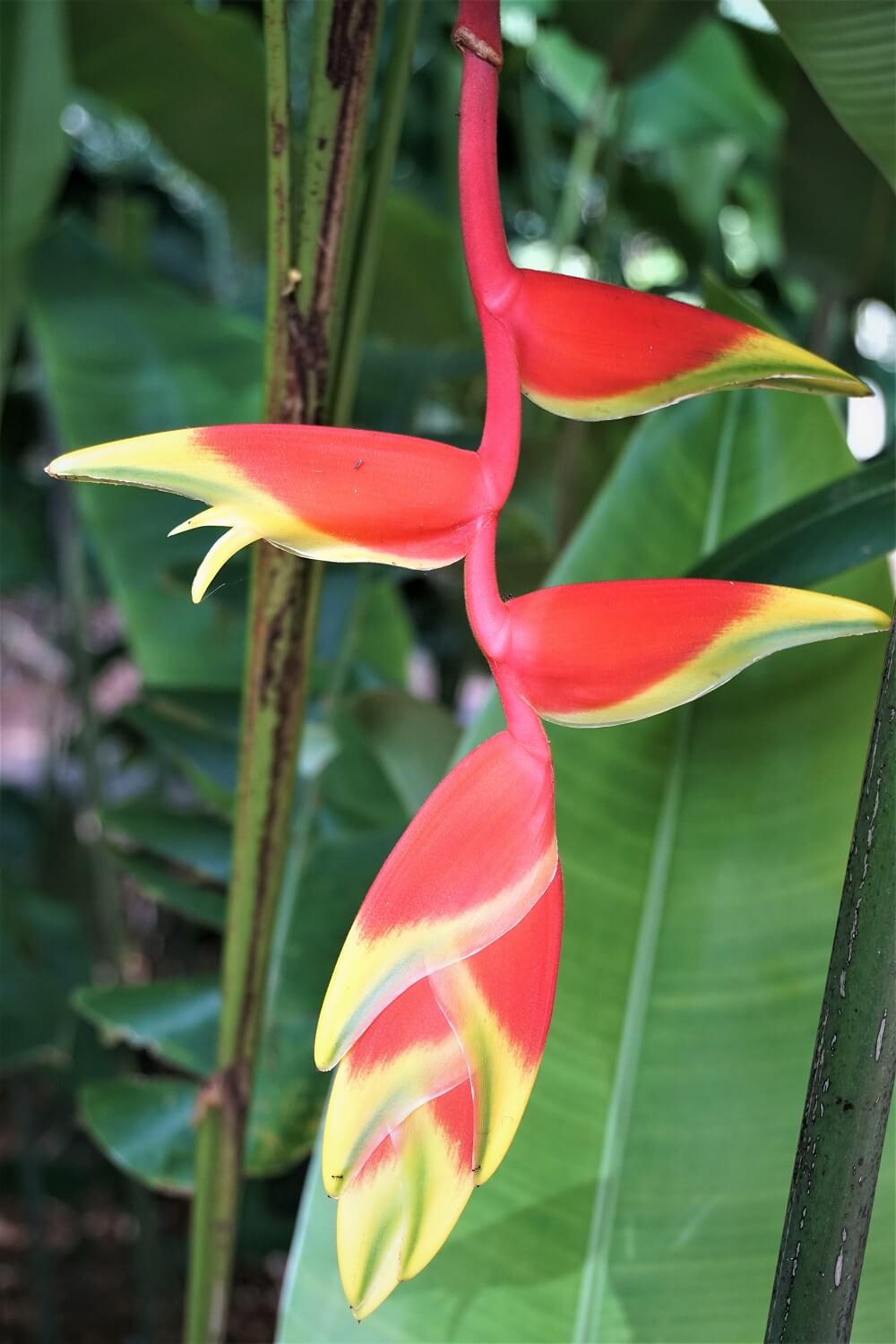 Waimea Valley is lush for a reason, as it rains often here.  Keep your eyes out for covered benches, as they might come in handy if you need to seek shelter.

Remind you that this is a botanical garden park.  Take time to admire all the tropical plants that thrive in the area.

Finally with a small incline hill to stroll up and over, you will come upon another bridge that you will cross and where you'll get your first glimpse of Waimea Falls.

---
One of the best ways to get to and view this waterfall is through a Circle Island all day tour that travels from Waikiki to the North Shore, stopping at some other Oahu attractions along the way.

---
The Waterfall
---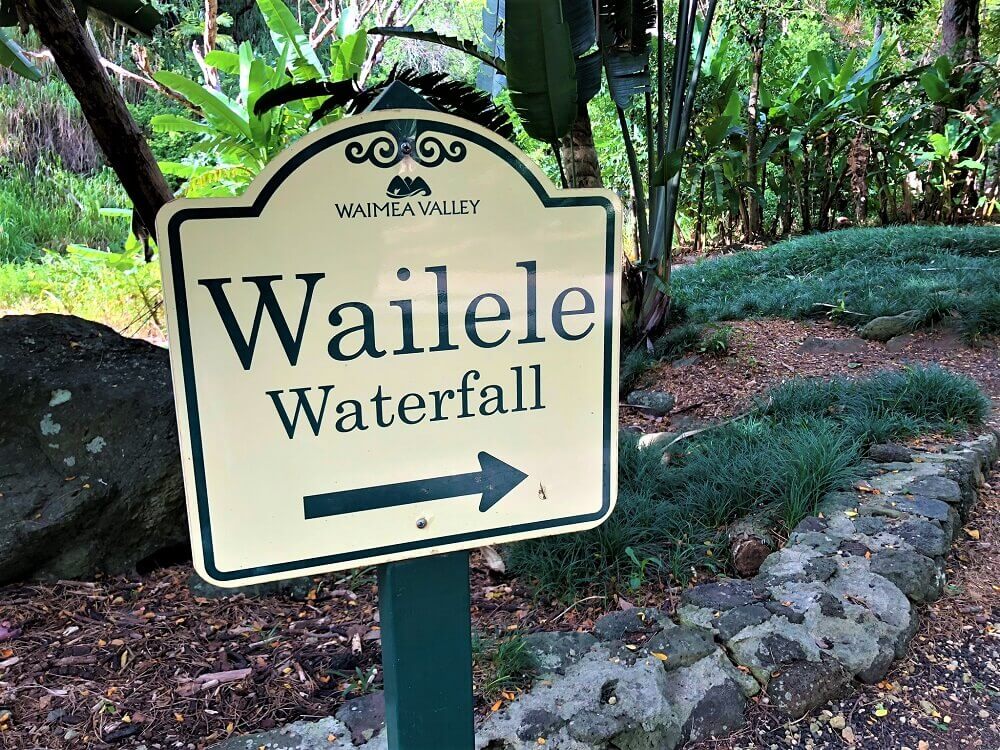 It should take you about 20 to 30 minutes to reach the Waimea Falls (also known as the Wailele Waterfall), which is anchored at the end of the trail.  You will be rewarded with the stunning presence of a 30-foot waterfall that cascades down into a large pool below.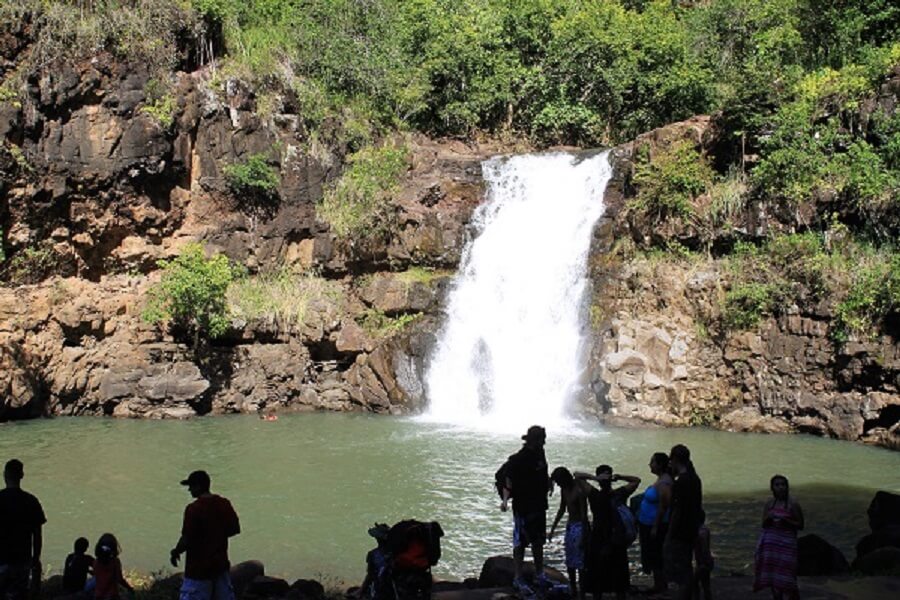 Although the cliff divers are long gone, the one thing that has not changed at Waimea Falls Park is the ability to take a plunge into the fresh water pool, and swim up to the waterfall if you dare.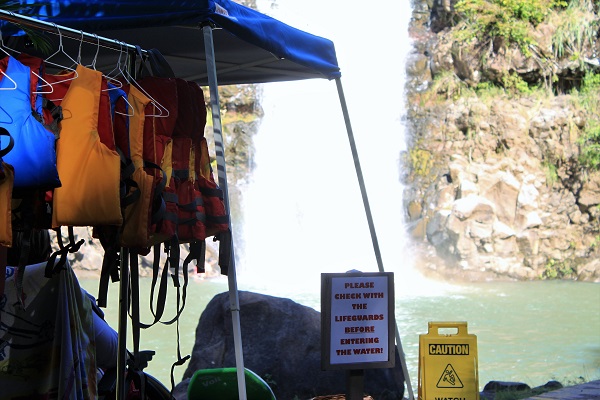 You will find lifeguards on duty, and life jackets are available for free if you don't have your own.
The falls takes different shape depending on the season and recent rainfall.  Fortunately it rains a lot in Hawaii, especially in the upper mountains.

Visiting Tip: If you want to see the waterfall in its full glory, make sure you go after some substantial rainfall.  Otherwise, the glorious cascade you were expecting might have dwindled down to a small trickle.  
This should go without saying but please do not drink the water while swimming at the waterfall.
---
Spend a full day traveling outside Waikiki, viewing iconic landmarks around the island and famous north shore beaches, while making important stops to view the stunning waterfall in Waimea Valley, and stopping by some Oahu attractions like the Dole Plantation.
---
Waimea Valley Entrance Fees

---
There is a small park entrance fee that goes towards the preservation and maintenance of the gardens and grounds.  Also consider an ultimate waterfall tour with many side attractions as well.

FREE Keiki Day Wednesdays for Kama'aina (locals) & military children ages 4 to 12



$25 for Adults
$14 for Children, ages 4 thru 12
$6 to $10 for Military

$18 for Seniors
$18 for Students (College students must present I.D.)
Special Kama'aina rates for locals:
$10 for Adults
$6 for Children
---
---
Hours & Facilities
---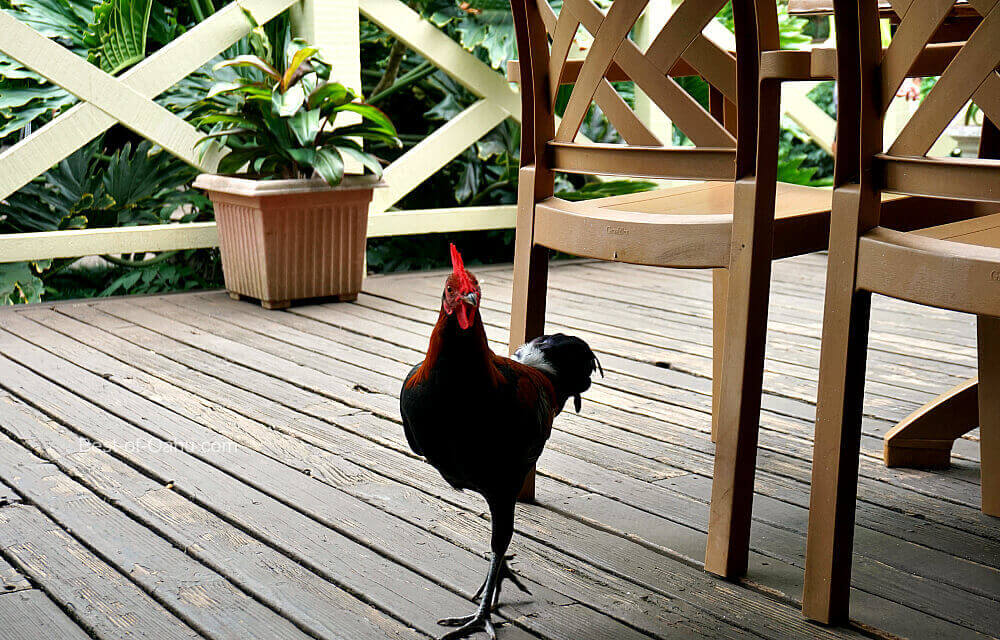 Hours of Operation
Open Tue - Sun between 9am and 4pm, Closed on Mondays
Closed on certain holidays, including Thanksgiving & Christmas

Facilities
Gift Shop
Restrooms
Waimea Valley Grill
Free Parking Lot
Waterfall Area
Life guard on duty
Changing Rooms
Free life jackets, swimming noodles & boogie boards for use
Stadium sitting area
---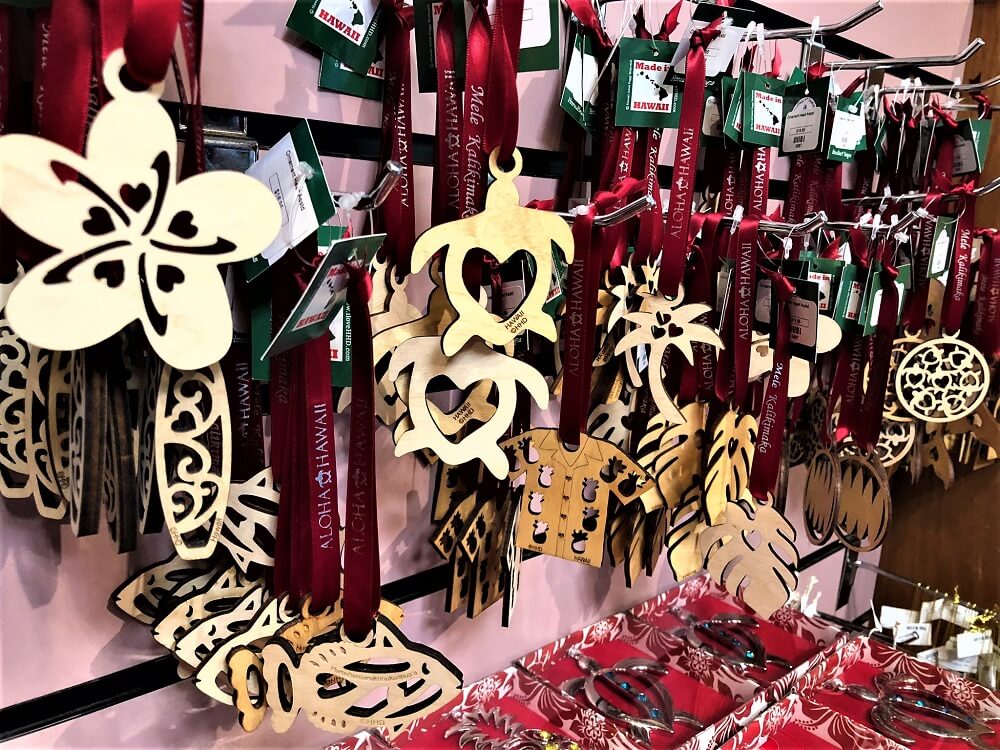 Make sure to stop into the Waimea Valley Gift Shop before you exit, as you're bound to find a special souvenir.
Much of the inventor on display is unique and created by local artist.
---
3 More Amazing Waterfalls
Here are 3 additional Oahu Waterfalls that you might want to consider hiking to after this one...
---
Getting to Waimea Falls by Car
---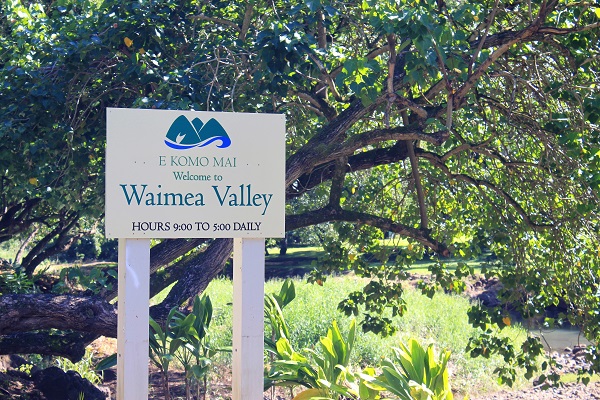 Directions:  From Waikiki, take the H-1 Freeway headed West…

Take the H-1 Hwy West to the H-2 Hwy North

Follow the H-2 Hwy to the Kamehameha Hwy (Hwy 99)

Take Hwy 99 and continue into Haleiwa Town

or bypass Haleiwa Town, and continue on Hwy 99 and merge onto Hwy 83, which will lead you to the coastline.

Continue on Hwy 83 for almost 4 miles, and turn right onto Waimea Valley Road

Look for a sign that reads "Waimea Valley", which is about 200 yards down the road, and park in the parking lot.
---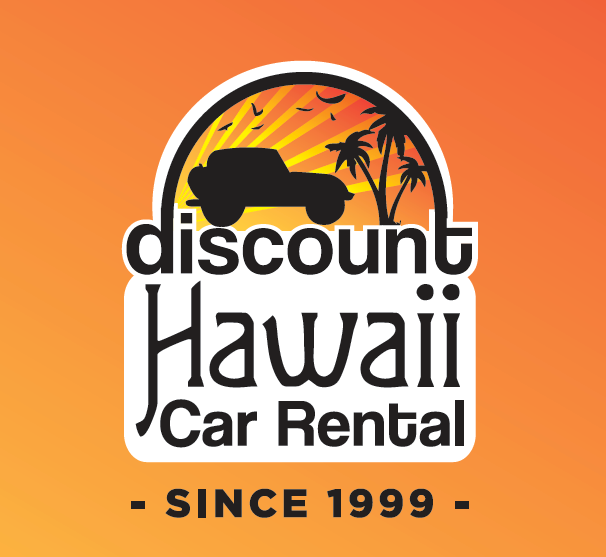 Need a good rental car option for the day?  Whether you would like to visit a beach, a popular Oahu attraction, or explore the island for just a day, consider these great, discounted rent-a-car rates with Discount Hawaii Car Rental.  They also have great packages for your entire trip...
---
Oahu Map for Waimea Falls Park


---
View Larger Map
Take Oahu Bus from Waikiki


Take the 52 Oahu Bus from Kuhio Ave (away from Diamond Head) to Haleiwa Town in the North Shore (ask the bus drive to notify you), where you will need to transfer to the number 88A  or 60 Oahu Bus. 
The 88A Oahu Bus will take you into Old town Haleiwa and then onward towards the North Shore Beaches.  Ask the bus driver to notify you once you have arrived at Waimea Falls Park. 
He will drop you off near Waimea Valley Road (across from Waimea Bay), where you will have to walk the last 200 yards.

---
Street View Entrance


View Larger Map
---
Oahu Attractions in the Area
---
Waimea Bay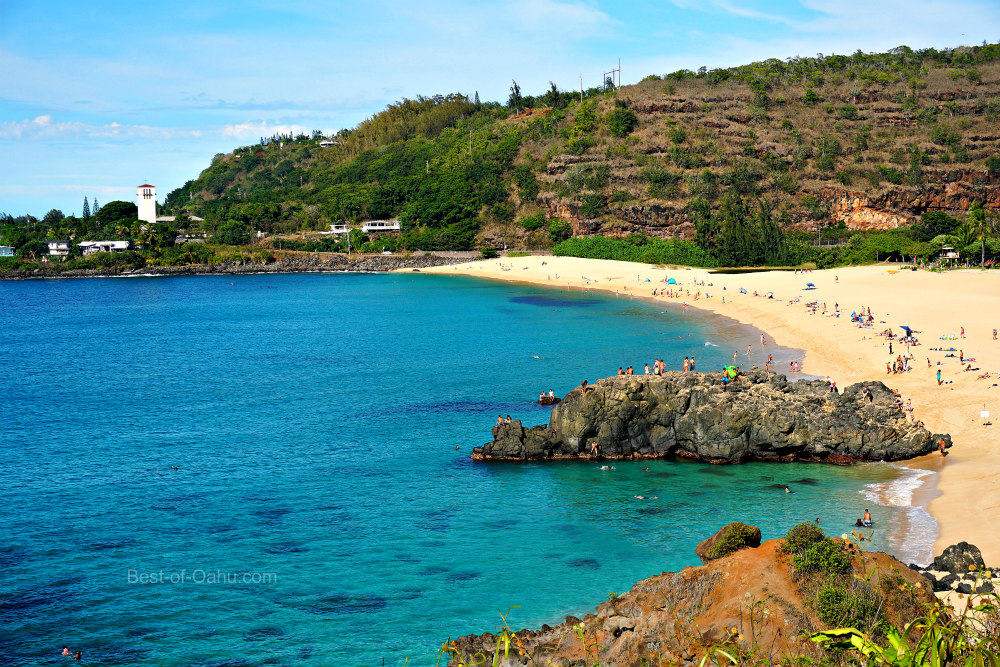 Just follow the river that travels from the Waimea Waterfall, back down the park and across the highway, into Waimea Bay Beach Park.
Known as one of the most beautiful beaches on the North Shore, this Oahu beach also produces some of the largest waves to be ridden and seen in the wintertime.  When the gigantic waves go flat in the summer, the kids turn to jumping off the gigantic Waimea rock into the water!

---
Banzai Pipeline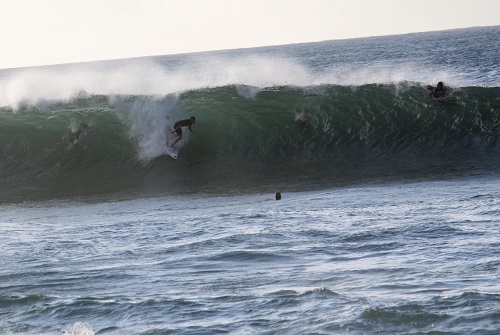 Travel a little bit farther up the road, and discover the world famous Banzai Pipeline at Ehukai Beach.  If the Oahu surf report indicates that the waves are up on the North Shore, and you manage to find a parking spot, then you're in for a treat!
This is probably one of the only spots on the island where you can walk up to the shoreline and view big wave riders, surfing perfect barreling waves that crash onto a razor sharp reef.

---
Old Town Haleiwa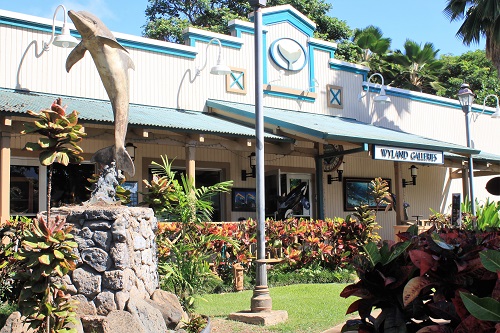 A trip to the rustic North Shore isn't complete until you pay visit to Old Town Haleiwa.  There is lots to see and do, including visiting a handful of Hawaiian art galleries, ono restaurants, shrimp trucks, surf shops, boutique shops, and of course getting a scoop of Hawaiian shave ice.
---
Puu o Mahaka State Monument


Waimea Heiau Ruins – Just above Waimea Bay is one of the most well preserved Hawaiian heiaus on the island, known as Puu o Mahaka State Monument.  Most of the outlying walls are still intact, giving you a good perspective on just how large the site was.
You can drive to this site a quarter mile up a small road off the main highway, or take a small hike up a trail that starts just beyond the entrance to the beach parking lot.  There are some nice views along the way and up top!!

---
Return to Best of Oahu Homepage
Aloha & Enjoy!

Subscribe to receive Best of Oahu updates on events, updates, and new articles.  It's the closest way to paradise while you are away...
We will never sell or spam your information, and we'll respect your email privacy.