Hiking to Maunawili Falls - it's a journey
Maunawili Falls is tucked away deep in the Maunawili Valley below the towering Pali Cliffs.  A fun Oahu hiking trail will lead you up and back down the hillside to this local Oahu waterfall.  The adventurous 2 mile Maunawili Falls Trail is marked and maintained by the city & county.  But don't kid yourself…you will still be walking over tree roots and hopping rocks to cross the streams.  Reach the bottom of the trail and you'll find a Hawaiian waterfall oasis playground, where some dare to swim and jump off steep rocks into the mountain pool!

---
Elevation     1000 Feet
Length         3 Miles Round Trip
Duration       90 to 120 Minutes
Terrain           Hills, Stream, Loose Dirt, Mud
Difficulty        Medium
Disclaimer – all Oahu hikes have different challenges and hazards that can be dangerous and may cause injury. Know your fitness and skill level before embarking on any hike.  Stay on trails and obey posted signs. The information on this site is for your reading pleasure only.  Hike at your own risk.

---
Hiking Maunawili Falls Trail
---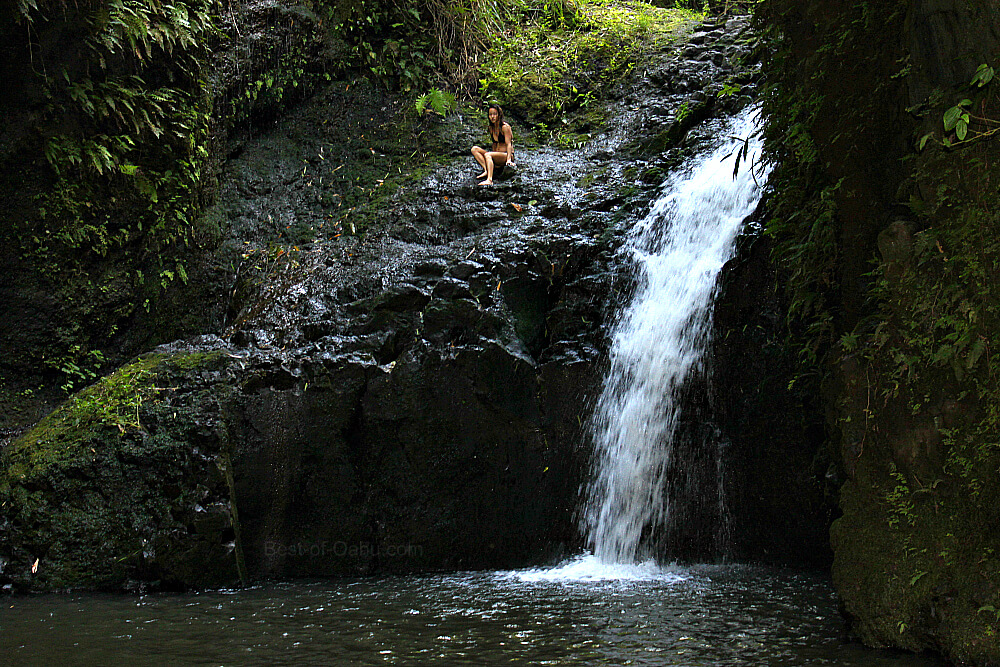 ---
NOTE:  This Oahu trail closed to the public starting in July 2021 and will remain closed for approximately 2 years.  Maintenance, repairs and trail alterations will take place at during this time.  There are also plans to add a parking lot and restrooms in this area.  Please look at alternative Oahu trail to hike in the meantime... Maybe consider Manoa Falls that just finished a beautiful 2 year renovation.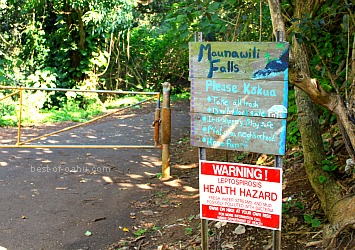 The Mauanwili Falls Trail starts off in a quiet neighborhood surrounded by beautiful homes.  There is a small descriptive sign at the bend in the road that takes you to a pathway to start  your journey.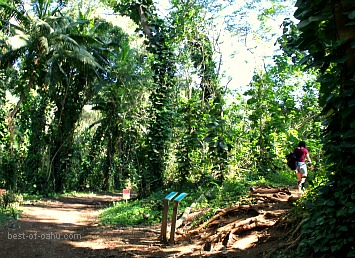 The initial path takes you in about 100 yards before you need to turn up into the hillside.  You'll find a posted map and description of the trial at this juncture.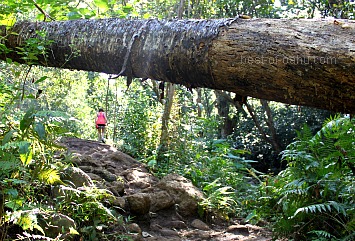 Be prepared to walk on eroded soil tree roots and muddy areas, as the case for most Oahu waterfalls!  The trail progressively climbs upward, traveling across overgrown tree roots, up man made hillside steeps, and a few rock boulders.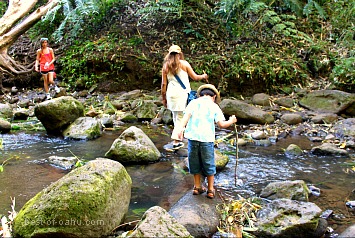 This Oahu hiking trail levels out a bit in a area where you begin to follow the stream.  This is where the fun begins as the trail leads you through a couple stream crossings.

Be prepared to get your shoes wet, or play a daring game of leap frog.  Luckily for me, my hopping and balancing skills kept my feet dry!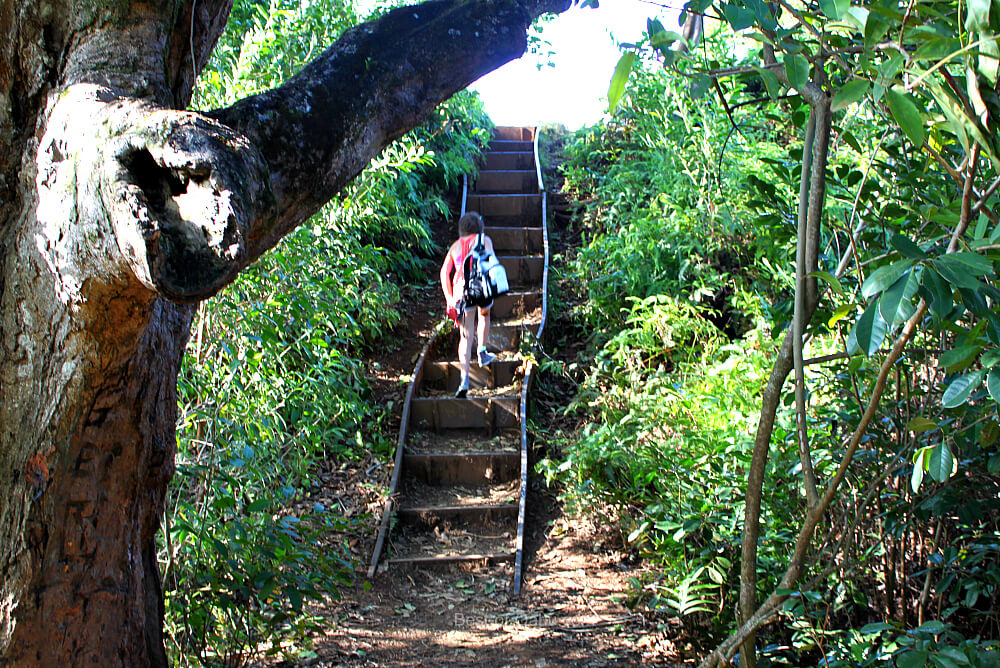 Make a final 100 yard stair climb up to the top, and you'll reach a plateau with nice views of the valley and surrounding jungle.  Take a moment and enjoy the scene before starting your decent down to the Maunawili Falls.

Make sure to take the trail leading down verses continuing onward, as some hikers do.  This is a distinctive area on the trail as you climb out of the jungle for the first time with the beautiful distant views.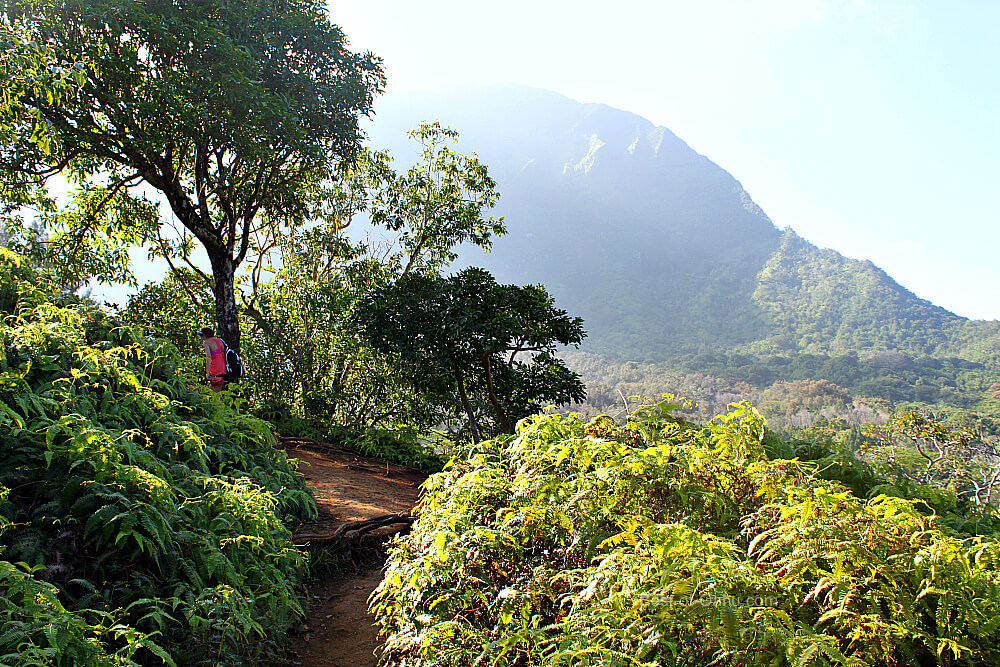 There is a raise metal platform bar that stands out in this area that could be used for leaning or stretching on.  Take your time descending down to the bottom.  Some of the steps are large and a little tricky to scale down.  Congratulations…you made it!
---
---
The Waterfall
---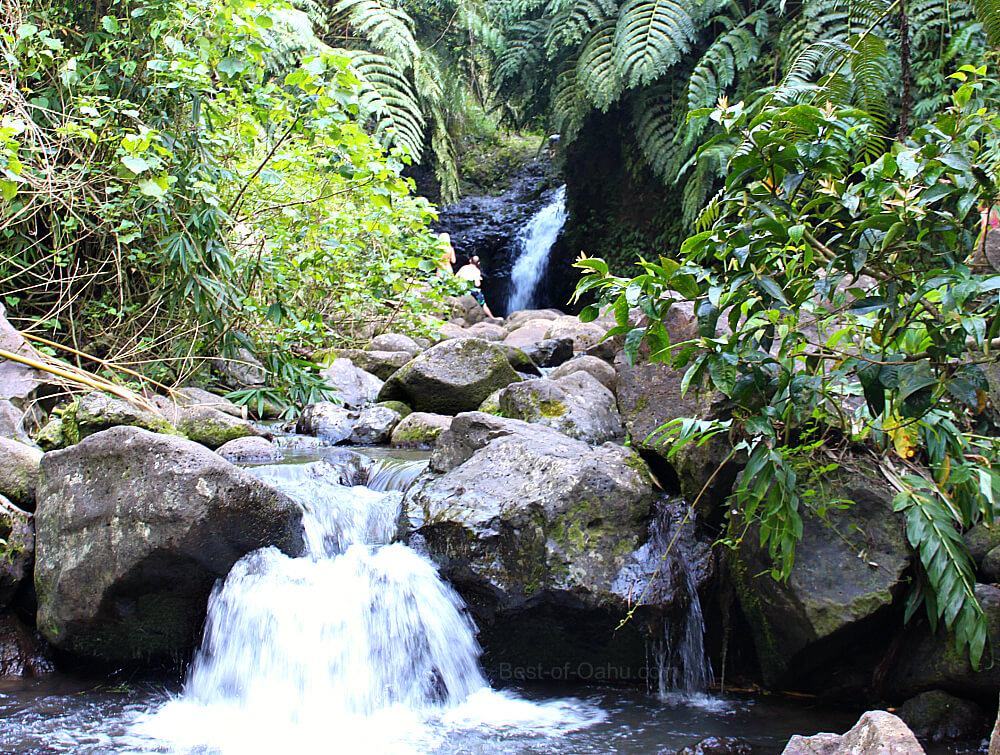 Reaching the Maunawili Falls is quite rewarding!  You'll need to cross over a few boulders and the stream one more time to get to the waterfall pool area.

The waterfall is a 20 ft trail of water that runs down an angled rock before cascading into the mountainside pool.

Although it is not advised to swim or jump off the rocks into this pool, you'll find lots of daring folks forgoing this warning and taking the plunge.
There are 2 ways to get to the top of the waterfall.  You could either swim up to the falls, where I've watched folks climb up the side of the waterfall, or take the continuing trail that climbs around and put you on top of the Maunawili waterfall.

For those seeking a larger thrill can climb even higher to a ledge on the side that sets up a good 30ft jump into the pool.  The trail located across the stream leads up to this area, where you'll also find a second waterfall as well.
---
Maunawili Falls Tips
---
Don't start too late – this adventure can easily take you a few hours, as you'll want to hang out once you reach the waterfall.  The foliage is thick in some parts and gets dark quickly once the sun goes down.
Be safe – while swimming in the mountain pool and jumping off the rock into it can be a lot of fun, there are a few risks to consider.  Running mountain water from the streams and rivers could be contaminated with leptospirosis bacterial disease that could be hazardous if swallowed or infect an open wound.
Climbing and jumping off the rocks can also be hazardous and dangerous for many reasons, including slipping and falling onto the rocks, or creating injury by landing wrong into the water.
Water shoes – consider bringing a pair of water shoes to better navigate through the streams and pool area…if entering.
Parking – You can take advantage of street parking alongside the homes in the neighborhood.  Make sure to park legal and be courteous to residents, by keeping the noise down and not littering.
---
What to bring
Water

Snacks

Mosquito Repellent

Water Shoes

Sun Screen
---
3 More Amazing Waterfalls
Here are 3 additional Oahu Waterfalls that you might want to consider hiking to after this one...
---
Getting to Mauniwili Falls - Currently Closed for Maintenance
---
From Waikiki, take the H-1 Hwy north
Merge onto the Pali Hwy Hwy 61
Pali Hwy turns into the Kalanianaole Hwy
Follow it down and take the 2nd Auloa Rd entrance
Take Auloa road until it intersects with Kelwina St.
At this point you should see the Maunawili Falls Trail sign
Park legally above in the neighborhood
---
Mauniwili Falls Map


---

Maunawili Road Map


---
In the Area
---
The downtown Kailua area is just a few miles down the road.  Kailua is a cute small town with lots of new and old shops and restaurants worth visiting.

---
Kailua Restaurants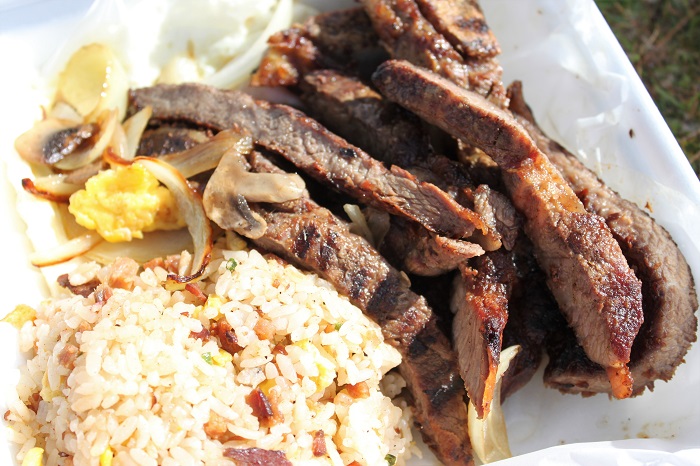 Fuel up right before you start your hike to the falls. Kailua particularly has some of the best breakfast spots on the Oahu, including Boots & Kimos, Cinnamons, and Moke's Bread and Breakfast.  All 3 places feature signature pancakes and other notable dishes!

---
Lanikai Juice
If you are thirsty and feel like living like a celebrity, than stop in at Lanikai Juice. You just might bump into a famous TV or movie star, like from the Lost or Hawaii 5-0 cast. Lanikai Juice is known for healthy juices and unique juice bowls with toppings.

---
Lanikai Beach & Kailua Beach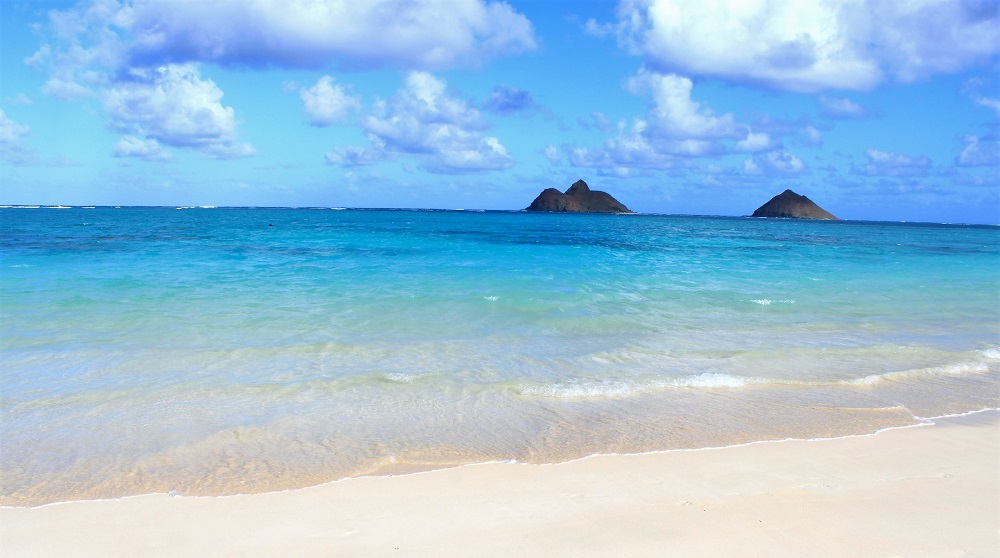 There is no better way to finish off your long hike, than with taking a dip in some of the most beautiful ocean waters on the island.  Both Lanikai Beach and Kailua Beach Park are incredible Oahu beach choices worth visiting…and are only 10 minutes down the road.

---
Kayak to the Mokulua Islands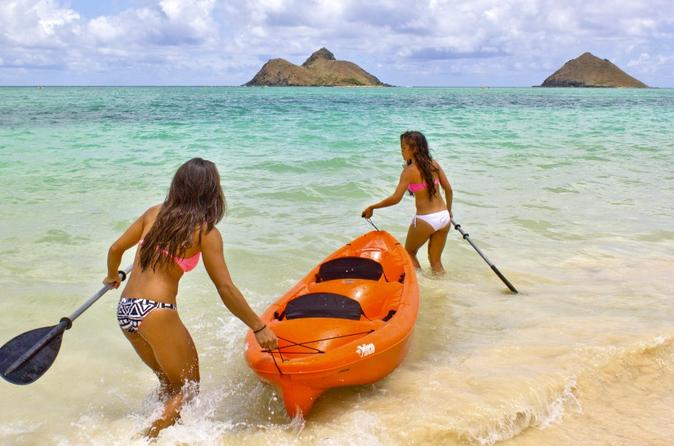 It's amazing enough to just step onto Kailua beach, but paddling out gives you a whole new perspective. Not to mention observing the crystal clear waters below as you journey out.

This is a special 2 hour adventure that you must plan ahead and sign up before arriving at the beach.  It includes transportation, lunch, snorkel gear, life jacket, dry bag, and caters to beginners to more advanced kayakers. 
---
Pali Lookout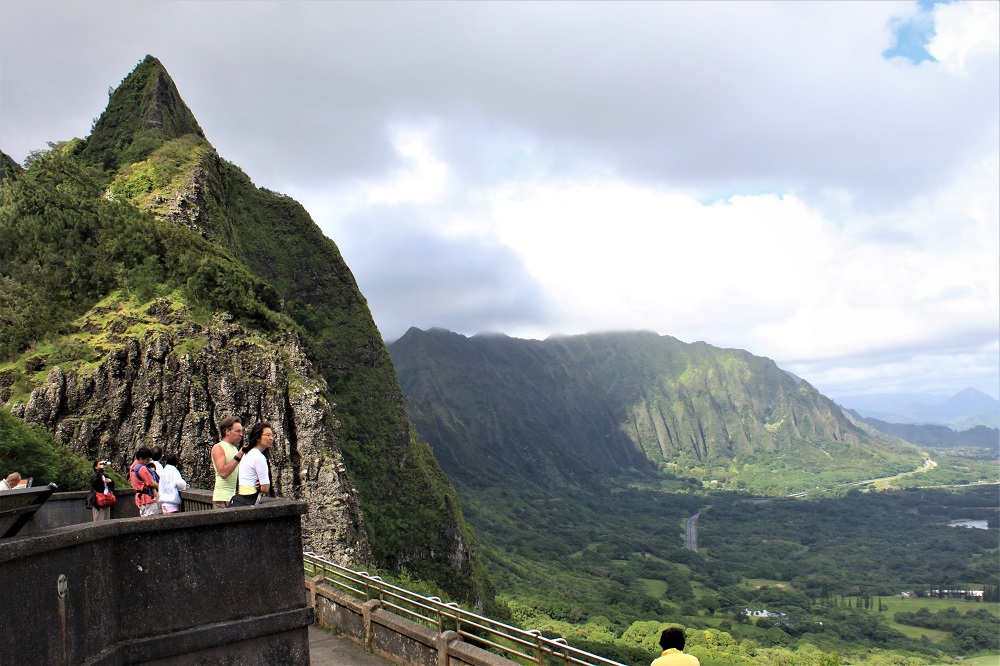 You'll need to travel across the Pali Hwy to get to Maunawili Falls.  Take a moment to check out the iconic Pali Lookout.  It's a point of significance in the Hawaiian history, where King Kamehameha conquered his enemies.  Not to mention the Windward side views are some of the best on the island…!

---
Return to Best of Oahu Homepage
Aloha & Enjoy!

Subscribe to receive Best of Oahu updates on events, updates, and new articles.  It's the closest way to paradise while you are away...
We will never sell or spam your information, and we'll respect your email privacy.